Current Location:
Off the coast of Augusta, Sicily
Current Position: 37 7.4 N 015 19.24 E
Click to view map.
Distance sailed since last post:
101 nautical miles
.
View the map of our voyage track here
Man, was that scary!
We set off from Catania for Syracuse at 9am today. The forecasts was for  5kts of wind from the East. But as we set off, it was actually 19kts from the east, with dark brooding clouds and some rain.
Because it was raining, we didn't feel like putting up the main, so we were cruising south at 6+kts with just the jib.
The rain cleared, the wind dropped a little, and so  up went the main with a single reef in it. Now we were creaming along at 8+kts and life was good.
The radio issued a gale warning: "thunderstorms with localized gusts" over the South Tyrrhenian Sea and Ionian Sea. In other words just the area we were in. That made sense as we could hear thunder and see a big dark cloud to starboard, close to land. No lightning, though. We were about three miles off the coast of Augusta by now, pretty close to where that big ship was wrecked just north of Syracuse.
Just then I saw what looked like a patch of steam rising off the sea, about 45 deg to starboard, 2-3 miles away.
"Ceu," I said, "Look at that. What do you make of it?" as I handed her the binoculars. And at that point the cloud drooped down to meet the sea, and a twister was formed.
"Holy Mackerel! Where is the bearing compass?" We took a bearing: 210 deg. Turned on both engines, turned 20 deg to port (away from the shore), and gunned it as fast as we could. The boat did almost 10kts, and the bearing of the twister gradually increased, indicating that it was going behind us.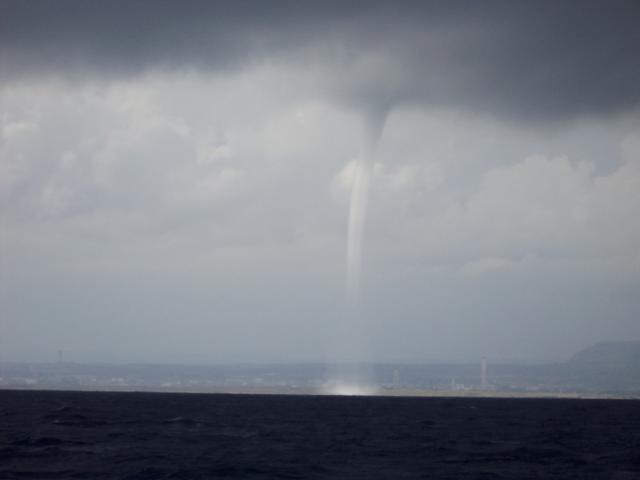 We could see the top end of the twister bending to the North which, I hoped, meant that the whole system was moving north and not towards us. To the north of it the cloud was black, and rain was pouring down.
Another big red ship, that had been traveling south along the coast parallel to us also turned and headed out to sea.
After a while the twister was off our stern quarter and died. But just then another one formed, again on the starboard bow. More anxious gunning of engines. The wind was now 24kts. We had full jib, main with one reef, and two engines, all working hard, so we were moving. We both clipped on our harnesses. And soon that twister was falling back.
As we heaved a sigh of relief, we then saw another one start to form. This time it was about 200-300m off our starboard bow. That was too close for comfort. Sorry, but we were too stressed to be taking pictures at this stage!
At this point I decided it was time to get all the sails down. If one of those things hit us, it would just rip the sails to shreds from all directions. We might go slower with just the engine, but I didn't want to be hit by hurricane force winds from all directions with sails up.
Fortunately this one didn't fully form, though it did look like it was heading more our way but, again, we left that one behind too.
And then another one formed. Even closer. Fortunately, it too was weaker and didn't complete. We could see the sea whipped to a frenzy in just that area, though where we were it was still about 24kts, blowing towards to shore and the twister.
Once we passed that one, things settled down. There was still one black cloud around, but not as menacing. The sun started to peek through and the wind dropped. We put the jib up again, and left both engines going.
Then, suddenly, the wind switched to offshore, dropped to 5kts, the sun came out, and we saw just the top of a rainbow behind us.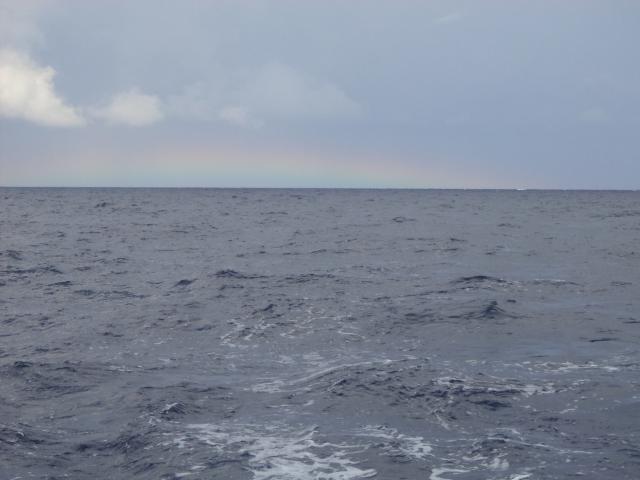 Soon we were entering Syracuse bay, and tied up at the town quay. The wind was now from the north at about 15kts. The sky was partially blue, and we were nice and safe and snug.
Phew.
Time for a beer!
3 Responses to "Twisters! Yikes!"