Ohhhh…the places we've been!
We are picking up from  May 23th. After we left the National Park of Miljet we headed to Korcula. Very cute Medieval town with many narrow little streets and the waterfront lined with Restaurants and shops. We anchored in a nice bay just south of the town.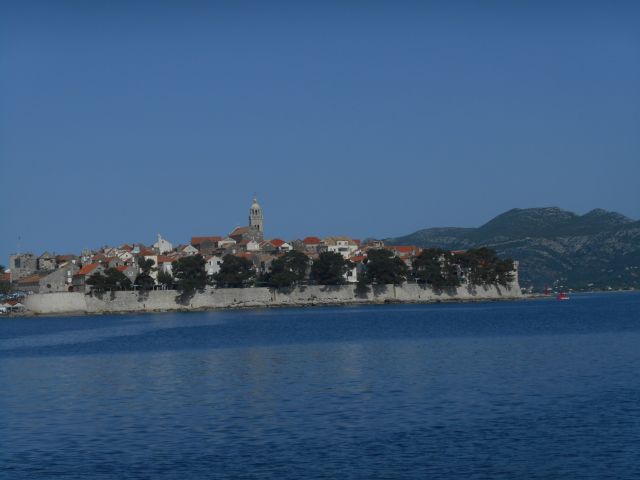 Korcula is also the birth place of Marco Polo. They have a museum and many shops named after him. It's a small island, 20 km from inland, but very cute with small beaches and coves all around.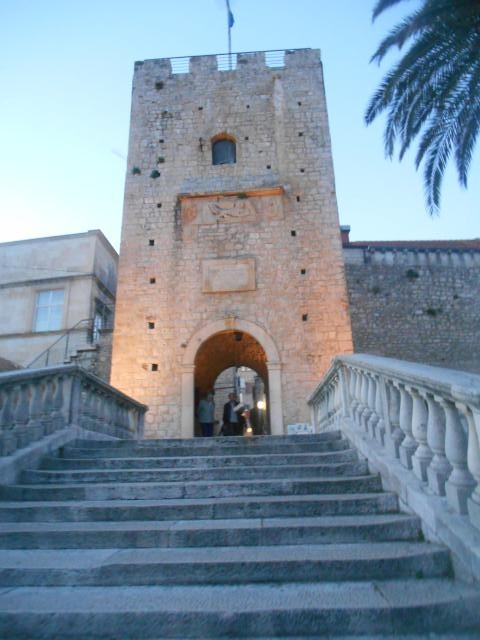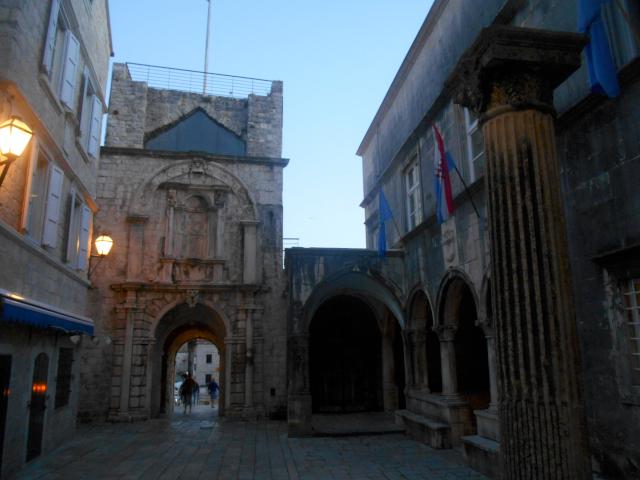 The next day we left to the island of Kvar, but lack of wind and didn't feel like motoring, we slowly glided through smooth waters into this beautiful empty anchorage for the night.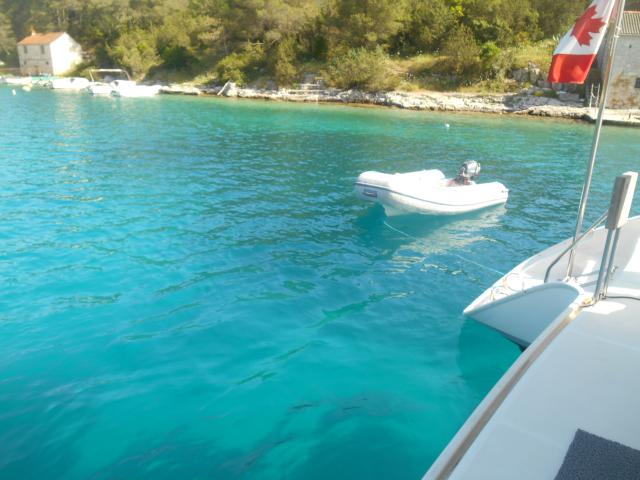 Uvala Zukova….just Paradise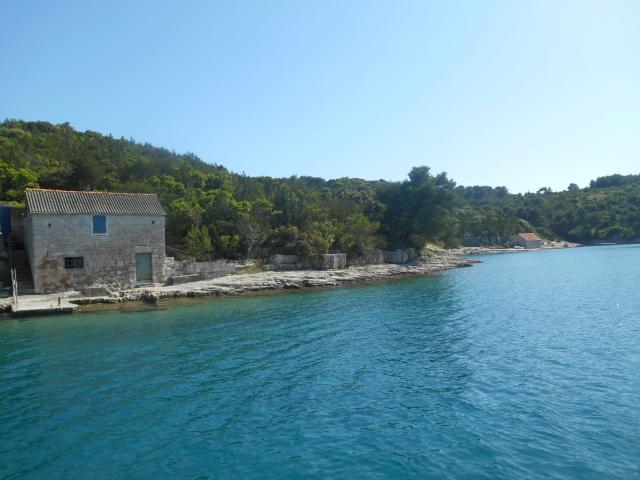 Kvar main square
 Cathedral of St. Stephen, which dominates the main town square. Most of their historical monuments were built during the Venetian times.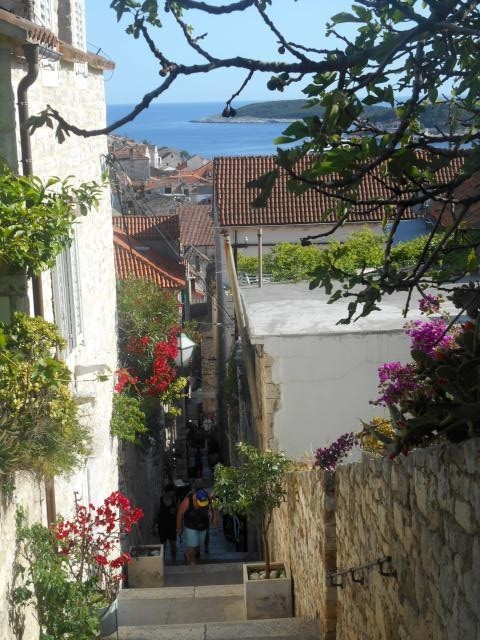 They call it the suuniest Croatian island. Thanks to this climate Hvar island produces high quality wine.  Along the coast the vineyards stretch up into steep slopes, reminds me of the Douro in Portugal.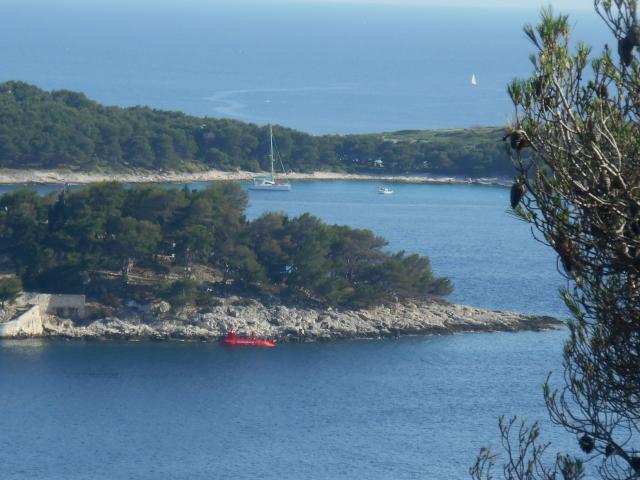 We looked around the town harbour area to anchor but it was too deep in the middle and very busy with tourist boats and ferries going by.We just went across to little island of Jerolim, which is a naturist island, but no one was around. It was late in the day and early in the season, plus it was not very hot back then yet! We took the dinghy across to visit Kvar town. We walked up to some Spanish fortress, where one can get a really nice view of the Kornati Islands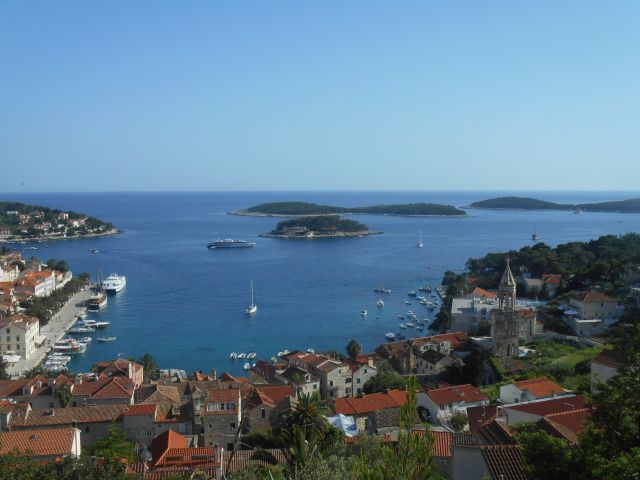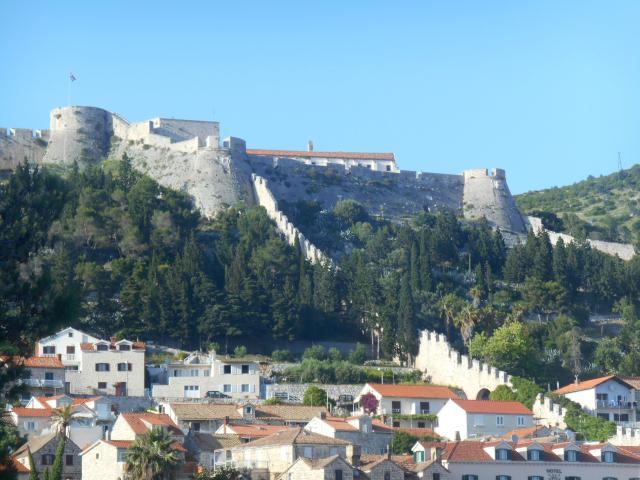 The harbour was lined up with beautiful boats all arriving and tying up together in the town quay.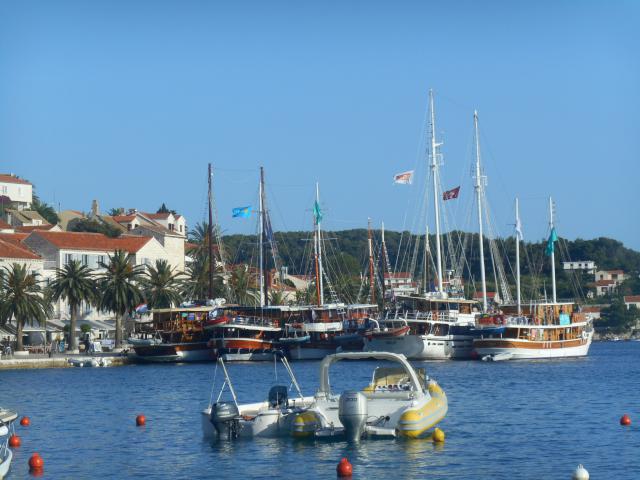 Coast line near Kvar island
We are now en route to Split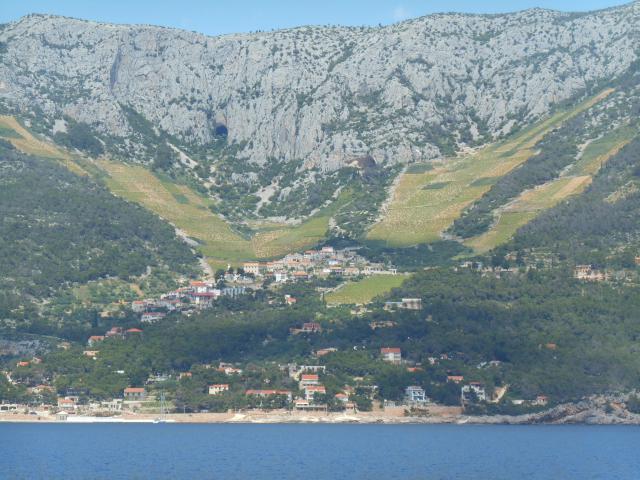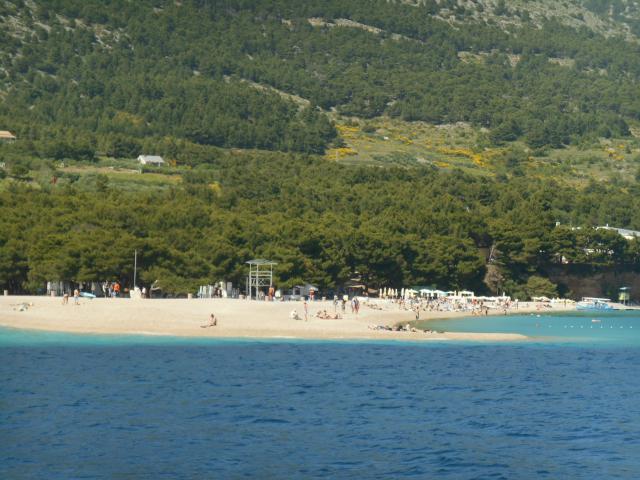 We also took a little detour from our route to Split. I wanted to check out this beach that I read was the most beautiful beach in the Adriatic. It is in the island of Brac, in Bol. It is a spit of white sandy beach and amazing turquoise waters. Croatia does not have many white sandy beaches. They are mostly pebble beaches and a lot of rocks. Very rocky shores with many sunbathers on them. Some are dressed, some are not…here everything and nothing goes! We arrived here and there many boats all just drifting around doing the same thing we were doing, checking out what the fuss was about and….fotos!
Welcome to Split
We are now anchored in the suburb of Spinut. Right outside busy Spinut yacht club, in 5 meters and holding well. A nice 15-20 minutes walk into downtown Split.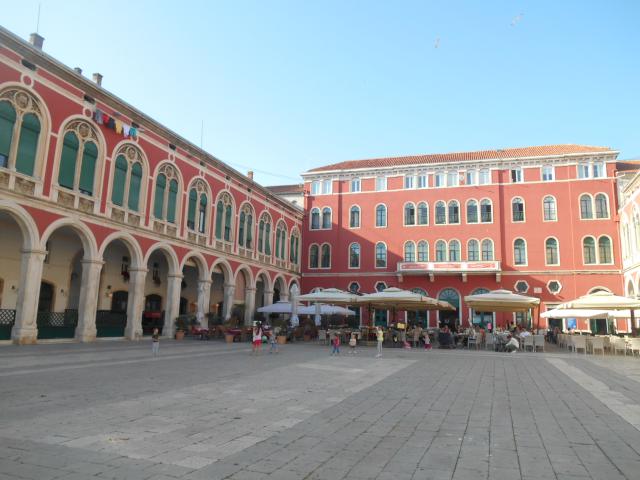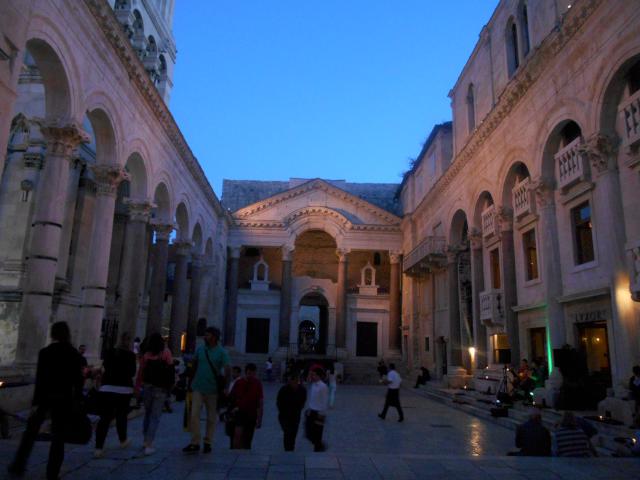 Emperor Diocletian built his retirement palace here in the third century.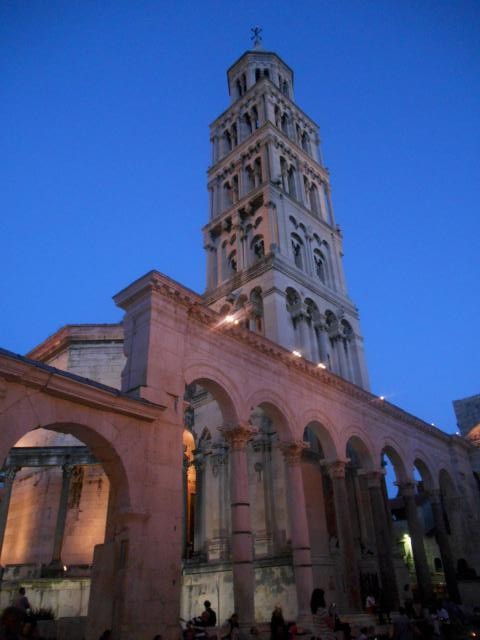 The Cathedral was just amazing….and in the Piazza, one can sit around listen to the many young musicians, have a coffe, something to eat, the Restaurants bring out collourful mats and chair pads and line the stairs around it. Just an amazing ambiance!
Emperor Diocletian built his retirement palace here in the third century.The Palace is more like a walled town where you find many museums, Roman ruins and art galleries to explore. It has endured the Byzantines, Croatian kings, Venetians, Austrians and Italians planted their flag on the great city. Split is Croatia's second largest city and very turistic.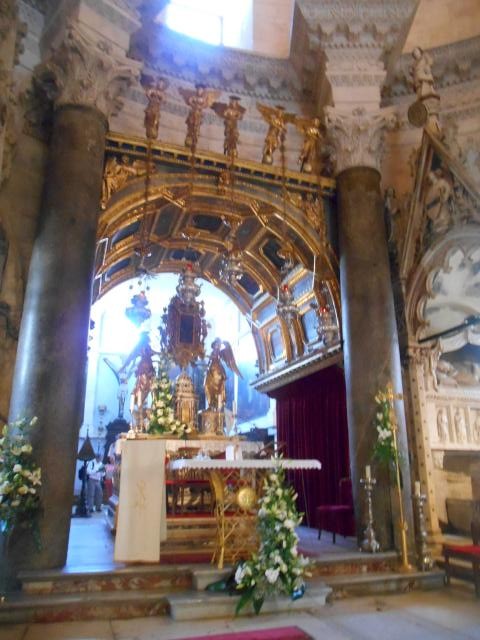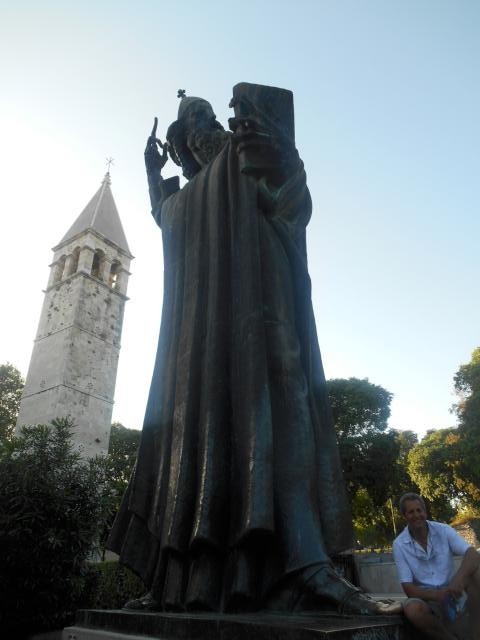 They say if you rub his toe and make a wish…it will come true. He now has a golden toe, from being rubbed so much.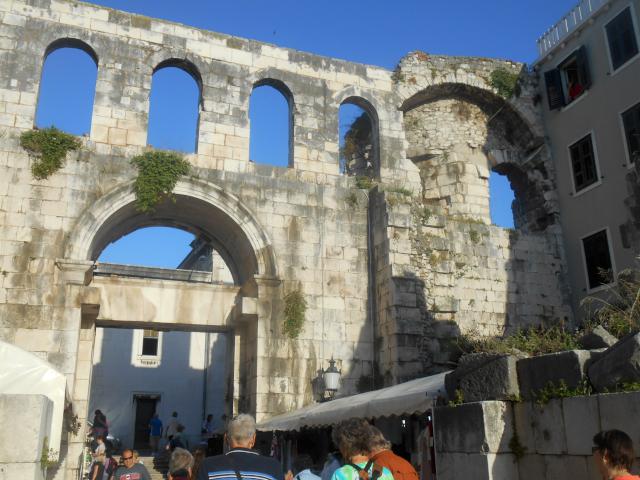 It is a beautiful city full of life, water sports everywhere, music, lots of young people, and everyone always so friendly
The narrow cobbled streets were already full with the many tourists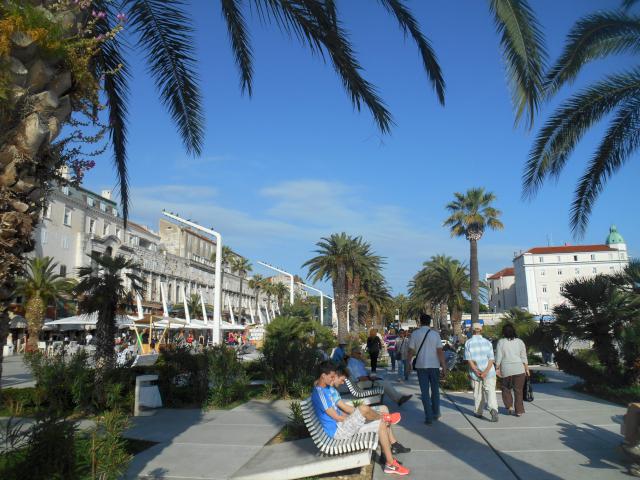 Beautiful palm tree lined promenade with benches everywhere. In the evening, after all the walking around town we sat down to listen to  a great concert that night with the proceeds going to all the flood victims from somewhere near Montenegro….
From the wooded Park Marjin hill we had great views of Split by night…and by day!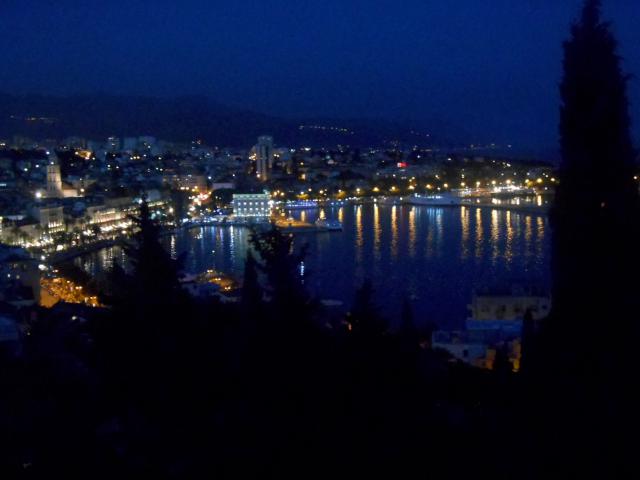 We enjoyed Split very much. We stocked up at the market for fish and veggies and some good steak before departing  to Krka National park, with a night stop in cute island of Drvenik. We are sure having fun pronouncing their names. Where are the vowels??? How about we also anchored in Prtljug in the island of Ugljan. We also anchored in the town quay with a big audience in the cute town of Morscnicka, plus all the accents that I dont find on this keyboard. Soo much fun….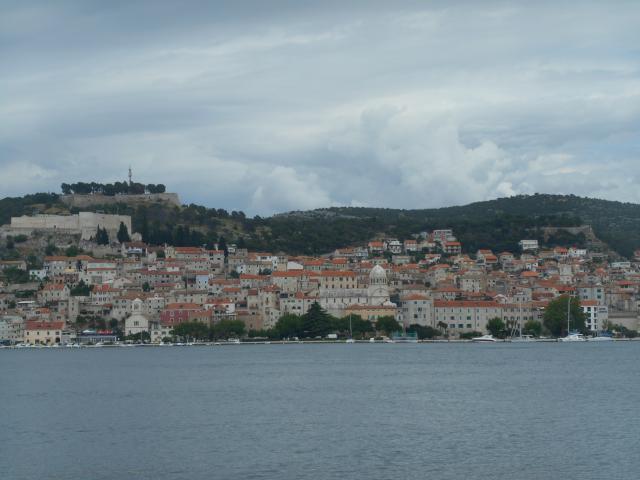 This is the town of Sibenik right at the entrance of the Krka river.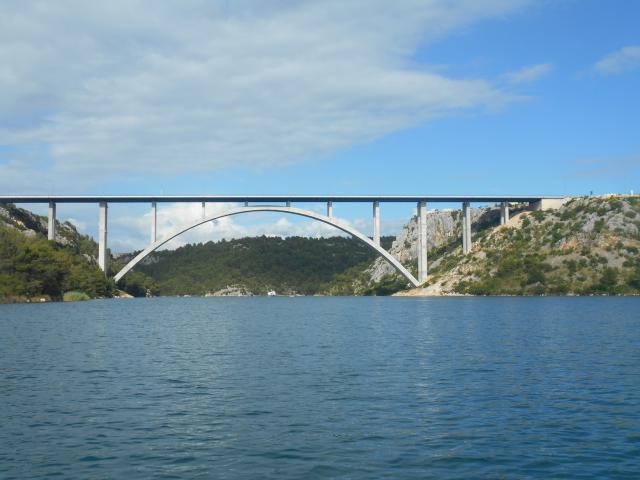 After this bridge you arrive in Skradin. We motored up the channel but not quit that far up. We were told that it can get pretty busy there. So we dropped anchor in the south east corner, a 10 minute dinghy ride away from Skradin. Only one other boat there. Very peaceful.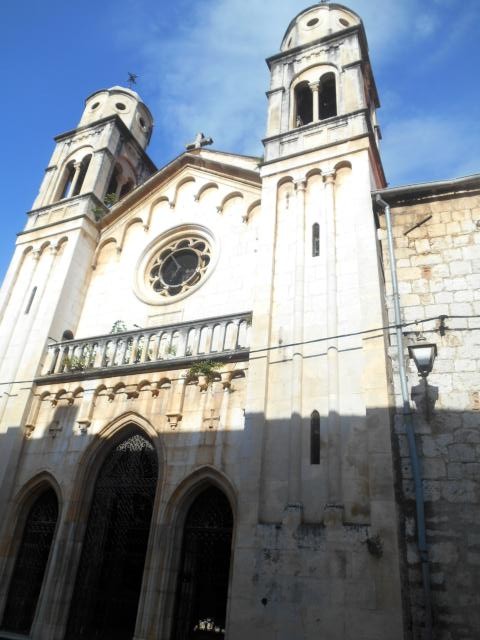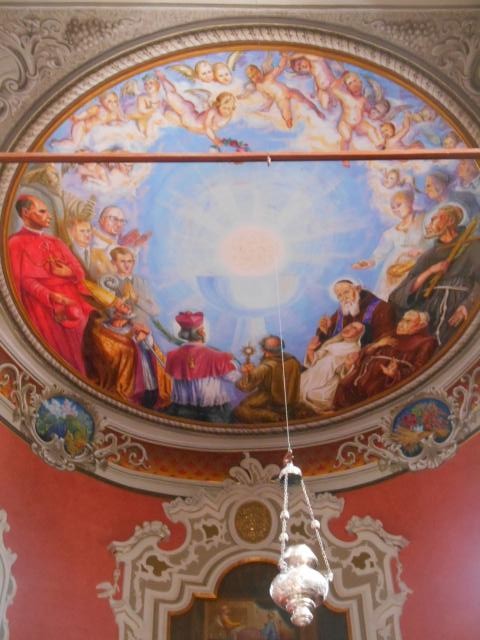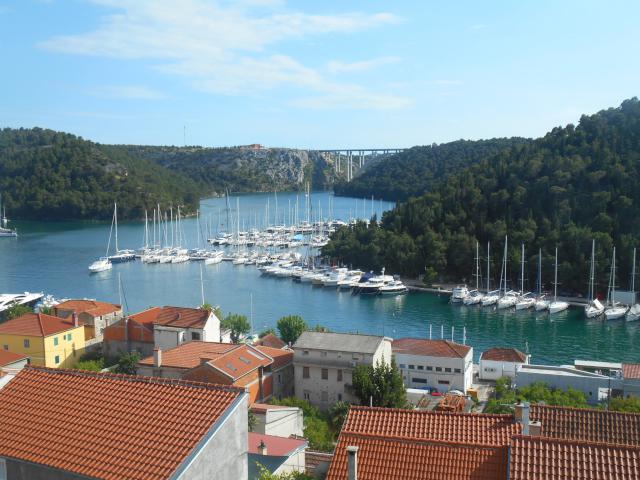 View of the Skradin harbour takenfrom small ruins we walked to, above the town. Here is the last stop one can take own boat to. No one is allowed after this point.
River boats start at 8am and run every hour. At 9am we were ashore and ready to go and explore. The boat ride is included in the price of the entrance fee to the park.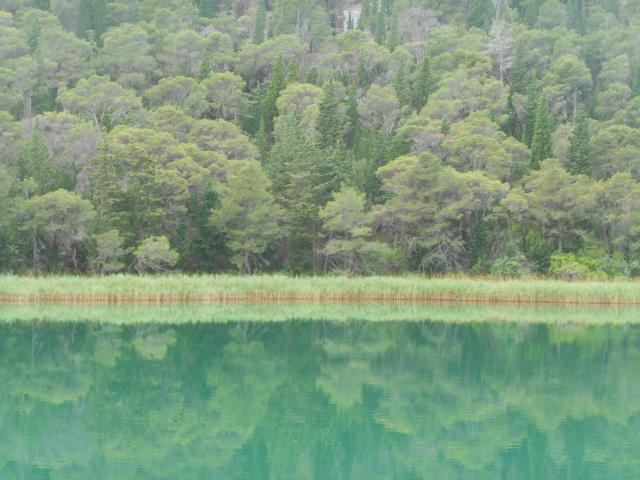 Krka River is one of Croatia's best known natural wonders. The water falls were created by travertine barriers, islands and lakes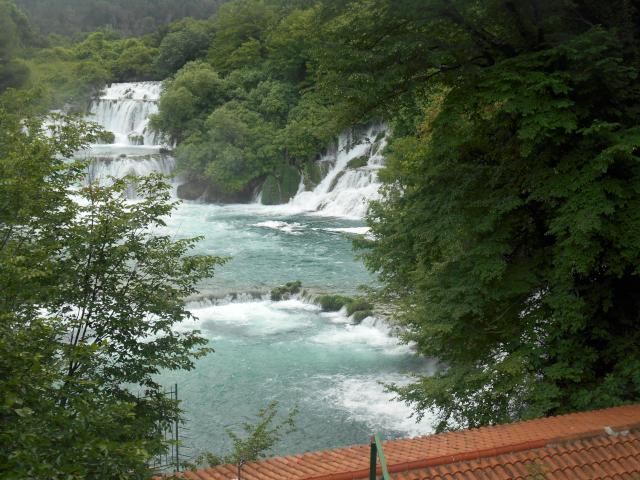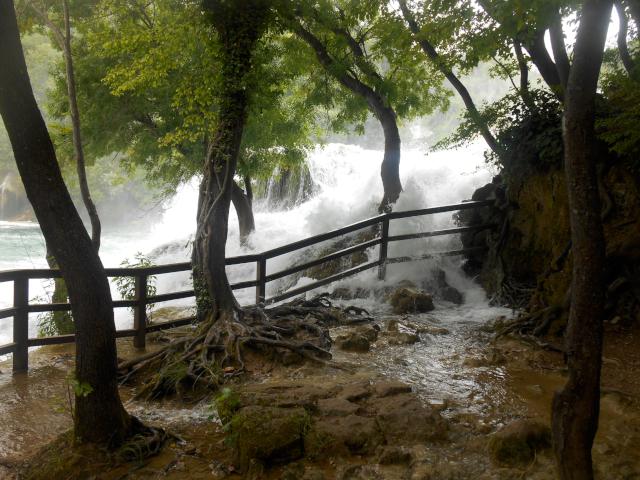 We were defenately visiting at a good time of the year, because it was water flowing and overflowing from everywhere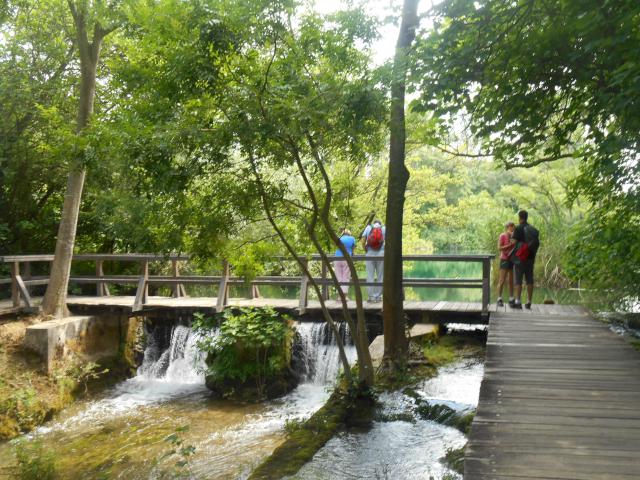 It makes it very easy to visit anytime of the year really, because of the trails and bridges everywhere.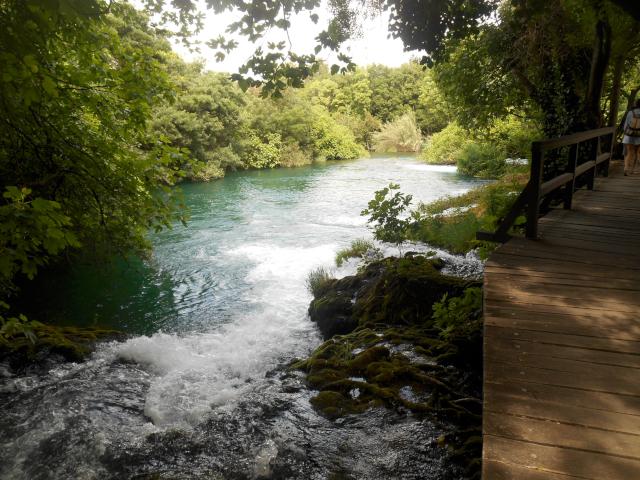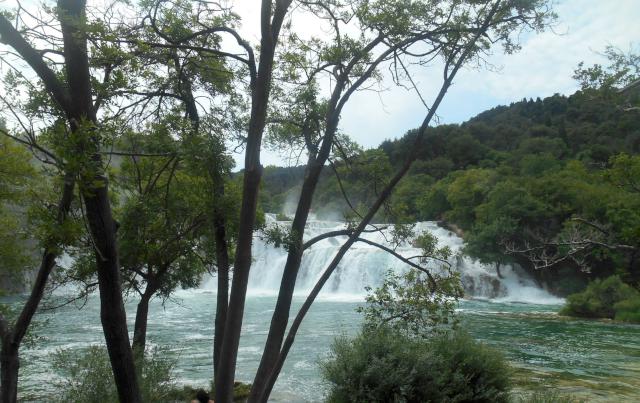 The park is amazingly beautiful and lots of wildlife. It's also like a museum. They have some preserved 19th century, mills from how wheat was milled, old kitchens and food preparations, bags and carpets being woven, cloth washed, and horseshoes smithed.
They also have remnants of the power plant plant that began operations in 1895, just 2 days after Tesla's Hydroelectric plant in Niagra Falls. Thanks to the builders Supuk and engineer Meischner, Sibenik received power before many European cities. Wow….It sure was a great day out in the nature.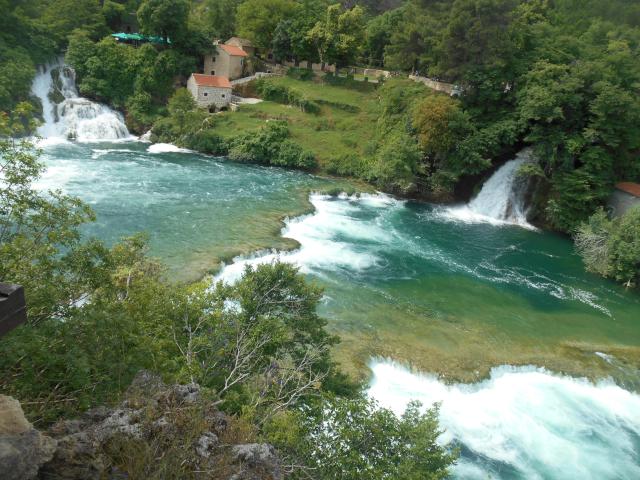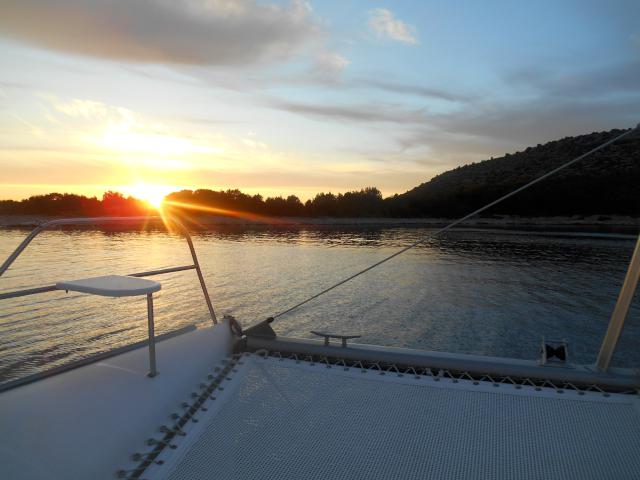 Welcome to Pula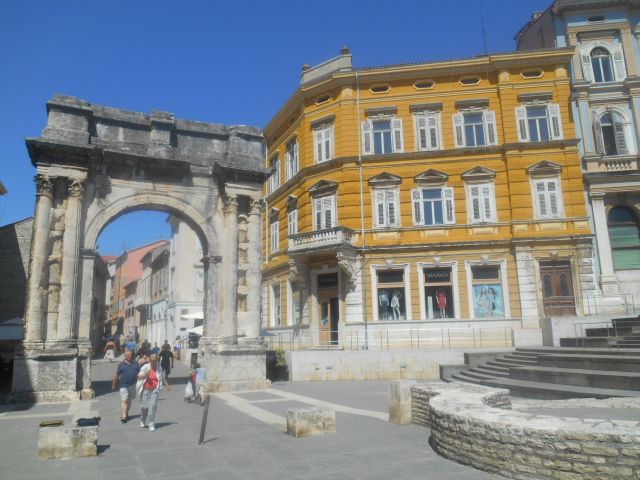 We were pressing on to get to Pula. We had Ben and his cousin Mac visiting for a week arriving at Pula airport on the 3rd.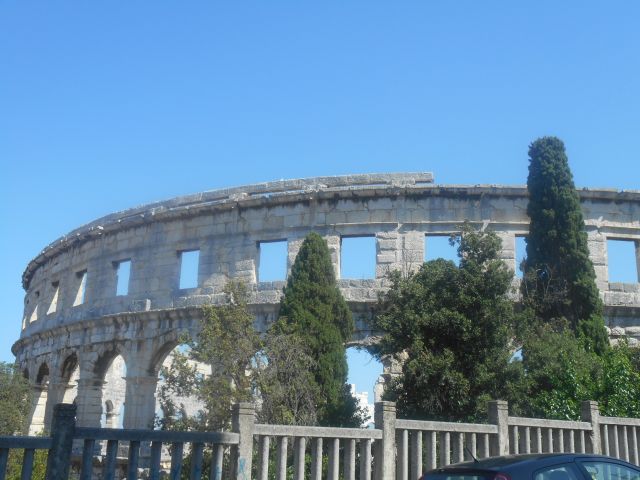 The Pula Arena is what they call the Roman amphitheatre. It could sit up to 23,000 people. It is the only remaining Roman amphitheatre to have four side towers . A series of underground passageways were built underneath the arena along the main axis from which animals and fighters could be released. It is in really good shape.
Rounding off the peninsula south of Pula and going up the Istrian east coast.
We are anchored in Rabac. We took taxi ride to a cute town of Labin above, where we strolled the old town and found a nice hike back down to Life Part 2 in Rabac.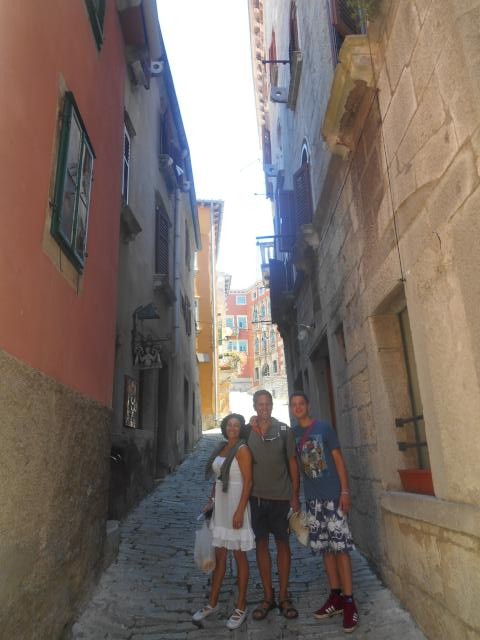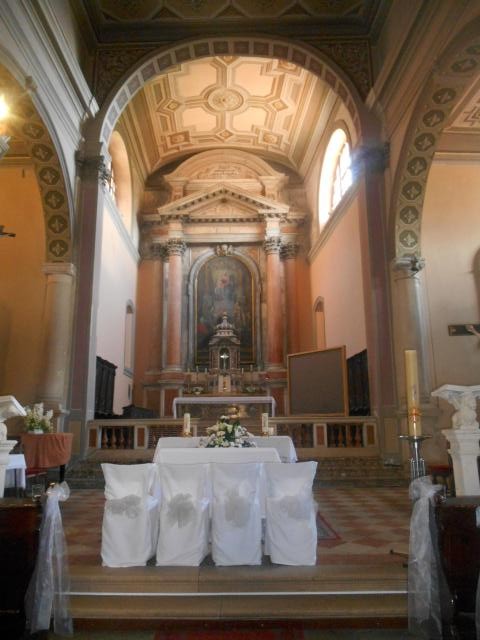 Many of the Churches we visited lately are decorated for a wedding.
From our anchorage we also watched 2 different wedding parties walking along the waterfront taking fotos.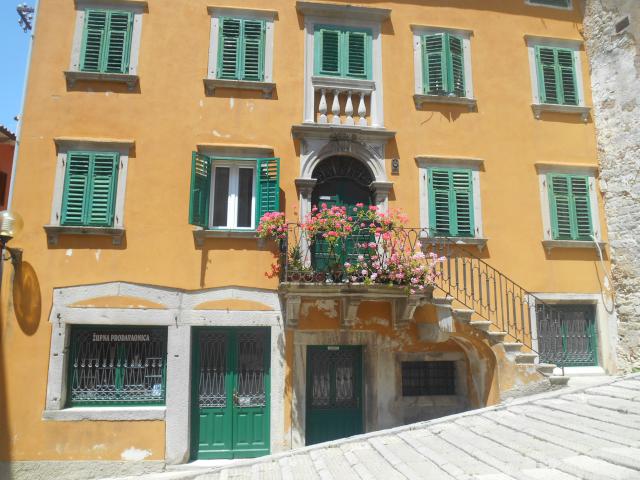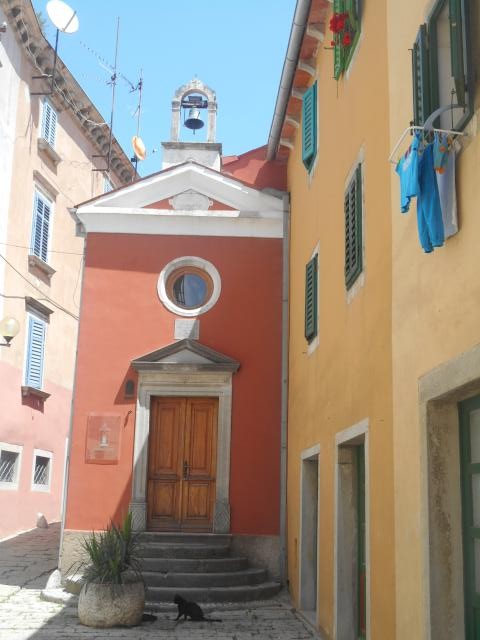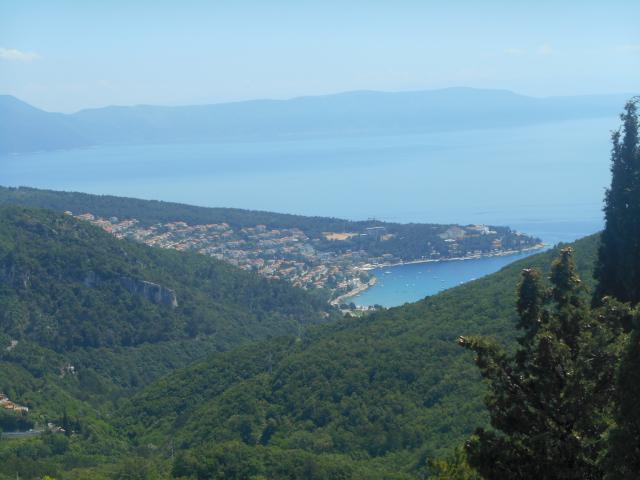 A view of Rabac town taken from Lanin. Life Part  2 awaits just on the left side of the beach and hotels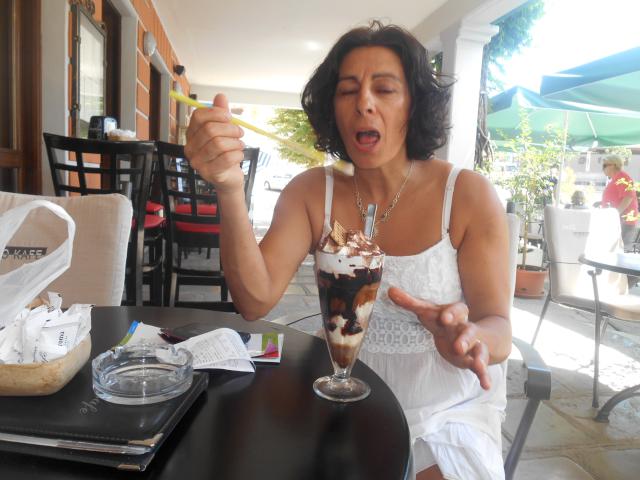 Yummy…after hearing about their iced coffee with ice cream in it, I couldn't wait to try one! As you can see in the photo, I don't look disappointed. It was more like a sundae and after all that walking around town, it was even more delicious!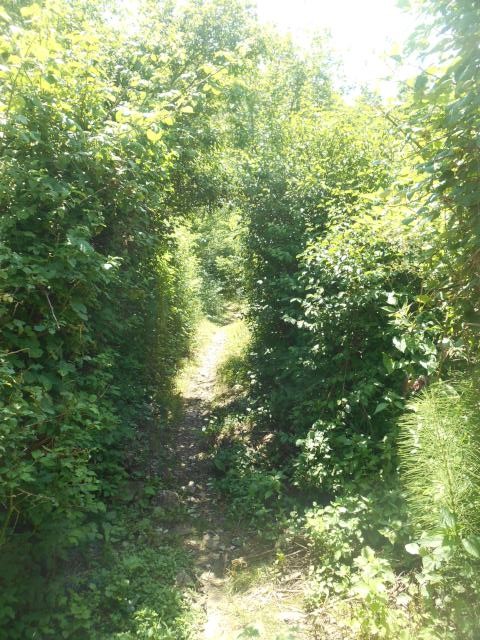 A beautiful wooded walk into town with caves and small water falls and a nice picnic along the way.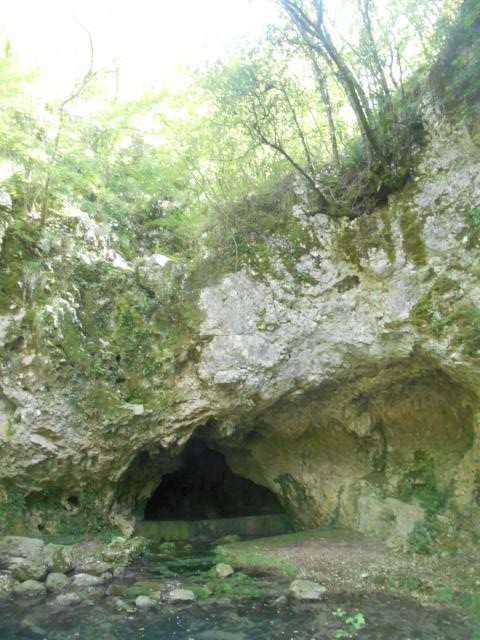 We did sail all the way up to Opatija in the east side of the beautiful Istrian coast.
We will do a post on our week with the boys soon.
We came back to Pula again where the boys had to get to their flight. Time flies when you're having fun!
Off we go the next day heading our way to Venice, up the west coast of Istria with a stop in the beautiful town of Rovinj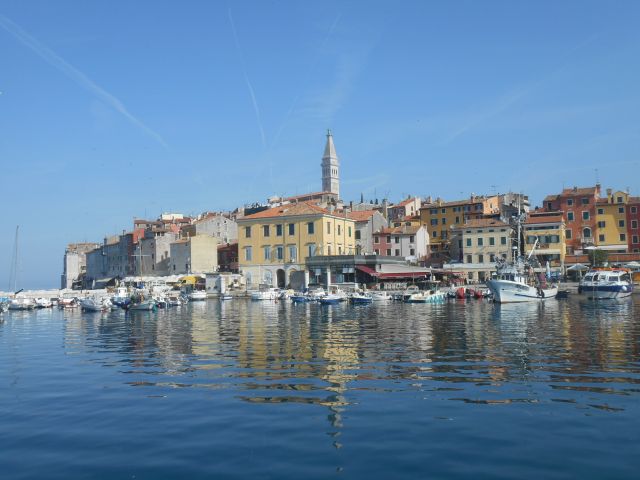 Rovinj is very charming and picturesque. It also looks a lot like Italy. Italian is their official second language. It was Italian that was mostly spoken on the VHF.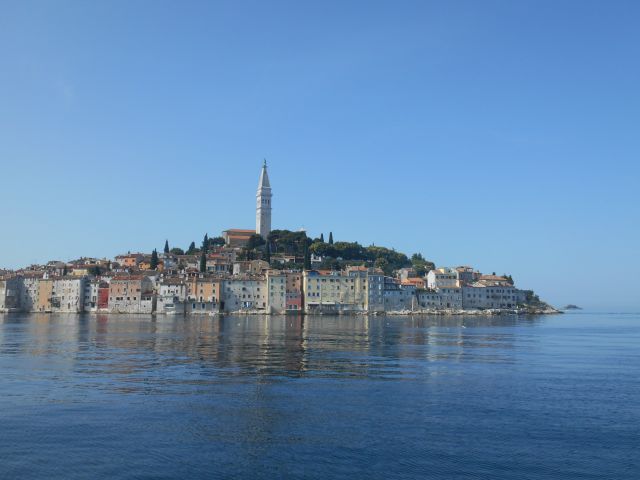 The old town is lined with houses from the 16th century. In every street at every step there is a surprise, from old beautifully carved doors to monuments and churches and arches awaiting…..We loved it. It will probably be another stop there on the way down from Venice.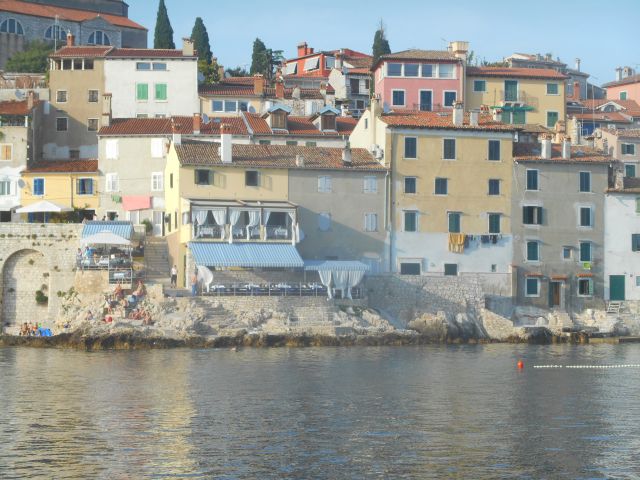 We didn't just go around the peninsula to take these fotos…we were looking where to fill up with water. Just before we tied up at the dock near here, a fisherman told us to get it on the other side of the town, at the fuel dock.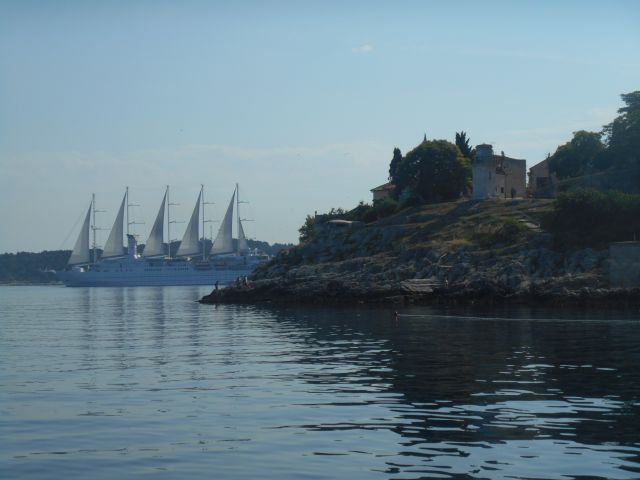 As we came around the corner, we filled with water, went to pay at the office and they said "no charge". Great! They also said we anchor for free there, for the day only. Fine with us, we were moving to an anchorage for the night anyways. We anchored near this beautiful cruise ship.
At 6pm an Italian Oficial came and said we were there all day, so we must pay" not very much, only 100 kuna". We told him it has to be a mis-understanding because we were tol at the office to anchor there Free for the day. He called the office in Italian and confirm. He was still smiling and said "ok, dobra.
Moved around to our anchorage less than 2 miles north good holding. Big bay surrounded by beaches and campsite.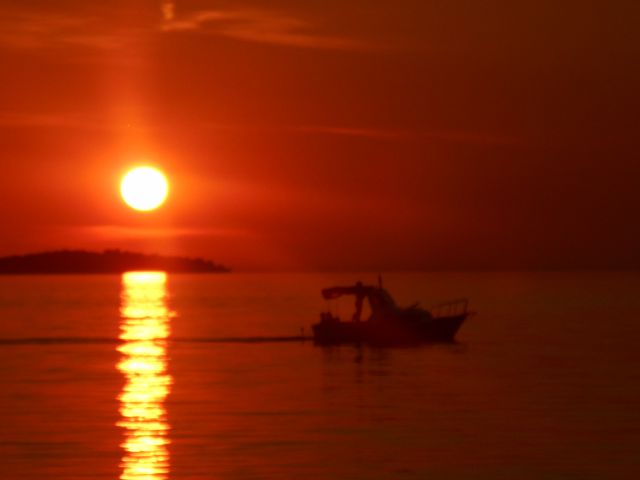 We have been delighted with the most beautiful sunsets every night…..
And on the other side we had full moon last night
With a night like that and the "light" winds they predicted, we set off to Venice.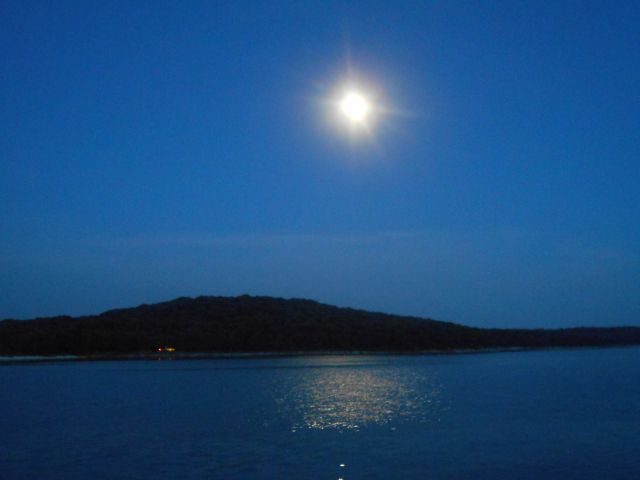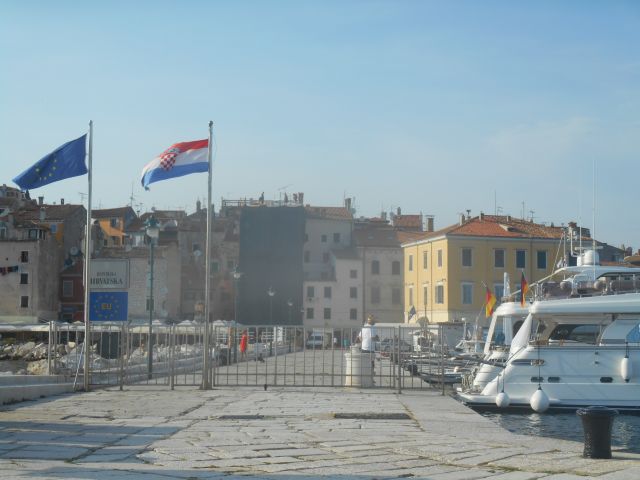 Checking out of Croatia right here. Venice, here we come
Ahhhh…. You have already the update from the captain, that we had a good sail  to Burano
I did not read his post. This post was supposed to be published before we got to Venice. So I had all my photos uploaded and started to write, thinking i would have lots of time during this very calm night.
Too many interruptions, and not just the 5 minute hold up with the anchor chain. As soon as we got underway, a beautiful display of fire works got our attention. They had big screens in outdoor parks and other venues because Brasil and Croatia were playing. Noel could not understand why after the fire works and loud noise I was anxious to check the scores in the internet.
Can you imagine if Brasil lost at home?? hhmmmm. That is worrisome.
I guess Croatia was celebrating their only goal.
Went back to my post only to find some photos were not there…had to search and by then…….I must have crossed some border, my Croatian internet was not working anymore!
So here it goes today!