Current Location:
Alvor, Portugal
Current Position: 37 7.4 N 008 37.23 W
Click to view map.
Distance sailed since last post:
4 nautical miles
.
View the map of our voyage track here
On Sunday we moved out of the marina to anchor in Portmao harbour. The next day we were minding our own business when we spotted a whole bunch of seagulls diving just 30 m from us. A fish feeding frenzy. Birds diving, fish leaping, we just had to go and join the fun.
So we jumped into the dinghy with a rod fitted with a one-inch spoon and went chasing fish. After the second fish, Ceu got the hook caught in her glove, so that cost us two fish while we went back to Life Part 2 to get her unhooked.
Out we went again and caught another two fish: total one mackerel, two spotted sea bass, and one herring.
The next day we set off in light airs towards Alvor, 4.5 miles away. As we ghosted along at about 1-5 to 2kts we trolled three lines behind us. One was the same trusty spoon. We also had two paravanes that dive down to about 5 meters as we pull them along. Attached to these we had two strings of feathers, one with 10 hooks and red feathers, the other with five hooks and purple feathers.
Just as I was setting up the paravanes, we had already caught one mackerel on the spoon. After that is was just a matter of pulling in one line, taking off the fish, putting the line back in the water, and pulling in the other line.
In less than an hour we decided we had better stop at 27 mackerel caught.
We anchored just inside the entrance to Alvor and dinghied into town for a quick look around.
Today we stayed. Why? Because though the mornings are calm, the afternoons get a fantastic force 5. The Alvor estuary is perfect for windsurfing and kitesurfing – it is almost totally enclosed, very shallow (you can stand in most of it) and has an unobstructed wind which, as I said, gets up to 20kts in the afternoon and evening.
So, naturally, I had to get the board out and go for a sail. Awesome. Though one does have to dodge the 36 kite surfers that were also out for a sail!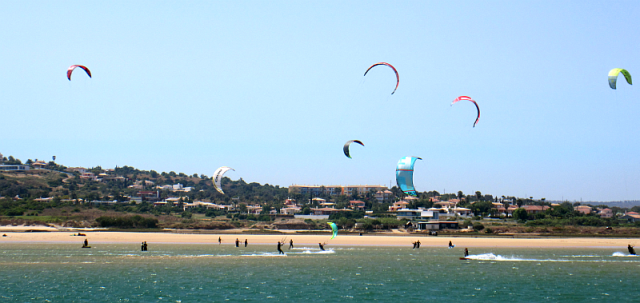 Then, this evening, two Leopard cats arrived. One from Vancouver and the other one also has a Canadian aboard!
It is all happening around here 🙂