Current Location:
Monsanto, Portugal
Current Position: 40 2.36 N 007 6.85 W
Click to view map.
We had a wonderful winter in Canada  full of fun with the family, Xmas festivities and great skiing!
We left Cartagena in November. Spent one week in England with Noel's family where we celebrated Elmer's 80th Birthday, his sister's Birthday and also mine. It was a wonderful busy week.
We the flew into Panama for 10 days, arriving in Kelowna before Christmas. Ahhh, but before Xmas we celebrated my grandson Tiago's 2nd Bday. Talk about culture shock….after traveling through the Caribbean and others, and seeing how people live happily with so much less , I was really surprised at how it shocked me coming  home to big Bday parties and gifts, and all the hustle and bustle of the Xmas shopping and all of the extravagance and stress that goes with it. It sure takes away the spirit of Christmas as well. All I could think about was spending time with my family. I had a wonderful time with my kids. In February we welcomed my second grandson Jonah into the world. He was a handsome and big boy at 8lbs 6oz . I sure miss them a lot.
We left Kelowna in early April 2012 on the way to Spain to get back to Life Part2. We made a stop in England to visit Noel's family where we celebrated Heidi's 83th Bday and a roast of lamb dinner to celebrate Easter. We had a nice week there with the family. Food, fun games, nice walks in the beach at Lee on the Solent where it's always fun to see all the kite and board surfers.
We flew  into Cartagena on April 7th.It was nice to see that our floating home was still floating and doing well. It looked great,except for all the dust outside…It was clean and neat. It doesn't look like that often when we're around! I can see Noel already laughing at this, that's because I often tell him that the house is looking like a workshop again! He is always fixing things or or home improvements of some sort. There is no end to cleaning and maintenance on a boat. At this moment it's a beautiful sunny day we are at anchor in the smooth waters in Mar Menor. I get to write this siting outside on the cockpit and trying not to get too distracted with some beautiful live music coming across from a beach bar. It makes me wanna dance!!!!!!
We had big plans to finish our rigging upon arriving in Cartagena. One trip up the mast and Noel realized: wrong size! We had them shipped from US. They made a mistake. It meant we had to wait another week for delivery here. Decided to rent a car and drive to Portugal and see my side of the family.
Noel's idea to rent a car (wonder why) not cheaper, in the contrary. But we were so tired of waiting at airports and their stupid securities with all the stuffed cases we bring with us, did you see the picture?What we look like running through airports with buggies so full, taller than me, can't see where I'm going till someone is rushing to help by loading up the stuff that's sliding over and everyone is looking at you. It was a lot of gear to carry from England because Noel bought a windsurfer there. So it added more fun at the airport but everything got here fine. Noel is excited to try it. Yesterday we set it all up but not enough wind to do it.
We drove close to 1000kms to my hometown. You see….Noel decided to apply for a driver's license in England. It meant he had to send in his Canadian one. His driver's license just arrived. So he had a chauffeur, that's why the idea of the car rental…smart! The drive went well, and the scenery varied a lot. For most part was dry, flat, not so attractive, but many cultivated fields. I enjoyed looking at the crops of potatoes, tomatoes, peppers, cauliflower, broccoli and many artichokes which I had to stop and check it out. I had never seen artichokes growing. Cartagena has very nice weather all year around so they can actually grow 2 crops a year and it was neat to see how some of the potatoes were ready to be dug up and some were just starting to bloom. Also along the way were many grapes, and also orange and olive groves. As we got closer to Portugal scenery was more green and a lot of blooms, along with the famous cork trees as well.
Great highways, 120kms throughout. I went a bit more. Testing out the car! I told Noel that car was not powerful enough for this long trip… it was kinda shaky! As soon as I said it, a Spanish sign read to "slow down, caution, very windy zone"  and dozens of wind mills! Well I think my car was doing fine, just my foot was a bit heavy.
We had a good time visiting family in Portugal. It was a very unusually late Spring. We were lucky to still have some sunny days and my Mom was glad that I was able to help her with her big garden. We seeded lots of potatoes, beans, planted lettuce and cabbage and more. Best of all I got to spend quality time while doing it. She was happy to share old stories with me of the times we spent together, working side by side, day after day through sunrises and sunsets. We shared some great memories and as usual I loved listening to her telling me about childhood and what it was like for her, to raise 8 kids. She is an amazing woman!!!
Noel and I enjoyed our usual hikes there. Last summer we always finished with a fresh water swim in the river, but this time…too cold! But the mountains were covered in scented blooms and heather, so there was a beautiful fragrance in the air. We did another hike with a group  along the Rio Zezeres to some old tungsten mines.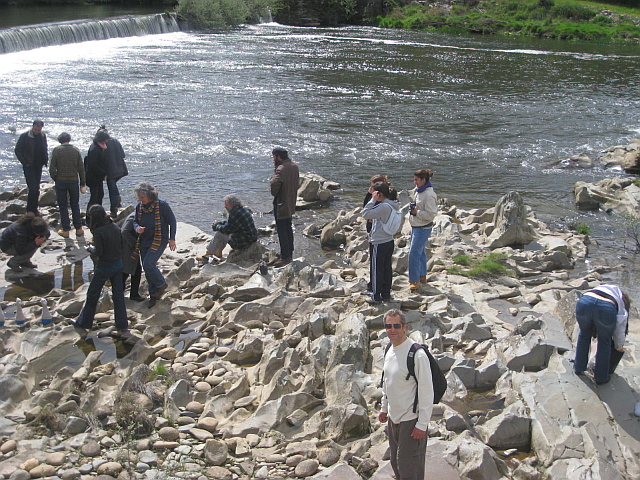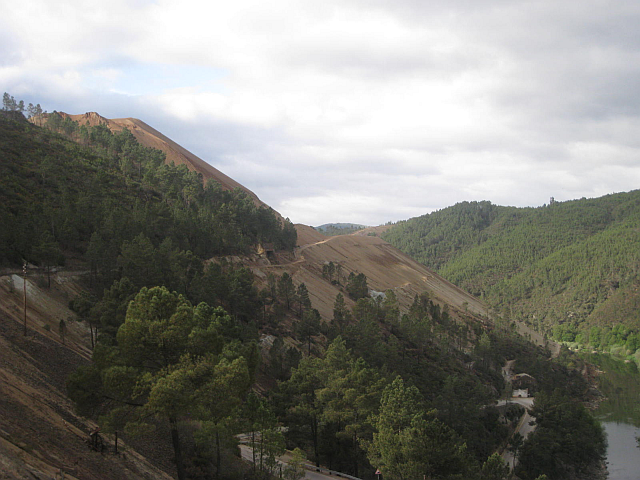 During our hike, we even found our next boat!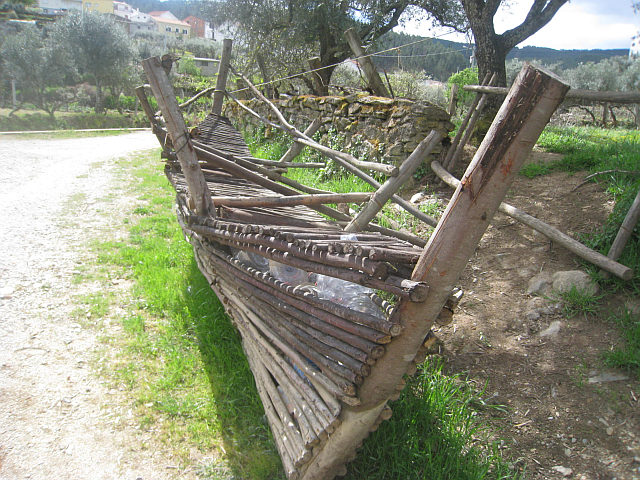 The mines were pretty dilapidated although across on the other side the mines are apparently still operational. It was a pleasant walk along a nice kayaking river.  Hardly strenuous, but it got us out and was ended with a nice stewed goat meal.
We also did some sight seeing. This time we visited Monsanto, in 1938 it was voted  in a national contest as the"most Portuguese village of Portugal" (no idea why it is called that) Very interesting  and historical place. The town is built up in the hill slope, it abruptly rises up to  758 meters, highest point. Most houses are built right into these massive granite boulders along the sides of very narrow streets and steeps steps.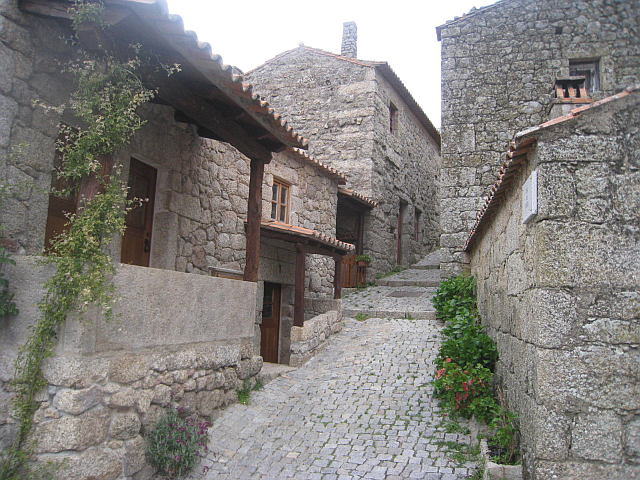 Amazingly the inhabitants are mostly elderly who must keep in pretty good shape by walking up and down to get to their homes. They are very friendly and come out and mingle with the visitors and proudly start talking about their town and it's history and how building restrictions has allowed it to remain as a living Museum.
Also the village of Belmonte with it's Castle from the 1300, where Pedro Alvares Cabral was born. He discovered Brasil in April 1500. Lots of museums and history on Brazil and Portugal.
On the drive back from Portugal we had a lot of traffic, it was a Friday and we thought probably was a long weekend in Spain. Noel, my navigator, took a nice nap but decided to wake up  just in time to tell me to turn right "here, now". I just about missed our turn. Secretly, I really wanted him to wake up in Madrid!!! lol   I had seen a sign just before that saying Madrid was only 30 or 40kms straight ahead.  Too bad he woke up so soon…it would have been a great detour! Wouldn't mind visiting Madrid.
We were in a hurry and excited that our shrouds were supposed to arrive that day. We could finish our rigging and get sailing! Sure enough…we arrive in the evening, turn on the computer and email telling us our parcel is at customs, requesting a copy of Noel's passport before releasing it. Noel did that immediately at the Marina office but of course, IT WAS long weekend! A extra long weekend, a Spanish one, not 3, but 4 days long. Well we could have stayed in Portugal longer OR at least send my honey back to sleep and wake him in Madrid!!!!
One Response to "Back on Life Part 2 and a Visit to Portugal"