Current Location:
Banjul, Gambia
Current Position: 13 26.37 N 016 34.87 W
Click to view map.
Distance sailed since last post:
91 nautical miles
.
View the map of our voyage track here
It was one small splash for a man – and a barely perceptible splash for Mankind. Ben Hooper waded into the water off the beach in Dakar, dived forward and started swimming. We were there on this historic occasion, as were Reuters and a handful of other reporters. And, in our dinghy, we motored alongside him for a couple of miles, finally letting him go as we reached Goree Island.
Ben's goal was to swim, yes swim, from Senegal to Brazil. 1600+ nautical miles across the Atlantic Ocean in aid of charity. He was the first of many characters that we met when we arrived in Dakar.
We had arrived at night. So in the morning we moved the boat closer in to the shore. There wer several other yachts at anchor so, as per our normal modus operandi, we went around to visit some of them. The first was an old wooden catamaran with SwimTheBigBlue.com written across it.
At first we assumed this was some kind of charter operation. We pulled alongside and were greeted by a friendly face who spoke English and was carrying a big video camera. Shortly we were joined by Ben Hooper who told us two astonishing items of news – the first was his goal to swim the big blue. And the second was that Trump had won the US Presidential election. I am not sure which item was the more shocking – but both were captured on video by the cameraman, Jason.
On going ashore to the Cercle De Voile de Dakar (CVD – the Dakar Sailing Club) we then met Nick and Sally, who own a steel ketch, and their new, temporary, crew member Rob, from Niagara Falls, Ontario. This boat was to accompany the catamaran on Ben's quest to be the first to swim an ocean.
Unfortunately, Ben had met more than a few challenges in putting together his adventure. Raising funds and putting together a crew for something like this is no mean feat. Not the least was to see two men carrying beams of wood, like Jesus and his cross, through the CVD while the rest of us were enjoying a beer on the evening before Ben's planned departure. It seems that someone had sat on the tiller and broken it…
Swimming at about 1 kt, the trip would take at least 4 months. Ben would swim 8 – 12 miles a day, and then would rest over night on board. The next day they would zig back to the approximate end point from the day before, and he would swim again. The Guiness Book of Records does not require him to return to the exact spot, provided the total distance swam is the correct amount. One of the big challenges will be to keep the two yachts from going too fast. They will have up minimal sail, and will be using drogues.
As Ben swims, he would have one boat ahead, one boat behind, and a sit-on-top kayak paddling beside him. To me, it sounded fine as long as the seas are smooth, but come some winds and waves, well, I have my doubts. But, wow! What an adventure to be even trying something like that! All power to you, Ben!
As we write this we have no idea of his progress. His tracking device seems to have broken down, so there are no live updates on his website. We hope all is well.
And then we met Kai. Kai is German. But he doesn't live in Germany. Oh, no. He lives in Liberia. Yes, down there on the bottom left corner of the West African bulge – between Sierra Leone and Cote d'Ivoire – where all the Ebola stuff happened not so long ago. With all the troubles in Syria, and the spill-over of refugees and all that in Turkey, it seems that tourism to Turkey has collapsed and, with it, the price of used yachts. So Kai nips over to Turkey with his 16-year-old daughter and buys himself a nice second-hand monohull sloop which he names YOLO ('You Only Live Once').
After we left him, we met a fishing boat pulling in its catch.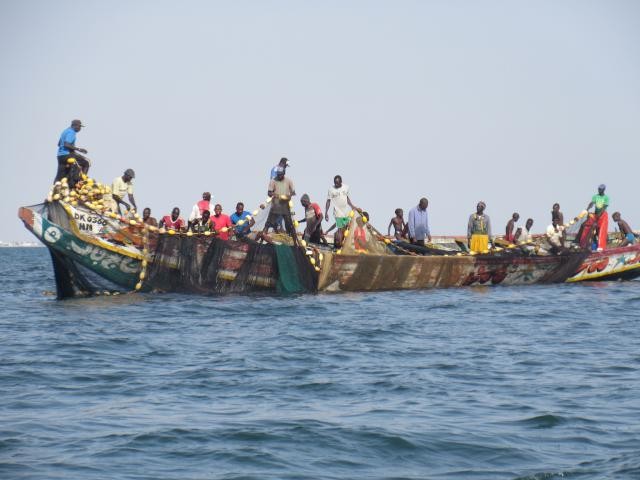 And so Kai is doing a delivery trip. He and his daughter are sailing YOLO since June from Turkey around to Monrovia, Liberia, where it will be the FIRST pleasure yacht in the country.  Unfortunately Kai had no charts for Liberia – or indeed anywhere south of Morocco. So he was glad to receive from me a set of charts for the whole world that he could use on his openCPN. In exchange he cooked us a nice Liberian meal of grilled snapper, and 3 other kinds of fish, with stewed carrots, cassava and eggplants.
We were also pleased to meet, again, some French friends that we had met in Morocco. The world of sailing is, indeed, a small world. The first thing they did was give us a Dorado they had caught on the way down. Nice.
At CVD which, incidentally, charges you for anchorage, you can fill up with 'filtered' water, for a price. We did so, but it has a stale taste to it, so we filled our jerry cans with good water from our tanks, and then filled up the one tank with CVD water. We are using the jerry can water for drinking. Diesel and gasoline are also available, by jerry can, for a reasonable price per liter, plus a price for the guy to carry it to your boat. We filled up on gasoline for the outboard – having used a lot of it to follow Ben Hooper around – but didn't need any diesel.
The CVD is a comfortable place to bide some time. The beer is both cold and cheap. The company, as you can see, is eccentric and entertaining. But, sadly, the surrounds seriously detract from the experience. Had this been a bay with blond sand and azure waters we might well have stayed on a few days yet.
But it stinks.
Literally.
There is an open sewer that runs straight into the sea right next to the yacht club. The water is filthy and polluted.
Dakar is even worse. We had three trips into Dakar. The first was by foot – hunting, unsuccessfully, to get a SIM card that would work. The second, on Monday, was to check in with the authorities, after which we walked through the town center to explore. And the third was to specifically visit the northern end which, we had been told, was the nicest.
Well, nicest is all relative. Dakar is a dump. It is crowded. It is dirty. The air is polluted. It is, supposedly, the most developed city in West Africa but it has little to recommend it. There are some big French supermarkets, such as Carrefour, Auchan (Atac), and Dias. But even they have limited supplies and are expensive compare to Europe. The market Karmel, near the check in Port, did have some good looking fruit, veg, meat and fish.
But the biggest drawback is the hassle. Walking around we noticed we were the ONLY white people at large. Why was that? Because you can barely walk two paces before someone, very friendly, accosts you and strikes up a conversation. He asks your name, where you are from, and starts to tell you about the sights you are seeing, and should see – and how he will take you there. It is virtually impossible to shake him off. But when you do, before you take another two paces, another one has taken his place.
All of them want a gift of money for being your tour guide.
It gets so that you become suspicious of everyone who greets you, as you assume that all they want is some money from you.
Goree Island, on the other hand was a pleasant visit. Having said farewell to Ben who was still swimming, we took our dinghy across to the island. The water here is beautiful and clear. The island was used in the slaving days as the pick up point for more cargo (ie slaves) bound (in both senses of the word) for the Caribbean and America.
A sad chapter in the history of Portugal, England, Holland and France. Even here, of course, we were accosted by uninvited guides and then, at the end, had to pay 20 euros for the privilege of parking our dinghy on the broken-down pier.
The company, and the stories, were fun. But we were glad to leave the stink and set sail southwards for the Gambia.
Unfortunately we departed rather too late in the morning. The winds were on the light side, so speed was slow. Given an early start, and some fresh winds, one can just make it to Banjul in daylight. Clearly that was not going to happen.
So we decided to break our trip to visit the Saloum River. As it turns out, we arrived there in the dark too! But with a bright full super-moon, plus the GPX track of a friend who had gone before, plus our radar, and Ceu's eagle eyes in the bow, we were able to nose ourselves into the river and anchor in a safe and calm place. The biggest confusion was the plethora of coloured flashing lights in the river entrance – some red, some green, some white – were these channel navigation markers, or what the heck were they? It turns out they were anchored fishing boats. And we managed to dodge them all.
The next day we turned back down the river to visit Dionouar described by Steve Jones in the West Africa Cruising Guide as "one of the most striking towns in West Africa, standing majestically in a natural setting of silver sand and palm trees. The most prominent feature is the central mosque with its impressive minarets."
Really? Did Steve actually visit the place?
The beach was actually dark grey, but looked white from a distance because of all the white clam shells that were all over it, and were also used as paving for the streets. The Mosque did, indeed, have one minaret. The rest of it seems to be still unbuilt. There were some palm trees, but hardly majestic.
The town people were, however, friendly, and did not hassle us for gifts. We visited a baker, who gave us some bread, and we bought some more. A few children gathered round, but we were not mobbed. And the fishermen on the beach were also cheerful and friendly.
On our walk back we came across some men training for the local wrestling competitions.
The next day we set off early to try to get to Banjul before sunset. In fact, we got the tides right, and we sailed nicely into Banjul at about 2pm. Anchored, and went ashore to check in.
The astute reader will have noticed that we did not check out of Senegal. We have a one-month cruising permit. We would like to visit the Casamance area, but that is south of the Gambia. If we went there first we would then have to beat 100 miles upwind to get to Banjul. No thank you. We will check in to Gambia, then, if we have time, we will go to the Casamance and maybe check out of Senegal at Ziguinchor. Or not. When we reach Cabo Verde we will have our check-out from Gambia in our Canadian passports. Indeed, some sailors said there is no need to check out of Senegal anyway.
2 Responses to "Cruising Dakar and Senegal – Do We Have Stories to Tell!"