Current Location:
Rhodes, Greece
Current Position: 36 26.89 N 028 13.75 E
Click to view map.
Distance sailed since last post:
93 nautical miles
.
View the map of our voyage track here
Having finally picked up our liferaft in Marmaris, and having paid our 90 euros to check out of Turkey, we set sail for Rhodes in Greece with some pleasant winds of up to 25kts giving us a great sail with one reef in.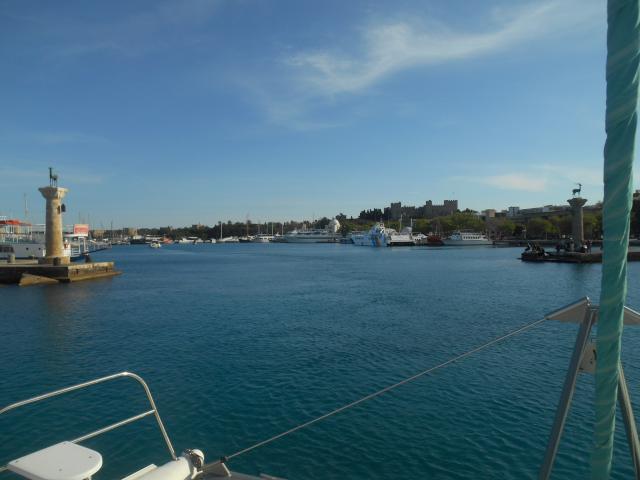 We arrived in Rhodes harbour and turned immediately to the left, as one can dock on the small fishing dock without having to pay marina prices. That's us tied up just below the defending fort: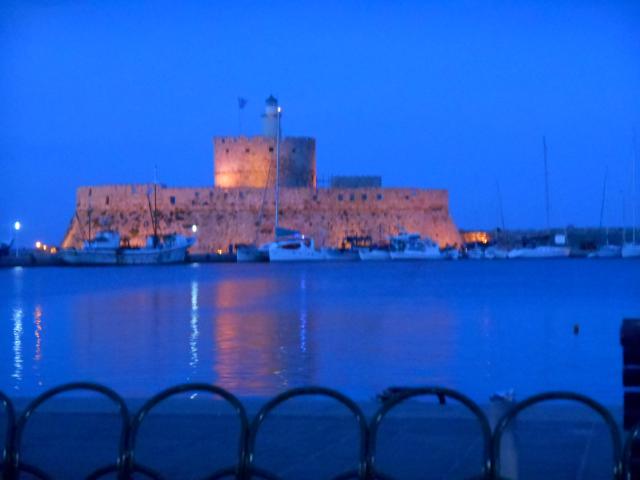 First stop was the friendly check-in authorities and then a pita gyro! Ah, pork!
First thing next morning before anyone could come and ask us to pay something we moved around the corner outside of the harbour breakwater, but still in the protection of the commercial harbour. There we anchored for two nights.
We were anchored right outside the town walls and the old windmills.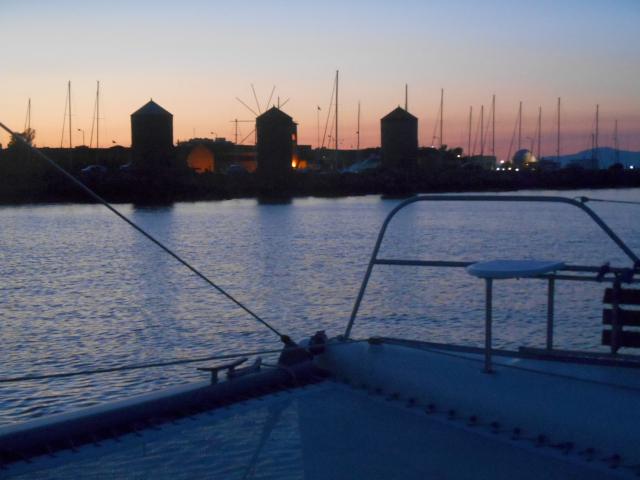 Tied up and secure, we then took our tourist walk around medieval Rhodes.  It really is a beautiful old town, with a moat around the walls.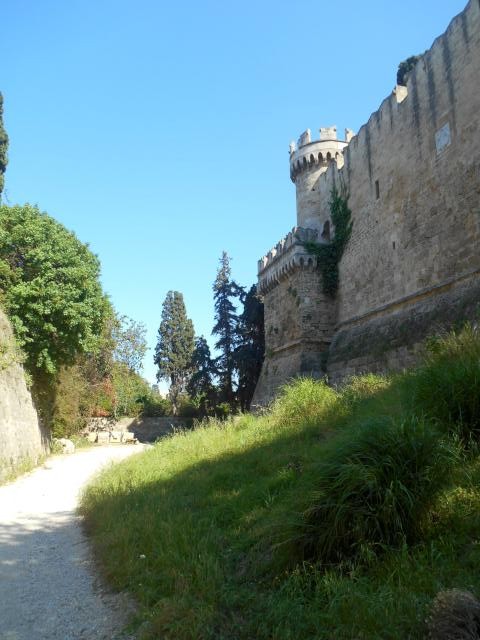 And full of beautiful buildings, most in very good condition.
Though some older, pre-medieval ones could do with a bit of maintenance: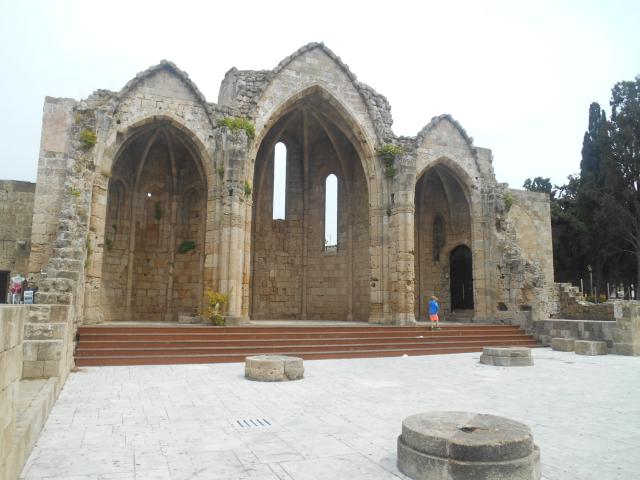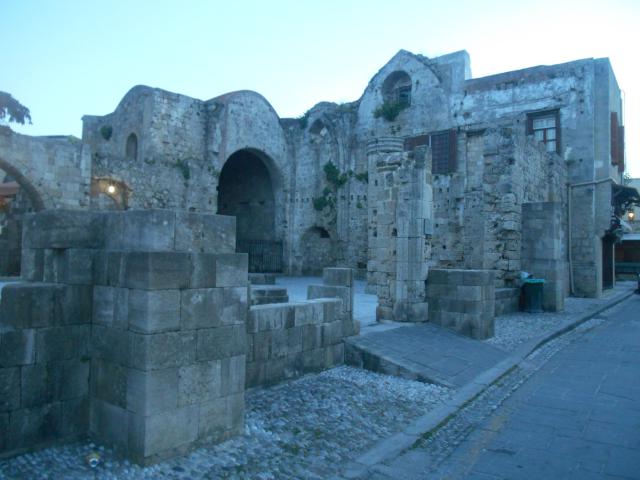 The main square is cute, and gave us the opportunity to have another pita gyro. Ah pork!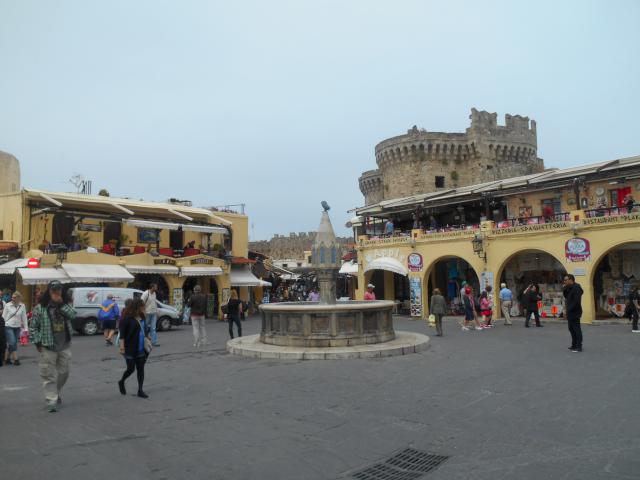 This is the street of knights, where all the different countries had their 'lodges' where their knights would hang out.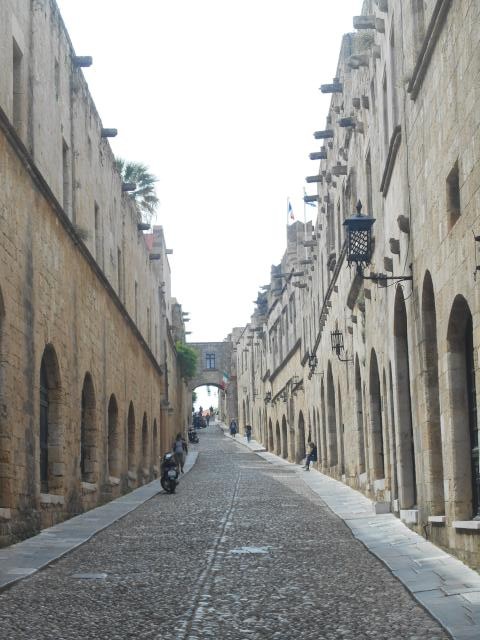 The palace is also impressive, with some good mosaics.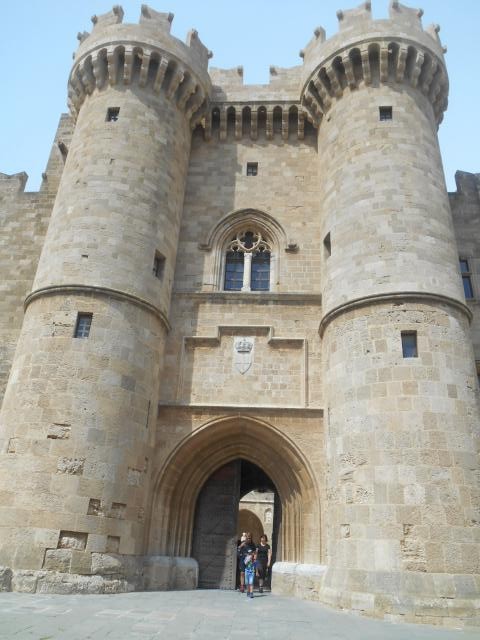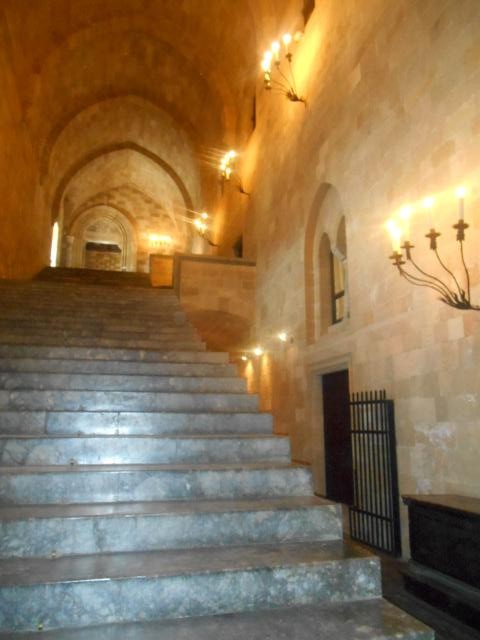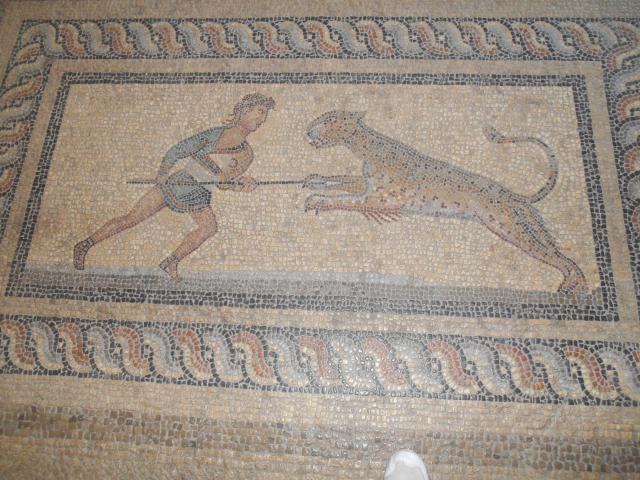 This is one of the main gates into the town through the town walls: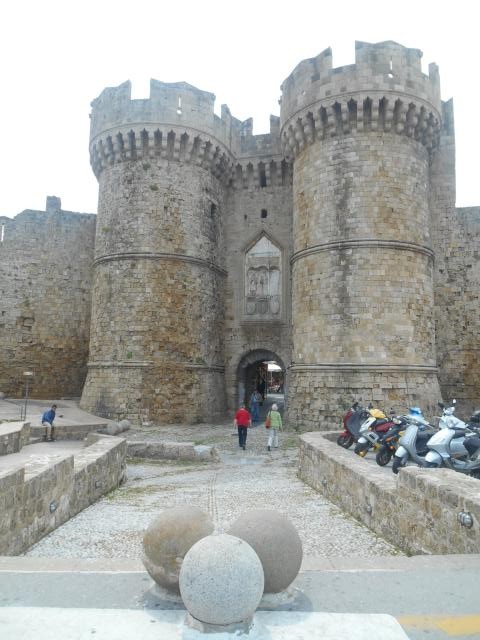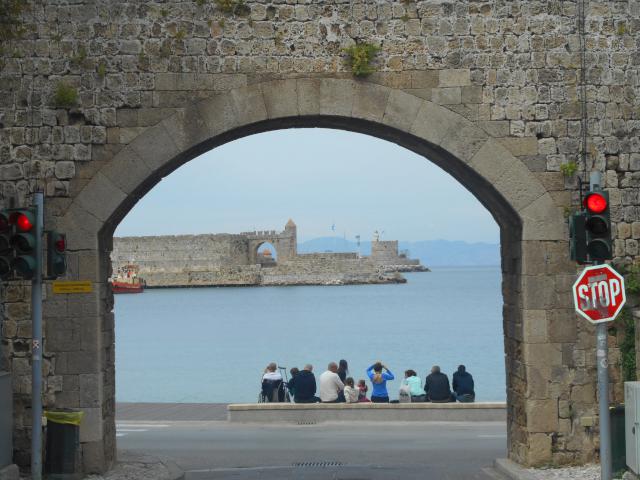 We also got our Greek butane bottles filled up at a supermarket.
The next day, rather than sailing down and using up a day, we decided to take a bus to visit Lindos, about 90 minutes away.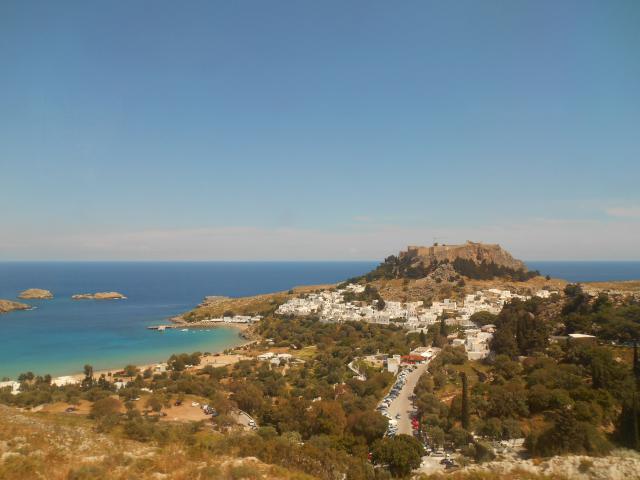 Here we walked up to the castle. Of course, if you are feeling lazy, you can just take a donkey up: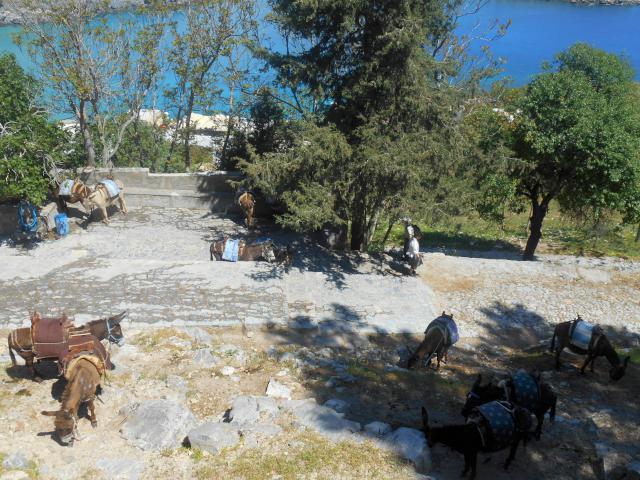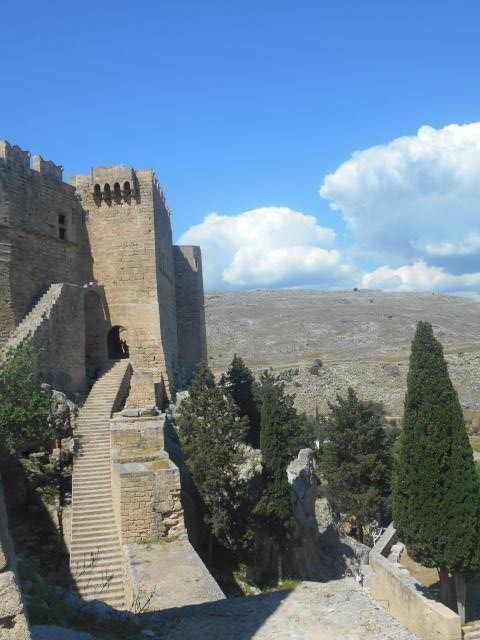 Who's that looking so cute up on the castle steps?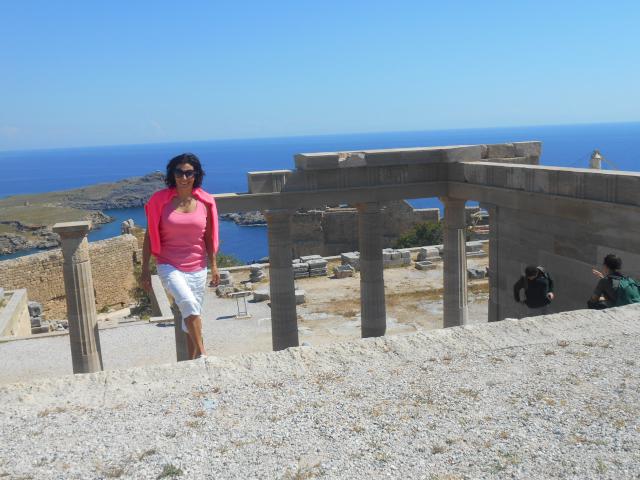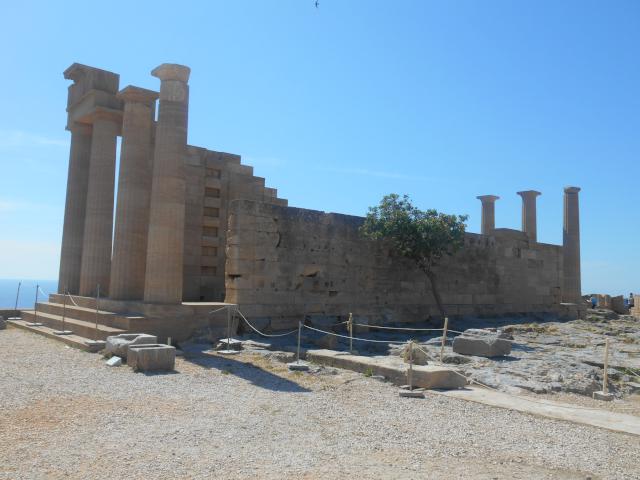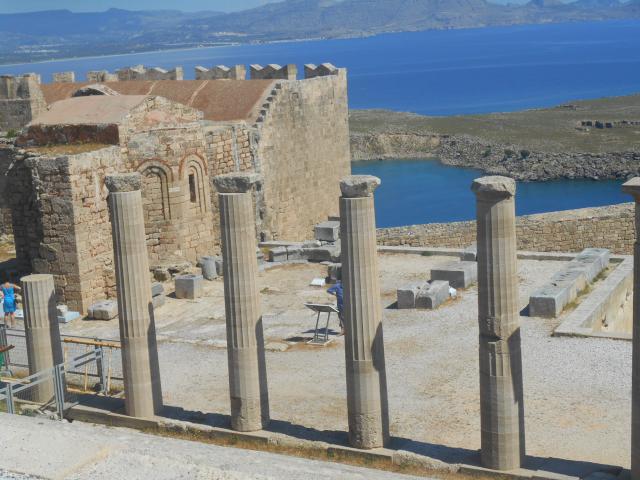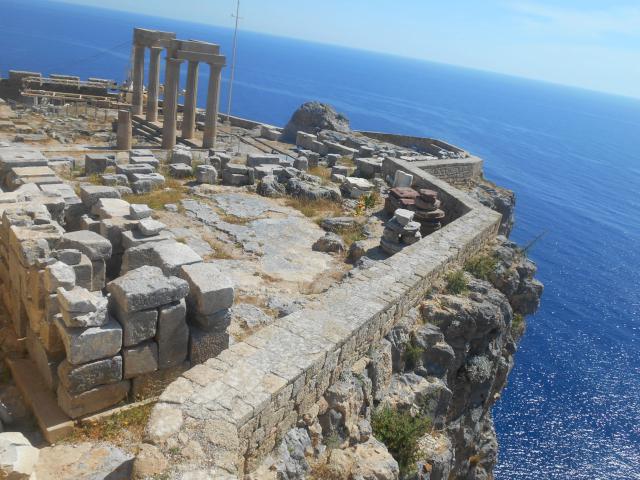 Just south of the Lindos bay is a tiny enclosed bay which is just big enough for a yacht or two: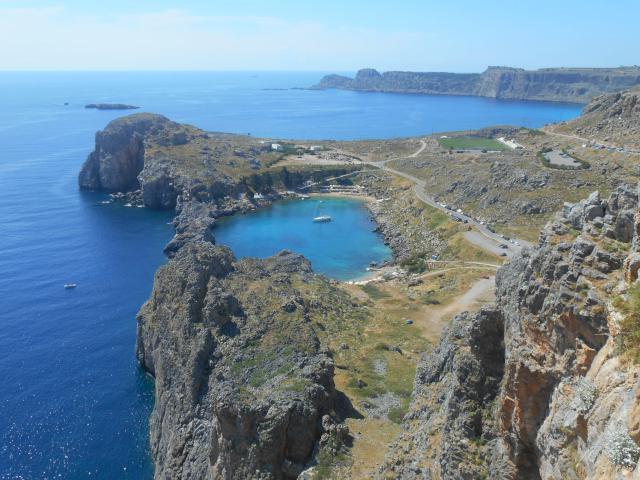 Lindos town is all whitewashed walls, though not as pretty as some of the other places we have visited, such as Astypalea. However, we did like the decorative snow patterns that the town put in many places on their streets and their steps, and even inside the buildings: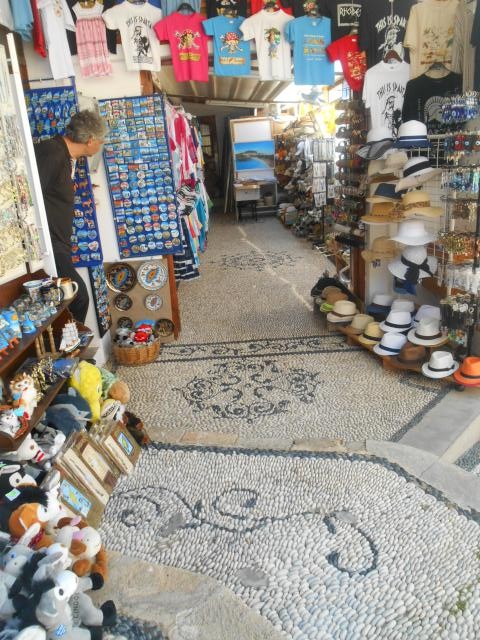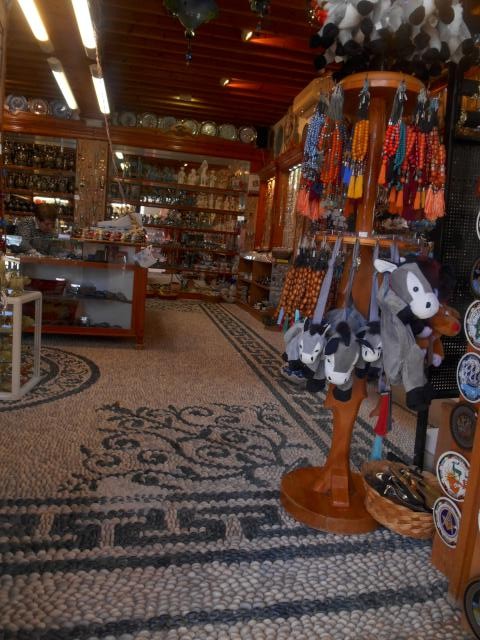 But, we are in a hurry to get to the Ionian and up to Croatia, so the next day we took off in 10kts mostly with the spinnaker up. We had to dodge a few tankers on our way to Tilos. I guess we crossed  the main shipping route from Athens to Suez.