Current Location:
Boqueron, Puerto Rico
Current Position: 18 1.26 N 067 10.68 W
Click to view map.
Distance sailed since last post:
233 nautical miles
.
View the map of our voyage track here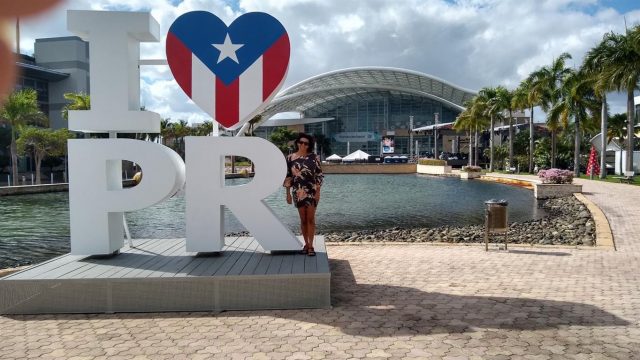 Puerto Rico here we come!
Sail from St Maarten
We left St Maarten on Dec 19, destination Culebra, PR, distance of about 130 nautical miles West.
We left at about 7 PM so we could arrive the next day through out the day.
The trip was great, we had full moon, yet we could still see the stars. Our favorite Orion as always, along with Sirius, Cassiopeia, 7 sisters ,Auriga ,Gemini, Taurus, Cygnus and more……(that we dont recognize…haha)
We had about 15 Knots of wind behind us, so it made for a much smoother passage than bashing into the wind. We were surfing the waves sometimes over 10 knots.
Early morning we had a squall, followed by no wind at all. Motored along for about an hour, along the coast of the USVI with the twinkling lights not very far. The wind fills in and we are sailing nicely again.
At 11am we could see our destination, island of Culebra, just off the East coast of Puerto Rico.
By 2 PM Dec 19th we were anchored, in the nice flat, peaceful Ensenada Honda, Ensenada is Spanish for a Bay. We went and Checked in at Customs and Immigration at the airport. The procedure was very slow but straight forward. As long as you are vaccinated, you Do not need a PCR test, so that made it even easier to visit coming from St Maartin.
Ensenada Honda is a large protected bay and a popular anchorage with cruisers. Culebra is part of the Spanish Virgin Islands and its beautiful. We did a circumnav for a few days exploring. Surrounded by many beautiful beaches and turquoise waters. Most of the beaches are empty, except for the one advertizing as one of the most beautiful beaches in the world, Flamenco beach. Yes. Nice beach but covered in chairs and bodies. We did take some pictures but moved on. Anchorages were quite empy as well, most of the time we were the only ones there and had the beach to ourselves. If its weekend, a few of the local families come out to swim and snorkle. A couple of other beaches are also a bit popular with tourists that come for a day trip, but after about 4pm everyone is gone.
Beautiful beach in Culebrita, a few people come visit in motor boats during the day but afet about 4pm it all ours to enjoy. First night we were the only boat here and the second night one boat joined us, a charter with a nice family from US. They were delighted to be on their own in such unspoiled beauty, especially after coming from the famous Flamenco beach, where not only was very busy but they charged them 2 US a person!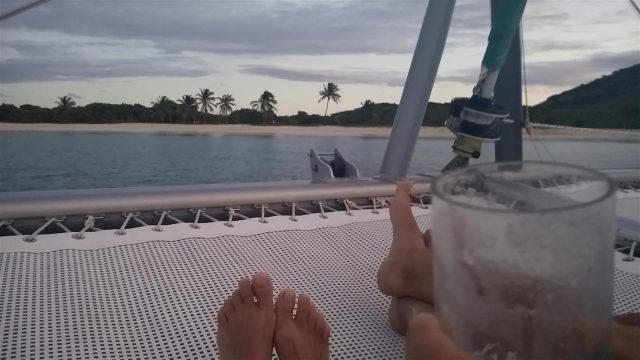 Beach in Culebrita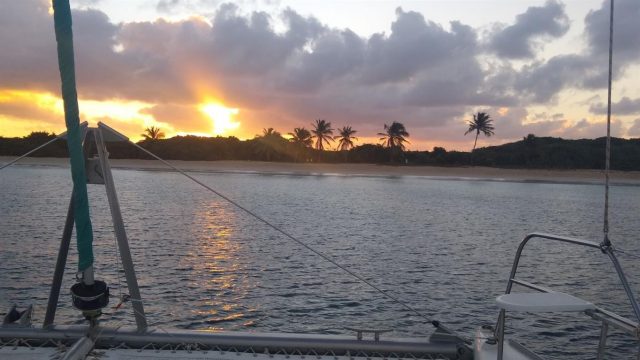 Christmas is here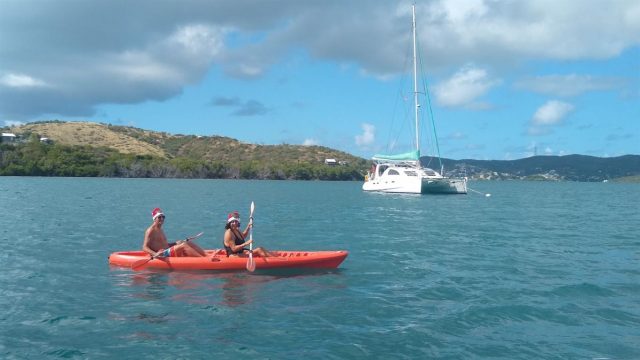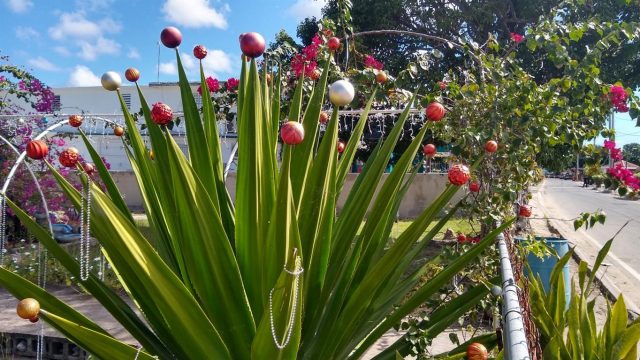 We met up with our friends from Grenada, along with another boat. All 3 Canadian boats, Jane and Jan, Bev and Bob, and us. On the 24th we met for some drinks and Mexican train and on Christmas day we had a floating party around Bob and Bev's boat folowed by a potluck and some more drinks!!! Ahhh a really good rum punch from Bev.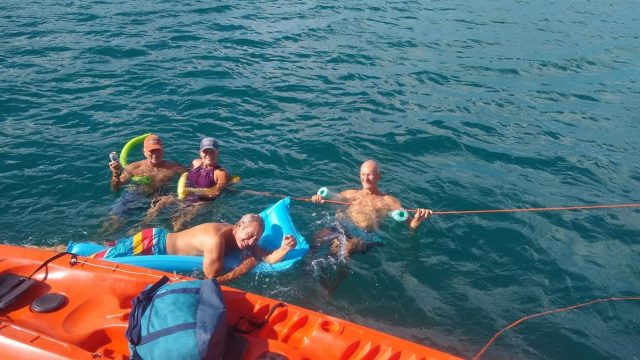 Vieques, the true meaning of tropical bliss.
Between Christmas and New year we sailed around Vieques, again off the East coast of PR also part of the Spanish Virgin Islands.
What a beautiful beautiful island, quiet, luscious and uncrowded. This island is known for their tours to Mosquito Bay. One of the best Bioluminescent bays in the world. We can sure tell you that it was just Magical. The microorganisms in the water, give the water a glow when agitated. When you touch it all glows. Of course, no pictures as it is too dark.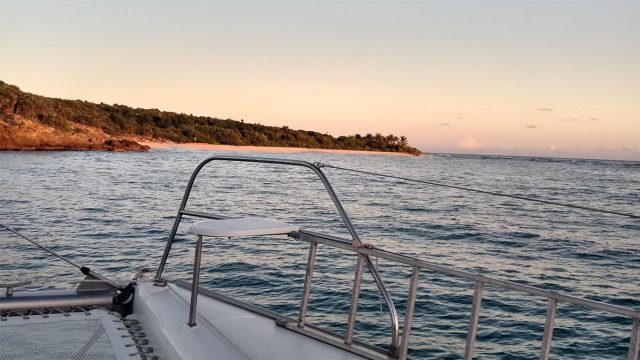 We did not take the tour, better yet, we anchored just outside the bay. Wacthed the sunset , had a nice dinner and waited to get dark. Got the Kayak down and paddle about 150m into the bay. Wow, the paddles started to glow, just a big ball of light, the bow wave from the kayak was all glowing as well. Then we dropped the painter from the kyak and twirled it around for a lit-up snake. We were like kids enjoying something totally new and excitting. We sat quietly watching and hearing the twinkling sparkling organisms on top of the water and then we see that the fish are all glowing as well swiming around us. It was also a beautiful sky with all the stars out. There were a couple guided tours going on and the guide had a laser beam pointing out the constellations to the groups. The bay is surrounded by beaches and mangroves. People ask why its called Mosquito Bay. Well we dont know, but I wish it had a diferent name too. We saw no mosquitos.
We loved it so much that we went back the second night and it was just as magical. It must be dark and no full moon.
Vieques has many beaches and is trully unspoiled. The town of Esperanza is popular for the tours to Mosquito Bay, so we noticed more people there, mostly young people spending the afternoon before going the iluminescent bay.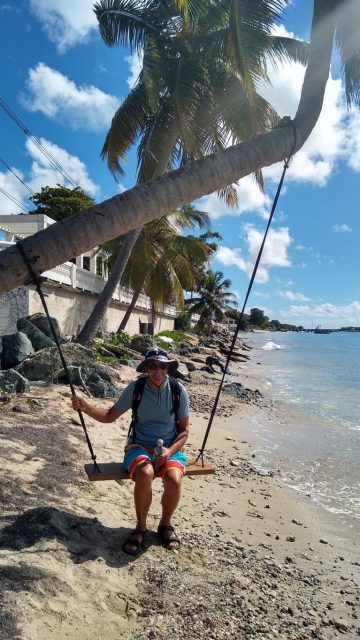 Old San Juan
With New Year around the corner we headed to San Juan , Capital and most populated in Puerto Rico. It was a 32 nautical mile sail from the island of Palominos were we spent the night.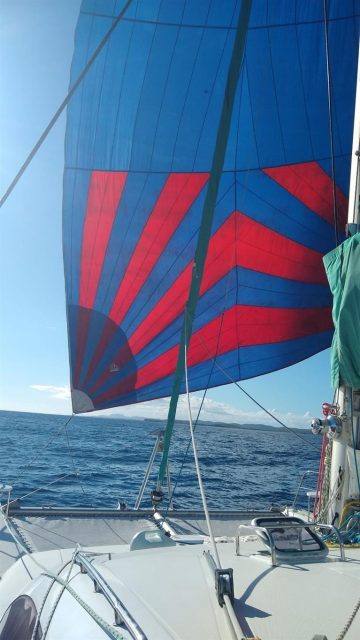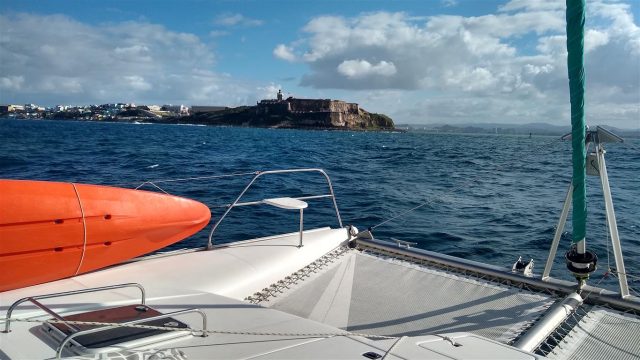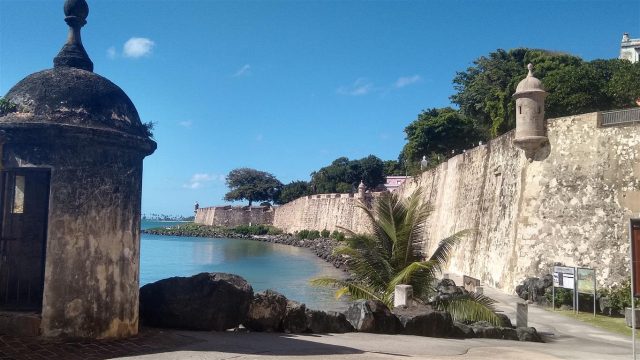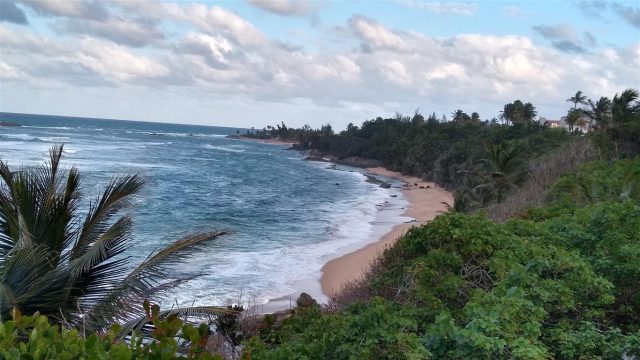 The old San Juan inside the Old San Juan is very charming with pastel colored homes, and cobbled stones streets and plazas surrounded by Restaurants, bars and shopping. Spanish colonial buildings and 16th-century landmarks including El Morro and La Fortaleza, massive fortresses with sweeping ocean views.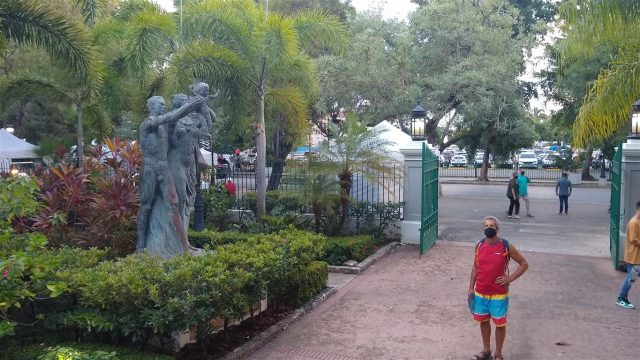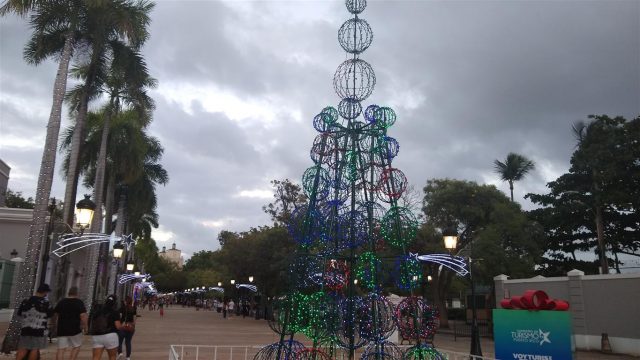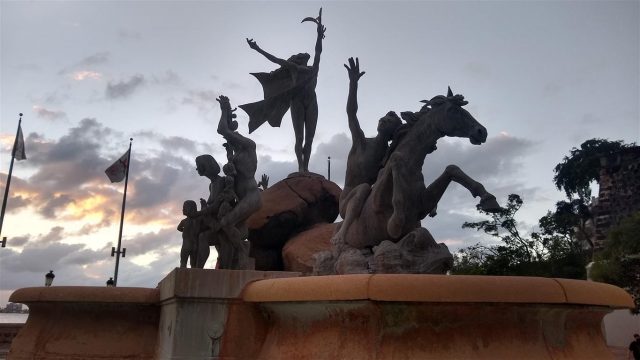 As we aproached the end of the Promenadewe came to this beatiful Statue right above the sea wall.
The old San Juan is situated inside the old fortress walls. It,s very charming with pastel colored homes, and cobbled stones streets and plazas surrounded by Restaurants, bars and shopping.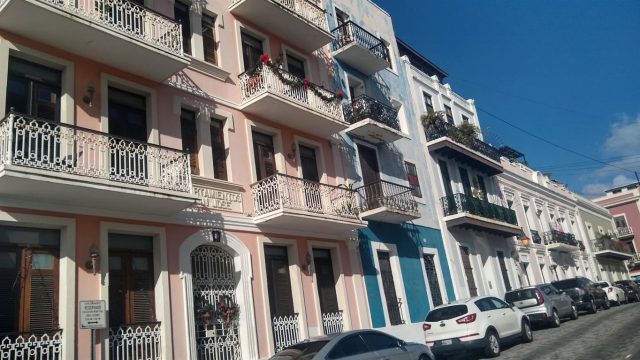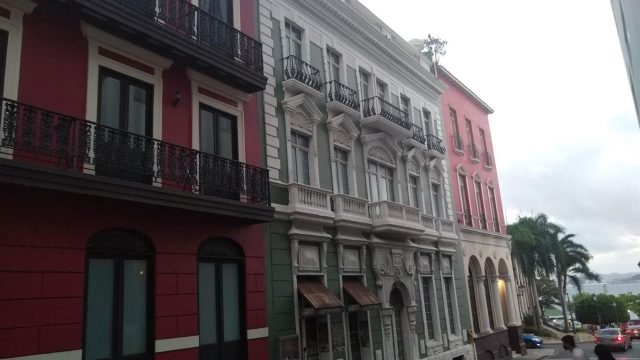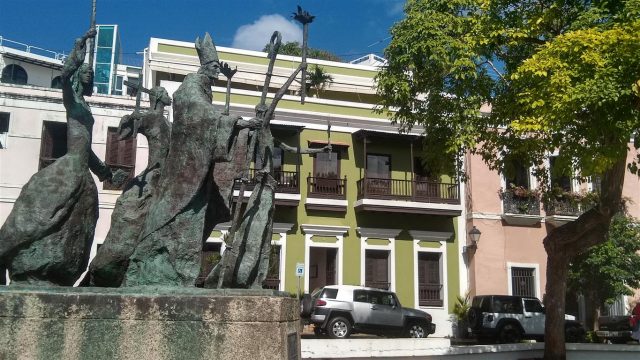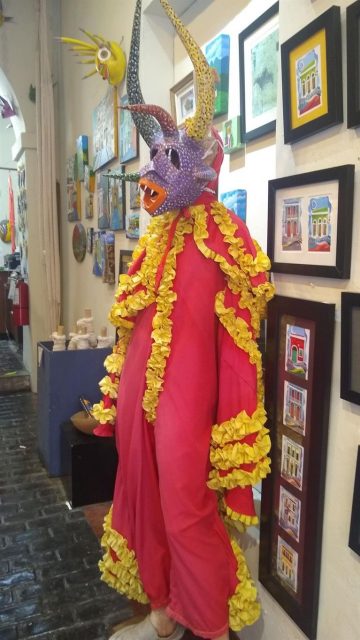 Purto Rican "The vejigante"
This Carnival tradition goes back to 12th century medieval Spain. The vejigante represented the evil Moors who were defeated by St. James. People dressed as demons (vejigantes) in a procession thrown to honor St james.
They start with a dry layer of paper, using the glue of flour and water only on the overlapping edges to secure them. This results in ease of removing it from the mold. Then layer after layer of paper. Adds the horns and teeth in stages. After each stage the mask must dry thoroughly in the sun. This method keeps the mask a bit lighter in weight. After the mask is complete and dry, it is painted.
Today, mask-makers will sometimes use plastic gallon milk jugs as their mold and papier-máche over them, but these are not form-fitting and can be uncomfortable, used more for display than wearing. For a better fit, artists will use foil to make a mold of the person's face, and then add the layers of paper to that.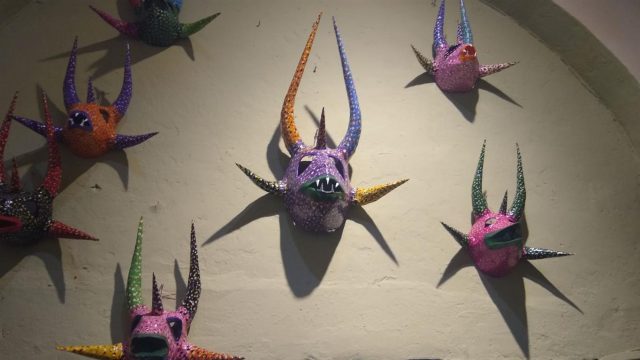 Monkey Island
Our anchorage in Cayo Santiago, also known as the monkey island. They are wild and may bite, so no walks here!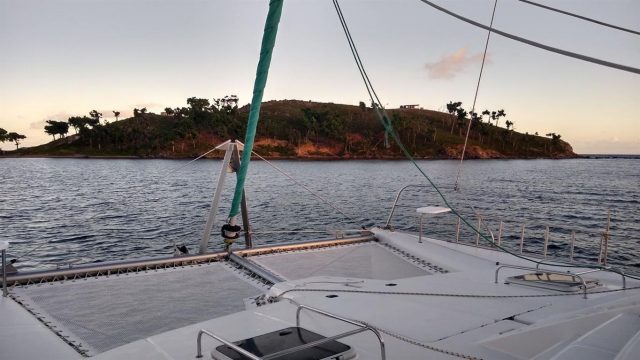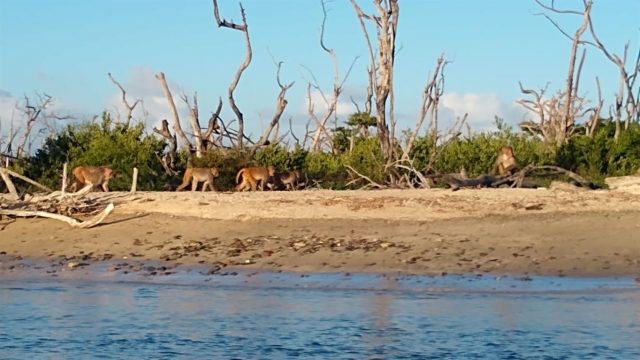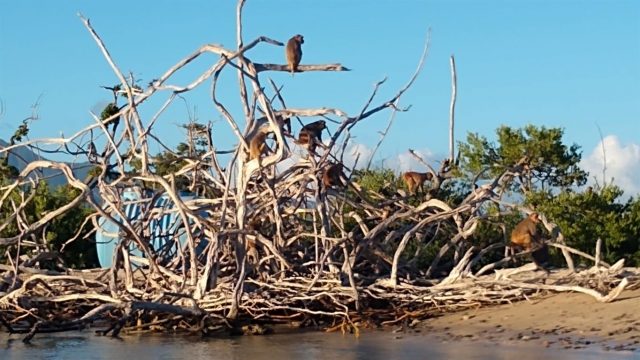 This remote small island is about a km away from land in the east coast of PR. It is home to a large troop of rhesus monkeys. It is the Caribbean Research Station and used by many scientists from all over the world. . The monkeys were brought in from India to New York in 1938 and then to Puerto Rico. Google says there are a 1000 monkeys but not clear if any died during Hurricane Maria in 2017. It didnt look like that many in this little island. Hurricane Maria in 2017 devastated most of the trees, the Lab, the feeding corrals and other structures around the island including the dock. We noticed they do have a new floating dock and the feeding corrals are up as well. Since the Hurricanes they are also studying their behaviour and how the hurricanes has affected their dynamics.
We kayaked around there and visited them for awhile far enough not to disturb them. Fascinating. Interesting behaviours, fighting and making up. The usual monkey business. The little ones were so cute and playfull.
In Puerto Patillas, we rented a car and drove throughn the mountains in narrow road and steep bends, to walks in the rainforest and water falls and a visit to the Lechoneras.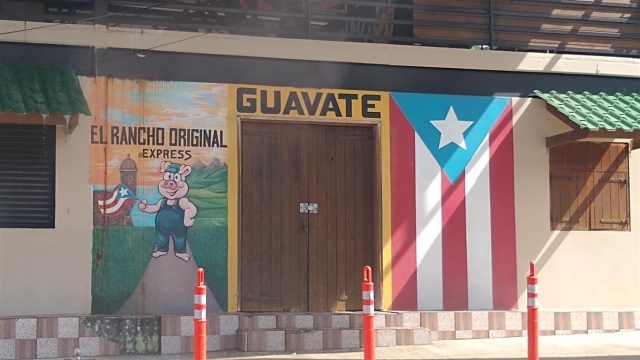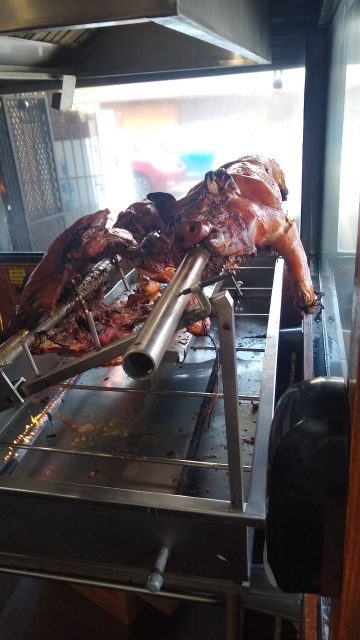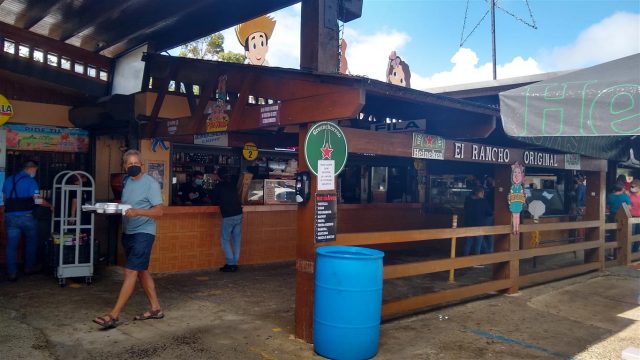 La Ruta del Lechón,the Porc Highway 184 is a roughly three-mile stretch located in a central area of Puerto Rico called Guavate. This winding road is lined with more than a dozen casual roadside restaurants, known as lechoneras, specializing in slow-roasted whole pig (lechón). Each restaurant uses a unique combination of spices to season the pig, which is then roasted over an open fire for 6-8 hours. If the roasted pig is not your thing, they also have chicken and ribs. The meal was very tasty. It is popular not just with the tourists, but also withthe locals. It's usually buzzing with music and dancing. We did not notice it so much, perhaps due to Covid. It was busy, but not too bad. The secret is to get there and order your food before 12pm. We did see the dance floors, but we did not stay for the evening, not sure about any dancing happening during Covid.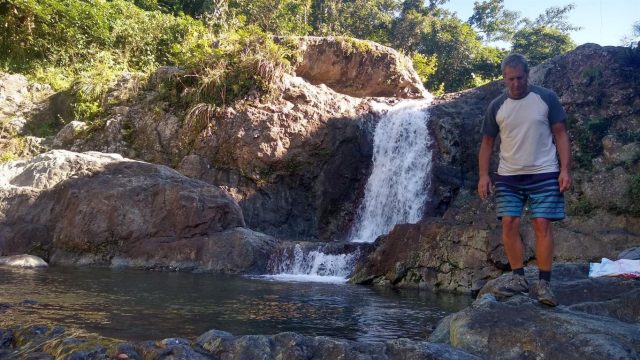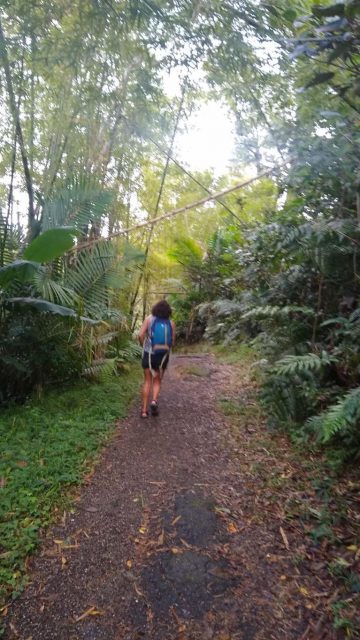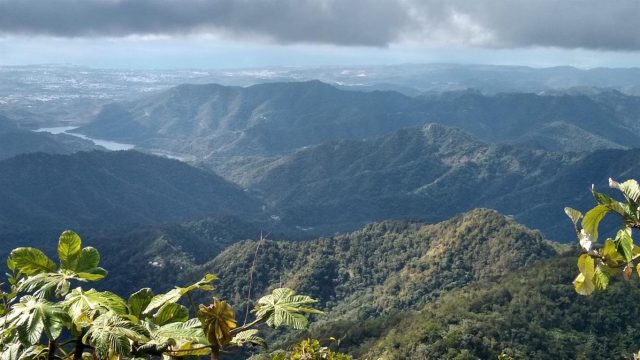 Found a few gems along the way. Cannot write or post photos of it all, but we really enjoyed PR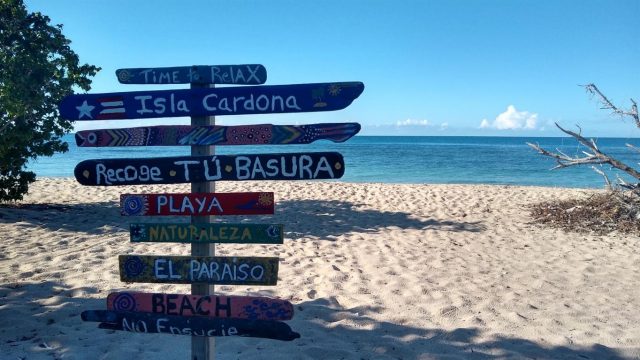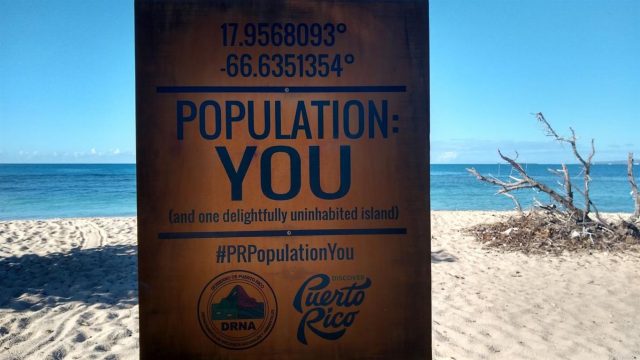 Puerto Rican love their bright colous, and their flag. Never been on a place where almost everyone is flying a flag in front of their house or its painted on the gate, fence, driveway, entyrance door and even the cement barriers on highways.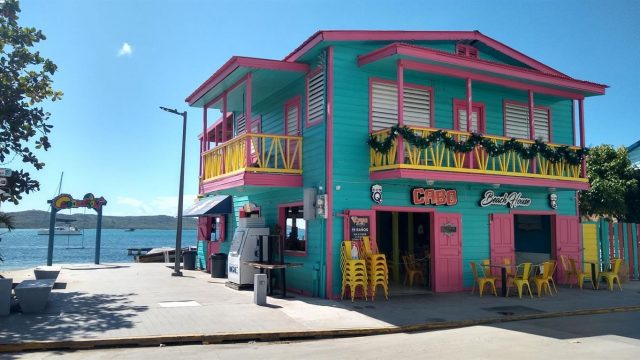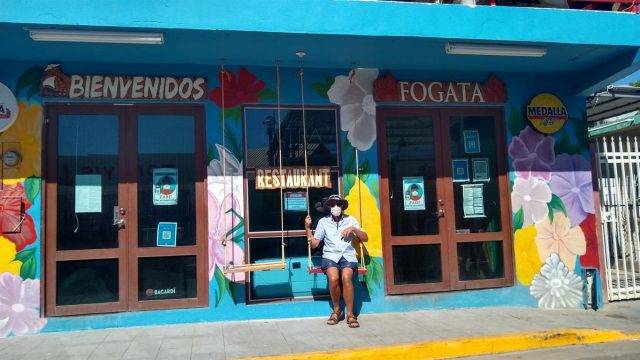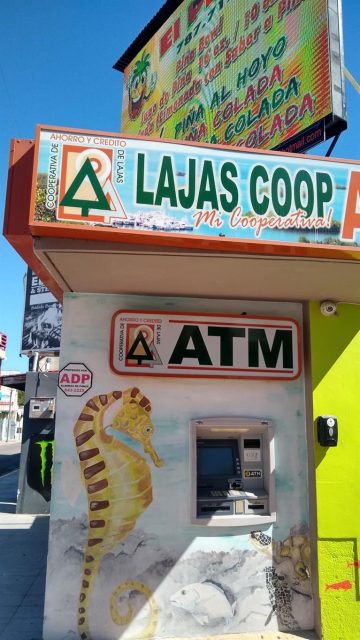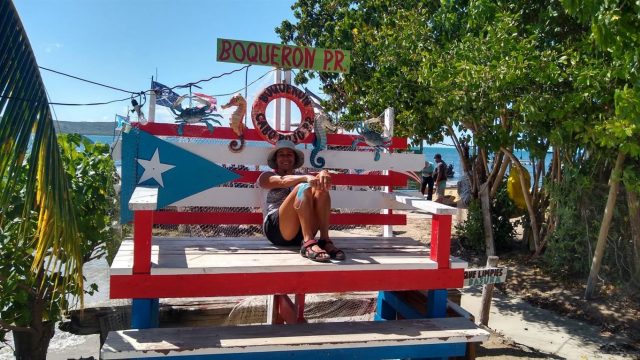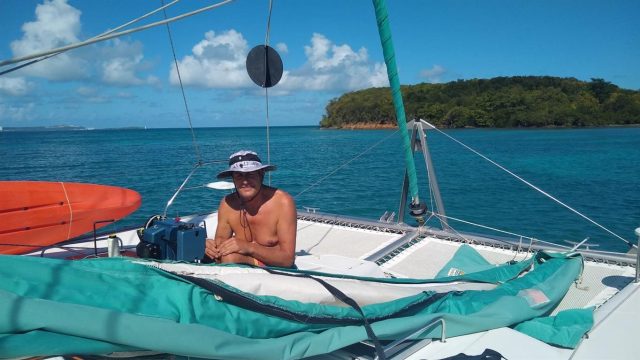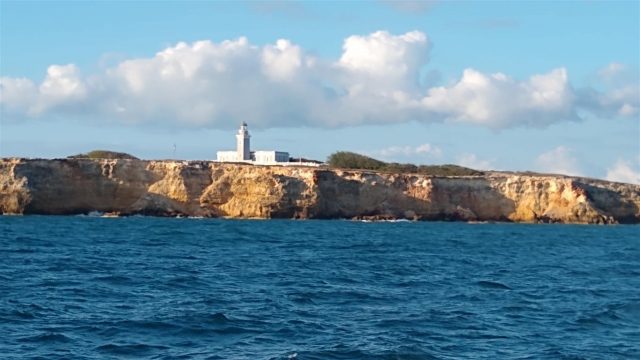 Cabo Rojo Lighhouse. This Historical lighthouse was built in 1882. It had 2 light keepers and an engineer living there with their families untill 1967. It was built by the Spanish Government to guide the Ships through the South entrance from the Caribbean sea through the treatcherous Mona Passage into the Atlantic. The cliffs surrounding the lighthouse drop down 200 feet. The other side overlooks beautiful beaches and salt water lagoons and marshes. We anchored just around the corner from here. The next morning we paddled ashore into a little beach where we left the kayak. Had to walk over some boulders to get into the trail. The views are magnificent. What a beautiful morning walk.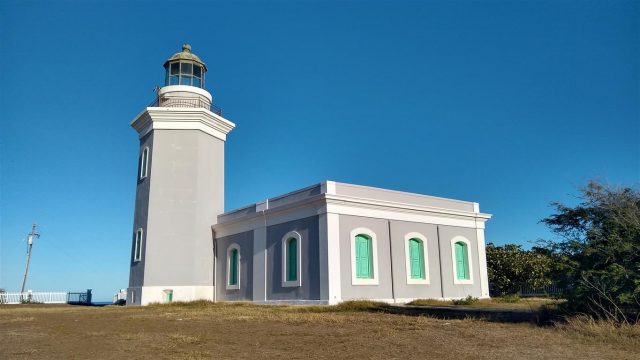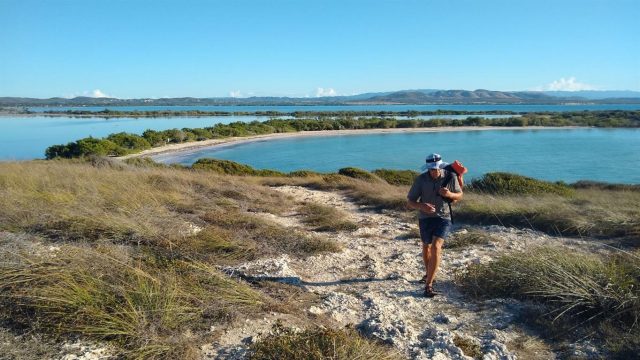 Feeling blessed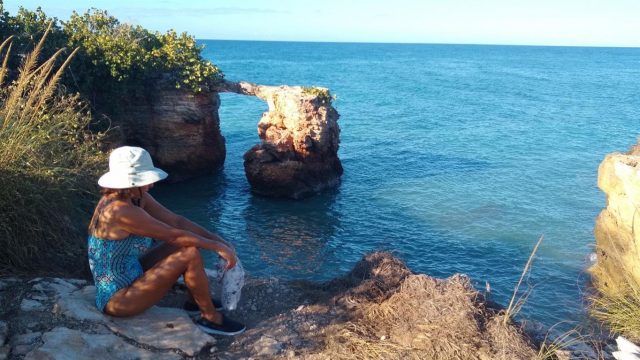 Caves, blow holes, cliffs and natural briges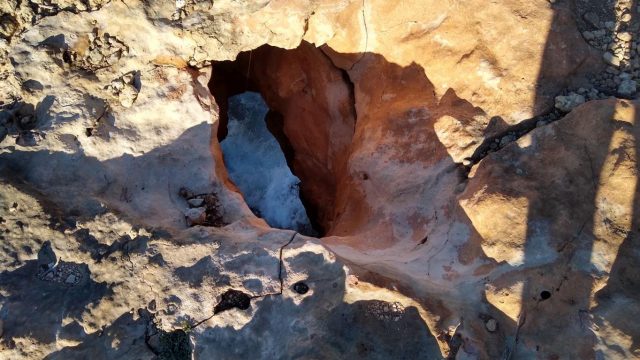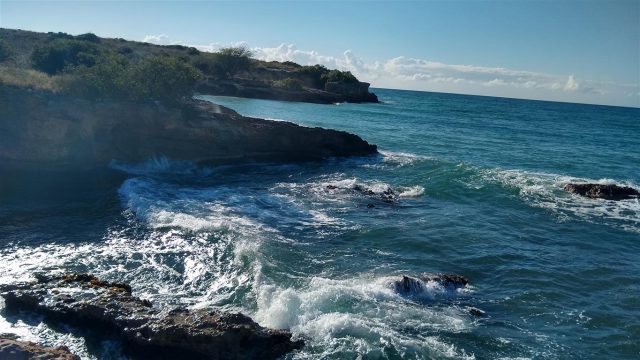 A few miles up the coast we spent a day visiting Buqueron. A nice charming colorfull small town, with a nice beach and restaurants along the waterfront.
Here in Bouqueron we called customs to do the check out. They said they need to do that we can just go. But the problem with it is, that when you get to the next country they want to see your checkout documents from the previous port, which Puerto Rico does not provide. After explaining to the PR immigration, they actaully just emailed us a stamped and signed document show us as having checked out. The authorities in Samana were quite happy with that.
And so were were off…