Current Location:
Hauled out in Portimao, Portugal
Current Position: 37 8.2 N 008 31.7 W
Click to view map.
Distance sailed since last post:
126 nautical miles
.
View the map of our voyage track here
For three months we caught nothing. That's nothing with a big fat ZERO, despite trying every combination of lures and speed in all sorts of weather. We tried a bird teaser. We tried squid daisy chains. We had diving plugs and spoons. We had up to four lines out. And we caught nothing.
Then we turn the corner from the Med into the Atlantic, and suddenly we are catching multiple fish every day!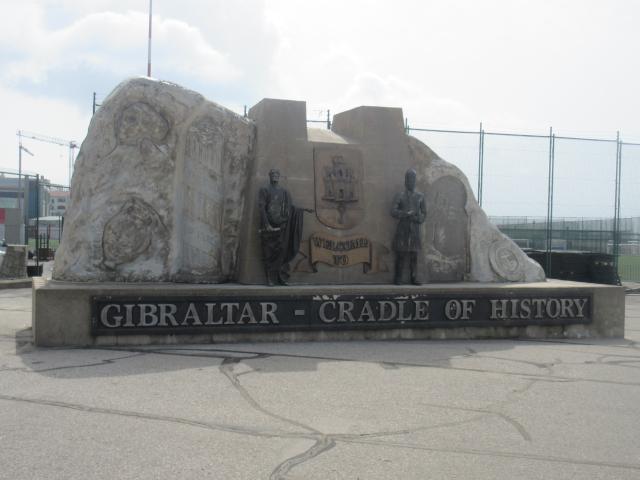 First we catch two delicious tuna as we sail up from Gibraltar to anchor first outside Puerto de Conil 36 17.7 N 006 08.0 W and then at Bonanza, just inside the mouth of the Guadalquivir river that leads to Seville.
From there we sailed more slowly, this time trailing some mackerel feathers and spoons. And, sure enough, we started to catch mackerel, sometimes two at a time.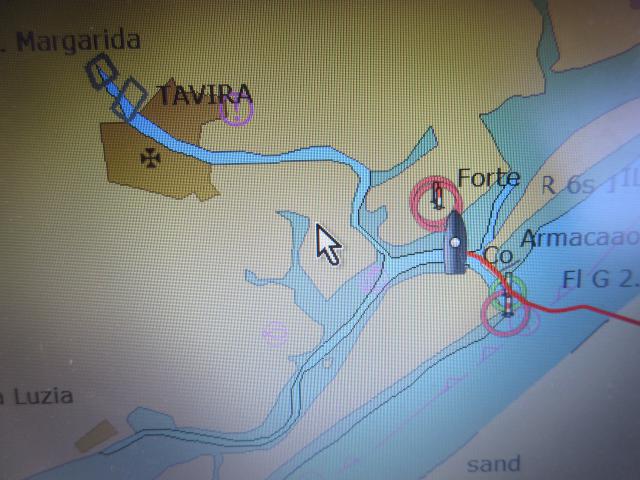 From Bonanza a long sail took us to Tavira, in Portugal, where we anchored just inside the river. Here we met up with Virgilio and Lurdes (Ceu's brother and sister-in-law). We brought them onboard, along with Nancy, Uncle Tony, and Aunt Connie, for their first visit to Life Part 2.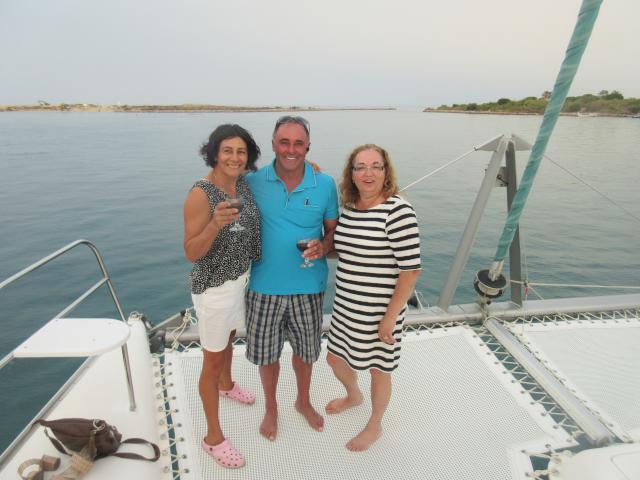 We then moved five miles east to anchor off Manta Rota to visit with Virgilio for a big dinner at his home.
He also took us for a drive up to rio Guadiana where we noticed a few boats being at anchor right in front this beautiful town of Vila Real. We spent a peaceful night at anchor just off the beach of Manta Rota and in the morning we dashed off westward to get to Albufeira enjoying the beautiful coastline.
There we picked up Nancy and Rafael(niece and nephew)and cousins Daniel and Juliana and took them for a sunset cruise to some caves at Praia de Benagil (37 05.0 N  008 24.7 W).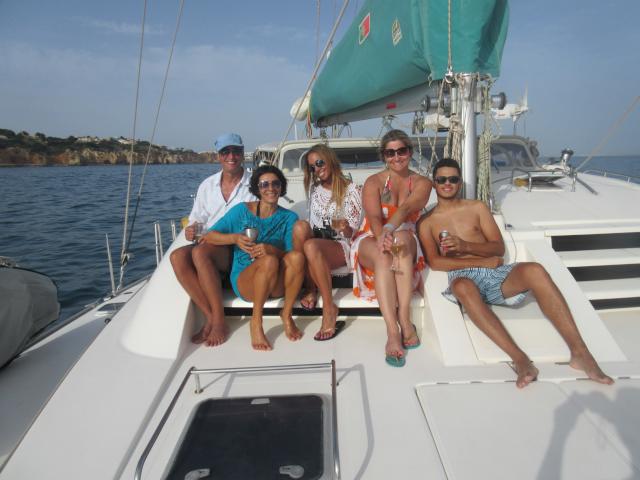 On the way I decided to put out the mackerel feathers again and within 2 minutes had a bite.
The caves along here are truly dramatic and, in the evening, so beautiful with no crowds there! Definitely worth a visit.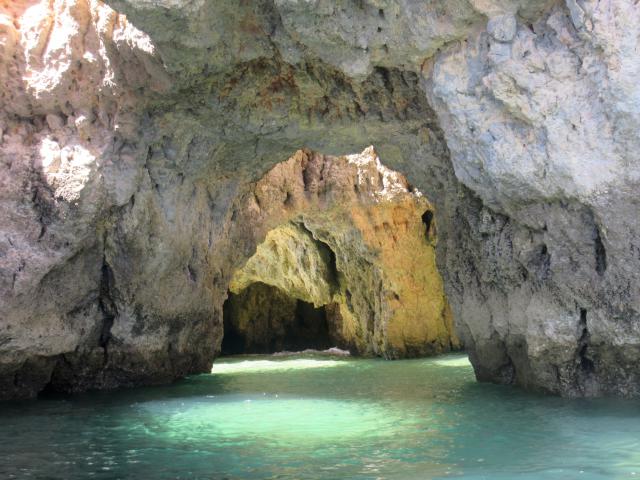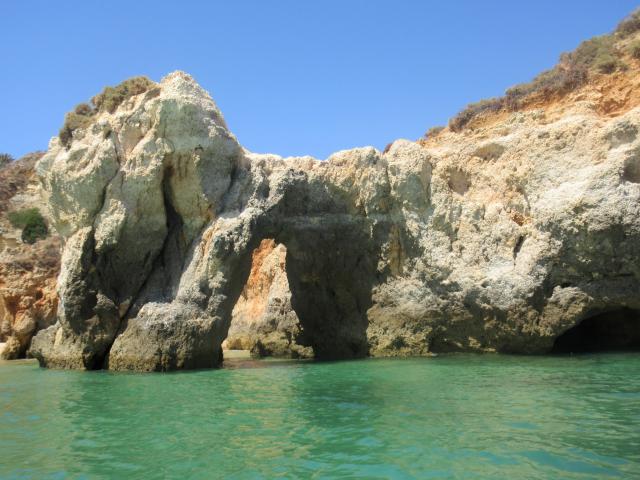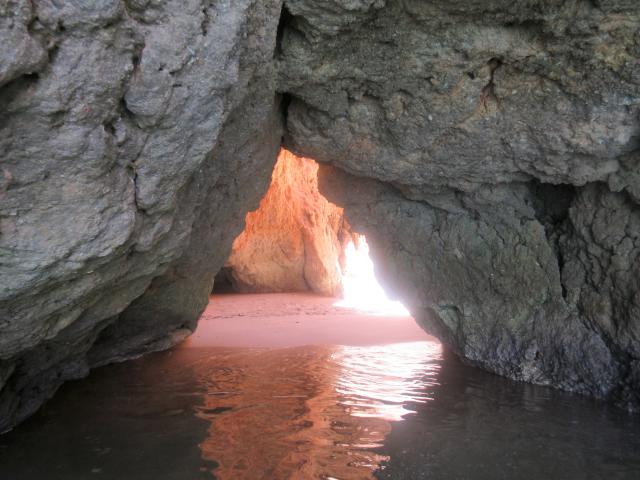 After returning the youngsters to Albufeira so they could party, we anchored outside the harbour and, in the morning, set off for Portimao.
In Portimao we were boarded by yet more relatives, whom we took for a gentle cruise to see more dramatic caves both east and west of Portimao.
Well, it would have been gentle, except for one thing: outside the caves of Carvoeiro the anchor holding is rather better than one wants. A quick snorkel dive revealed that the anchor chain was well wrapped around and under several big rocks. What was supposed to be a very brief stopped turned out to take a bit longer.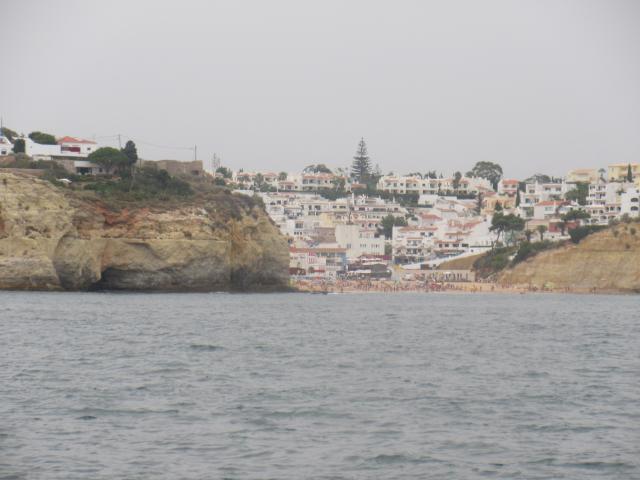 Unfortunately, the waves had picked up a bit, so our landlubbers on boards were not feeling to great while I got out the HookahMax diving gear and went down seven meters to untangle things. Of course at the bottom of the sea one cannot feel the waves at all, so it was actually a small matter to get us free.
Once again self-reliance wins the day. Without our own gear we would have had to call in a diver. To do that, we would probably have had to take the passengers ashore and put them in a hotel while we got things sorted out. Instead we were on our way in about an hour.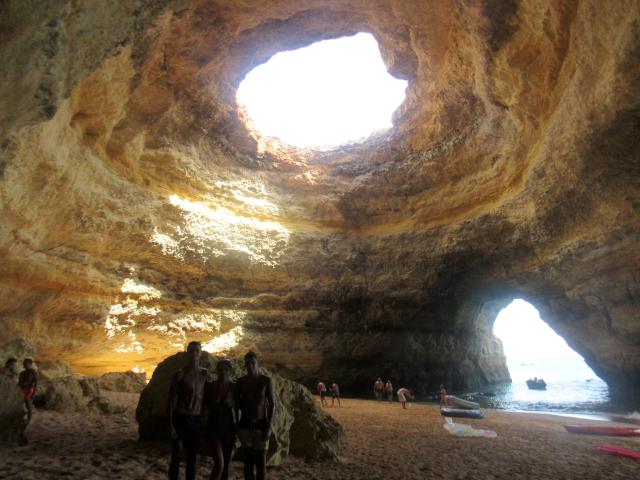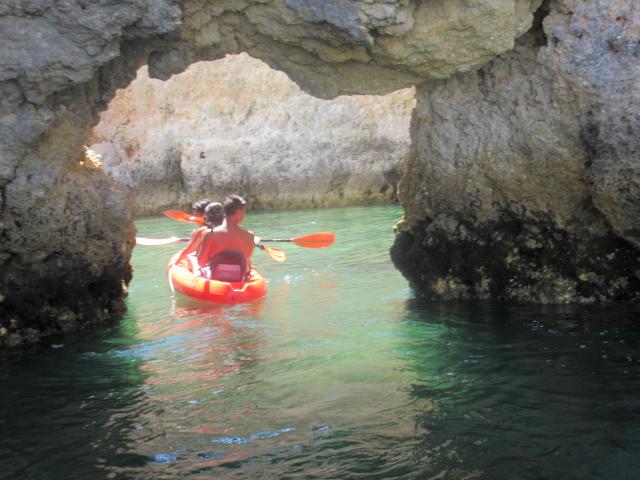 For this trip westward we had Elisa and Carlos, daughter Sara plus Nicola and Adrien (Lucia's sons). We continue to catch more mackerel, which delighted Nicola. He decided to become our head fisherman and proved his worth by even cleaning the fish – despite the fact that he won't eat any of them!
Nice sunset cruising back to Portimao where we had fresh fish on the Bbque and a nice stroll into town in the evening. Met up with more family and friends that were in holidays there.
Next day we had another sister, Lucia and her boyfriend visiting for the day. Visited more of the coastline and found paradise! a few deserted beaches! What a treat, just around the corner from crowded popular praia da rocha.
Once all the visitors had left, we hauled out Life Part 2 at Bluewater Algarve. We are having the bottom slurry blasted to remove all the old anti-fouling, right back to gel coat. We will then apply two coats of barrier epoxy, followed by four coats of Coppercoat. This is an epoxy resin that is filled to 80% capacity with real copper powder. We will have almost as much copper on the bottom of Life Part 2 as Nelson had on HMS Victory. The hope is that this will avoid the need for any more antifouling haulouts for another 10 years. Let's hope it lives up to the hype!
While that was happening, we went inland to visit with Ceu's mother, and the numerous other relatives that live there. Plus other siblings that were visiting from Canada.
On the way back from there we stopped off at Lisbon to pick up visas for visiting The Gambia.
And now its work time in Lifepart2. Ceu says: "Not sure I'd signed up for that! haha"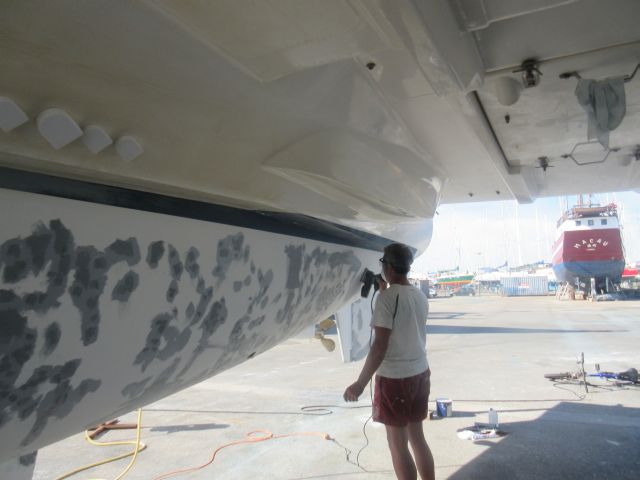 3 Responses to "What a Difference an Ocean Makes"