Current Location:
Rodney Bay, St Lucia
Current Position: 14 4.34 N 060 57.53 W
Click to view map.
Distance sailed since last post:
36 nautical miles
.
View the map of our voyage track here
Enjoying Saint Lucia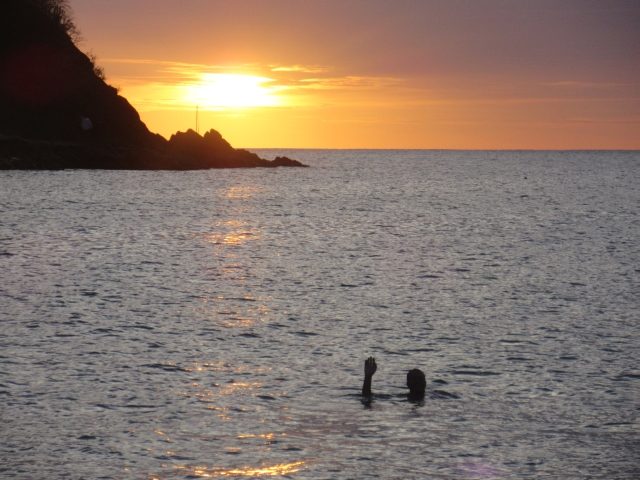 We are delighted with beautiful sunsets every evening from our anchorage in Rodney Bay. Noel enjoying a nice swim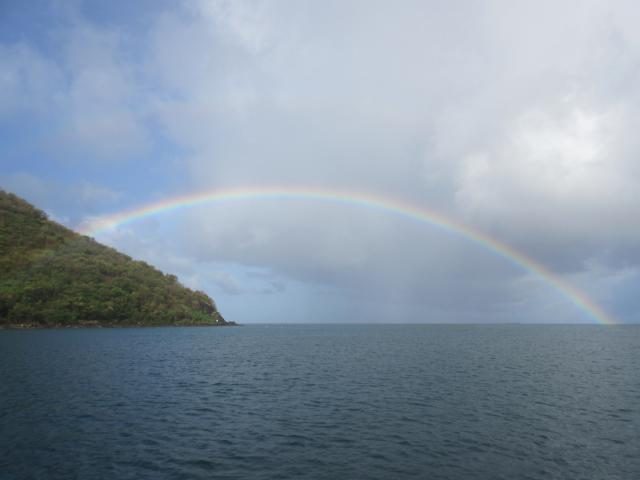 After a tropical shower we had a nice rainbow too.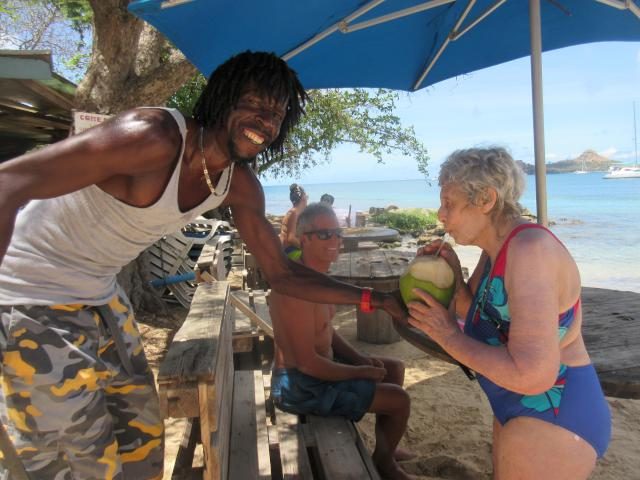 Ahhh..now, this is the real Caribbean! Mum enjoying fresh coconut water at the beach bar. She was spoiled with so much attention from the locals. All the locals are very respectful towards the elderly.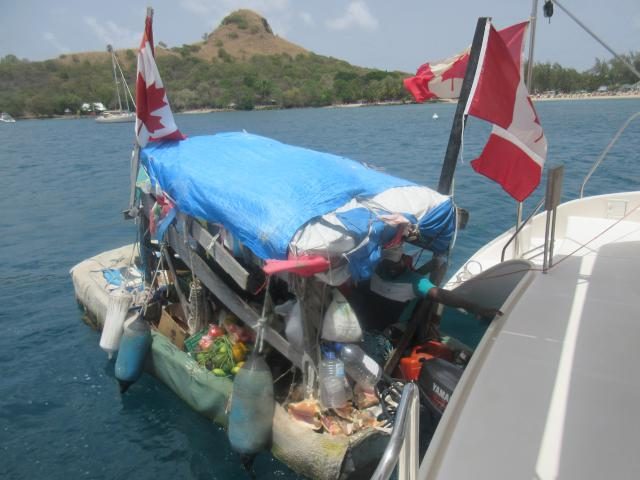 This is how we buy our fresh veg. Saves going ashore to the super market.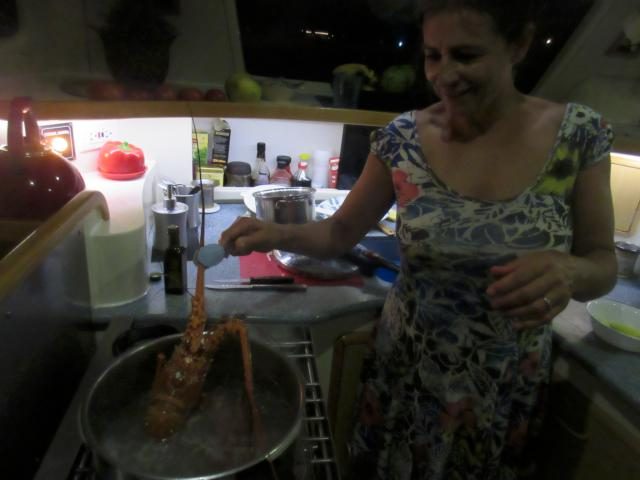 Lobster was sold to us at our boat. This time we didn't let it jump out of the pot. It was yummy! We found out later it is not quite the season yet. Oops. I guess it explains why they were a bit small. Not buying again for awhile…. Unfortunately, however, there don't seem to be any boats coming by to sell us fresh fish, so we will have to go and find the fish market.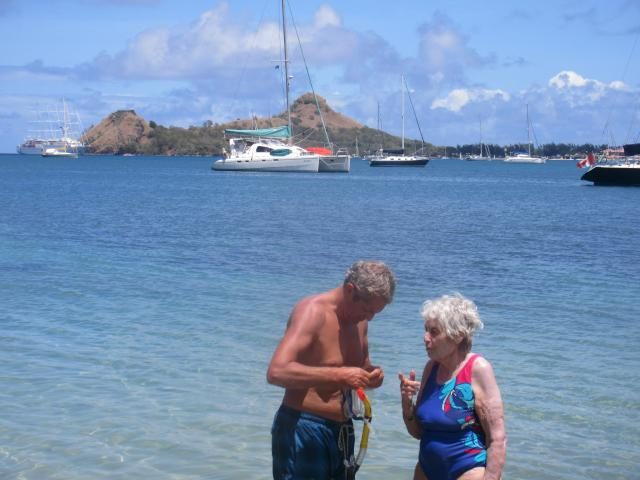 We enjoyed Mum's visit for the last 2 weeks. She also had a great time. Here we are getting ready ready for a snorkle in Reduit beach. You can see Life Part 2 in the backround. In the far background is Pigeon Island. The historical site was first a fortress for the English against the French, and then in WWII it was a US radio station. There is a good hike up the hill to great views.
We rented a car and did some sight seeing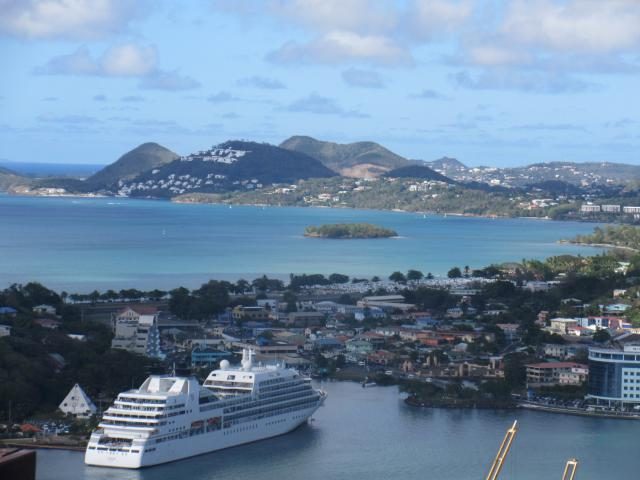 The busy Harbour of the Castries. On our first day of the tour there were 3 cruiseships. You can imagine the traffic in this small island. Took us forever to return home in the afternoon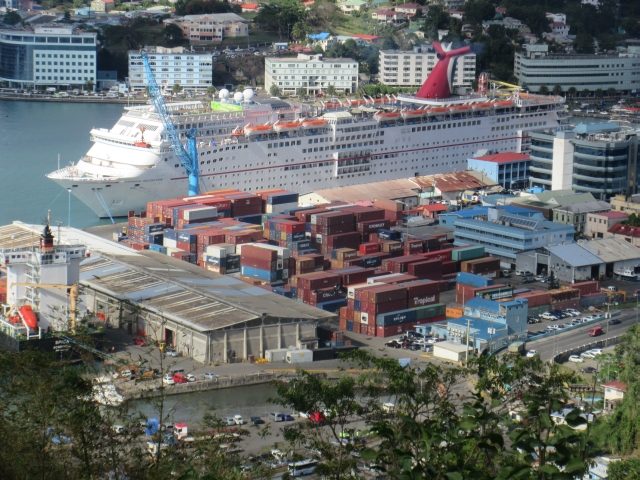 Browsing through the market in Castries. Their Market is one of the best and most colorful of the islands.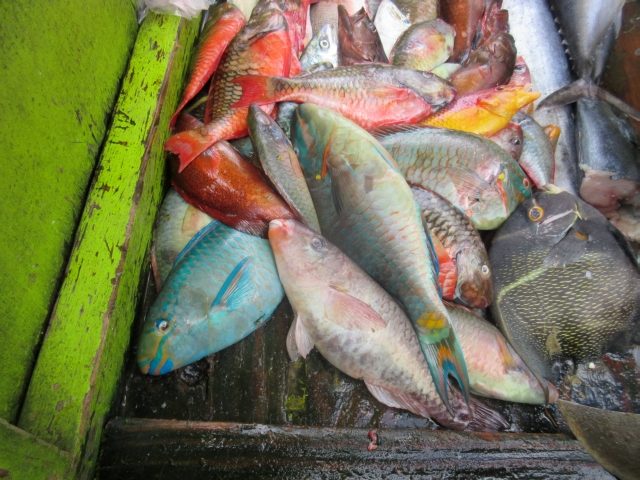 We visited a Creole Parl where they showed us all about some of their local fruits and root vegetables
Nutmeg and mace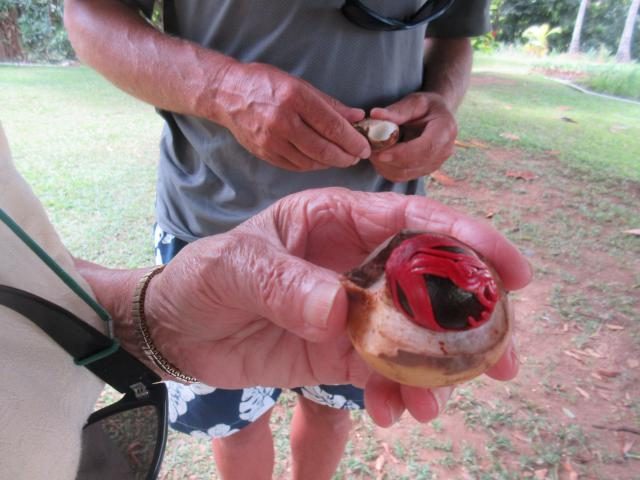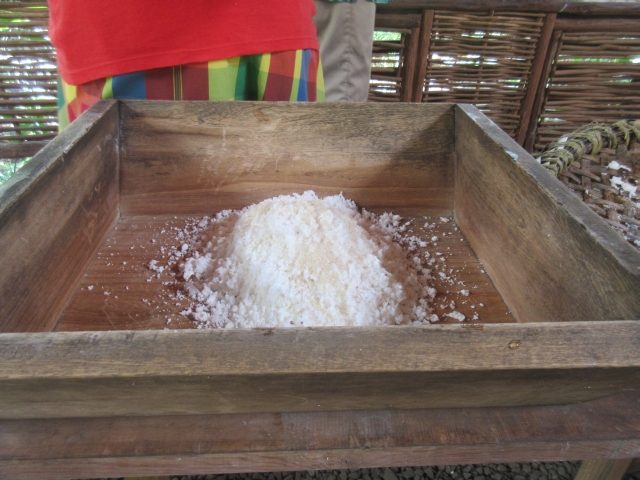 Grated cassava root makes great bread. Baked on top of a leaf in an open fire. We really enjoyed the demo and the tasting. It was yummy served with a cold tamarind juice from the garden as well.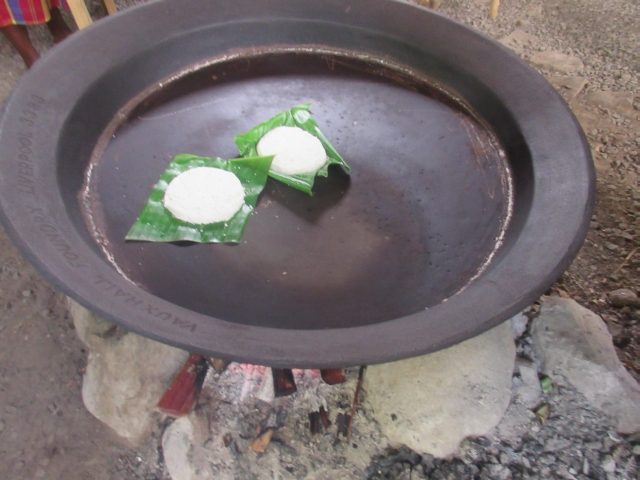 A stop at the view point above the beautiful Marigot Bay. Lined with expensive Restaurants and fancy yachts.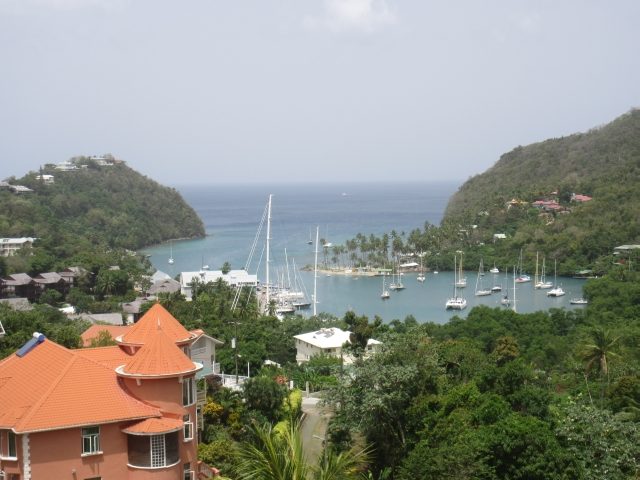 And a picnic stop and some great snorkeling at Anse Chastanet.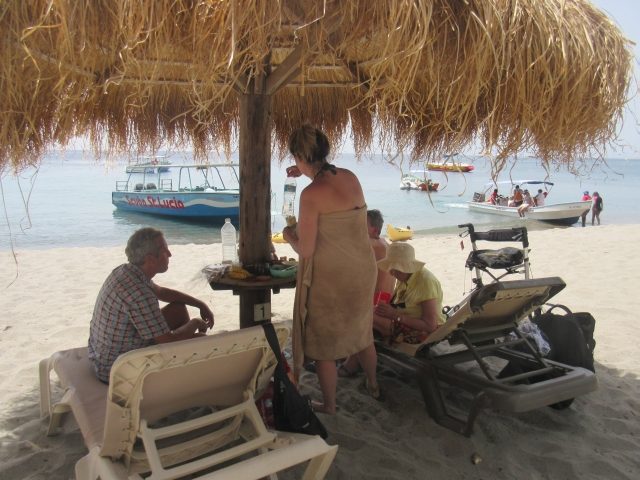 Bellow is the view of the cute town, Soufriere. Very picturesque and home to the famous twin peaks known as the Pitons, Unesco Heritage Site since 2005.
Impressive volcanic spires rise dramatically from the sea. Gros Piton (the one in the background) is 786m high and petit Piton is 739m high.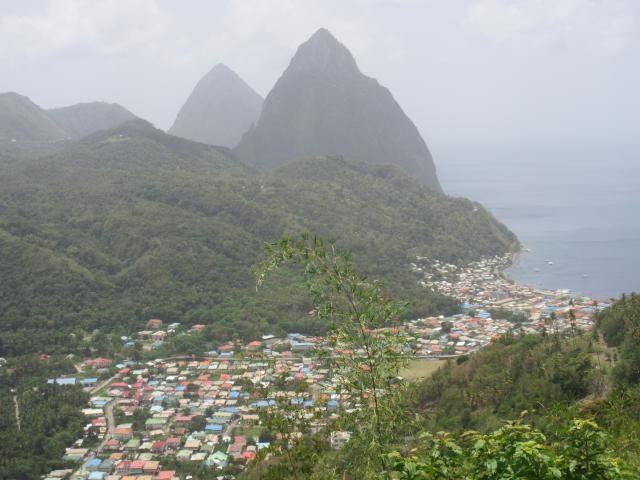 The so-called drive-in volcano – sulphur springs and boiling water, though not as impressive as Desolation Valley in Dominica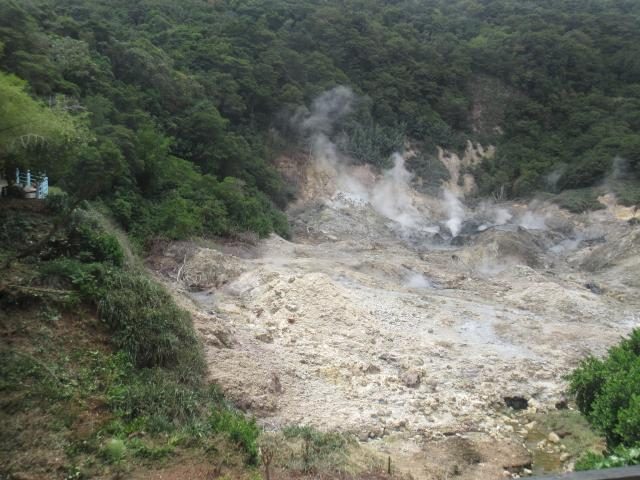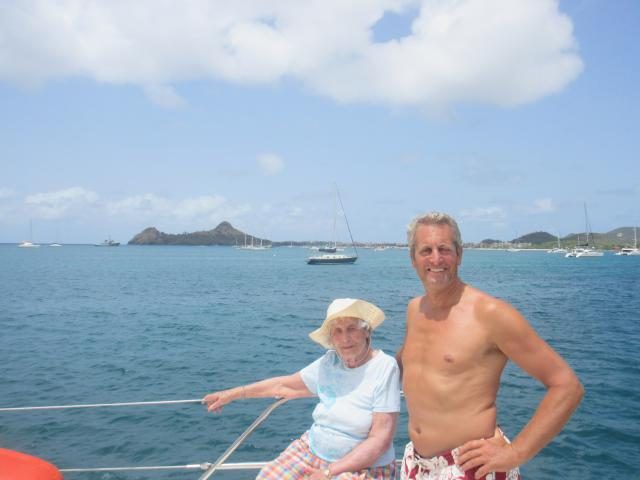 We were happy to bring Mum aboard Life Part 2 a couple of times. She was staying at a nice B&B near us, as she is no longer mobile to be on the boat full time. She is a real trooper.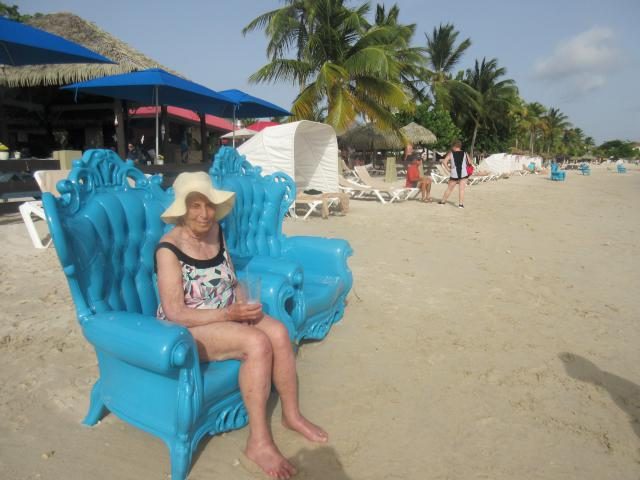 The nice thing about anchoring here in front of the Resorts is that even the posh Sandals Resorts beaches are not private. Sandals in Rodney Bay. Here Heidi enjoys a nice pina colada, and at her age she can sit wherever she wants! This beach at the one of the three Sandal Resorts here in the island, has cute chairs and love seats all along the beach.
We rented a car again, but this time, we rented on a Sunday, less local traffic and also there was only 1 cruise ship in town.
Our first stop was at Sandals Resort La Toc where we picked up cousin Lynda and her husband Frank. Coincidentally they were here from Ottawa on a holiday! We kept it as a surprise for Heidi who had no idea she would ever meet her niece here.
It was sure a surprise, all she could say was 'What you doing here". It was a sweet surprise and visit.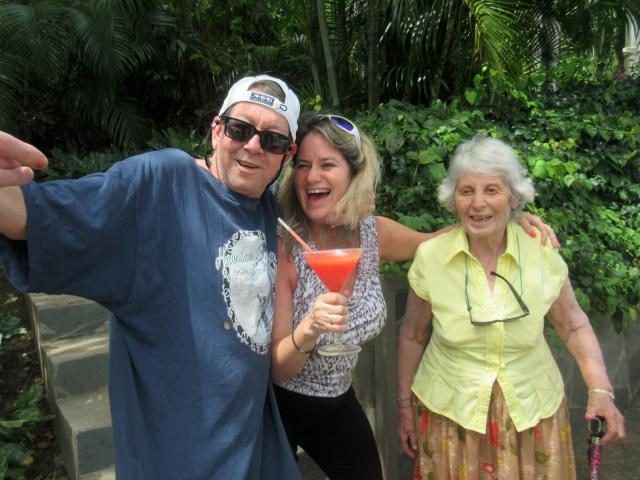 We had a nice day out sight seeing. We spent the rest of the afternoon and into the evening at the posh Sandals Resort with Frank and Lynda.This one is in La Toc, near Castries. We enjoyed a nice swim and drinks in the beautiful pool, complete with bridges and water falls and pool sit up bars. On one side is the sea and nice turquoise waters, and sandy beach and the other side is backed by bars and restaurants to suit all taste buds.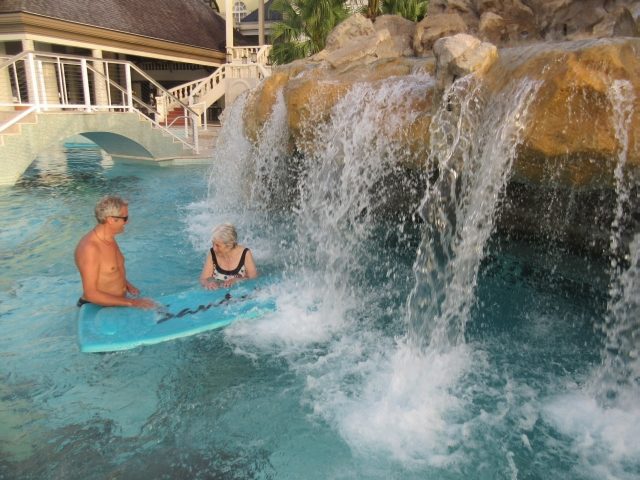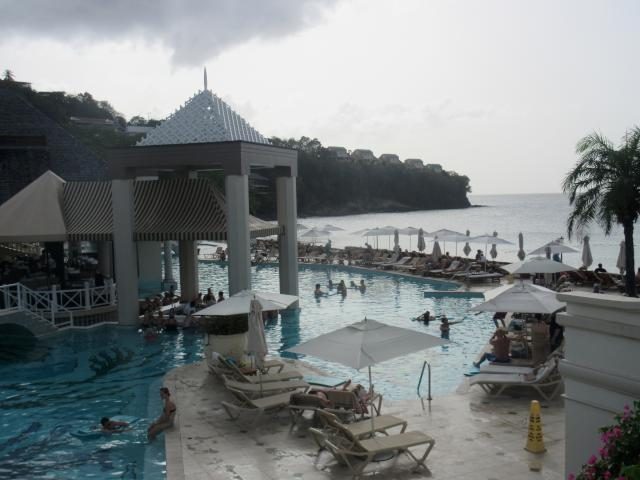 After Lynda and Frank went back to Canada, we still had a few more days with Heidi – a nice lunch at the Yacht Club, and a final road trip, visiting some waterfalls on the way to the airport. It was a great two weeks with her staying here.
Her flight was in the evening, so we rented a car did some more sight seeing including a nice (early) Birthday Lunch on the way to the airport. It was a beautiful spot overlooking the fishing village of Dennery.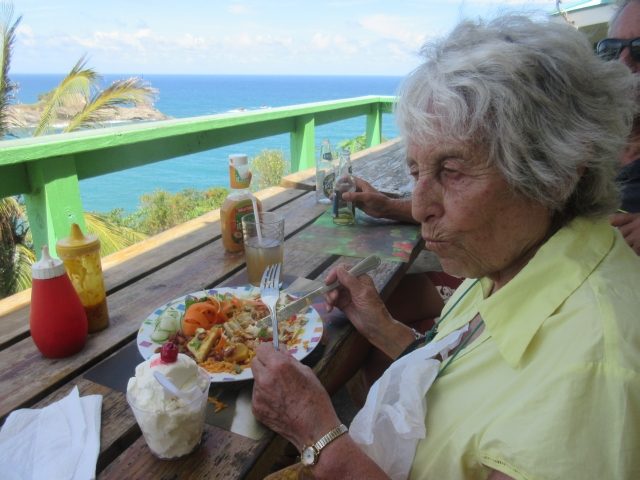 Heidi's birthday lunch – with birthday ice cream!
She loves nature. She insisted she could make down some tough steep stairs to the water fall. She did find it too much work to change into her bathing suit though, instead she had a nice rest soaking her feet the cold water and admire the natural beauty. We sent her home very tired.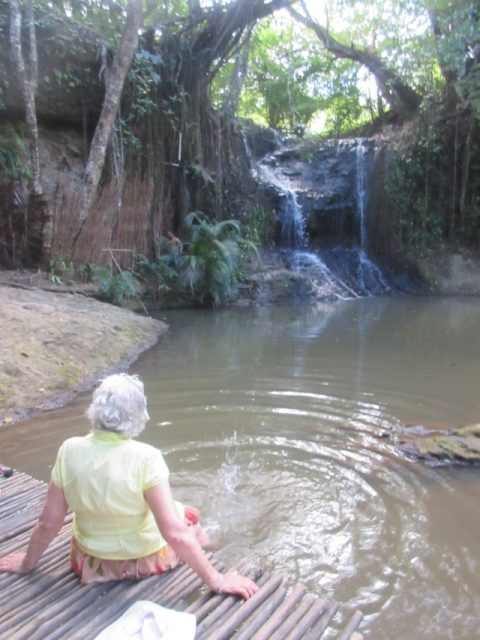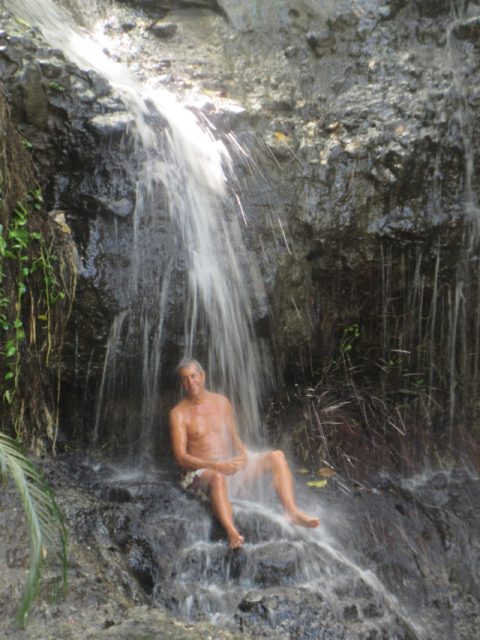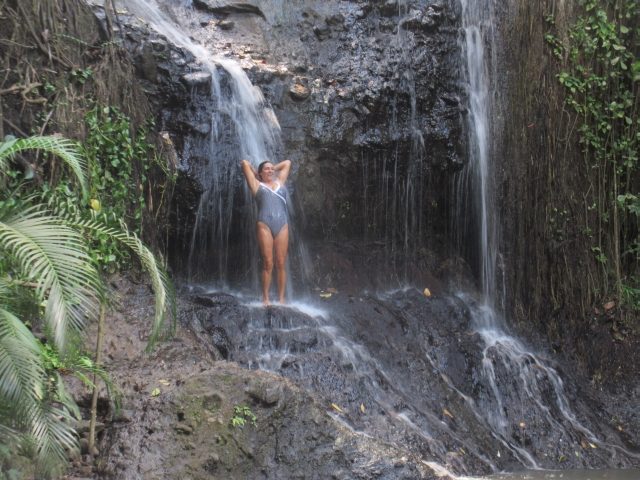 But now that she has gone, we are getting back in gear- the island of Antigua is hosting the annual classic yacht race week, which starts on April 19th, so we are dashing up north to watch that and – we hope – to be able to get a crewing job on one of the yachts as they are often short of crew. That would be so cool!
3 Responses to "Beautiful Saint Lucia"