Current Location:
Stocking Island, Exumas, Bahamas
Current Position: 23 31.52 N 075 46.08 W
Click to view map.
Distance sailed since last post:
346 nautical miles
.
View the map of our voyage track here
We arrived in Inagua, the most Southern island of the Bahamas, and a Port of Entry, from Luperon. It was a good trip here, with little wind and then no wind. Had to motor the last 5 hours of our 16 hour trip. Dodged a few ships and caught a mahi mahi….oh what beauty, such bright colors till it desappeared again off the hook and gone. Too bad!
Inagua, the outer islands
Anchored near the Harbour, check in was quick and easy. Some 20 dollar fee and 300.00 US for cruising permit for 3months.
As we are aproaching we notice the flat lands. We have left the beautiful green mountains of the Caribbean, PR, DR, in exchange for the most beautiful seas with the most brilliant shades of blues and greens.
But first, before beaches and after the checking in, we walked through Mathew town, population of about 400 very friendly people.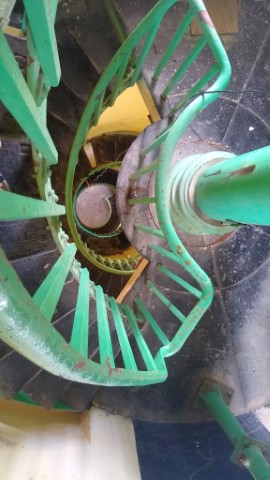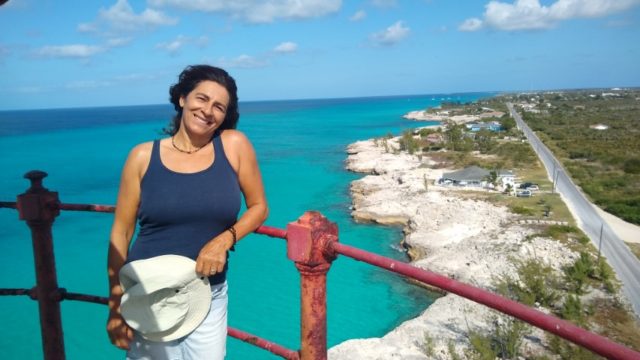 Great Inagua reportedly has the reputation of experiencing the first act of piracy in The Islands of The Bahamas in 1713
Many ships were wrecked in the reefs along the island's shoreline, and in 1870 The English Crown selected the island as a location for a lighthouse to be built in order to prevent such incidents.
The classic all-white structure towers 113 feet and offers visibility 27.35 kilometers. A climb up the spiral stair case lighthouse offers amazing panoramic views of nearby Matthew Town and all around.
The third largest and the most southerly island in the Bahamas, Inagua is also the hottest and the driest and very flat. Because of its low rainfall and tradewinds, Inagua has natural salt ponds. The Morton Salt Company is located here and produces nearly a million pounds of salt annually. Salt is still the main industry on Inagua.
Inagua is also a birdwatcher's paradise with the world's largest breeding colony of West Indian flamingos (over 60,000) that makes the ratio of flamingos to people on Great Inagua approximately 60:1. The flamingoes live in a protected 287 square mile reserve called the Inagua National Park.
Unfortunatelly, there were no guides available to take us to the Park for the flamingos. It was weekend and the only 2 people that do the tours were away from the island. Population of about 400 people.
The moved up just a few miles and anchored in Man of war bay to visit the Mortons Salt company.
From afar, looked like snow at top of the mountains. But its all salt salt. Its a huge production site. It all get loaded and shipped from here to be processed in the States
It was very quiet here, I guess because it was the weekend, but as we were getting near the salt mountain, a truck came by. It was a security telling us it was private property and we couldnt go any further, but we could take some pictures and leave. We told them we were disappointed we couldnt get a tourist guide, and he made some calls for us, but still no one available. Nice and friendly, we thanked him for trying.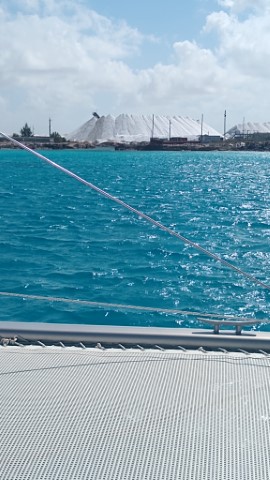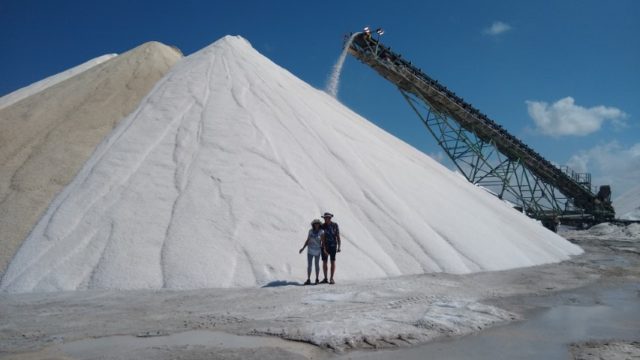 Acklins Bight

The charm of Acklins
Breathtaking deserted beaches. Quiet and peaceful

Famous for its bonefish flats, with more than 1,000 miles of shallow water. We anchored in Camel point and took a walk ashore.
We moved up trhe islands the next day into this little anchorage in Acklins bight. I was really nervous being in such shallow waters throughout. We anchored in Camel point and took a walk ashore.
Ruins of diesel tanks ashore on our walk to town. A small settlement called Spring Point.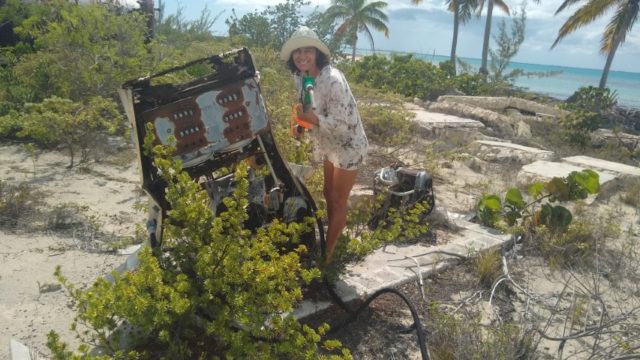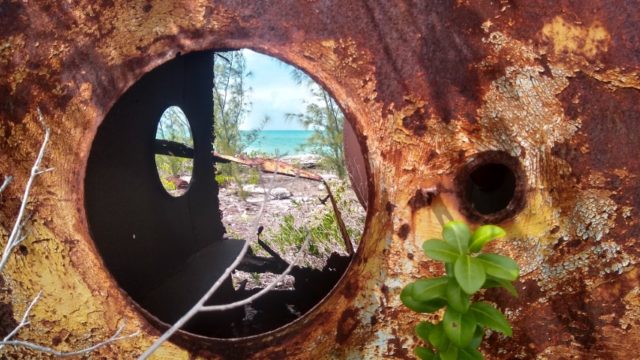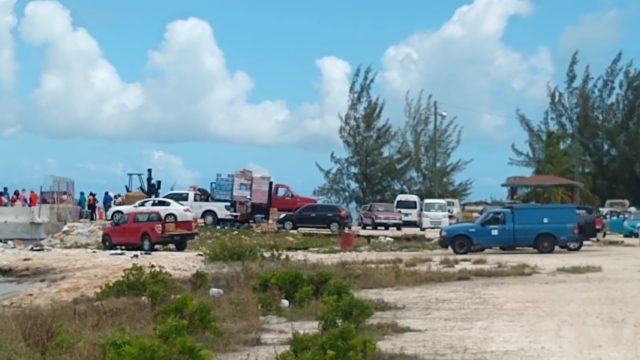 We were surprised to see so much movement ahead, on our walk. Turned out it was the mail boat on the docks with everyone coming to load up their vehicles. We thought it was our lucky day and expected to find some nice fresh produce to buy in town. We were still about a Km or 2 away from the settlement. We kept walking, and at every 100 metres or so someone would be offering to give us a ride. Such friendly people. In town there was only a little grocery store inside the gas station. No fresh produce. We asked how many people lived here, and the local named a few family names.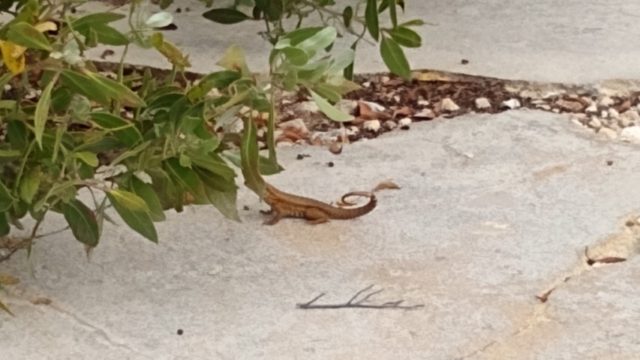 French Wells
We departed our anchorage with light winds, from the South. Feeling a bit lazy but we did put our spinnaker up and we were gliding along nicelly in a fresh breeze.
Our next anchorage was in French Wells Cut, where the wind fighting against the current sure gave us some entertainment. Very strange to see our anchor behind us or beside us instead of in front. We were holding well though and it was a very calm night, but you could hear the chain changing direction as the tide turned.
There was only one other boat here. The next morning as we headed out to explore by dinghy we passed by to say hello to the new neighbour and they told us there were Flamingos a good dinghy ride away. We pretty excited about that, since we had missed them in Inagua.
A long ride, yes it was, and some very shallow water where we had to get out of the dinghy and walk it along untill it got deep enough to start the engine again. All worth it.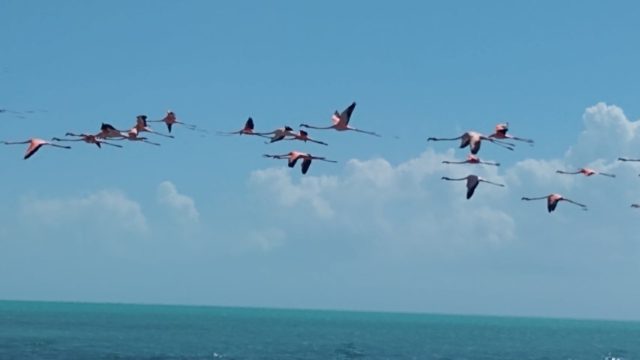 The following morning we had a beautiful paddle through the mangroves. It was so peaceful with only the sound of the water splashing from our paddles and birds, many birds. Cristal clear waters, saw a couple of little turtles and a lemon shark.
It was also at this anchorage that we experienced our very first Bahamian, pristine, gorgeous, deserted beach experience. Paradise! Now…its only the beginning!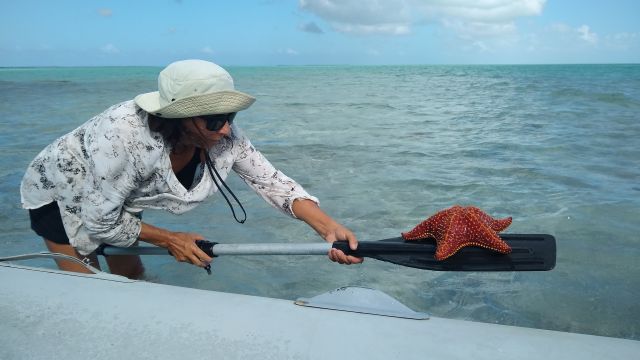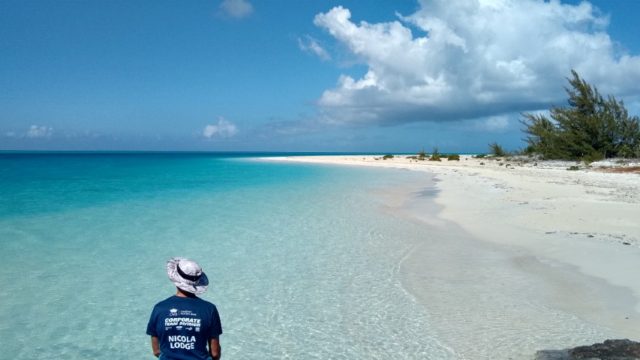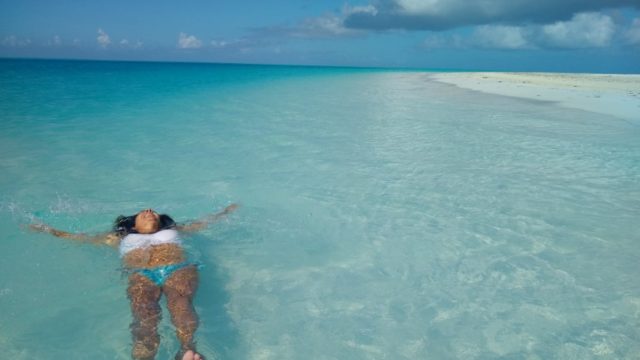 Land rail point Our next stop
We anchored here, in this beautiful anchorage with nice beach and turquoise water.
We met a couple from Edmonton, Allisen and Chris on SV Purrfect and imediately were invited aboard for Lobster tacos. They love to dive and spearfish and we were delighted to join them along with some other friends Marta and Eric from SV Deja Vu. Good times.
Good snorkeling here, but we didn't last long as the current was very strong at the time. We also could not land the dinghy safely, so we did not visit the Lighthouse. Pictures only. Next time!
Long island
We left Landrail in Acklins , to Long Island, about a 40 mile sail headed to Clarance town. We anchored in front of a beautiful beach, close to the island's capital, Clarence Town but it was very bouncy. The next morning we weighed anchor and left for the great big and protected harbour Thompson Bay, about 48nm around the island to the other side.
It was a very lively sail, 20 kts of wind and quite choppy waves. As we rounded the Cape Santa Maria, we gybed and are now going more downwind and smoother seas. Such beautiful scenery along the coast, beautiful beaches and Resort in gorgeous Calabash bay.
We anchored just a few miles south of here in Thompson Bay with just .3 metres of water beneath us. Yes it is so shallow everywhere. Good holding, lots of other cruisers here and we heard there is a good supermarket.
YES…fresh produce! Last time we stocked up was 2 weeks prior in DR. Nothing available in the other islands we visited. So by now, we're really running low on fruit and vegetables. We were warned ahead of time of how the Bahamas are very expensive to provision, but its sure nice having available, even being expensive , one has to eat! Plus, we only really need the fresh stuff, we stocked up in DR with everything else.
The store here in Thomson Bay was well stocked, I was so happy. That's a very good day in Paradise.
We met some cruisers at the beach for sundowners, where we arranged with another couple to rent a car the next day visit the island.
With brilliant coral reefs, pristine beaches and world-class bonefishing, Long island is also known as the most scenic island in the Bahamas.This tranquil island also offers a few inland surprises, including Dean's Blue Hole, the second deepest blue hole in the world.
Dean's Blue Hole dips some 663 feet (203 meters) into the ocean floor right offshore. It is said to be the second deepest blue hole in the world and the second-largest underwater chamber. Experts who have dived the site report that it is enclosed on three sides by a natural rock amphitheater and on the fourth side by a turquoise lagoon and powder-white beach. There is never any swell or waves inside the hole, and visibility is usually between 50-100 feet (15 – 30m). At the surface, the Blue Hole is 80 x 120 feet (25 x 35m) but opens out after 60 feet (20m) into a cavern with a diameter of at least 330 feet (100m). It is also the site of the International Free Diving Competition every year.
We enjoyed the car drive, the scenery, the highlights and the company of JoDana and DJ from Brunswick USA. Another great day in Paradise.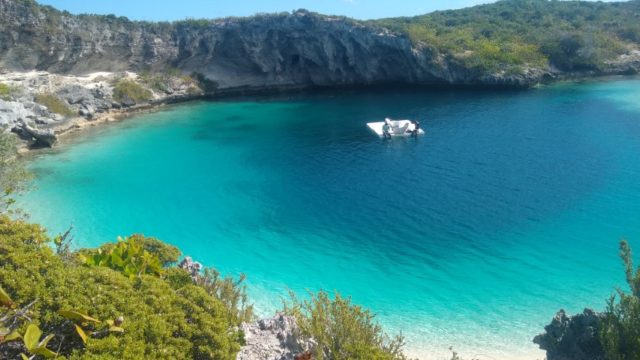 We snorkled around there, great swim and walk on the beach. Its such beautiful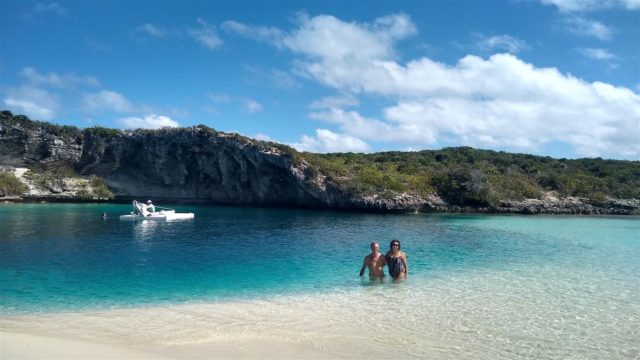 Columbus originally named the island's northern tip Cape Santa Maria after the largest of his three ships. The beach here is gorgeous, full of private homes and resort villas, and a restaurant, bar, and gift shop that are open to the public. North of the Cape Santa Maria Resort are the Columbus Monument, comemorating Columbus's landing on Long Island, and Columbus Cove, where he made landfall.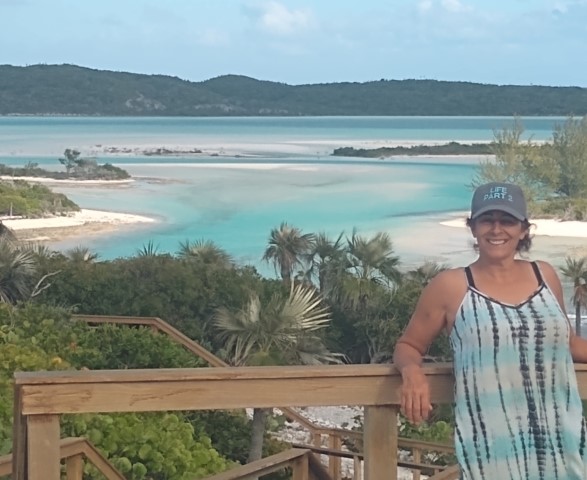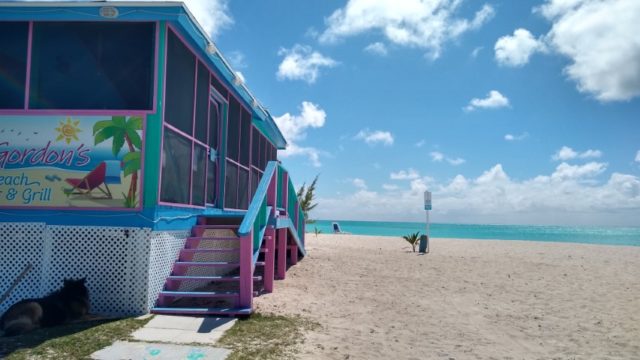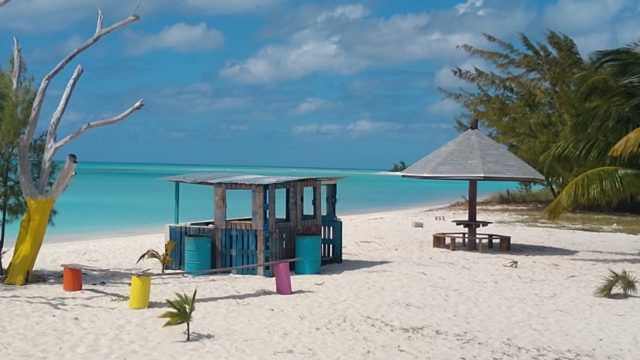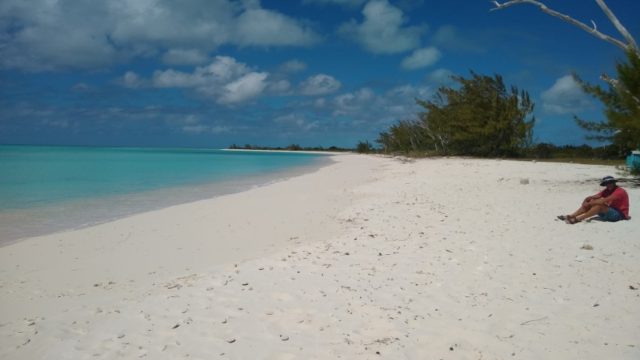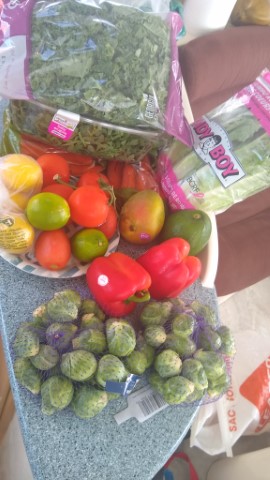 LITTLE EXUMA
A small bridge connects Great and Little Exuma. Smaller and quieter than its counterpart, Little Exuma is home to the Tropic of Cancer beach. Just gorgeous as we sailed by but we didn't stop this time. We were headed to Georgetown to meet with our friend, Rod.
GREAT EXUMA
The largest island in the chain, Great Exuma is where you'll find most large hotels & resorts, as well as the Exuma International Airport and the capital city of George Town.
Crab Cay and Walker Ruins
Crab Cay, is part of the great Exumas. It faces the southern part of Stocking Island and Elizabeth Island,with the harbour in between. At the southern end of Crab Cay there are Red Shanks Cays. We were expecting some strong winds and this is a very protected and beautiful area with good swiming and walks ashore. We were happily hiding out here and also hanging out with our friend Rod and his friends onboard SV Oh!
So in one easy trip ashore, beaching the dinghy near by, we toured the ruins- old and recent.
Big bucks ECO development on Crab Cay. Several corporations involved and to be built to the highest standards:
A marina for yachts to 300 ft and a Harbor Village with Resort and Spa was in process, and that's as far as it went. The marina basin dredged and pilings stacked on shore ready to use. All came to stop.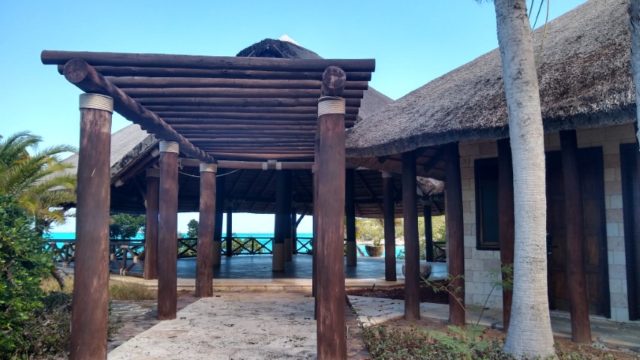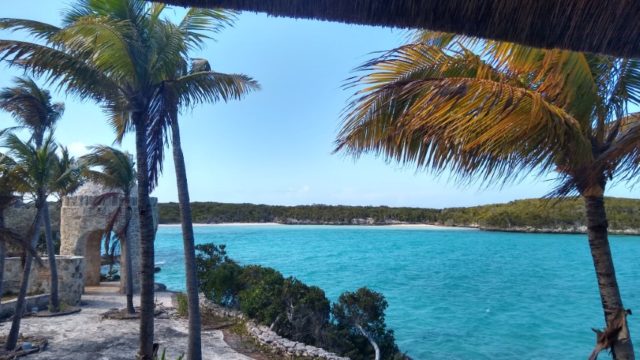 It was very sad to see such beautiful property all going into ruins too. It is such a good spot with amazing turquoise waters.
Sir William Walker Ruins
The developers of Crab Cay planned to destroy the Walker Ruins but the Bahamian government demanded that the ruins be preserved, and access allowed to anyone.
Walker was a Loyalist who came here in the late 1700s and built a stone house and botanical garden atop Crab Cay. The house was impressive, considering the effort involved in building a stone structure on an island off an island in the 1700s! The site contained high stone walls, peaked entrance pillars surrounding a botanical garden.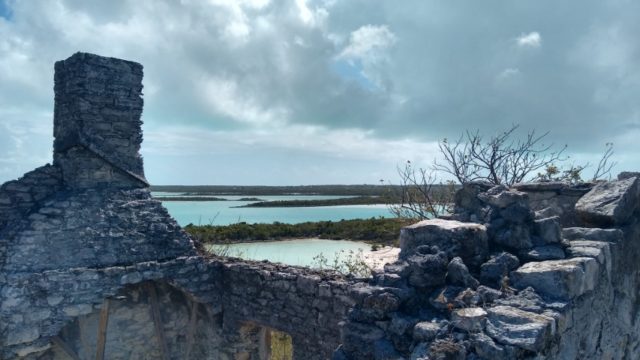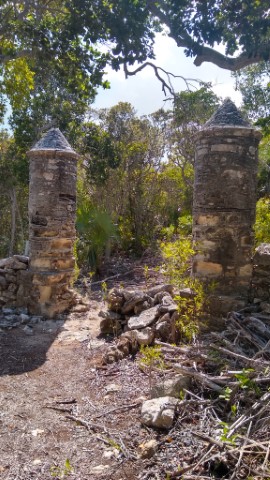 We enjoyed the walk through the ruins the old and the new.
George Town
Georgetown Bahamas (the capital as well as the largest city in the Exuma islands) is right on the Tropic of Cancer. This means that the sun smiles down on Georgetown almost all year round. One of the largest natural harbours in the world, Elizabeth Harbour is picture perfect with its translucent waters that have many shades of blue and green. A favourite haven for yachtsmen from November to May. However, you don't need to be a yachtsman or a sailing fanatic to enjoy this city. Aside from fishing and bonefishing, the waters of Georgetown are also perfect for snorkeling and scuba diving escapades.
The Exumas are renowned for their sapphire-blue waters. Stunning, brilliant colours of blues , one can never get tired of this. This chain of 365 islands is home to secluded footprint-free beaches, deserted cays, and ultra-exclusive resorts. Its no wonder many islands are privatelly owned by some of the world's rich and famous.
STOCKING ISLAND
Located across the harbour from George Town, Stocking Island offers a handful of secluded resorts, many more secluded beaches and the famous Chat 'n' Chill. Turists come across or rented boat, or water taxi from George Town.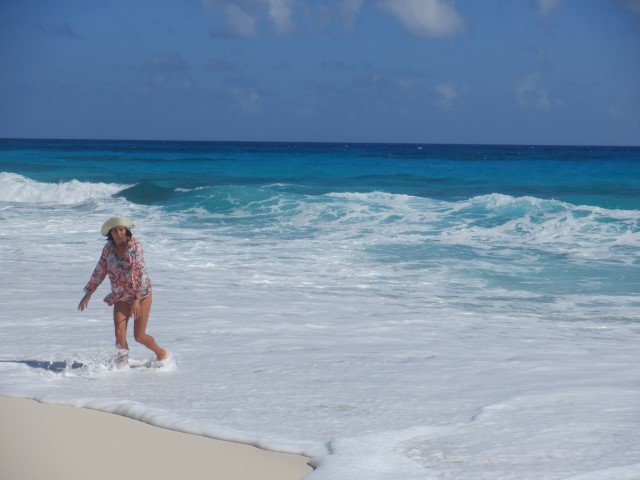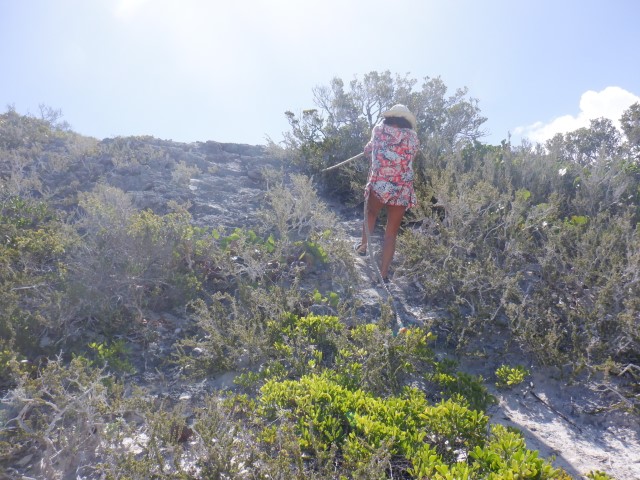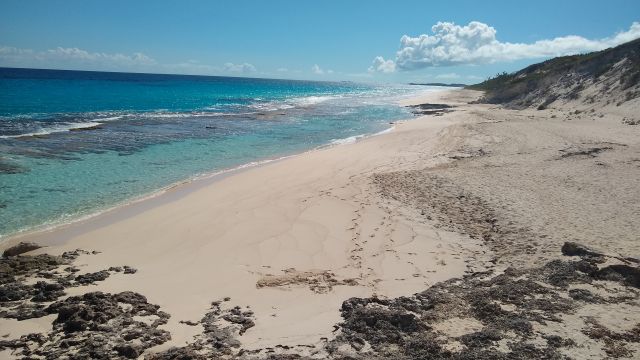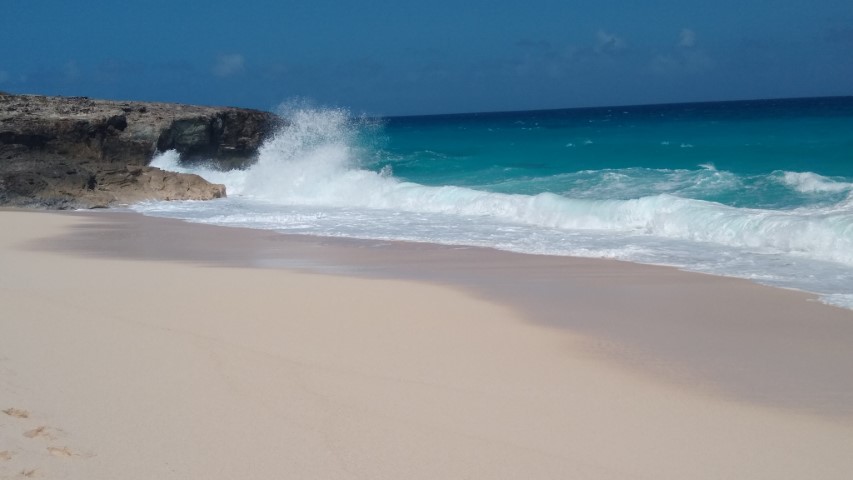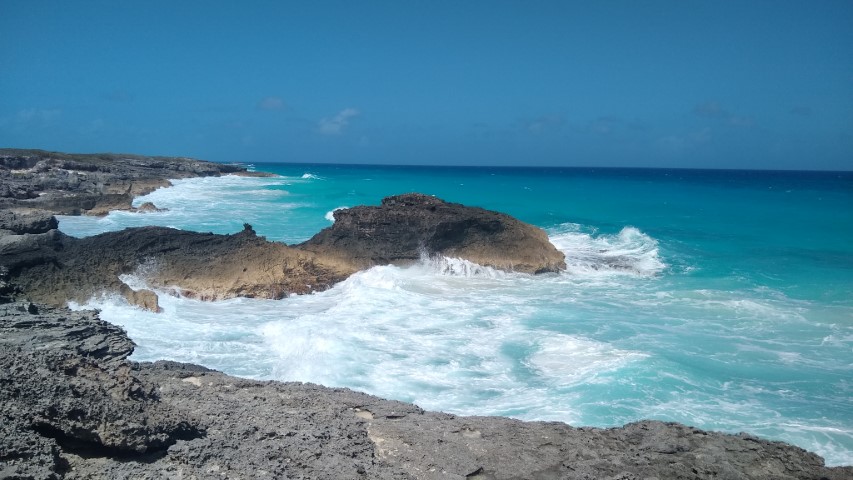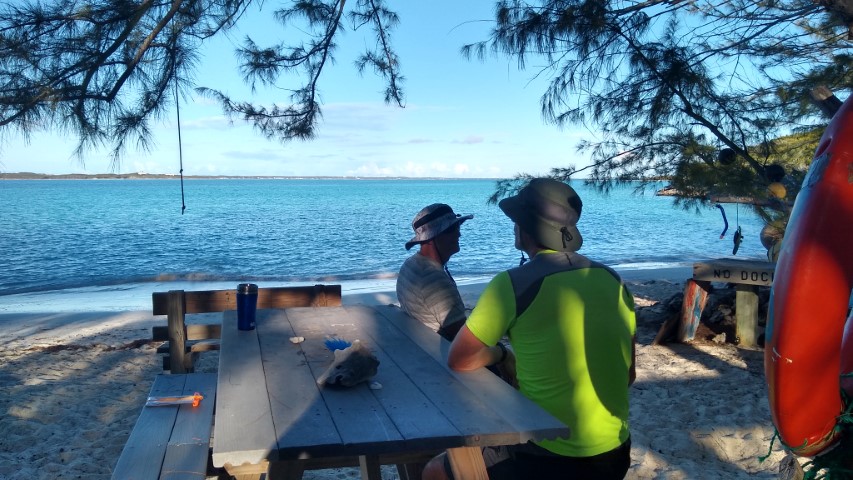 Enjoyng a nice break after our walk with friend Rod. Flip flop beach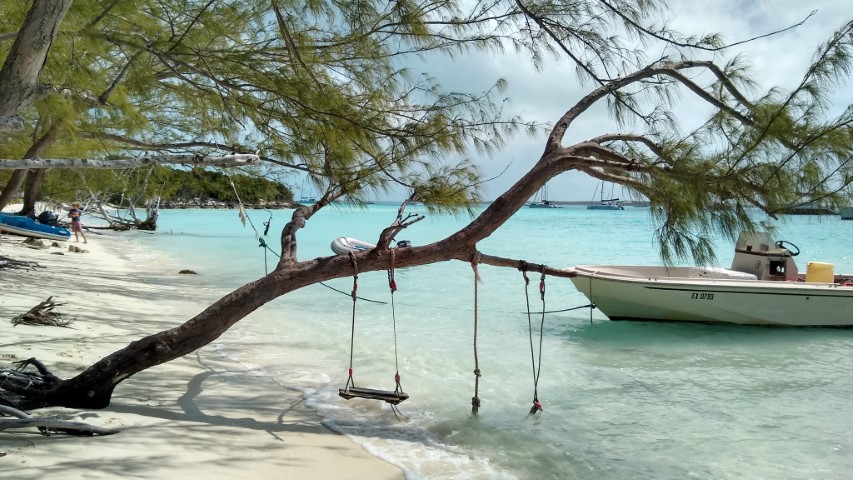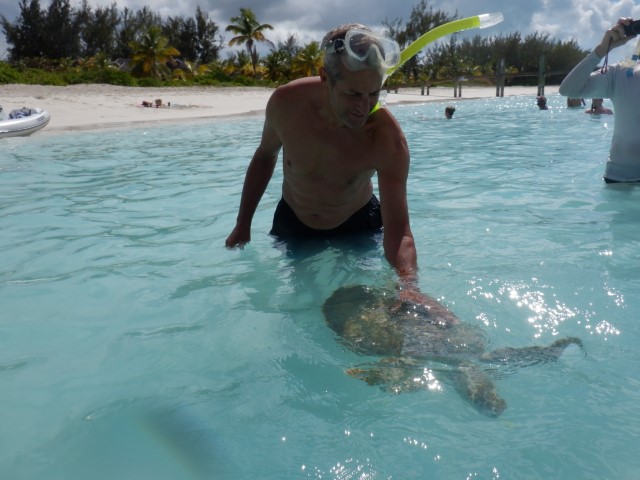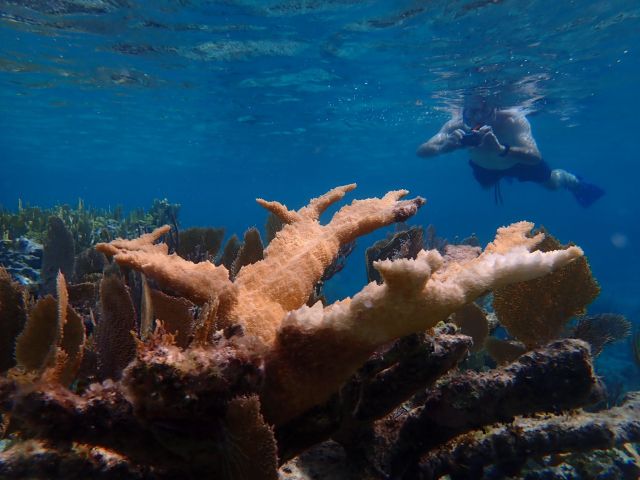 COMPASS CAY
To the north of Great Exuma, lie the cays. A popular stop on an island hopping itinerary, visitors snorkel the pristine beaches and nearby reefs, and swim with nurse sharks (more tame fish) at Compass Cay Marina.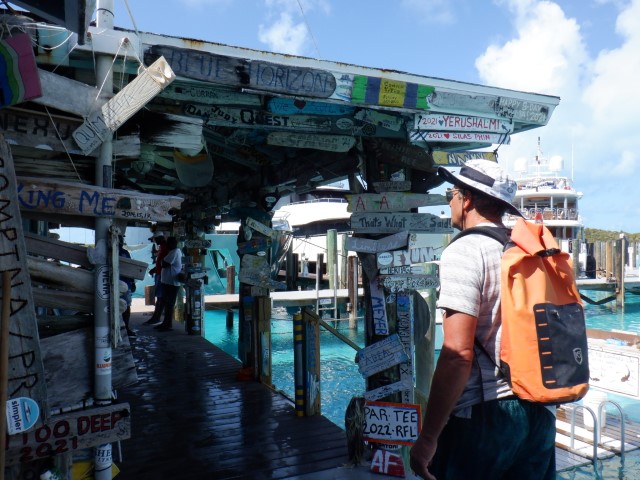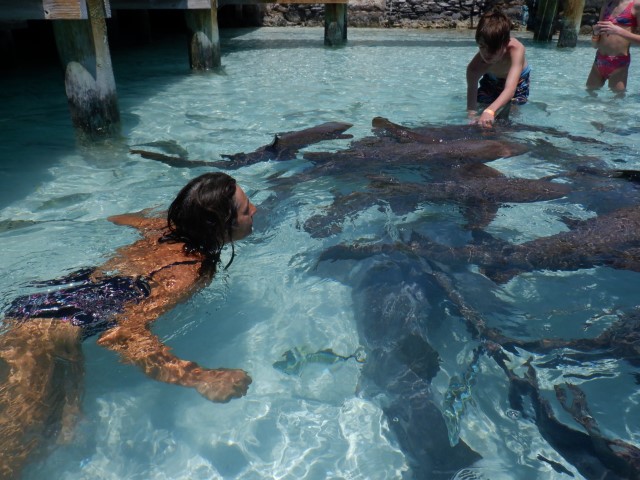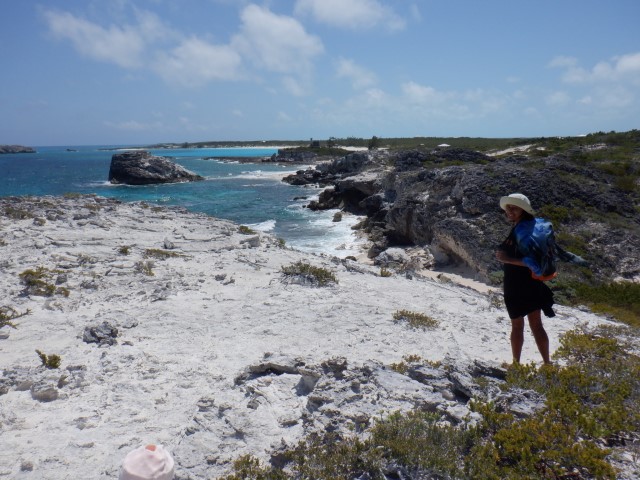 Hiked from Compass Cay Marina where we swam with the sharks, to Rachels Bubbles. The views were stunning, and my eye caught this vine forming a bridge over the limestone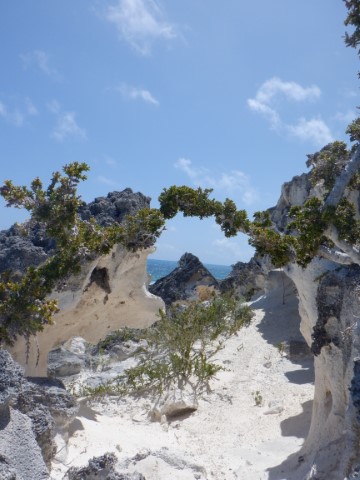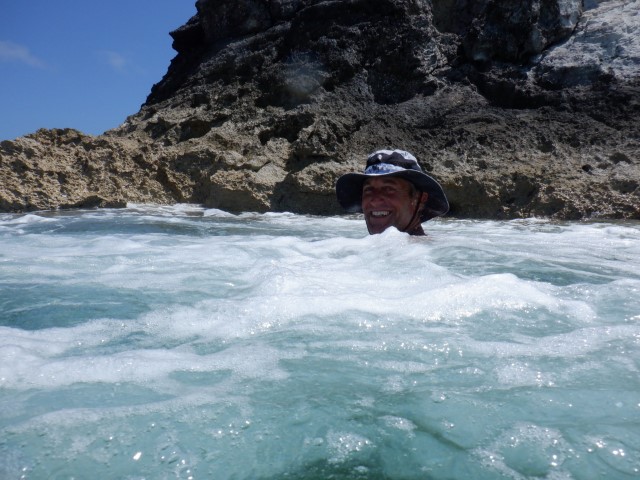 Beautiful sunset over Dundas rocks

IGUANAS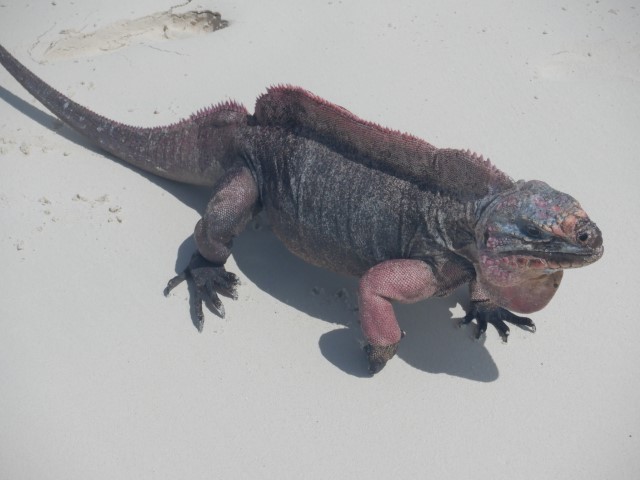 There are very few places through the Exumas where you can see fearsome looking, yet gentle creatures, which are protected by law. They are friendly and welcoming becuase they are used to being fed by the tourists.
Noel and I stopped at Leaf Cay for a couple of hours just for lunch and a walk on yet another beautiful beach and a walk through the sand dunes into the cliffs overlooking the Atlantic. On our way we saw a few Iguanas, but it wasn't until we got back to our dinghy that we realized how many there were all around. There was a tourist boat with people feeding them bread and grapes. there were almost a hundred of them on the beach. I snapped a quick picture of these wothout having anyone on my picture.Yes!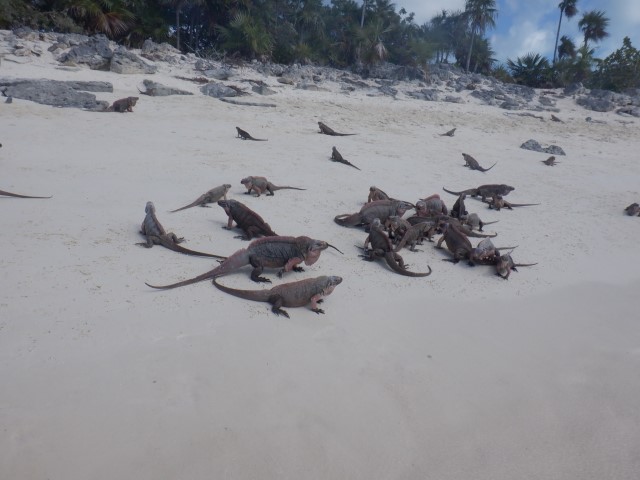 Rudder Cut Cay
Dropping the anchor at Rudder Cut Cay, we found to our delight that we had it all to ourselves. A few boats there but anchored just south of us.
Rudder Cut Cay is a private island owned by David Copperfield. While we weren't allowed to walk on the beach, near the villas, we were still able to enjoy the prettiest anchorages, caves , snorkeling and the beaches in the snow banks at low tide. In nthe evening we had such beautiful sunsets too! It was just stunning here.
One of the villas in David Copperfield's Island. Musha cay. There are many scattered throughout and also an air strip.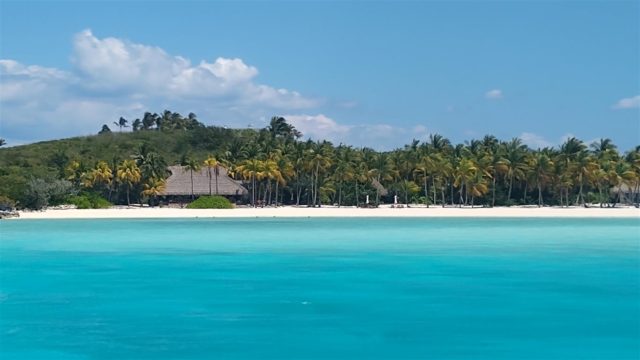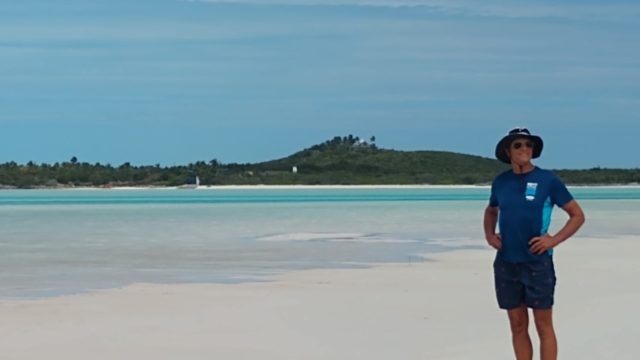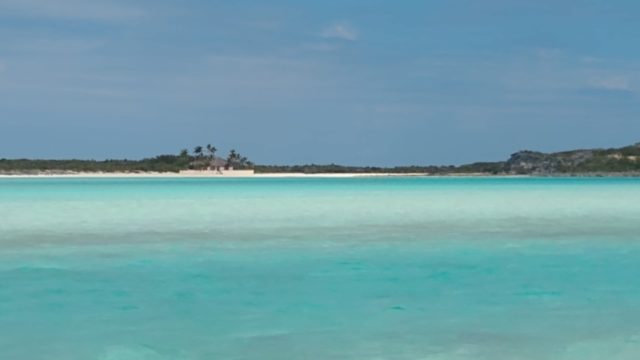 Our anchorage by the cave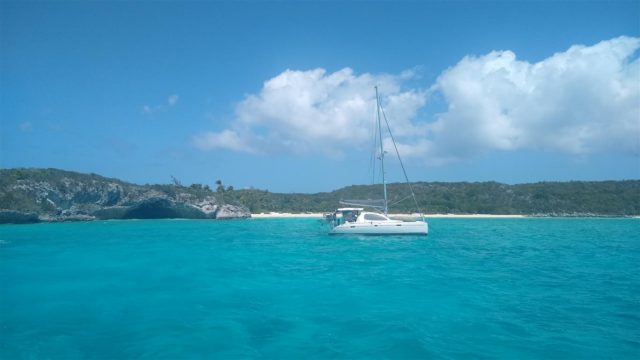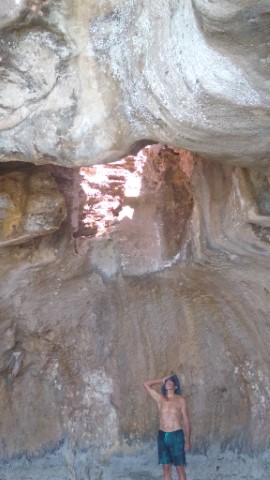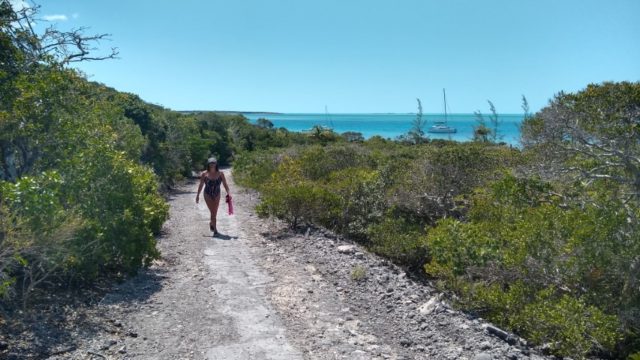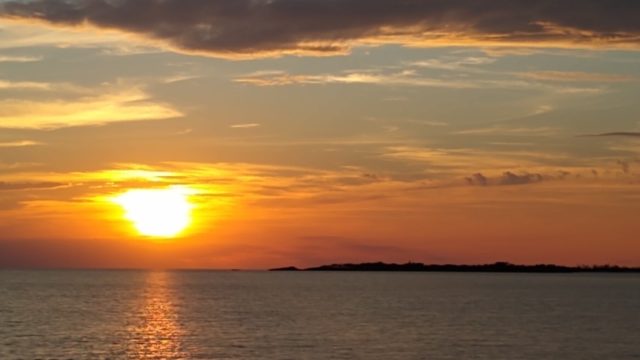 David copperfield commissioned an artist to sculpt a statue of a mermaid looking at a grand piano. He then sank the sculpture in about 13-15 feet of water off of Rudder Cay, which is just south of Musha Cay. We tried to snorkel it first time but the current was very strong, so we went for a second try at low tide and it was great. We got to spend lots of time with the pretty mermaid playing the piano. The snorkeling is very good nearby as well.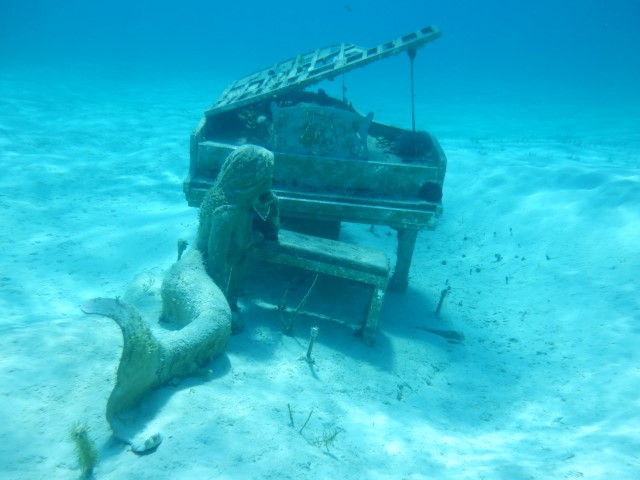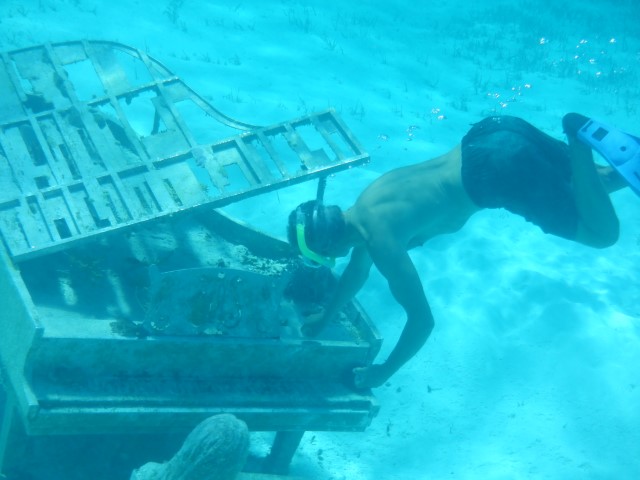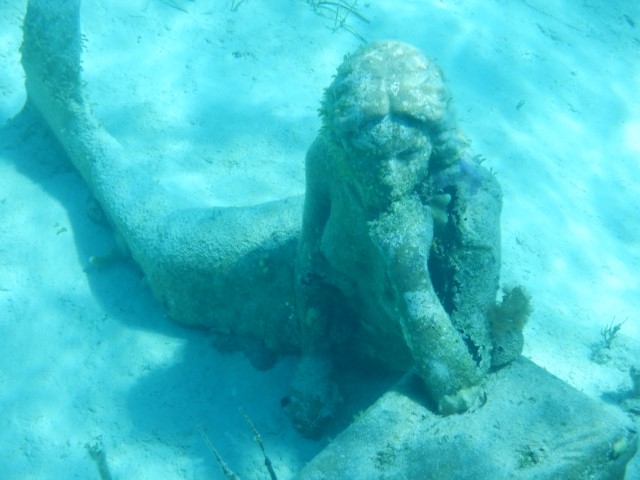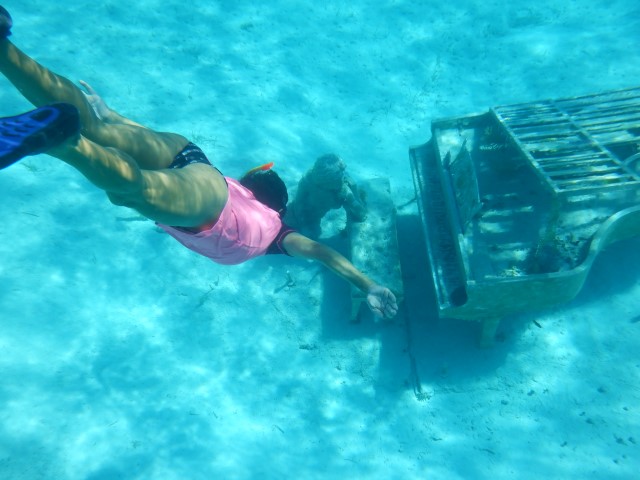 Staniel Cay
Just a few short miles from Rudder Cut is Staniel Cay.
Most visitors will fly or cruise into Staniel Cay from Nassau, because of its accessibility with an airport and large marina. There are also day tours from Miami which are becoming popular. We see many fast motor boats come in on day trips from Nassau.
Staniel Cay is also home to the famous Thunderball Grotto. Thunderball is a 1965 British spy film and the fourth in the James Bond franchise starring Sean Connery. One of the scenes from the Movie was filmed in this cave.
There is no shortage of magical and wondrous things to see in Thunderball Grotto. Upon entering this hollowed-out rock, you look upward to admire the natural skylight that has been produced by erosion, breath-taking in both the sun and moonlight. The beams of light snake in from the holes above and the azure waters light up like precious jewels. In certain places, the cave ceiling is only a few feet above the diver's head, and in others, the ceiling stretches up to an astounding twenty feet or so. What an excitting place to visit.
You can swim through during low tide and discover a world teeming with colourful tropical fish, coral and sea life. Animated groupers, lobsters, snappers, and angelfish. We saw the biggest Nassau grouper here. Maybe because some of the tours bring bread crumbs and feed them for more of an upclose and personal visit with them. Such beauty. We went snorkeling there a few times. One time we spent so much time there, the tide started turning and the current was so strong, we couldn't swim back to our boat, so we asked another dinghy to give us a ride there. So much for anchoring so close to the the east entrance. Haha!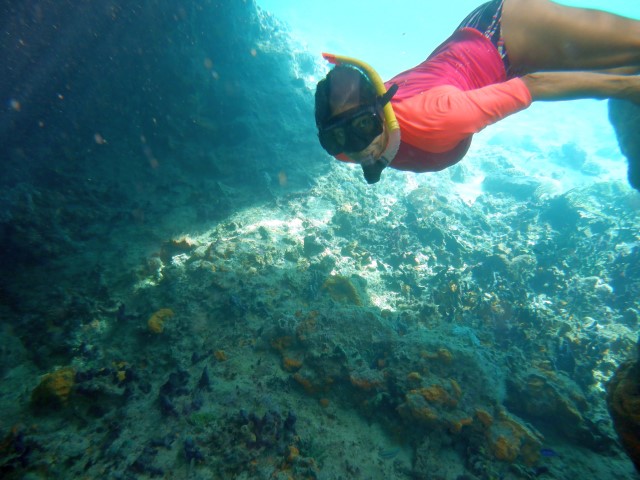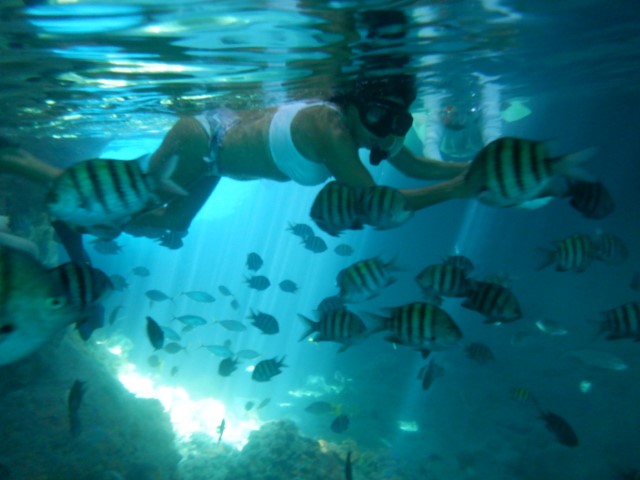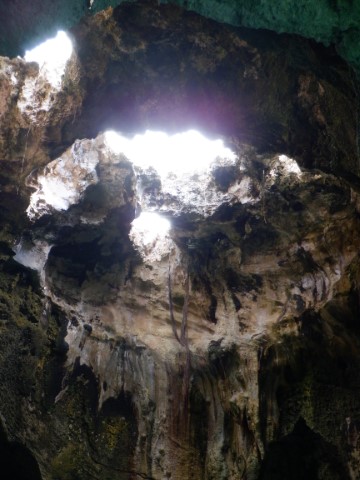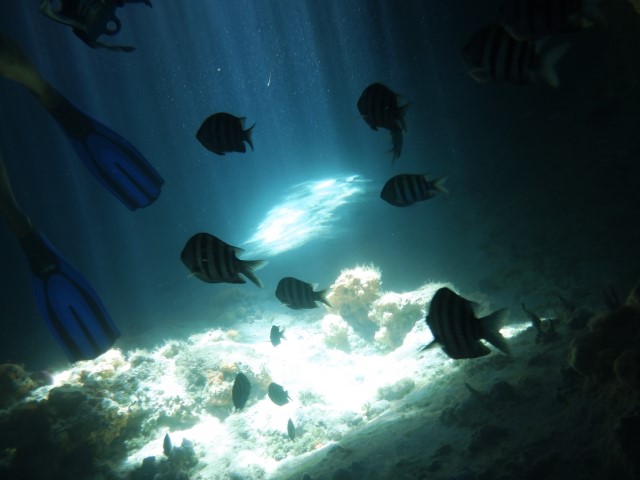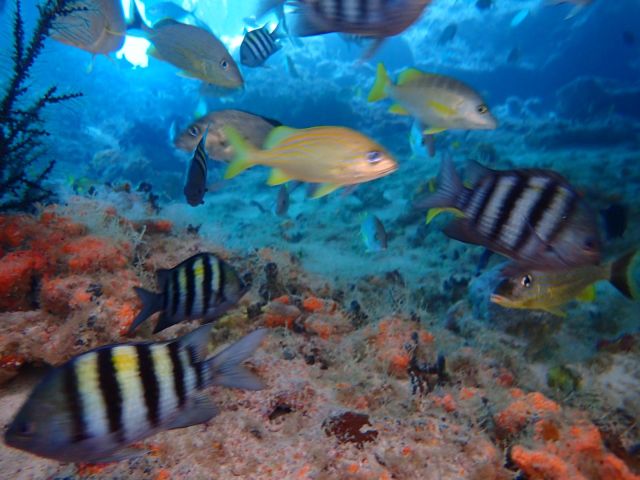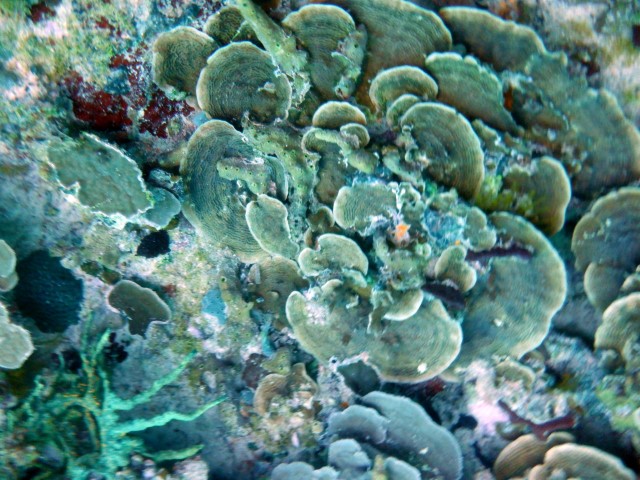 BIG MAJOR CAY
Sailing on the Eastside of Staniel cay behind Pigs Beach to go visit Thunderball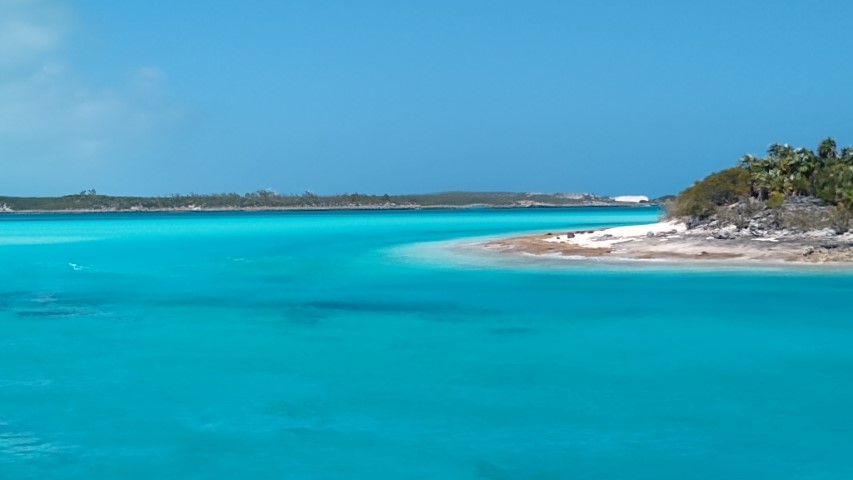 The Exumas pigs on Big Major Cay (Pig Island) are just a short ten-minute ride from Staniel Cay Bahamas. There are around twenty-five pigs and piglets all around the beach who are said to have arrived on the island in the 1990s. Now, they are one of the top attractions in the Exumas.
The official home of the world-famous swimming pigs, this cay is sometimes called Pig Beach, thanks to its playful inhabitants. Accessible only by boat, it is easily reached from nearby Staniel Cay.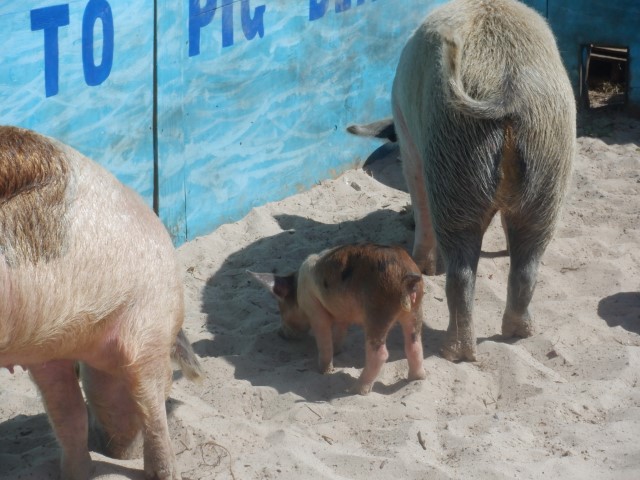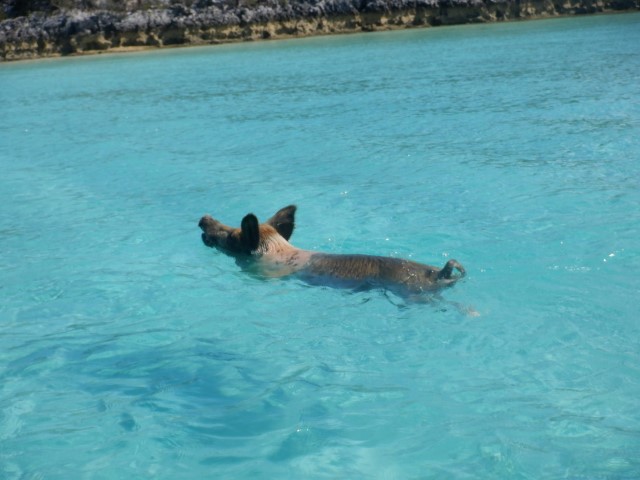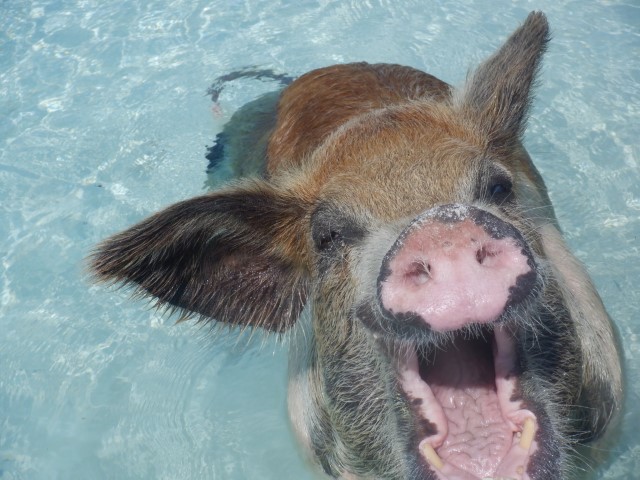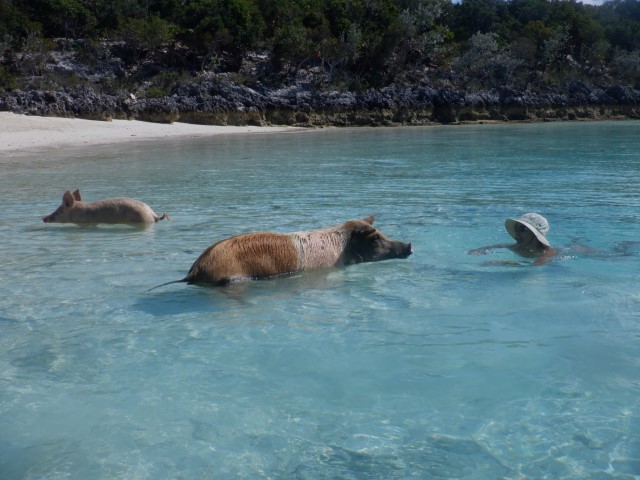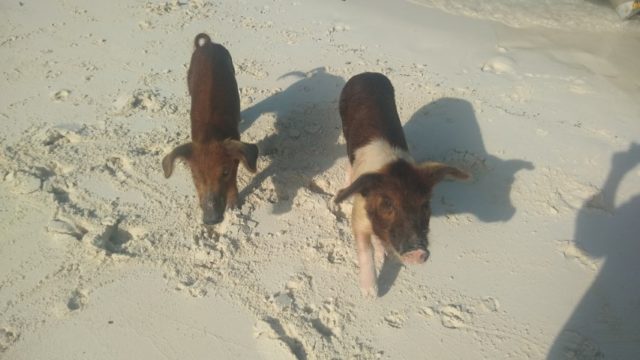 I just love love the piglets. When all the tourists leave usually by 4pm or mornings before 10am, I go to the beach and pet them.
So much more…
We just half way through the Exumas. So beautiful, so much to see, so many words to write. Honestly the pictures don't do it justice. The clearity of the waters is just brilliant. The snorkeling is so much better than down south Caribbean where we have spent a lot of time. What we do miss is the luscious greens of the Caribbean islands – the rain forests, the coconut palms. Here it is all flat, sharp rock, and scrub bushes. But the Blues make up for it big time. Ah, the Bahama Blues!
So we will stop the narative here, and at some point we will continue with the rest of our travels, working our way north towards Deltaville, VA where we will haul out for the summer. Stay tuned…