Current Location:
Luperon, Dominican Republic
Current Position: 19 53.94 N 070 57.16 W
Click to view map.
Distance sailed since last post:
101 nautical miles
.
View the map of our voyage track here
On Tuesday we rented a car to drive to Puerto Plata to buy groceries for our trip to the Bahamas. It turned out to be an adventure.
The day started by jumping into the dinghy and firing up the outboard. No problem there. We took off towards the tock and a good speed. But then discovered we could not slow down. Turning the throttle down had no effect.
At this point we passed another dinghy that was paddling. They requested a tow. Sure, no problem. We are still going at full speed, but they toss us their painter, which Ceu grabs – and promptly gets pulled back and almost right out of the boat. But she doggedly holds on and we manage to bring the towed boat to the dock, still at full speed.
Once there I pull the engine out of gear, with a big clunk, kill the engine, and we paddle the last few feet to the dock.
Our rental car is waiting for us, unlocked, keys in the ignition. The owner message that he had to go to Santo Domingo, 4 hours away, for the day.The car would be at the parking lote just turn the key and go. The car has multiple cracks on the windshiel, multiple dings around the body, no working tail lights and a big propane tank in the trunk. It also has no USB port to charge our phone while using it for navigation.
The fuel gauge says 1/3 full, so we figure we will fill up at the end of the day, as we normally do with rentals.
So we set off. After about less than 20km km the car grinds to a halt. Sounds like it is out of fuel, but the gauge still says 1/3 full. Not so the gauge on the big tank in the back, which says EMPTY. So we need some more propane.
We are outside a nice house, so Ceu knocks on the door and a very friendly and helpful man comes out. Ceu seems to manage with her portinol language and the man says "no problem, I will call the 'Ministerio de Obras Públicas y Comunicaciones' who will come out 24/7 to provide assistance.
And they do. An official car with two uniformed officers show up, take stock of the situation, and immediately start flagging down passing vehicles. After a little while they find an old pickup truck, full of wood, that has a towing hitch.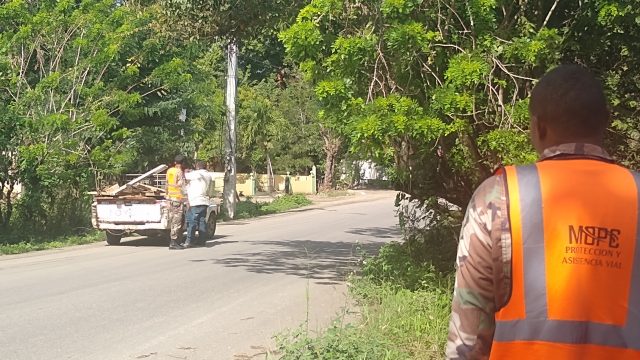 The driver, who was going in the opposite direction, is instructed to turn around and tow us, using a rope, to the nearest propane refill station which, fortunately, was just about 2km away.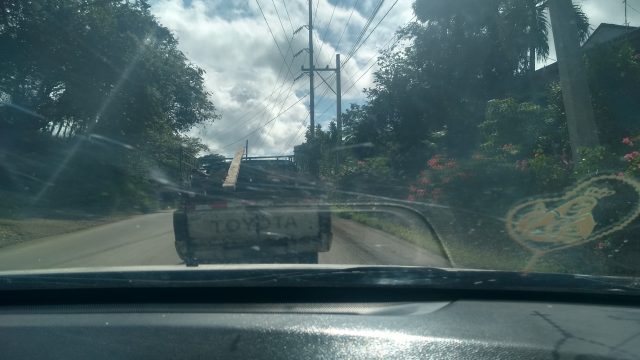 So we make it there, give him $10, and fill up with propane. We put in about $10 of gas whihc is what we normally spend on a one day car rental and doing way more driving, so it should do us fine. It was about 3 gallons. We were also told that propane was way cheaper than gasoline. We were not going very far for our provisions.
And so we are on our way again, albeit an hour or two later than planned.
We get to Puerto Plata, load up on groceries, and then spend a futile hour looking for a pharmacy that is able to refil some of our prescriptions. No joy on that. Same with the hardware stores. We also found the groceries quite a bit more expensive than we had been led to believe.
So we are on our way back to Luperon with trashing rain, Ceu, the driver, had to move her head around the winshield cracks to have a better view of where she was going. About 10km past our previous stop, we ran out of gas. Again. We were also completely out of pesos, though we did still have US dollars. Many places do not take credit cards.
This time we were right outside a police station with a young officer who spoke unintelligble Spanish. By now our phone had died so we could not call anyone. So now we were in the middle of nowhere with no gas, no phone, no money and no language. But at least we were able to charge up the phone in the police station. After a lot of dithering by the police officer, who provided no help at all, we were able to call the rental owner. He was now back from Santo Domingo and offered to come to us, just 12km from Luperon.
He showed up with a friend and a rope and, once again, we were towed to the propane station (not just any station)which, again, was only about 1km away. How lucky.
His friend drives off somewhere, and the owner gets in the back of the car and Ceu drives the rest of the way to Luperon. I guess he was too tired of driving after his trip to Santo Domingo and back.
We arrive in the rain. We have a trunk FULL of groceries, which we now load into our dinghy. We are soaking wet and eager to get home to have a fondue with our new suppply of good cheeses.
We take off and the dinghy is still doing its 'won't slow down' thing. But we manage to kill the engine in time and arrive back at Life Part 2. (without crashing into it)
Soon the fondue is bubbling away on the stove. We get out the fondue pot stand and fill up with alcohol. Ooops, it seems we have run out of alcohol. No worries, we have two bottles of BBQ lighter fluid which should do the job.
Um. No. It seems that lighter fluid does not burn when it is just sitting in an open pot. Could not get either brand to light.
So now we have to run back to the stove every few minutes to heat up the fondue again while we are eating it.
What a gong show today was. All part of the cruising adventure. Only the moment we realized we ran out of gas again, we felt a bit stuck, because we also had no phone, all due to using the GPS and the car had no charger. After that we were ok. At the station we immediatelly plugged in our phone. So now we have phone, Google translate, we have American dollars and friendly people. All was better. The owner of the car apoligized and promissed next time will get us a better car from his fleet of 5.