Current Location:
Santorini, Greece
Current Position: 36 20.2 N 025 26.04 E
Click to view map.
Distance sailed since last post:
46 nautical miles
.
View the map of our voyage track here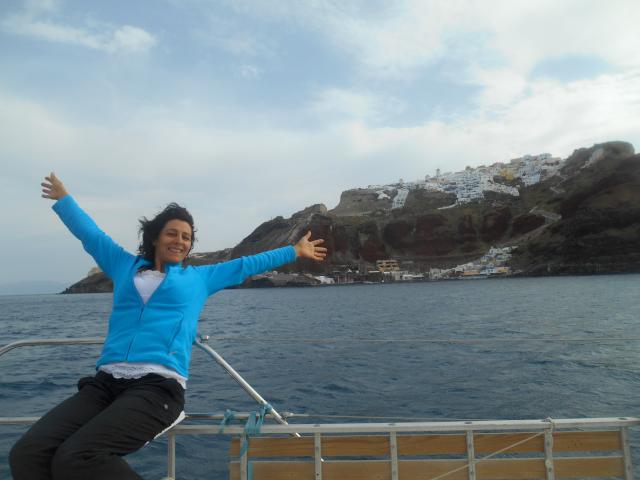 Welcome to Santorini. Easter Monday we departed from Astypalea  at 8:30 am on very light winds with Spinnaker up.
It was a great trip, ended up having to motor for a couple of hours,when the wind vanished. Santorini is not very anchor friendly, so arriving at sunset, we chose to go straight to the Marina.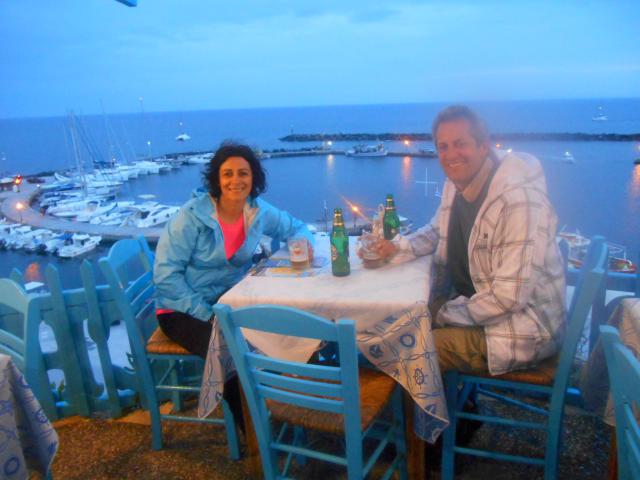 Dimitris Taverna was a great spot to stop for a beer and for some info on how to get around in Santorini. Marina is quite far from the tourist areas and in Season it does have buses running. Being  early in the season the buses were running till May. We rented a car from his friend who dropped it off to us the next morning at 9:00 am.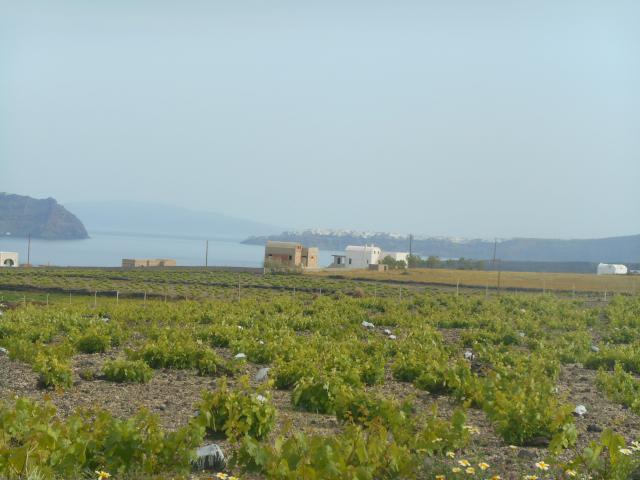 Santorini is a small island. Although it is beautiful and you want to stop many times, in one day you can visit the island.
We started our drive right at the south end of the island and the main road took us all through these beautiful cultivated fields. Mostly vines which are very short and low to the ground. Many many signs advertising wineries. So if you are into wine tasting…definitely one day in the island is not enough. Many cute villages some not so touristic but yet charming. We stopped at a few beaches, nothing really spectacular still waiting for the famous real  Santorini photos you see in Google. I was starting to wonder if those pictures were actually real (you know the ones…beautiful beaches, cliffs and of course the white houses and blue roofs!)
Before we show you the real nice touristic towns of Fira and Oia : below are photos that you don't see in Google:
There are so many unfinished buildings all through the villages, along the cliffs and with the most beautiful views of the sea, the caldera and the far cuter towns of Fira, Imerovigli and Oia in the backgrounds it is such a shame to see all these skeletons all over the place. Rather similar to Spain, in fact, so I guess they had the same building boom and bust here.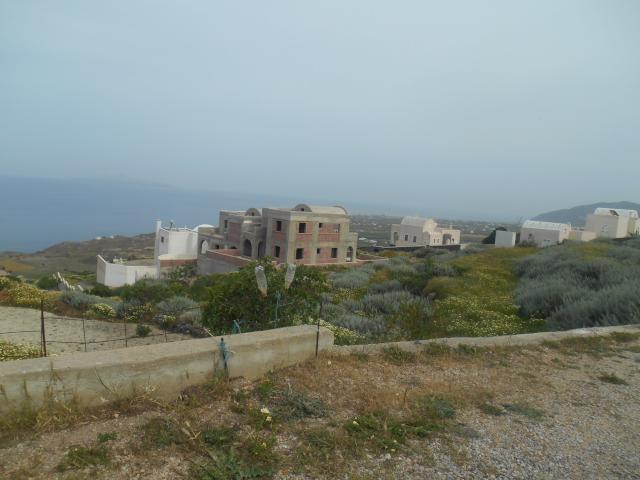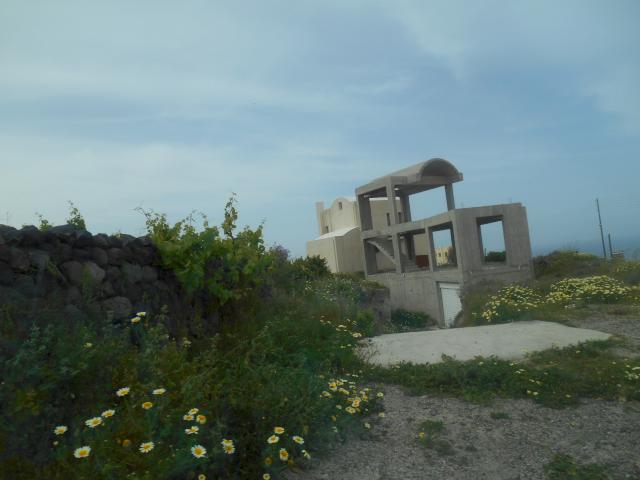 Then, of course, there is a different kind of skeleton – these ones from decay over many centuries, not from abandoned building: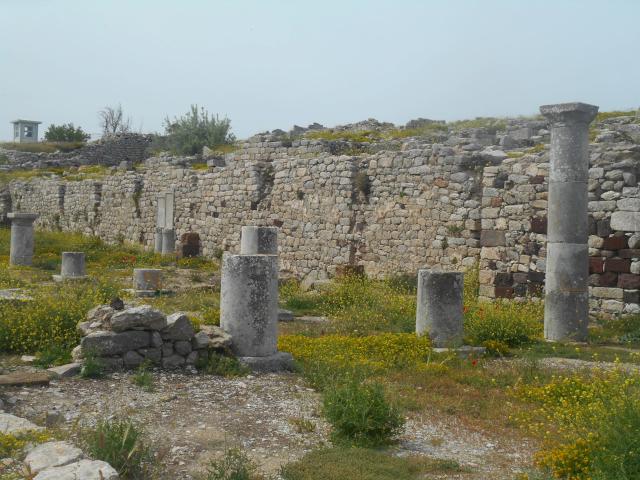 These are the ruins of ancient Thira built up in the hills above the East coast of the island, whereas modern Fira is on the west coast, facing the caldera. As usual there are remnants of ancient temples and baths, etc.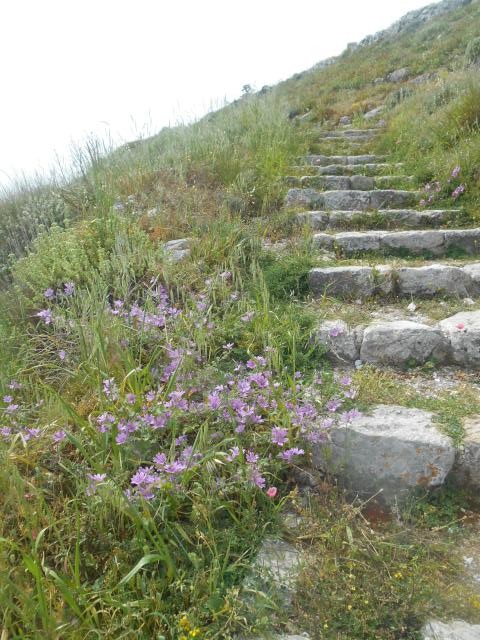 So many beautiful wildflowers at this time of the year. No tourists AND pretty flowers!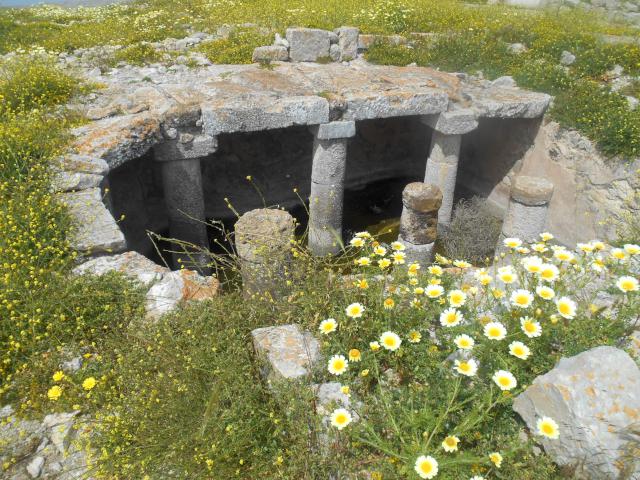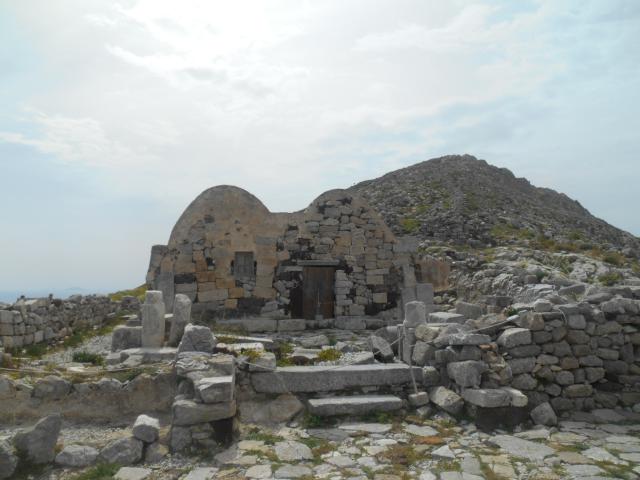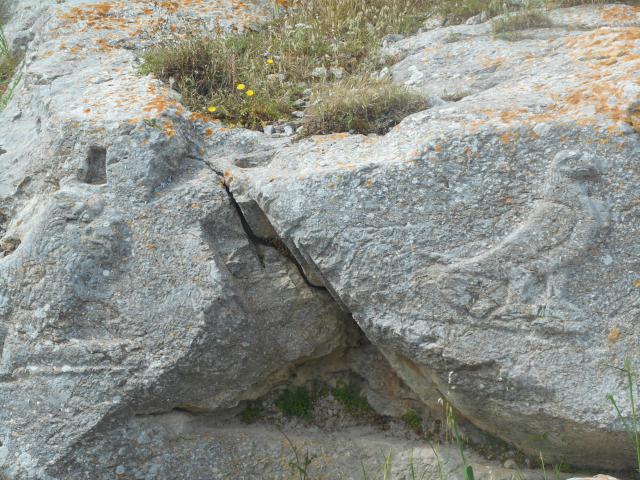 Above you can see a lion and a bird carved into the rocks. From up here you can look down on the only two real beaches in Santorini, on the East coast. Both with black volcanic sand.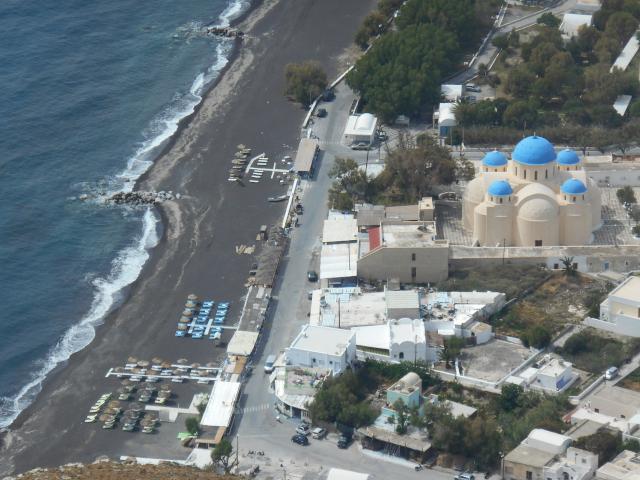 And, of course, there are white houses and blue roofs, just like in the brochures. These are views of Fira and Oia from the water: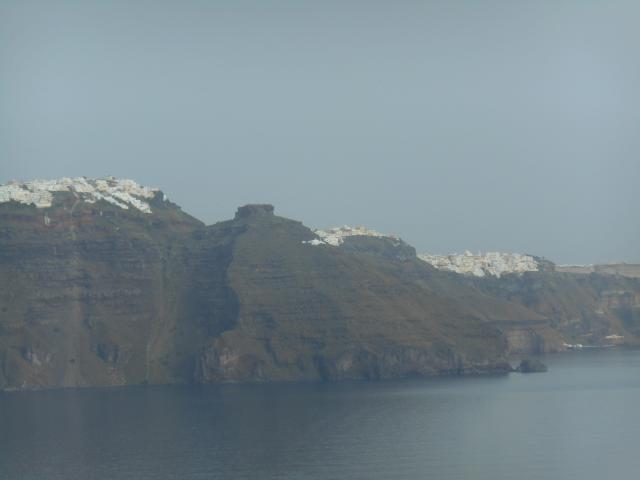 It was very hazy, not the greatest day for photos. But it is easy to see the white villages perched on top of these cliffs.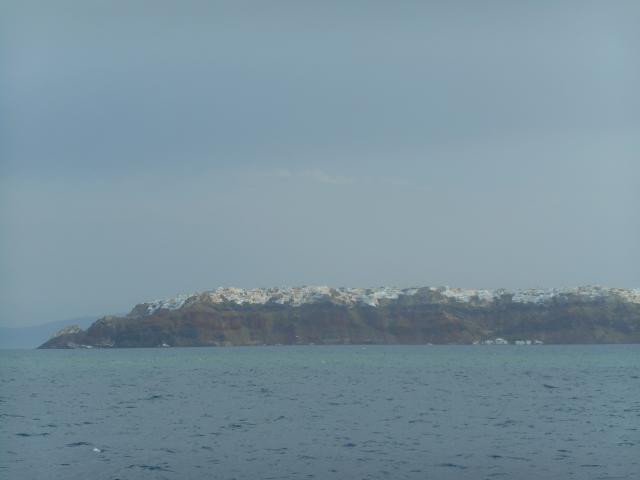 Above is the busy tourist town of Oia. Bellow foto is also Oia but viewed from the boat as we sailed around the next morning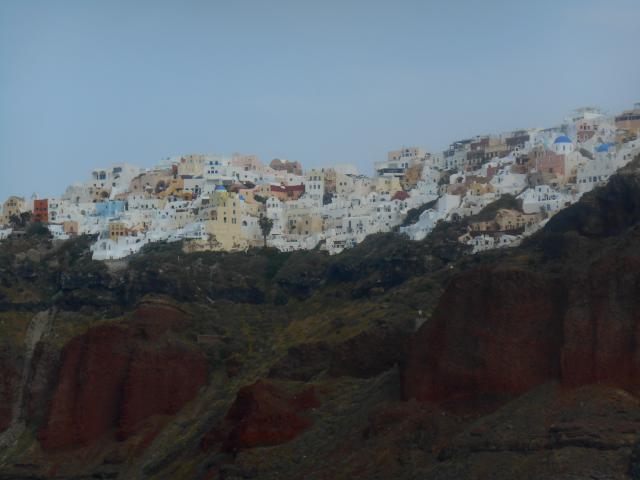 And looking along the coast from one village to the next: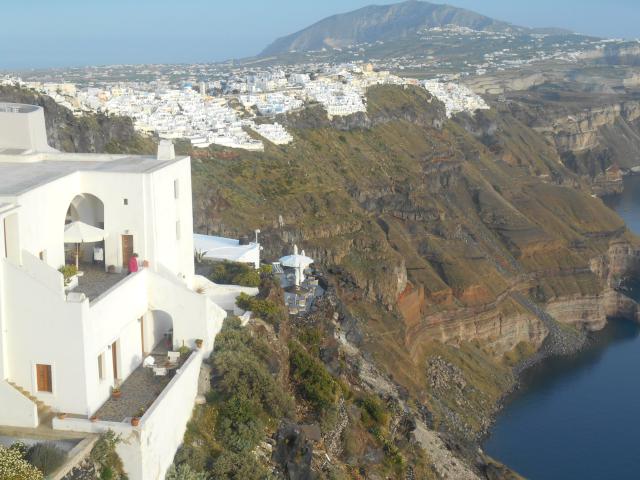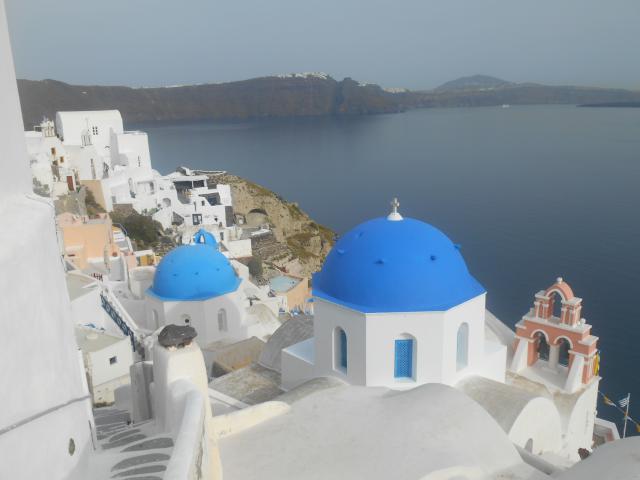 See, there really are churches with blue roofs here!  But, to be honest, you will see more white and blue in Mykonos and in Panarea (which is actually an Italian island just north of Sicily)!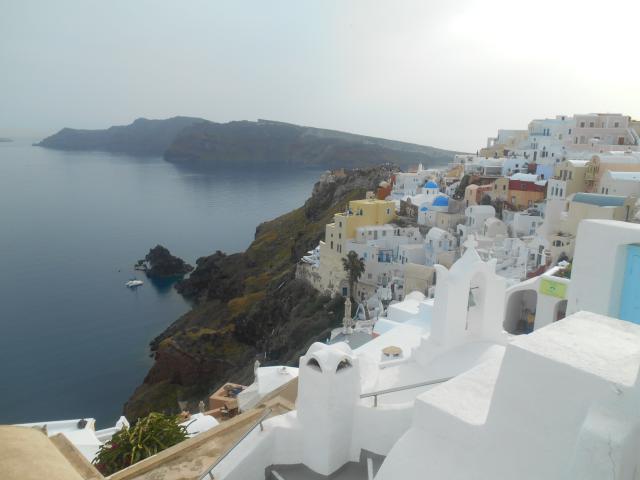 The towns are very cute and picturesque.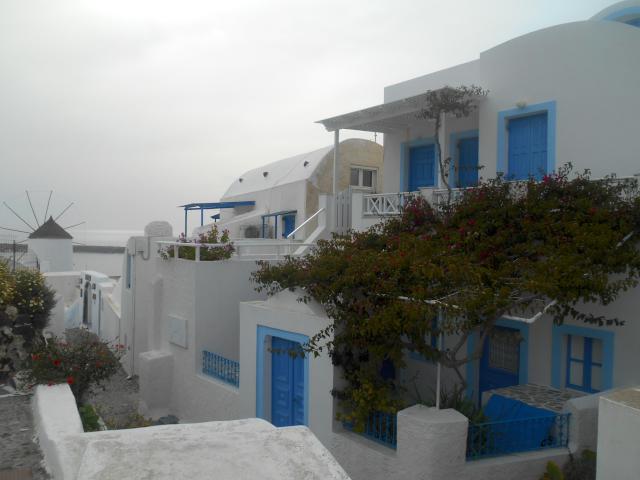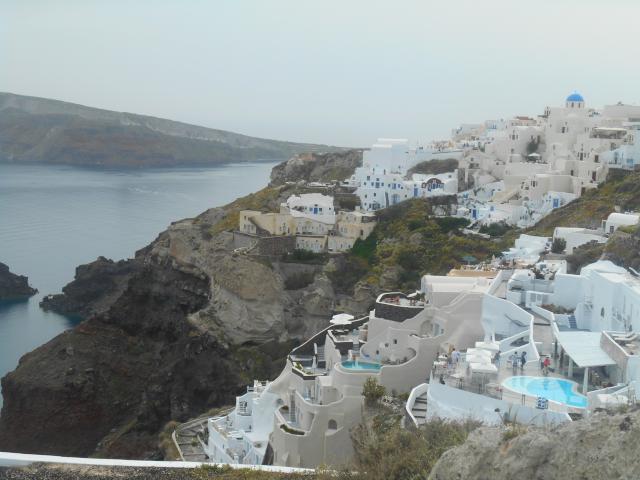 Now here is a place for your wedding reception!  Actually we saw quite a few wedding parties wondering about with their photographers who were gamely trying to get the perfect pictures without heaps of tourists in them!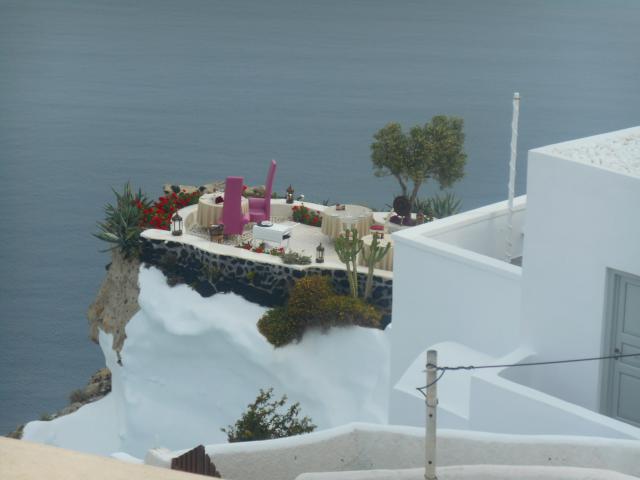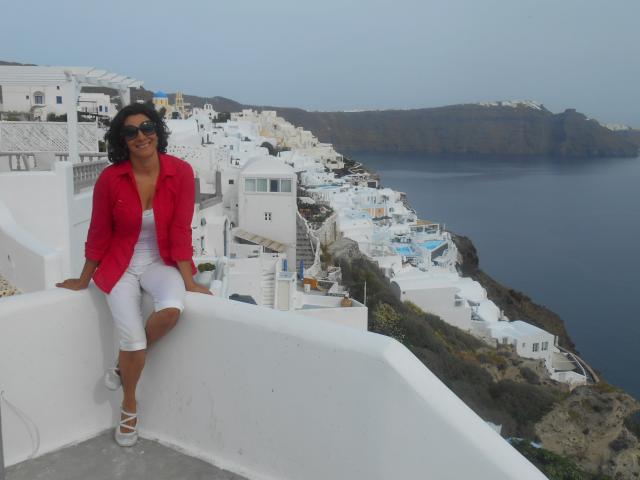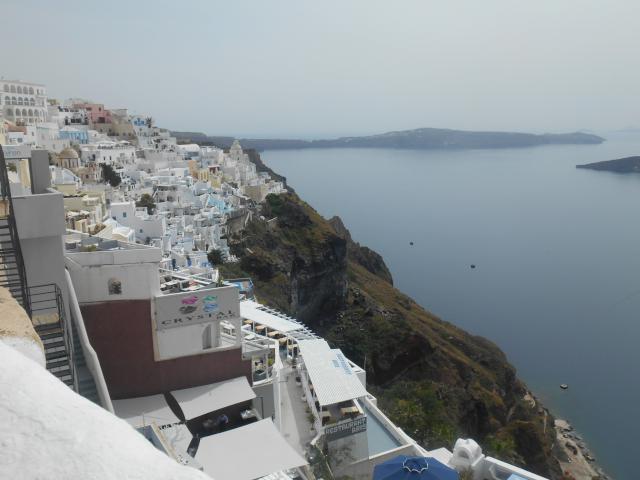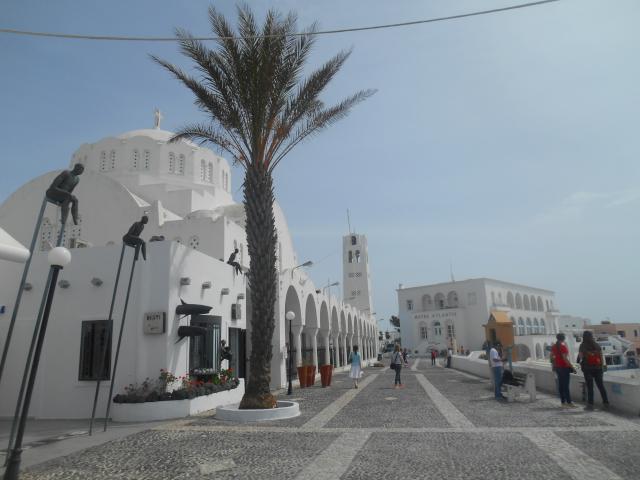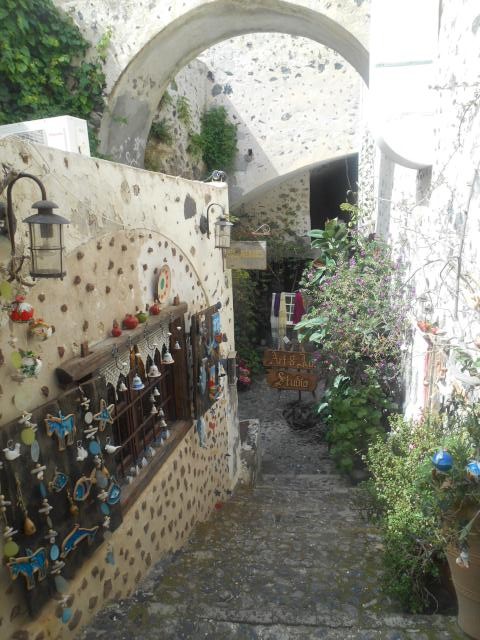 So many cute narrow streets full of vendors and still many tourists around, even in low season.
The cruise ships do not have a dock there. They just hold position there and tender the passengers ashore, sometimes the fishermen help out as well. There are 580 stairs to get up to the town. You can do that for free or for 5 euros you can take a mule or a cable car.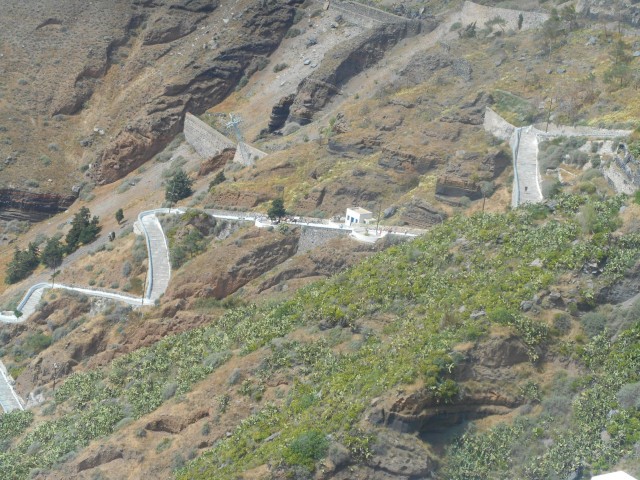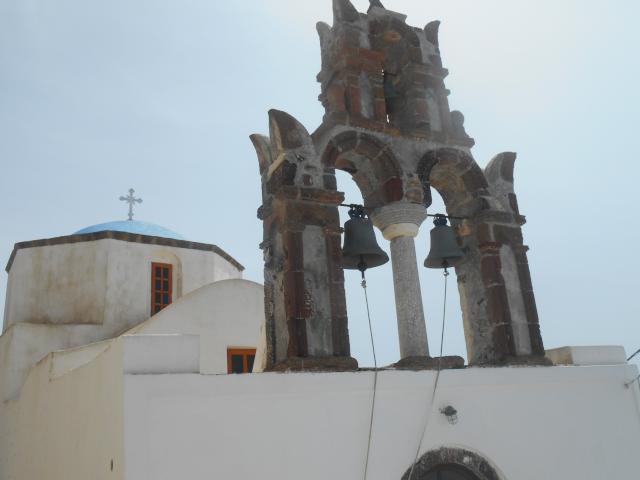 Then, of course, there is the famous Oia sunset that one is not supposed to miss!  Some clouds got in the way but it was still pretty.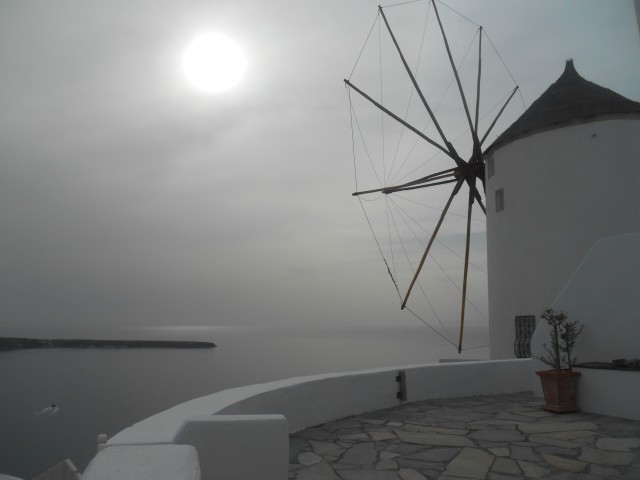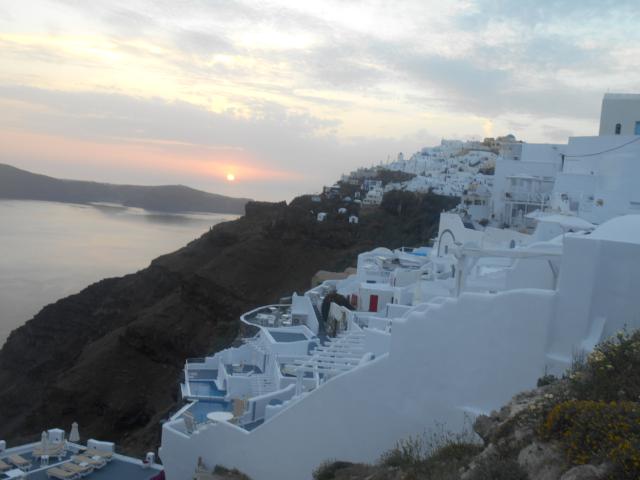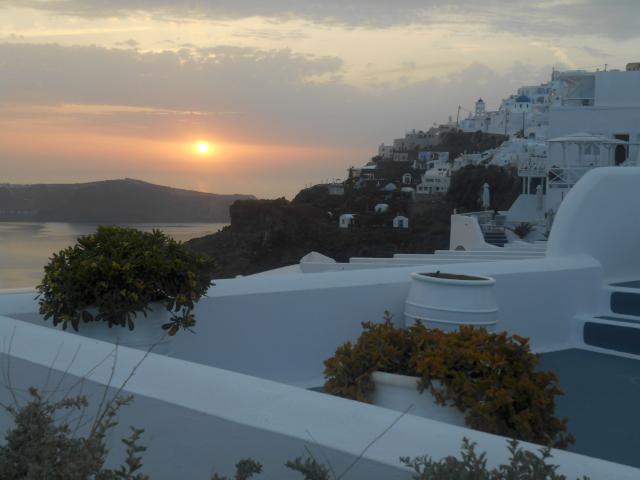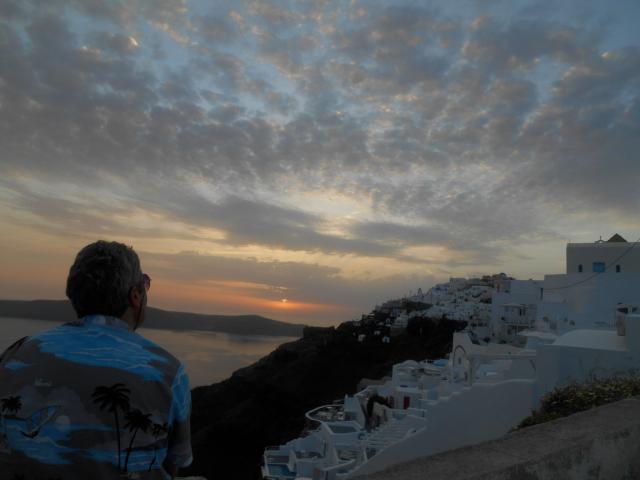 After which we drove back down south to catch a delicious meal in the restaurant at the top of the cliffs above the marina.
The next day we sailed onwards to Milos and en route to Corfu.
We had to update our blog today because we are on to another adventure..in another country. Long trip starting tonight…in a couple of hours actually
I got Noel to update Rhodes this morning while I was busy cooking a couple of meals ahead.  Some shepherd's pie and pineapple chicken, hummus and tatziki with cut up veggies, some pita bread and lots of fruit for snack times. Ohh and chocolate too!!
Croatia…here we come!!!!