This post relates to Mount Nemrut, Turkey. Click to see map.
Bellow are the photos of the city of Antalya we visited for a day before getting on the night bus to Cappadocia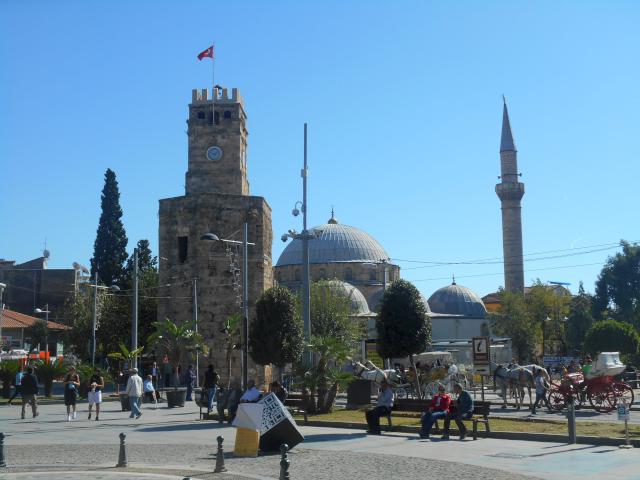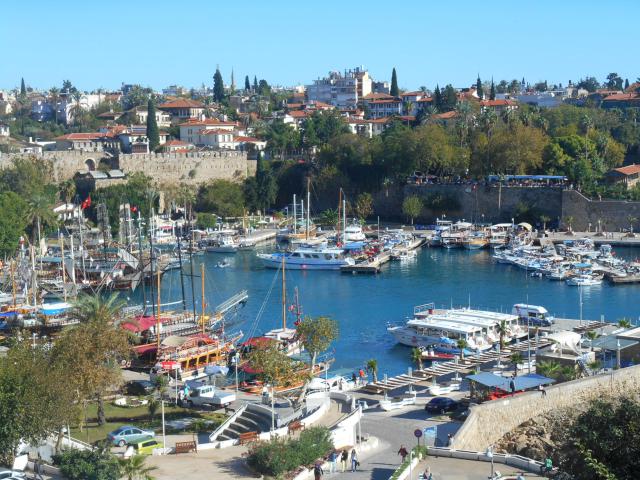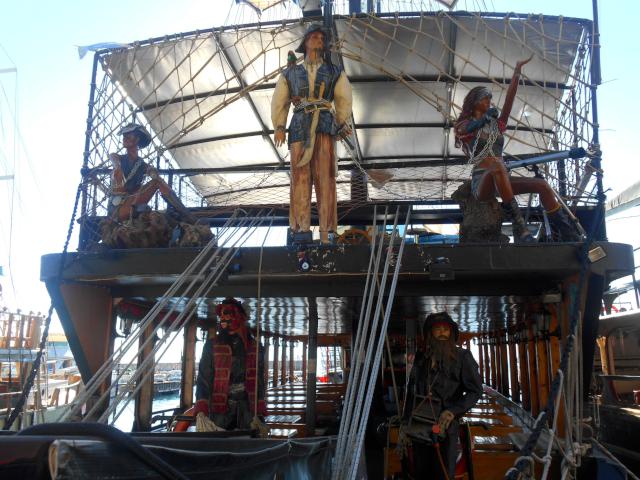 All the gulets here had a pirate theme to them, with many of them having larger-than-life models of pirates to greet you as you come aboard. They also had fake square-rigged sails.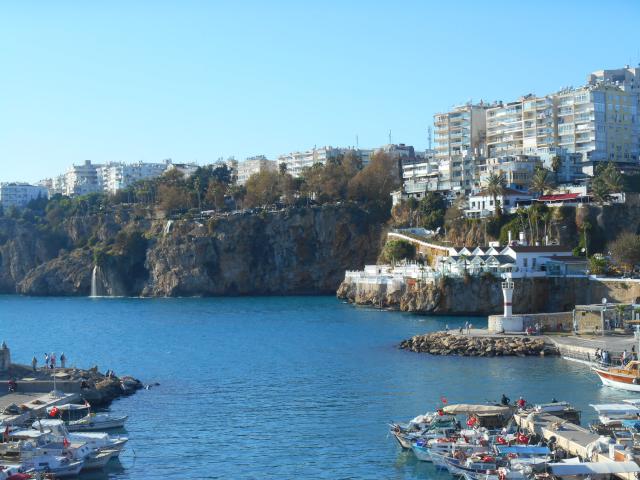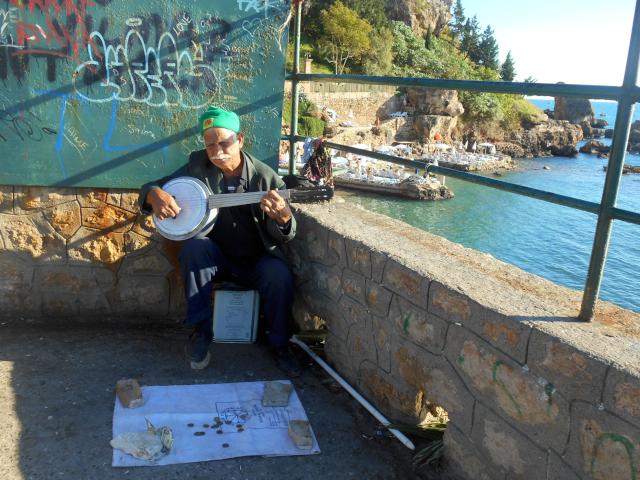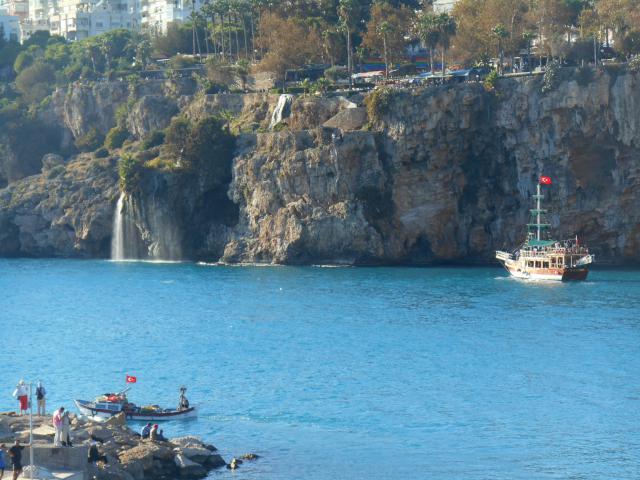 The beautiful harbour of Antalya with some impressive waterfalls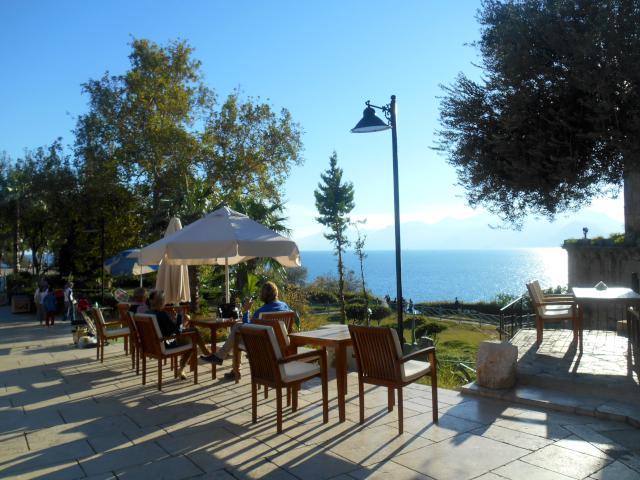 We enjoyed a beautiful walk along the sea wall, backed by a really nice park and restaurants.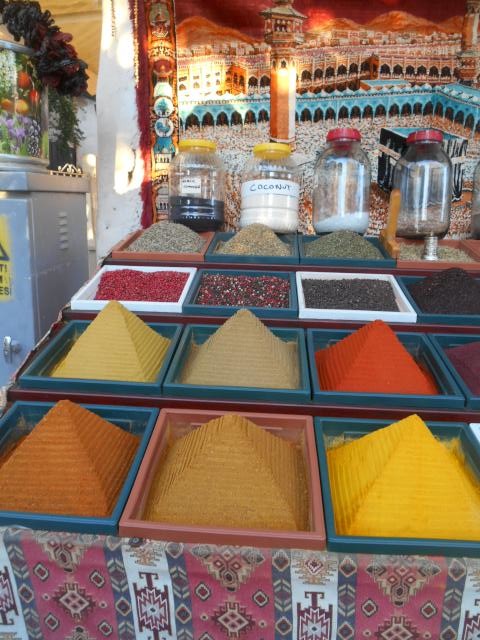 Look how neatly piled these spices are!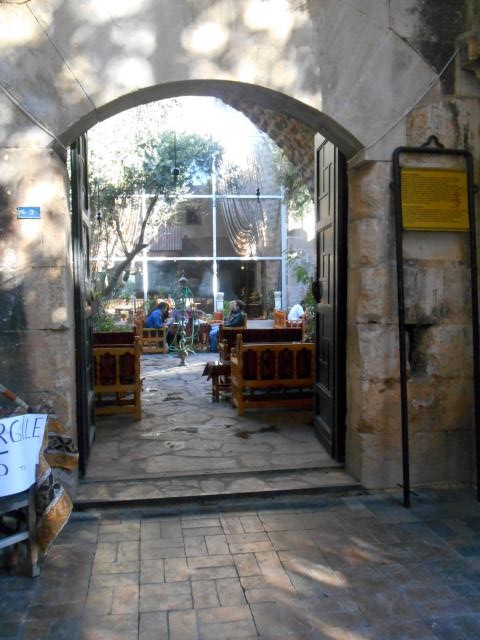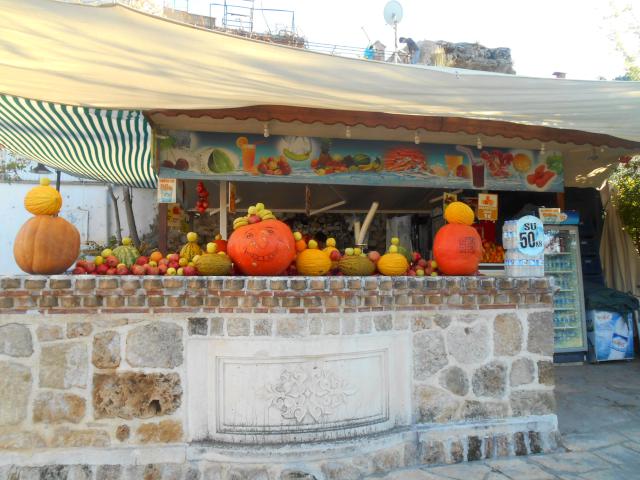 Enjoyed some fresh squeezed juice from this nicely decorated bar, one would think they celebrate Halloween around here!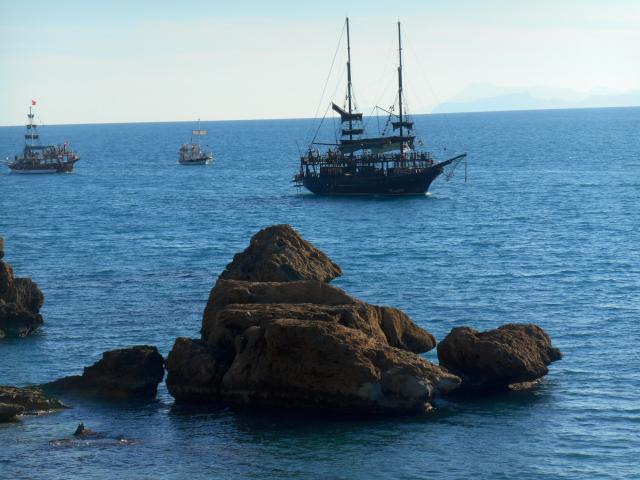 At sunset we started looking for a place to eat and enjoy the views of the harbour and have a rest. One of the many pirate ships is on its way in.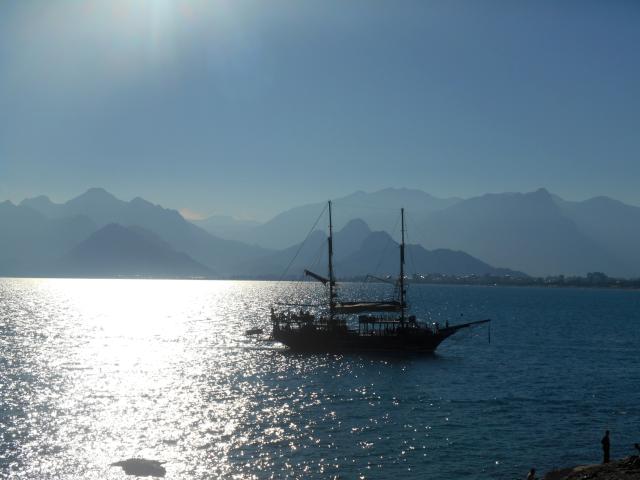 We had a really nice meal here, with some amazing views. We had fun watching the fancy pirate theme gullets going in and out of the harbour for their sunset cruises. We did have the waiter take a photo of us here at the dinner table. He actually took 2, and again they were terrible photos.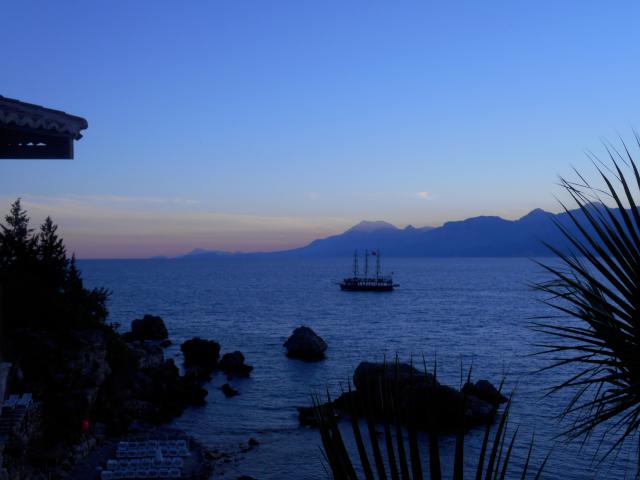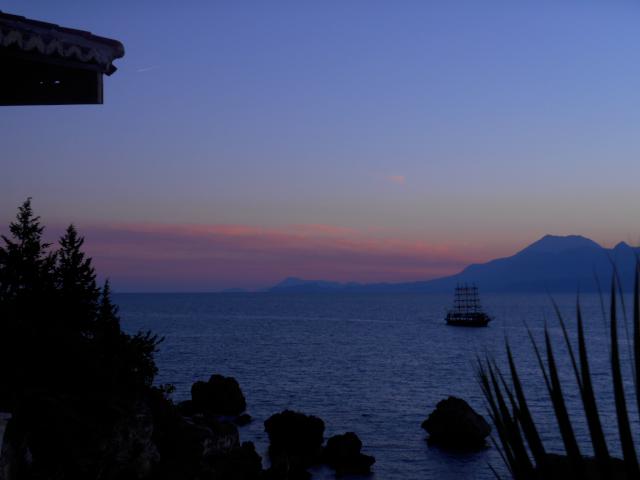 After dinner we left to the bus station for the night trip. The bus station was huge. It was like being in a small airport. Inside there were not only snacks available, but a few cafes serving pizza, muffins and all kinds of baked goodies. The place was very clean with cleaners making sure of it, and emptying garbage cans often. Buses were very organized. Off we went to Cappadocia.
Mount Nemrut
Below are the photos from our trip down to Sanliurfa, East of Turkey from Goreme, Cappadocia. We left Goreme on a small bus with a group of 10 people and our tour guide. The scenery changed very often from plains to hills, mountains, rivers, lakes and gorges. Fruit trees, potatoes and lots of other vegetables and many cotton fields. Cotton was being picked and transported by trucks into big warehouses at the sight of the first clouds in the sky. There I think it was the first time we actually felt we were in a foreigner country. It is not touristic place, no English speaking and the people are very religious and modestly dressed. Compare to most places where only a small percentage of women wear a scarf, here was totally different. They all go about their own lives, no one harasses you into their stalls that all look the same to buy all this touristic stuff. None of that here.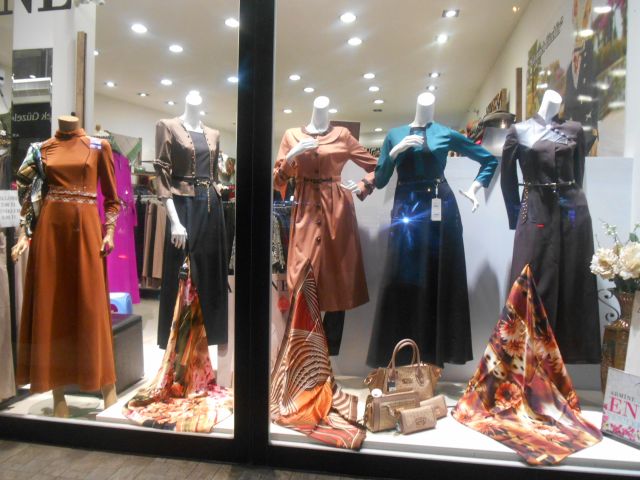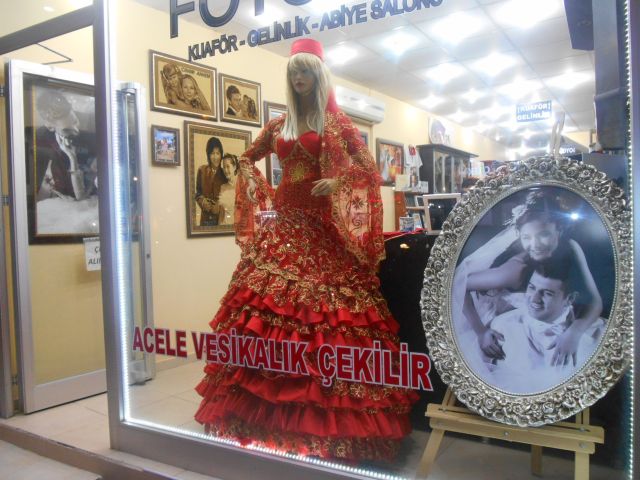 Shopping. A totally different experience!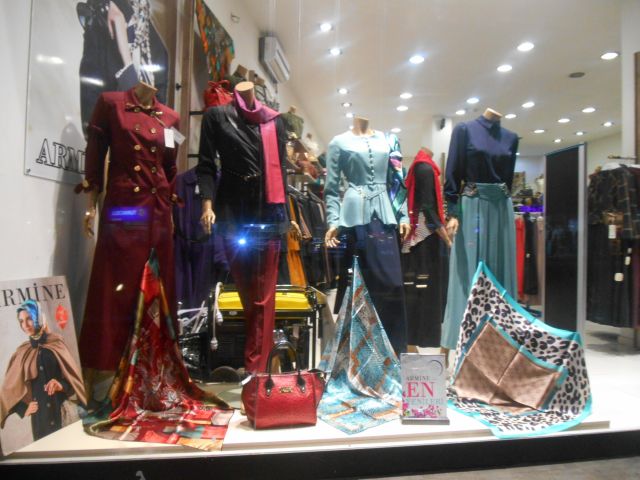 3am wake up call: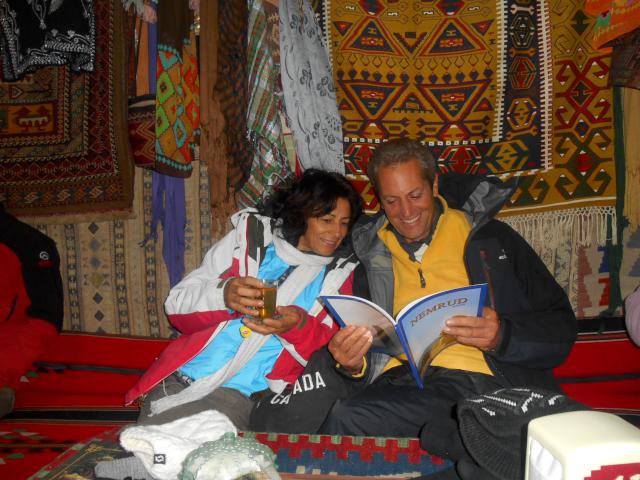 We spent out first night in Adyaman, the popular place for visiting the next morning. Yes, our wake up call was at 3:00 am. It was a 1 hour drive to the base of the mountain. There, we stopped at a coffee/souvenir shop coffee or tea, souvenirs…etc. Afterwards we walked up the hill, with newly built steps to the summit and watch for the sun rising over the statues. Wow!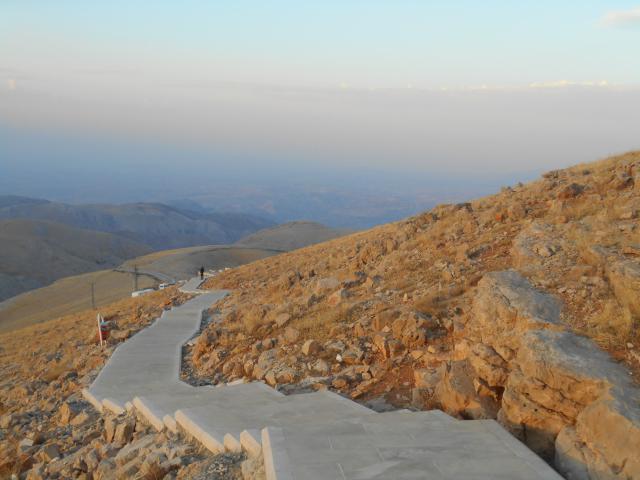 Mount Nemrut is situated in Southeastern Turkey.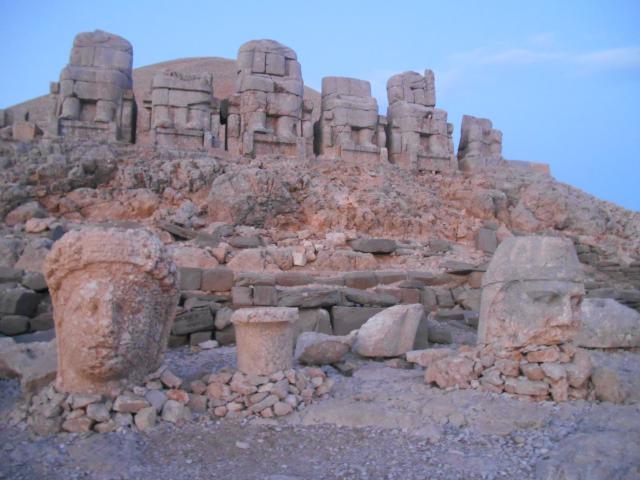 Large statues and heads of Kings and Gods statues are erected around a royal tomb from the 1st century BC. At some stage the heads were removed from the bodies above and are scattered around the Tumulus.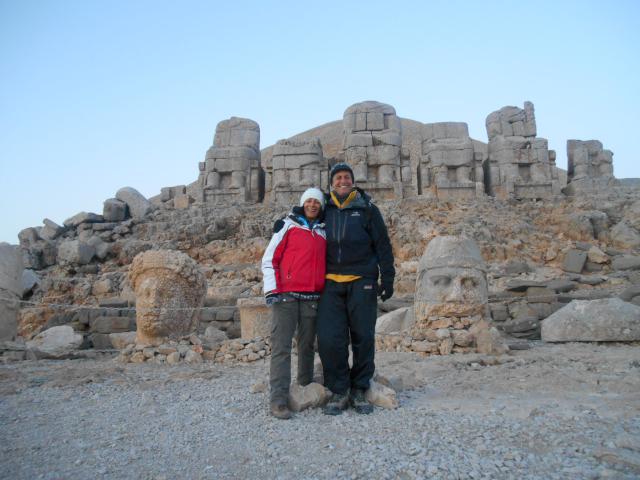 These are photos of the East side Terrace. Early cold morning, but lots of fun and sure worth it! Incredible!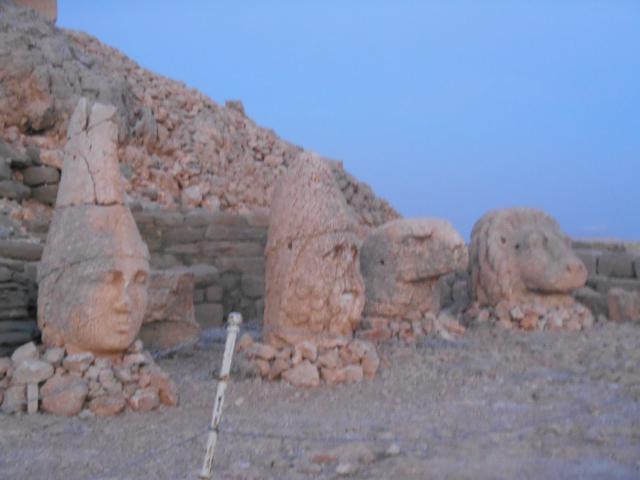 The sun was a bit late showing up, we had a few clouds that morning, but what an experience. I will share this, but for the history on it just google Mount Nemrut, it's fascinating.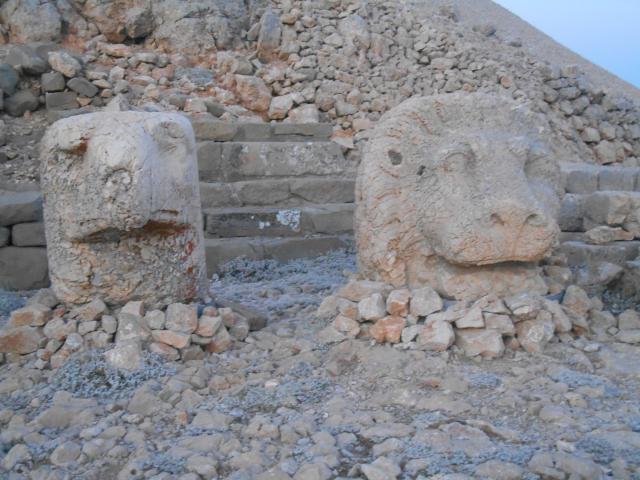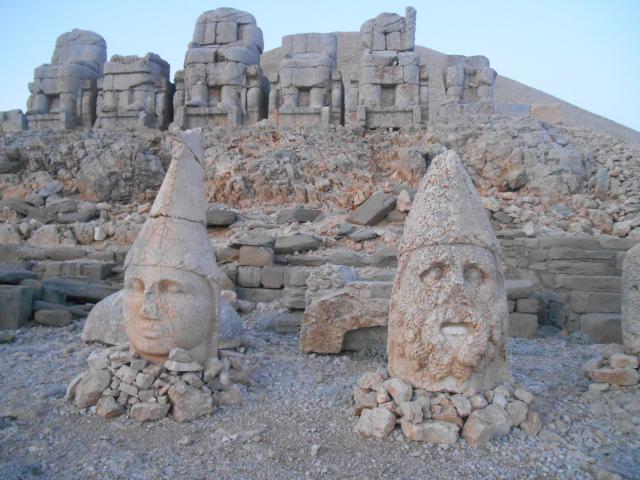 The photos bellow are from the West side terrace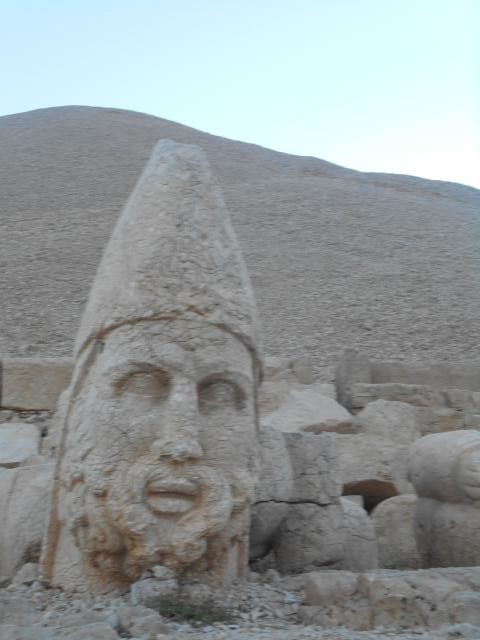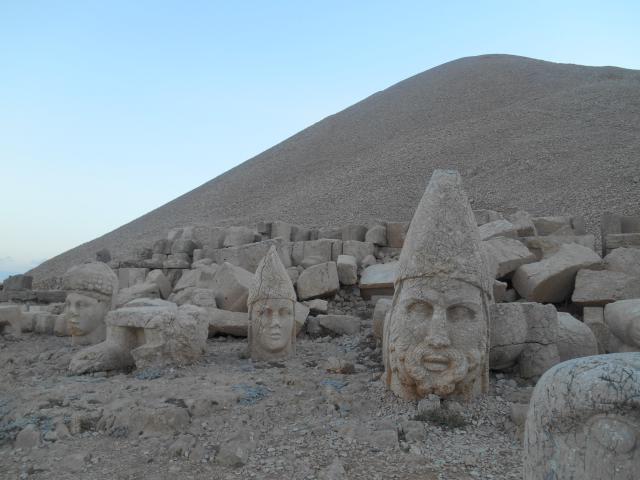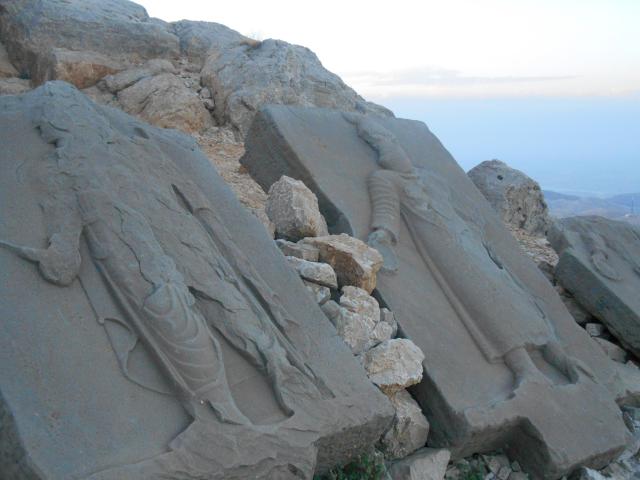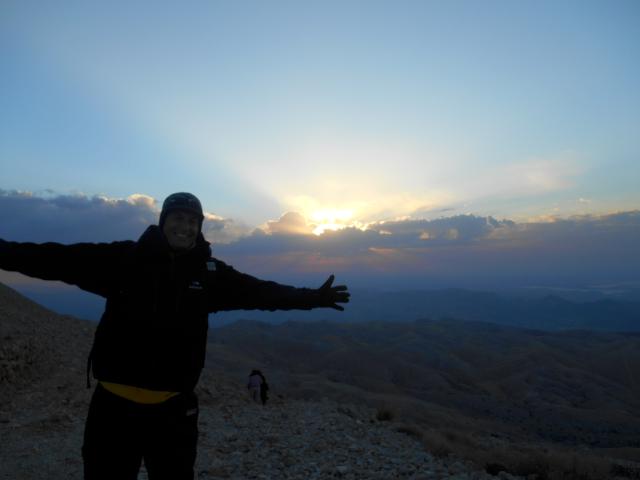 The Taurus mountain behind. The sun finally showing up!!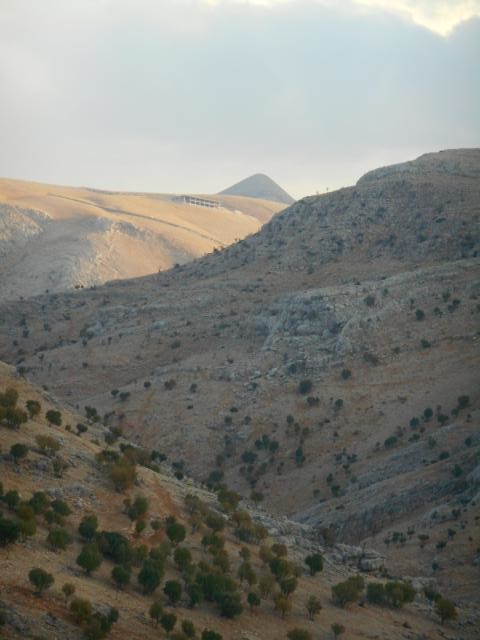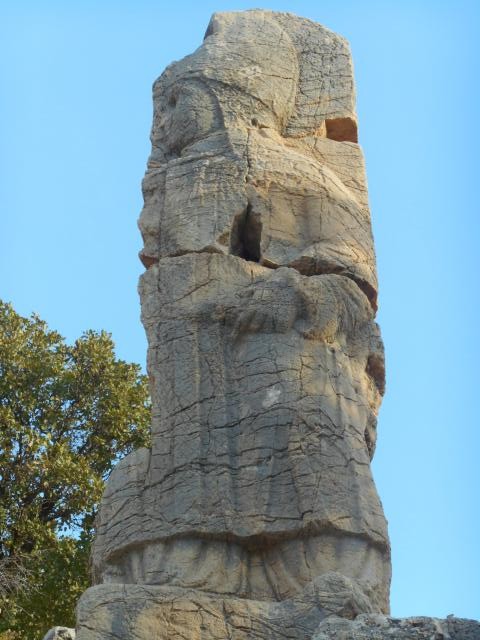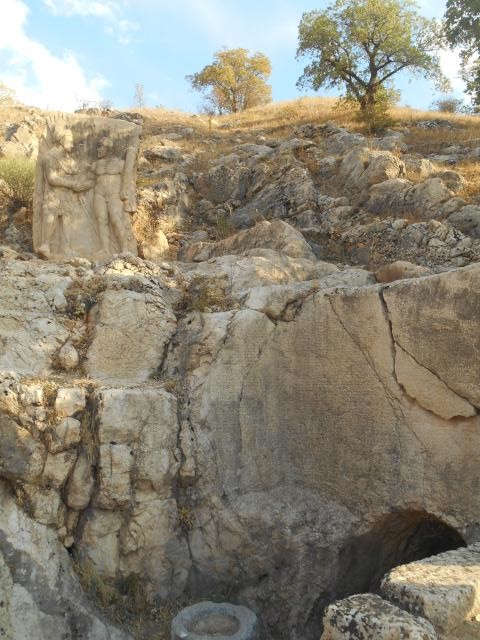 Ceu communing with Hercules and King Antiochus
Beautiful scenery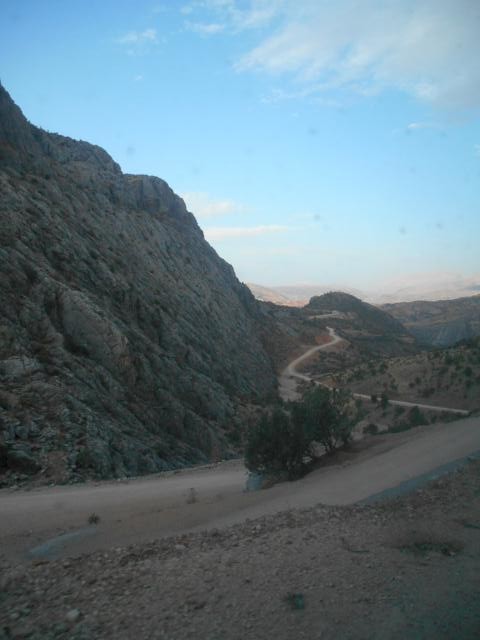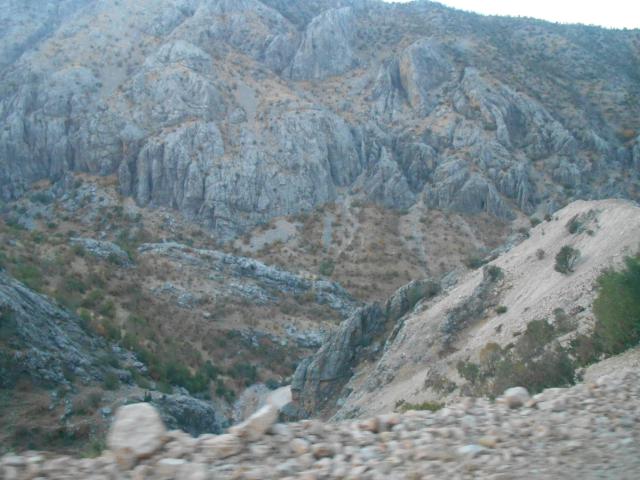 Ancient Roman bridge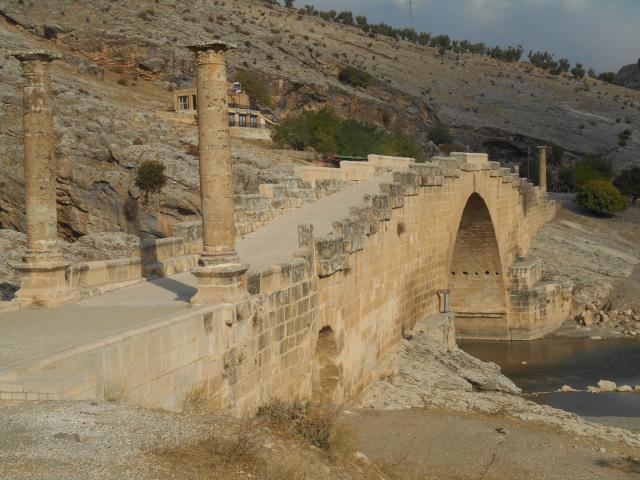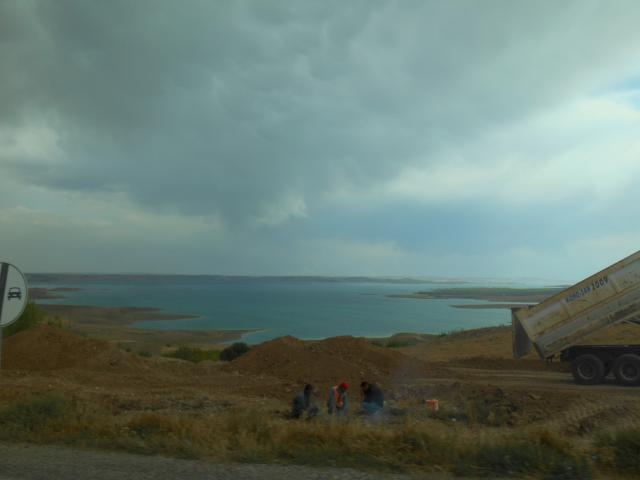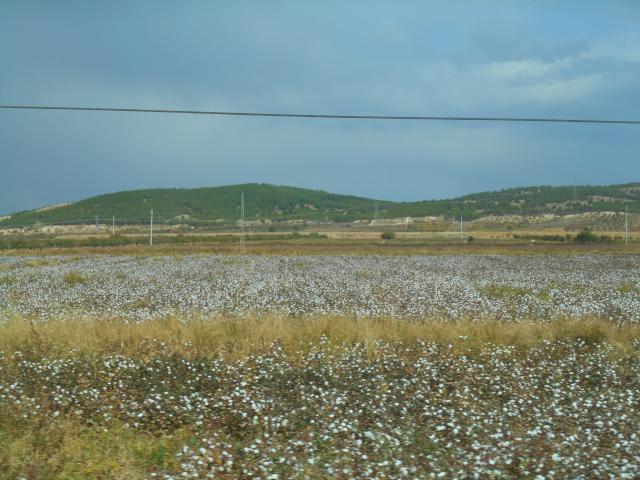 Cotton fields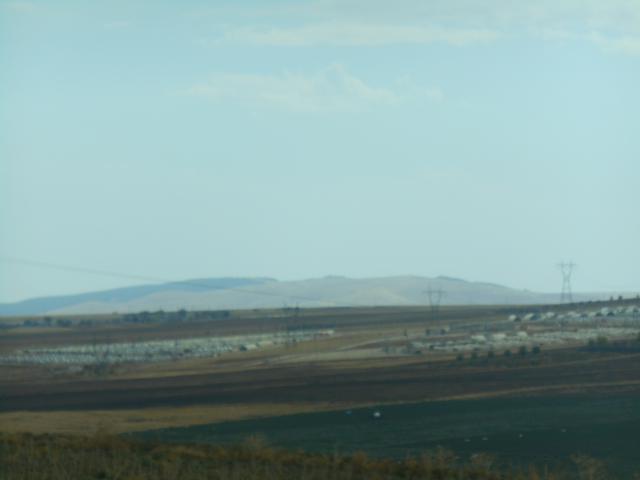 Above photo: what looked like greenhouses to me, were in fact refuge camps form Syria. We saw 2 guys being dropped off on the side of the road with their duffle bag and walking towards camp. We were only 15km from the border.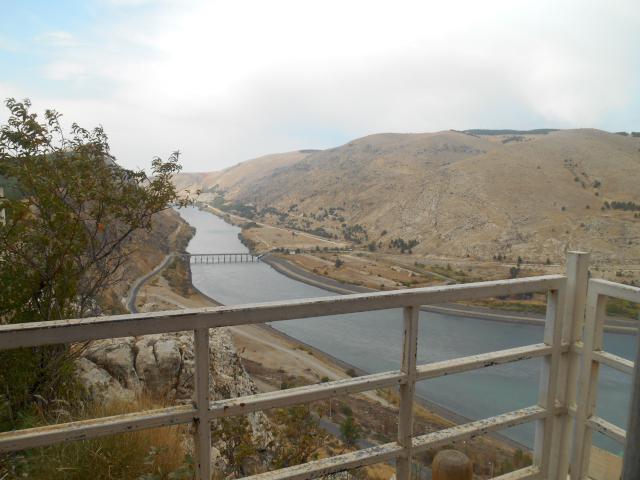 Antaturk Dam. The biggest dam in the Middle East.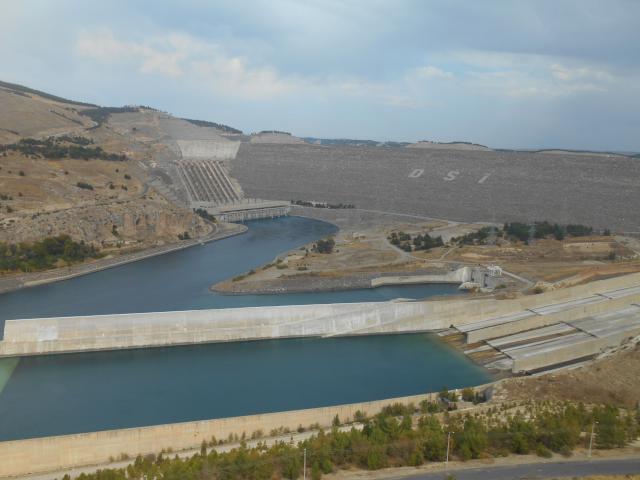 Our guide told us if we had time he would show us something that was not mentioned in our itinerary. He surprised us with a visit to the oldest Temple in the world, Gobekli, just being excavated. It is older yet than the Sanctuary in Malta we visited before (and was advertized as the Oldest in the world)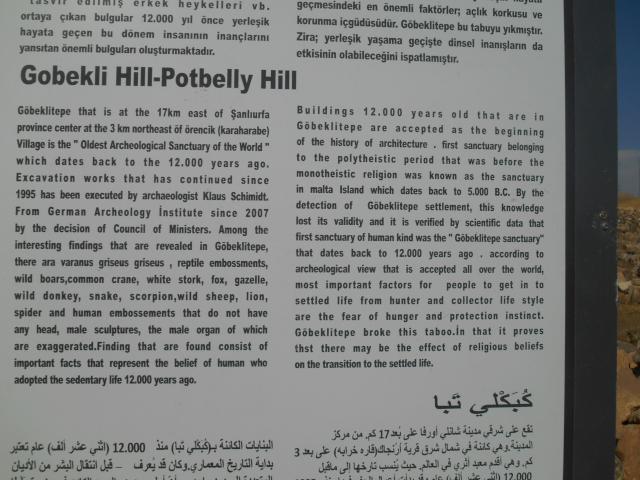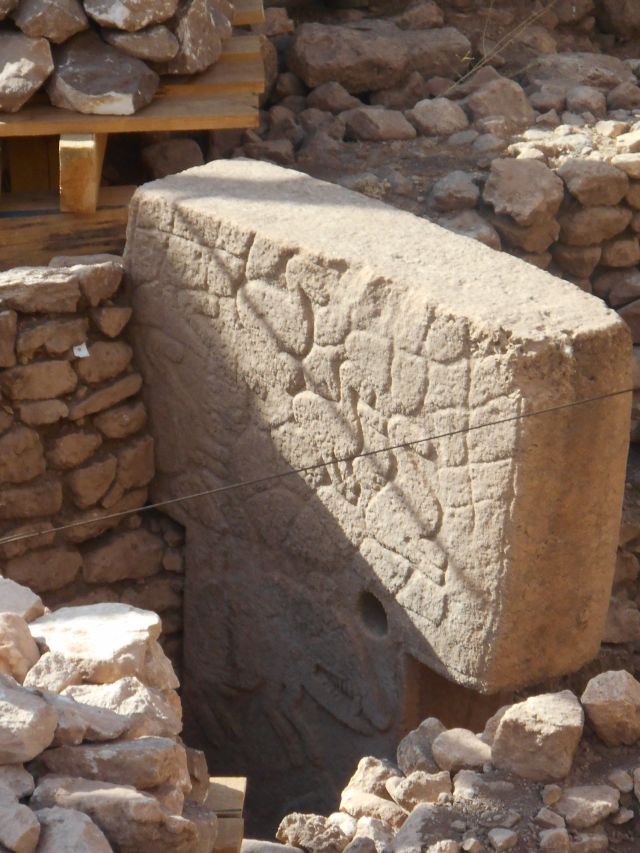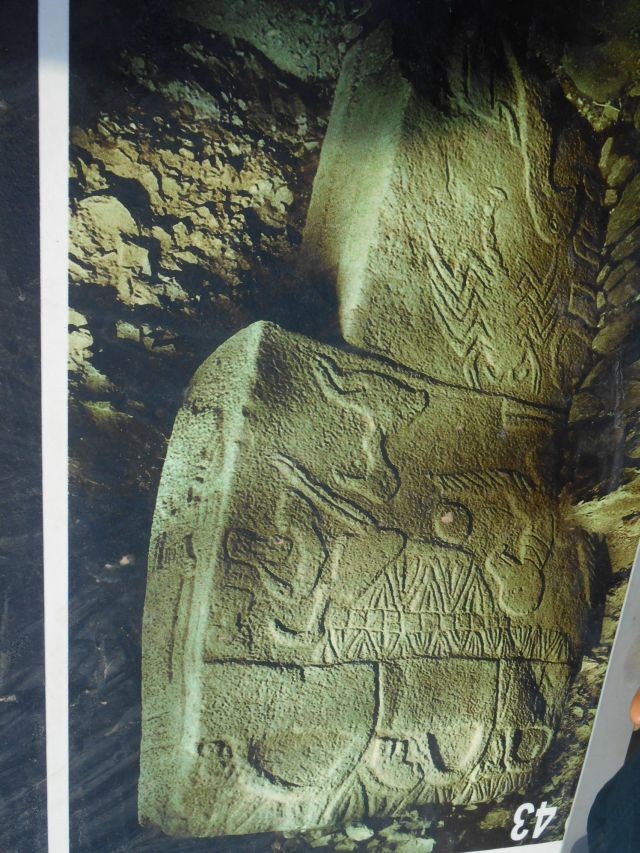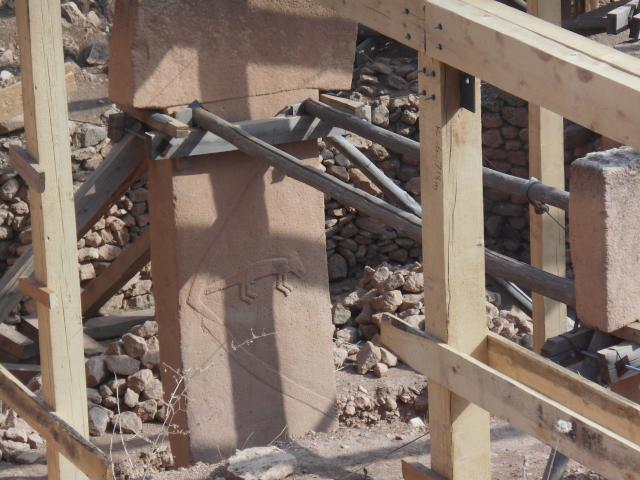 Welcome to Abraham 's Cave, where he was supposed to have been born: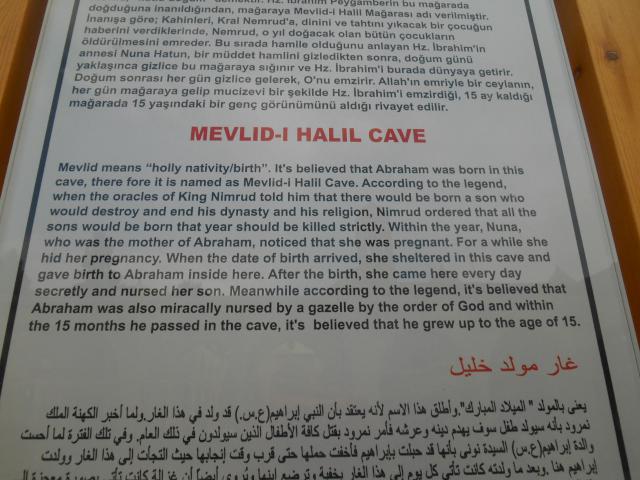 Please google for information on the sites if you like.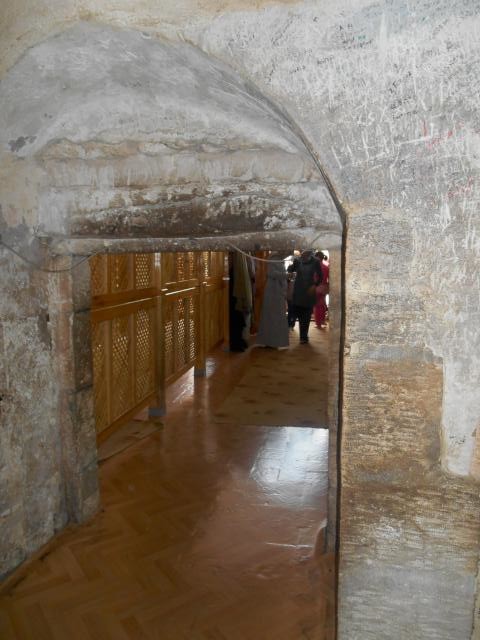 Entrance to Abraham's cave.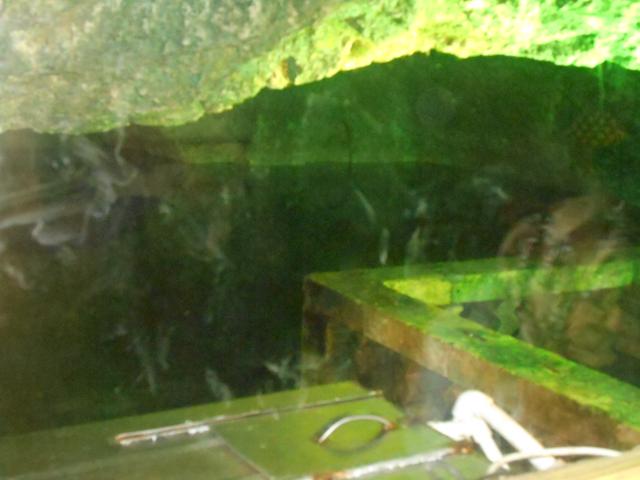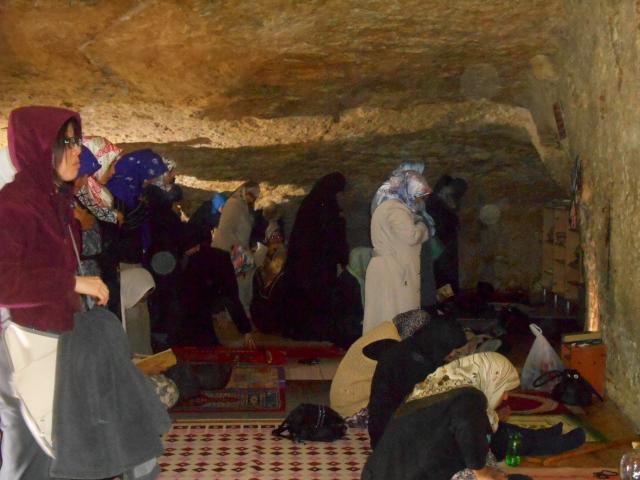 Inside people pray…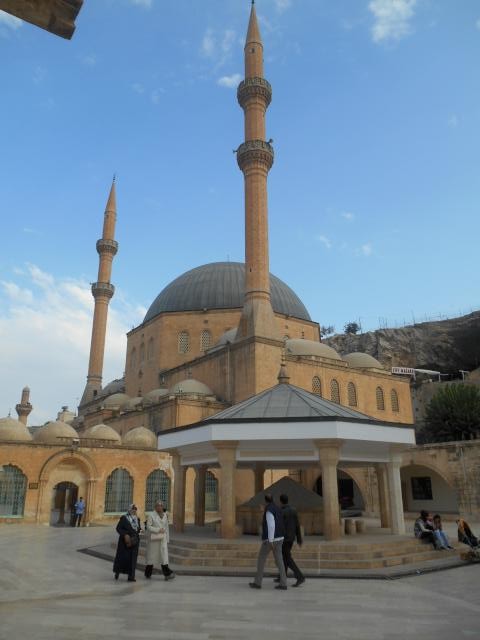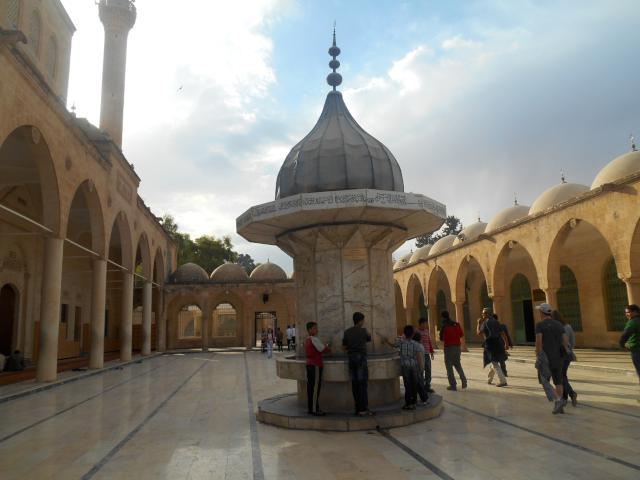 Beautiful mosque and courtyard next to the cave
Outside…the famous pool with the holy carp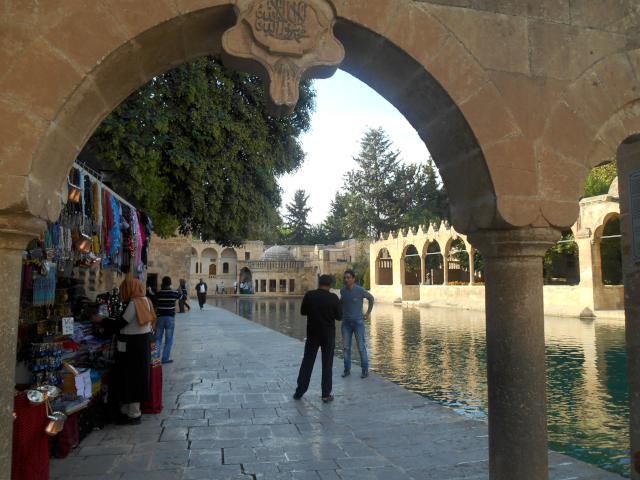 Its a beautiful sight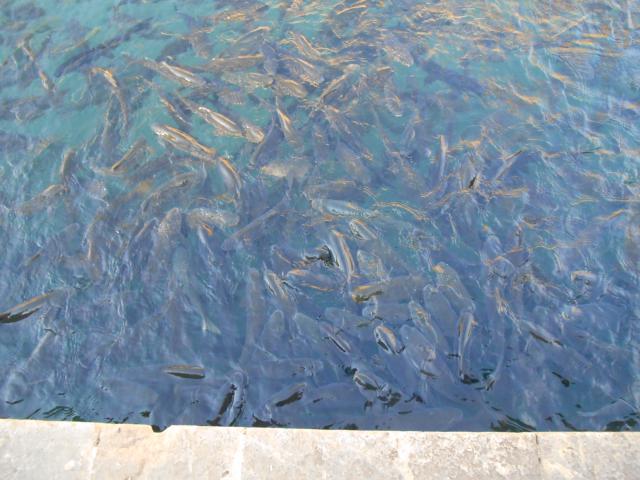 They sell you little bowls of food to feed the fish. Wow, they go crazy!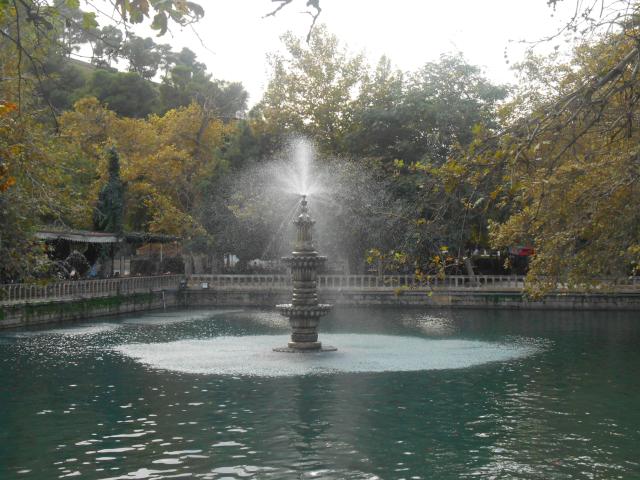 Its a beautiful sight indeed. Surrounded by a big park nicely landscaped, fountains restaurants and cafes. It is always open and free to everyone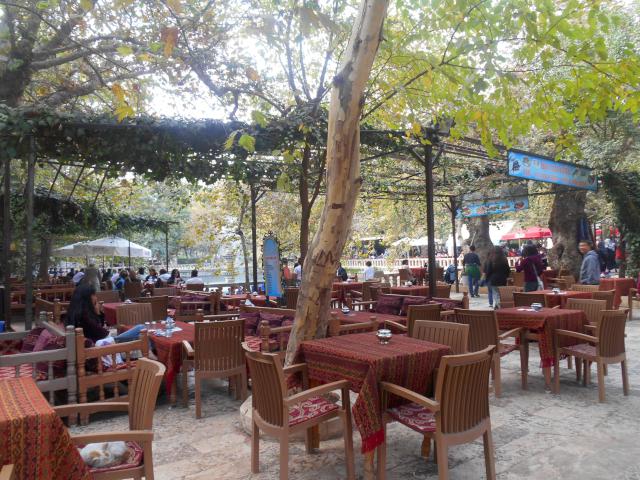 We enjoyed our tour very much, the scenery, the history, all the legends that go with it, Fascinating! We moved on to our last stop of the day, Harran. This is where Abraham lived for a while. The village of mud- brick beehive houses.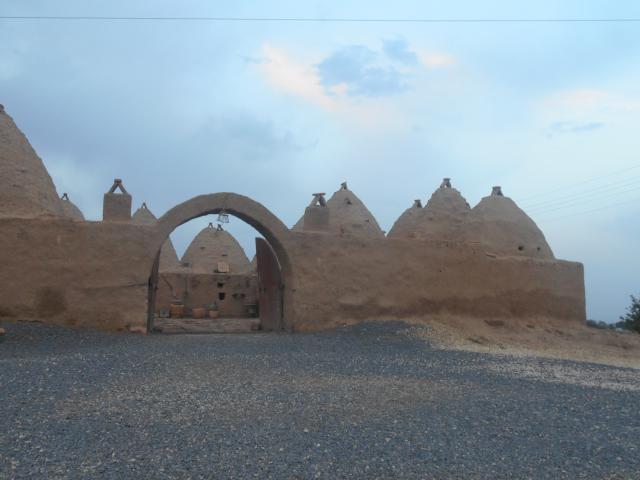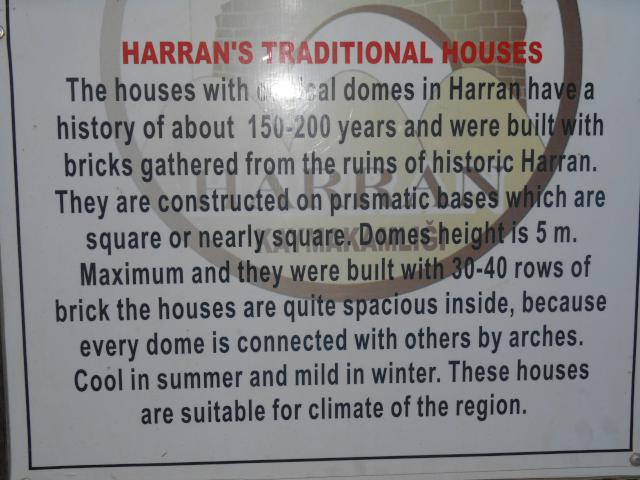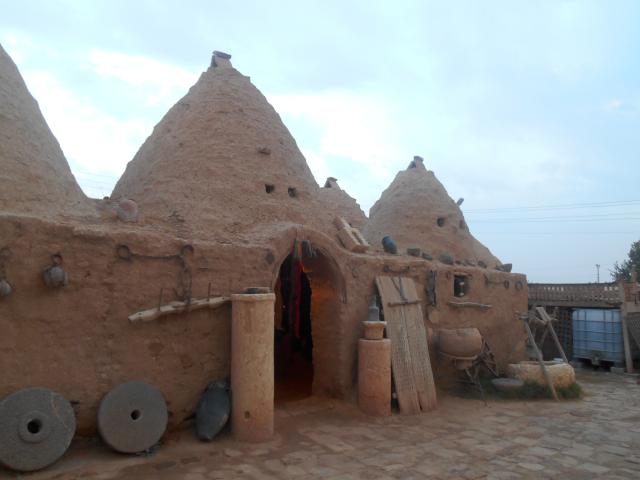 According to the book of Genesis, Abraham spent the last years of his life here.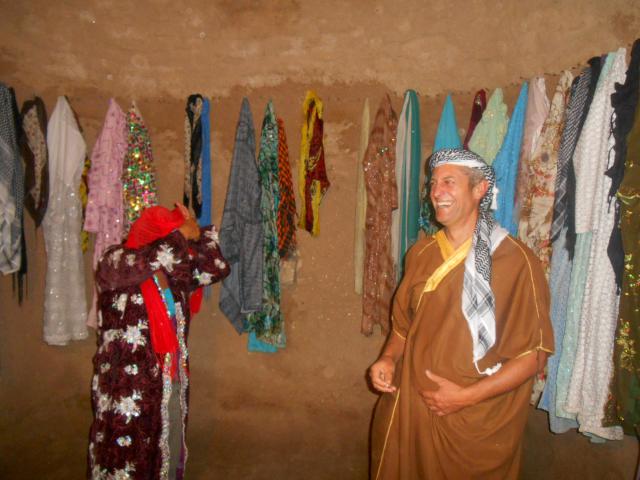 The dressing room. Our guide had fun dressing us up, Noel and I.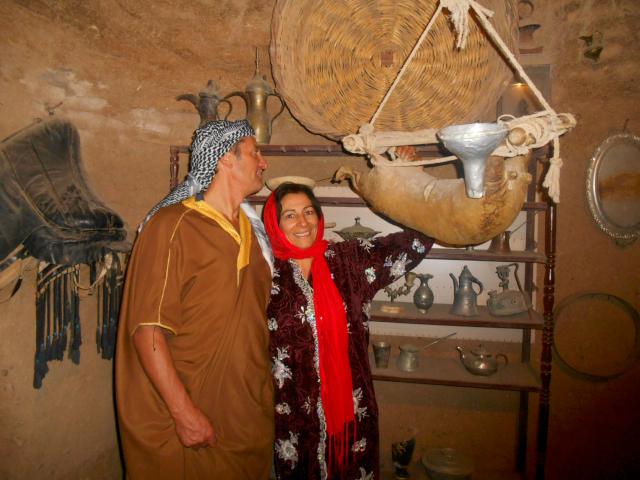 We took a tour through the house and all the rooms. They were so cute. This is an old yogurt mixer. We are in the kitchen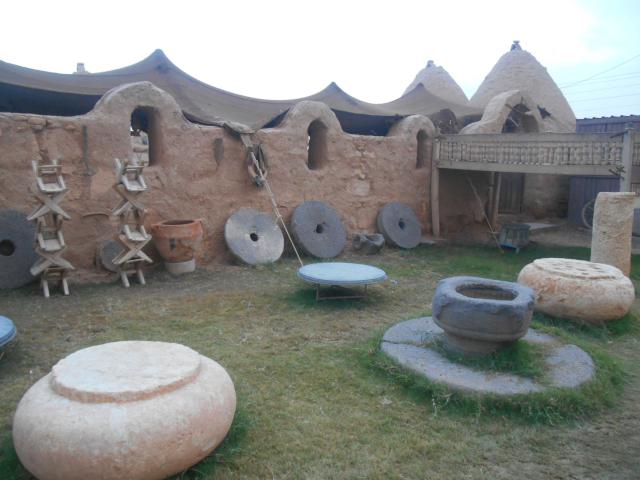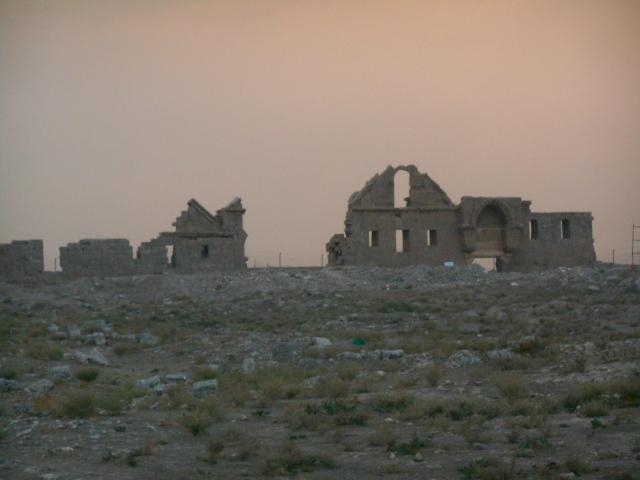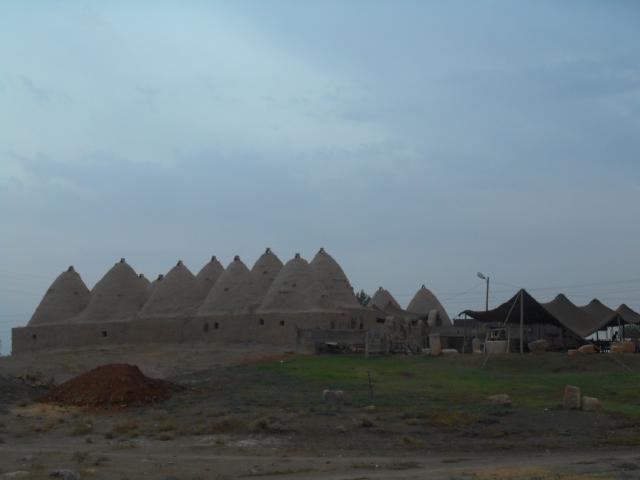 A view of more mud-brick houses in the village of Harran. As you can see is about to get dark and we re just about ready to leave our cute village. What a full day! So many places, so much history. So wonderful And this is my last blog of the season!!!!! Soon we are going home
This post relates to Goreme, Cappadocia, Turkey. Click to see map.
Cappadocia
It looks like a fairy tale landscape of cones, pillars, pinnacles, mushrooms, and chimneys, which stretch as far as 40 meters into the sky.
Ancient volcanic eruptions covered this region with thick ash, which solidified into a soft rock called tuff.
Some made by nature and some by humans this place is full of living quarters, places of worship, stables, water wells and cisterns,and storehouses that were all dug into the soft stone thousands of years ago. Tunnel complexes formed entire towns with as many as eight different stories hidden underground. Cappadocia is situated in the principal Silk Road, the main commerce route between the orient and Europe going back forever.
The site became a religious refuge during the early days of Christianity. They excavated extensive dwellings and monasteries and created Byzantine frescoes paintings in cave chapels beginning in the seventh century.
Welcome to Cappadocia, and the incredible landscapes.
We started our journey on a 2 hour bus from here Finike, to Antalya where we had to take a different bus to the town of Goreme.
Antalya is a very nice city and we decided to take the bus in the morning and spend the day there. We then left the luggage at the bus station for a small fee and we were free to explore the beautiful place for the rest of the day. From Antalya we took an evening bus, at 10Pm and arrived in Cappadocia at 7:00Am. It was better than expected, we even had a good sleep.
When we got out of the bus, I was too busy looking up the sky and capturing some pictures of the balloons and all these funny looking rocks around us while Noel is calling me to get the luggage that I was ignoring.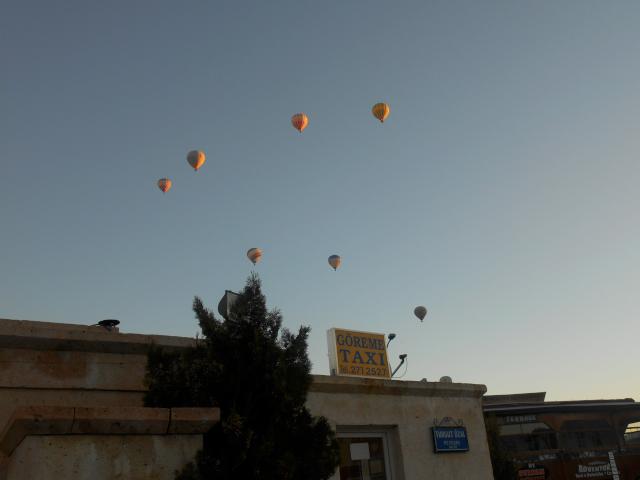 Sunrise and balloons all around. It was just like entering some kind of a movie set of Star Wars or something…..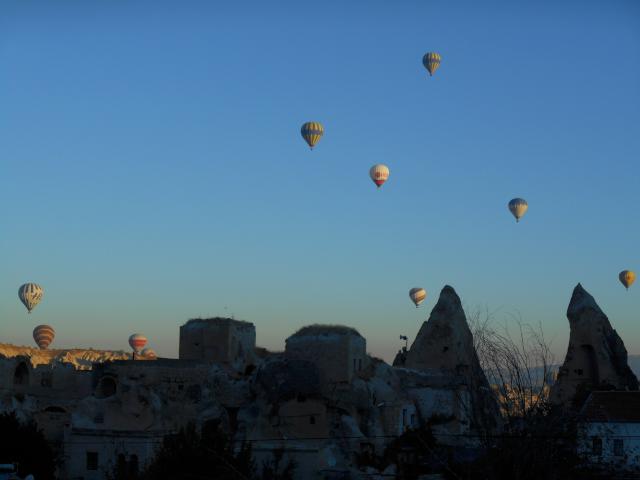 We were on a organized tour previously booked, so our guide picked us up and drove us to the hotel where we dropped our luggage, and went through the itinerary for the week.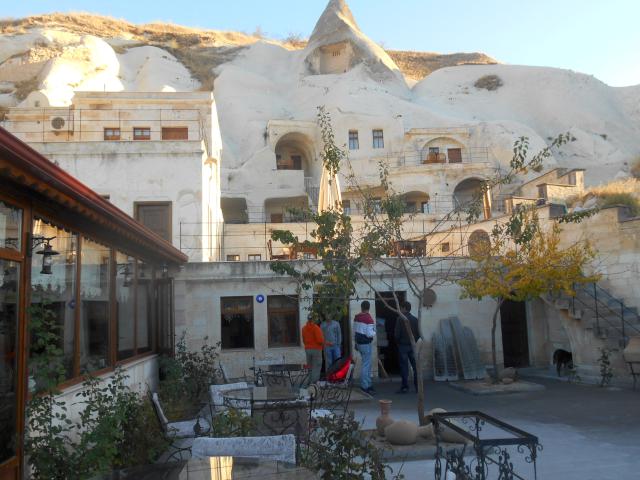 The hotel was quite nice and built into the caves on the hillside, like a lot of them are in the area. Some of them are almost like being in an underground city.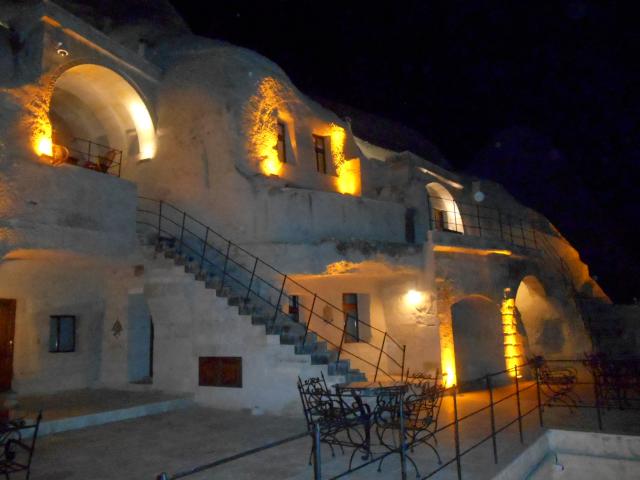 Out hotel at night.
Our first adventure was a short bus drive to one of the biggest underground city. So far tourists are allowed to visit 5 floors. There are more being excavated.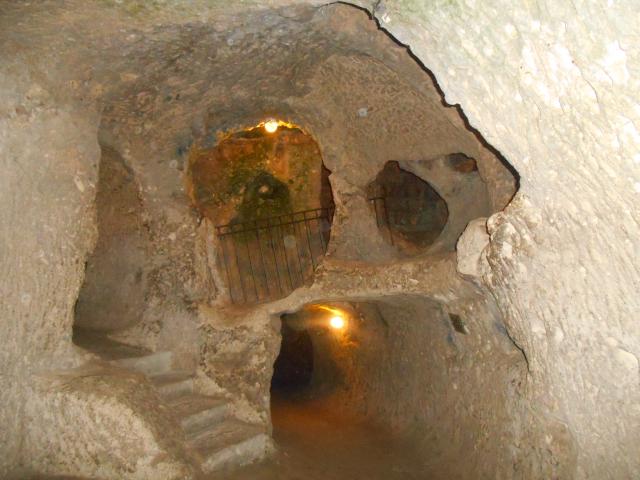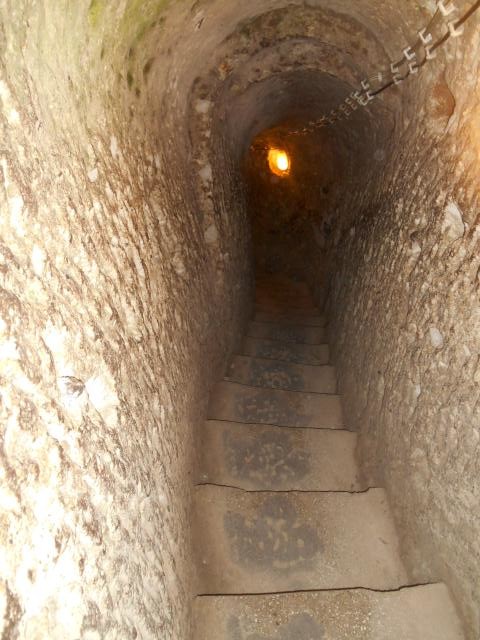 It was a maze inside, and beautiful work.
Our first hike, more like a walk, was the Ihlara valley. This is the view from the top of this beautiful gorge. We descended to it and visited a nice church inside of a cave where you could still see some frescoes representing the life of Jesus.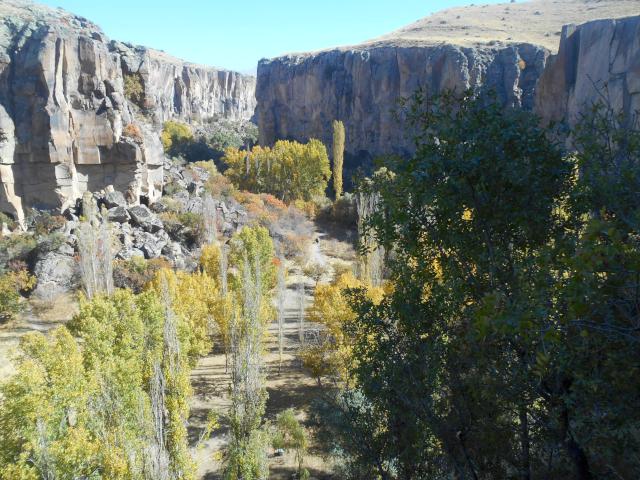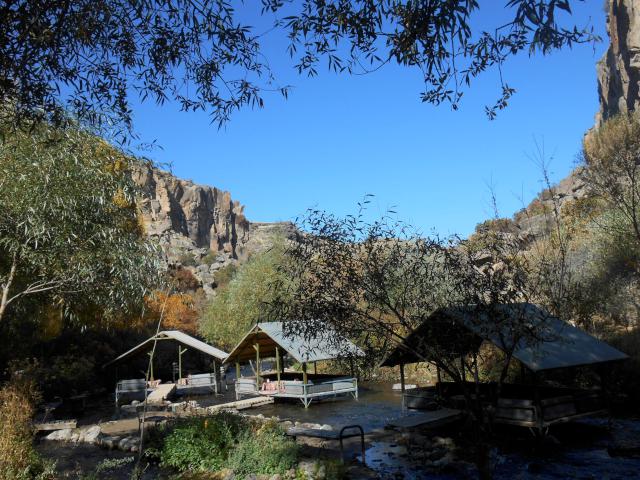 Beautiful scenery through Ihlara along the river and a nice stop for tea, coffee or freshly squeezed juices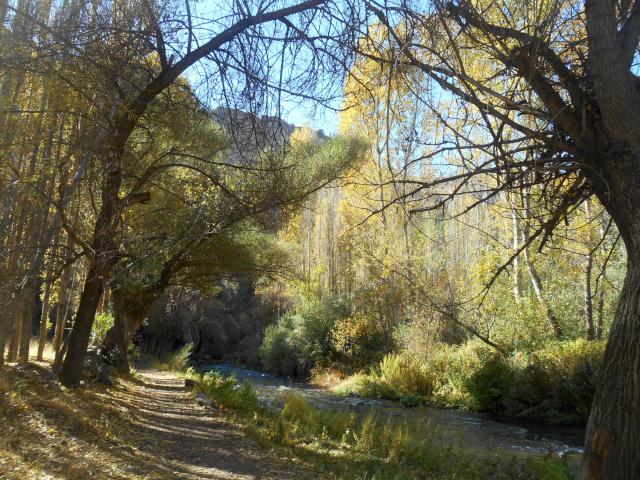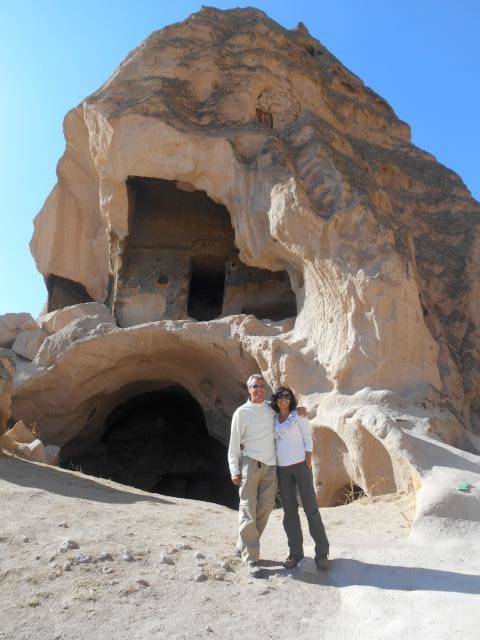 There are many many rock cut churches all over, this one above is one of the most important, is known as a Selime cathedral. The Cathedral has been hollowed out of the rocks up on the hill.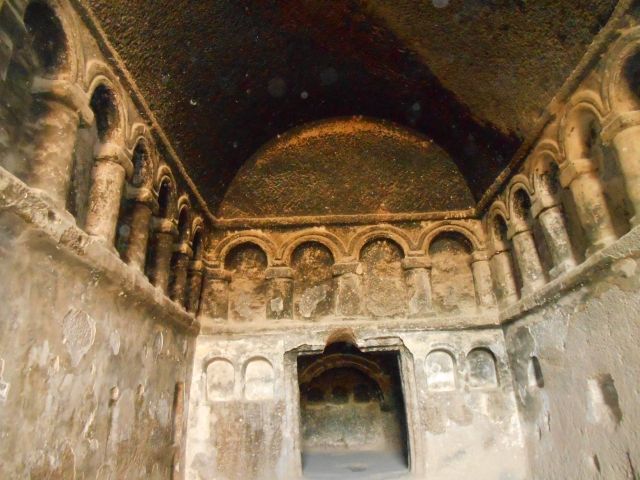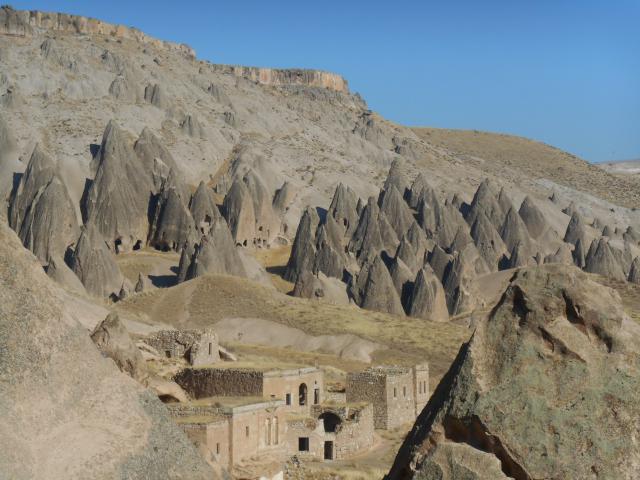 The Star Wars movie, don't know which one, was not allowed at the time to film here due to Turkish laws, but they used it as back round on the movie. It is right outside the Cathedral on the hills.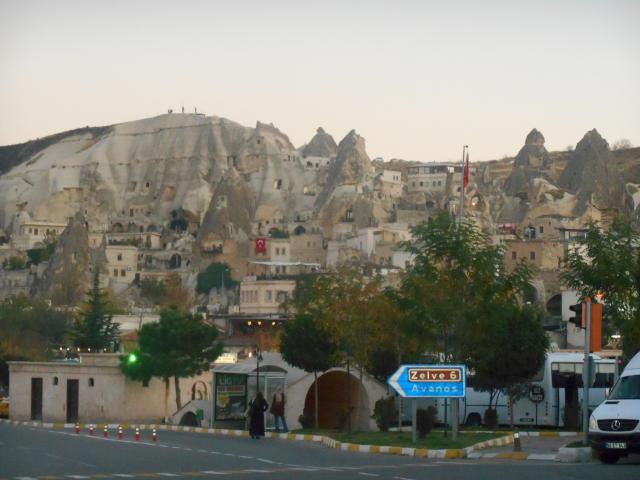 We stayed here in the town of Goreme. Goreme is the main center for visitors. There are many other towns near by with all the tourist facilities but you have to take the Dolmus that comes by every few minutes. So Goreme makes it more central.
From here it is much easier to start your hikes to the valleys. Or sometimes you are driven up to the start of the walk and you end up walking into town. Everyday was a surprise.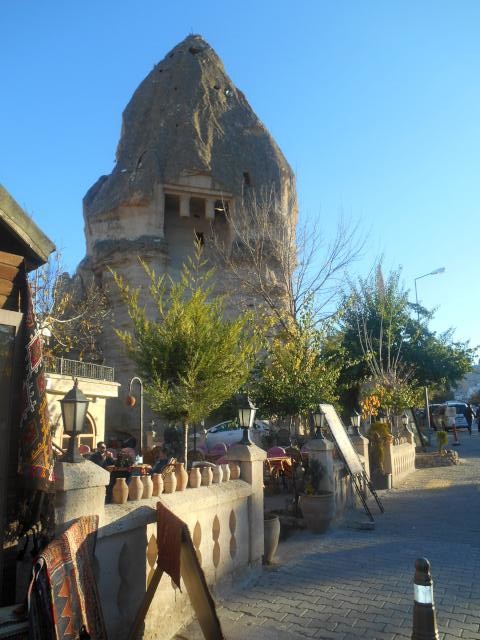 Goreme is a very cute little town by day or night.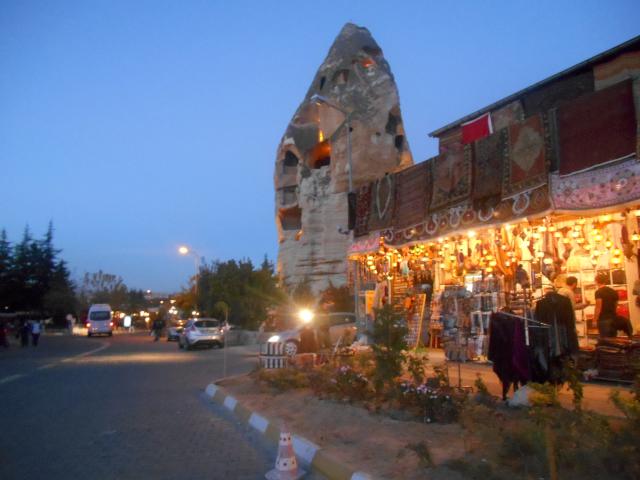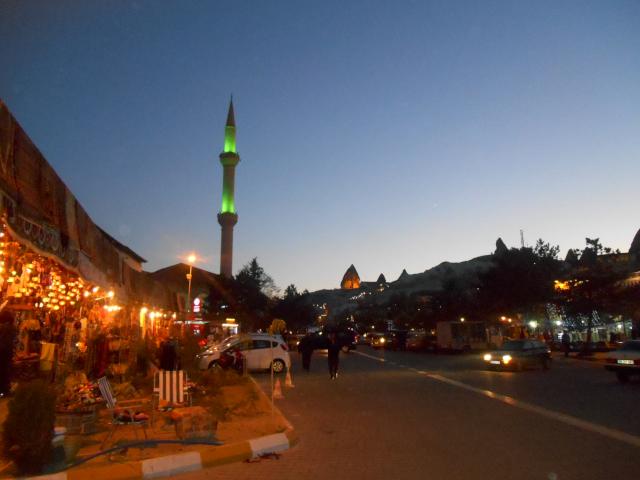 Thanks to the minarets to remind us we are on planet earth.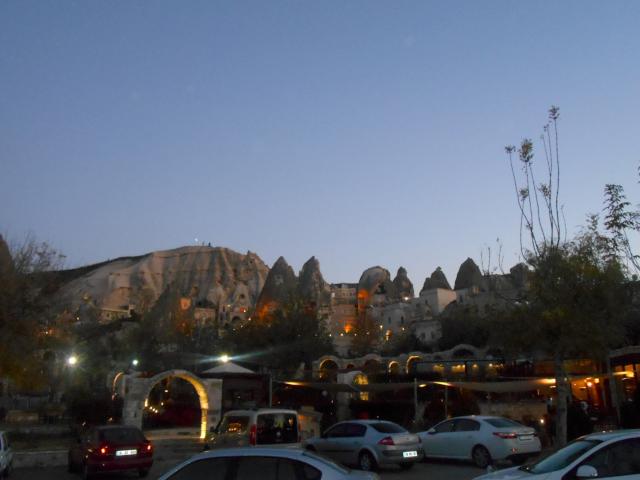 We were excited for the next day: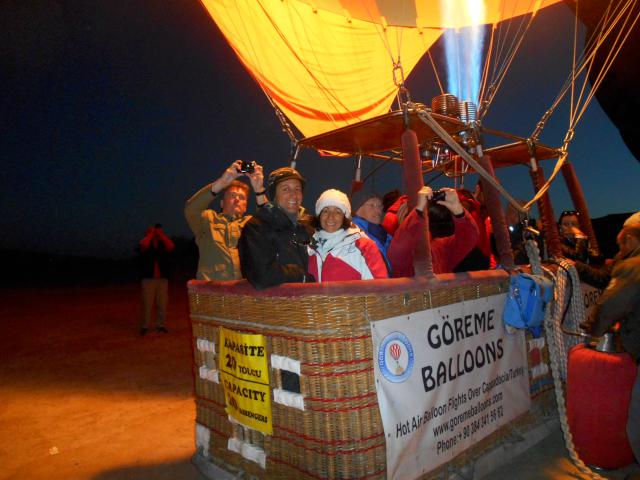 We were up at 5 am. A short bus ride took us to destination where our hot air balloon ride was to start. 16 people climbed up, 4 on each basket. Everyone had a great view.
Getting ready for the ride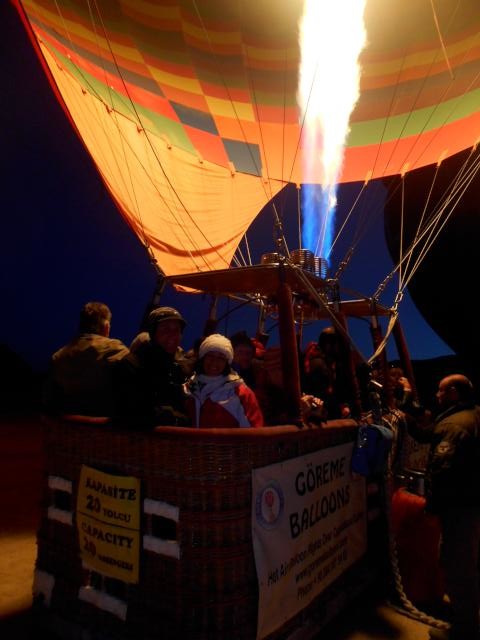 And here we go
We had fun watching the many balloons going up near by.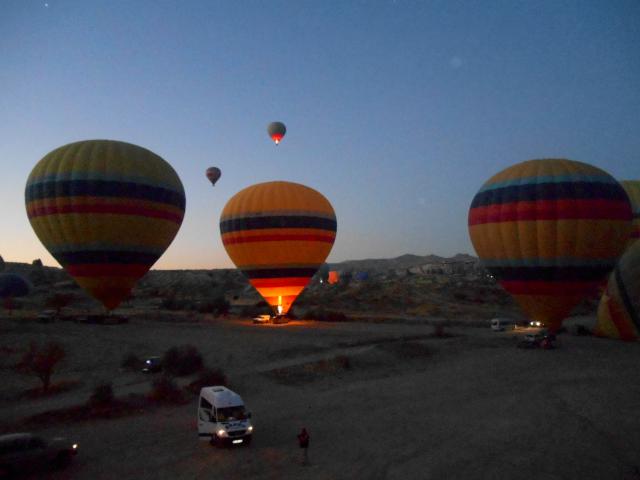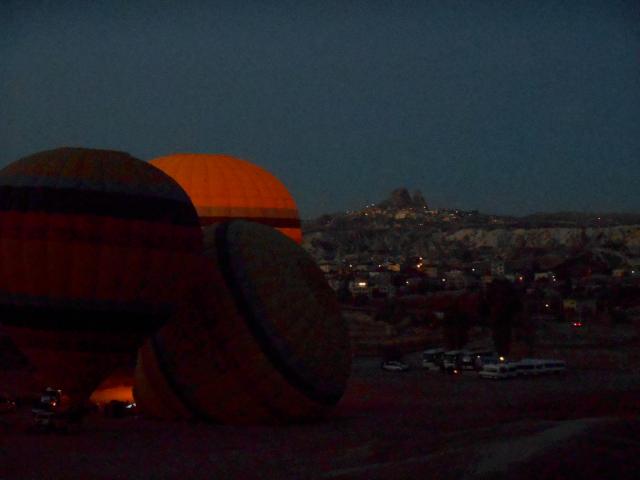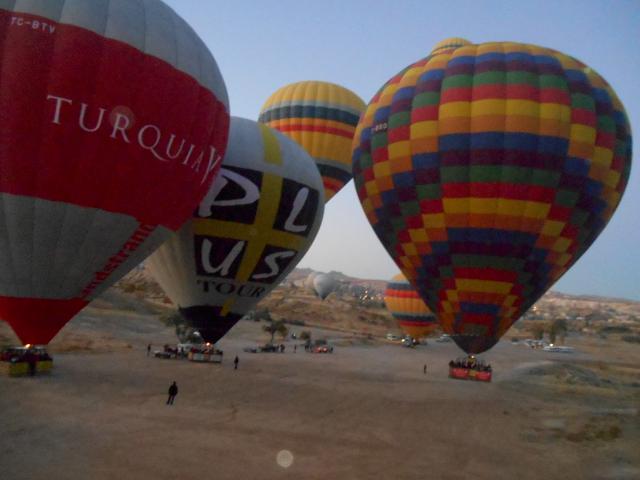 Enjoy some of the photos I took from the air. Amazing views over the valleys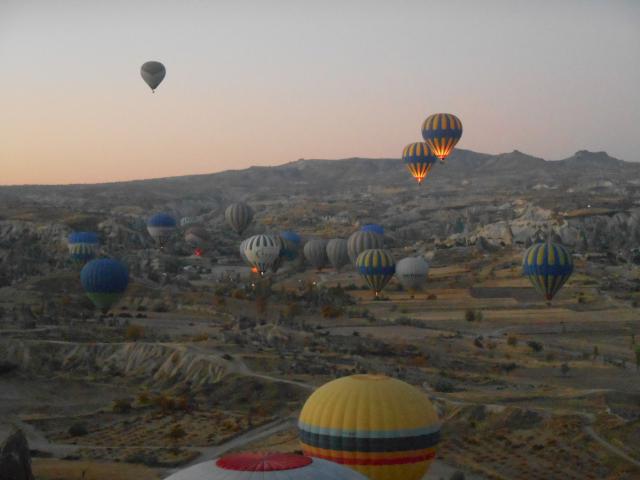 Breathtaking!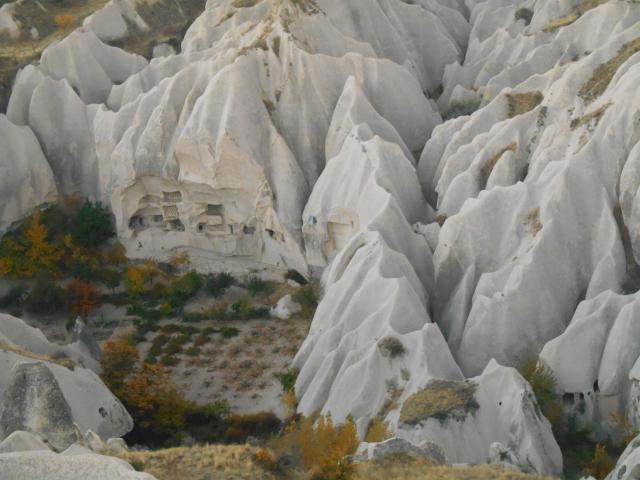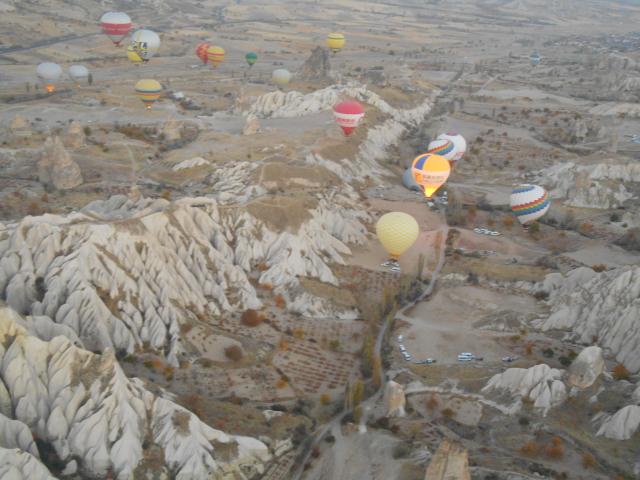 Below is rose valley, the much popular one. Looks like ice cream cones: strawberry, vanilla or lemon, or perhaps mango???
The sun is rising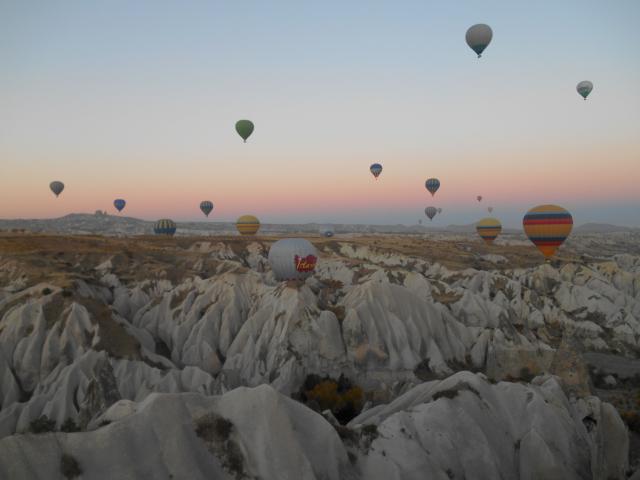 At one time I counted 74 balloons around us.
For safety reasons, they are only allowed to have a maximum of 100 balloons in the skies. At one time they had up to 200. After a fatal accident of a Brazilian young man in a collision a few years ago, they changed the laws. I can't even imagine what it must have been like, and the danger! It already looks so busy with half the amount drifting along.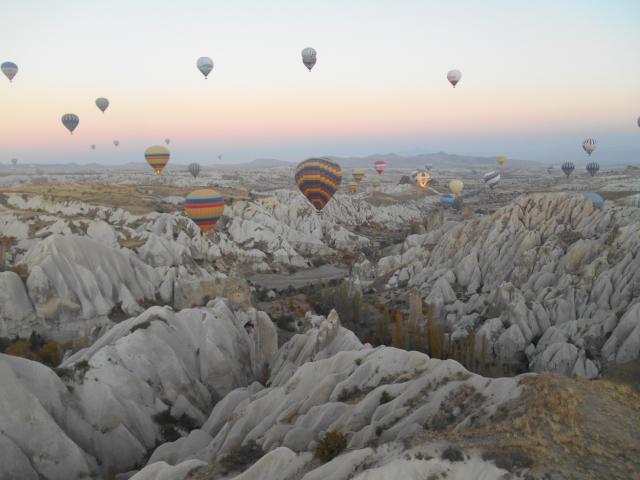 Drifting away over the dramatic scenery and sometimes lowering down between the fairy chimneys and cliffs and into the valleys, was just magical.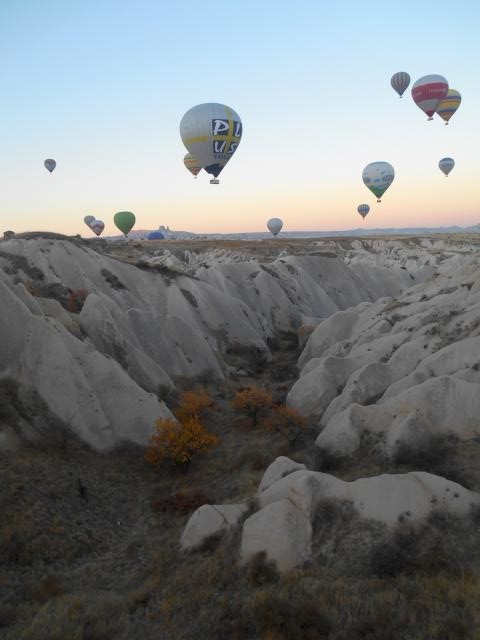 Sun rise over the town of Ortahisar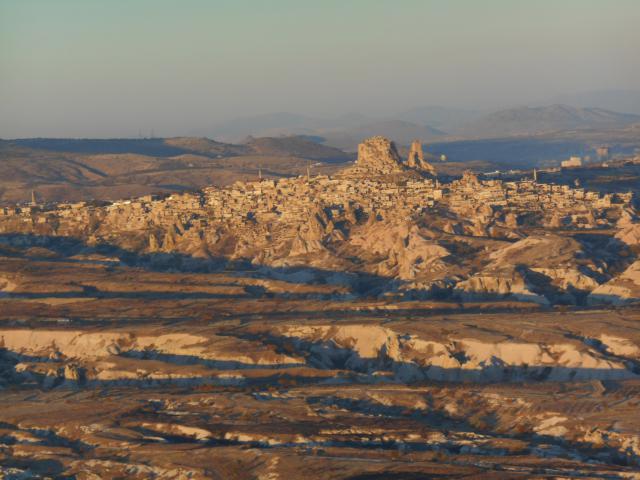 Sun rise over the town of Ortahisar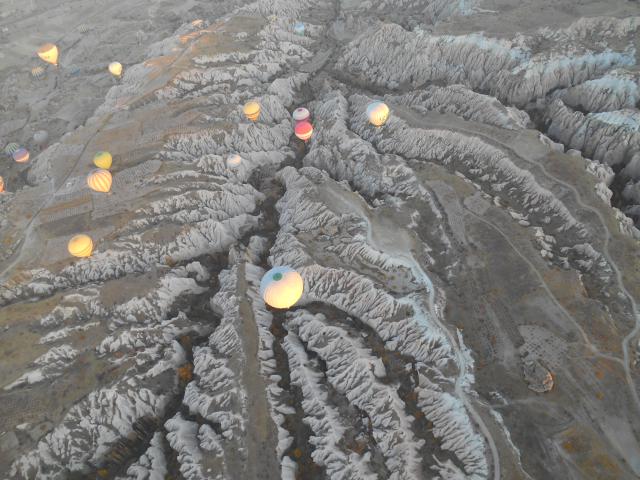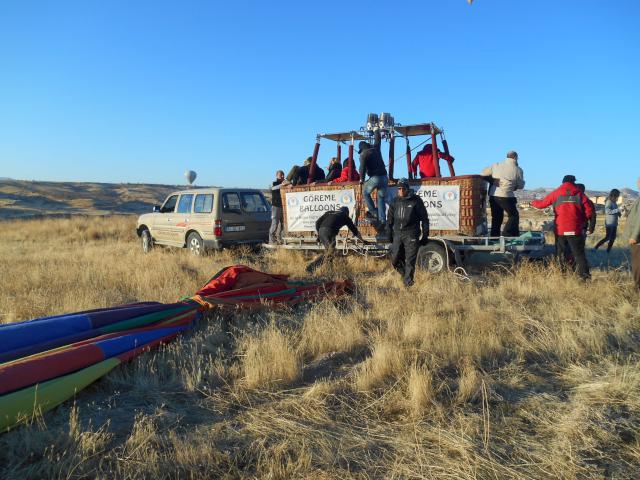 Safe landing. Champagne waiting!
We celebrated with Champagne and they drove us back to the hotel for breakfast at about 8am.
We were so excited and ready to explore these valleys on foot with our guide.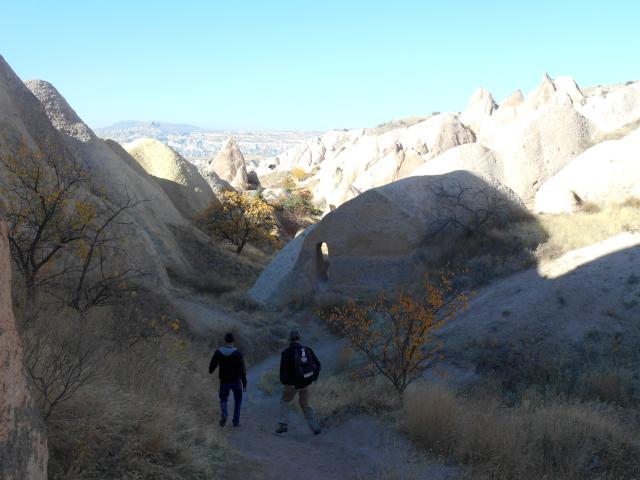 We started about 9,30.This is red valley. The scenery included many fruit trees and grapes, through out the valley and between churches, chapels, caves and fairy chimneys. The frosty mornings were cold, the days  sunny, nice and warm and cold again at sun down.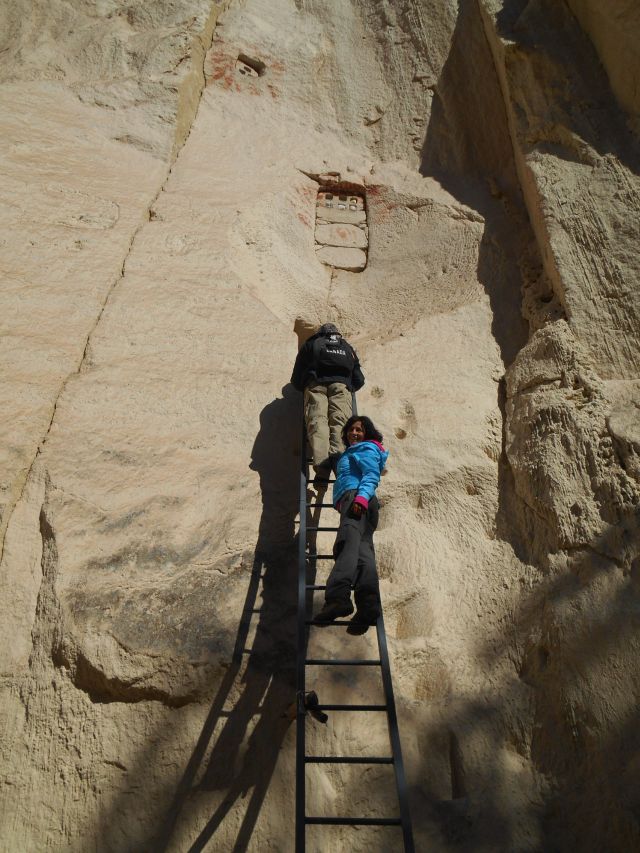 Checking out the pigeon holes…..
By 1:oo pm we had reached Pasabagi where lunch awaits.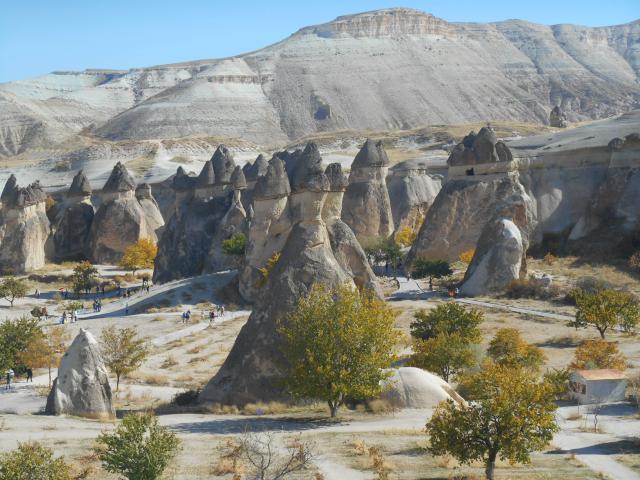 Pasabag. Also called Monks valley. One big cluster of stunning fairy chimneys and a monastery.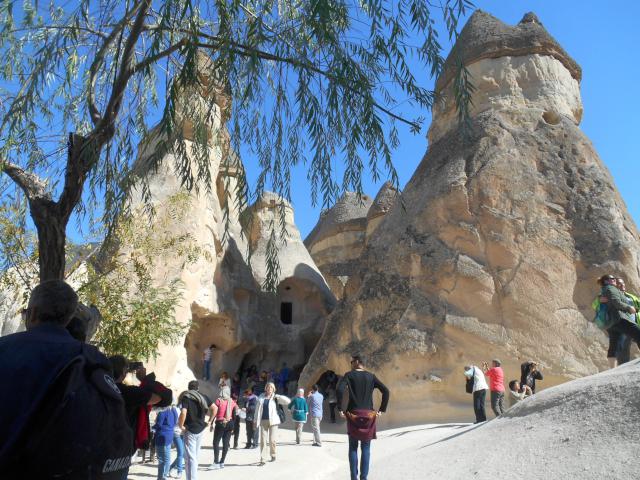 Pasabag is one of the most popular sights. The chimneys are dramatic, but also due to the fact that is right on the bus route and it is free to walk around. It's easy for everyone to get to.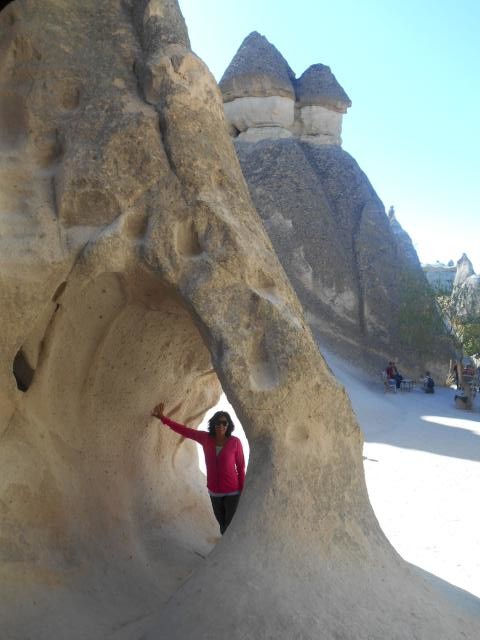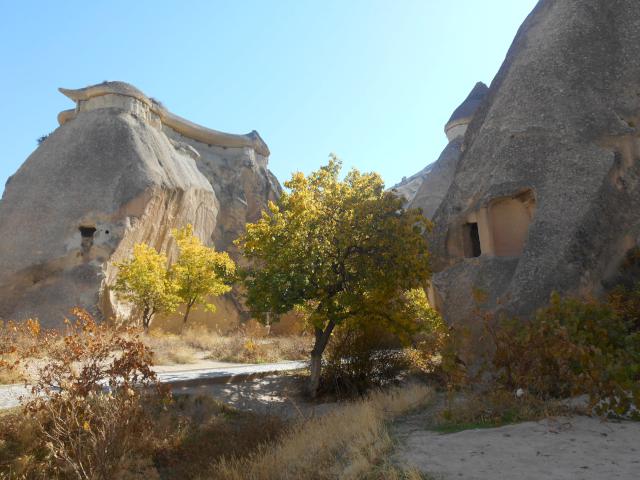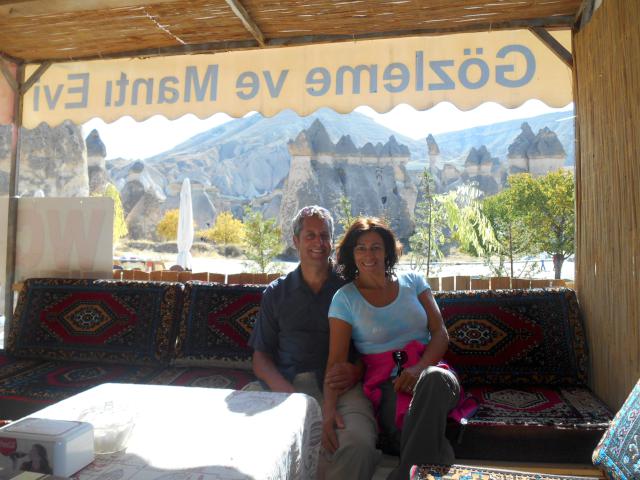 Lunch break across the street from the fairy chimneys .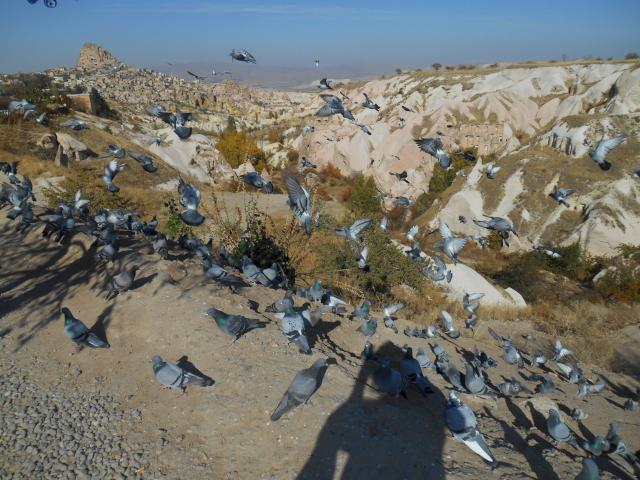 The pigeon valley. We enjoyed the pigeons…but when we looked over our shoulder, the fruit juice and nuts bar got the laugh!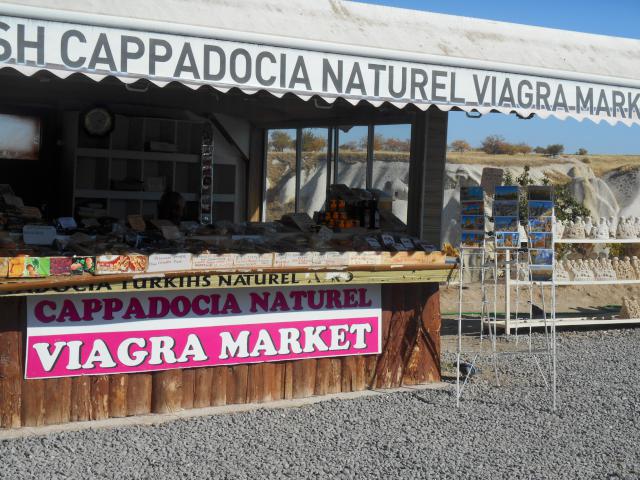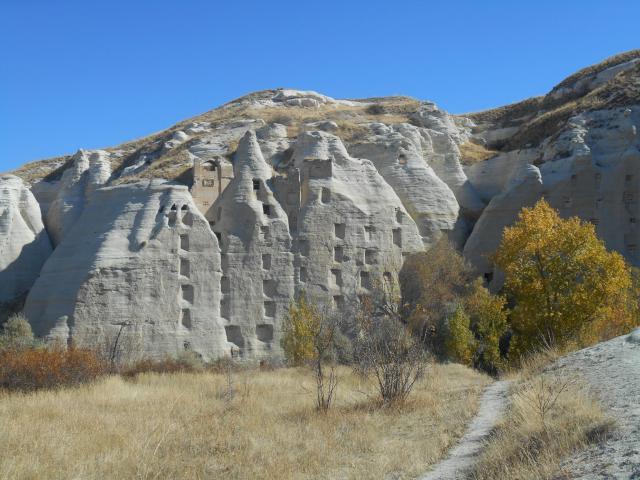 Centuries old pigeon houses carved on the cliffs. Looks like they have their own apartment building here.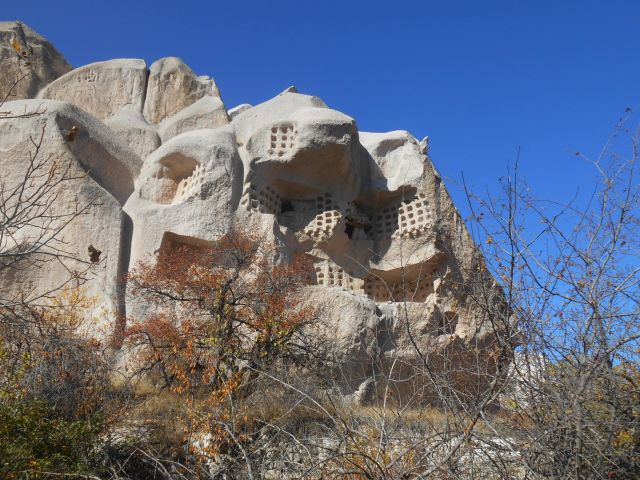 Throughout the years farmers have used pigeons as message senders, for manure, fertilizer for their crops and for fuel.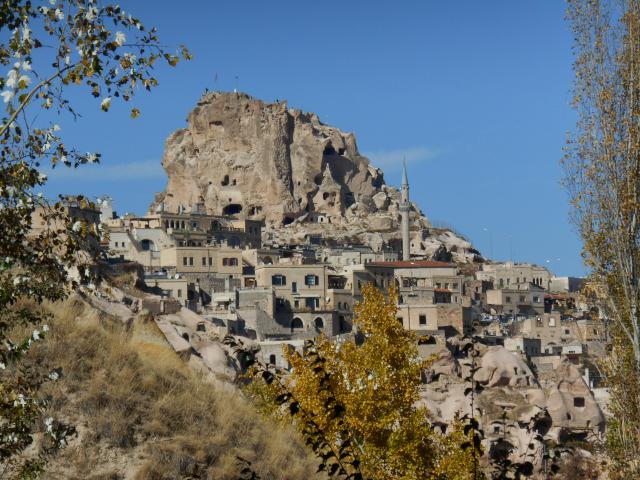 Our walk through pigeon valley took us to the base of the attractive town of Uchisar, we did not climb up there this day, but visited on a different walk.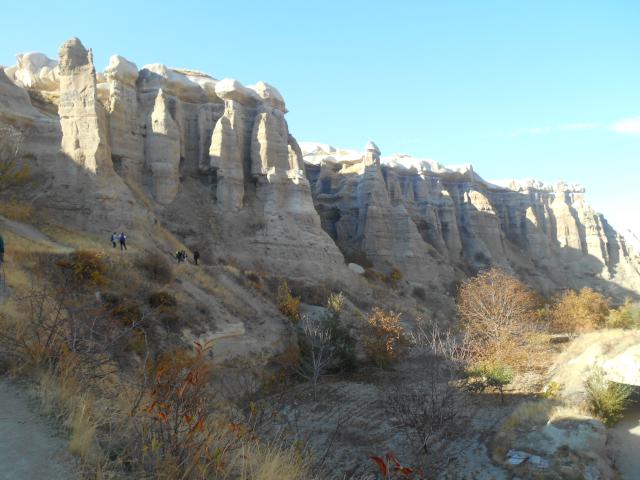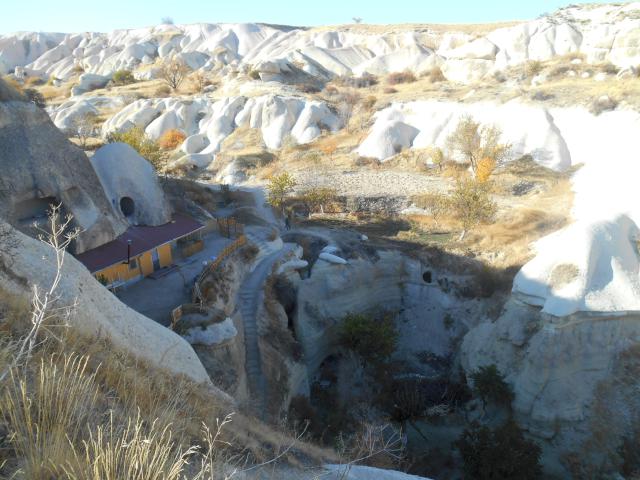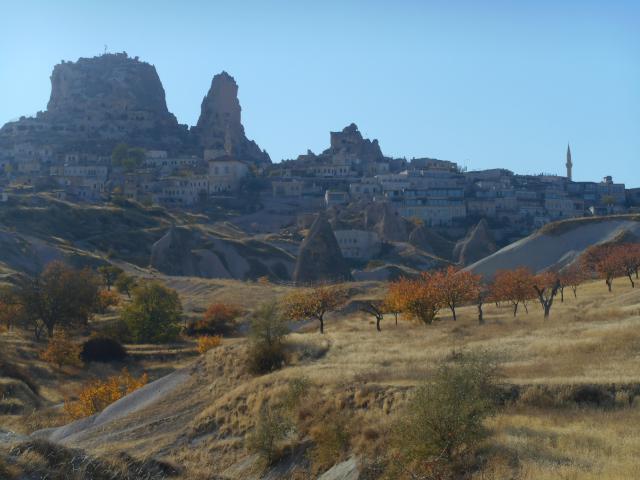 We walked these beautiful valleys for 5 days and we couldn't get enough.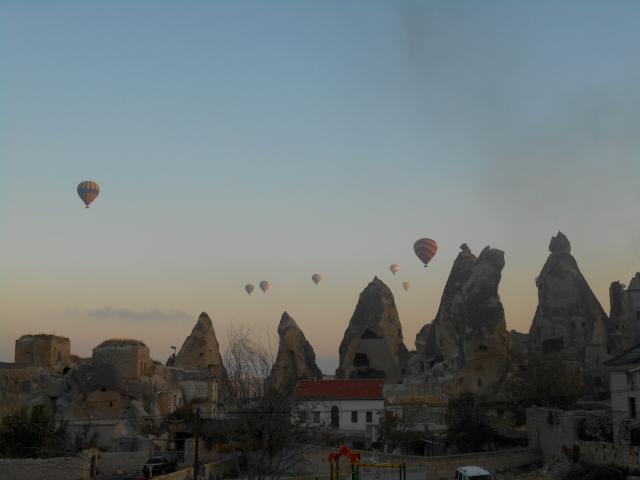 Every morning, I woke up and quickly moved the curtain out of my way to see if it was time for the balloons yet or perhaps I slept in and I missed them. I woke up with the sun, so luckily they were still a few around. How many also depended on the direction of the wind. I stepped outside into the patio and every morning I was delighted with the sky full of hot air balloons around and  above our hotel. I loved it!
This photo above was also taken from our balcony. People gathered up there every evening to watch the sunset. Nice Sunset Cafe up there where you can also enjoy a nice drink as well as the sunset and the views all round.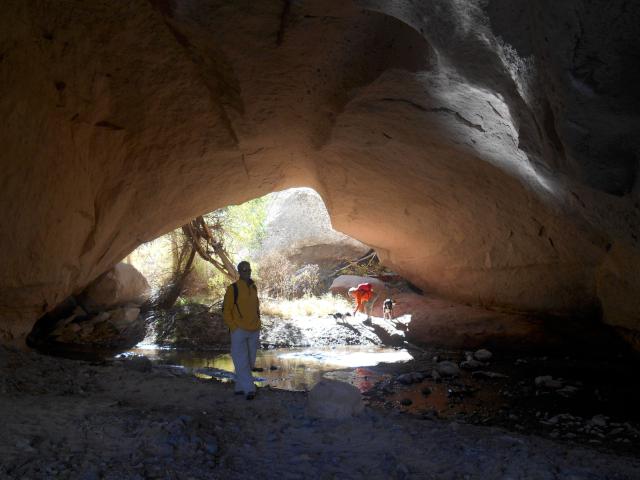 Our French guide brought her 2 dogs with us. One of them was still a puppy and it was his first time going in such a big adventure through puddles, small creeks and bridges.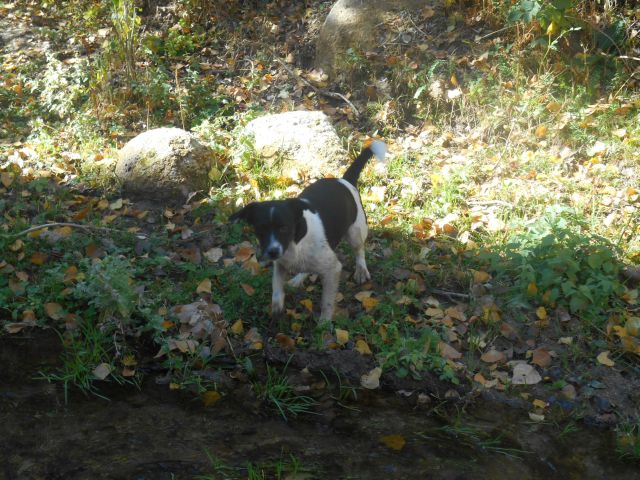 At first he was so nervous and we had to help, but in the afternoon he was just like the big dog and wanted to do it all! So cute. It added to the fun of another great day.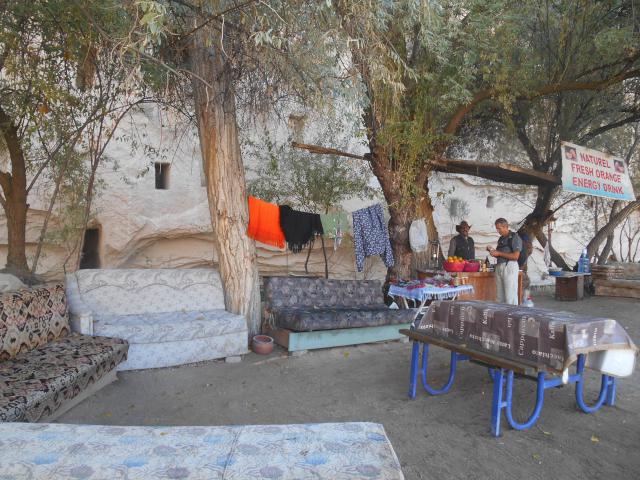 Time for some freshly squeezed pomegranate  juice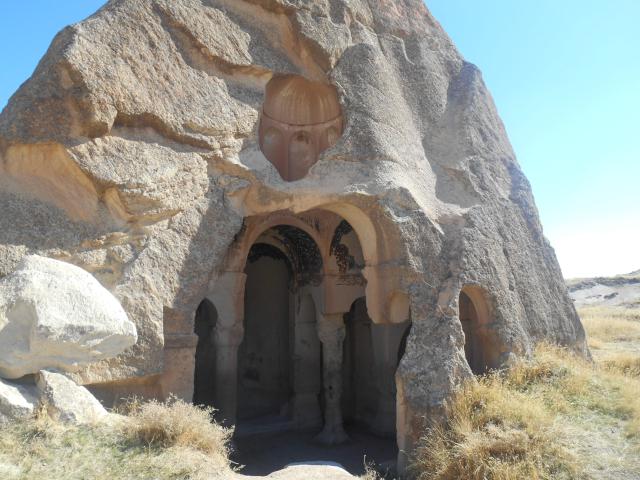 Many churches everywhere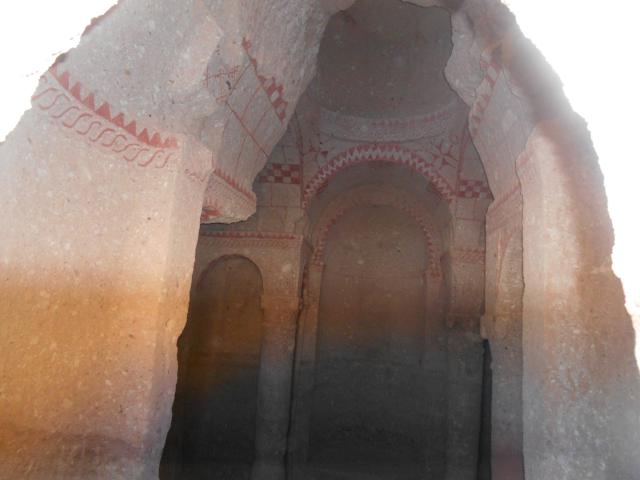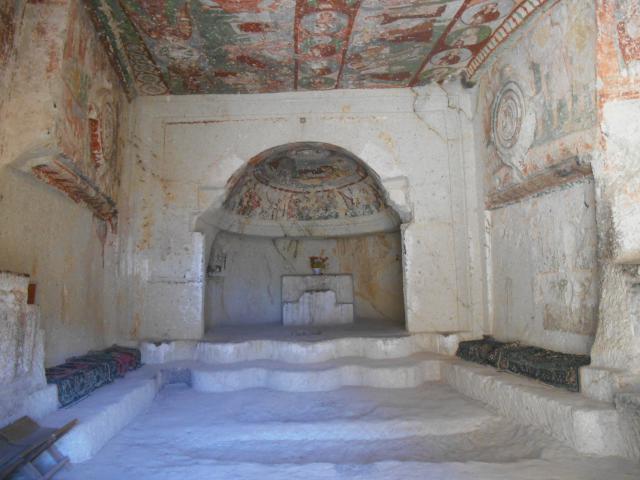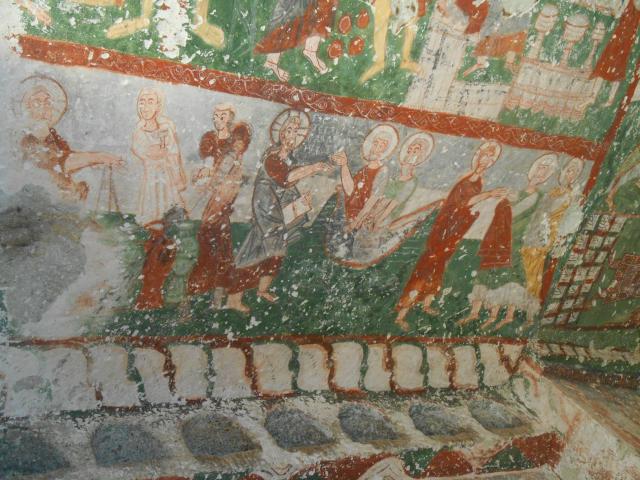 Some with nice frescoes of the life of Jesus Christ in some of the churches.
Unfortunately in many of them, their eyes or the whole face, has been scratched off.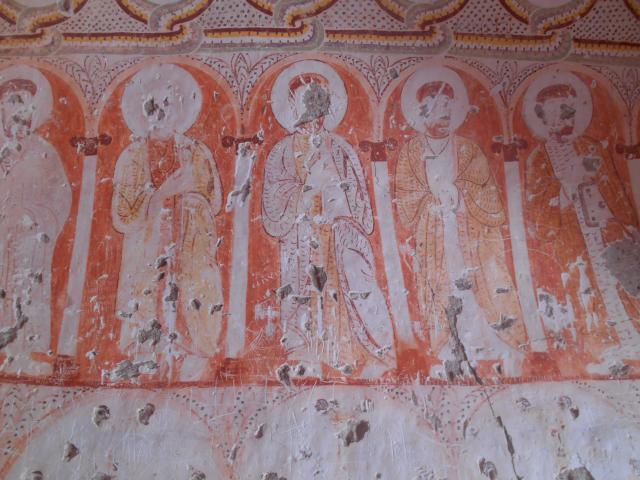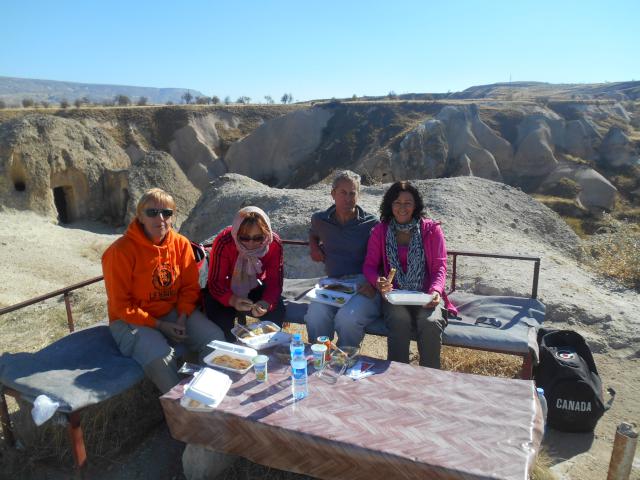 Above one of the churches. This  day included a picnic lunch. Well it was more like a fast food pick up by the guide's husband who brought it to us here. It was a really good wrap. We enjoyed the view of the valleys from the top of the hill. A cute little man arrives in a motorbike and opened his shack. Gathers up some wood and makes a nice fire. Boiled some water and a few minutes later he was serving us Turkish tea.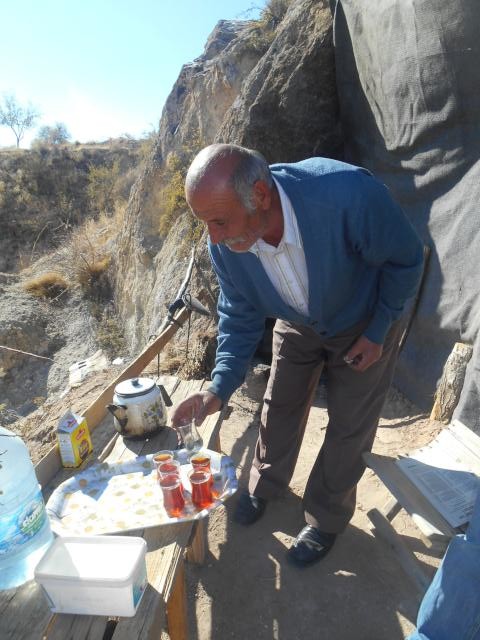 Shhh… kissing under the mistletoe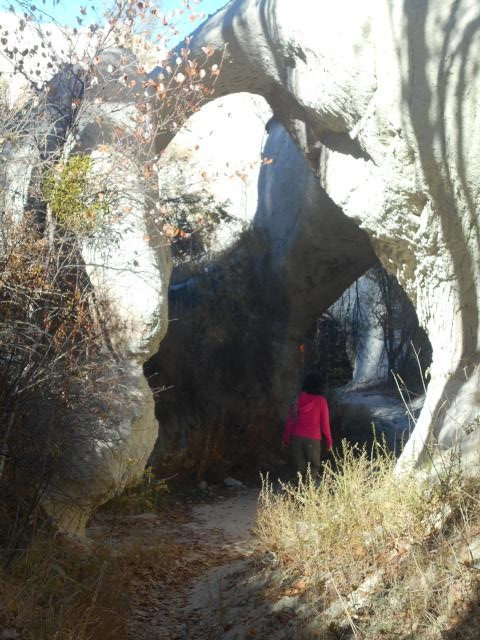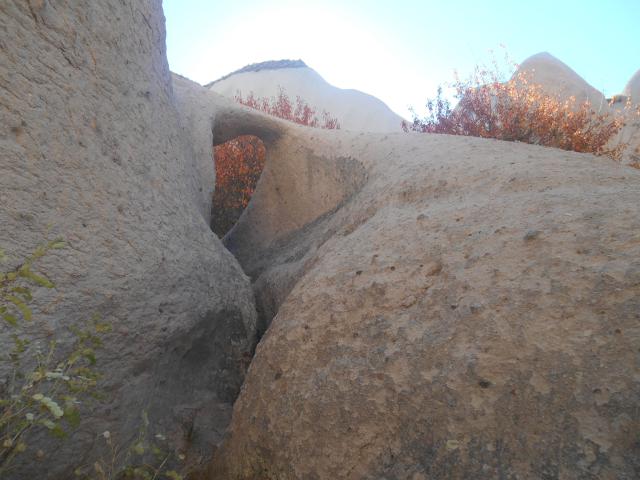 Amazing rock formations. Every valley was different….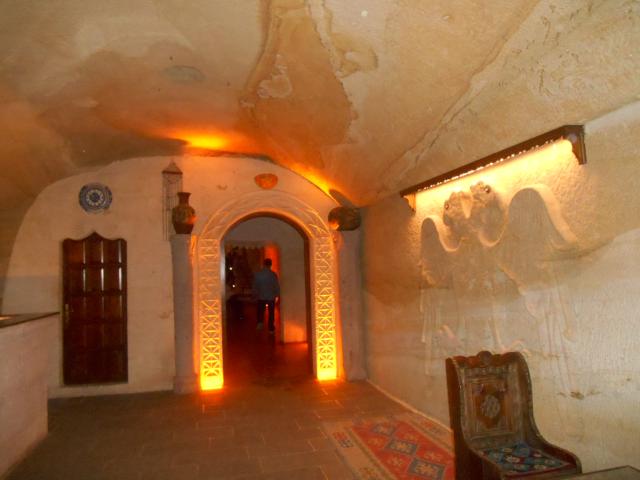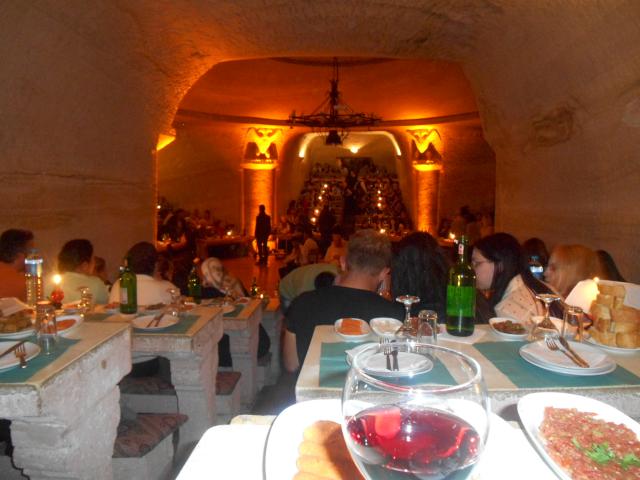 We also went to a Turkish night where they put on a show of all the dances from the different areas of the country and of course the belly dancer.The guys were the most impressive with their very energetic Russian style type dancing. Amazing!
The show was in this beautiful hall built in to the caves with about 4 different theater style seats and tables a 3 course meal and all  you can drink.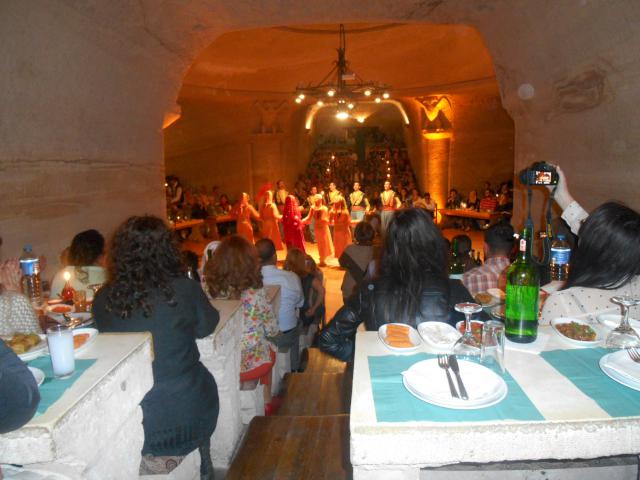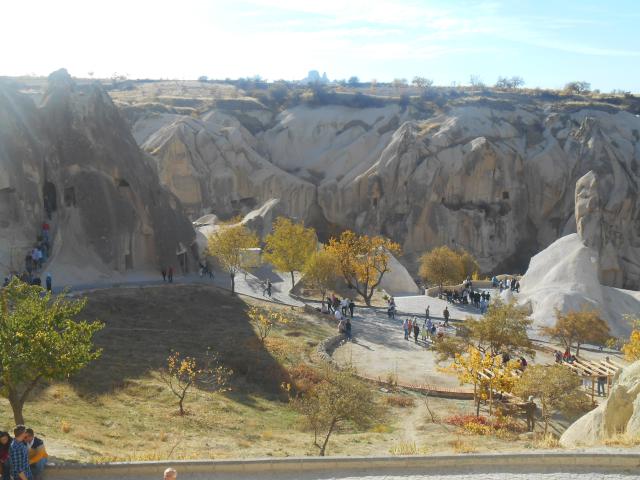 Open air museum in Goreme. It is only a 15 minute walk from the village center. It has many rock cut churches tables and benches dating back to the 10, 11 and 12th century. Some of them still have beautiful frescoes, especially the Dark church. Unfortunately you are not allowed to take photos, once I tried to sneak one in and security made me delete it.
The Goreme Open Air Museum has been a member of the Unesco World Heritage since 1984, and was one of the first two Unesco sites in Turkey.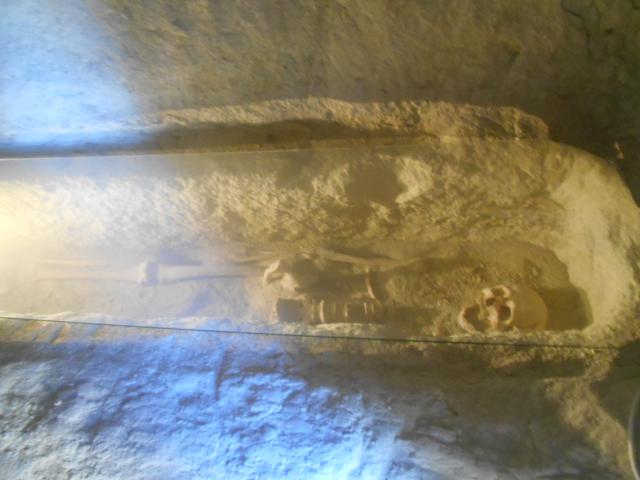 I did get this one photo. This church had a necropolis, the frescoes were not in great shape. It is very unusual to see the skeletons though.
More walks through the valleys and a visit to  Uchisar castle.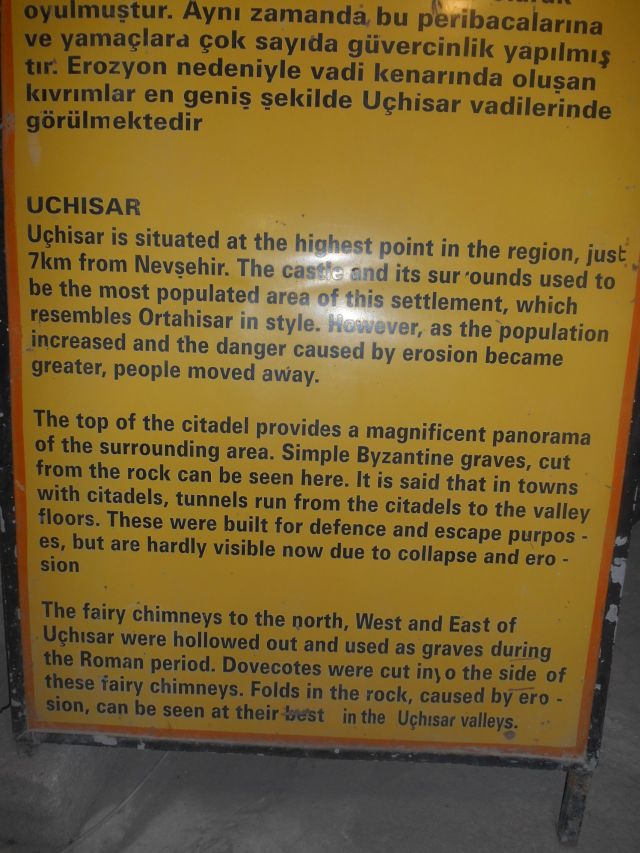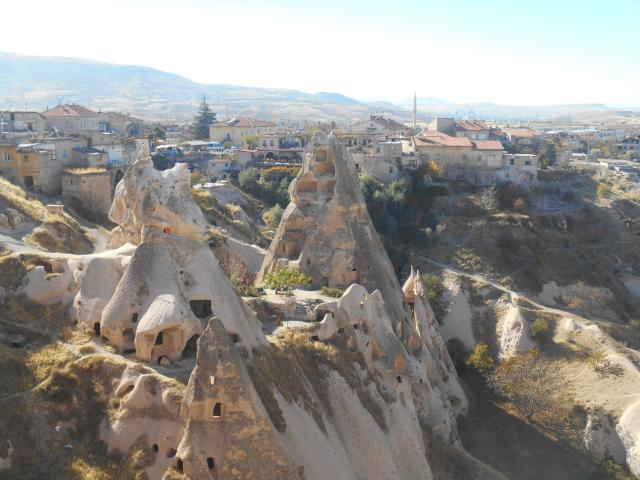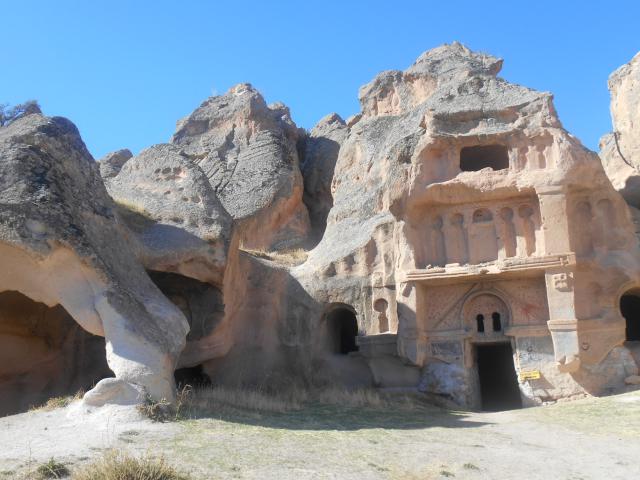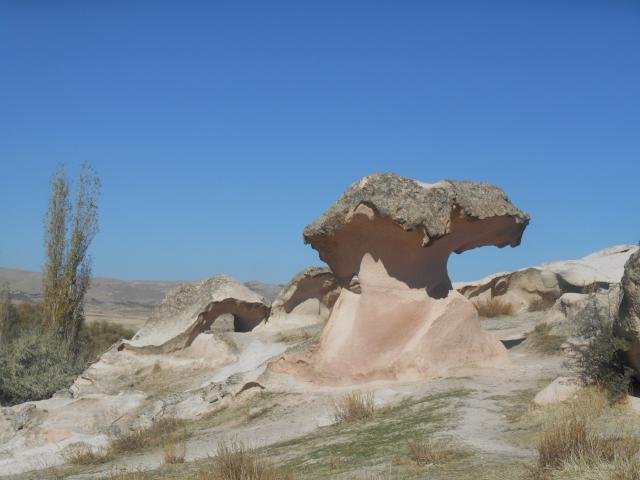 Mushroom rock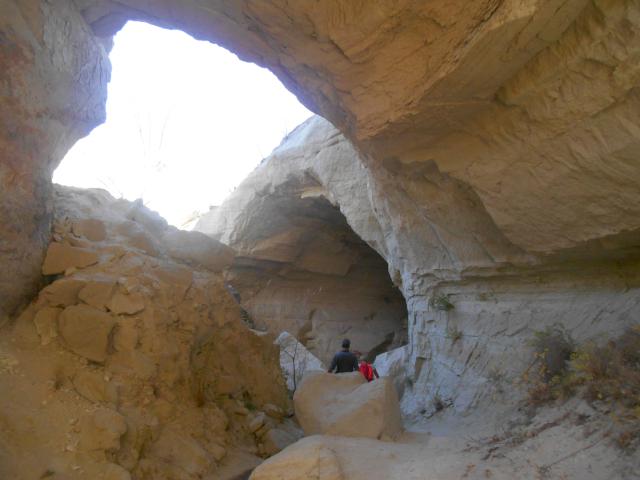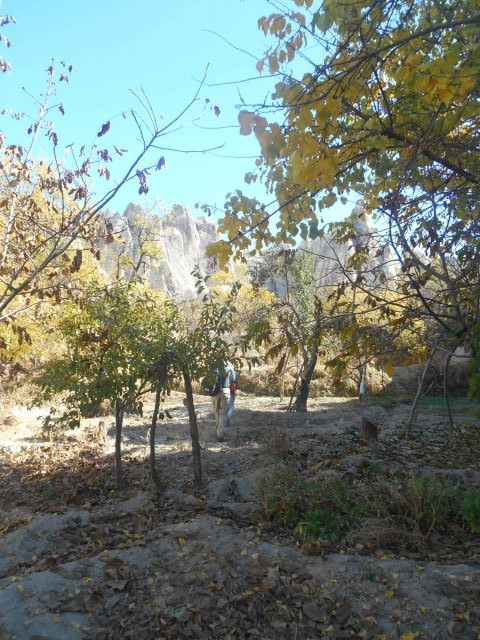 Walking through the gardens of the villagers in the base of the valley. They grow some vegetables  here but are not now harvested. Ahhh but hard to reach grapes so yummy off the vines that have grown wild over other trees! The many apples so sweet, and even dried prunes still left on trees. I was always running behind and catching up, either was photos or food…Organic, gotta take advantage!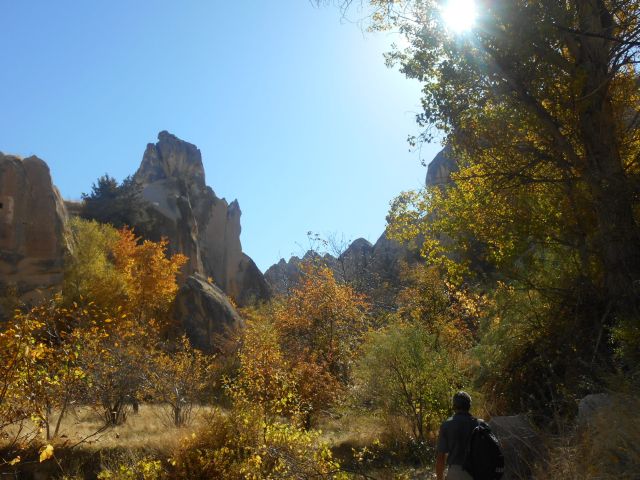 Some valleys have many many fruit trees, mostly apricots and grapes. Lots of apples still on trees and on the ground, locals didn't pick them. Mulberries and quince also everywhere.
We told our French guide to teach the Turkish how to make tart aux pommes. After being served or at least offered, baclava for 9 days, we were ready for a change. She told us " she is French and she is a woman" what she says don't count. Oops! She is married to a Turkish man here in Goreme, has her teaching job at University in France and comes to spend every short or long holiday here. She says Cappadocia is her home.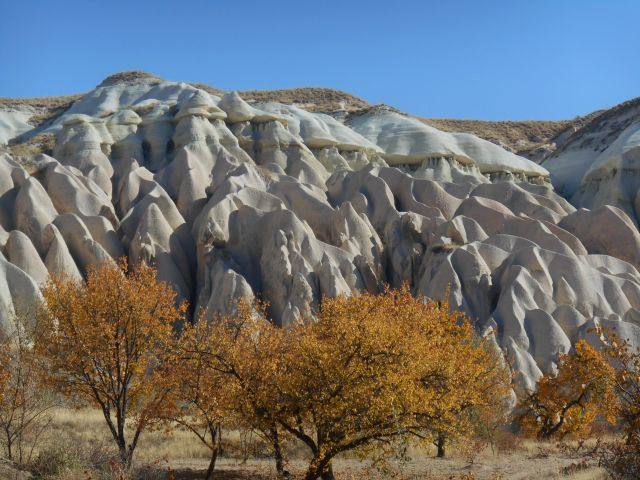 After the red valley, rose valley pigeon valley, white valley and more, we pass through the Love valley.
Ancient homage to male fertility? They are far from being man made. Below you can decide where the name comes from.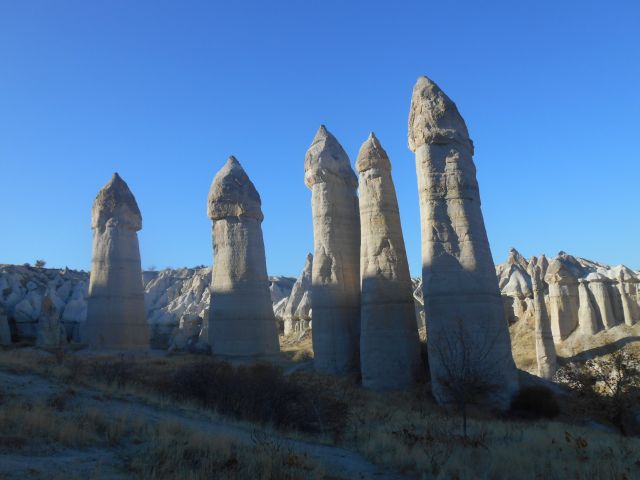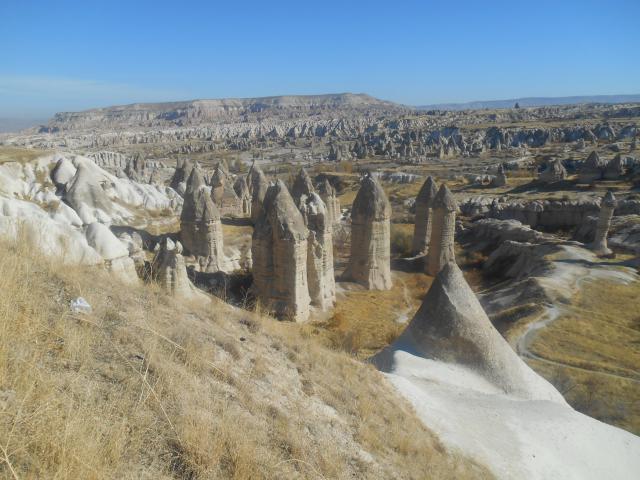 Again the dramatic colors, pink, white, and sometimes yellow.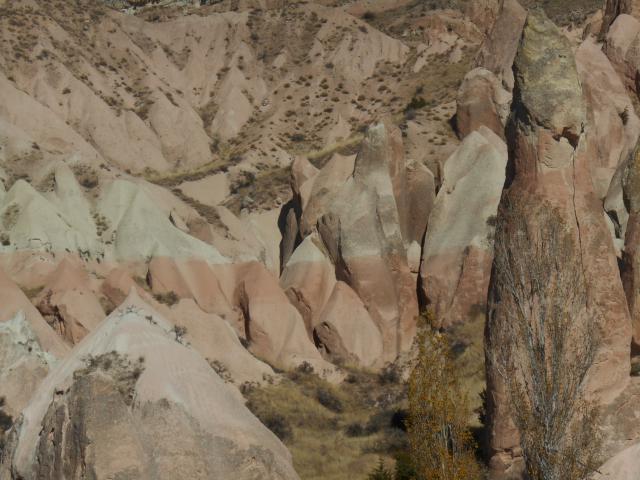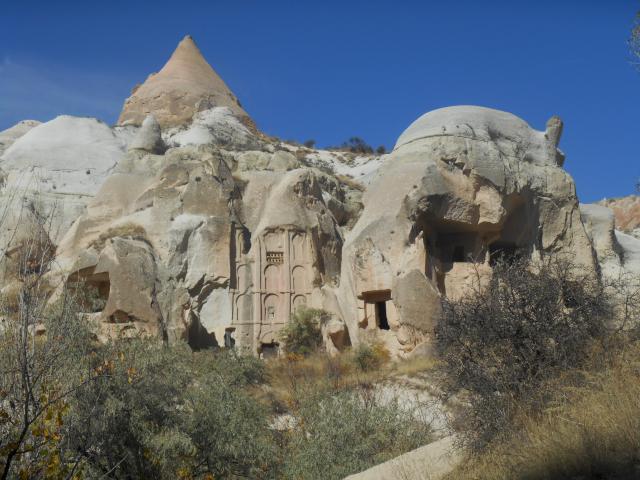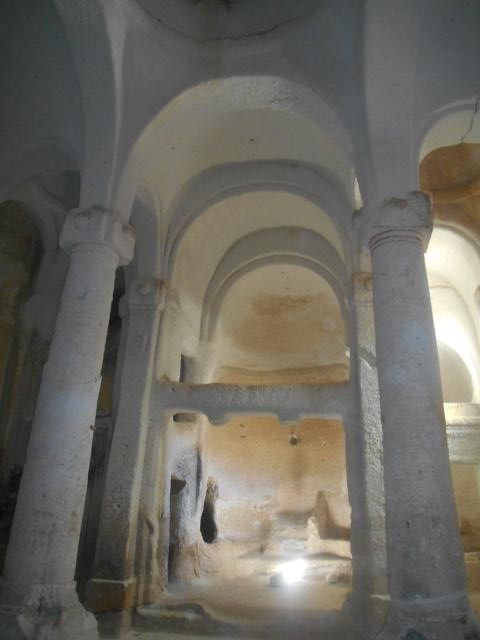 Very impressive cathedral. One of many. I took so many photos, was hard to choose which photos to use.
One can visit the valleys by horse back riding. A few ranches around.
We enjoyed Cappadocia so much. Sad to see it end. We spent 5 days there and we could have stayed and walked more and more through this amazing and mysterious place.
The other 3 days were part of the same tour, it took us on a long but nice trip to Sanliurfa, East of Turkey. There we visited Nemrut Mountain, Gobekli Hill, the oldest Temple in the world, Abraham cave, and  the pools with the holly (sic) fish. The pictures will be on the next and last post for the season 2013. Stay tuned.
It is a full schedule here in the marina. Yoga time, coffee and cake time, happy hour,  pub night, quiz night and games night, animal shelter fundraising and many walks and hikes…..Let's schedule in some work!
This post relates to Finikey, Turkey. Click to see map.
Welcome to Gemiler Island which is also known as the Island of St Nicholas.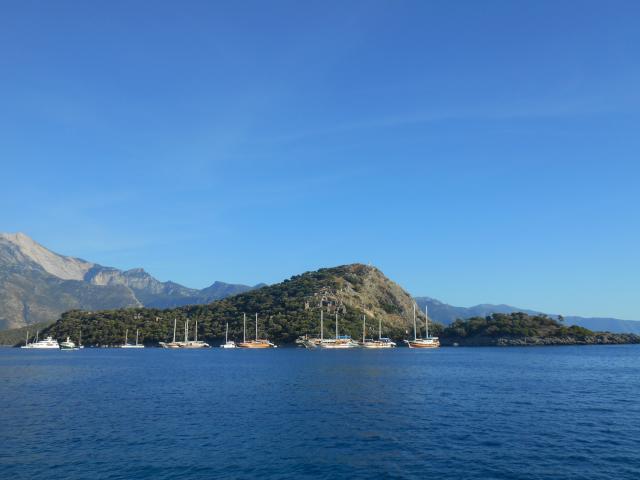 It was our next stop after Oludiniz. The Island is only 1000m long by 400m but with many remains of Benzantine dwellings, many churches and other religious buildings.  Archaeologists believe that after his death on the 6th of December 343 AD he was buried here in this island.The Island became an attraction for local pilgrimages and pilgrims from afar who would stop off on their way to Jerusalem to visit the shrine. In 650 AD the remains were taken to the safety of Myra after the island was repeatedly attacked by Arab pirates forcing the inhabitants to abandon the settlement. Myra is only a 20 minute bus drive from where we are and  we plan to go visit St. Nicholas church where is tomb is.
The island is beautiful, and a beautiful walk through it.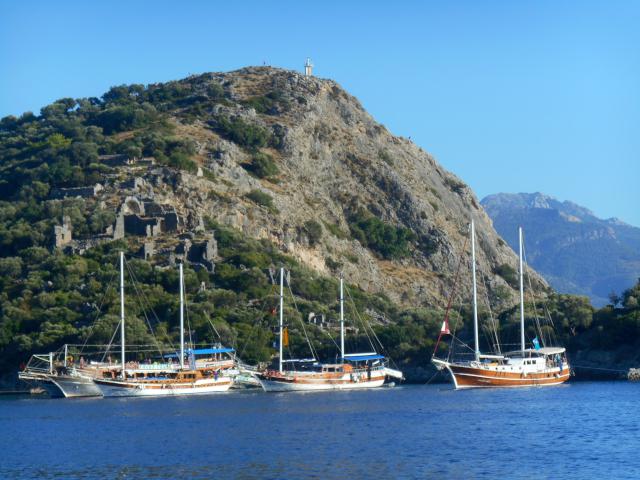 It is visited all day long by gullets full of tourists and by night it was just an amazing peaceful spot to anchor. We were anchored right across from here, with only another 2 other boats near by.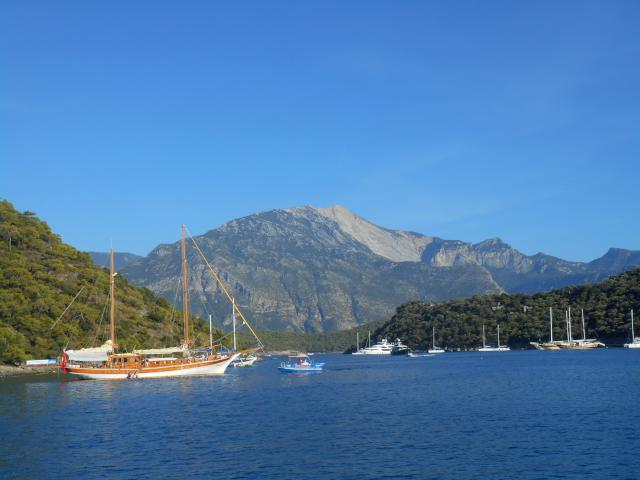 The strait going up to cold water bay, a popular anchorage which we thought to cruise by.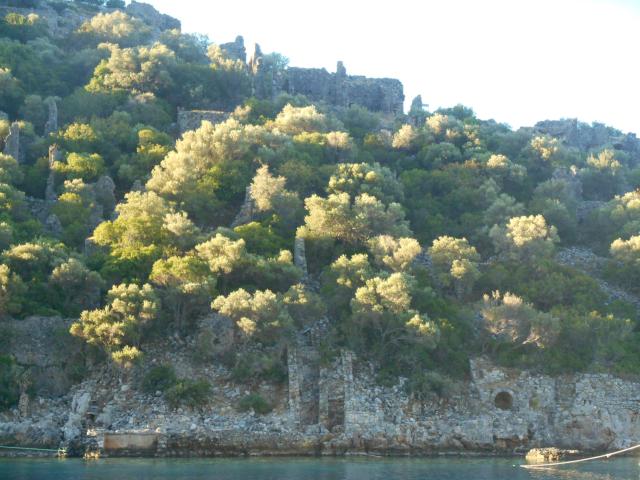 You can see the ruins all along the strait and down to the shore line and bellow.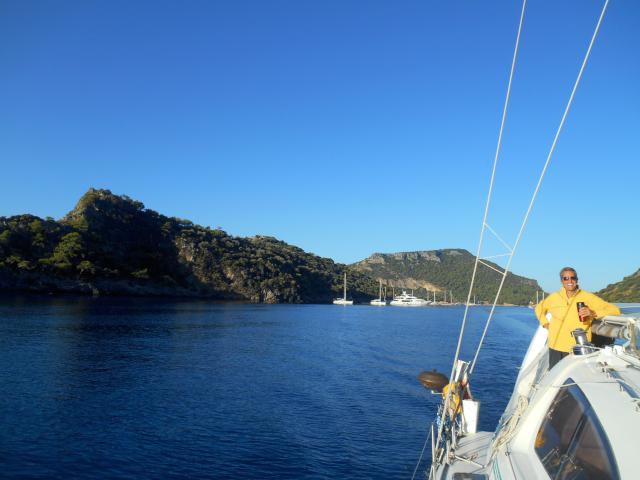 Above photo is going up the strait just after sunrise. It was sure a beautiful sight to see the sun rising above and over this beautiful island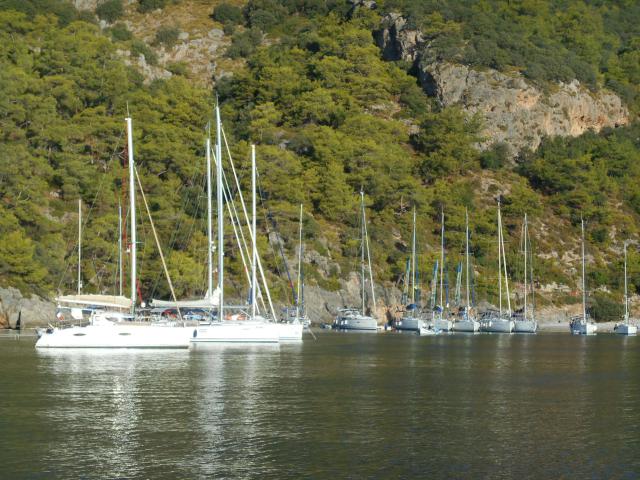 Above is the anchorage in cold water bay. We were gad we didn't come there for the night, it looks pretty busy all lined up.
Photo bellow: ahhhh, now, this a good place to be!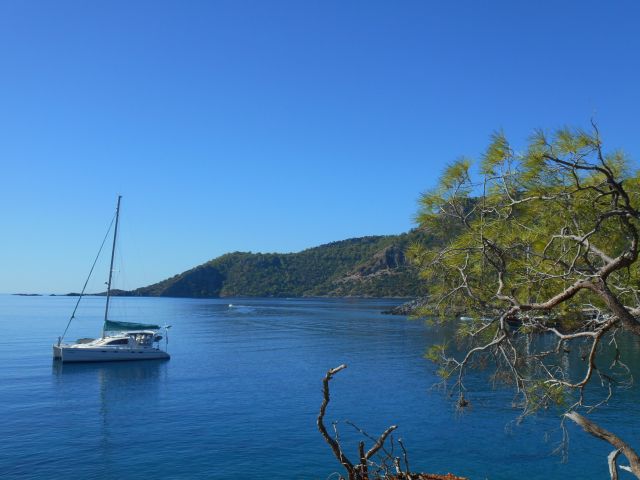 But, 2 days later and after a long 16km hike to Kayakoy, a ghost town abandoned during the Greko-Turkish war, we moved on….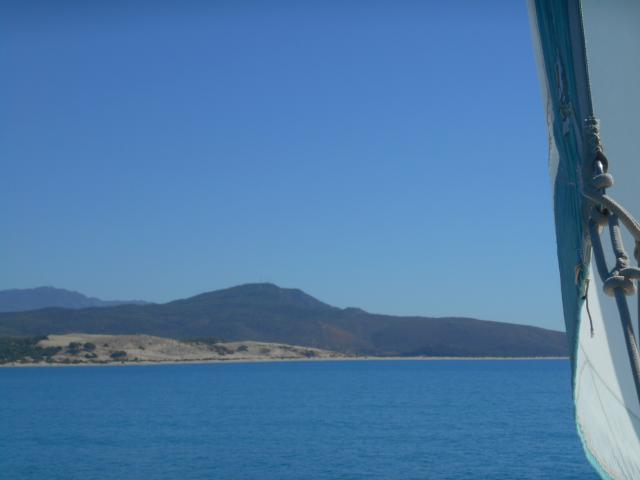 We sailed along Patara beach, very touristic and popular with the locals as well . It is 14kms long and backed by sand dunes.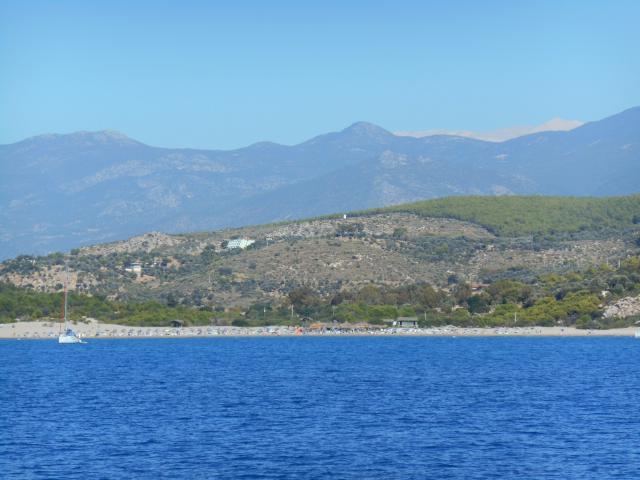 In some areas is backed by hotels, restaurants and covered with sun beds.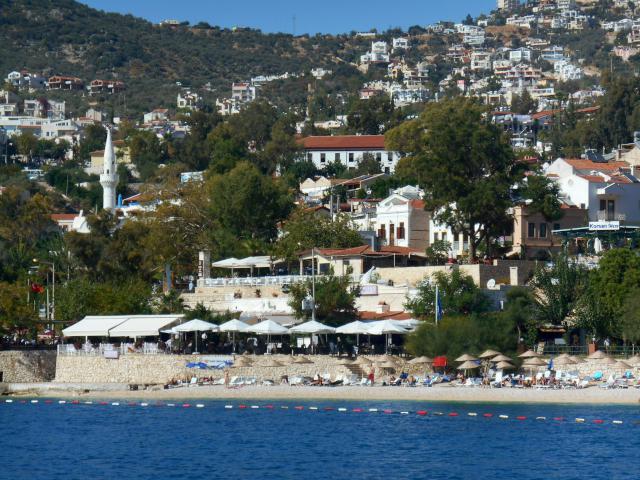 It was about a 5 hour trip to this lovely town of Kalkan, where again we had a nice little anchorage just in front of this beach, and conveniently just outside the town harbour.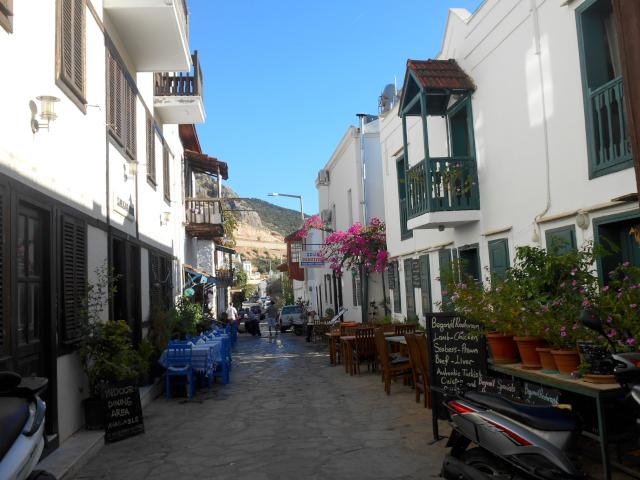 We strolled the nice cobbled streets, and checked out the supermarkets. We were told the market was the next day, so I was excited about that.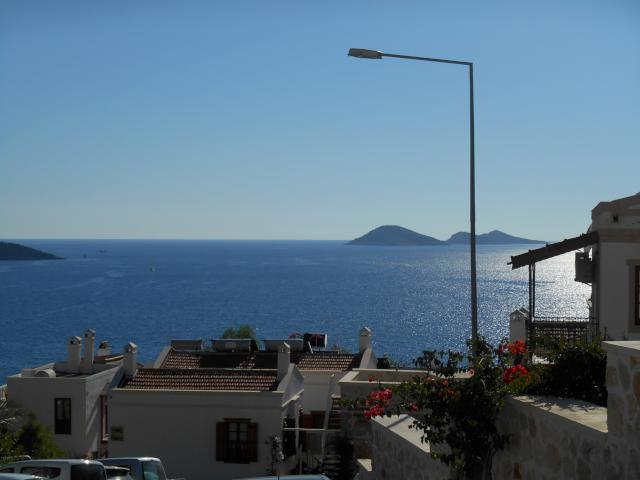 The next day I dinghy ashore and tied up at the harbour, somewhere between some stinky fishing boats the fishermen pointed me to after watching me hunting around. All the space in the harbours seem to always be taken by these huge, but beautiful gullets. Above is just another nice view during my walk to the market…with Life Part 2 very near there.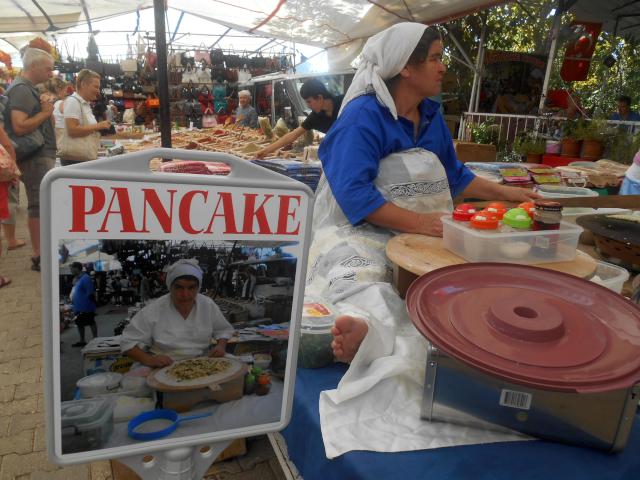 The market was great. I found some real vegetables…. I mean anything more than tomatoes, peppers, tomatoes , zuchini and aubergine, is Real stuff. I indulged in broccoli, cauliflower, squash, leeks, mushrooms and more. All fresh, what a treat!I also tried what they call "pancake"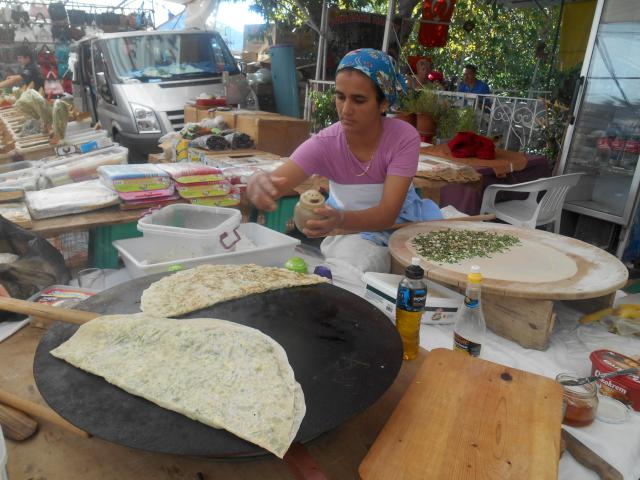 Pancake is very popular and made everywhere by the local ladies cross legged even on tables. A very thin tortilla like this is filled with a mixture of Turkish/feta cheese and spinach. It is very good.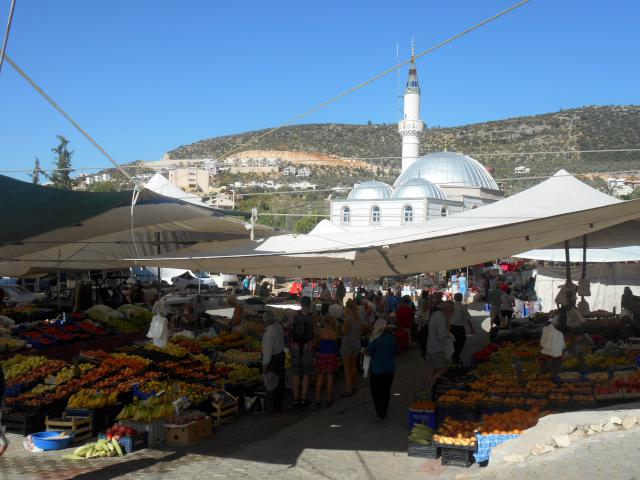 Most towns hold their market only once a week. The markets are always over-kill with so much fruit and vegetables. But then again, the stores don't carry much of  that, so you have to wait just for that day of the week to stock up! And that is why I am always so happy when we hit the town with market day!!!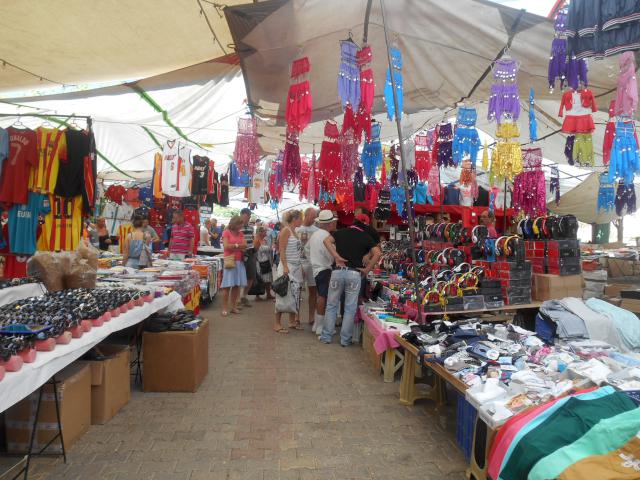 Again this town was popular with the British. I met one couple that told me they have been going there every Fall for the last 13 years.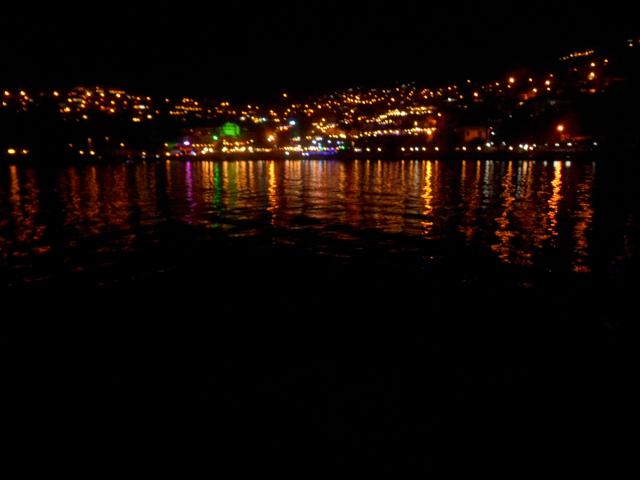 The town looked pretty at night too. We enjoyed a couple of nights here and kept going to our next destination.
Welcome to Kas.
Very cute and picturesque also very touristic little town. No, we did not pay to come in this crowded harbour. No, we wouldn't go in even if it was free. Again the gullets take over….only enough space for a few guests. It's very amusing watching them getting in and out of their births. These 2 are very close to hitting each other, but no one cares, they know what they're doing.
Now below is our home. And we loved it there. We anchored just outside Kas marina. Only us there and a motor boat ahead. It was also a very short walk to town.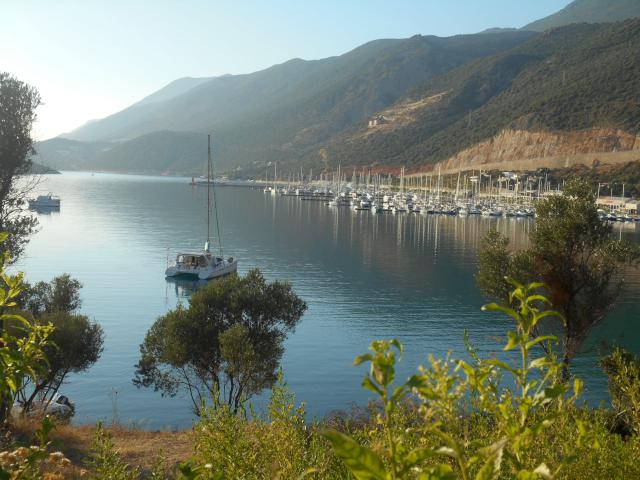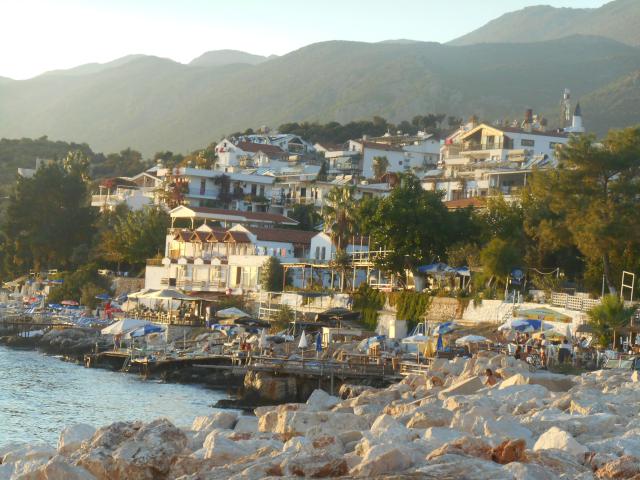 We visited the harbour, the picturesque little town and enjoyed the nice sunset.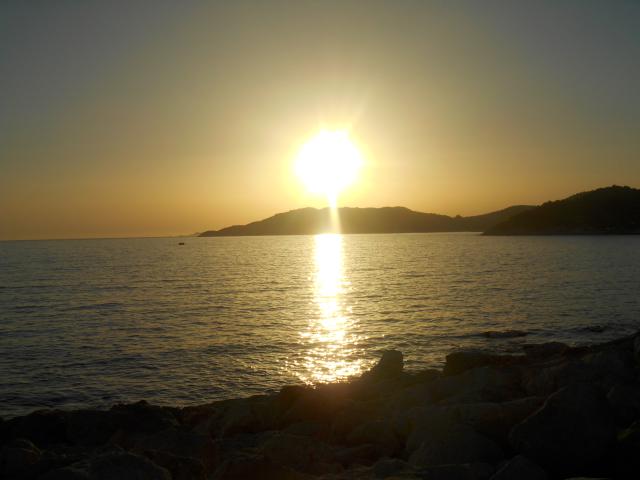 The narrow cobbled streets were busy, with agencies trying to sell you trips to visit the nearby tourist sites inland or sea cruises. Lots of tourists, shopping, and many many cute restaurants and bistros. Bougainvilleas added to the beauty…always!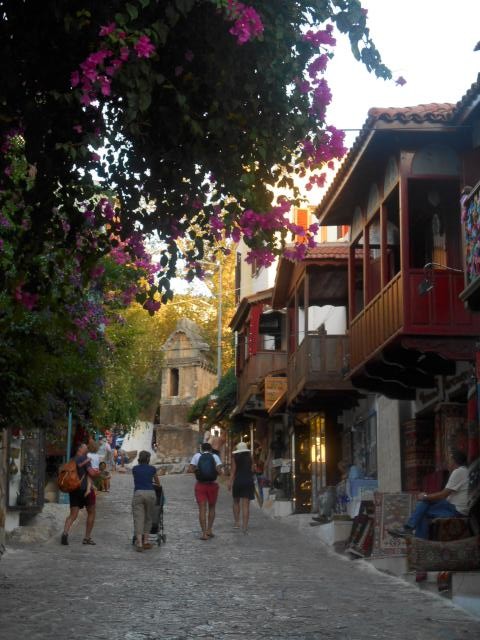 Sarcophagus in the city center.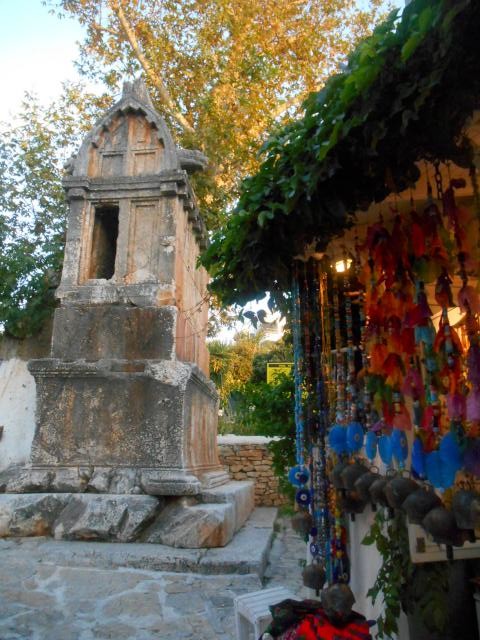 A great  attraction and almost the symbol of Kas is the Lycian style sarcophagus at the end of this street. Consists of three sections, 1.5 meters high, and decorated with lion heads and paws on each corner.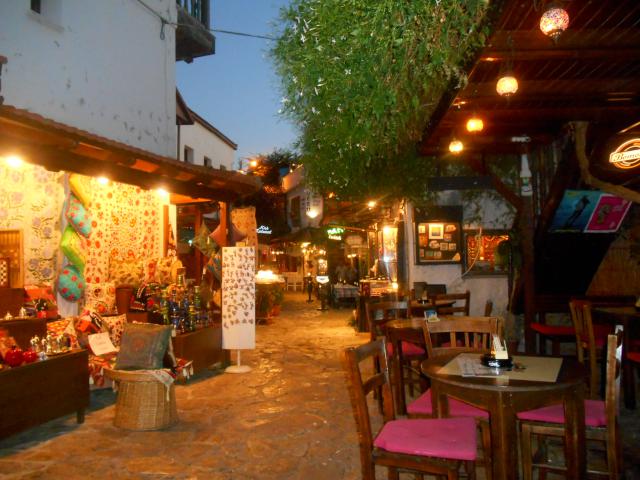 We enjoyed some drinks here while using their WIFI services, we were having internet problems with ours. Again!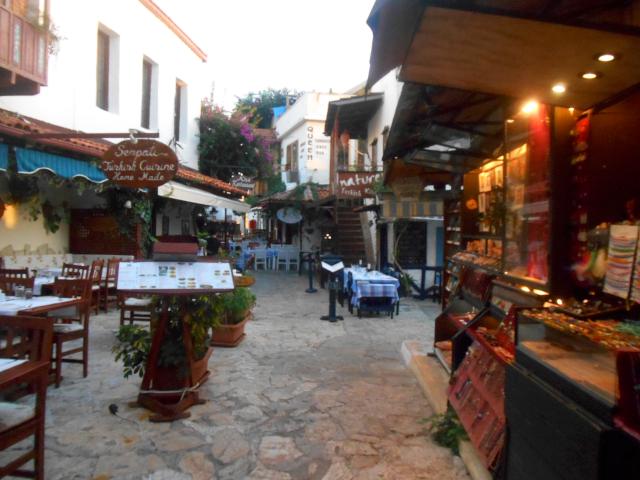 2 days later we left this nice place to Kekova, the sunken city.
As we leave Kas, I took a photo and waved to Greece. Castelorizo, a Greek island just across. Photo below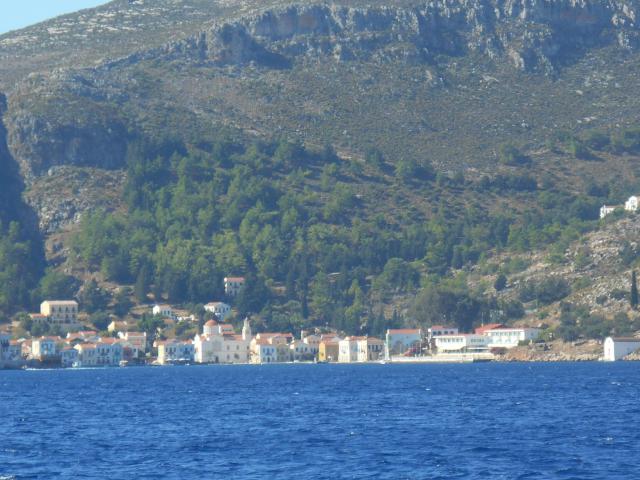 Near Kekova
With so many gullets selling their trips to Kekova, the sunken city, we sure had high expectations! Although, very beautiful scenery and cruising grounds, the so called "sunken city" has not much there to see.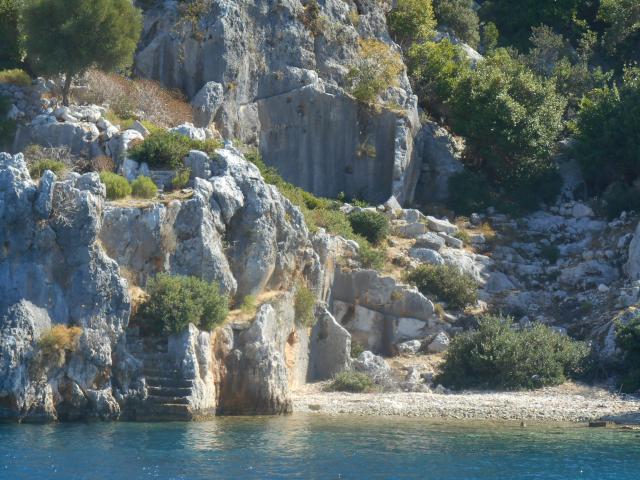 As we got in to the bay, the coast line was popular with gullets cruising along here.
We decided to follow them and see how much there was to see. The partially sunken city was destroyed by an earthquake in the 2 century. It was rebuilt in the Byzantyne Period but abandoned later because of some problems with the Arabs. You can see the many ruins and staircases down to the water.
The Kekova region was declared a specially protected area by the Turkish Government in 1990. All kinds of diving are not allowed in the area.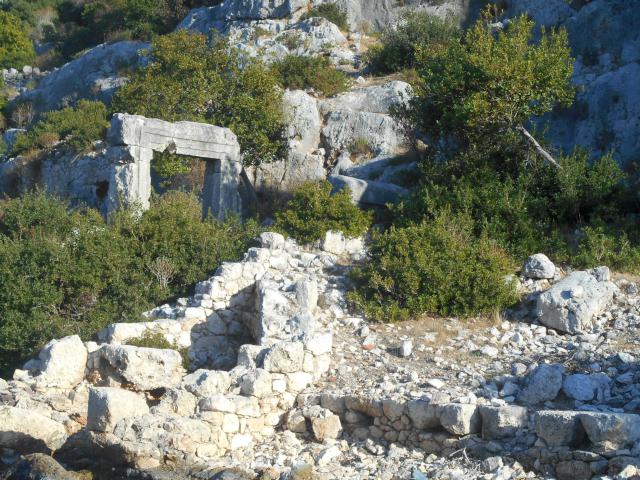 When the gullets went back to the harbour Noel and I took a ride in the dinghy with a glass bottom, along the coast to see the hidden treasures that we couldn't see from the boat. It was a nice ride along all the ruins and the crystal clear waters, but under water was not much to see besides small pieces of broken pottery.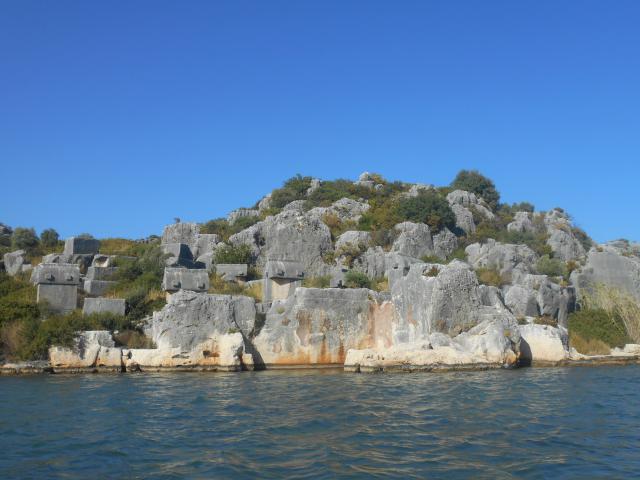 Lycian necropolis with a cluster of some very nice sarcophagus and there are more around scattered over the hills among olive trees. We were anchored right here.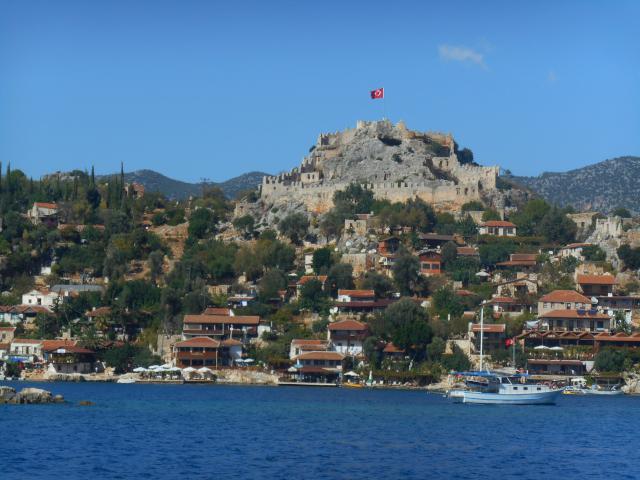 This is the charming fishing village of Kalekoy ("castle village").  There are 2 villages only about 1 km apart.The top of the village is dominated by a well-preserved castle built by the Knights of Rhodes.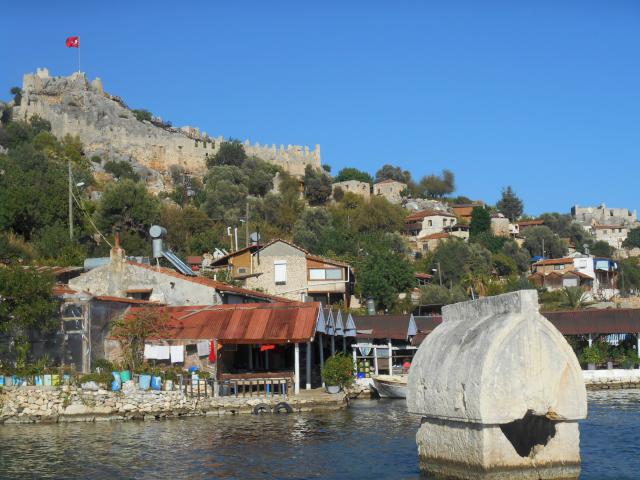 This is the ancient harbour of of Kalekoy. Hard to believe that at one time this was a very busy shipyard. Another sarcophagus, this one popping up from the water.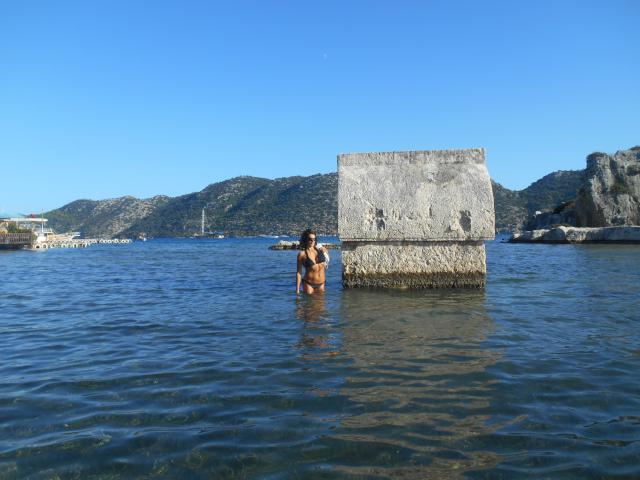 This is the other town,  Ucagiz. Tiny village, big harbour full of gullets. Here is the start of the sea cruises for this very touristic area.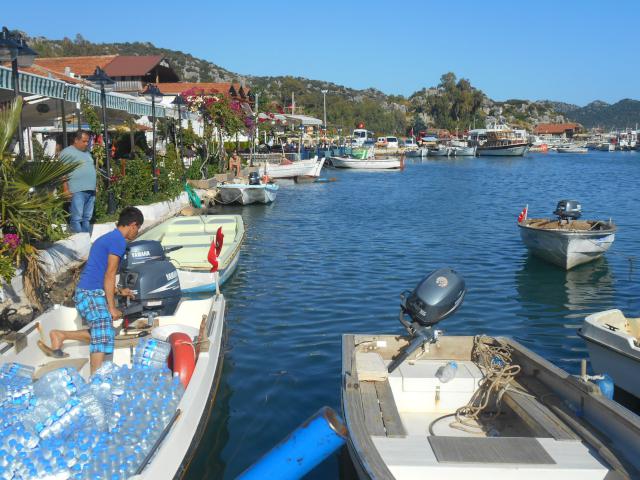 Loads of bottled water that unfortunately end up covering the grounds on the side of the roads and everywhere. Why do we need bottles made of plastic that last forever, but are used only for a few days? Let's go back to glass, or at least fully degradable plastic.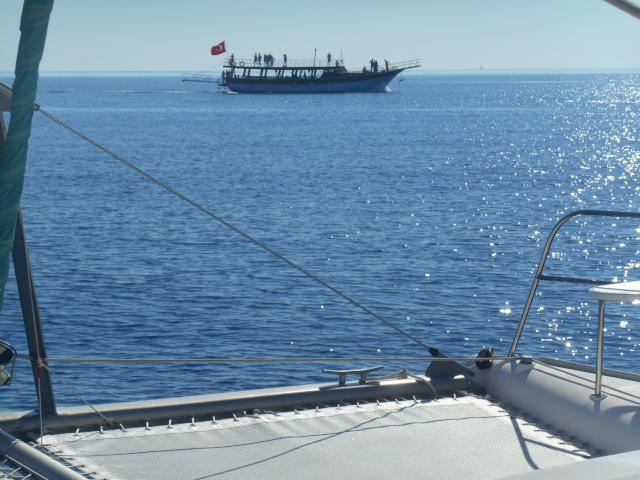 Dodging traffic while going up to a different anchorage still in Kekova.
Kekova is a maze of beautiful anchorages, you can spend many days just cruising around find a new place every night in beautiful calm, crystal clear waters and wonderful scenery. Also the water still warm, so swimming everyday is a bonus.
This was our anchorage for the next couple of days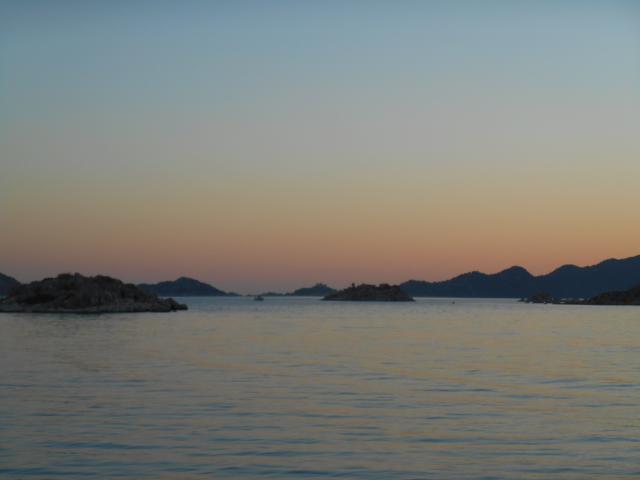 We are getting to the end of our cruising year 2013.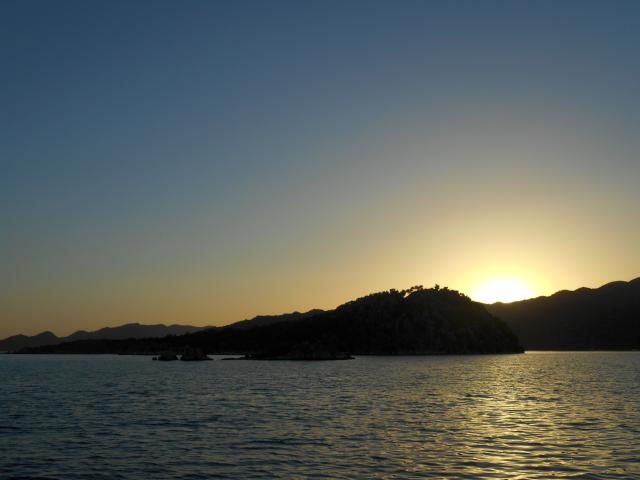 This was our last sunset in Kekova. The next day we sailed around to Finike where Life Part 2 has a reserved birth for the Winter.
 Finike Marina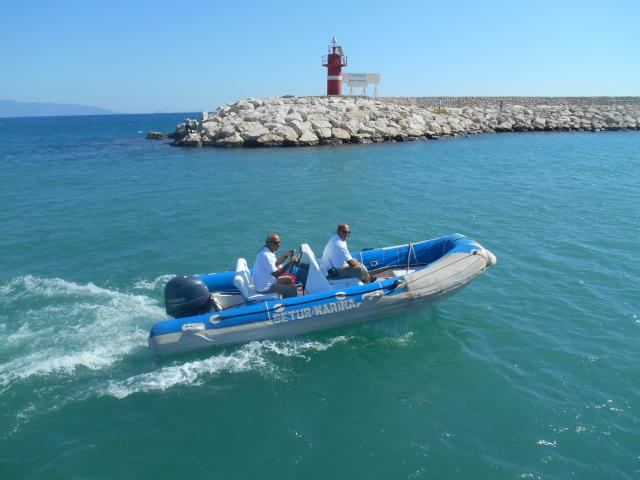 We are now arriving in Finike welcomed by our marinheiros with directions to the birth and help with the lines.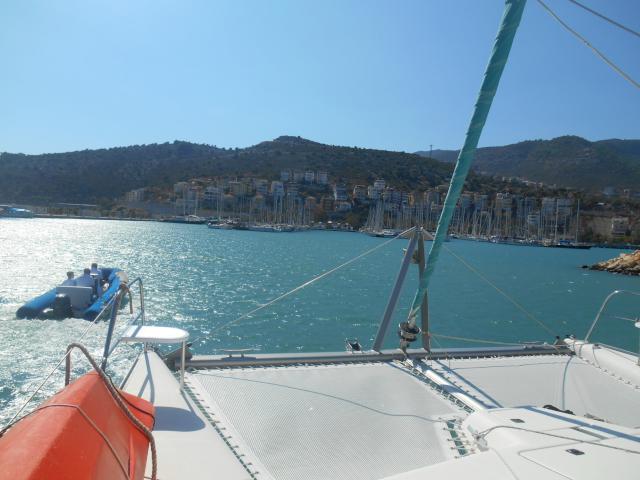 The weather is great, the water is warm, it just feels like it's too early to come in to the marina. It just does not feel right.
Ohhh but there is no wind anymore…we took it all! Noel is very proud to say we only did 130 hours of motoring through the whole season!!!!
Wow! what a great season. Now the best part is going home to see my beautiful family soon. I can't wait!
If I can't be sailing get me out of here…oh, but not until we do our tour. We are traveling for a few days inland, going to Cappadocia.
Update: My above post is 2 weeks behind schedule. Too busy to finish and publish it.
We just got back from the amazing Cappadocia trip.
We are now in the marina preparing the boat for the Winter. Most cruisers are back in the marina as well, and many of us know each other from last year in Sicily plus others we met along the way. Barbeques, pub nights, yoga and coffee time. It sure is nice to see everyone again.
My last post will be about Cappadocia.
This post relates to Kas, Turkey. Click to see map.
After dragging lures 3,000 miles across the Atlantic and catching NOTHING we had given up.
But Phil who we met in Geberske Bay, persuaded us to have another go.
So, in Marmaris we went into the Fish store and told him we wanted to troll and to catch.
He picked out a rod and reel that he said were the cheapest that would do the job. He also wound on 300 meters of 0.6mm line (about 48 lb test), and picked out two diving lures and a squid lure. And he said we were good to roll. Total cost was 320 TL (about $160) for the whole kit.
Phil then confirmed that we had got a good deal, and some good equipment.
So, since then we have been putting the line out behind us each time we moved. Sometimes we were going at 6-7kts. Other times a under 2 kts. But we put it out. We were using the small diving lure, that looks just like a 10cm fish, with 50m of line.
Today we were sailing from Kalkan to Kas. Winds were light, but we were sailing. Just. At one point we were overtaken by a Dutch monohull that came so close that he caught our line. But he managed to unsnag it, and the lure was still attached.
The wind dropped even more, and went aft. Now at least we could put up our spinnaker, and sail a bit more, at about 3kts.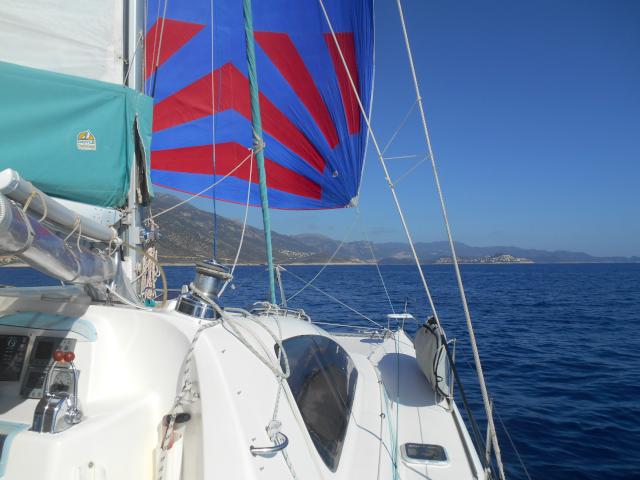 Finally, with about 4 miles to go the wind vanished totally. Sails came down and motor started.
About 10 minutes later I looked back and exclaimed, "We are dragging something!"
To be honest, I thought it was a plastic bag that we had caught. Anyway, we stopped the engine and reeled it in. There was no fight. Even when we got it right up to the boat it was hard to see what we had caught. Ceu yelled, "quick, quick, get the binos!" She wanted to see just what we were about to drag aboard. She was so scared, thinking it was some kind of scary monster,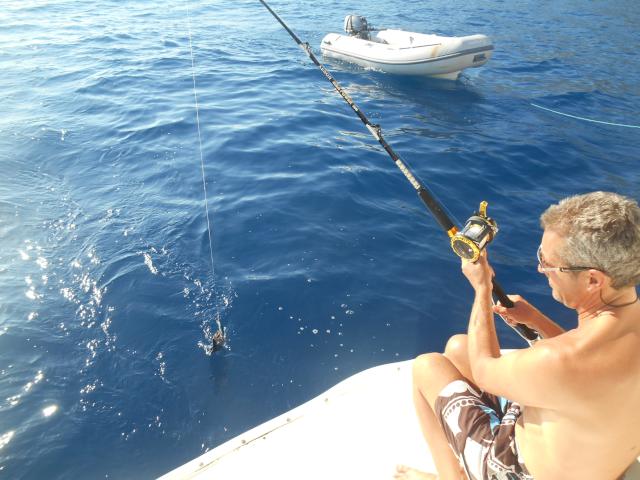 but as we pulled it out, it was all clear to see!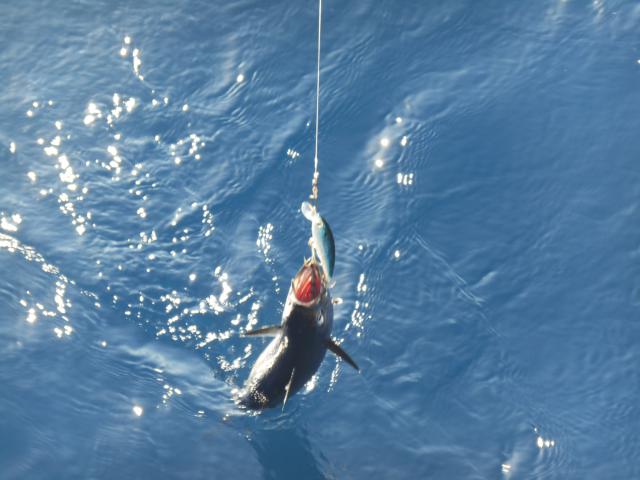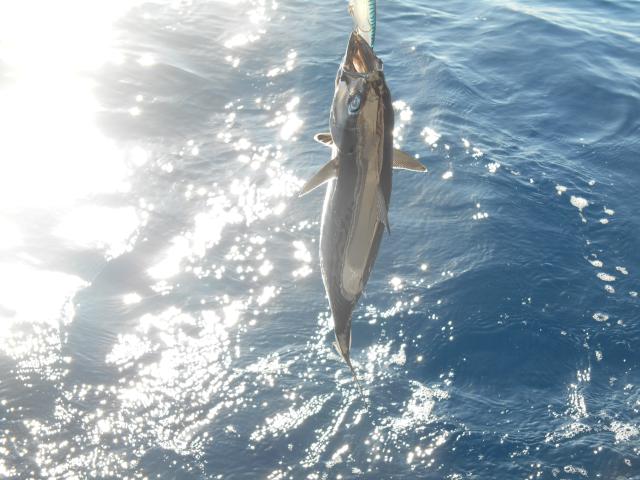 Obviously it had been too small, and our brake setting too tight, for it to be able to fight the line. So it was just dragged behind us at 5 kts and drowned.  Maybe if we hadn't noticed, it would have been bait for something bigger!
Anyway – guess what we are eating on the barbeque tonight?
Great excitement at Heavenly Delights this evening

BTW, if you can identify exactly what type of fish we caught, please post a comment and enlighten us. We think it is a Bonito – but what do we know?
This post relates to Oludeniz, Turkey. Click to see map.
Wow….The places we've been!
I will not be taking you to the sunken city on this blog yet. I have much to catch up after Dalyan river.
We left Dalyan on October 1st with some clouds on the sky, on a calm but expecting wind and some rain later. We had an early 6:30 am start because this day was quite a long stretch of over 30 miles.
An hour later wind was starting to pick up and engines were off. 2 hours later we were sailing great with winds up to 23knots.
One reef in.  2 hours later our reefing line broke due to chafe.
Second reef in. 45 minutes later our second reefing line broke, due to chafe.
Well…we are now down to the 3rd reef, which suits us just fine with winds up to 31 knots.
We are beating up wind, reefing down and trying to have lunch, by now we also had big waves.
It was a fast sail and by 1:00pm we were just rounding the point getting in to the gulf on a beam reach.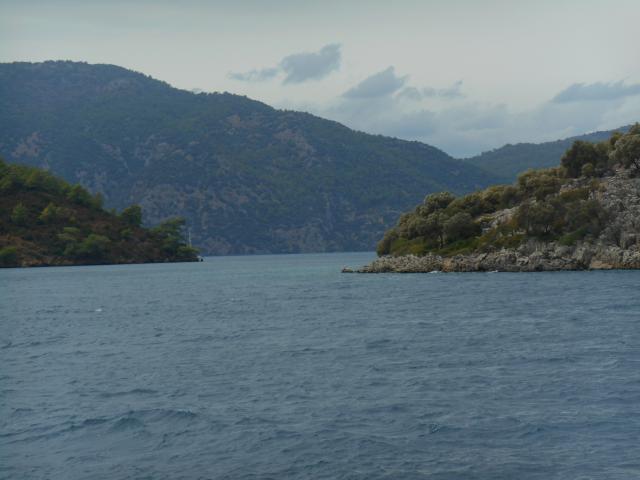 Here we turned to port and soon switched to motoring around looking for an anchorage and checking the depths. The waters around this area is are very deep.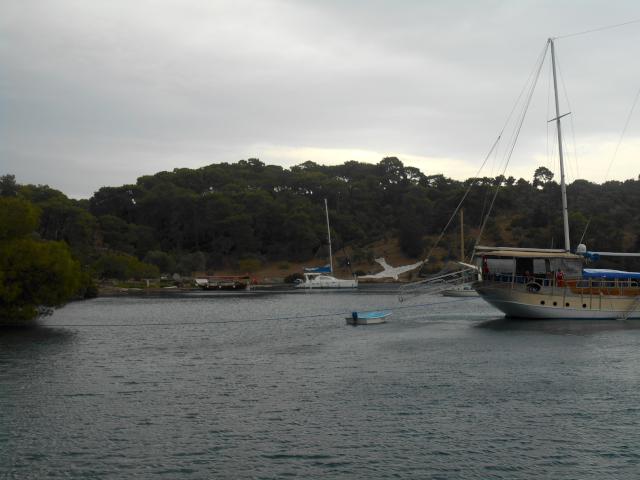 We arrived at this anchorage and anchored in 17metres deep. One Turkish guy from the gullet next to us immediately came and take our lines and tied them to the trees ashore. That was great help. At 2pm we were nicely anchored in this nice protected anchorage. Beautiful scenery all around. The clouds were getting darker and darker but the rain held out until the next day.
We had a peaceful night here, with just a restaurant ashore and very few boats around, was very quiet.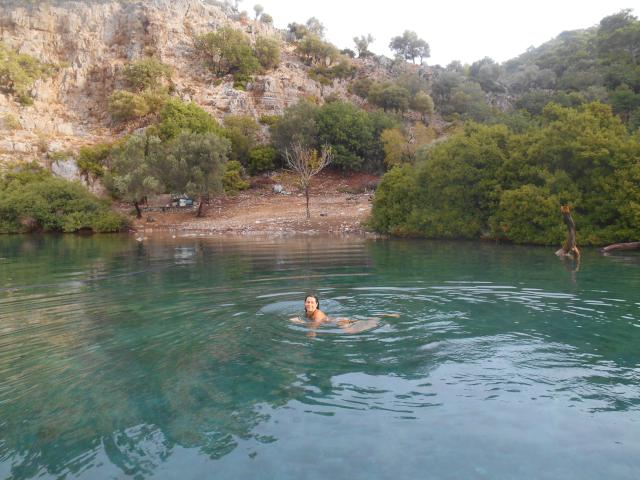 The next morning swim was to go ashore and untie the lines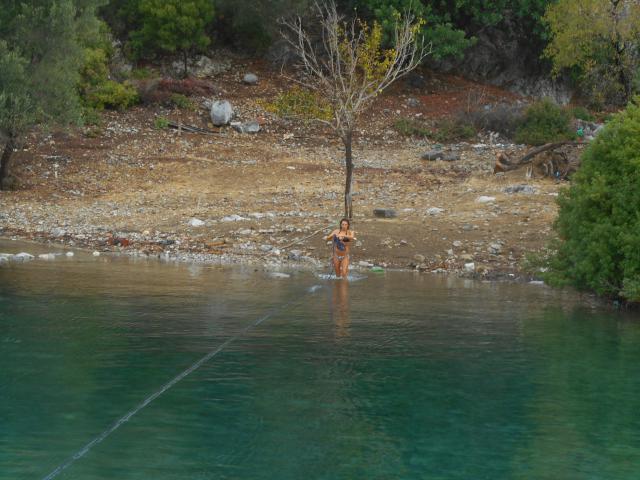 We set off motoring around and explore the area towards Gocek town. Beautiful scenery, great sailing area with many anchorages, you can spend a week or 2 just hoping around into a different spot every night. (If you're prepared to anchor and tie up everytime) I guess that's why is popular with charters boats as well as cruisers.
As we're heading up towards the town the clouds were coming in, no rain yet…….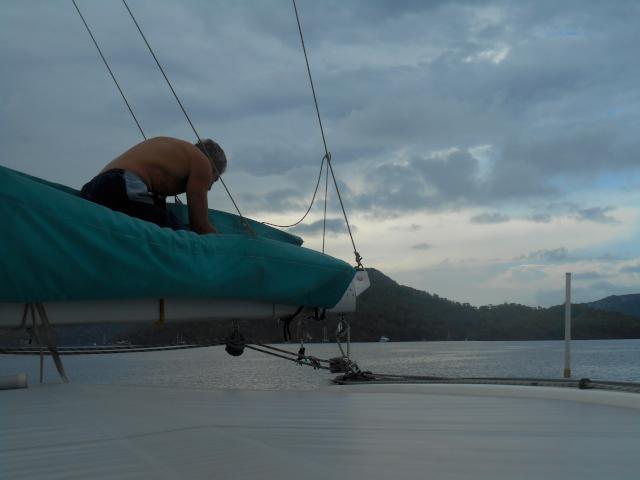 Beautiful flat waters, I took over the helm and dodged the traffic while Noel sits up there  fixing the reefing lines that broke the day before. He did it with great success and before it started to pour. This time he put in some blocks on the leech AND on the boom, so there is nowhere for the lines to chafe. We hope

As we get to our anchorage just near this marina here, the wind and rain beat us to it. And the worse part was, that the waters were also very deep and the shallows were taken by other boats and we had to turn around and find somewhere else to go.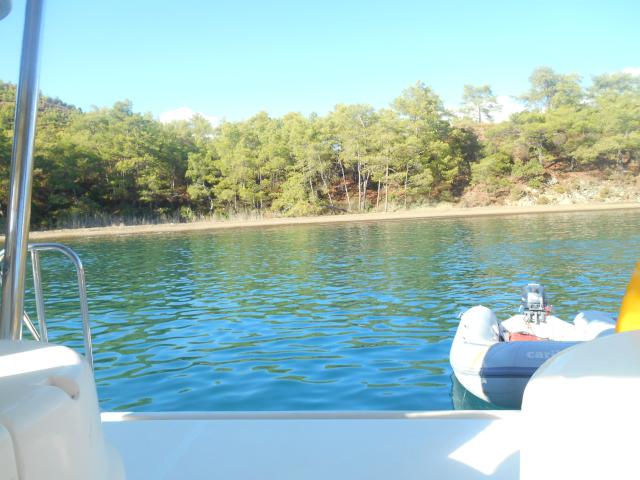 Luckily about 5 minutes later we found this  protected but small cove, not on our charts, but no one there and was only 12 meters deep. Great! Let's drop it here. Didn't even have to tie up, there was enough space for us to swing around. By this time we were soaked, but looking around and admiring this beautiful and peaceful spot, it was all worth it. We even had our own little private beach in the backyard.
The next day we woke up to a beautiful sunny day again, as you can see above. I was so happy to be able to dry all the clothes from the day before.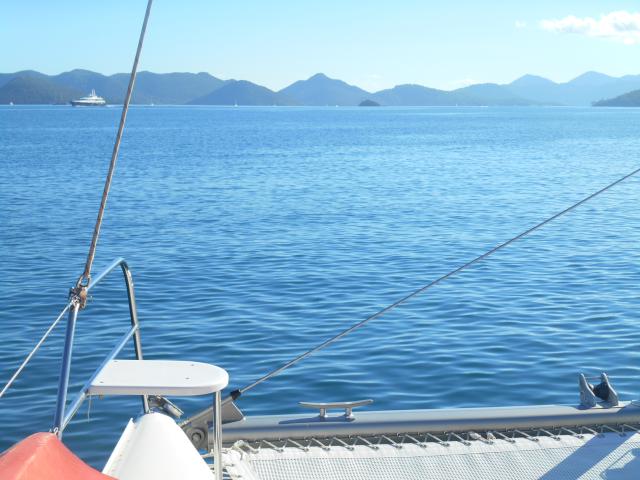 Looking ahead from our boat to the mouth of the Gulf. It is a very busy Gulf. There are about 3 marinas all close together.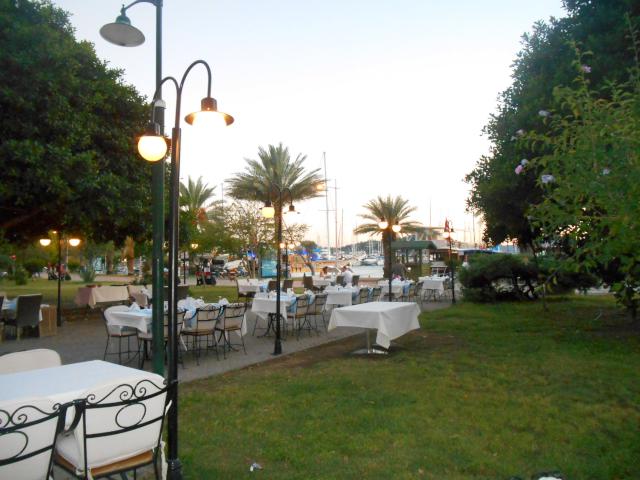 We took the dinghy ashore an visited the town of Gocek, small town in the district of Fethiye.  Small fishing village but surprised to see so many supermarkets, good provisioning, and of course many tourist shops.
Very charming restaurants, with beautiful lighting in the evening throughout.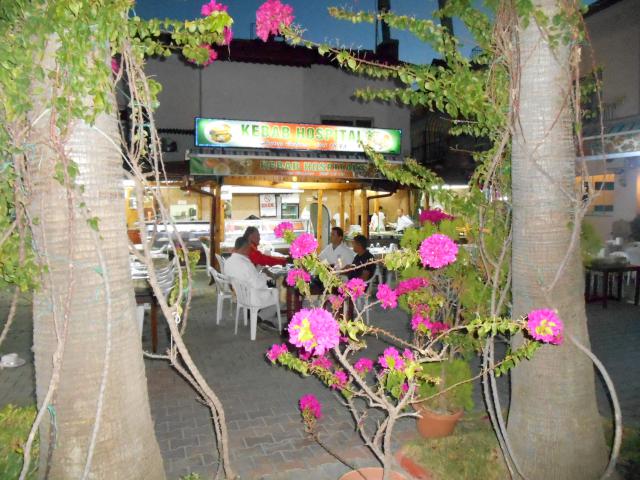 Kebab Hospital above. Funny name for a restaurant…
We stayed in the area for 3 days and moved on to the much bigger town of Fethiye, only about 10 miles away.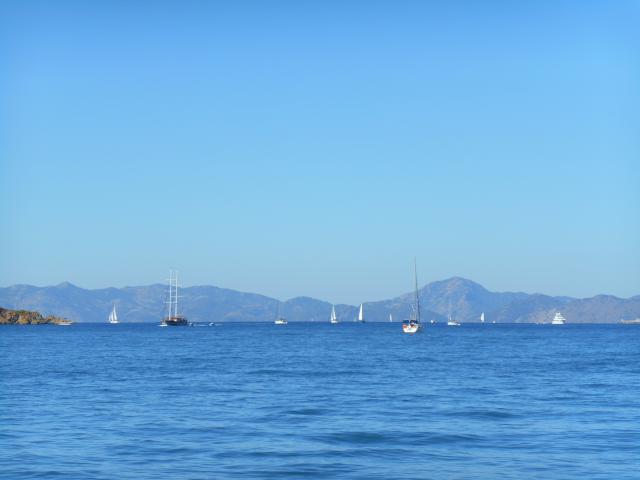 Fethiye just ahead. Again lots of traffic, coming and going. The first hour we had 15-19kts of wind and then it disappeared and we motored the last 45 minutes or so.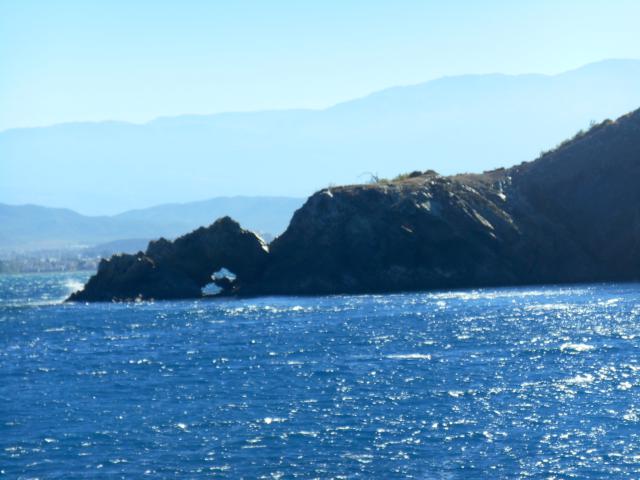 It a short beautiful sail to Fethiye, nice scenery and rock formations. This is just before getting around the point to one of the marinas in town.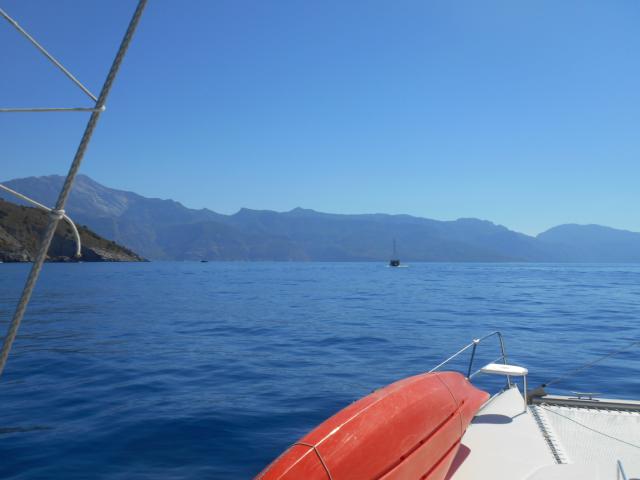 With beautiful waters and easy sailing… we don't just sit around and admire the beauty at all times. Lots to do and there is no time to waste. We work during our trips so we have more time to visit when we arrive. (or more work awaits when we are anchored!)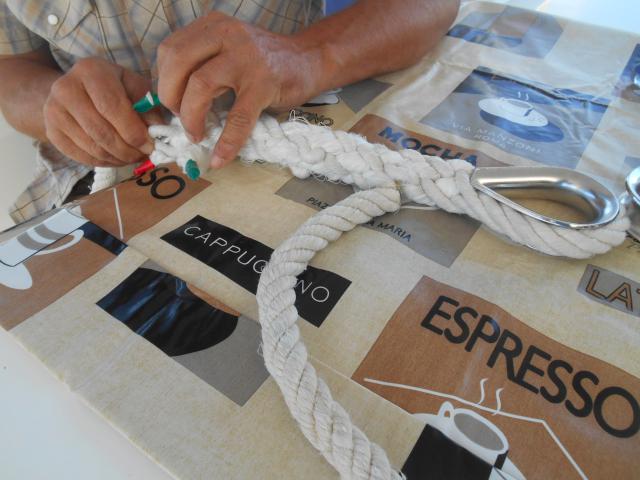 Sitting at the table doing splicing. So far we did about 5 of them. We bought extra lines to make a new bridal for the new parachute anchor so the ends need a thimble and splicing. Also new lines for the parachute anchor rode itself. This line was unusual – it had 4 strands instead of the usual 3. Noel also fixed our 400 watts inverter that decided to quit on us. Crucial for running the laptops!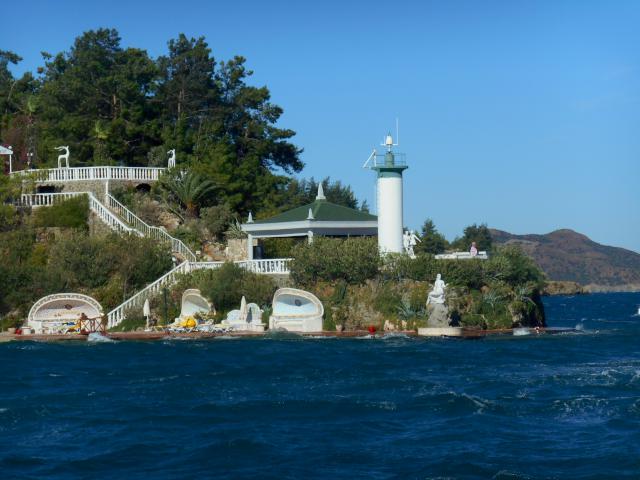 We are just turning around the point into a big bay in front of one of the marinas in Fethiye.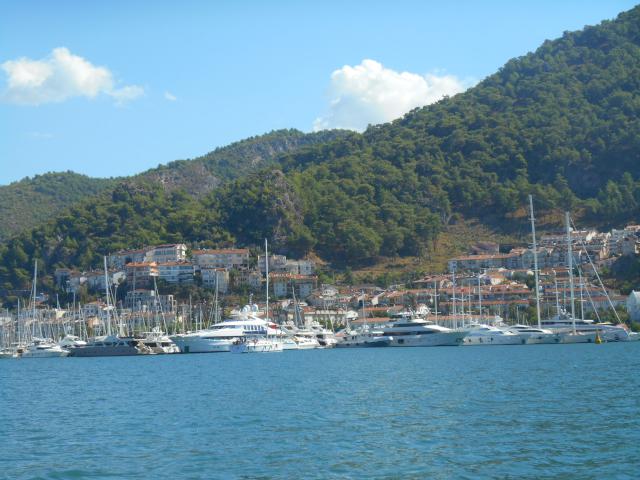 We anchored right here in 12meters, mud bottom.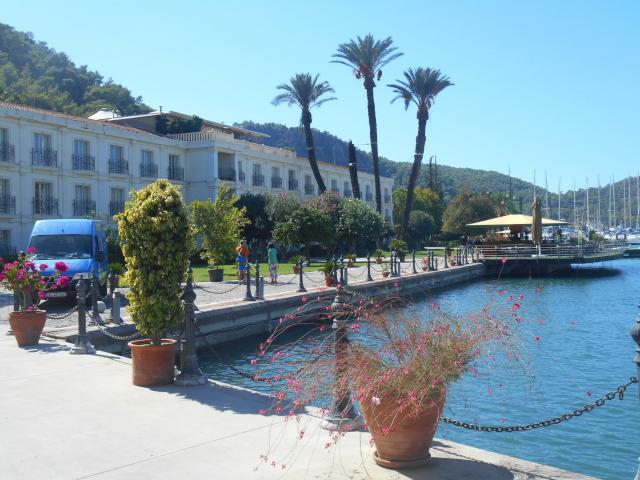 Only a 2 minute dinghy ride and we were here in front of the marina, in front of 1 marina…they have a few surrounding the town.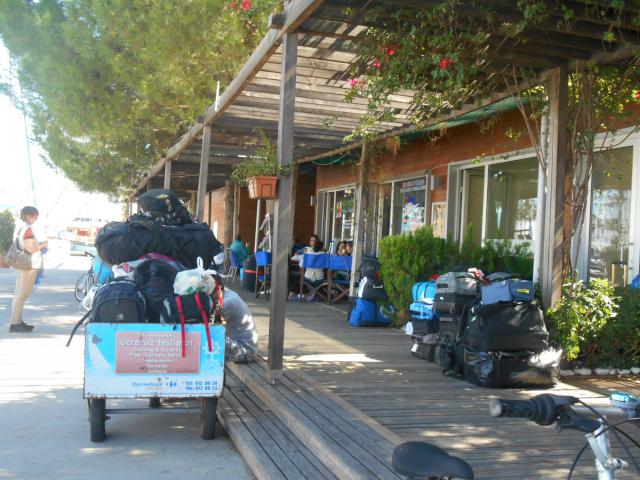 We had a good laugh walking along with this group of young guys, arriving at a yacht charter. I don't know how long their holiday was going to be but they sure had a lot of luggage and they were laughing too struggling to move the buggy. It was a Saturday and was amazing to see still so many arriving for their holiday. The weather was cooler for a couple of days after the rain on Oct 1st, but then warmed up again to 27-30 degrees, water is still warm and we are enjoying our swims.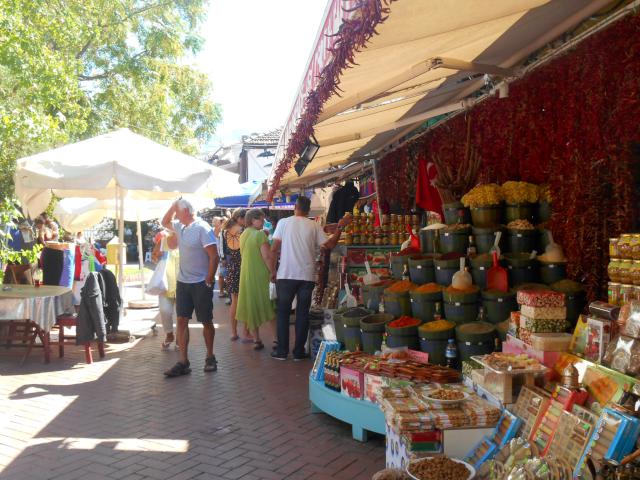 Welcome to Fethiye. Wow. It sure is tourist ville. It has this international feel to it. English and German dominate the town. British people everywhere, and some Germans and Dutch. Very little Turkish, only the vendors!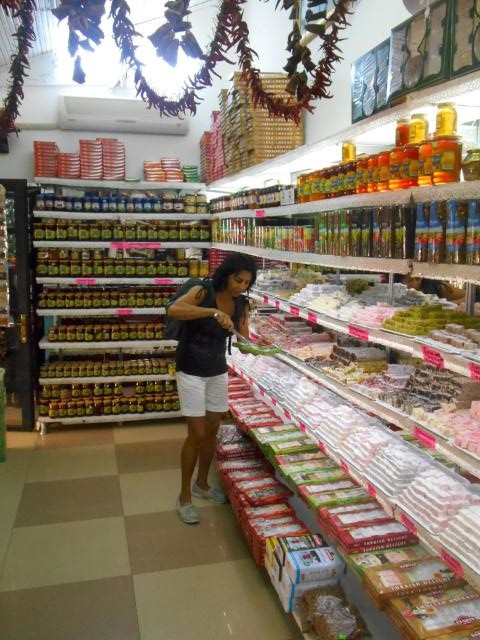 It sure was a delight when the young man told me I could pick any Turkish Delight I wanted. It sure was a delight.
But before that, he asked me where I was from and I said Canada, but because they always want to know my roots I told  him I was originally from Portugal. I was not so delighted when he started to speak to me in perfect Spanish. He was the second person on that day that did that. They actually think you speak Spanish in Portugal. ( just like they speak Greek in Turkey, right?) I still laughed about it.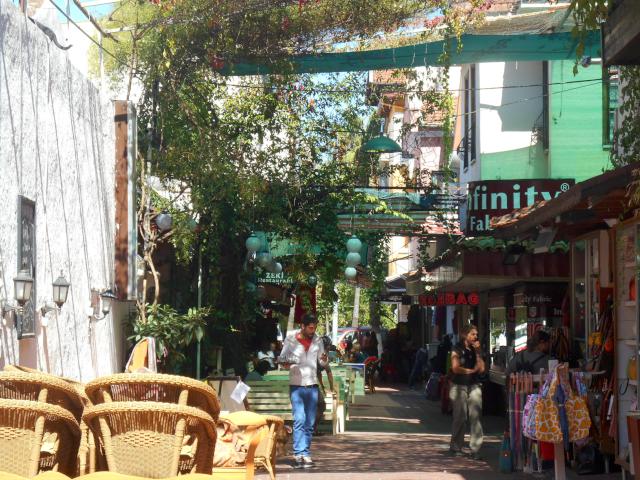 We really enjoyed the fish and meat market, the cobble stone narrow streets full of shops and restaurants all covered in bougainvillea and lots of greenery all around.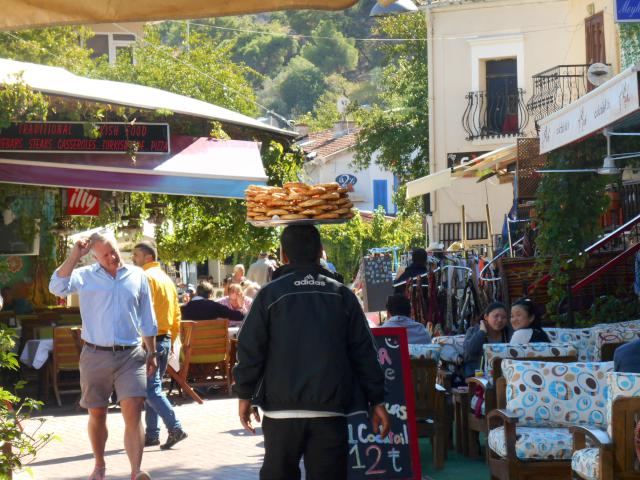 I love the way this man sells pretzels through the busy pedestrian streets.
On one evening Noel and I had a really nice dinner in this very cute restaurant with a pond full of fish and fountain, great atmosphere, food and service. We had read that this restaurant served this traditional dish, called Testi Kabap. Picture bellow. I forgot my camera that night!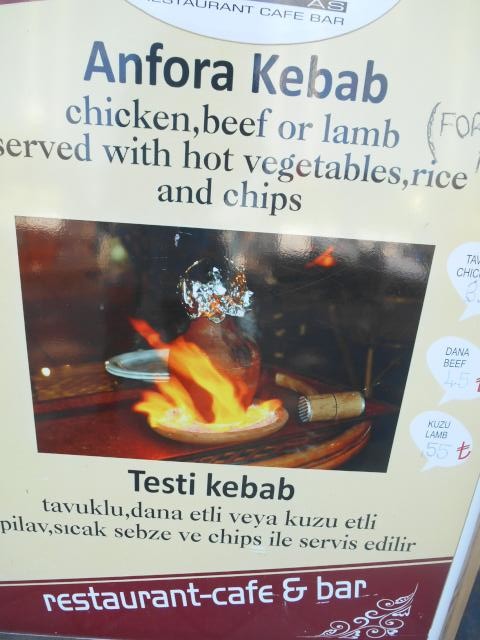 It is a stew, choice of chicken or lamb. It is cooked in the oven inside this clay jar. The jars have a short life, they get broken at the table on this breaking point on the top before you scoop out you stew. The vent hole at the top is closed with dough which bakes into a piece of bread. The dish comes into table with small flames around it. The stew was yummy, and the bread they served us……my mouth is watering now, it was the best bread ever.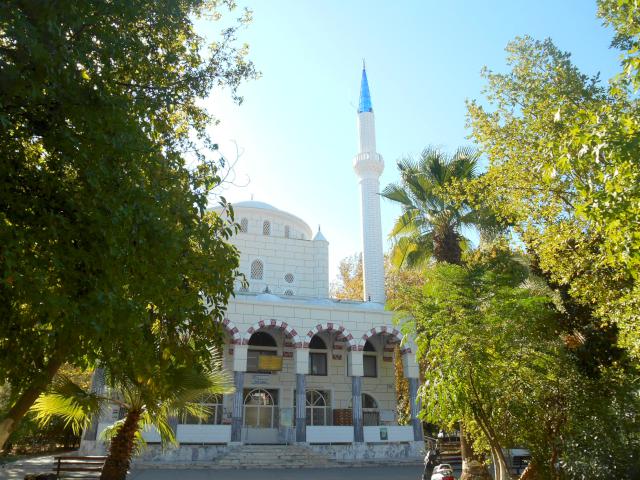 A walk through the beautiful town, away from the carpet sellers and tourist shopping ville.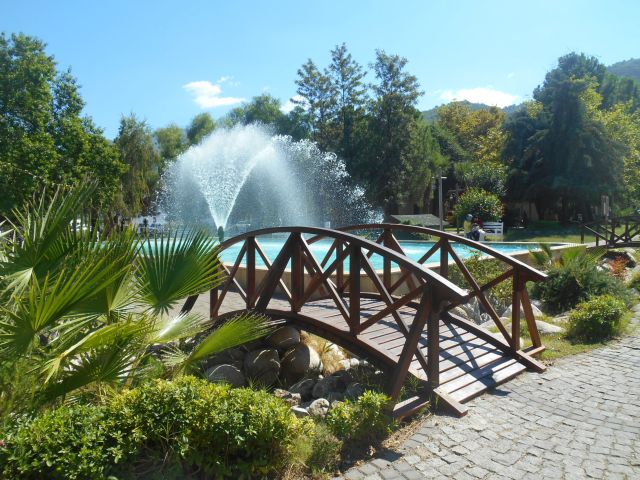 Fethiye has a population of about 40,ooo. Summers are hot, at 40 degrees. Lots of history, lots of hiking, shopping, provisioning, and it's very green and beautiful all around.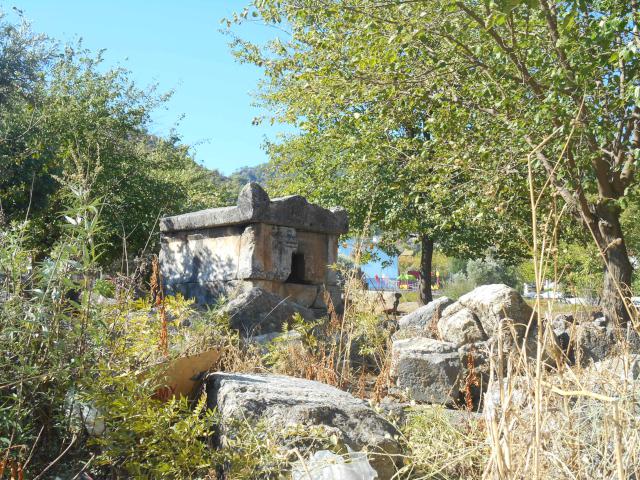 A walk through history. A short walk from the water front takes you to some sarcophagus right in the middle of town.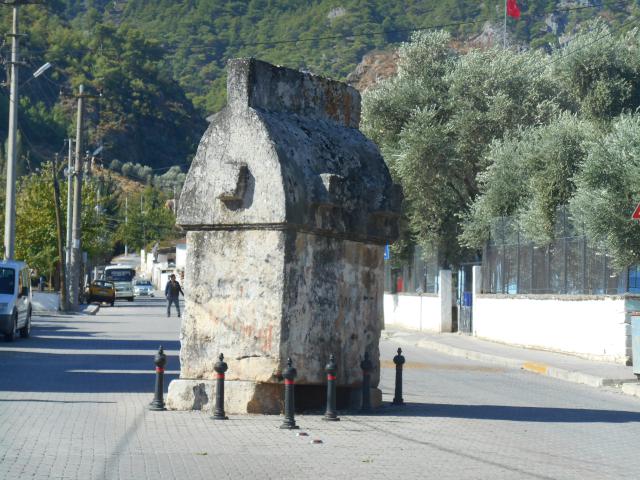 This one across from the other 2, is right on the middle of the street. At night they had flood lights shining on it.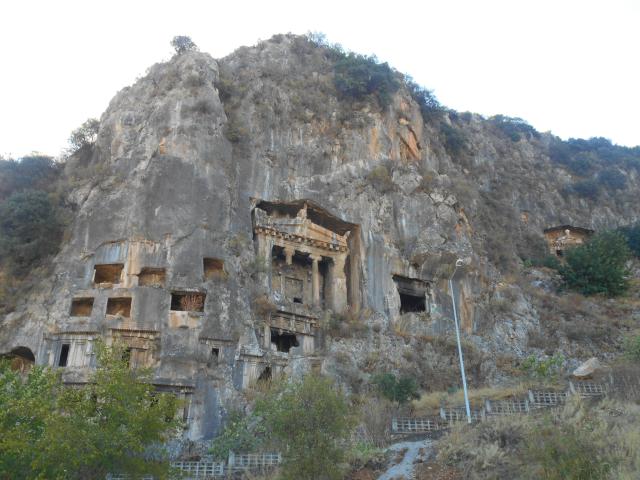 You turn around and look up into the hill and there are the Lycian rock tombs.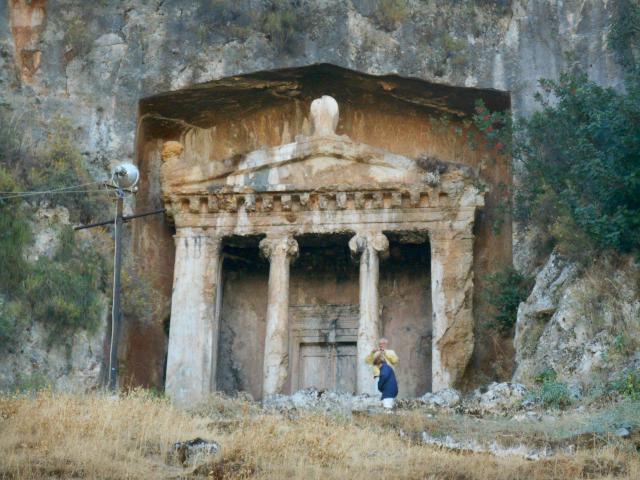 Noel and I peaked through this one that has a big hole, and we saw 3 shelves carved into the walls inside.
View of Fethiye from the rock tombs. We spent 2 days in the lovely town. I could see us spending a lot of time in this place. It is not only it has a nice feel to it, so many beautiful walks and hiking around here, shopping, beaches, historical places, Oludeniz and so much more only a short bus ride to everywhere. Plus you can still have a social life, not only in the marina but lots of English speaking outside the marina as well. The famous 500 km Lycian way hike actually starts here in Fethiye. But we have to keep on going. Plan to arrive in Finike at the marina around Oct 15.
Sunday October 6th we were on our way to the next stop, in Oludiniz.
We had a quick start with 15kts of wind, but…..later died on us, and we motored the last hour.
Paragliding in Olu Diniz
Sunday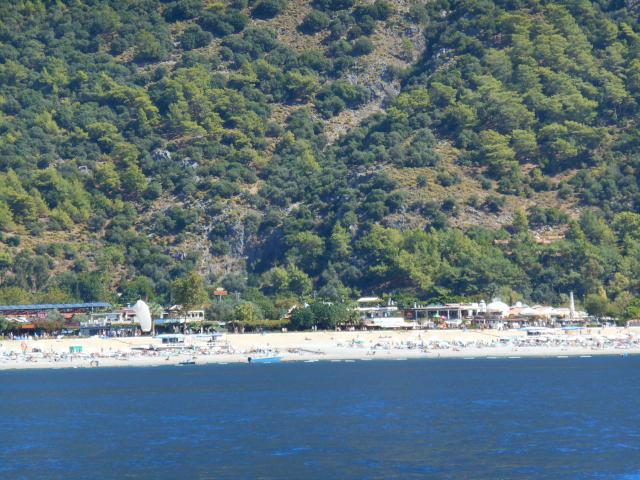 We arrived 3 hours later in this paradise. We were headed for the beach, but a guy on a little boat advised us not go there because of the many para gliders landing along there. He pointed to us to follow him into this little cove and offered to take our lines ashore.
We turned to port and anchored in this nice cove just after these gullets, with amazing clear water and scenery. Better than being at the beach close to the tourist town. In the evening, the gullets left and we had this place for ourselves, in such popular area. Of course our man turned out to be the ice cream man and we had to buy an ice cream from him. Ok time to sit down and enjoy!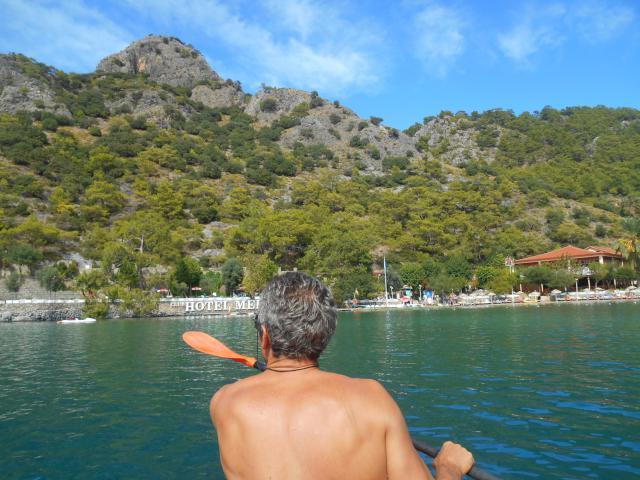 A bit later we decide to kayak along the beach into the lagoon and do some exploring.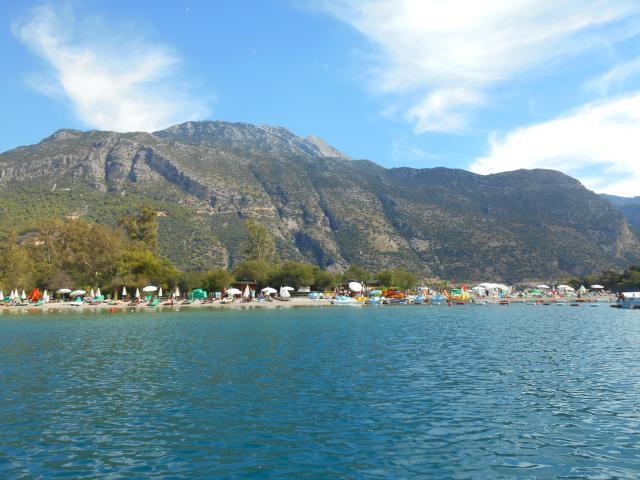 At the end of the lagoon were some hotels and resorts, where we paid a visit to. The area is popular for paragliding and after admiring the scenery and seeing photos we wanted to do it here. It is regarded as one of the best places in the world to due to its unique panoramic views, and Mount Babadag. We booked ourselves in for the next day.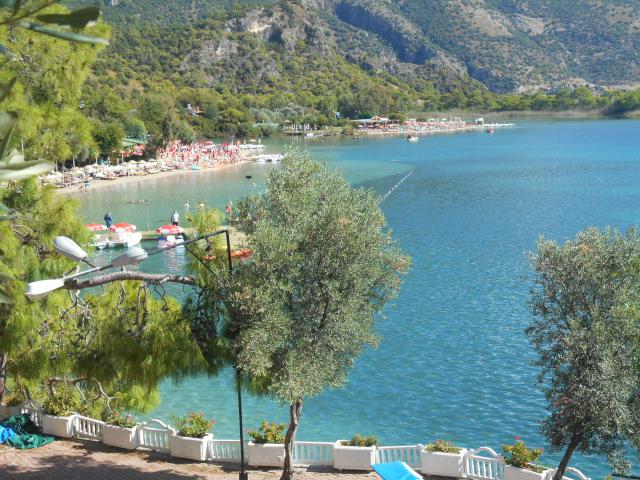 The Resort was very upscale,especially compared to the hotels in town. Beautiful gardens, views and in a peaceful area just far enough away from the town full of tourists. In front is paradise beach, nest to Nicholas beach and the furthest one is the strip of land between the sea and the lagoon.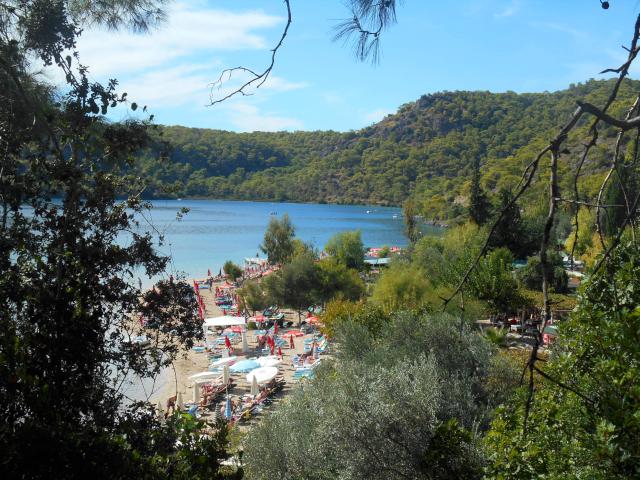 Nicholas beach next to paradise beach
It has been such beautiful cruising down this coast! And then to arrive here in these tranquil turquoise waters sandy shores still some unspoiled beaches, picturesque ruins, towering cliffs para gliders above you everywhere…..wow!
The next morning we kayaked to town. Left the kayak at the beach and headed to the para gliding office. Wow again. Welcome to England. It was all British speaking, menus all in English and over-priced English breakfast for 12TL. In Marmaris we paid less than half that price.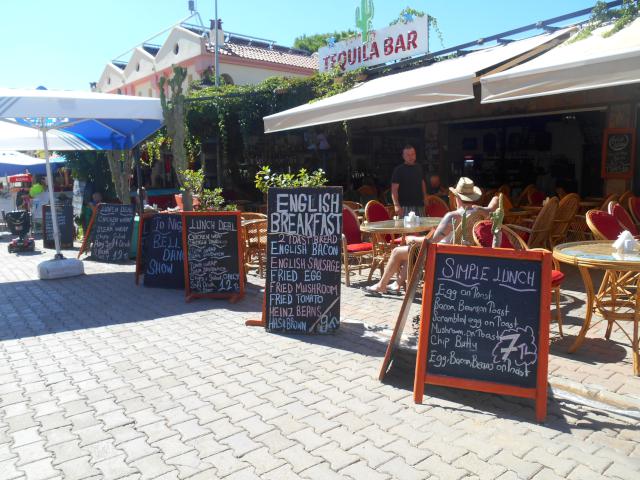 It was my first time paragliding. And after a 20 minute drive up Mount Babadag the very winding road we arrived at our launch area. They have a 1700, 1800 and a 1900metres altitude . It was quite windy that day so we started from 1800m.
This is what I first saw when we arrived. It was busy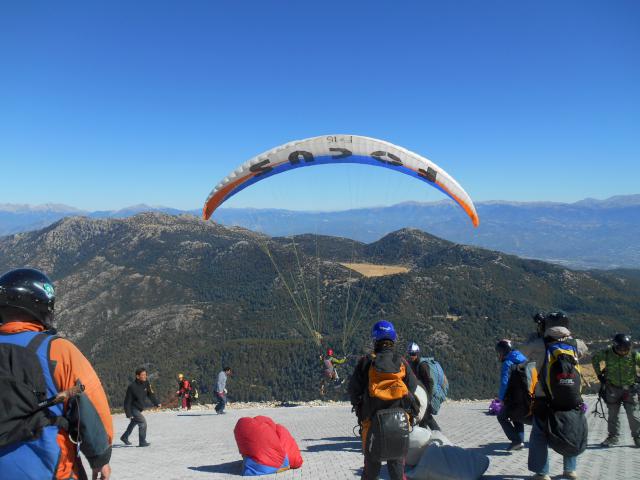 Many people getting ready, waiting their turn and quickly putting on more layers of clothes. It was quite windy and cold at the very top, but half way down it warmed up. The sun was shinning and the views were incredible.
Noel getting ready to go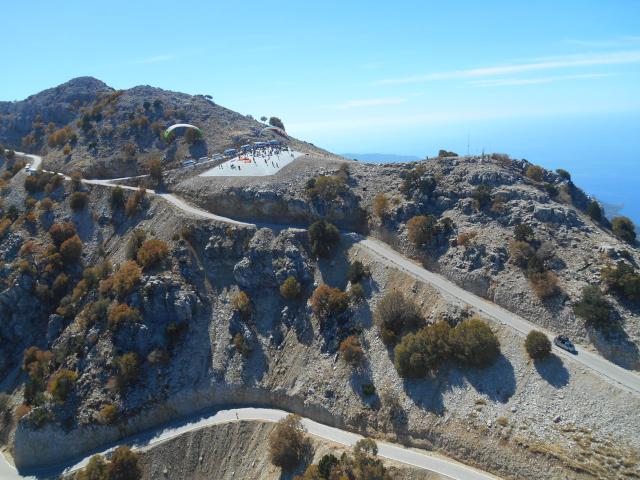 The take off was actually very easy and smooth. I was felt very confident from the start, I immediately got my camera out and started taking photos, the one above is my first one where you can see the start. It was so cool!!!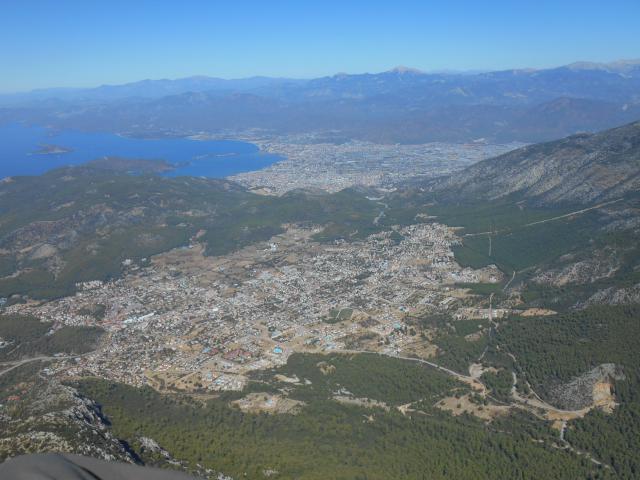 Hisaronu is an adjoining village high in the hills behind Oludiniz and surrounded by pine forests and beautiful countryside.
The town at the far end is Fethyie, where we visit 2 days prior. It is only a short bus ride away. For us also a short sail down the coast.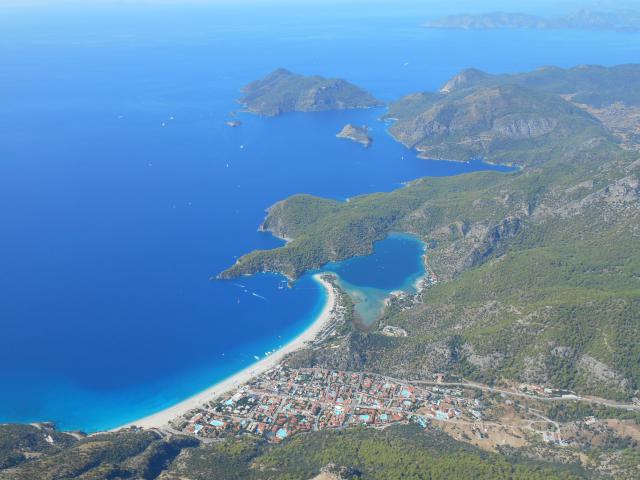 Oludiniz is one of the most photographed beaches on the Mediterranean. It has a secluded sandy bay at the entrance.The beach itself is a pebble beach. The lagoon is a national nature reserve with no dinghies with outboards allowed. Kayak came in handy.
The gray stone houses you see here is the abandoned city of Kakakoy. The ghost town.
The Greece-Turkey war 0f 1919-1923. Lots of blood shed and due to some treaty all  inhabitants of this town on the slopes were displaced. The population of about 20,000  were forcibly sent to Greece, leaving the country troubled to find housing for all.
The Turks did not want to live in the slops, they were mainly farmers and set up home down in the rich plains, leaving about 3000 homes in the slopes.
It's like an open air museum. There are still about 500 houses in ruins, and under protection of the Turkish government. In 1957 the village suffered great damage from an earthquake. It not very attractive, really, Noel and I hiked there, but it remains as very popular destination sight for tourists. Especially because is a short bus ride to Oludeniz and Fethyie, main tourist destinations.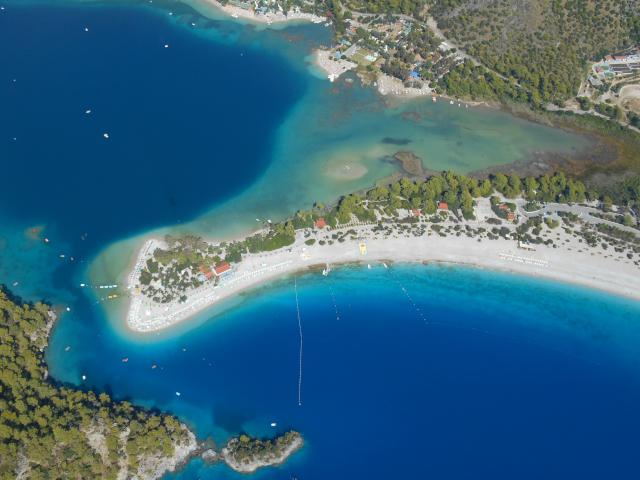 The Blue Lagoon and the surrounding resorts and hotels at the end where we kayaked.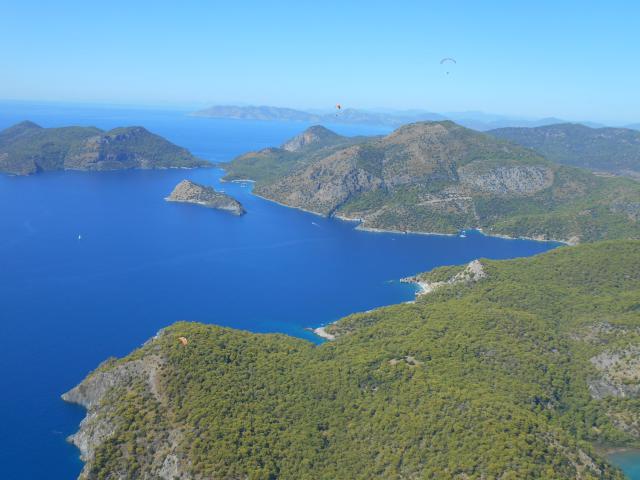 The far away island is the Greek island of Rhodes.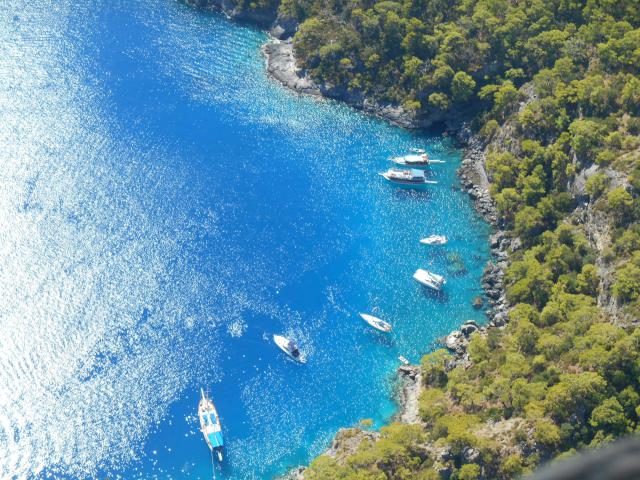 Our anchorage. Gliding above our home. Life Part 2 is the 4th boat from the bottom. The big ones are the Gulets.
I was taking photos till the last minute, and this was my last one as I was about to land. The photos bellow were taken by my pilot.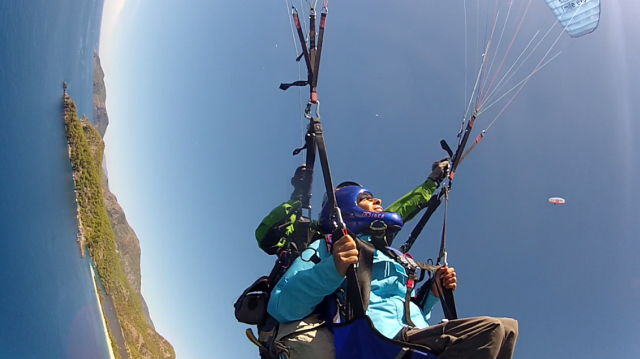 Doing some tricks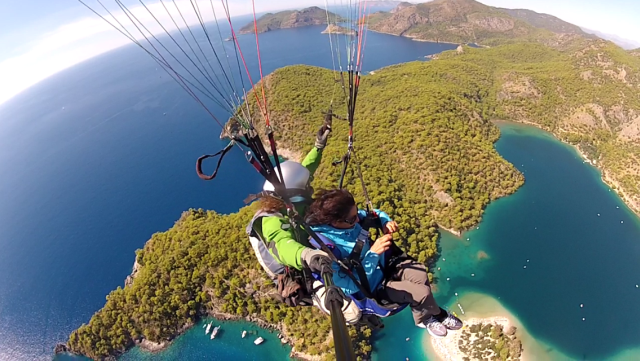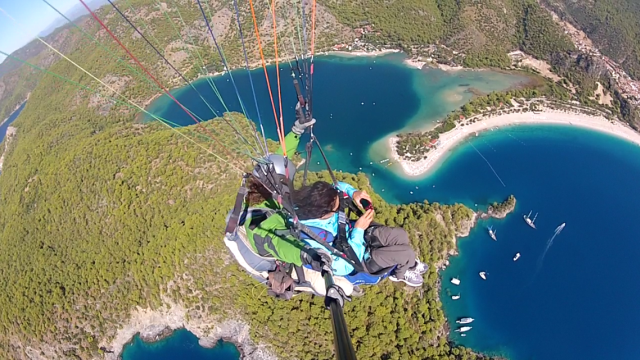 I am getting ready to take a photo of our home at anchorage bellow.
Becekiz, one of the most photographed beaches in the Med, and of course the world famous Blue Lagoon.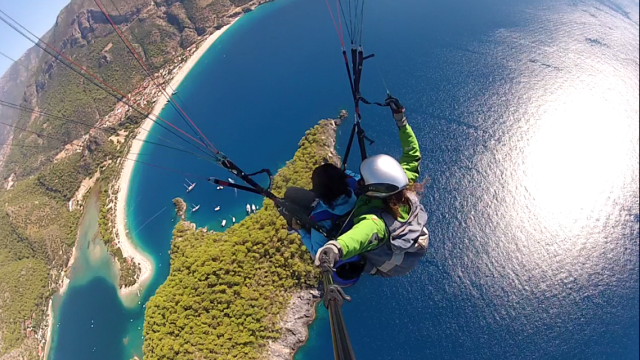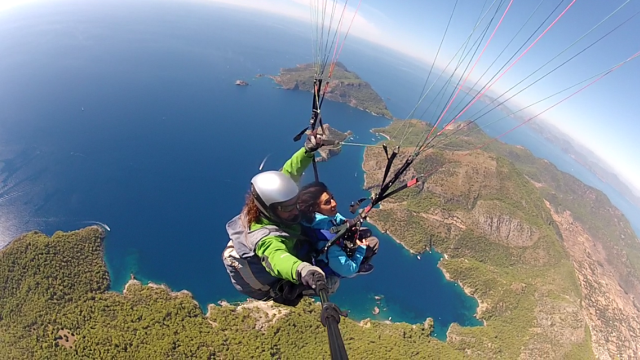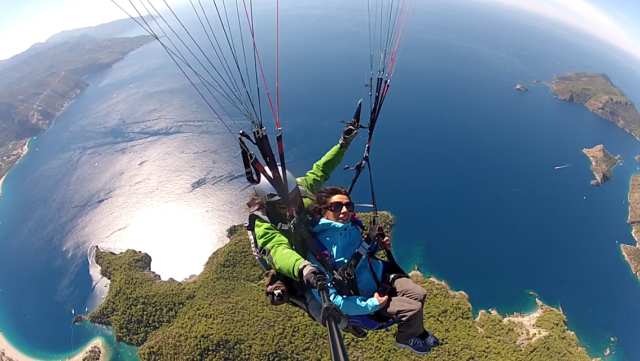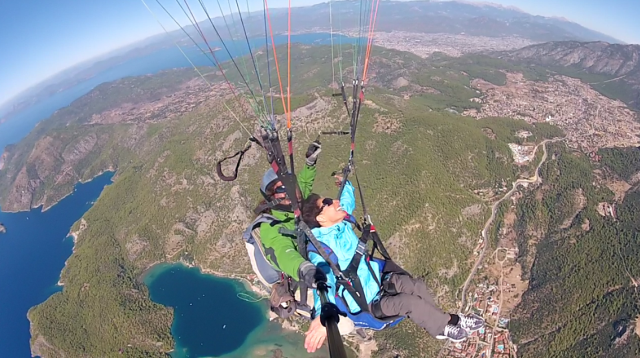 Loving every minute of it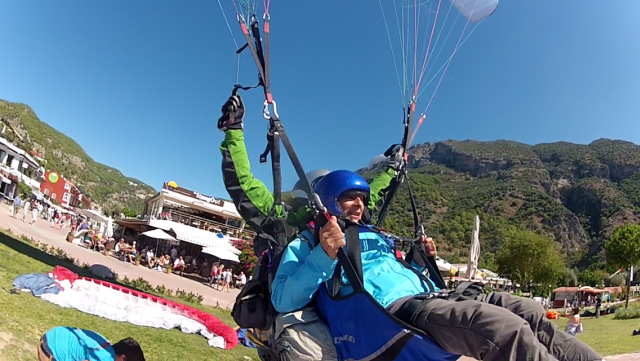 Smooth landing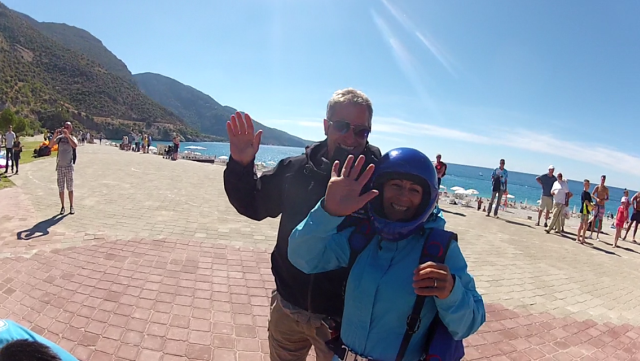 Noel awaits! He arrived before me.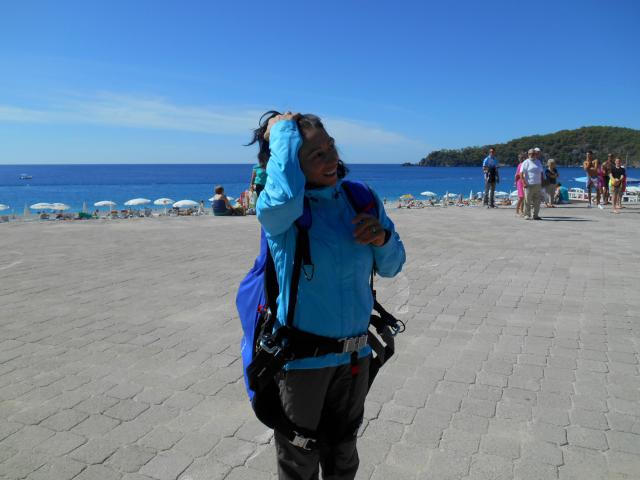 The end….Wow!!!
And that was the last adventure on this blog post!
It is sad to say our sailing season is almost over as we will be getting into the marina in Finike soon.
This post relates to Dalyan River, Turkey. Click to see map.
We left the nice town of Marmaris just before lunch on Sunday Sept 28th en route to Ekincik.
It was fun beating through the channel, tacking and dodging all the traffic in a nice breeze of 15kts.
As we came around the headland, the wind vanished and we had to motor for a couple of hours. Finally the wind filled in and we sailed nicely until 2 miles before destination as the sun was going down and we pressed on…
We anchored just past Ekincik Marina in front of a beach in 4m of nice sandy bottom, photo below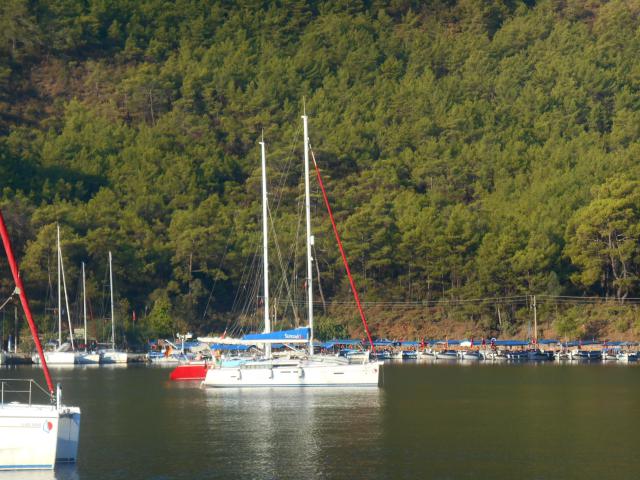 At 6 pm we were anchored here. Big bay with only other 3 or 4 boats at anchorage. Ashore there's only 1 restaurant and a market, which we tried to visit but as soon as we stepped ashore Noel got stung  under his foot by a wasp, so we turned around.
Soon after we anchored one of the boats came by to offer his services on a Dylan River tour, which we planed for the next morning.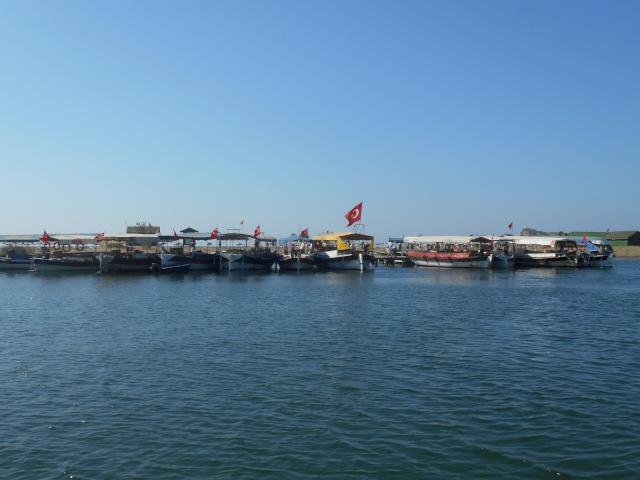 These are the excursion boats that fill up with tourists and cruise up and down the river.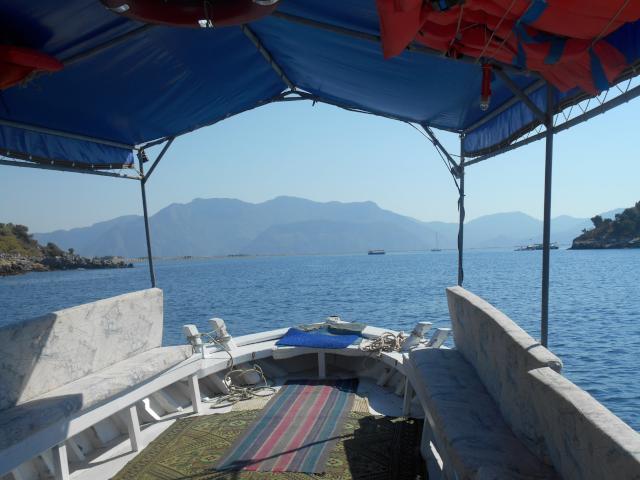 The next morning we were picked up after a very peaceful night at our anchorage with again another beautiful starry sky and another milky way.
Our ride picked us up around 10 am and back at almost sunset. He took us past the Turtle beach through a maze of reeds, beautiful scenery with ruins and soon, the Lycian tombs in site.
Many many pomegranate trees have been planted on the fertile soil along the river where they used to grow cotton before.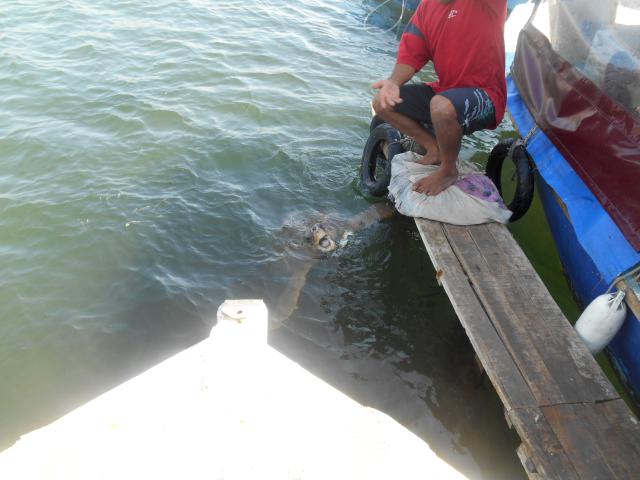 Our first stop was visiting a family on their little fishing boat where they prepare their catch of fresh crab and offer it you for 10TL. We had to say no because we had a huge breakfast just before, because we didn't know what to expect for food. We had no idea there was an actual town of Dalyan and that surprisingly was dominated by restaurants!
They feed the turtles so the tourists can have a quick glimpse at them.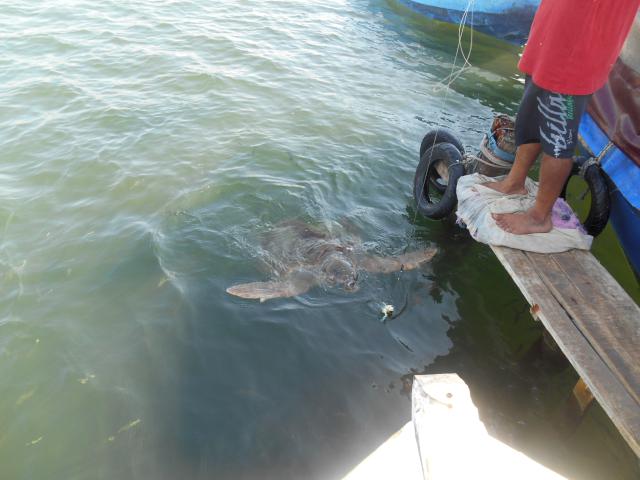 here they are fed a little crab. The turtles are actually quite big, the ones we saw were maybe 3 feet at least. The Turtle beach here, also called Iztuzu beach is a natural nesting ground for the Loggerhead turtles.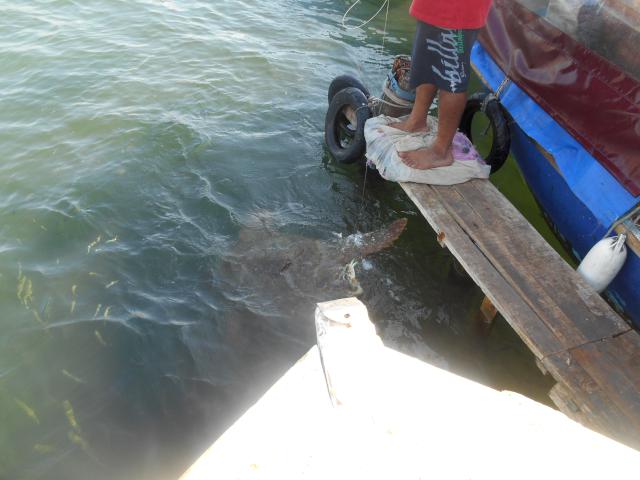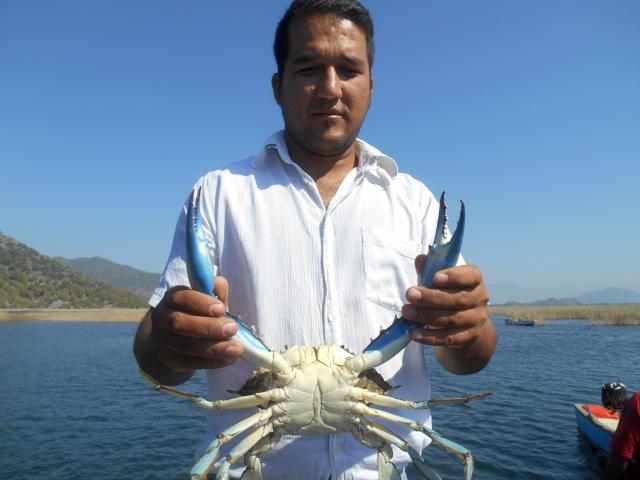 The blue crab is popular, but more popular yet in North and South America. It is unknown how the blue crab made it through the Atlantic, but gourmet chefs are happy about it. Since our encounter with them, I read that it is considered a delicacy  and a specially good catch in the Dalyan Delta. They turn red when cooked.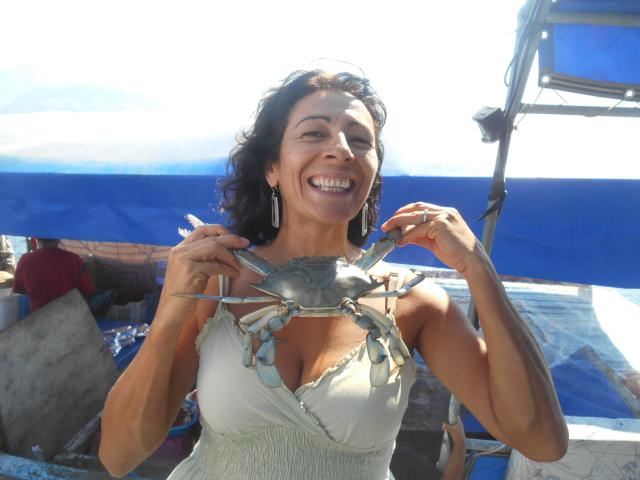 He assured me it was safe to have it as a necklace (as long as i don't wrap it around my neck)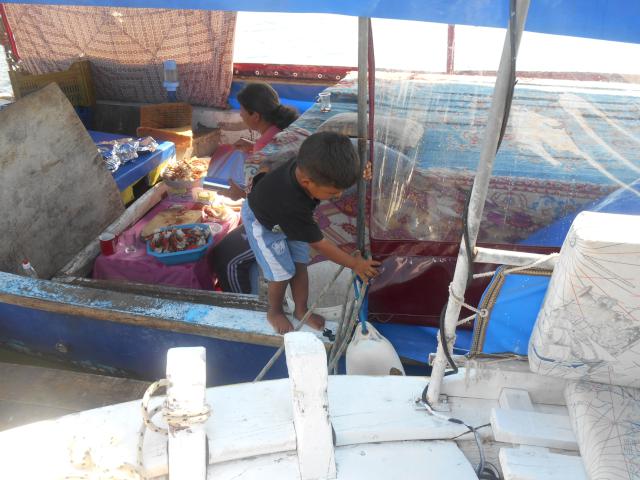 Ohh what fun it is to grow up on boats! This boy from the turtle family was not older then 2 and half or 3 and he was jumping around from boat to boat, tying and untying them. So cute! Here he is……untying our line.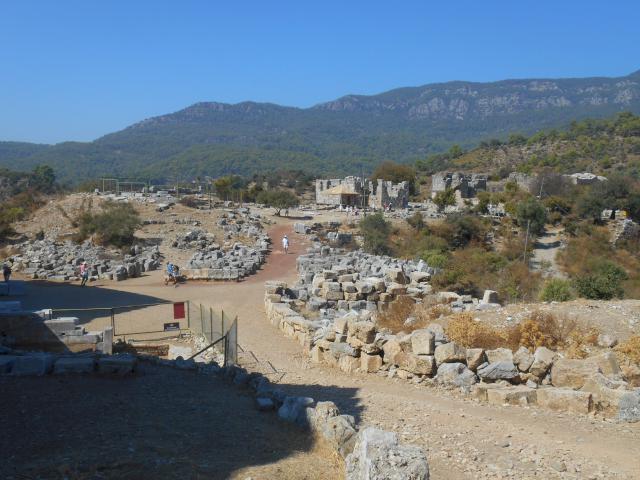 Along the river we made another stop where we went up the hill and visit the ancient trading city of Kaunos.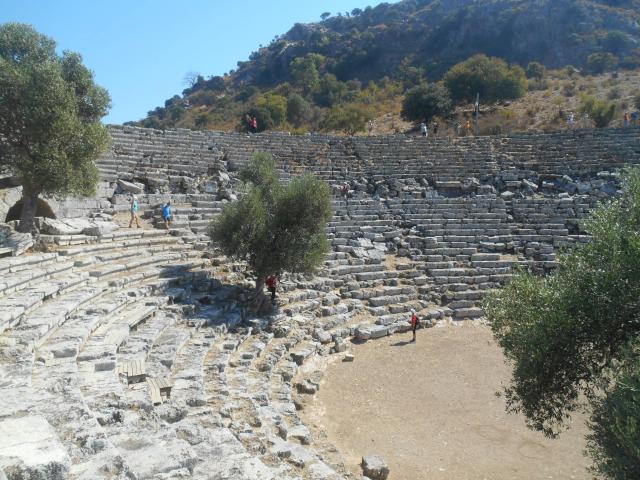 Again another theatre but not as impressive as the one in Pamukkale. The same style though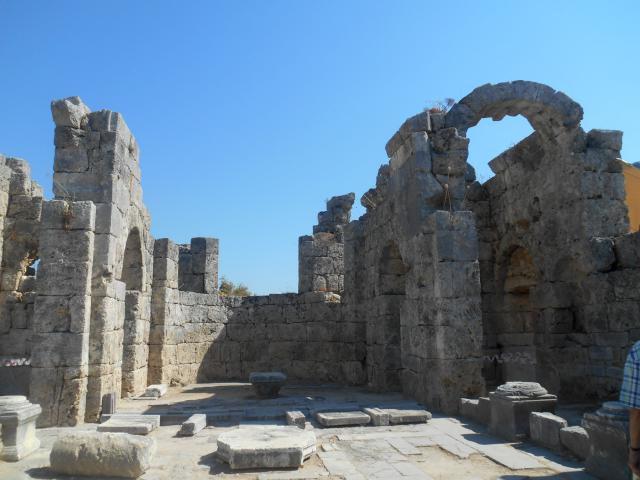 Ruins of the Church dating back to 6th century AD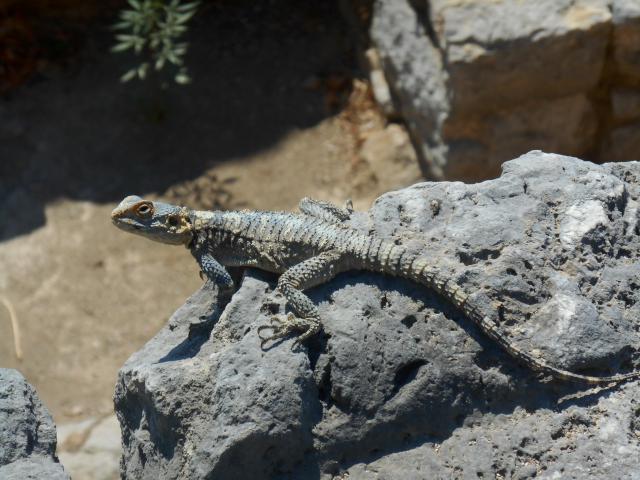 And a creature that followed us to the Church…….
Coming up from the Agora, arch at the top of the main street before you get to the Roman baths.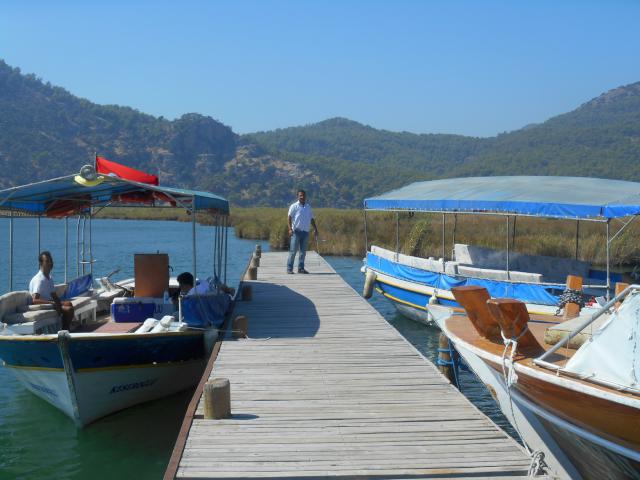 Our Captain awaits while we visited the ruins on our own. It was very pleasant walk up and around there. And nice views of the river on one side and the sea on the other.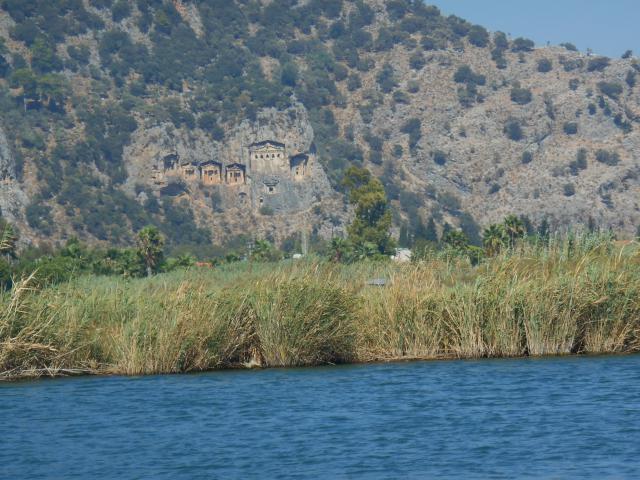 Along the river, next to the ancient city, on the cliffs and backed by wooded pine hills are façades of Lycian tombs cut from rock, circa 400 BC. This was my first photo I took as we were approaching……and wondered into the by gone ages of hard labor…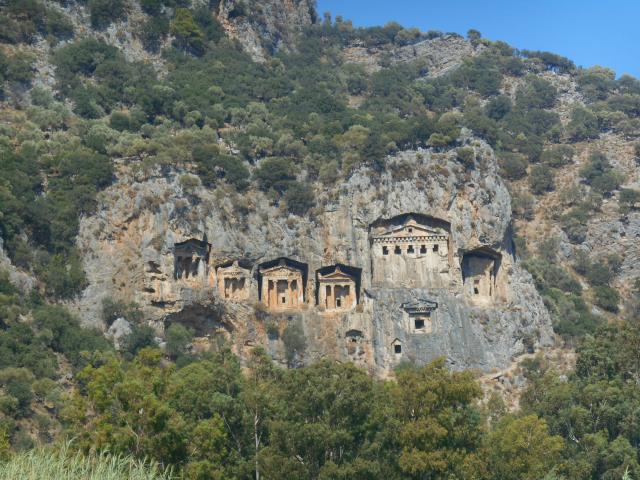 How did they manage to work in such steep cliffs???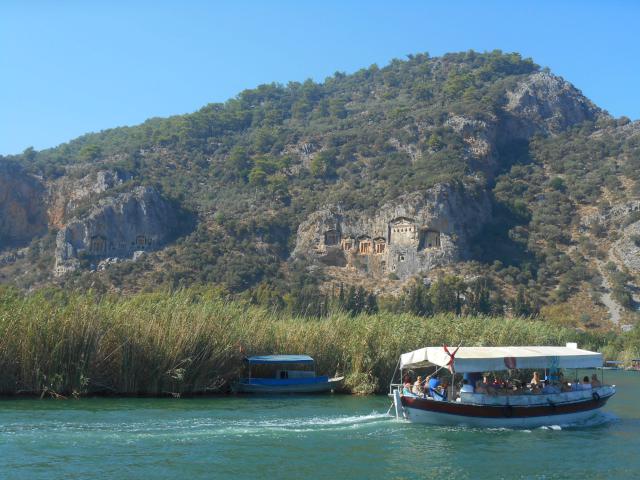 The river is busy with boats coming and going through the maze. We would certainly get lost if we adventured on our own with the Kayak or dinghy. I guess one could always follow the boats there, but many shallows and murky waters.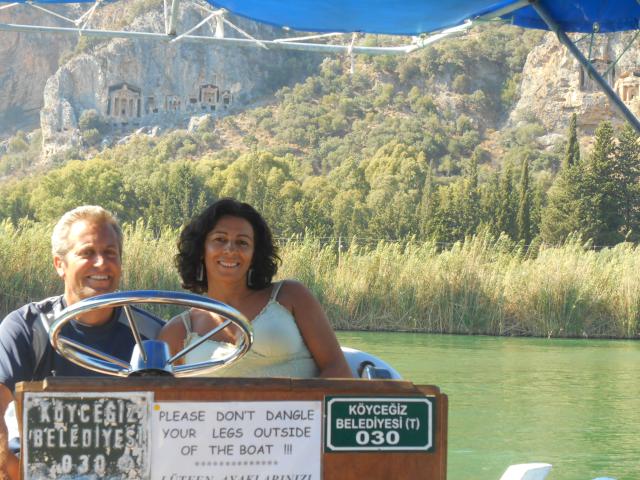 Our captain/photographer after many tries to produce a photo of the 2 of us with the Lycian tombs in the backround…. the boat kept on turning the wrong direction, he couldn't get the tombs in the picture!……soo funny!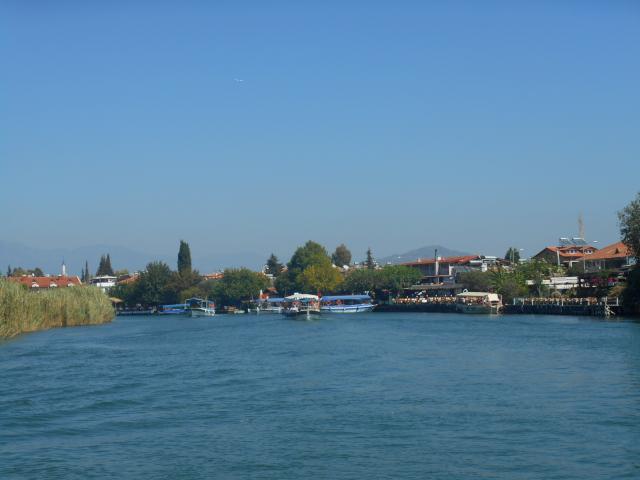 Entering Dalyan town. Lined with Restaurants and excursion boats along the walls.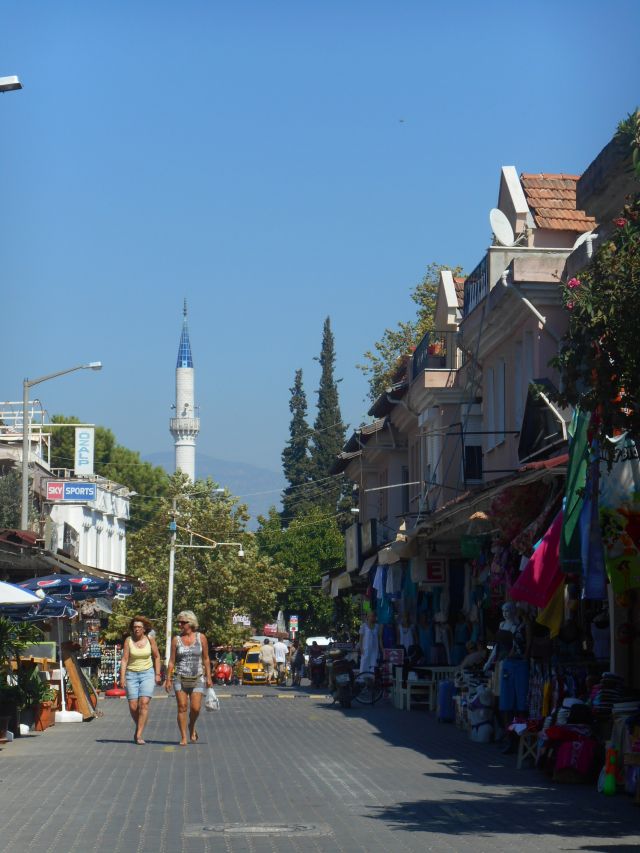 The town was small and charming. The river front was full of colorful excursion boats and backed by beautiful restaurants adorned with many flowers and decorations to suit every mood and with the view of the tombs on the cliffs across.
Main street had lots of shopping, square surrounded by more restaurants, bank, bank machines and Post office. Many B&B and cosy rentals everywhere. It is Tourist Ville.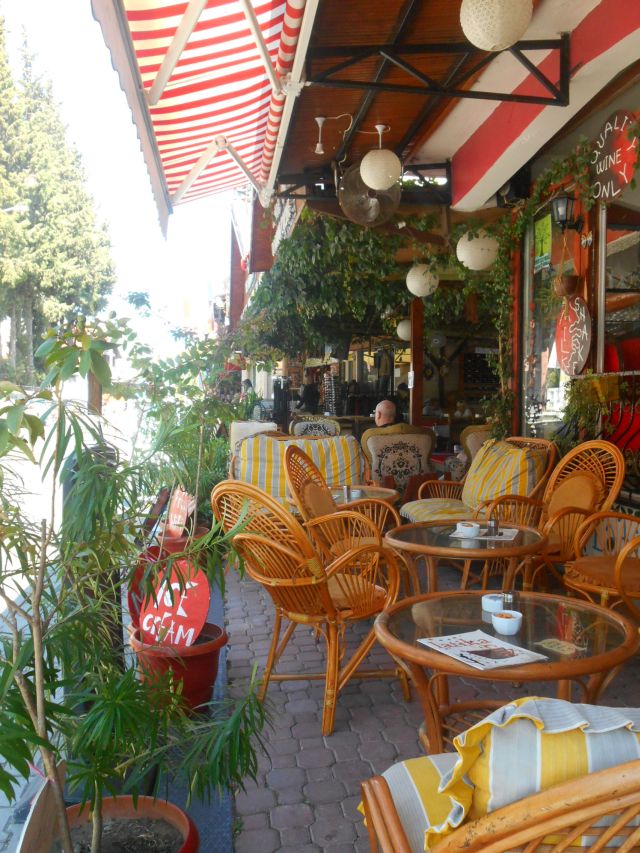 We went ashore enjoyed a wonderful lunch and …ice cream!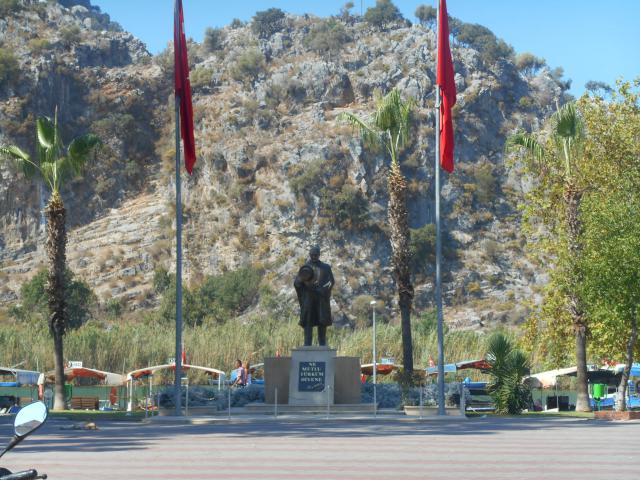 There is not one town we have been in, doesn't matter how little the town it is, that does not have a big statue of Ataturk. And the amount and the size of their Turkish flags everywhere, puts us Canadians and Americans to shame…seriously. They are very proud people!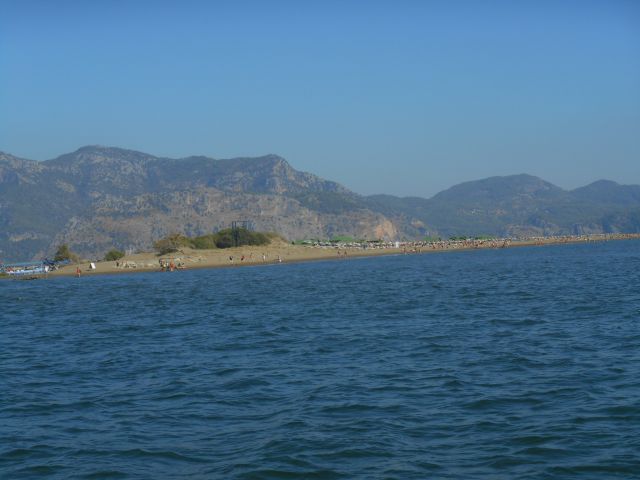 This is the famous Turtle beach also called Iztuzu beach.
It is a 4km long narrow spit of land, between the fresh water delta of the Dalyan river and the Med. Behind is the river, and this is the sea side, it is where the river meets.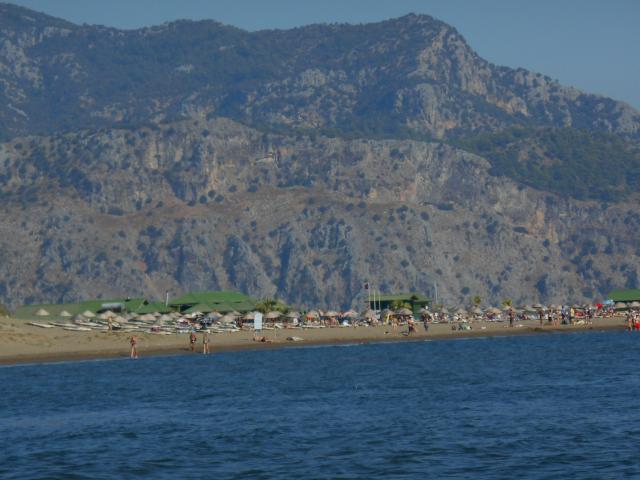 Iztuzu Beach is one of the prime nesting habitats of the loggerhead turtle in the Mediterranean. The government are monitoring and protecting them and have some strict rules:
The beach is closed between 8pm and 8am during the period that the turtles lay their eggs and hatch-lings go out to sea (May to October)
Vehicles and animals are not allowed to enter the beach.
They have marked nesting zones where parasols and sunbeds are forbidden. Not allowed to lie down on towels or to dig holes.
Speedboats are banned within a 1-mile zone from the beach and in the Dalyan delta and river.
Besides all this, in 2008 was the best beach in the category Best Open Space in Europe by the Times because of the eco-friendly exploitation of the beach.
And in 2011 Dalyan and Iztuzu Beach were proclaimed Best Beach Destination by a Dutch holiday assessment website.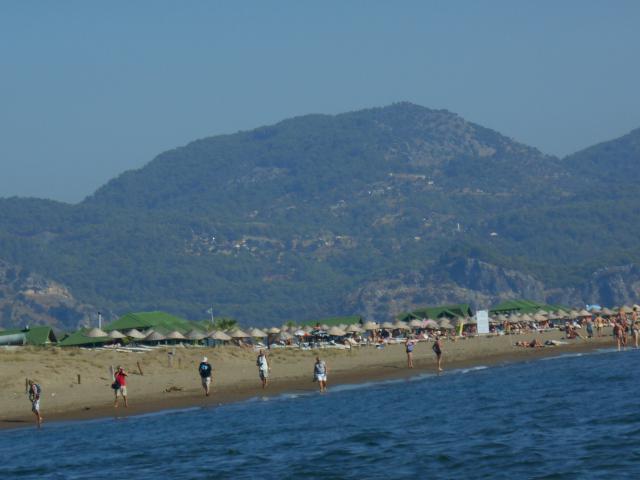 Due to all this hype the beach is usually packed. Lucky for us, it is low season, so we could still see sand. To enter the beach they charge you about $2,50 but we have been in nicer beaches that are free. We didn't find it to be that special. We passed by twice, took some photos and said No to a swim stop there since we had a private tour, just the 2 of us, we had that option.
We are on the way home, to LifePart2. It was a great day out.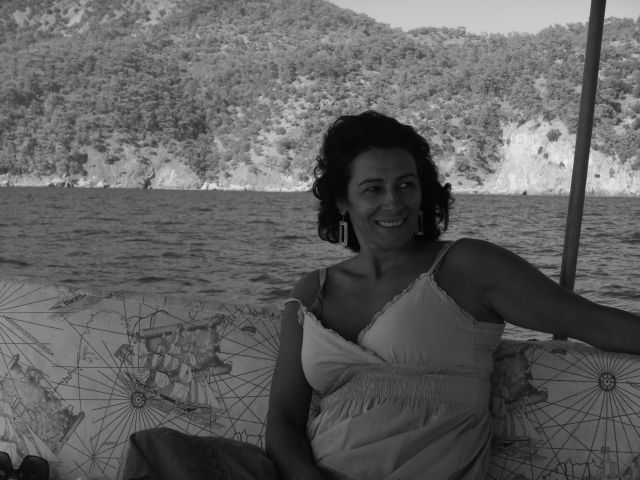 Surprisingly Noel decided to play with the camera. Noel does not take photos, or most important: remind me to take the camera along. Very few occasions I did forget it at home. Just like 2 days ago in the nice town of Kas…..but I made sure I went back the next day with the camera in hand. (and charged up battery. lol)
Where will I take you next????
Hmmm….maybe a sunken city where there are sarcophagus popping out of the turquoise waters of this beautiful spot in the Turkish coast.
This morning I even got up much earlier than usual to watch the sun rise over this magical place.
Happy Thanksgiving to everyone.
This post relates to Marmaris, Turkey. Click to see map.
We were leaving the ancient town of Knidos on our last post. Well, we have since traveled a few more miles and visited more beautiful places.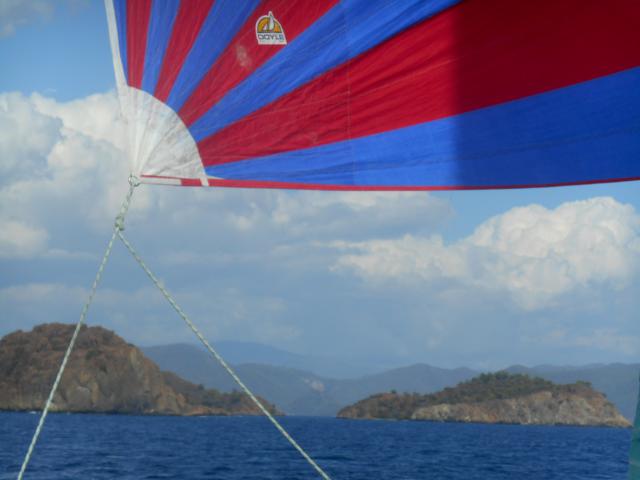 We left Knidos on very light winds but perfect weather for the spinnaker. It was a short sail to our next anchorage, which took us to the little town of Palamut, bellow.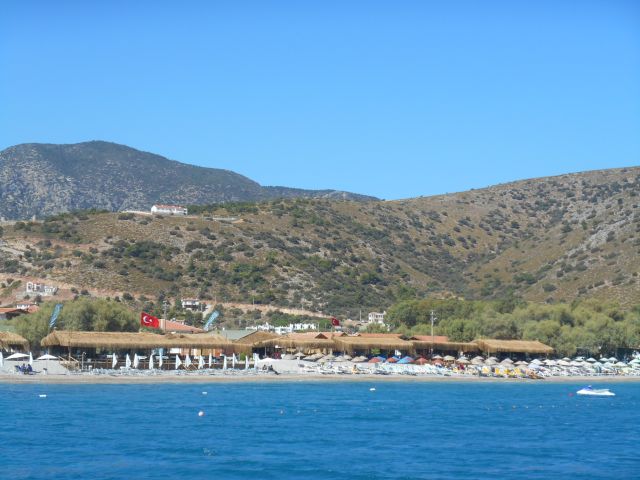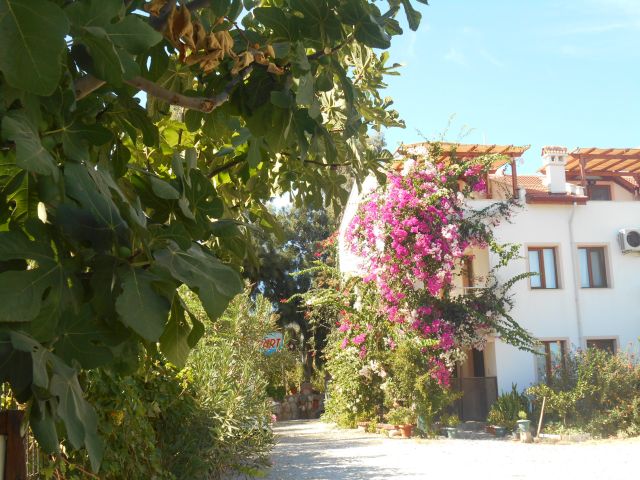 The village was small, but charming with a nice waterfront street lined with restaurants and a market, a harbour and pebble beaches.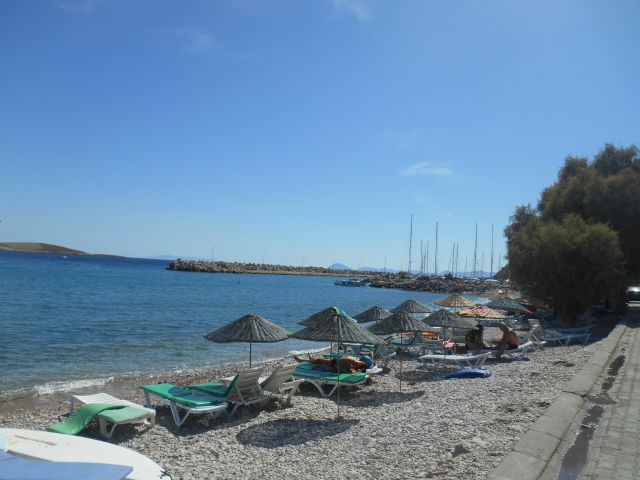 We anchored right in front of this pebble beach in 3m sandy bottom.
We kayaked ashore and visited for a couple of hours, bought some fruit and vegetables and then sailed along another short distance.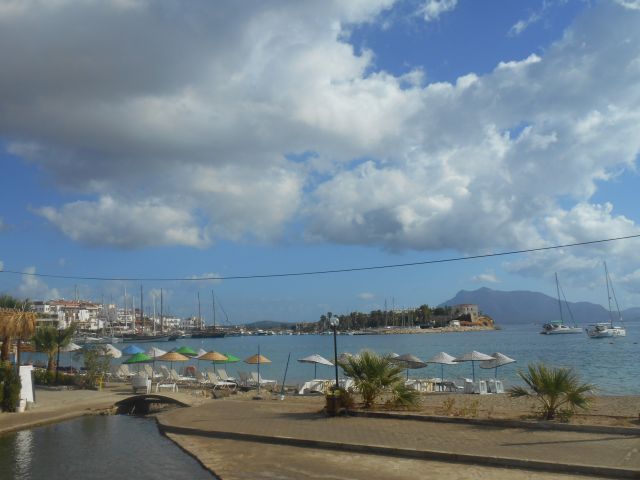 A short sail later we arrived in the much bigger and very touristic town of Datca. A popular resort.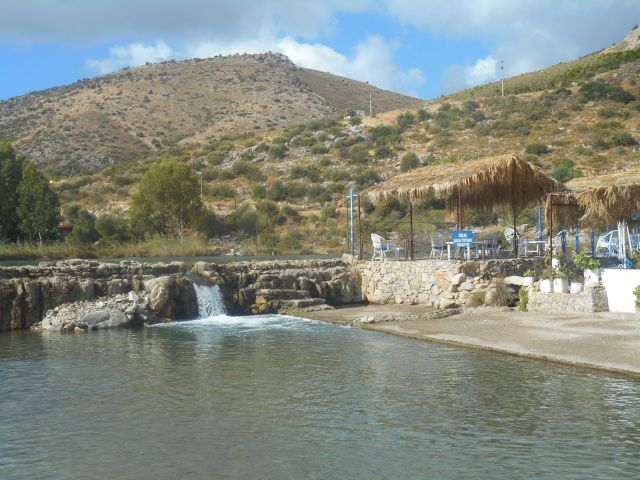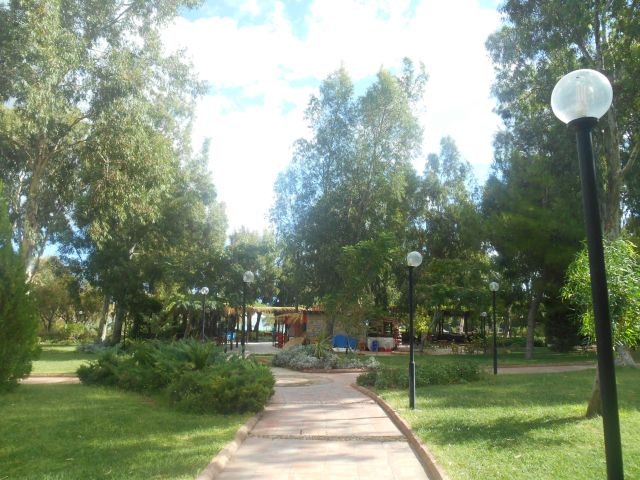 We stayed here a couple of days and not only did we enjoy the town, but behind the beach there was this little lake with a nice water fall and a beautiful park where we enjoyed a nice walk through the shade trees and many flowers.
We had read that this town is famous for their almonds. We did buy almost a kilo of them, they are tasty but expected to have some nice almond desserts or pastries…..
One evening Noel and I were strolling through town and went almost from door to door asking if they served anything with their famous almonds! No one had anything "we don't want to see your touristic menu…..we want your traditional stuff." So we settled in this cute little cafe by the water, where we were greeted in perfect English and she said she makes the best apple strudel. Was it ever good!!!! with real pastry! Noel was happy to have Austrian dessert (or is it German??) in Turkey. That's ok…we get plenty Turkish delight!
The next morning we set off on a 17 nm voyage to Marti Marina. We needed to pump our black water and it was also a beautiful spot to visit. Marti Marina is brand new with nice gardens and a water fall. The bay just outside is shallow enough to just anchor and enjoy the scenery. And it's also a short bus ride to Marmaris where you can do all your big shopping.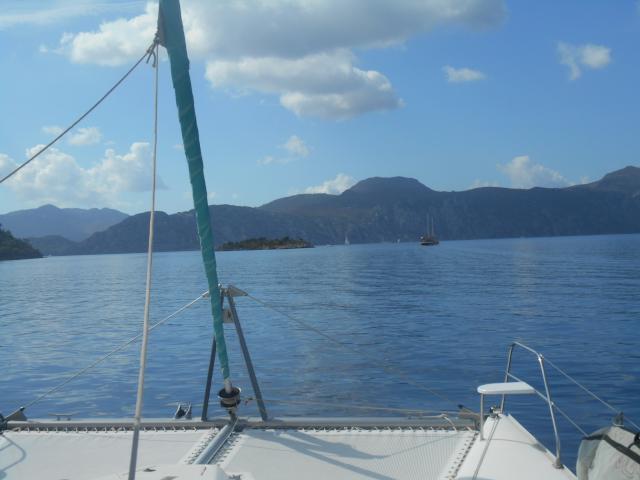 Arriving at Marti Marina.
The pump out went well, it was free of charge. Wow!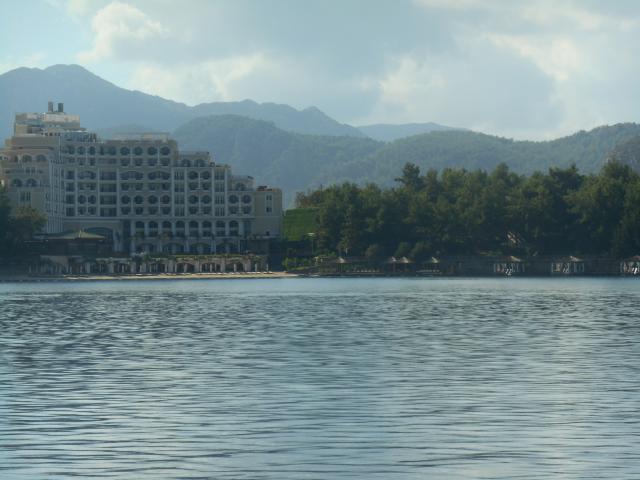 Just before getting into the Marina, there was a big beautiful resort, and the area was very busy with sail boats. Around here, Noel says it's like sailing in the Solent in the UK.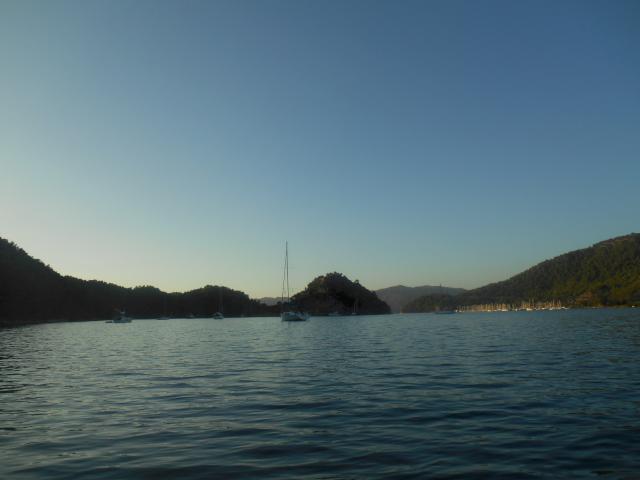 I took this photo from our anchorage just outside the Marina. At the end is the harbour in the town of Orhaniye.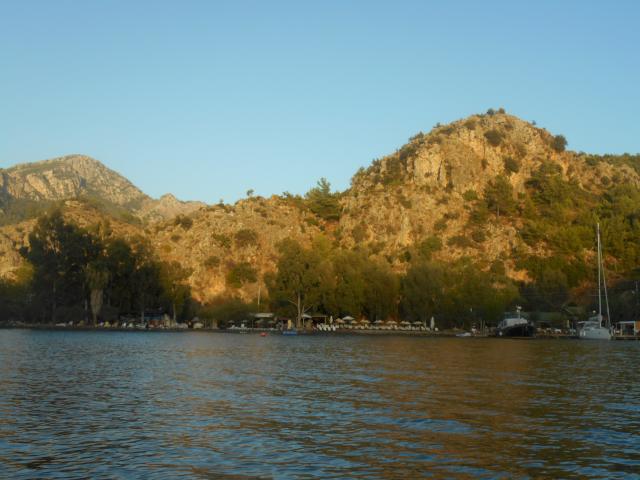 We were anchored just in front of this little resort and restaurants.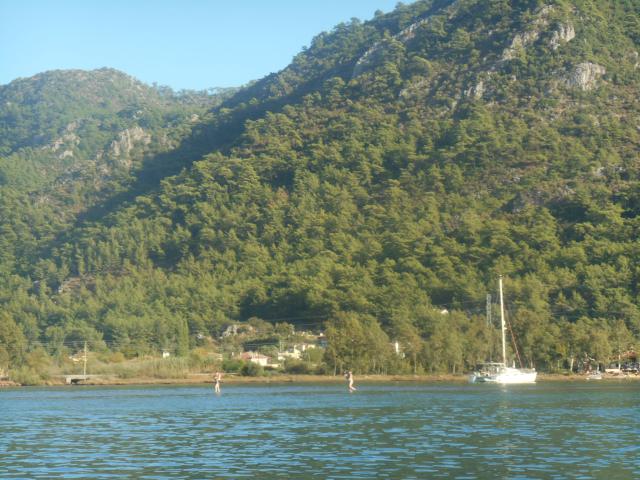 We took the dinghy around to the harbour in Orhaniye and visited the tiny village. just near the harbour there is a sandy bar water up to your ankles, gives the illusion of walking on the sea……..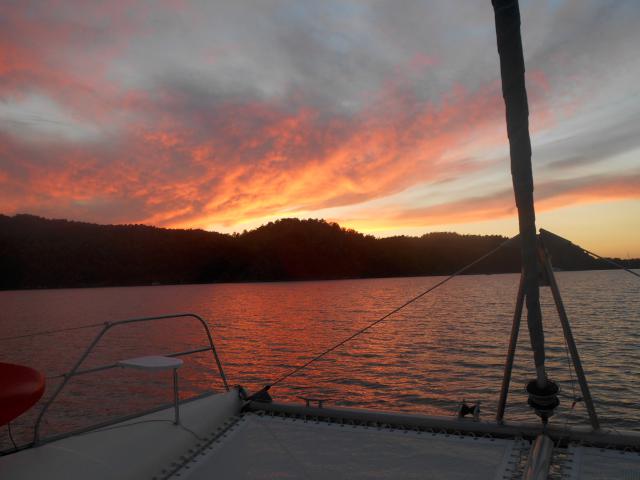 We came home to a beautiful sunset and red sky. On the Swiss boat next door a lady was busy also taking photos and gave me her thumbs up!!! Another great day, counting the blessings!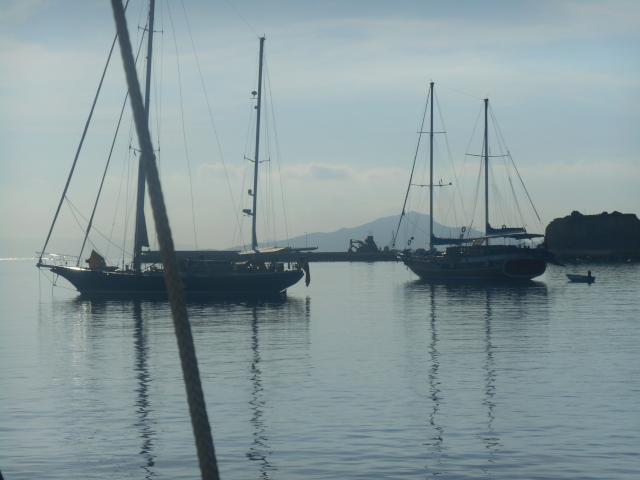 Just a fun photo as we were getting into the bay, Marti Marina.
The next day we picked up the bus just above the Marina on a short ride to Marmaris. This time we had to figure out our internet that had quit on us. On this trip we met John and Jill from England who were staying in the same anchorage as us. Upon returning from town we had a drink with them on their boat, Petronella.
Morning after we motored around to the town of Selimiye, not far, less than 2hrs.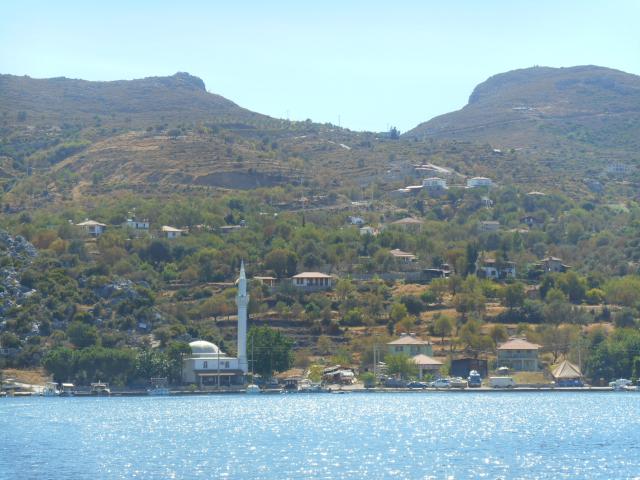 Selimiye. We anchored right in front of this Mosque, with lines ashore.
We are getting better at this Med mooring business. Especially now that we bought new LONG lines – 65m – so that I don't have to tie 3 or 4 together sometimes in hurry when you realize AGAIN this one is not long enough!!! To my surprise( or I shouldn't have been surprised..lol) I was still busy with the lines and found myself jumping with the loud sound of the prayers. Memo to self- don't dock right in front of a Mosque – especially on Friday! We were only there for a short visit we didn't care for that noise, we were out and about!
We left the boat at the Mosque and we were off to visit this romantic village. The fishing village is very authentic. There are no big Resorts and ugly developments. There is a lot of accommodation in boutique hotels and traditional houses, all with beautiful views and romantic gardens with bougainvilleas, banana and almond trees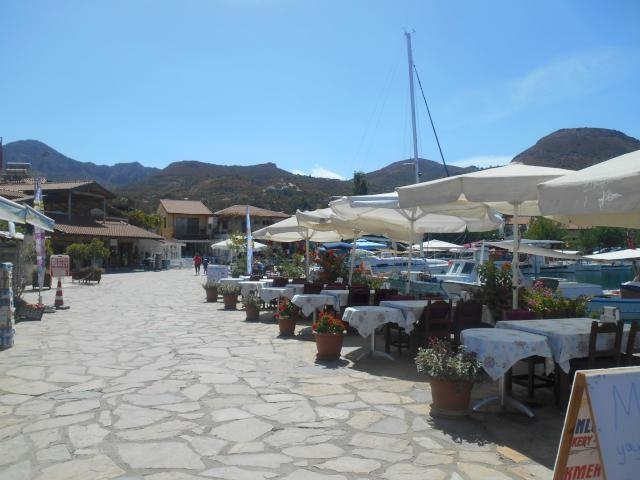 A stroll in the waterfront, so many beautiful romantic gardens and restaurants, and small intimate pebble beaches so I didn't want to intrude on people by taking their photos on the beach, and many sunbeds covering the decks that have been extended above the water belonging from the bungalows along the seafront. It was sure a really charming village!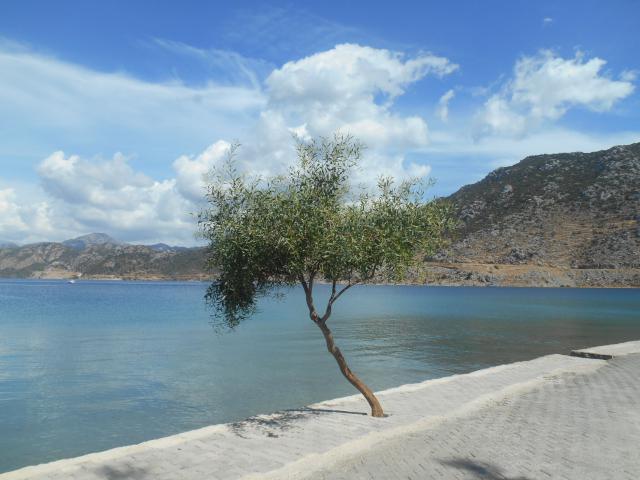 And then at the other end of the bay, one can still find peacefulness.
About 3pm we got back to lifepart2 picked up the lines and the anchor and were off to another anchorage.
We motored against the wind, it was a short distance of 5 or 6 miles again to Desirek. In about an hour we arrived in this bay with very deep waters, like most of them are, around here!
As we come into the bay we had a nice guy on a dinghy selling ice cream and chips, who offered to take our lines ashore. Ahhh…it is so much easier when you have a third person. He takes a line ashore while Noel is at the helm and I am at the front making sure the anchor is holding and enough rode is out. It is always hard to judge distances. That was quick. Of course, we then had to buy an ice cream from the nice man!
Time to enjoy a cocktail surrounded by the most clear water ever, cliffs, and the sounds of the bells from the goats around. A nice swim first though, the water is so inviting!!!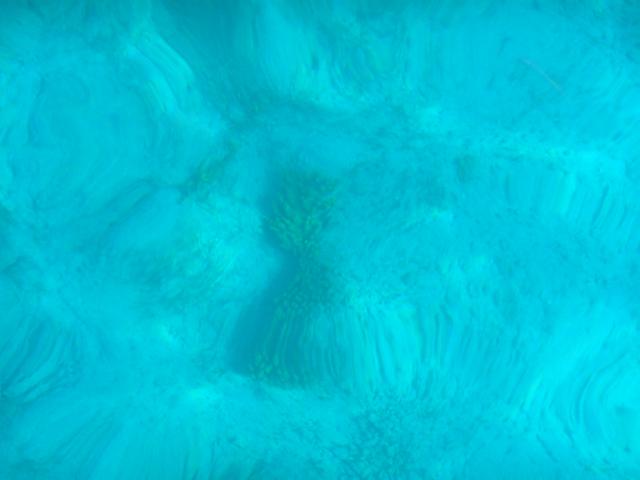 This was right behind our boat. The waters were so clear…you could see the sponges clearly from the cockpit. Depth here is about 2-3m.
We only stayed here 1 night. It was a big beautiful bay, with a restaurant ashore. The next day we moved on…
This time to the big town of Bozborun, bellow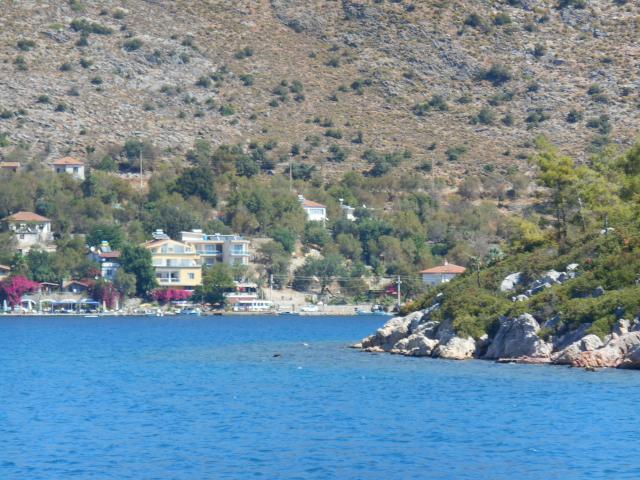 Just coming in towards the harbour in Bozburun. We had a great sail here, 16kts wind on a run with jib only and we just glided through. Arrived in this nice anchorage by lunch time. No need to tie to anywhere. Just dropped anchor in 3m, a swim and Lunch
It's a very attractive town in the midst of high mountains with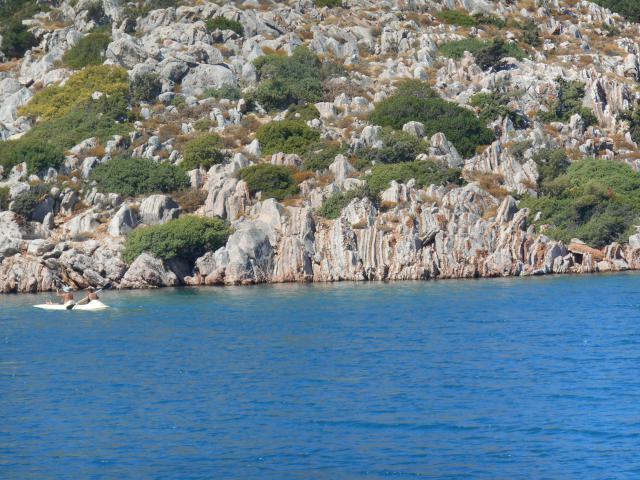 beautiful waters and cliffs, just entering the bay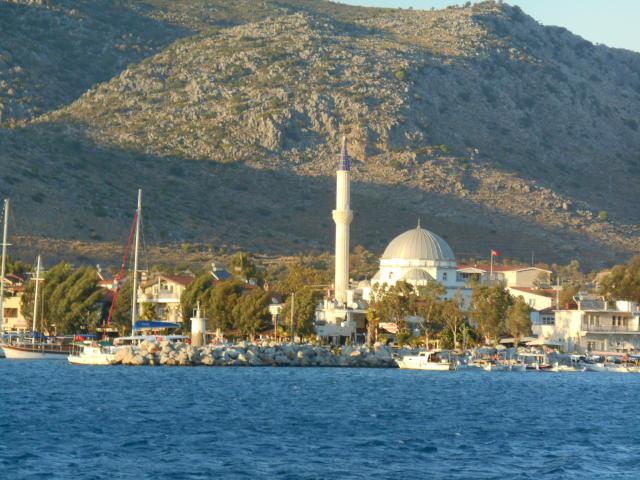 Bozburun town harbour. Bozburun is very well known for boat building. It is just outside of here that gullets are made. We did not visit the place but saw the warehouses as we sailed along the coast near the shore.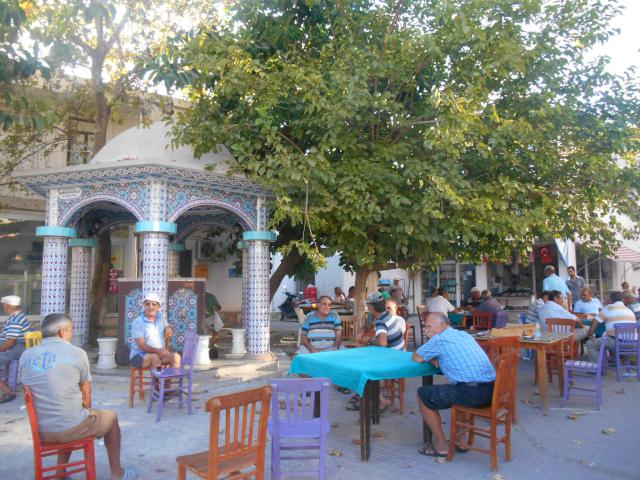 We stayed here in Bozburun for a couple of days and really enjoyed it. When you leave the the waterfront into the village is when you get to see the village. The men love to gather….I almost thought I was in Greece, except for the Mosque across the street and the music….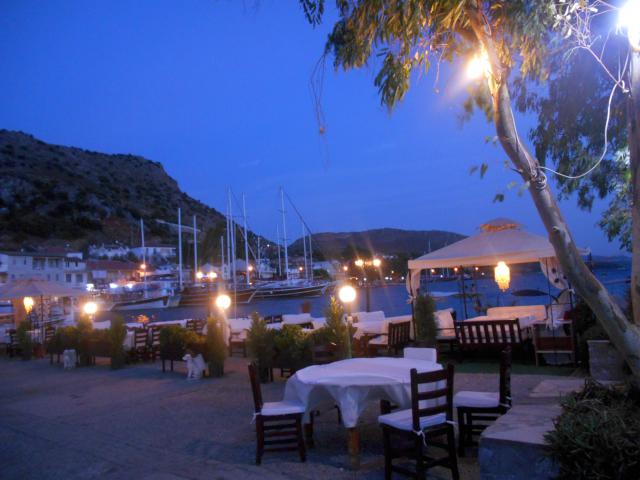 The waterfront was lined with many restaurants and shops. Walking along here we spotted a Canadian flag on the other side of the harbour. We met Jaque from Montreal and Hilda from Ontario on their sail boat. They had just arrived from the neighbour Greek island of Symi.
They invited us in for a glass of wine and always a good chat about all our sailing adventures and "Oh, the place you'll go!!!" ( and the ones not to go!)
2 days later we left our anchorage moving down the coast as we are making our way towards Marmaris where in a few days our Turkish Residence Permit should be ready for pick up.
Our next stop is in Bozzukkale, below.
We left at about 10:30 sailing very slowly with with barely any wind (Noel is allergic to motoring). There was no rush and we were expecting the wind to come in. One hour later the wind came, we had 16-18kts, jib up only, till we had to go around the headland and then hoisted the mainsail as well, Noel loves to keep in shape!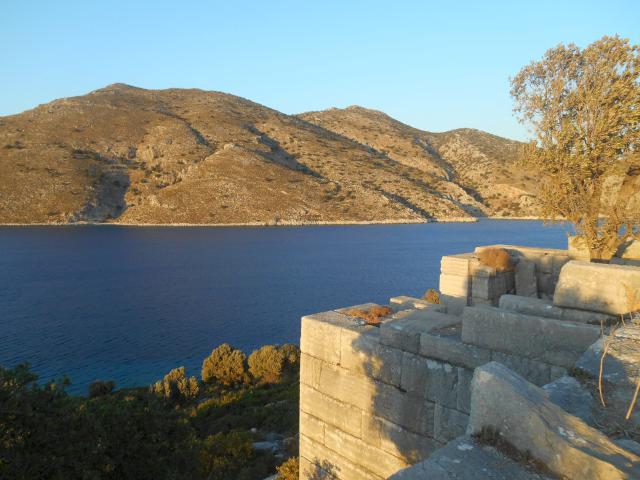 This is Bozzukkale. In Turkish means "ruined castle". Beautiful bay surrounded by these castle walls. Very calm waters inside. Very peaceful. As the popular thing here is the restaurants offer you free mooring on their peer in exchange for you to eat at their place. There were only 2 restaurants there. The piers were noisy with music and people having fun. It is amazing how busy still is with many charter boats out as well.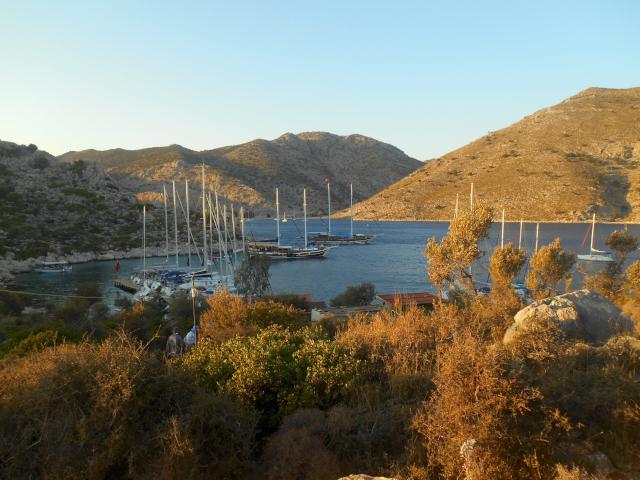 We walked up to the castle walls just before sunset. Lots of people walking around enjoying the nice views and lots of photos, mostly English and German speaking. You can see all the boats lined up in front of the restaurant. Our anchorage was just on the left. To the left of that small boat you can see afar.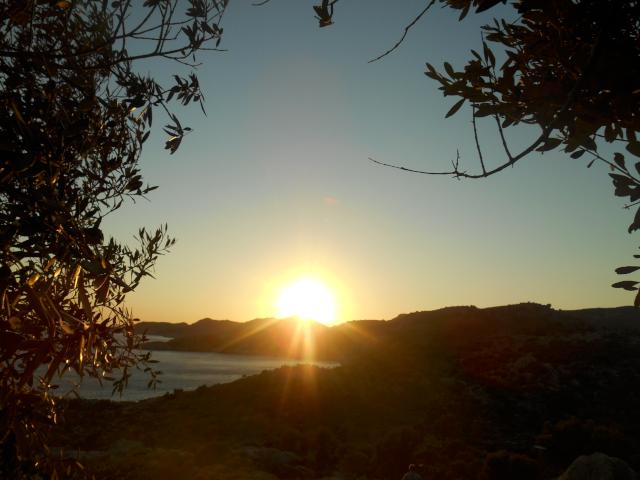 Another sunset……from the hills of the ruined castle.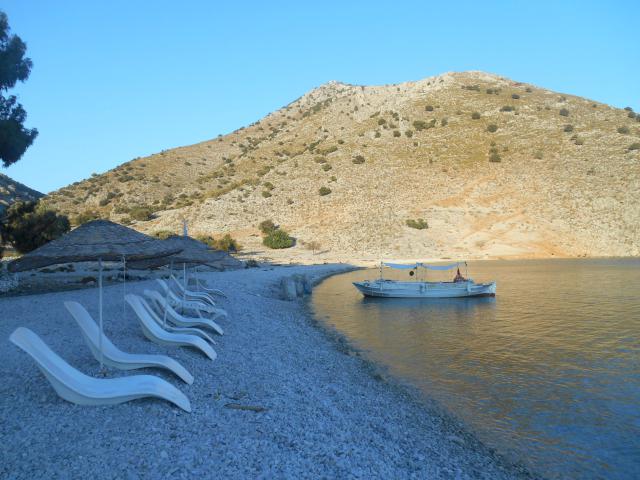 After sunset we were happy to return to our anchorage. Here is our beautiful backyard we choose anytime over being tied up along the town quay which is usually pretty too, but either too noisy from the town or from the neighbors and no privacy.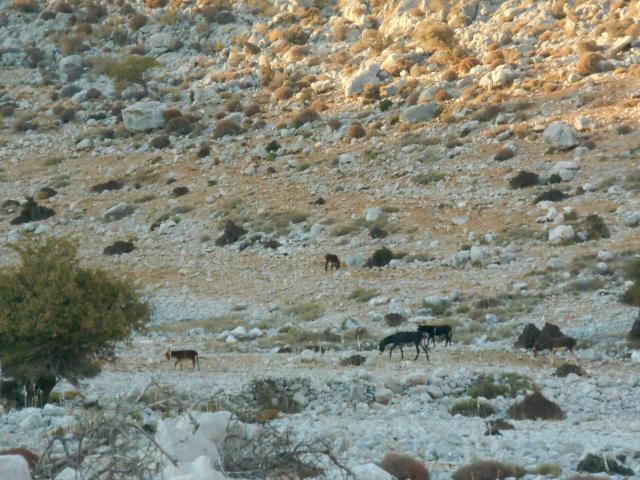 Behind the little pebble beach and up to the hills there many donkeys, very friendly, just walking along…..
We loved our backyard!
The next day we left to another anchorage, Gerbeske: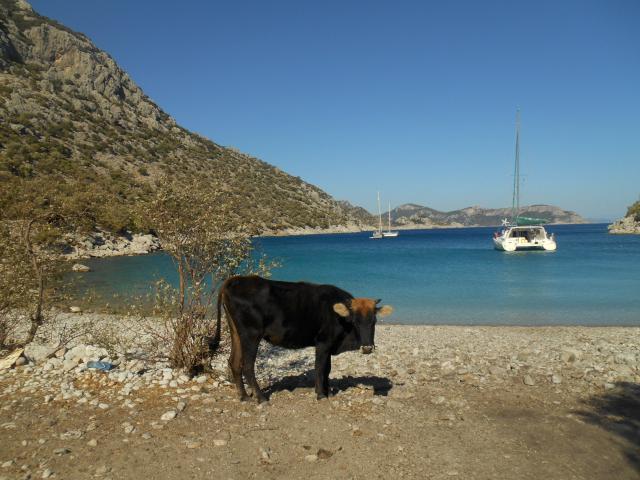 This bay is a very narrow spit with deep waters so unless you are the only boat there perhaps you can just anchor in the middle otherwise you have to take your lines ashore as we did.
The beauty of this little anchorage and the walk ashore through the Byzantine ruins and the cows and the donkey, it sure makes it worth while a stop there. This cow above, was so friendly, she actually was following us around. Funny hairstyle though.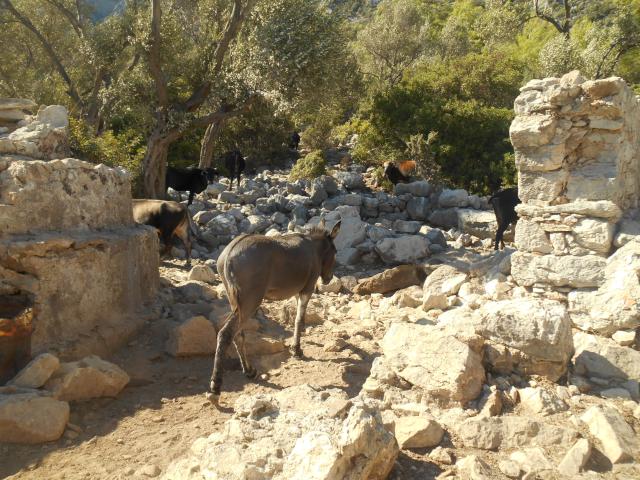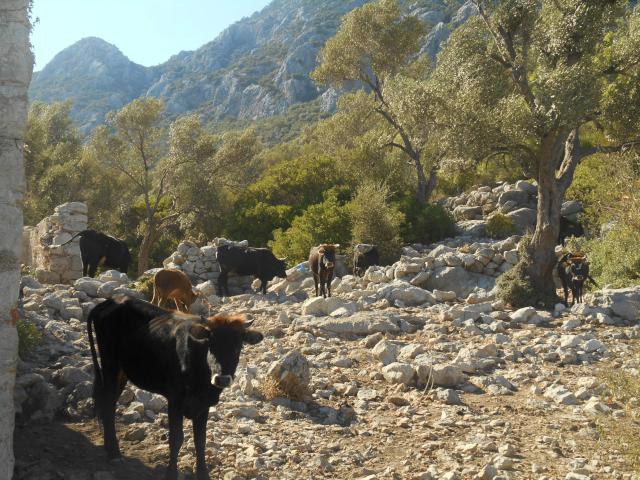 It felt like you were out in a countryside.
The bay was really busy with gullets full of tourists coming from near by Marmaris. They come up the coast and this is one of their stops for a half hour swim, take a walk around and leave, then next one would come along, traffic jam…..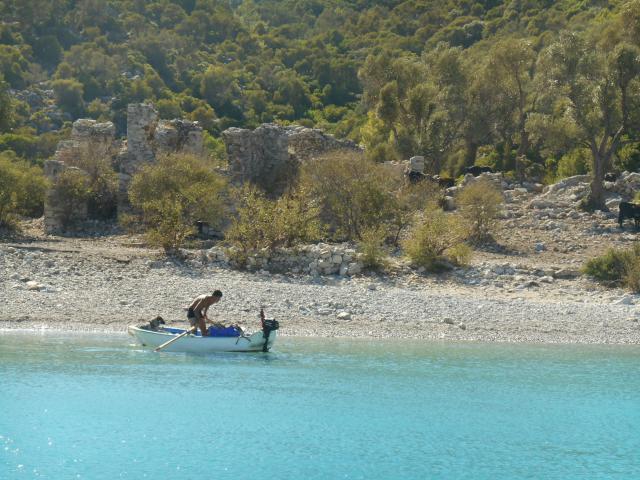 By 4pm we and another 2 boats had the bay to ourselves. Even this young man above, left from his tent where he was selling some honey. When we were coming around the headland just before this bay, we saw just ahead of us on AIS this boat who we had previously had contact with last year in Greece.
We called them on the radio and sure enough it was the same people, Phil and Allison on Bagheera. We asked where they were headed and they said they were going to the same bay as us for the night.
Ok…drinks later at Lifepart2. We made plans for after dinner for drinks and a game of crib.
They anchored in the middle of the narrow bay and we went ahead close to the beach and on our starboard, a rocky shore and many olive trees.
At 7:30 Phil came around and said he didn't feel all that secure, maybe he was not holding well. The wind was still howling. Perhaps we should come over to his place instead.
At around 8:15 we came over with a bottle of wine and let the fun begin. Forget the drinking and the game of crib, the game of anchoring is way more fun:
We sat at the table and they poured us drinks. Within 2 minutes their anchor alarm goes beep!
Phil was very quick to come out and next I heard was "we're on the cat" . We were the only catamaran there! We all jumped after him too, with me spilling Noel's beer all over the carpet, which I managed to clean pretty quick after assessing the situation outside. Our boats wanted to do some bonding….
Both our dinghies were tied up on that side so they acted as pretty good fenders. No problem.
We offered to go to our place to get extra lines and help him re-anchor and take lines ashore. It was also really dark at this time. When we got to our boat we realized that we were in trouble too. The wind  was doing crazy things in crazy directions…we were really close to the rocks, so we no longer returned to his boat to help him re-anchor, as we were busy putting out different lines ashore.
A few minutes later, they waved and said they were going somewhere else. Be in touch. Unfortunately a young couple on a charter boat came in late that afternoon and anchored really close to him, so they didn't have much space to play with. It was good that Bagheera left otherwise they would hit in the middle of the night.
Noel and I spent more than 1 hour tying different lines ashore and making adjustments. In the midst of it all, the wind had come back to the previous direction and died down by midnight. Even during all that excitement I couldn't help noticing the beautiful sky covered in stars, including the milky way. At 10:30 all was calm, pitch black out and Noel grabbed a cup of tea and sat on the trampoline and watched the nice starry sky. We knew we were going to the big town of Marmaris, no sky like this there!!! It was after all a peaceful and beautiful night, we woke up to the cows mooing, just like being out in the countryside.
After breakfast, we set off to Marmaris.
We came out of the bay with jib up only. Not much wind but just enough to get us to the short destination of less than 1 hour away.
As we came around the headland Bagheera called us on the radio to come in for coffee, they were just on the next bay. We were happy to hear they found a quiet place so close by, at night. We anchored near them and went over for coffee. They too had had a quiet night after their late-night repositioning.
Next stop was at nearby Kumlubuku Yacht Club for lunch. We saw it in the Bay Express magazine showing off this nice restaurant with a very good Chinese Chef that does dishes very unusual to this area.
Restaurant bellow:
LifePart2 is at the dock there, while we enjoyed some really good yummy Chinese with good service and amazing views. It was sure nice having something different than aubergine again! To our fellow sailors, if you are in the area, as many of you probably are because they are wintering at the same Marina as us, check this restaurant out. Aren't we all tired of aubergine yet???? Do they serve anything here without it?
In Turkey they call it, "Slow Food", which means you eat the products where they are grown, caught or slaughtered. The vegetables grow behind the house, the lamb and the cows up in the hills and the fish from the sea.
They only sell what' s in Season.. It's nice and I love to eat what I grow too, but please grow different things, so we can eat more of a variety and re seed and re grow your crops more often, because in these temperatures you could have everything all year round.
What's for dinner tonight? Ratatouille…got to use up those eggplants, oh sorry! some people only knows them as aubergines!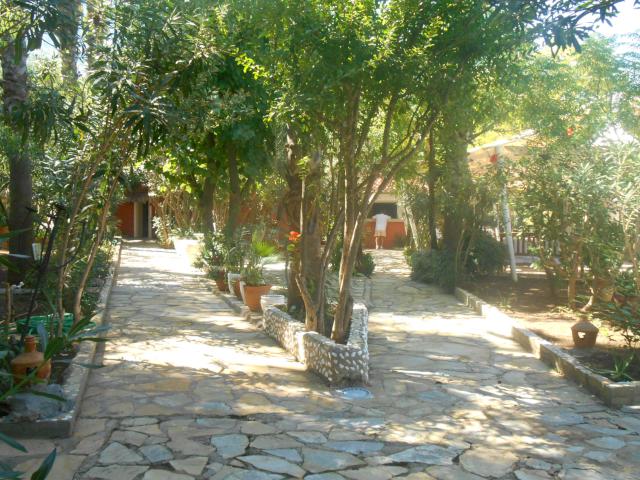 The gardens getting leading you to the restaurant and the bar, bellow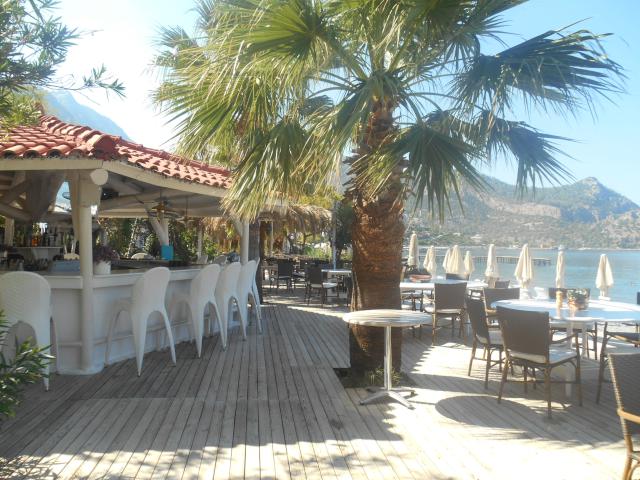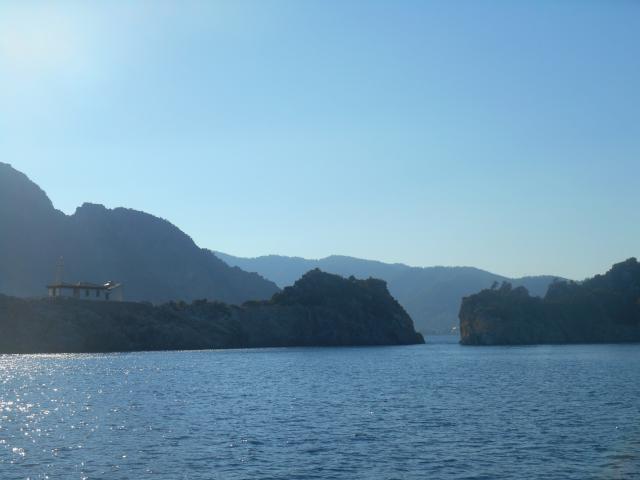 Just before the bay of Marmaris. Town of Icmeler in the other side of this little island. Just before the bay of Marmaris.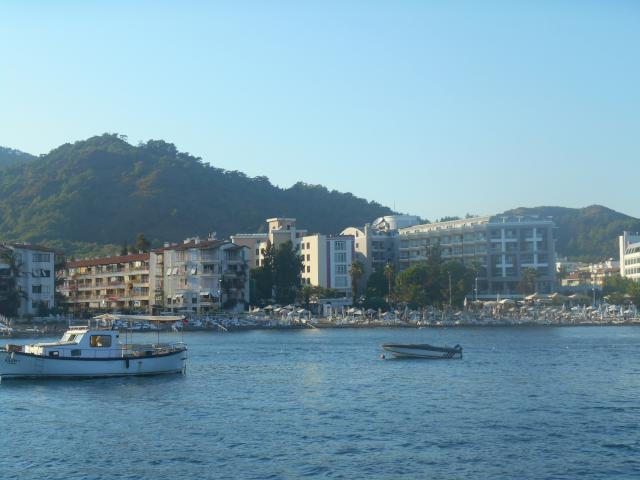 We arrived in Marmaris just before sunset. We anchored in front of this beach after trying further up with no luck, much weeds. So went a bit further towards the waterfront. Great spot, 2 minute dinghy ride to a pontoon and we are downtown with all the action, and yet is quiet at night. Lucky us, all the loud music was happening further down by the Marina.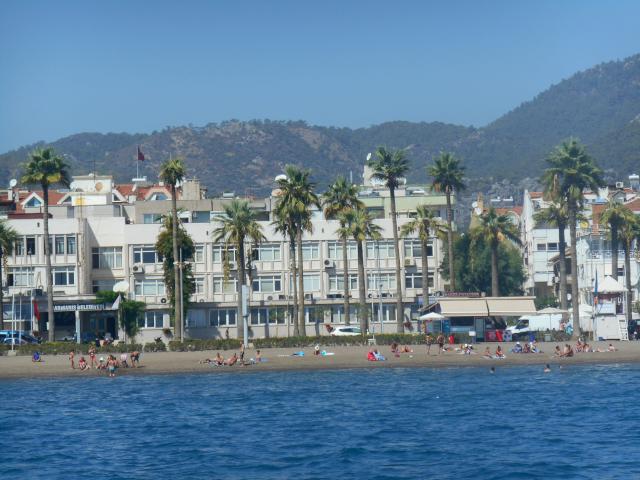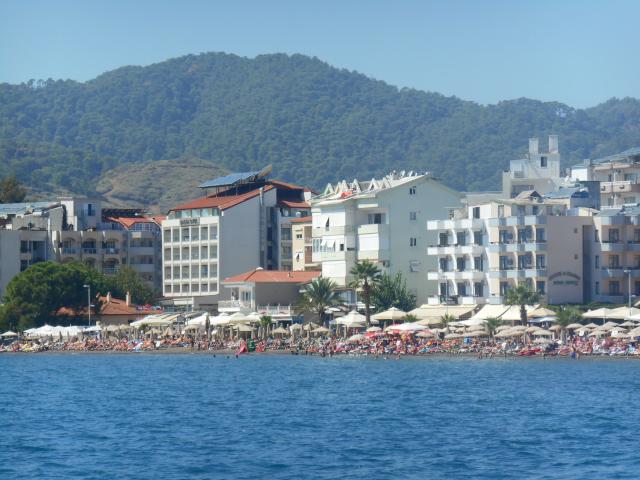 We were surprised how busy the beaches and the town is around here even at this time of the year.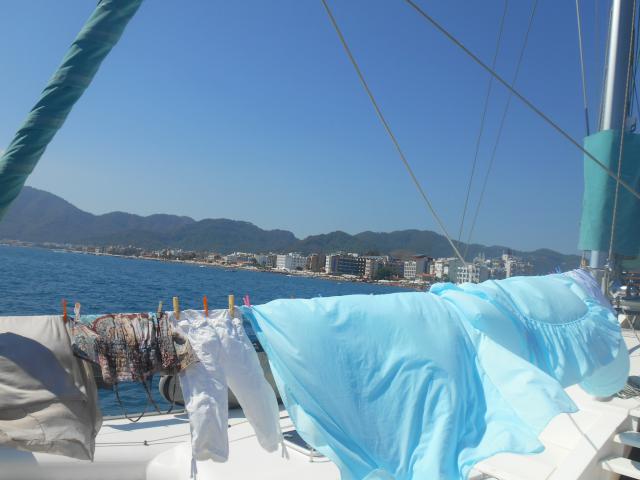 And for us it's a day at the beach too, but maintenance and chores must be done! I wash my laundry right outside and hang it on the line….Noel is replacing a hose pipe, the gullets pass by take photos of us…and we take photos of them too!!
The next day we were happy to pick up our Resident Permit that was ready and we also booked a trip inland from the info booths that line the streets selling you their inland and boat cruises. We took advantage of another English breakfast with "proper" bacon for 6TL, we couldn't believe it was only 3 dollars, but we added freshly orange juice that costs same amount. Further on we stopped at a pharmacy to buy dental floss which they did not have at a big supermarket, and the dental floss cost 6 dollars, twice as much as breakfast. Go figure!!!!
We headed back to the boat, the next day we had to be ready for pick up at 6:40 for a bus tour to Pamukkale.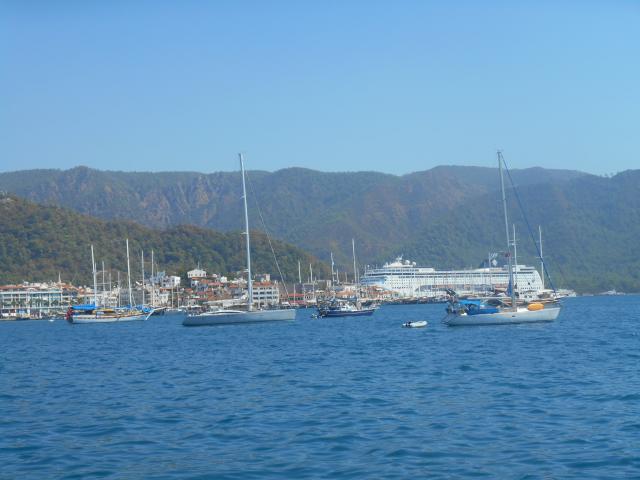 At the end of the Netsel Marina is the Cruise Ship Terminal. It is a very busy bay. Every about 2 or 3 minutes there are gullets going by to their daily cruises around here. Caves, nice coves and beaches, restaurants and the scenery.
Many people still choose to have their holiday later. Why not? Weather is still great, water is still warm at 27 degrees or so. I can't even imagine how busy it must be July and August. Marmaris is a town of about 30,000 people, but in the summer population is up to 250,000. Can you imagine?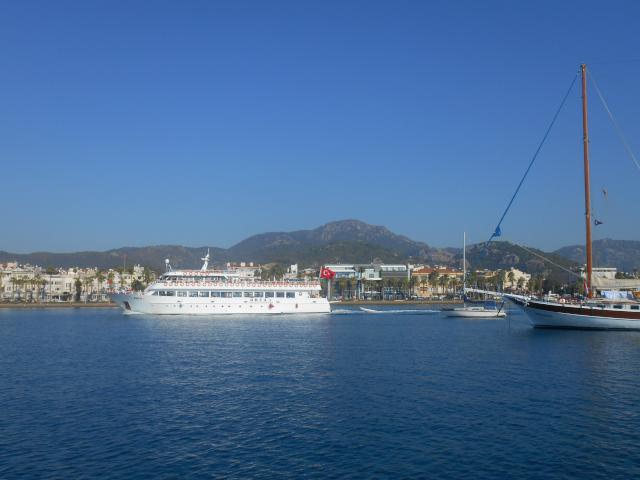 The busy bay of Marmaris. We were anchored just before these boats.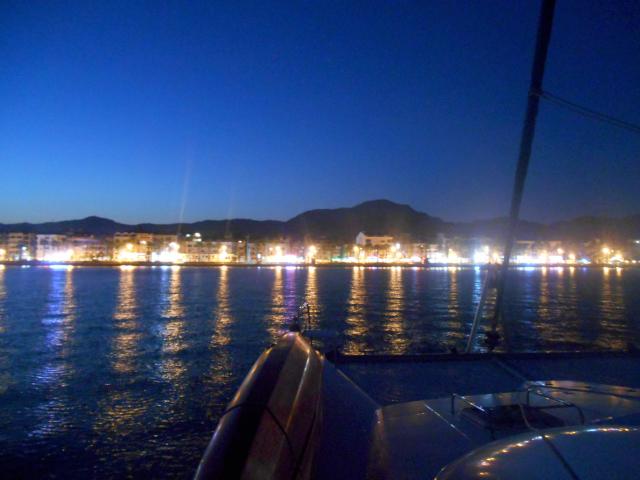 At night the city lights are amazing!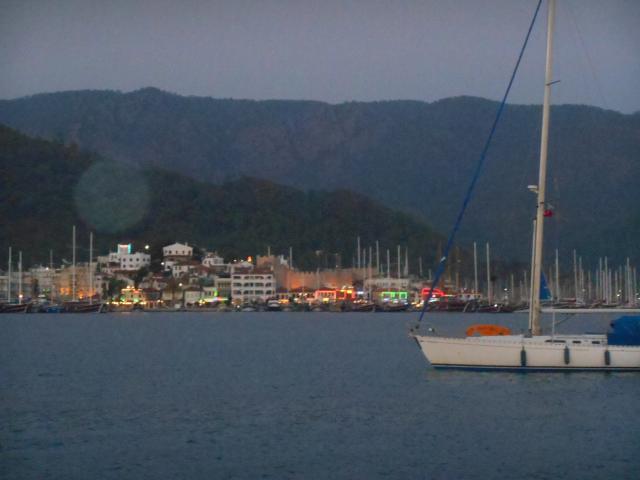 They love their red and green lights here! They have them everywhere and it just makes us think of Christmas at home!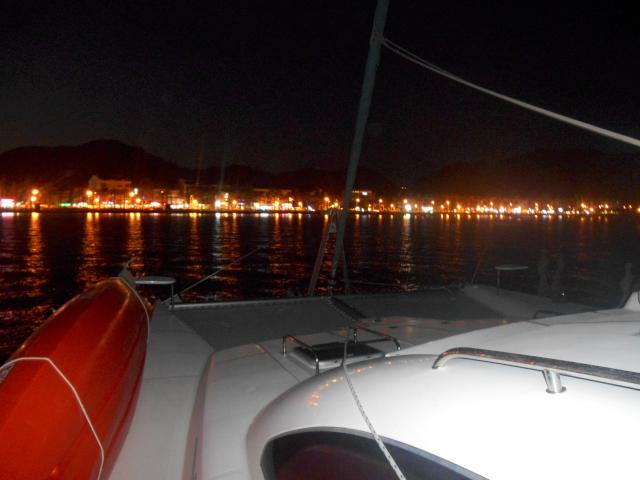 Its a bustling town with lots of people and lots of shopping, if you don't mind wearing designer fake labels…..
Noel and I walked through this street one evening and it was buzzing with loud music, bars everywhere, not busy yet it as it was only 11pm, of course the real party only starts way after midnight going up to 6am. When we got to the other end we saw the sign saying "Bar Street".
Totally high tech clubbing scene, outdoor dance venues and all the latest tunes!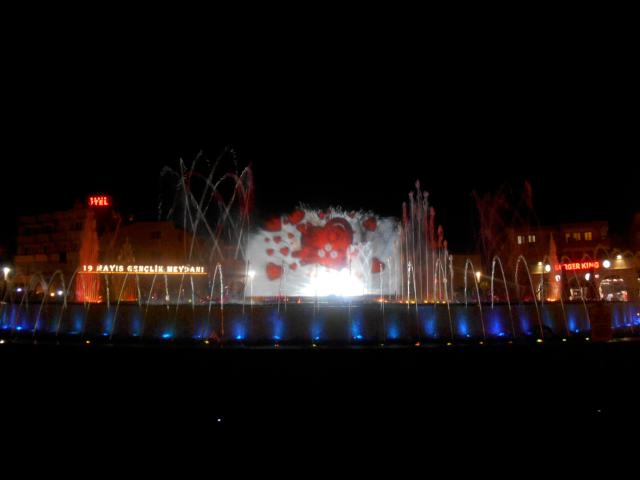 The main square is a beautiful park with gardens and many statues and fountains. In the evening the real show starts. They projected a bunch of beautiful images and a bit of their history right onto the water fountain and beautiful music in the background changing it at each display. Those hearts are actually projected onto the huge water fountain in the middle. A few minutes later it changed to a different display of just the fountains, below:
The display was like a dance show. With every color and fountain doing it's own dance according to the music. At fast paced music they go into action, the fountain in the middle sometimes shooting as high as maybe 100 feet. All the time the jets are choreographed with the music. Fascinating.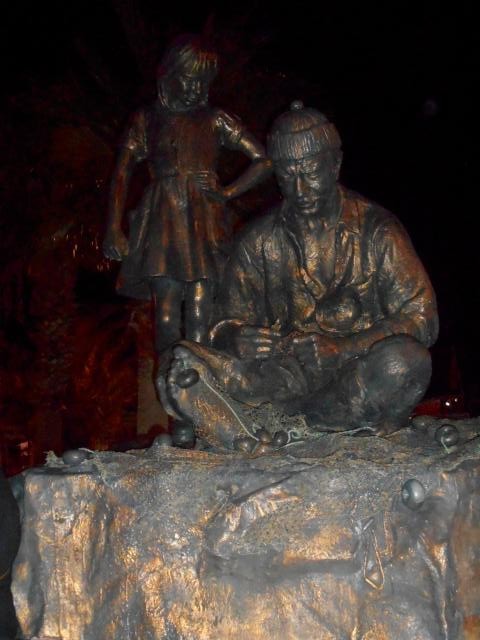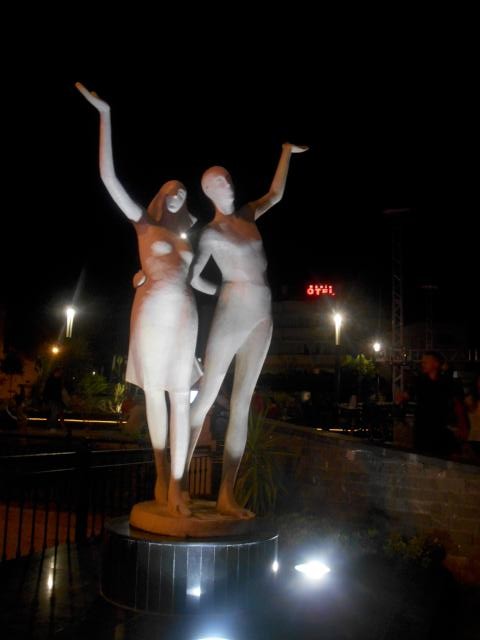 Beautiful statues and even a waterfall at the park.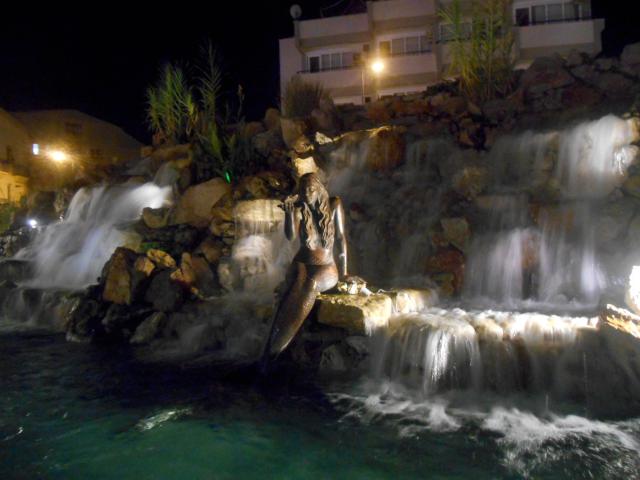 We enjoyed walking through the gardens and parks with many statues and  even a waterfall.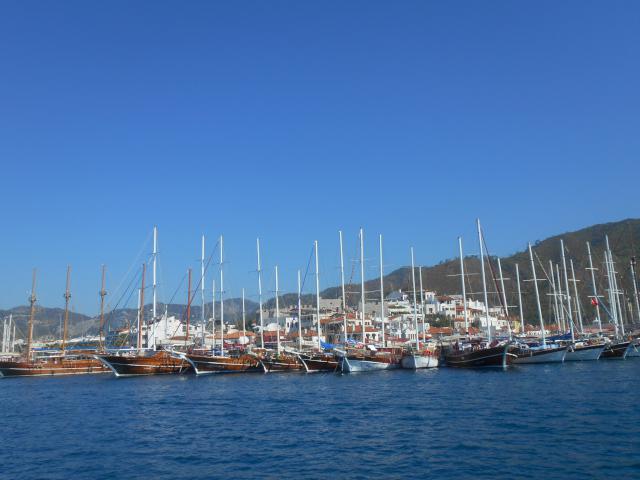 Upon leaving our anchorage in Marmaris , on our way out we once again went into Netsel Marina to pump out the black water and off we go. This time they charged about C$12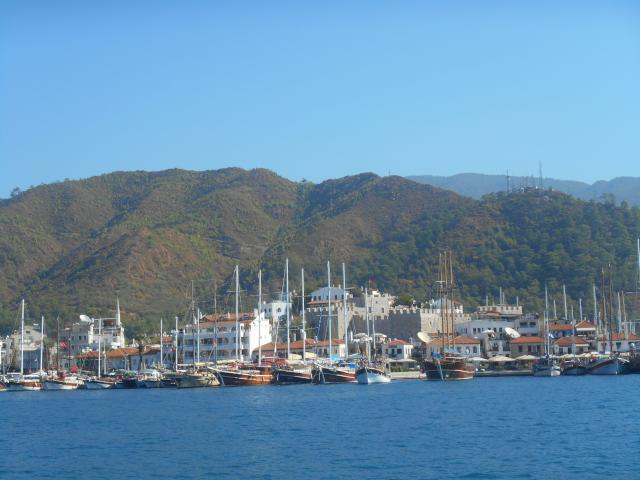 We say goodbye to Marmaris after a few days here. We really liked this place. Beside being very well maintained and manicured, it had everything there and close by, busy but yet it had this small town charm for some reason. But happy to go again on another adventure…..change our back yard views!
I am about a week late on this post. So since then much more has happened…
On the way to Pamukkale…..
a stop for breakfast and a little market outside selling their sun dried tomatoes, peppers and funny looking dried eggplants.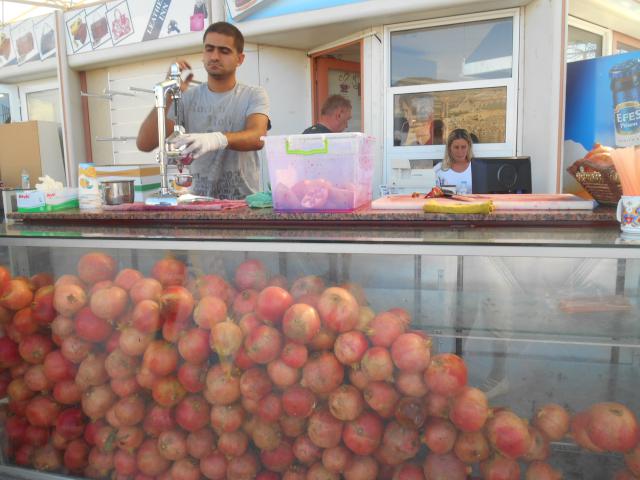 Pomegranates are in season! Freshly squeezed juice was available everywhere.
Another stop during the trip at Onyx factory. Where they show you how they make it and invite you to their very extensive gallery where you can buy many pricey items. Noel did buy 2 nice wine goblets.
We are now having our wine in heavy Onyx.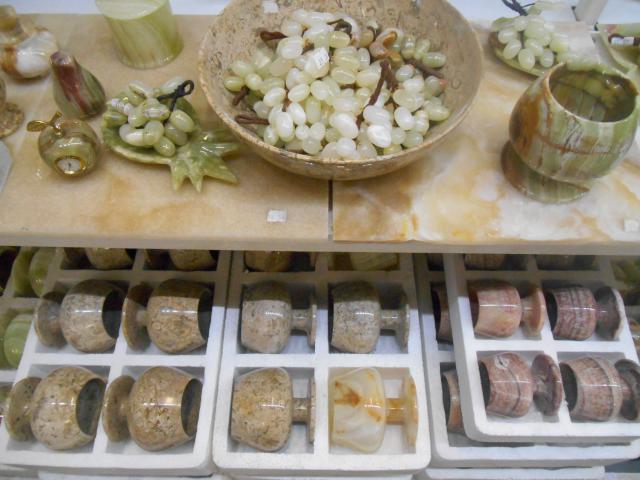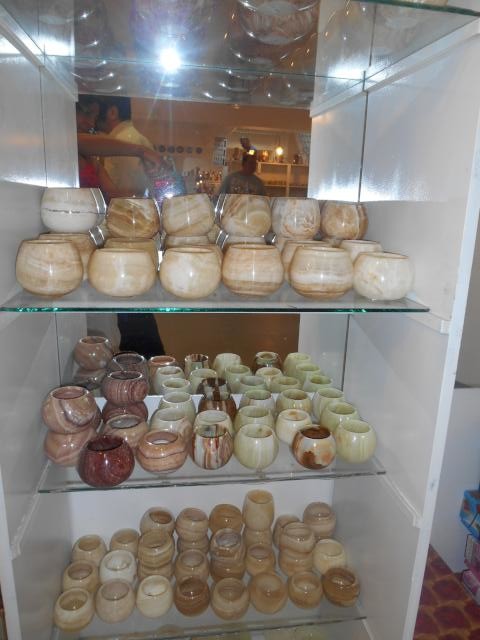 Inland trip of Pamukkale.
Are you bored yet? Maybe need to pee? Perhaps take a break now.
There are 20 more photos but not much to read. It was such an amazing trip that I cannot put into words…..or writing! Pictures are great, but they don't capture the moment…..
Below we are entering the busy pools in Pamukkale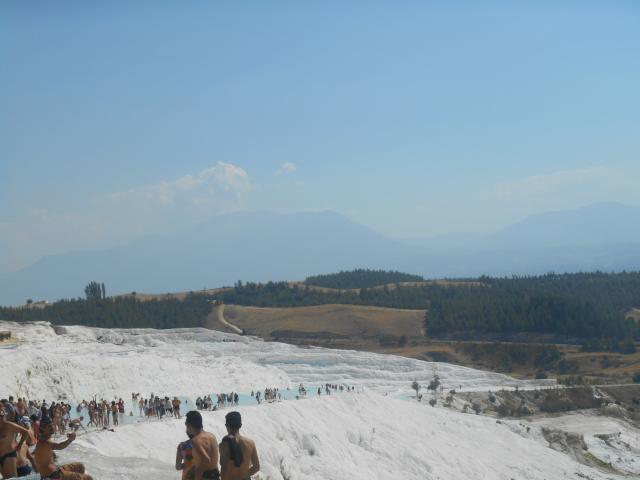 It was just breathtaking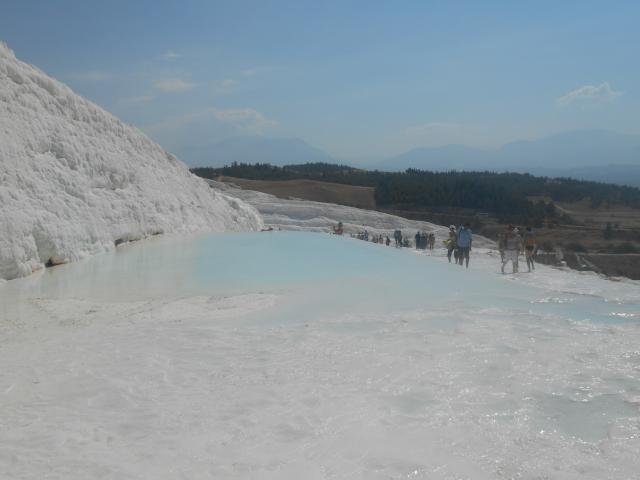 Pamukkale is an amazing display of natural hot water pools in south-western Turkey. Known as travertines or the terraces that form due to the carbonate minerals that gather up as the flowing water circles. Pamukkale is actually Turkish for "cotton castle". Some of the pools are deep enough so you can just soak in, enjoy the moment and the incredible formations. Most people were just walking around taking in the views and admiring this natural beauty and lots of photo taking and posing…. for more photos
No, this isn't snow or ice! The water is, in fact, warm. Pamukkale Hot Springs can be visited all year long, and in the winter must be fun too when more pools of hot water form.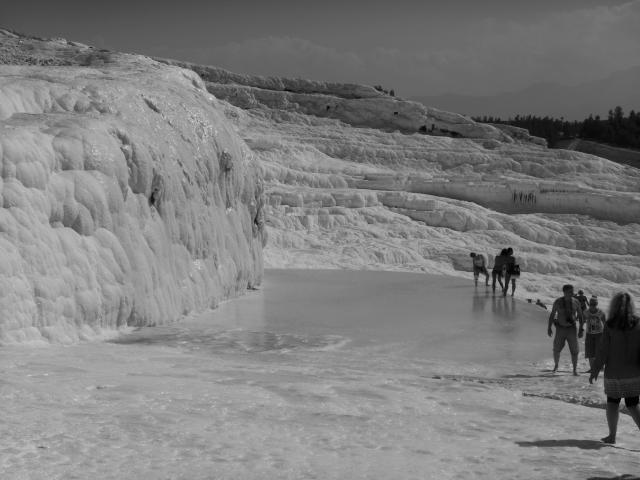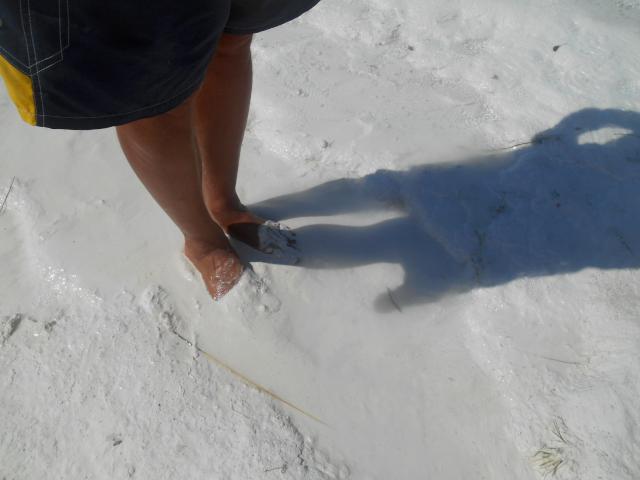 Many people were covering themselves with this as a beauty treatment. Apparently is very beneficial to your skin. No thanks. We did the mud thing already last year. The sedimentation starts as soft white mud and over time hardens to form these amazing shapes.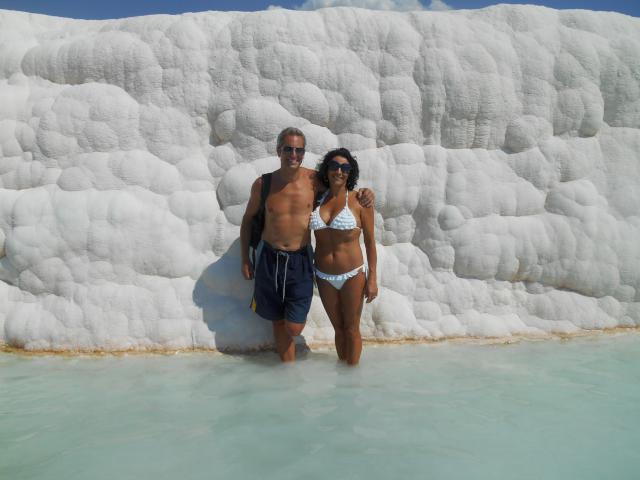 Of course the furthest you walk down the hill, the less people you encounter. Like Noel says: anything further than 100m from the parking lot…..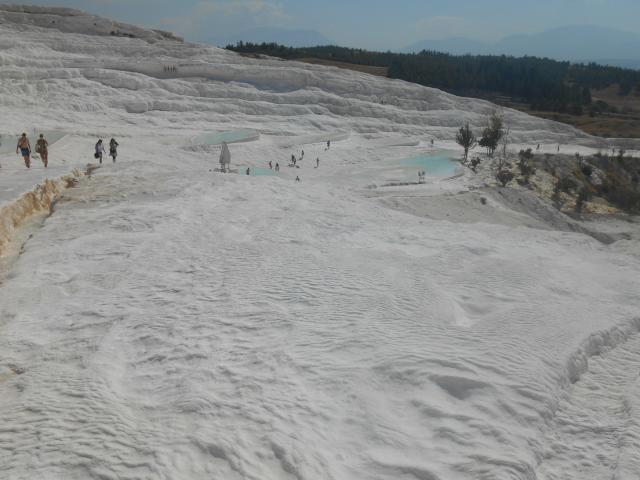 This place truly was an amazing experience.
Beside Noel down the channel runs cold water from a spring at the top where you can just sit and cool off. It gets pretty hot there.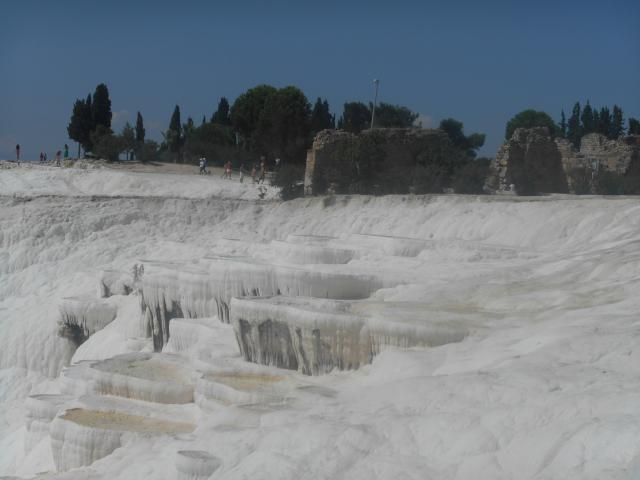 Unfortunately some of these pools have dried out. That is the result of hotels above diverting the water into their swimming pools. But that was a few years ago, and now it is gradually being restored.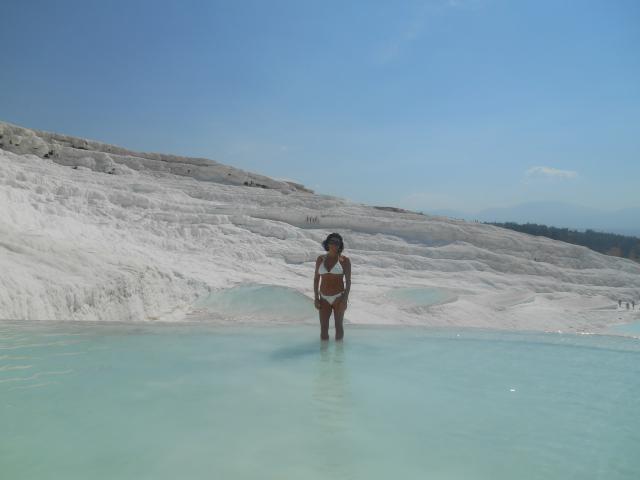 The water was actually not hot, but just warm.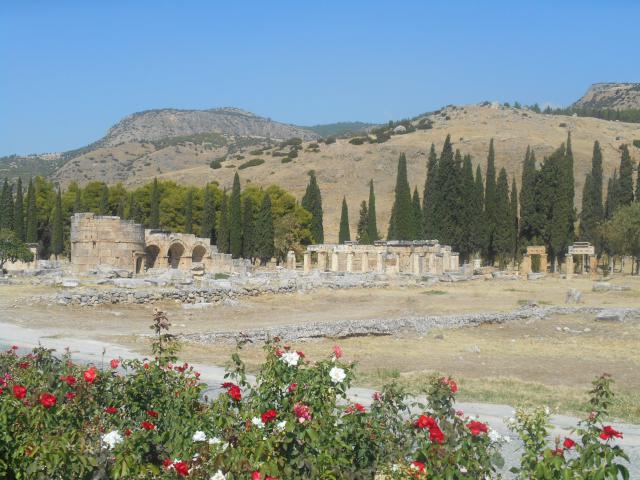 And as an added bonus you walk along these beautiful gardens that lead you along more pools and into the ancient city. Cathedral and main street.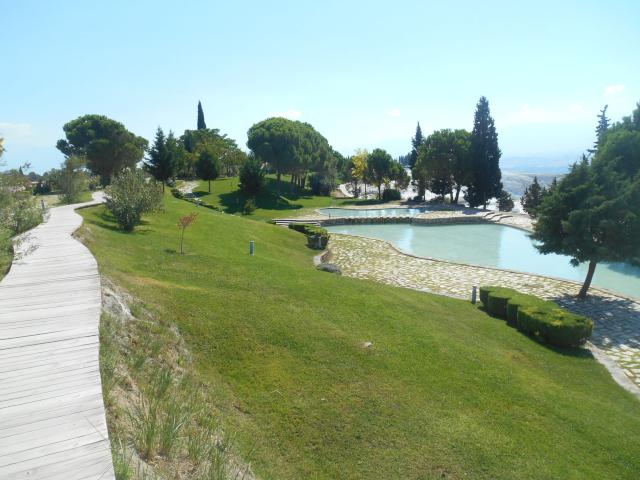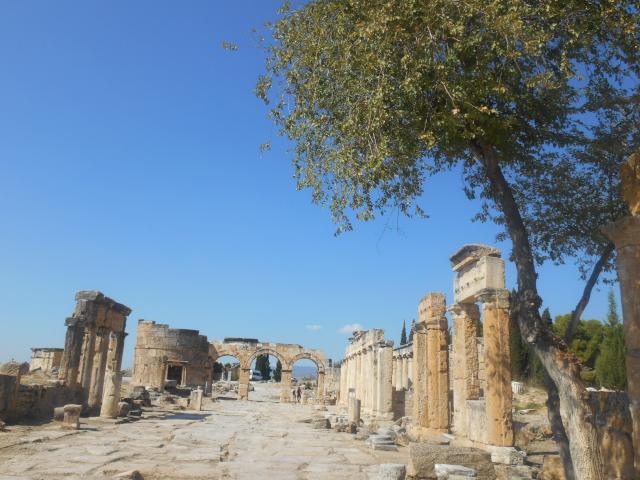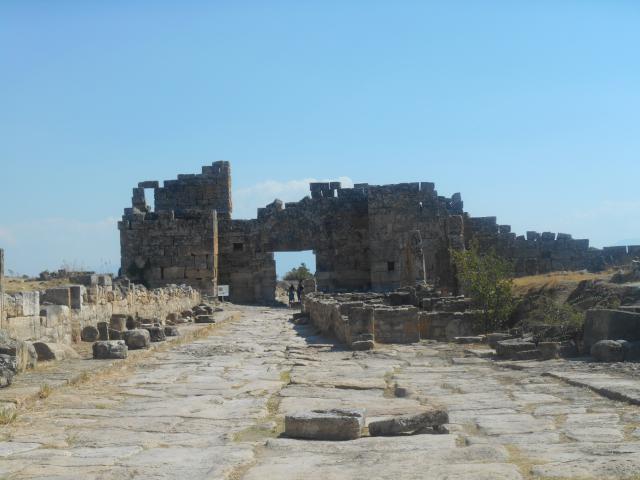 The North Byzantine Gate to the Agora. Built in 4th century AD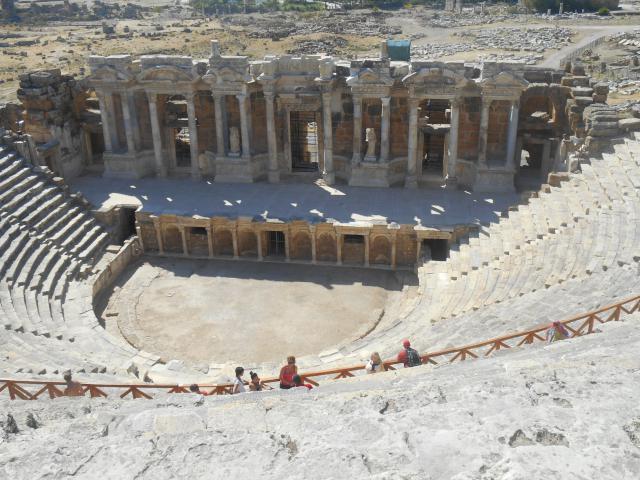 The theater was the most impressive. Built in the 3rd century AD, very well preserved. At the center bottom they used to have a marbled area with fancy seats for people of high status with lion paws and and high backs.
It was also decorated with some figurative dedicated to Apollo and Artemis.
It looks to me, that there was not a bad seat in the house!!!!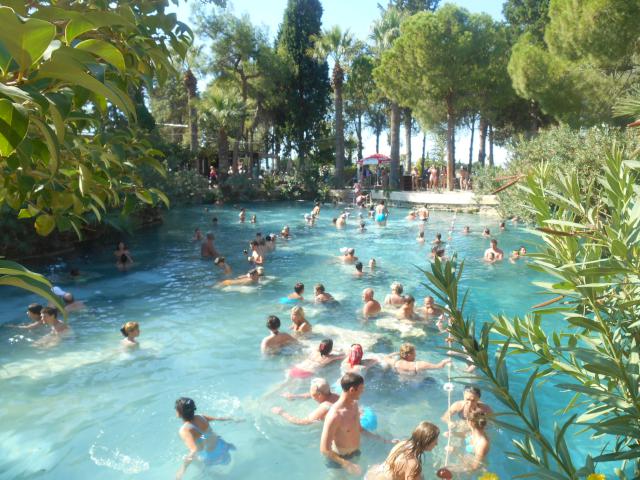 And of course the very popular Cleopatra's pool. It is said, Cleopatra came here with Anthony on their honeymoon.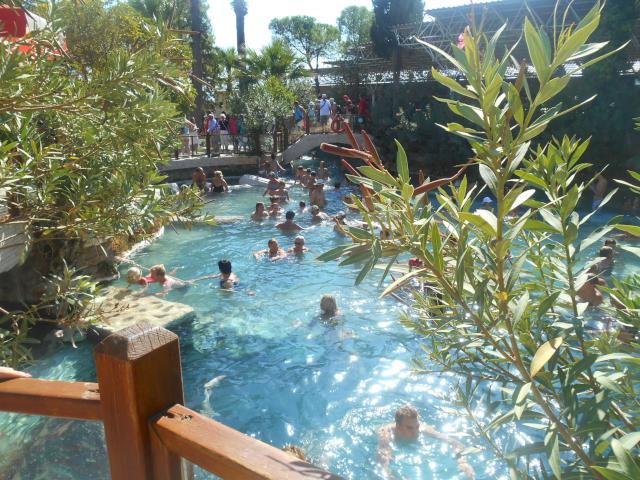 The pool is only about 4 feet deep, but go under the bridge to the other side and you will find some deeper waters – 5m! Very attractive setting surrounded with restaurant and pretty gardens just at the bottom of the hill from the theater.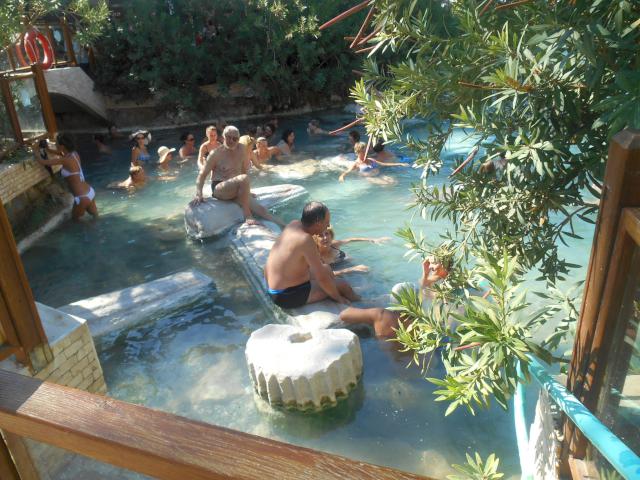 The pool has all these stones and columns that have fallen down over the years into the beautiful turquoise waters.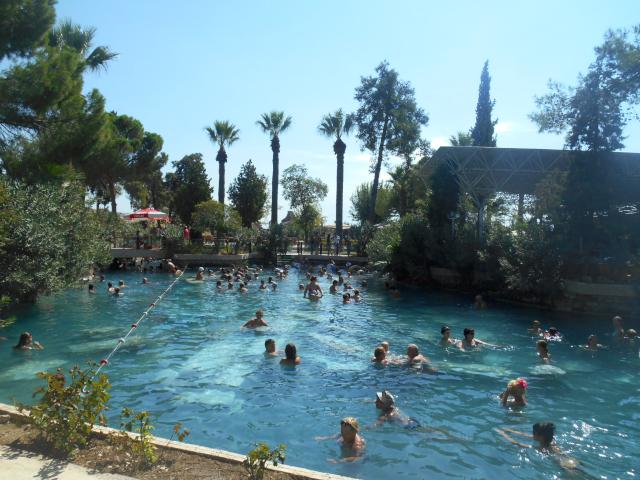 You can see all through the pool more of the many fallen stones. The pool also advertizes outside that bathing in these waters "cure" a very long list of diseases from arthritis on…… Somehow I don't think those claims have been evaluated by the FDA!
This takes me to end of a very long post. For more photos check our gallery soon, I must update in the next few days.
Next we will take you cruising up the Dalyan river.
Hot in Marmaris and becoming a Turkish resident
The reason we paid a visit to Marmaris by traveling inland and not waiting to sail there is because we had a strategy. We needed to apply for Turkish residency and it takes 2 weeks to complete. It will take us now 2 weeks to sail around Datca peninsula and into Marmaris just in time for the pick up, because of course it has to be done in person.
We are going through this procedure because our Visa in Turkey will expire soon. They only give you 90 days, no renewals, and if you stay longer you must apply for residence here, anywhere from a few weeks up to 5 years.
But wow…what was supposed to be an easy task, became a long procedure. We took a bus at 1:00pm from Karacasogut into Marmaris and started the enquiry at the Marina. They told us they have an agent who for a fee could do it all for us without having us running around to different offices. Except their agent was very busy that afternoon with another yacht. They told us it would be easy to do it on our own and pointed to us up the road to the Port Police office. 10 minutes walk took us through police security at a gate where you have to show passport and reason for visiting. We noticed that was also the cruiseship dock and some duty free shops.
After finally finding the Port Police office, the very last door on the very last building on the docks, Police told us they don't deal with that, we must go Immigration Police on the other side of town. We walked back to the main road in what it felt like the hotest day of the year, and took a taxi. Downtown, the thermometer registered 42 degrees. No wonder it felt so hot.
The taxi dropped us off at the Immigration office and we were hoping to have the process started. Another surprise. They told us I could not apply for resident because on my transit log, upon arrival in Turkey, they wrote me down as passenger and not crew. As a passenger I cannot apply. I must go back to town and see the Harbour Master to change it! We couldn't believe our ears!
We took a 5 minute bus ride into town and into the office of the Harbour Master. He told us he couldn't do it. He could not just change my name from being a "passenger" into "crew" without me showing him certification. I said, listen: I am very disappointed they wrote me down as a passenger on my own boat,and it was written in Turkish, which I don't understand. Every country we have been I have been CREW and no questions asked. Noel said: we are going back to Greece.
The Harbour Master stopped pacing himself and asked where I was from. I said I am from Portugal and Noel from England. He thought about it for a second and said "just between You and I and God above….go next door, get an agent and he will do all it takes to have that changed for you.
Walked over next door and within 15 minutes he had it changed and ready. He charged us 100TL, about $50CAN and we were off to go back to the Immigration office when he told us not to bother going, because they would be closing soon for the day.
Well it meant another trip to Marmaris, but not the next day. We enjoyed being back on the boat and explored the little village and the walks along the fig trees….lol
On the bus ride back from Marmaris we were treated to a 'delightful' show of lower-class British holiday makers. This group of ten, loosely related to each other, were on the Gulet next door to us in Karacasogut. They had spent the day in Marmaris like us, and were catching the same dolmus back.
But their day was spent buying, and drinking, beer.
By the time we were to catch the bus, they were already well gone. So, instead of getting on the bus that was ready to depart, they sat down and ordered some beers in the bar. The bus driver patiently waited. And, it seems, a certain member of the group, named Ron, has a habit of rocking the boat with his complaints. Well after almost an hour of escalating conflict, frequent swearing and shouting, and multiple tears among different members, everyone finally got on the bus.
Everyone, that it, except for Ron and wife who decided they would remain behind – no doubt to catch up on a bit more drinking.
I presume they later caught an expensive taxi back as later on that evening the shouting and swearing resumed as they had arrived at the shore and wanted to come on board the gulet.
The day after we set off on the 7:30am bus, much cooler then. We were at the Immigration office by 8:30. They quickly processed our application and sent us on another walk to the taxation office to pay and come back there with receipt.
It was a tall building was up on a hill. No one around spoke English. At each floor we showed our paper and on each floor they pointed "Upstairs". When we arrived upstairs we showed our paper and they again pointed "Upstairs". 5 floors later we were on the right office laughing of course. Nice lady with perfect English took our money and gave us the receipt. We paid 138TL each.
Within 5 minutes and the receipts in hand we walked back to the Immigration office which they call "Police". We then paid a bit more money (200TL each) to them and it was all finalized. We were told to pick it up in about 2 weeks. With the total cost for resident permit in Turkey for 9 months, of 676TL ($335) for the two of us.
We were happy and on our way to downtown Marmaris just a 5 minute bus ride. Started walking along the promenade looking for a place to have breakfast. The sun was already scortching hot at 9:30. Funny that we bumped into this place serving English Breakfast with "proper" bacon. Of course we walked right in! Remember, this is a muslim country. No pork here.
Bacon is very hard to find here. Noel saw it once in the grocery store,and didn't buy it because it wasn't the "proper" bacon he has been craving and it was also $80 per kilo!! Outch. I did go shopping on my own the other day and I did surprise him with bacon for breakfast, he was not allowed to ask the price! We had a laugh.
We really enjoyed our English breakfast in Marmaris complete with freshly squeezed OJ and were off to get some groceries and pay a visit to the Chandler. We finally bought some floating long line to take ashore and tie up. It will make it much easier. Distances are hard to judge and we were always at last minute tying more and more lines together so we could reach the shore.
This post relates to Orhaniye, Turkey. Click to see map.
About two years ago someone in Turkey had a bright idea.
They were concerned about pollution from all the boat traffic, especially in the Marmaris / Bodrum area.
So they decreed that henceforth every boat must collect all its black water (ie toilet sewage) and grey water (ie shower and washing water) in holding tanks. And these holding tanks must not be discharged anywhere in Turkish waters – not even way out at sea, as is the normal custom.
Instead, they must be pumped out at pumping stations.
Most modern boats do have small holding tanks for black water, but not at all for grey water.
Furthermore, they would introduce a compulsory 'Blue Card' which would record each time you went for a pump out.
There would be a big fine if you discharged at sea. Or if you don't have a Blue Card. Or if you don't pump out 'often enough'.
But they missed one important point.
They did not make sure there are enough pumping stations. Nor do they give you a list of pumping stations.
There is one in most marinas. So there is one, for example, at Yalikavak, at Bodrum, Orhaniye (where we are headed today) and Marmaris.
There is none anywhere else in the 40 mile deep Gogova Gulf, nor along any of the Datca peninsula.
Which, if you are trying to cruise along there, leaves you rather stuck.
Our tanks will hold up to about one week's worth of cruising. But after a couple of days they start to smell. So we have to carry this smell around with us while cruising and trying to find a pump out.
Everywhere we go, we ask people where there is one. Most of the locals (ie all the restaurants that have docks to invite you in to stay and eat) have no idea. In fact, they have never heard of this system. One of them, when we showed him the Blue Card, asked us if we worked for this company!
In Datca we asked the yacht agent- ie the people who give (sell) you a Blue Card when you first check in to the country -  where to pump out. He suggested that we just empty out at see if we cannot get to a pumping station before we are full. 'Just make sure no one sees you,' he said.
From what I can gather from other boaters is that they just do a pump out every few weeks just to have it on record.
Our whole goal in cruising is to avoid marinas, not to have to constantly look for the next one every few days. It definitely detracts from cruising here.
But that is not all.
We have also noticed that quite often we can smell sewage when we walk around the towns ashore. I don't know where this comes from, but something is not right with the Turkish sewage systems somewhere. Quite a contrast from all the flowers we often smelt in Ionian Greece.
So, sad to say, our experience of Turkey so far is smelly.
This post relates to Knidos, Turkey. Click to see map.
On my last post I didn't have the photos ready to show off the finished work on the table. While I was gone Noel was not just busy windsurfing. After Joshua left he was busy varnishing the table.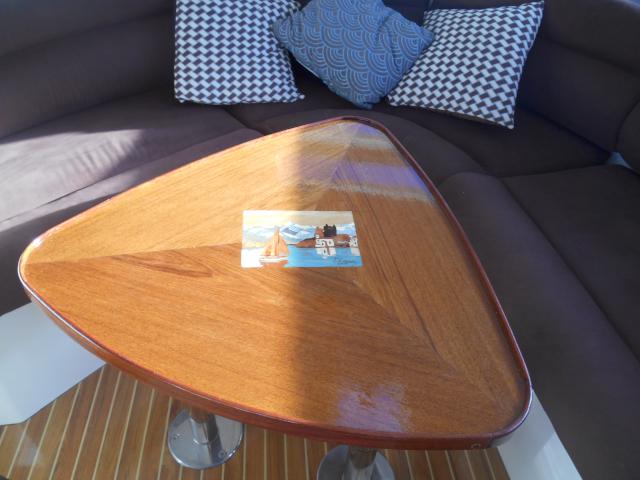 We had a nice piece of marquetry that Noel's dad Elmer, made for us, it fit in the center nicely.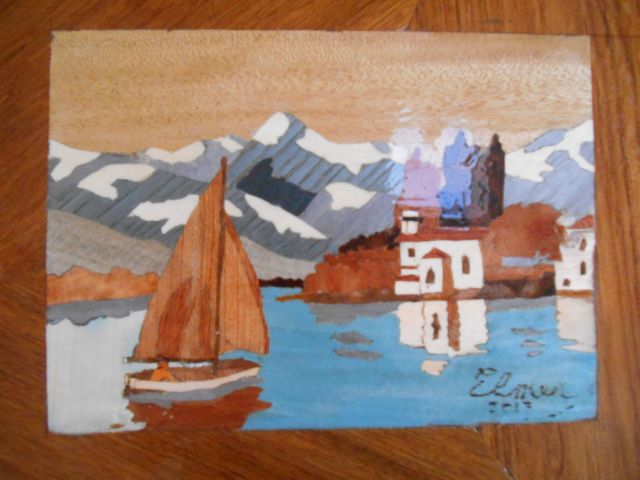 Noel also had the floors all shinny as well. He varnished everything. I had no idea what he had been up to. He had just finished it all the night before, and when I walked in there was still a strong smell around and I though it was just from the table.
I looked down and I could almost see myself on the shinny floors. Surprise! it was quite funny. The next morning we opened hatches and cooked up a storm and the varnish smell…vanished!!!!
As Noel said before..The coast just before Bodrum, for a couple days there was a bit boring with bare mountains and big developments, this one not even finished and looked abandoned.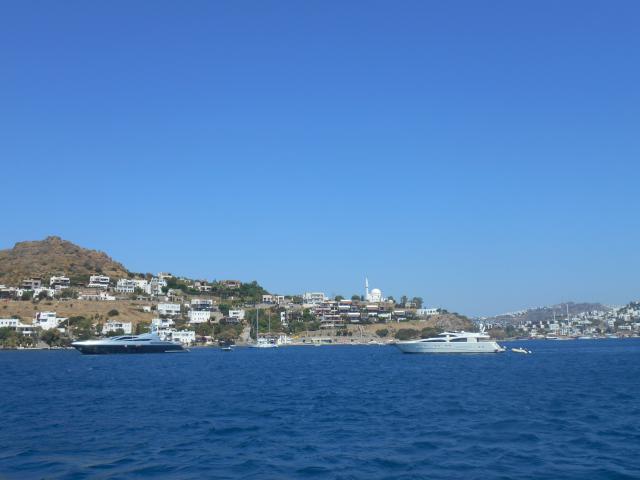 The scenery started to improve, and so the bays started to look busy with motor boats and gullets, and more Resorts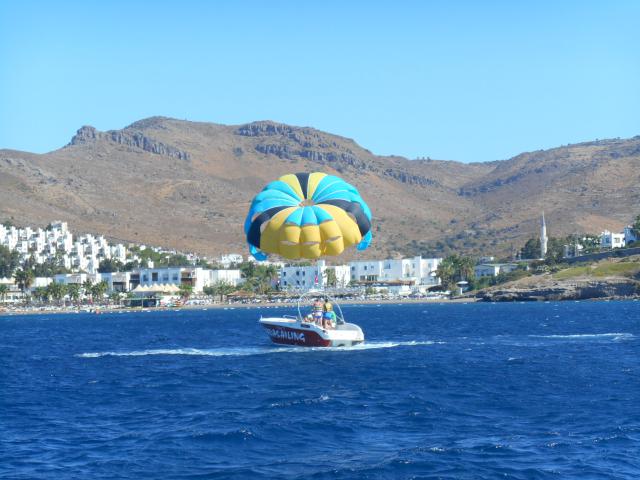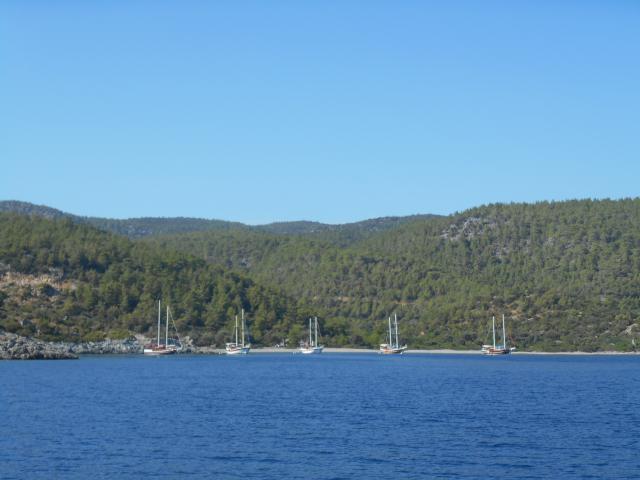 A perfect example of the gullets all lined up full of tourists that are out for the day. In this case they are probable from Bodrum as we are getting close to it.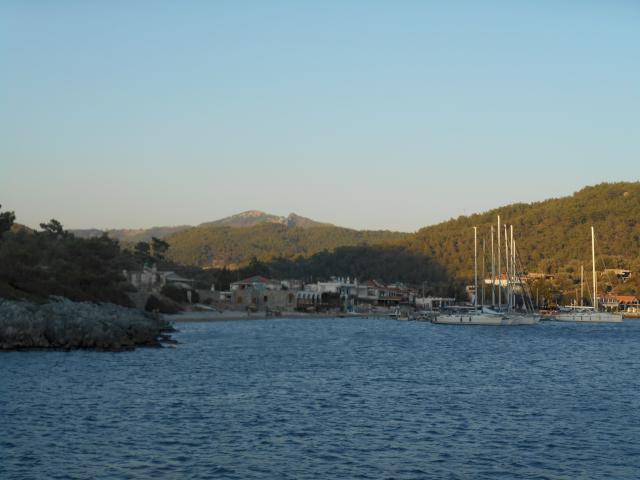 Busy places everywhere… but most of the time we were still able to find some nice more quiet coves, or it would be busy during the day and then they all leave to their birth at the marina and collect more tourists for the next day, and then is quiet for the night.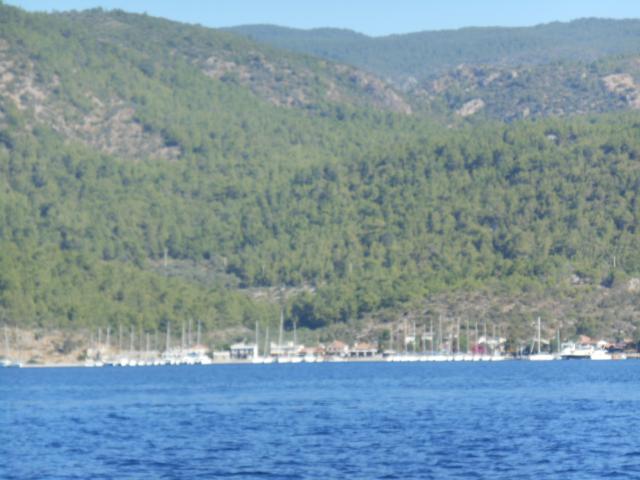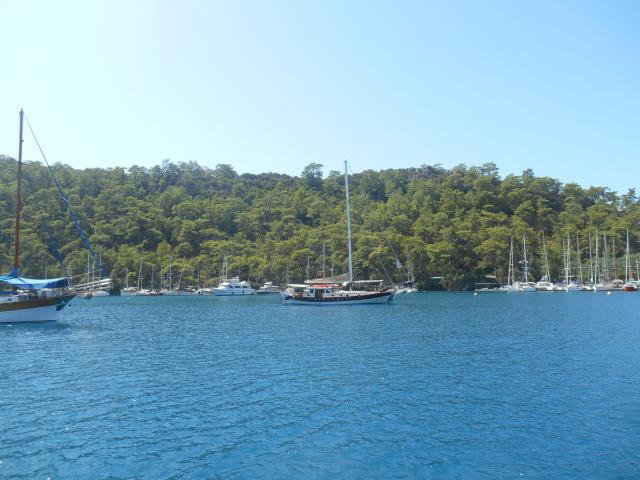 We stopped in this beautiful anchorage in a tiny but popular village of Gumusluk in the Aegean coast. Many fish Restaurants, mini markets, souvenirs and even though quite touristic, it had this peaceful, tranquility to it.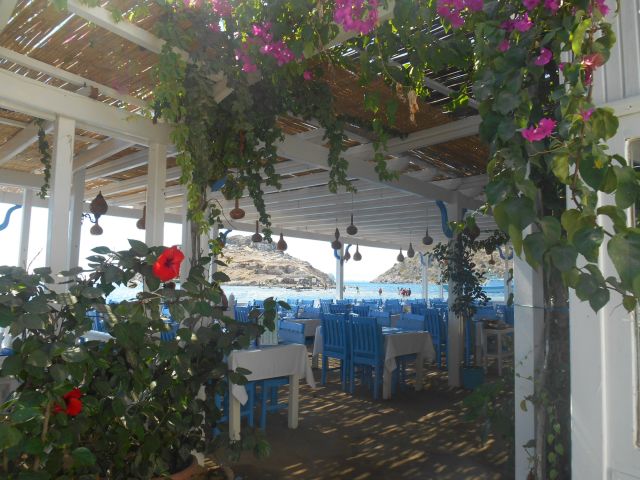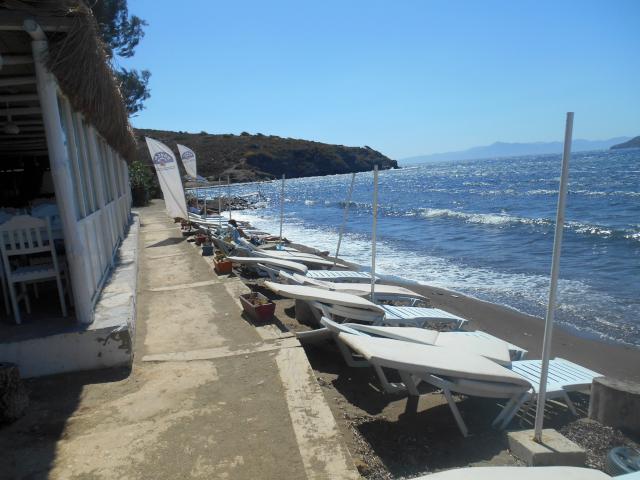 There were a few windsurfers out here at the north end of the bay, so Noel and I walked along this "barely there " beach and watched for awhile.
Charming village of Gumusluk. Restaurants and and a bit bigger beach area (when it's not taken over by the tables and chairs. )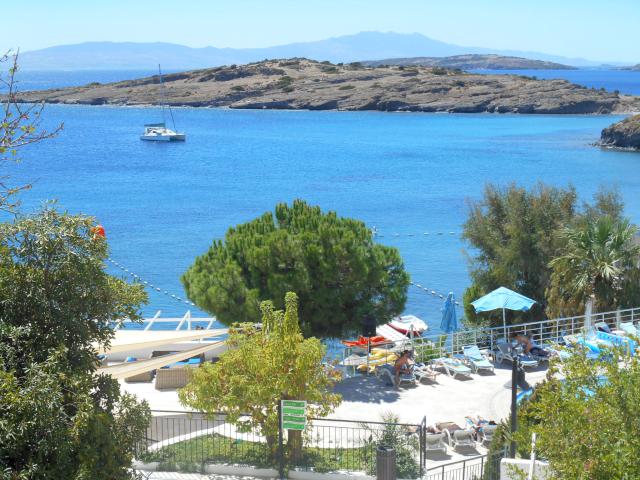 Welcome to the Turkish Riviera. They call the area the St. Tropez of Turkey. We set off sail around 9 am from Gumusluk to Bodrum. We had jib up only with 16 knots of wind astern. Another beautiful sail!
At 12pm we arrived in this empty beautiful anchorage above, just in time before the gullets arrived. As we found out later, this is one of their favourite spots for a swim.
Great holding….sandy bottom. We could take dinghy to the Marina in Bodrum or we actually just walked there.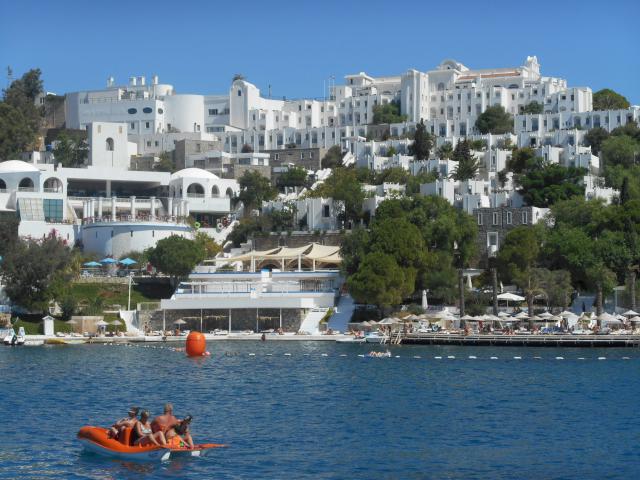 There was a nice Resort here and we just took our kiak ashore and asked the water sports guy if it was ok to leave it there for the day and off we go!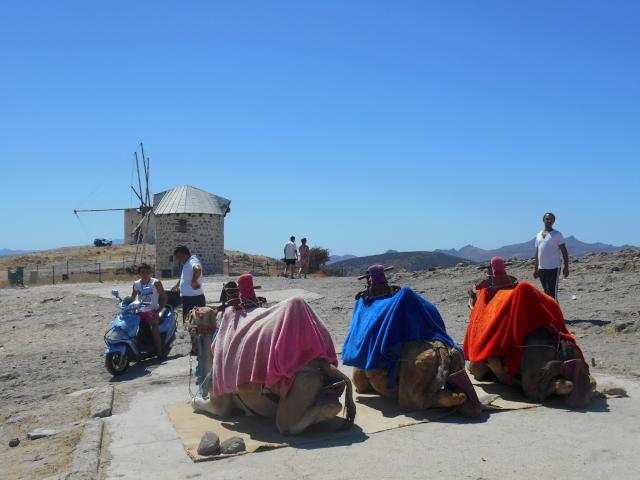 We decided to walk up the hill above our anchorage and check out the windmills.
Ahh surprise, surprise! We didn't know it was such a popular place. Camel rides and Donkey rides and many tourists. The views were amazing, and every once in awhile a tour bus stops and lets the people out for the views and photos!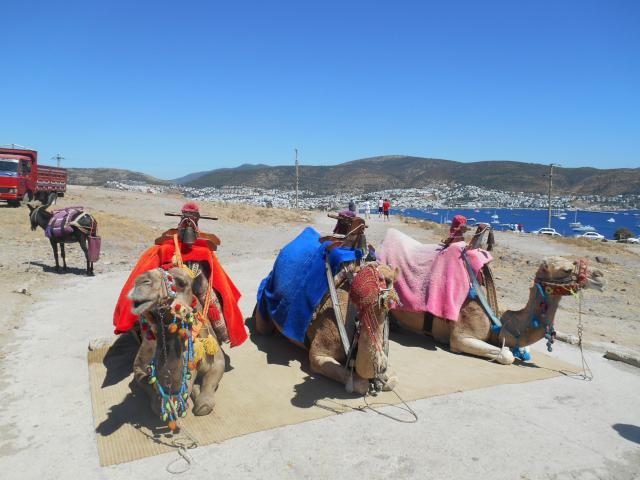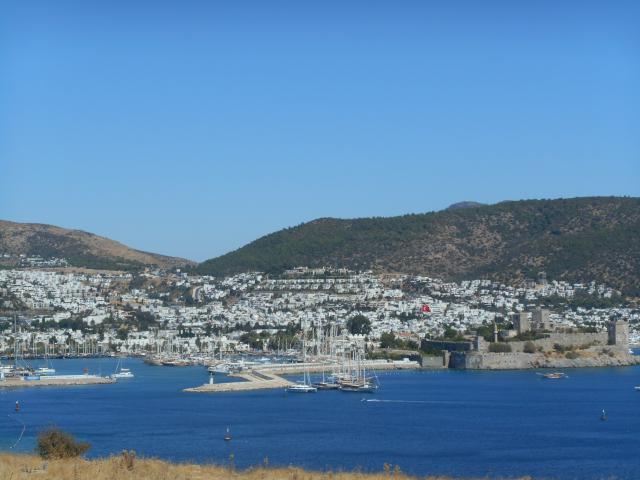 From the windmills, on the east side we had a great view of the town of Bodrum. Castle on the right. From here we walked about 2 or 3km to visit. It is a very nice town. White houses, lots bougainvilleas, many shops and a very full marina. There you can find ethnic foods, also Starbucks, McDonald's and Burger King.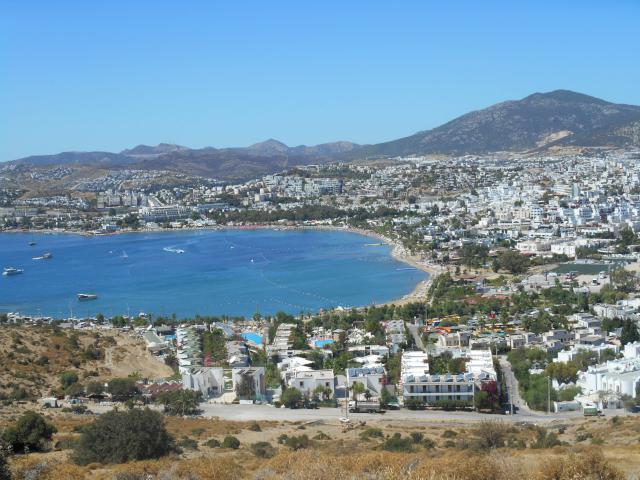 From the windmills, looking west you have the amazing view of Gumblet bay. We sailed by, it's just around the corner from where we are. A short walk from our anchorage. Long beach, very touristic. It's nice for a short visit, but it is too noisy with loud music at night and we also read that holding is not very good there.
These boats are what they call Gullets. They are everywhere around here. The Marina is lined up for a mile full of them!!!! This is one of the many that came and visit our beautiful cove. With brilliant turquoise waters, made it very appealing! It brought lots of people and music!!!!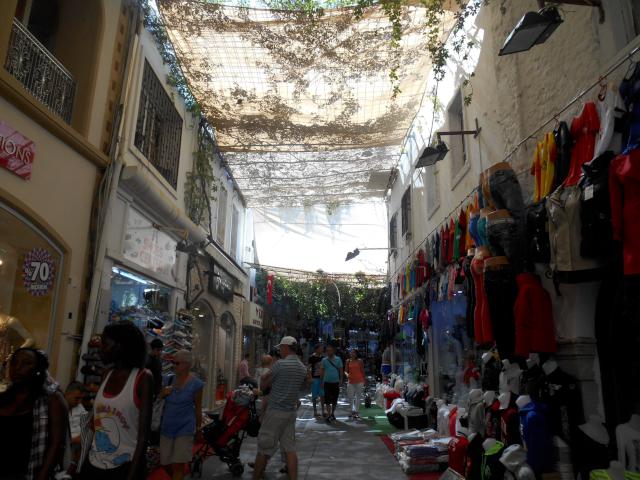 Our walk to Bodrum was very pleasant. Temperatures are still very high in Turkey, but it was a nice breeze . It was fun to visit the Marina and the many shopping streets.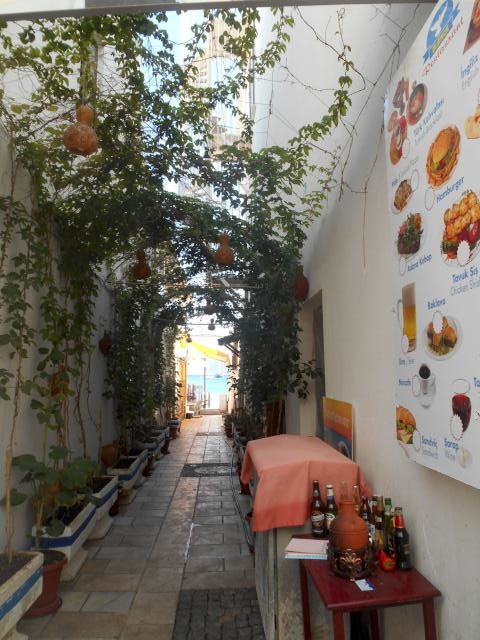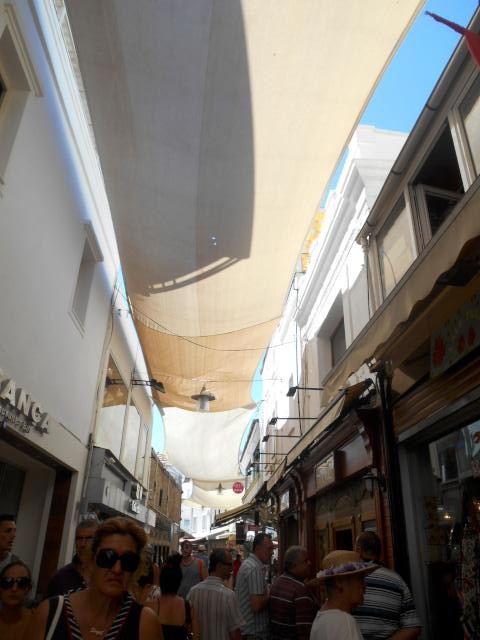 Some of the shopping streets are covered to keep it cooler, which makes shopping way more pleasant. Reminded me of Seville, Spain, very hot there too.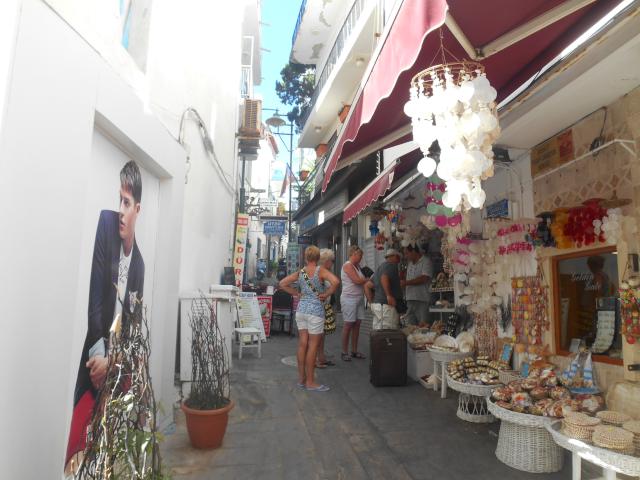 We stayed in Bodrum for 2 days and moved along the coast of Bodrum Peninsula. Stopped in a nice cove in Gokova Gulf for the night before making it the next day to Cokertme. I dont have a photo of this place because picture cannot capture the beauty and solitude and the charm of this quiet unspoiled coast that still exists in the Med. You only see a few small villages here and there, no big developments, ugly concrete buildings, is just like going through a natural park with gentle hills covered with green pine woods.
Apparently Gokova means plains of the sky. The name fits well.
Bellow is a photo of a very charming town of Cokertme, where we spent the next day.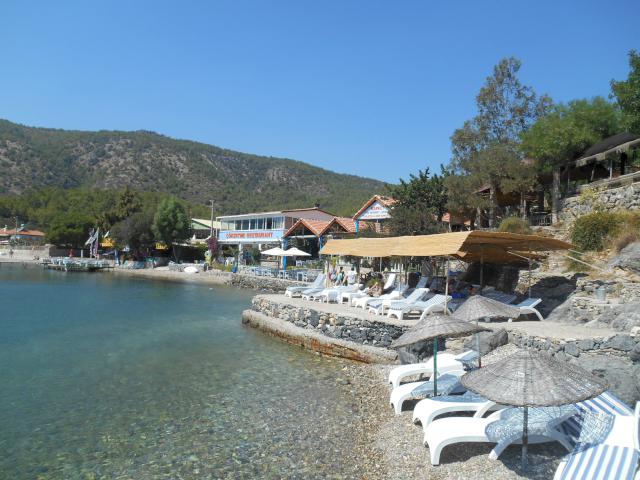 We met a nice couple from Scotland who joined us for a really nice lunch in this Restaurant and then we took a walk , 2km inland to the little village amongst olive groves.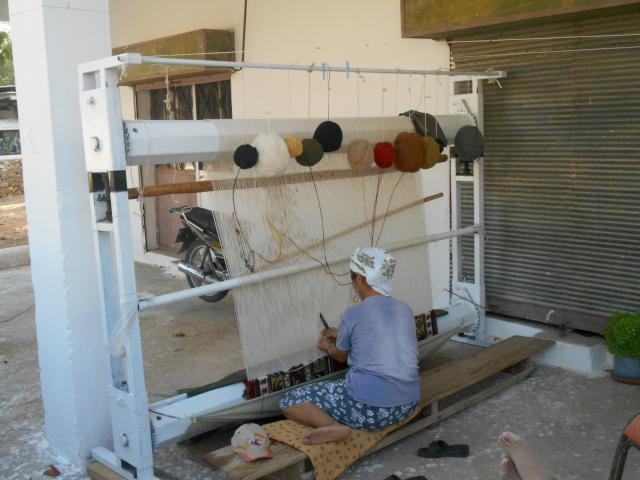 The people were so friendly.
In this village the women work from home making the carpets. This lady didn't mind having us watch and take photos of her carpet weaving.
They do beautiful work, and amazingly don't even look at a pattern!
As you can see she holds a knife in one hand. Each knot is tied and cut separately, and they are so fast! After the long line of knots she pushes it down with comb, this makes sure that knots are tight and she keeps tying and cutting more knots.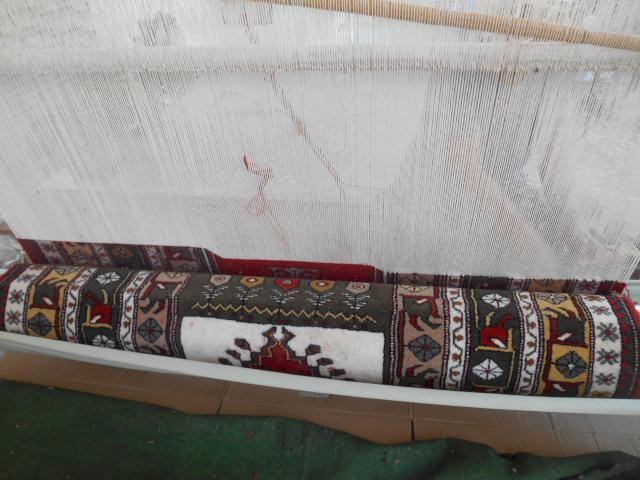 This is the back of the carpet. It is very hard work and takes a long time. But if you are buying the real one, you know it is very good quality, it is beautiful and tight to the touch.
She offered us tea or coffee we said no thanks, but I turned around and saw beautiful ripe figs on her tree and pointed to it….she got up and grabbed some of the tall branches so I could reach the ripe ones. They were so yummy, just like honey.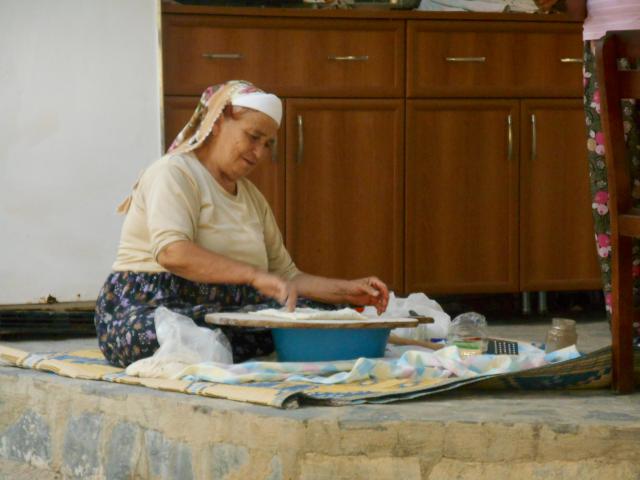 We stopped at a local cafe to quench our thirst. The table next to us ordered Pide, Turkish pizza. The lady quickly sat down and made the dough. She made it look sooo easy! Within minutes the customers were eating. We love their Pide,(Turkish pizza) . The crust is very very thin, and quick to make.
This family from the cafe didn't speak a word of English but great service and hospitality. The cute old man and his daughter proudly brought us some honey to taste. This area is famous for honey and olive oil. Olive groves and bee houses were seen everywhere.
Together with the honey he gave us some kinda nuts crushed to mix with it . It was really yummy. We enjoyed this off the beaten path very much.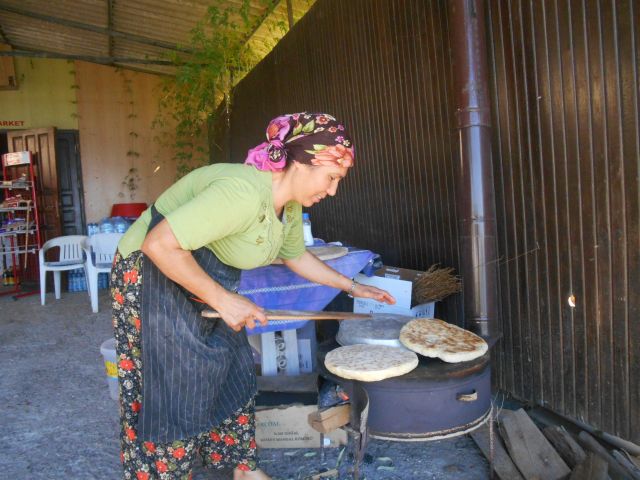 We had a peaceful night here and next morning we were ready to set off along the coast, but when I noticed this lady baking this fresh bread on the other side of the dock I quickly went to get some. Hot bread with butter, along with our cheeses I brought from Canada, it was a great breakfast and departure from our little heavenly spot.
Our next stop is Cleopatra's beach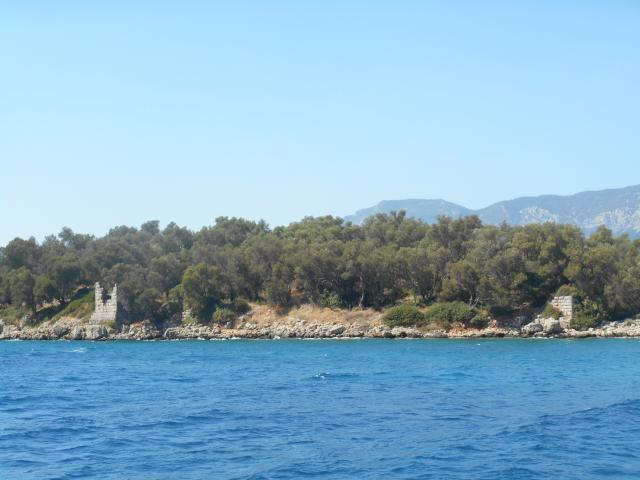 Coming around to the anchorage at Cleopatra's beach.
Some of the ruins of this ancient city can be seen here. Above, amongst the olive trees is the Temple of Appolo. For more on this ancient city and Cleopatra's beach see the older post: Cleopatra's beach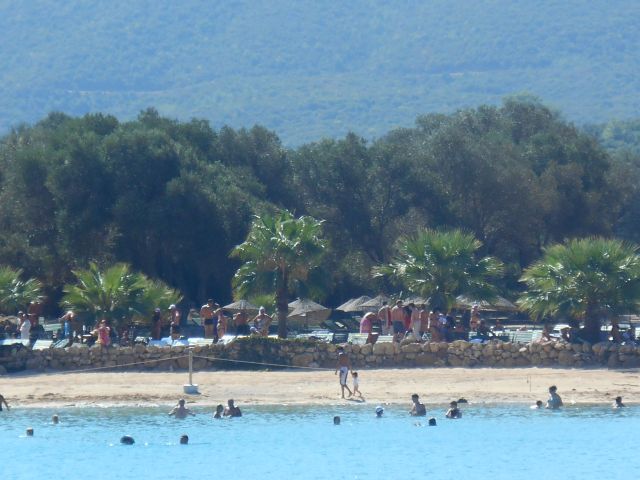 We enjoyed our visit there. It was a beautiful spot.
But now its time to say goodbye as we sail by ……On to new adventures.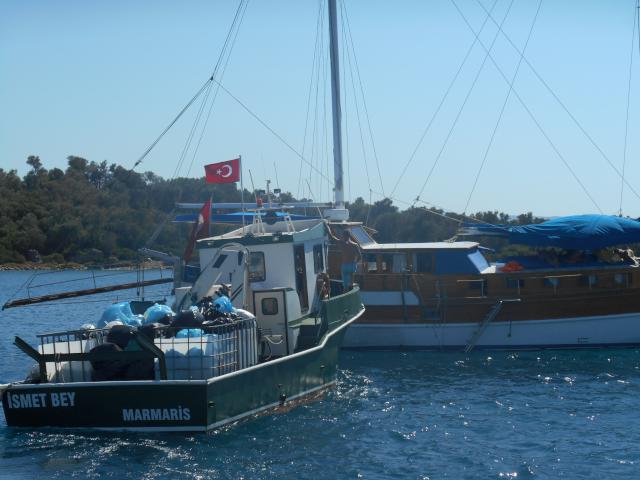 Ahhhh…. I must say! At Cleopatra's anchorage we even had garbage pick up right from your boat!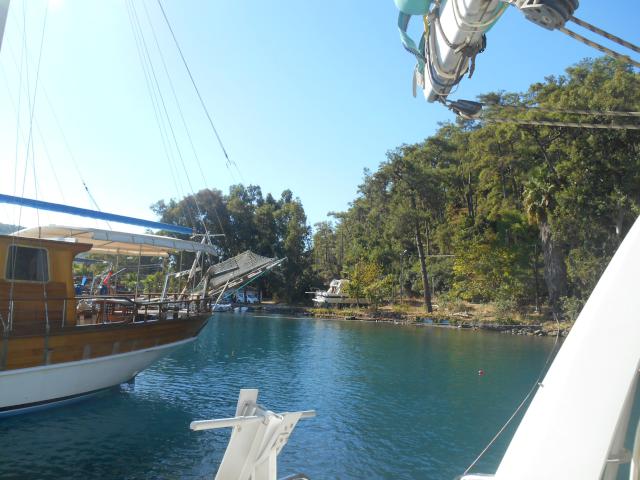 Our next stop took us to a place that we still cannot pronounce right. Karacasogut.
Upon arrival a nice young man from the gullet next to us, offered to help us immediately. He took our lines ashore on his dinghy and tied us to the trees. Gee, it is so much easier when you have that third person. With Noel at the helm and I must still be watching the anchor rode ( too long, too short????) how can I be swimming ashore too, and tie up?? It's always a procedure and we manage, but with help it was a piece of cake.
It was a really nice big bay, quite deep though. I guess that explains why most boats were med moored to the trees.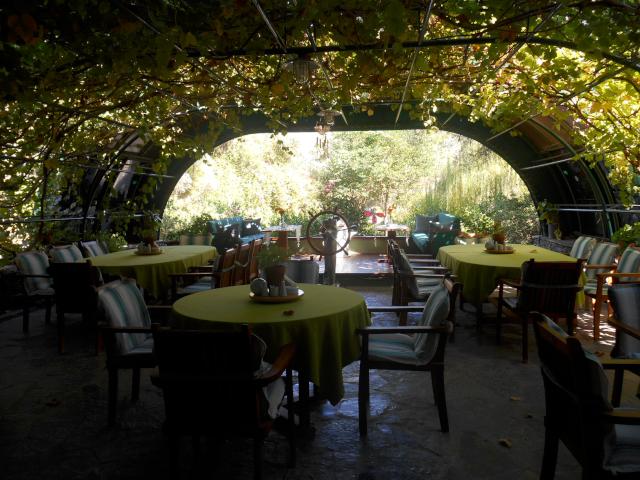 Karacasogut is home to Global Sailing club ran by a Turkish circumnavigation family. They also have Kids Summer camps and the kids just have a blast. We loved their facilities. Above is their cute Restaurant. Noel and I were planing to rent a little Laser and go for a sail but no wind……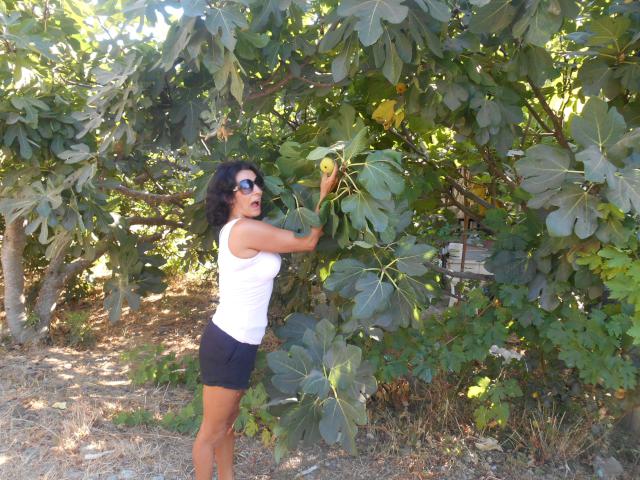 We loved the walks around this tinny village. We spent 3 days there. Every night we would go for a walk and I would pick yummy figs off the many trees along the road. There are many trees, no one cares.
Even when I couldn't see anymore ripe ones I knew there would be more the next day, on my next walk. But it was ok, I don't think I could eat anymore.
That was the expression: that is a good one!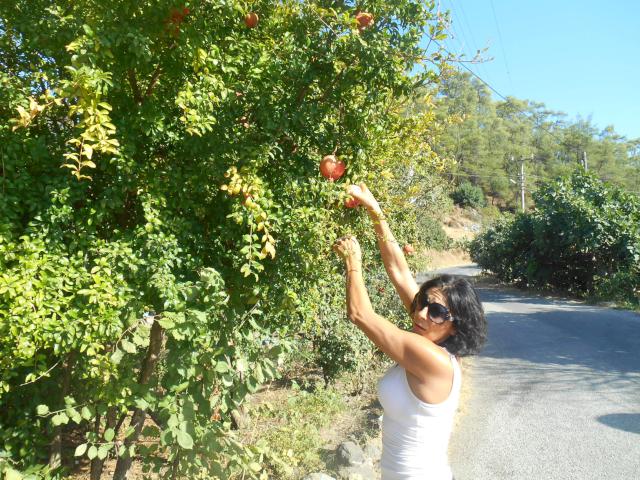 and that is the expression: hurry up, car coming!!!! ….while I pick a pomegranate.
Pomegranates interlocked with fig trees everywhere. They are just in season as well.
But I was so full from figs, we each took one home.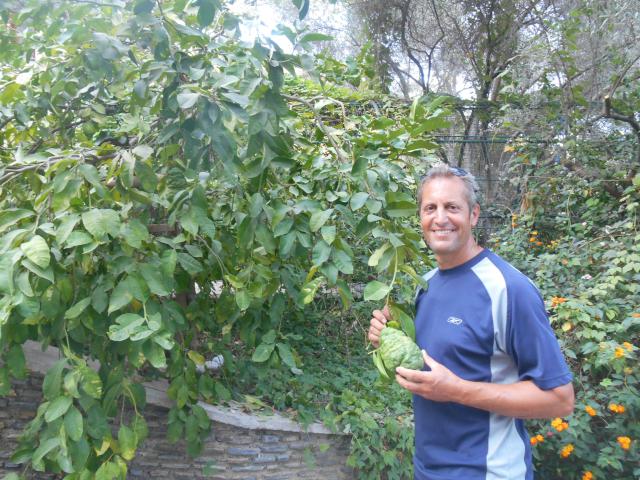 While visiting the sailing club Noel also found a bergamot tree. We found this strange looking fruit and smelled very citrus. We asked and they told us it was bergamot – the ingredient that makes Earl Grey tea so special. Very interesting.
We loved this unspoiled little village and all the locally grown vegetables and fruits.
Karacasogut is also a convenient stop if you want to travel to Marmaris. By sea is a very long distance but by land is only a 40 minute bus ride. Buses run twice a day from here, one at 07:30 and another at 13:00h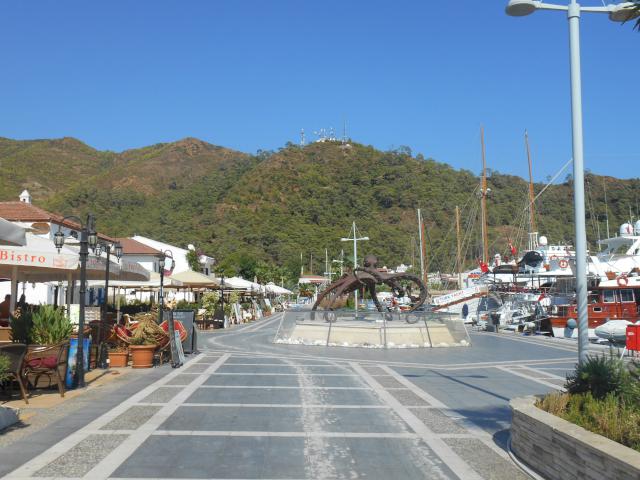 We took the bus to Marmaris and visited yet another very full marina, with even more gullets than in Bodrum. Wow. Large Marina and big town where one can find everything. One street alone is just chandlers.
Downtown Marmaris. Beautiful promenade along the sea, beaches, and parks with water fall, many water fountains and statues. Marmaris is surrounded by nice green pine-treed hills. It has one of the biggest Marinas in the Eastern Med. In the last few decades Marmaris has grown from a small fishing village into a 40,000 inhabitants and a big tourist destination.
Nice river by the marina. Migros for groceries at the end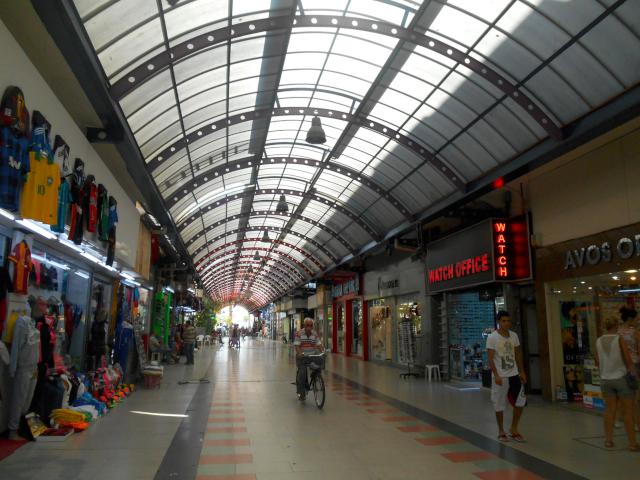 Marmaris shopping. Again the streets are covered making it look like you are inside, but nice, because at the end of each street you can walk out to the promenade along the sea and visit all the fancy boats and people watching.
It was a very hot day and we were happy to return home. After the bus ride we got onboard and jumped off the bow into the clear waters and a refreshing swim.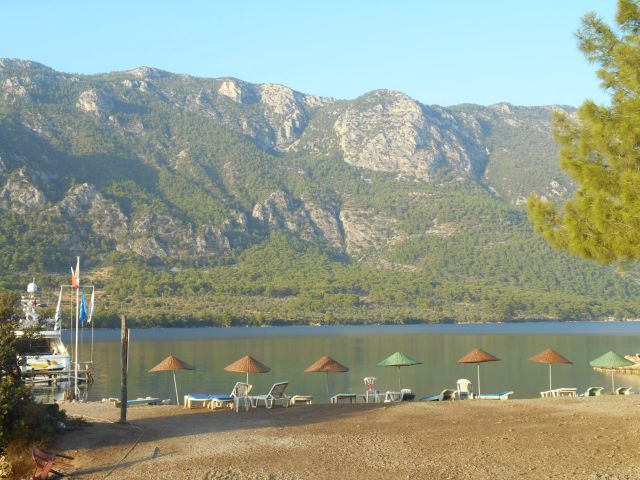 We said goodbye to Karacasogut and sailed just 5miles to Akbuk in the Bodrum peninsula. This was another beautiful big bay with a few Restaurants, cute beaches and small docks that only looked strong enough to hold tiny fishing boats.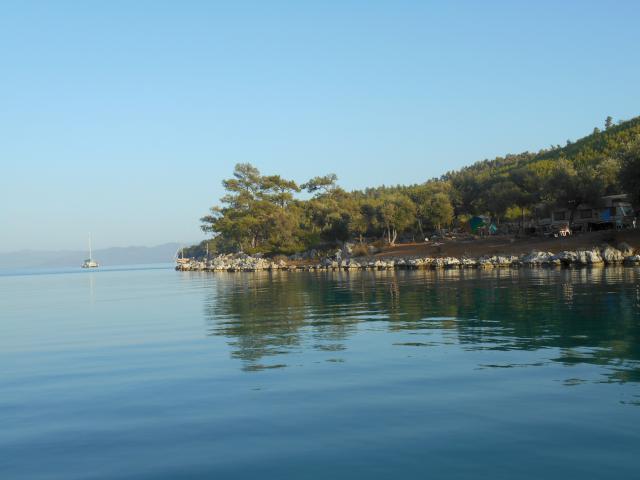 Not only it was a beautiful bay but it was also very calm inside there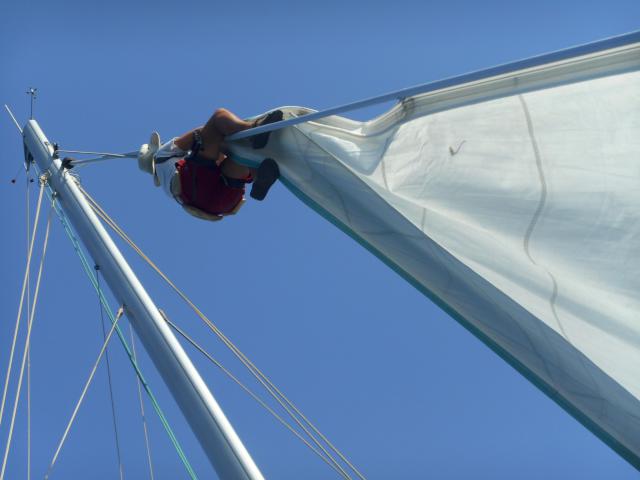 It was a good thing!!!! Just before anchoring, Noel was rolling up the jib and came to a halt. I looked up and realized the metal extrusions on the furler had come apart again.
Interestingly, one of the instructors at the Global Sailing Academy at Karacasogut had had exactly the same problem on an Atlantic crossing – but they had to cut down their jib.
We anchored in this beautiful calm place and I hoisted Noel up to look at it. He was up awhile lining up the tubes again.
Jib was down and needed just a small repair that we quickly repaired on the sewing machine.
Shortly after we had the jib up again. We were so lucky not to have wind and such calm conditions. We were happy that we saw it before too much damage to the sail and were able to do it so efficiently.
Next day we were off again back in the Datca peninsula.
We had a fast sail to Knidos at the tip of Datca peninsula. 25-30kts apparent wind close hauled on starboard. You can see the waves crashing through our trampoline netting: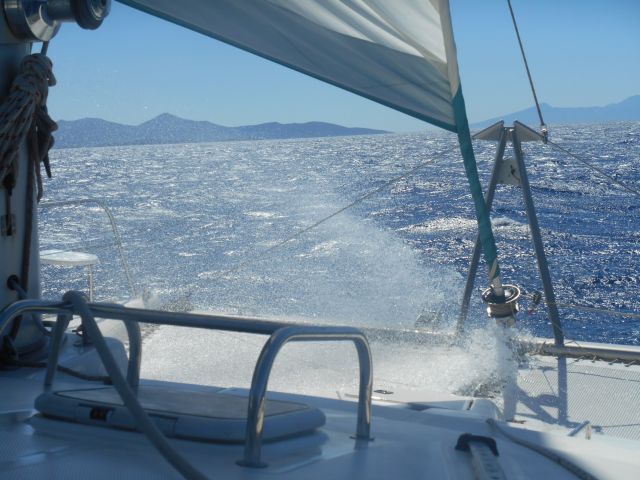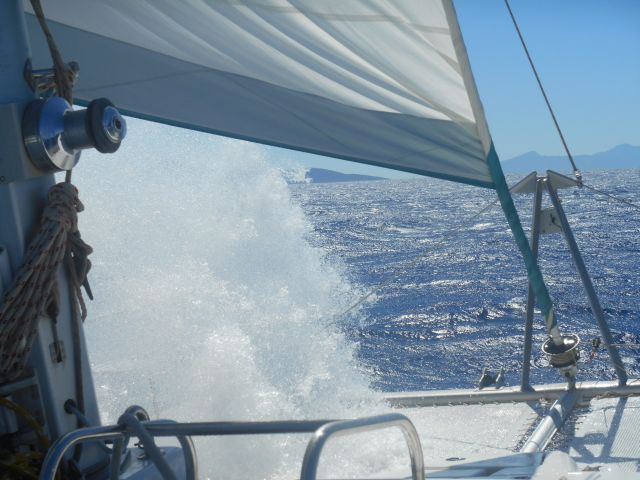 After a few tries again at anchoring, we are holding nicely in this lovely and busy bay. It is an ancient city. Feel like you are in it. Ruins all around.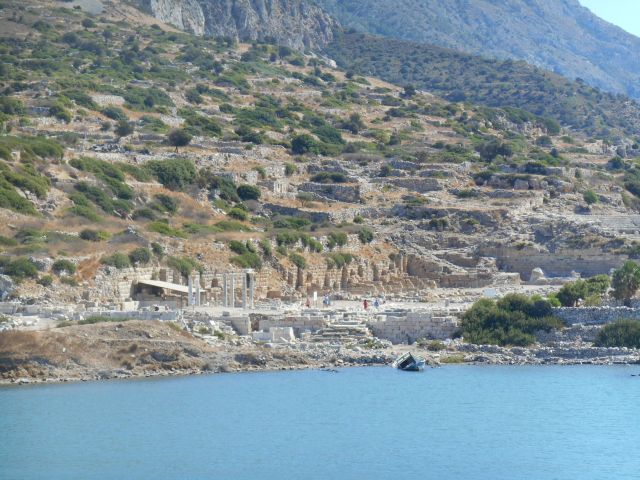 This ancient little town is not only popular now. 2350 ago was already a popular destination. It had the first naked sculpture: Aphrodite. It was positioned on the tip of Datca peninsula to welcome the sailors. The second name of the naked statue was Euploia, meaning: fair voyage!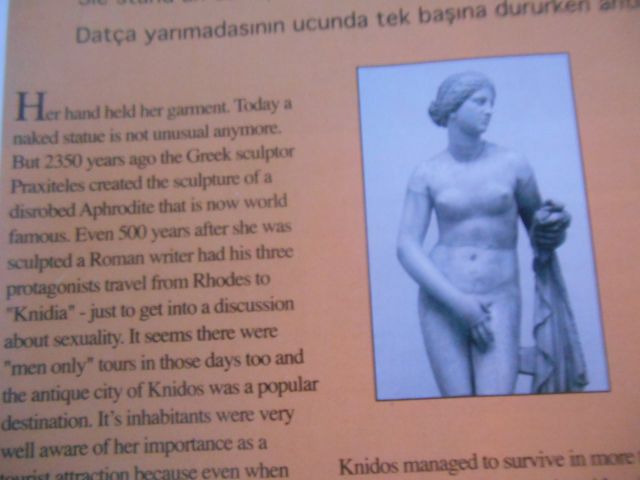 The statue is no where to be seen so I took a picture from my book. (She was probably stolen by some sailor and is still now adding to the decor of his garden???) There are all kinds of stories where the statue really is.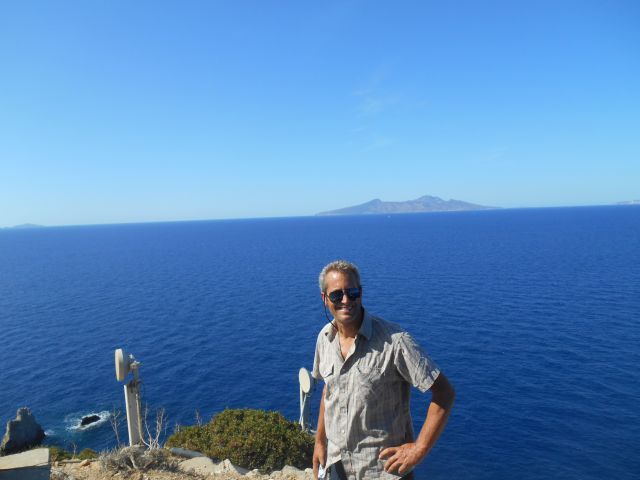 We walked up to the lighthouse right at the tip for great views of the ancient city of Knidos and you can also see a far  many of the other islands. Behind Noel you can see the Greek island of Kos.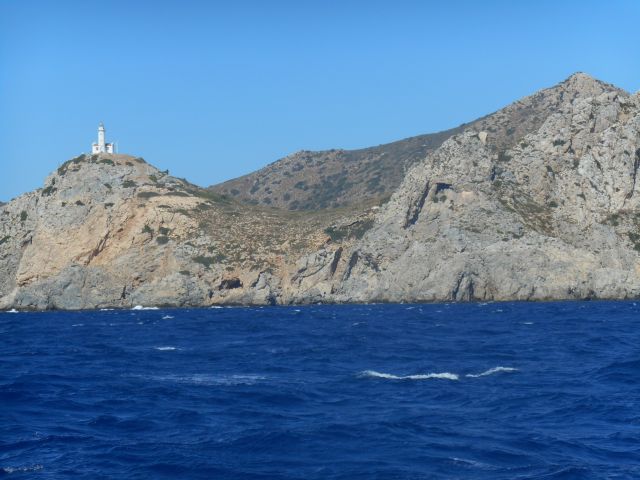 The lighthouse at the tip of the peninsula. Taken when we sailed by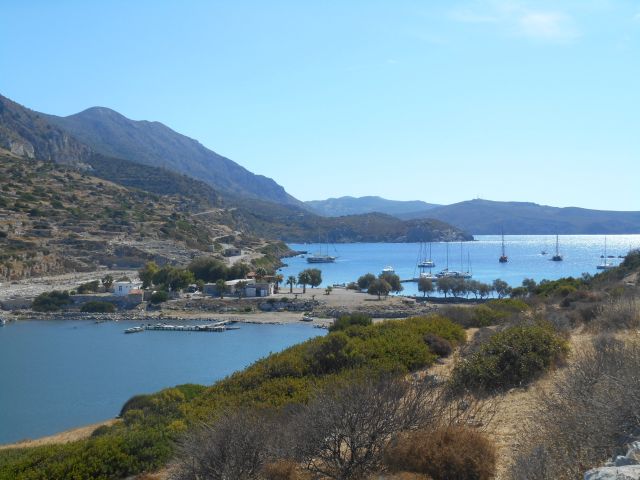 You can see our home amongst the other boats in the bay
We leave you here, as we keep sailing down the Datca peninsula looking for more adventures.