Current Location:
Cariati Marina, Italy
Current Position: 39 30.35 N 016 56.56 E
Click to view map.
Distance sailed since last post:
0 nautical miles
.
View the map of our voyage track here
It started with an invitation to go to town for some real Italian Gelato (ice cream).
Giovanni is a local (Cariati) doctor who had his boat Gaia hauled out on the hard just opposite us in Cariati. And he speaks good English.
So we went to town and had some ice cream that was, officially, the best in the world. At least according to the trophies it had one at some recent national competitions. And it was indeed delicious.
Joining us was Michele (Michael). He is another Cariati doctor and is also running for Mayor of the town. He speaks NO English – but is very good at speaking slowly and simply so us mere mortal scan understand him. He is also very passionate about Cariati and Calabria in general, as were soon to learn!
Well, ice cream then leads to a walk around the historic town. As we do so, we come across a 16th century 'palazio' which is now a Bed and Breakfast. It looked very quaint. So Michele goes in and persuades the owners to give us a tour.
Following that we come across another old building, now a bar. It is closed. But that is no impediment to Michele. He finds the bar keeper, gets it opened up, and soon we are drinking local wine (from Ciro, a few miles south of Cariati – il migliore del Mondo – the best in the world).
With it started a procession of local appetizers. Local salamis "migliore del Mondo", various pates and terrines made from fish – "migliore del Mondo". We also learned that the ubiquitous red onions originated in Tropea, Calabria before spreading out through the rest of the world. Later we were able to surprise Michele and Giovanni with a wikipedia fact that Tropea even makes red onion ice cream. Imagine that!
Through all this Michele keeps us entertained with his pigeon Italian so that we can understand.
The next evening we Micheled drops by our boat in the afternoon. We invite him in for a glass of wine. Giovanni has his friend from Lampodusa. Michele invites his bother-in-law and niece, both of whom speak Portuguese, and come with Ciro wine (migliore del Mondo) and local cheese (migliore del Mondo) and bread. Once again it turns into a mulit-hour multi-lingual event with their food, and the olive tamponnade that we had made. Sadly the wine we produced, though Italian, was not from Ciro and therefore fell short of Michele's standards.
The next night we are invited, along with Jan and Sybil, to join Michele for dinner at his place. Jan and Sybil, from Germany, spent 30 years sailing the Baltic, but are now retired and are cruising the Med in their motor cruiser 'Honfleur'. They speak English, as do all Germans. And Jan has also recently learned Italian.
So we go to Michele's mansion and are treated to the full Italian meal spread – an amazing array of anti-pasti many being local specialties are, of course, "migliore del Mondo". Tiny baby sardines, both cooked and raw, raw shrimp and so on.
This was followed by spaghetti 'nero di sepia" – which is ink from cuttlefish. Delicious. All this served with multiple different wines and champagnes.
And finally we have not one, not two, but three types of cooked local fish.
At about 10pm we tried to leave. He wouldn't let us. Instead he plied us with more wines and some local liquors including a very unusual thick tar-like liquor made from liquorice! It was actually quite nice and was, of course "migliore del Mondo". We got invited to go for a drive and to be ready the next day at 10 am.
He picked us up drove us to his country house. It is going through some renos at the moment as they prepare to have a big Wedding there in July. Big beautiful property with stunning views of the of the town and the sea.
The guests, the Germans and ourselves got a dozen fresh eggs to bring home. They have many chickens and some geese. We were instructed to make an egg fritata with local ricotta cheese 'calda' (meaning so fresh it is still warm). It would be 'migliore del Mondo'.
The following day was our last in Cariati. Jan invited us and Michele over for a leaving party. Michell was proud to show and tell photos of his meetings at the Rotary Club where he is the President. More wine and food and laughter – and even a discussion of politics between Michele and Jan! By the end we were ready to conclude that being Mayor of Cariati was a way too limited aspiration for Michele. With his talents he should be at least President of Italy, if not of il Mondo.
Ah, good times with the locals.
And these types of experiences are the beauty of cruising. But now it is back to real cruising: you know, fixing things in exotic locations!
Current Location:
The Sassi, Matera, Basilicata, Italy
Current Position: 40 40.04 N 016 36.62 E
Click to view map.
Today it snowed!

Yes, when we arrived it was T-shirt weather. Then the clouds darkened and the rain arrived. But still we had a great visit to Alberobello, just south of Bari. There are two sections – the tourist part, and the quiet residential part. See if you can guess which photos are which.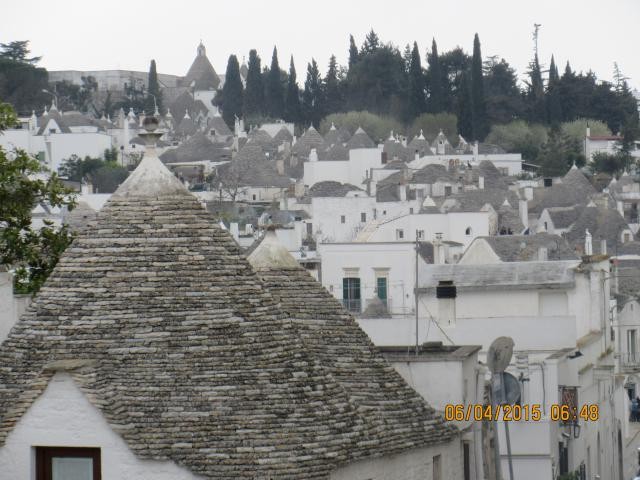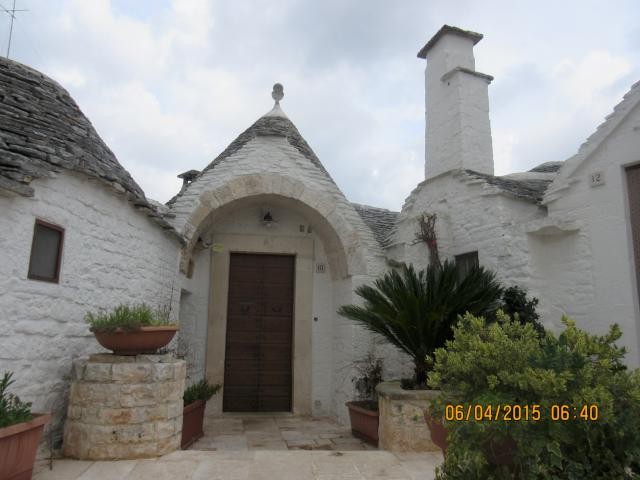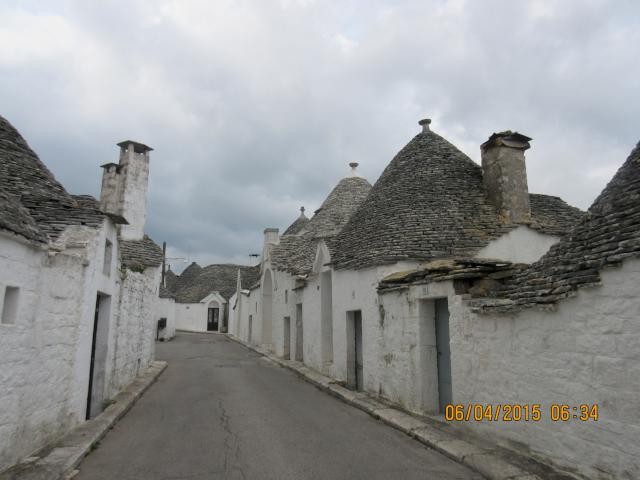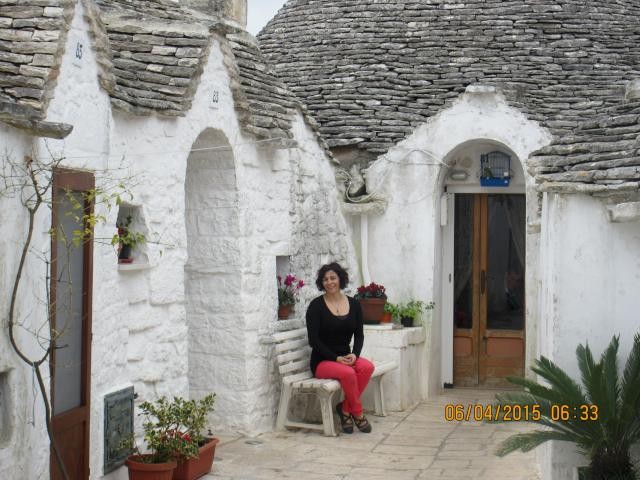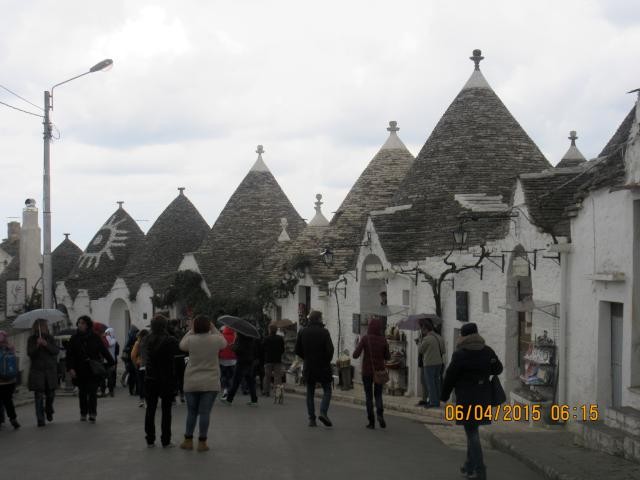 This morning we drove from Bari to Matera and wandered around the 'Sassi' – which are dwellings carved and built into the hills in a manner that reminded us very much of Capodocia in Turkey. As we did so it would rapidly alternate between sunshine with blue skies, clouds, rain, and at times, snow, though it didn't settle!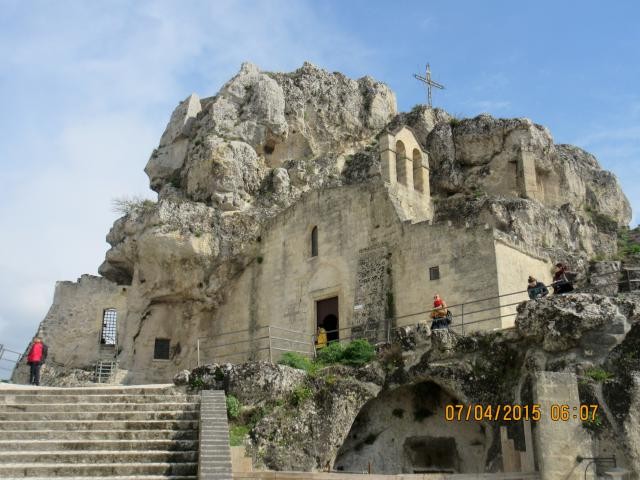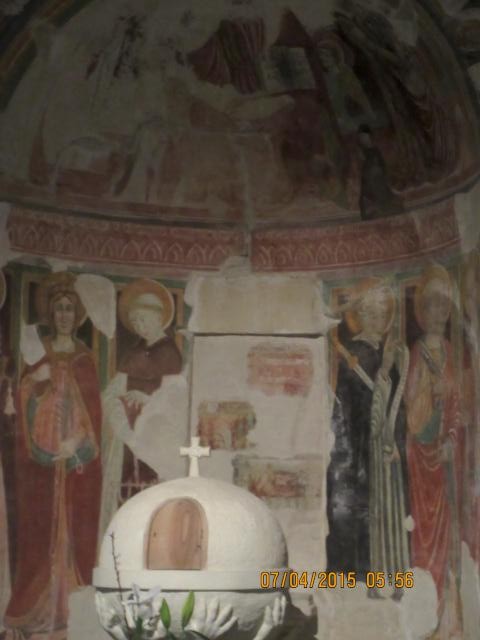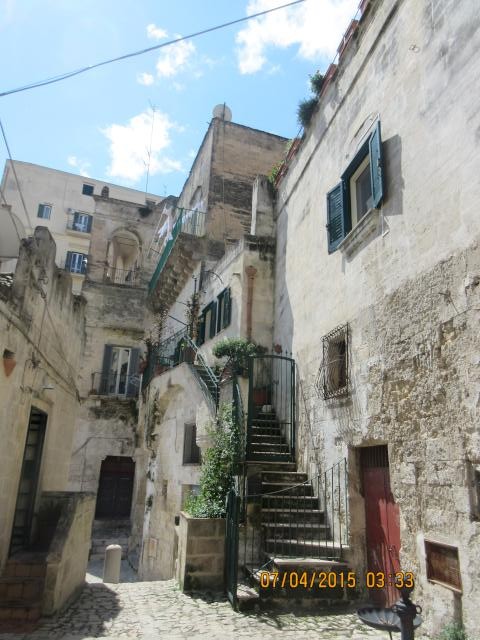 Tomorrow we head for the Laghi di Monticchio. The weather is supposed to improve a bit tomorrow, and then much more the day after, so we hope to get some good hiking around the lake.
But, you ask, what have we been doing the past 6 months? Ok, here is a quick summary:
Leaving Life Part 2 alone on the hard, we rented a car and drove the Amalfi coast to Rome, stopping at some lovely B&B's along the way – and of course, Pompei. We will put up some photos in due course.
Winter in Canada
From Rome we flew to England and then onwards to Edmonton.
Now, any of you who know that a) we like to ski and b) Edmonton is freezing cold but has no mountains, will be asking what on Earth are we doing in Edmonton?
Alas, Allisen and family moved there from Kelowna a year ago. Ceu sold the house in Kelowna, So, given that we are now homeless AND she wants to visit the grandchildren, we ended up in Edmonton. Well, what else could we do?
Having arrived, the first thing to do was, of course, to get sick. We spent a full month doing that – colds, flu etc. This, we believe, is the direct result of having temperatures of minus 20 deg outside, and plus 25 deg inside. Fortunately we had managed to rent an apartment literally 10 feet away from Allisen's, so there was lots of visiting with the grandkids.
First on the agenda was Hallowe'en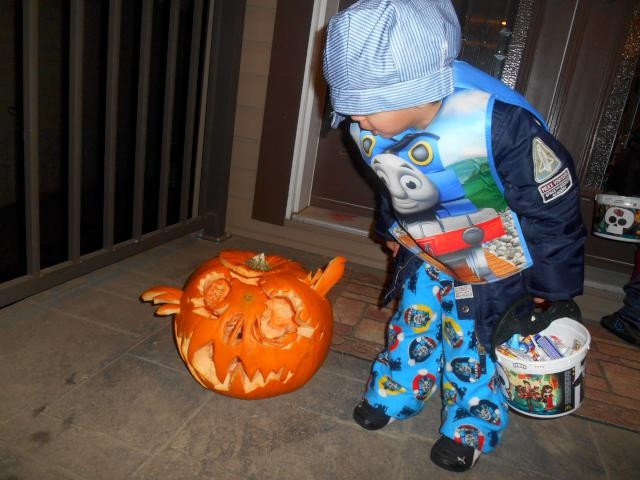 And some tobogganing (pre-thumb) :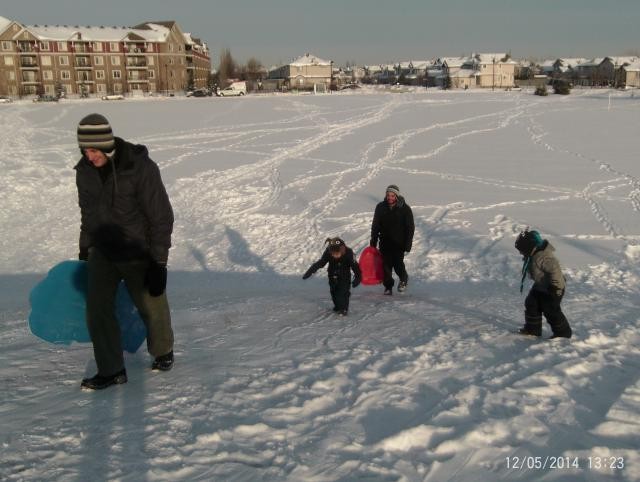 And Jonah's 3rd birthday: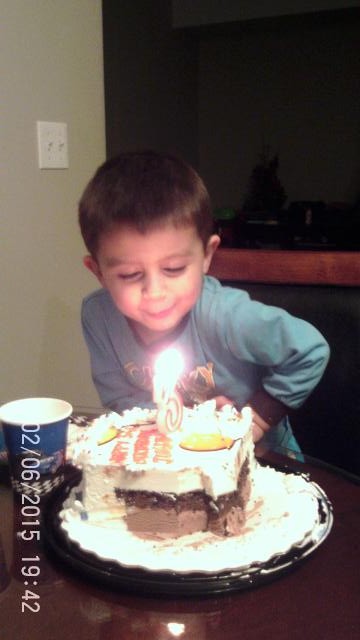 When we finally recovered, so we joined a local hiking group and did a couple over very nice walks along the river in downtown Edmonton, and in nearby Devon. We specially bought some mini-crampons to put on our boots so as to survive the icy terrain.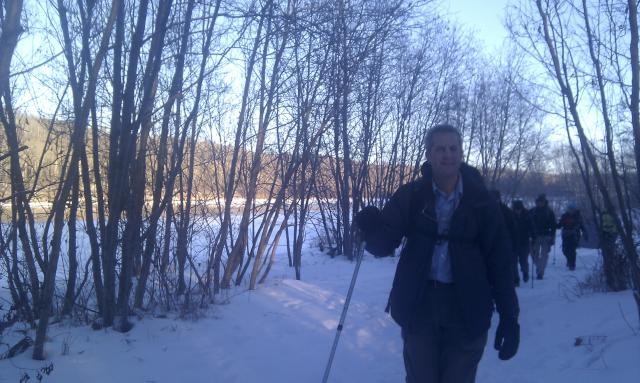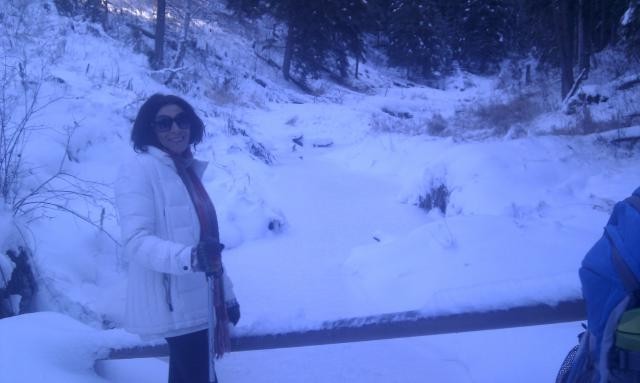 We also went to the Edmonton Rodeo with Virgilio (Ceu's brother) and Lourdes (who took the photo).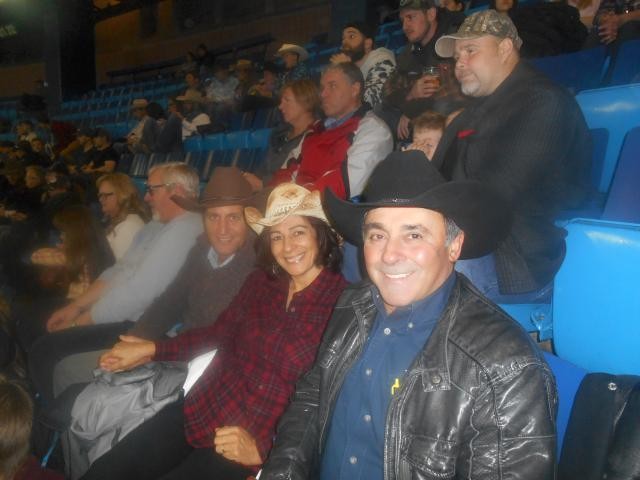 And visited Virgilio's farm, where Noel got a bit more practice with his Bobcat driving.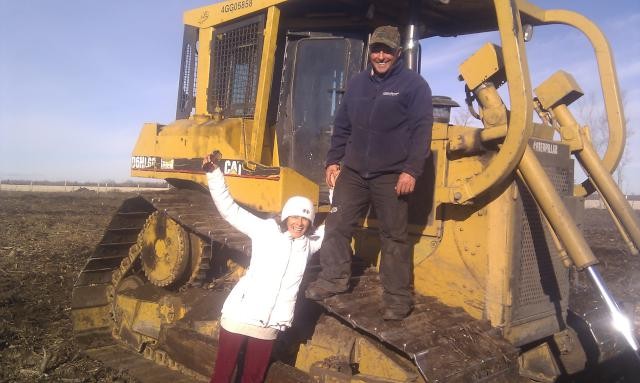 Since there are still no mountains in Edmonton we decided we might as well occupy our time looking for an investment property. So we found a nice Duplex consisting of two large apartments, one upstairs and one down that we liked the look of. So we put in an offer with a closing date of Jan 9th. No, don't worry, we have no intention of living there, this is just for rentals.
But first it was time for Christmas – and visits from Josh and Ben from England. We had a great time and spent Christmas itself over at Virgilio's 'cabin' (aka 3-bedroom house) by Calling lake 2 hours north of Edmonton. We tramped across the frozen lake, and cut ourselves a Christmas tree from the woods.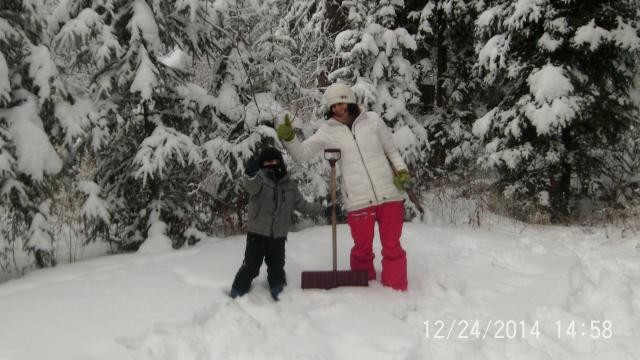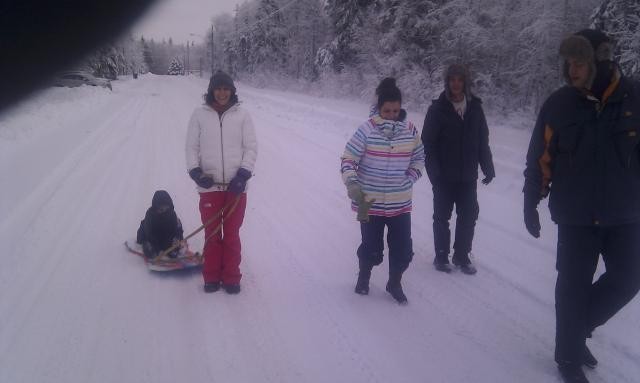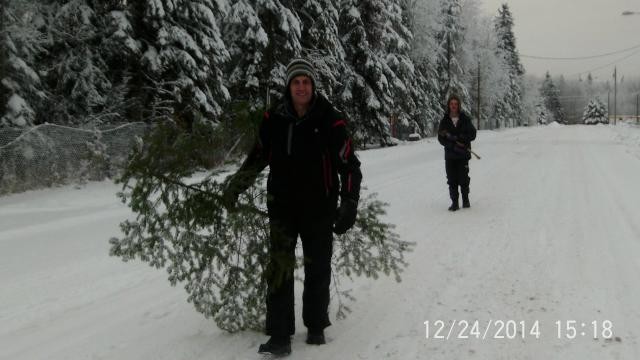 But then I got too tired, so Tiago had to take over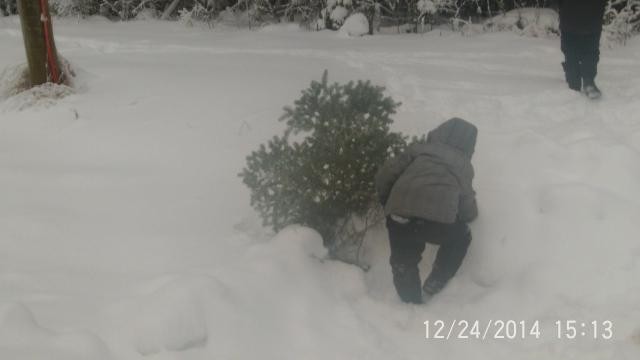 We were all rewarded with some marshmallows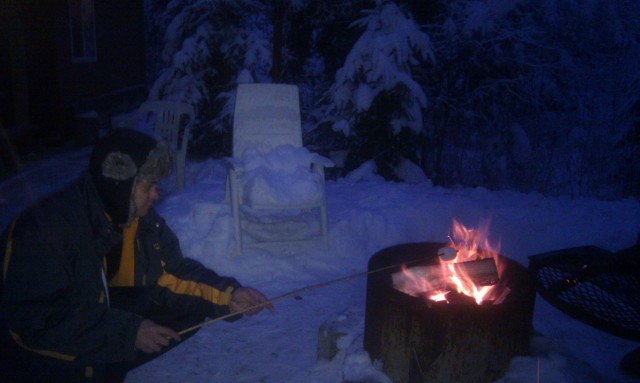 We even went tobogganing down an icy hill in Edmonton – where Ceu promptly crashed into some idiot at the bottom who wouldn't move. The result was a broken thumb – 'skier's thumb' – which would be fine if she had actually got some skiing in.
The boys then left, the Duplex was bought, and so it was time to move out of the apartment and into the Duplex to do some renos. We upgraded countertops, converted a bath to a bath and shower, repaired tiles, replaced sinks, varnished hardwood floors, and generally turned it into a delightful home. All this with Ceu wearing a cast on her right hand.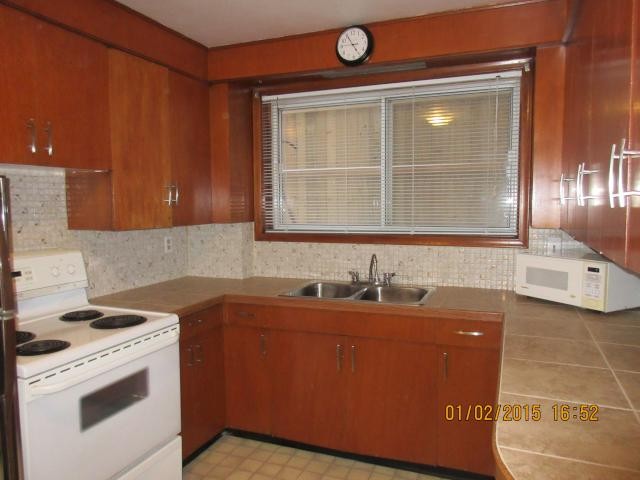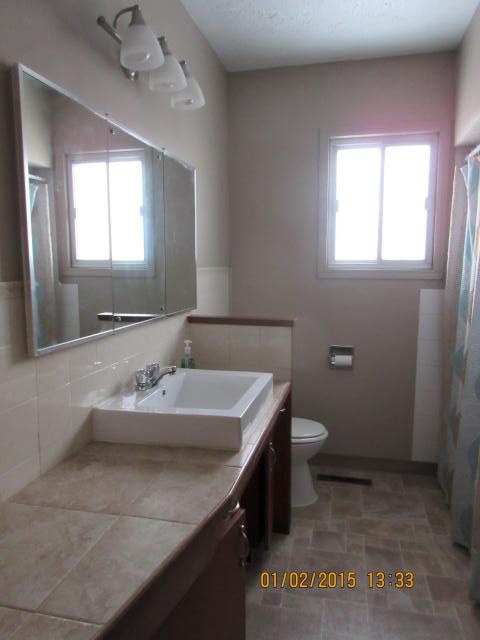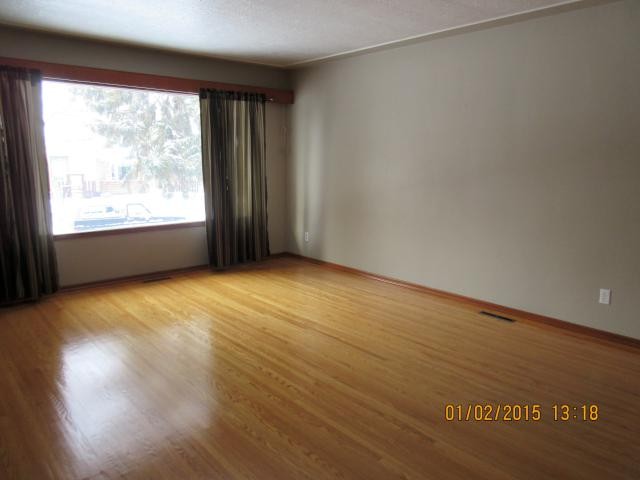 Then we rented it out to two nice families, both of home moved in on Feb 1st., thus kicking us out of our accommodation again.
So we hit the road in our rental car and headed via Kelowna to Vancouver to visit with Jessica. There we helped her to move  into a lovely new apartment in White Rock. We also fit in the Chinese New Year and some fantastic Chinese and Japanese meals. But still no skiing.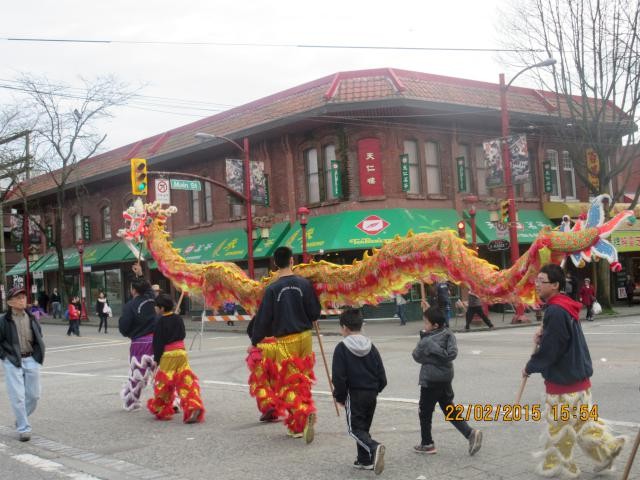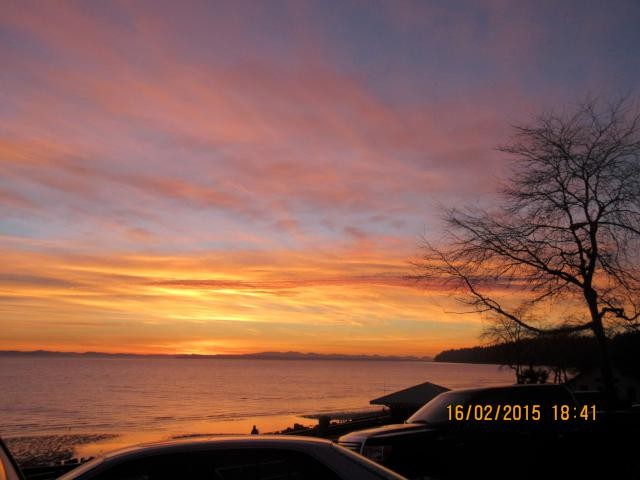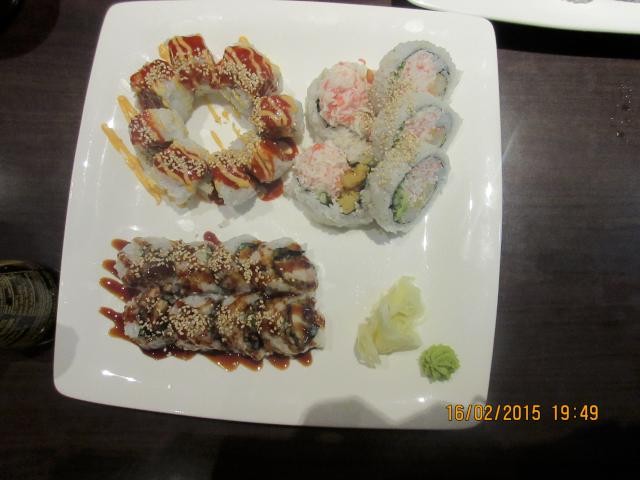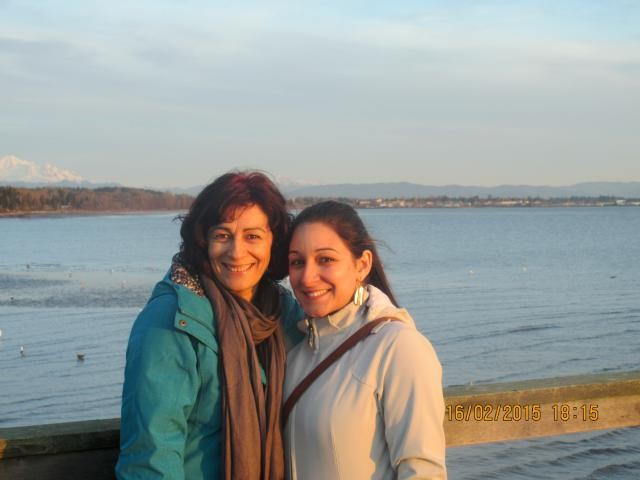 Once we had found Jessica a new home, we went back to Kelowna to spend a week with Uncle John and Aunt Lou.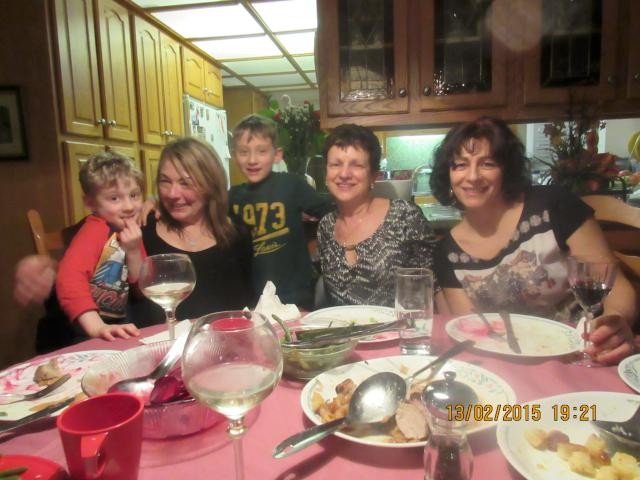 Naturally we also caught up with other family members, attended a funeral (Mrs Byland, mother of uncle John Byland) and had a good drinking session in Vernon with ski patrol buddies.
And the skiing? Well, we tried. But conditions on the hill were so bad that we didn't even venture up. This is because it was a very weird winter for weather – first a big freeze and snow dump, but then several weeks of really warm weather, wrecking all the snow. In fact, while we were doing the Edmonton renos we even had temperatures up to PLUS 8 deg! Which even allowed me to repair some concrete in the driveway.
But no skiing.
Finally we returned to Edmonton and stayed a week with Lourdes while Virgilio was away in Portugal.
We ended our stay in Edmonton by getting married on Friday August 13th. Yes, after talking about it for about 4 years we finally did it! Just Allisen and nephew Jessie as witnesses. Followed by a delicious meal out at a Japanese Tapas bar.
Back in England and Wales
Then mid March we departed for England once again.
This time we rented a canal boat in North Wales and had a great holiday with Mum and Dad. The Welsh weather even gave us sunshine for the whole week. If you even get the chance, this is a holiday not to be missed.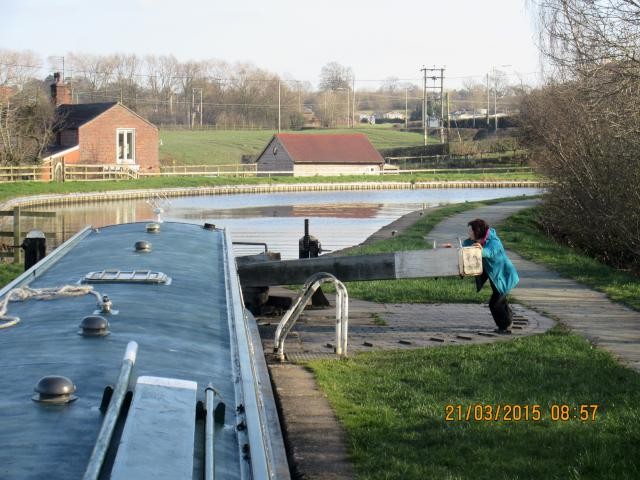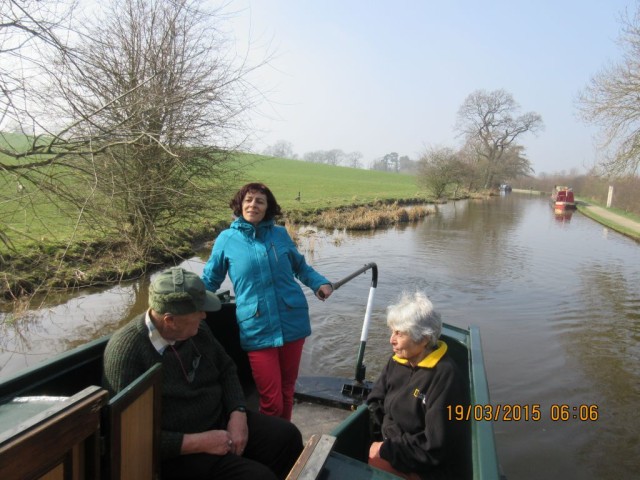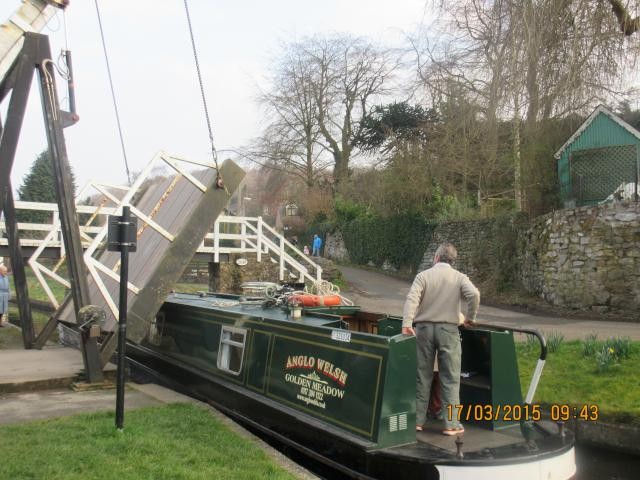 Back in Stubbington (South Coast of England, near Portsmouth) we then did an ISAF Sea Survival and Safety course. This included splashing around in a swimming pool trying to get into a liferaft fully clothed while the shore party were throwing buckets of water at us. Great fun and quite instructive!
Since Mum's 86th birthday was coming up, we decided to buy her and old 9.5mm movie projector. And then we watched movies made by her father in 1938-1942 – including Mum's birth and her first 4 years of life.
We also saw some footage of the very same canal boat holiday that I had done 40 years ago!  The road traffic was less, but the canal and the boats looked just the same!
And now we are back in Italy. So now you know what we did – and why we had NO SKIING!
Bah humbug

.
Current Location:
Bari, Italy
Current Position: 41 7.62 N 016 52.01 E
Click to view map.
We just arrived in Bari, Italy where it is T-shirt weather!
We will be hiring a car for a few days while we meander our way across the sole of Italy to Life Part 2 which is waiting for us in Cariati Marina. Once there we will be attaching a new flex-o-fold folding propeller before putting her back in the water to commence our travels.
We had a great time in Canada and England, (including a fantastic canal boat trip through the Llangollen Canal in North Wales) – plus of course getting married at the last minute – and want to thank everyone for putting up with us.
But it is good to be back in Italy and we are looking forward to a good year of cruising. Perhaps you will come and join us for some of it?
We will put up some photos soon…
Current Location:
Cariati, Italy
Current Position: 39 30.28 N 016 56.44 E
Click to view map.
Distance sailed since last post:
97 nautical miles
.
View the map of our voyage track here
Sorry about the long delay in getting this post up! Yes, we are actually now in Edmonton, Canada, and have been for almost 3 weeks. But you know how it is.
Actually, how it is, is that each time we go back to Canada for the winter we seem to get sick. Usually a nasty cough with a fever that just seems to hang around. And this time was no different. But I think and hope that we are on the mend again and can start to enjoy the charms of Edmonton. You know: Minus 20 deg outside. Plus 20 deg inside with air so dry it turns your nose into sandpaper. A monotonous flat landscape with nary a feature of interest in sight. And lots of large malls in which to go shopping. Well, what else do you do here?
But I digress. I was going to tell you about our hauling out saga – and our new batteries!
From Gallipoli we sailed across the Gulf of Taranta (the town after which a certain spider was named) to arrive in Crotone just before a big storm that was forecast. The expectation was for 5 meter waves from the SE, so we figured we had better duck into the marina for a couple of days. Even then it was still pretty lumpy.
Once it had settled we nipped around to the other side to get hauled out by Elio in Porto Vecchio. We had a couple of day's wait, but that allowed us to charge up and install my brand spanking new Lithium batteries! It is amazing how much smaller and lighter these are. And by virtue of the fact that they can be discharged much lower than lead acid, we need only a 300Ahr battery to replace our 600Ahr AGM's. How nice to have some power available again!
Then came the haul out.
Now, Elio has a crane, not a travel lift. The crane has spreader bars, so the idea is simple, you put the hook and spreader bars behind the mast and run two straps under the boat, one forward of the keels and one aft. Then you lift.
Except that it turns out that a Leopard 42 has the center of gravity only about 1 m abaft the mast. To lift the boat nice and steadily the hook needs to be directly above the center of gravity. But the mast is in the way, preventing the spreaders from going far enough forward to bring the hook over the COG.
The net result? As we lift the boat out of the water, the bow drops down. Clearly this is not the case for other types of cats, as we could see our friends' Far Out sitting comfortably on the hard, waiting for us to join her!
After about 5 hours of trying different experiments it became clear that this was not going to work. There was no way we would be hauling out in Crotone.
Now what?
After a day thinking we might have to sail the 250 miles to Mesolonghi in Greece, we found a tiny harbour just 32 nm up the coast who had a travel lift and so could pull us out.
So that is where Life Part 2 ended up: Cariati is a delightful little town. Very quiet. The harbour is small, and there are just two cats (including us) and a few fishing boats on the hard. If you zoom in on the map/satellite image above you can see the tiny hard where we are parked. On that image there are two yachts. Now there are still only two yachts, but one of them is now Life Part 2.
There is also quite a nice beach, so we were swimming daily until the day we departed.
Touring South Italy
We had booked to fly out of Rome, and decided to rent a one-way car so that we could do a bit of touring on the way. That was definitely the right thing to do.
We had some lovely walks in the mountains and stayed in delightful 'Agro-tourism' B&B's
And we got to visit Pompeii, which is worth a post of its own (though we probably won't get around to it, but I will try to talk Ceu into putting us some pictures!)
But the driving in Italy is crazy. Narrow streets which the drivers then subdivide into more lanes than the original engineer had intended. Still, we survived, had a brief visit in England with the parents, and then made it to Edmonton.
So now you are up to date!
Current Location:
Gallipoli, Italy
Current Position: 40 3.19 N 017 59.02 E
Click to view map.
Distance sailed since last post:
86 nautical miles
.
View the map of our voyage track here
The first night at anchor in Brindisi was fine. But then the coast guard came and told us we couldn't anchor AND we couldn't windsurf AND we couldn't come into a free berth at the town quay – despite the fact that there was an Austrian boat tied up there that had asked and been told he could stay there for free. And he had done so on 5 previous occasions.
So we had to spend 39 euro for a night in the marina. The next day we took the 20 minute bus ride into town and went to see the coastguard. The told us that there was no problem, of course we  could bring the boat in to the empty town quay and tie up for free. So we did. So what was all that about?
In fact, we stayed two nights, as the next day was rather rough too. But, of course, the following day was light winds. Either too much or too little!
From Brindisi we sailed and then motored 40nm south to Otranto. There we anchored with a forecast of calm overnight. So where, then, did that NE swell come from, causing such a roly night???
The next day we had a fantastic spinnaker run down to Santa Maria di Leuca, at the very tip of the heel of the Italian boot. There we had a very peaceful night.
Today we had another fantastic sail. Moderate winds with a beat for 20 nm to Gallipoli (not to be confused with the Turkish Gallipoli of WWII infamy)
On the way we passed some lovely caves.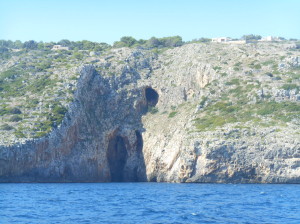 And then we caught a fish!  Yay!
So that meant sushi!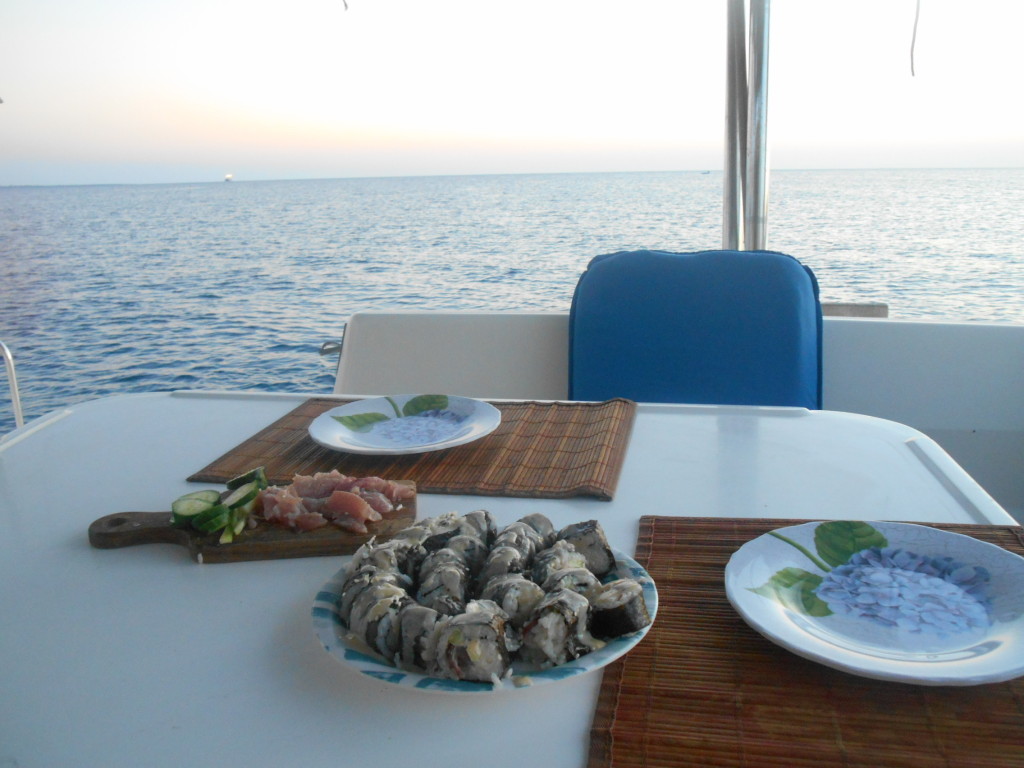 Ok, so maybe not the word's greatest sushi as we weren't exactly prepared with the right ingredients, but it was fresh and tasted great! Now we just need to catch some more tomorrow.
Current Location:
Anchorage in Brindisi, Italy
Current Position: 40 39.52 N 017 58.02 E
Click to view map.
Distance sailed since last post:
109 nautical miles
.
View the map of our voyage track here
Well, we made it to Brindisi!
As it turns out, we did have the motor -sail the whole way, for two reasons:
The winds were very light, so it would have taken us forever to cross if we just sailed, and
A couple of times we did turn off the engine, and straight away we were getting 'low battery' messages.
So I guess this battery is almost as dead as the other two. But it's not all bad. It did mean that the fridge was working all night, so now we have a nice fully frozen freezer again – though there is nothing in it, as we have been operating on a 'minimal fridge' policy for the past few weeks. Anyway, it was an uneventful passage, taking a full 24 hours to cover 114 kts, so not the most impressive average speed.
Brindisi harbour is huge. There is a large outer harbour. Then, over a mile from the entrance to that, there is a large middle harbour, and a mile from the entrance to that, there is a good-sized inner harbour.
On prior information, we anchored just outside Brindisi Marina, next to an old castle, in the middle harbour, and we went to check in, which was pretty straightforward. Then we went into town and got our internet sorted out, which was also straight forward. 55 Euro for 15 GB for two months with TIM. Though we only need it for a month.
On coming out, we spoke with an Austrian boat tied up to the town quay, opposite the customs house. He told us that there was no charge for tying up there! What a change from Croatia, Greece, and other places! So we may well move across there, as it makes it much easier to visit the town.
But today it is blowing again. 25kts. And it is a nice large enclosed harbour. So that means it is time to get the windsurfer out. Finally!
We will probably stay here a couple of days and then work our way around to Crotone. We really need to get these batteries sorted out!
Current Location:
Leaving Montenegro
Current Position: 42 25.13 N 018 32.2 E
Click to view map.
Distance sailed since last post:
7 nautical miles
.
View the map of our voyage track here
Today is calm and sunny.
Finally we have filled up with fuel, and are on our way. Forecast looks reasonable for the night, though we will have to negotiate some wind bends to get south to Brindisi. The wind is starting at SE but then as we approach Brindisi in the morning it will veer to SW. So I think we will start off on Port tack, try to keep as south as we can, and sail towards the header.
But we feel a bit like that old song,
"One wheel on my wagon,
But I'm still rolling along,
Them Cherokees
Are after me,But I'm singing the same old song"
Why?
Because yesterday our second house battery died. Another dead or shorted cell.
So we are down to one battery, our of our original three – and that one is far from happy. We are find during the day when the sun is shining, but at night we can't run the fridge, and can barely run anything else. So sailing tonight will be interesting. Hopefully we will have enough wind to keep the autohelm happy. Otherwise we are going to be hand steering the whole time. No fun that. Or else we will have to run the engine and burn up the cheap fuel we just bought.
Just hope we can make it to Crotone were we haul out, and then we can order the new Lithium batteries.
We will be off the grid for today and tomorrow until we get internet sorted out in Italy.
Current Location:
Fuel Dock, Porto Montenegro
Current Position: 42 26.18 N 018 41.5 E
Click to view map.
Distance sailed since last post:
3 nautical miles
.
View the map of our voyage track here
Montenegro offers duty free diesel when you check out. That saves 50 cents per litre, which is a lot on 2-300 litres. But there are two catches:
You have to book a time slot in advance, as the dock is also used to refuel big boats that can take up to 200,000 litres – and 11 hours of fueling time.
As soon as you are fueled up you have to ckeck out and leave the country. No hanging about.
What that means is that you have to try to guess in advance what the weather will be so as to have a good passage. Well, the weather had looked good for a Tuesday departure, so we booked for 8am planning to leave straight away.
But, as we got closer the forecast got worse. Now it was calling for gales through the morning, with gusts to 70kts, easing off in the afternoon. This morning we went on to the fuel dock and asked if we were able to delay our departure until the afternoon. No dice. Either fuel up now and go, or buy the duty-paid fuel and do what you want, or book another time.
By this time the wind was already blowing us onto the dock at 35 kts. Even the big cruise ships were pulling into Kotorska Boka to take refuge from the storm in the open sea. Not a good time for planning to go.
Fortunately the other boats that were booked to refuel at 9am did not show up, so we were able to wait for a temporary lull in the wind to make a hasty exit from the fuel dock.
Just as well, as now the wind is once again back up to 30+ knots. But we are well anchored just near the dock, and we will try again tomorrow. We are booked in for 2pm. We shall see if we can leave for Italy then!
Current Location:
Kotor, Montenegro
Current Position: 42 25.44 N 018 45.93 E
Click to view map.
Distance sailed since last post:
77 nautical miles
.
View the map of our voyage track here
When I say bombed, I mean literally bombed. We have been in Montenegro for over 10 days so far. So what are our impressions?
We love the countryside. The Kotor Bay is a huge fjord-like natural harbour with three butterfly wings joined together. It is quite dramatic and we have had some great hikes to the top of the ridges. Unfortunately the weather has been far from ideal, with clouds, rain, and thunderstorms for over half of the time.
As with Croatia, the people are friendly. They also seem less money-grabbing than Croatia. The overall prices are cheaper too. And we can fill up with duty-free diesel when we check out next Tuesday! However, the cruising permit is quite expensive, especially if your boat is over 12m long. Fortunately, our Canadian papers show us as just 11.68m, so we paid the cheaper rate: only 90 euro for a month, instead of 125 euro for a week! So that was a bonus

But the water is COLD. That's not just Cold with a capital C, but COLD in all uppercase! At Kotor there is a huge river thundering down the mountain pouring cold water into the bay. The result is 16 deg C water. Way too cold for us! Today we are back near the entrance to the bay, and the water is back up to 24 deg, which is at least swimmable.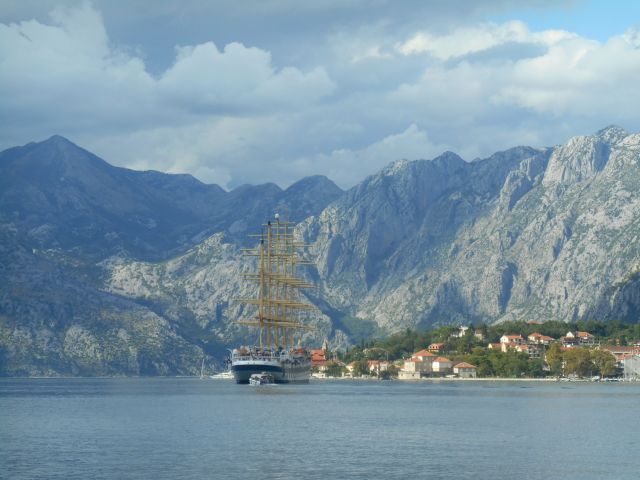 Kotor town is beautiful. Very much like Dubrovnik – a crowded (with buildings) medieval town with a big wall around it and halfway up the mountain (rather like Ston), but much less crowded with people. We stocked up on some medications, at very cheap prices (Croatia is expensive), and I also got my computer glasses copied so that I have a spare set.
We also rented a car for a day to go visit two of Montenegro's five national parks. Great day out, and even did a boat ride down the river to the Skadar lake: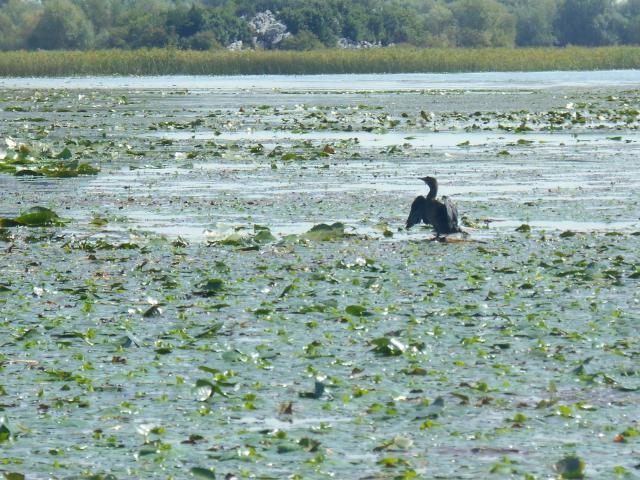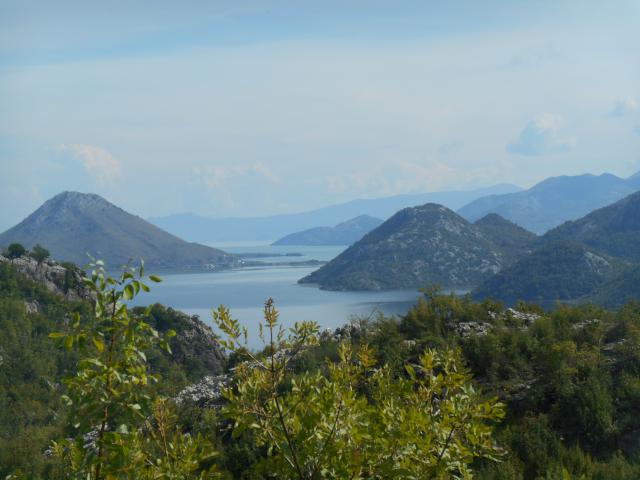 We also drove up the mountain at Lovcen, which gave fantastic views right across Kotor, Tivat, and the Adriatic.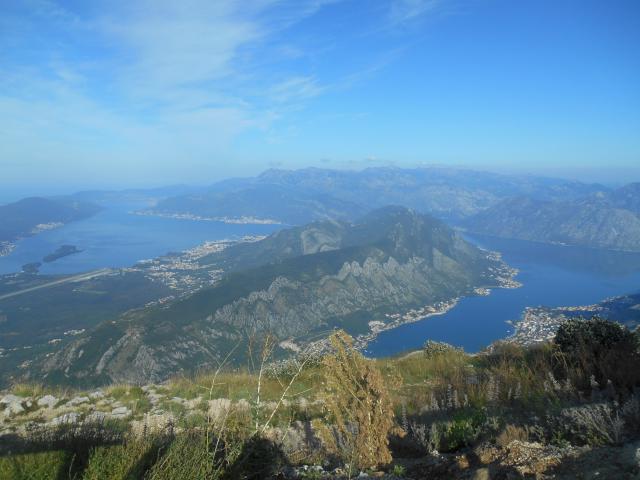 The return trip was via the shore, driving past Sv. Stefan, a pretty peninsula somewhat similar to Primosten and Rovinj.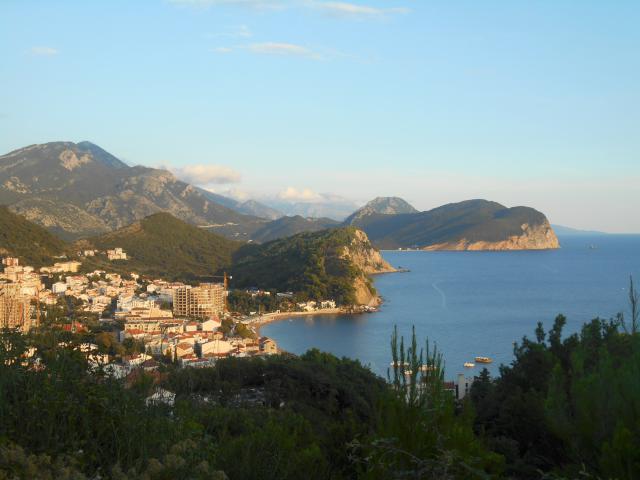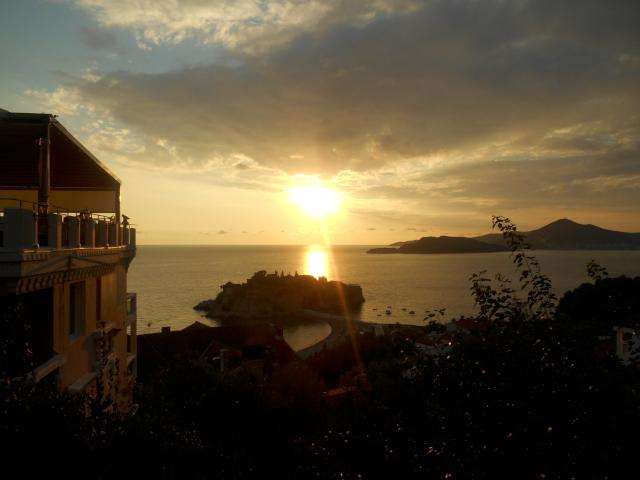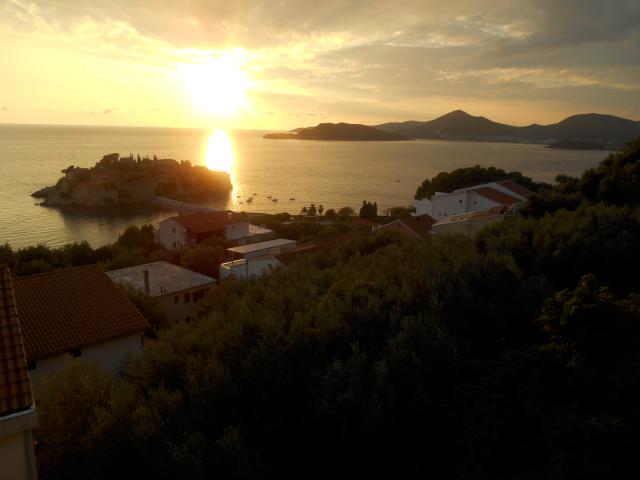 But what about these bombed hotels? Much more so than Croatia, the land is littered with houses, hotels and other buildings that were destroyed during the war 20 years ago and have never been rebuilt. So sad that people love to fight and destroy so much.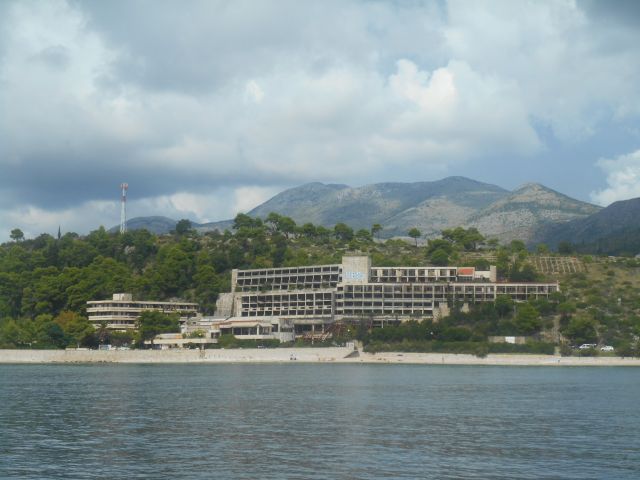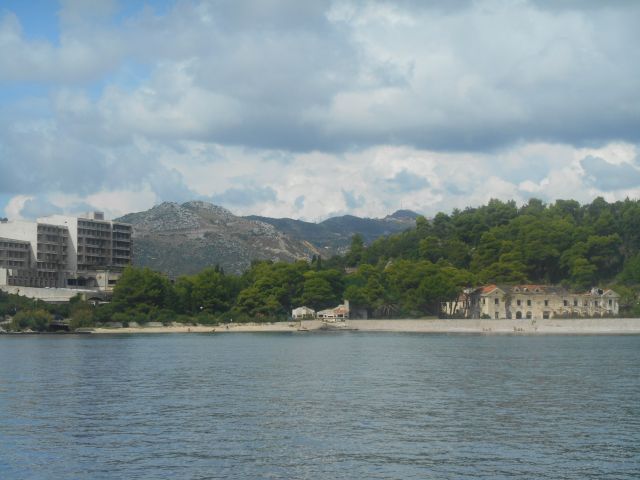 I was hoping that I would be able to import the new Lithium batteries here, but it still proves to be too complicated and not much of a tax saving, so we will limp along until we are at the Crotone winter haulout. What is the problem? Well, our house batteries died a couple of months ago, so now we can basically only run things like fridges and computers during the daytime when we have solar. At night we can just about manage our anchor lights and interior lights – though the battery voltage does go down to 10.5v.
On Tuesday we will be checking out of here and crossing over to Italy. First we get some duty free fuel. Then it looks like it is going to be quite a fast and windy crossing to Brindisi.We were hoping to go farther north, eg to Vieste, but it seems the wind is going to be from the north, so heading to Brindisi is easier.
We will then amble  around the bottom and into Crotone. We are booked in to haul out there, and we will leave Life Part 2 on the hard for the winter, so that she can get a good dry out. We are also thinking of putting Coppercoat on the bottom, having seen a good result on two boats so far. The key seems to be getting the application done right – ie lots of thin smooth coats. We shall see.
Anyway, that is a quick update. Will try to say more when we are in Italy!
Current Location:
Anchorage outside Korcula, Croatia
Current Position: 42 56.95 N 017 9.78 E
Click to view map.
Distance sailed since last post:
47 nautical miles
.
View the map of our voyage track here
Across from Korcula we could see a big mountain rising up above the small town of Orebic. If you click on the map link above, you can see where we are anchored and also the town and mountain just north of us. So we decided to do a hike.
It turned out that the mountain rose 900m up from sea level. So it ended up being quite a climb. But we weren't the only ones doing it, and met several other hikers on the way, including a family with two young girls from Oxford.
While we were puffing our way up, our friends Tony and Sally on the Junk-rigged schooner Ron Glas were checking out of Croatia to head for Italy and then Greece. Halfway up, we could see them! So, farewell Tony and Sally, and bon voyage for your crossing! We hope to bump into in some anchorage somewhere again.
We also had a nice view of Korcula town. We really like Korcula, and had another lovely evening there after our hike – live music at so many cafes and bars, and a lovely ambiance through the town. Definitely one of our favourites. We will tell more in our next post, with highlights of Croatia.
Below are a couple other photos from our hike