Current Location:
Anchorage outside Korcula, Croatia
Current Position: 42 56.95 N 017 9.78 E
Click to view map.
Distance sailed since last post:
47 nautical miles
.
View the map of our voyage track here
Across from Korcula we could see a big mountain rising up above the small town of Orebic. If you click on the map link above, you can see where we are anchored and also the town and mountain just north of us. So we decided to do a hike.
It turned out that the mountain rose 900m up from sea level. So it ended up being quite a climb. But we weren't the only ones doing it, and met several other hikers on the way, including a family with two young girls from Oxford.
While we were puffing our way up, our friends Tony and Sally on the Junk-rigged schooner Ron Glas were checking out of Croatia to head for Italy and then Greece. Halfway up, we could see them! So, farewell Tony and Sally, and bon voyage for your crossing! We hope to bump into in some anchorage somewhere again.
We also had a nice view of Korcula town. We really like Korcula, and had another lovely evening there after our hike – live music at so many cafes and bars, and a lovely ambiance through the town. Definitely one of our favourites. We will tell more in our next post, with highlights of Croatia.
Below are a couple other photos from our hike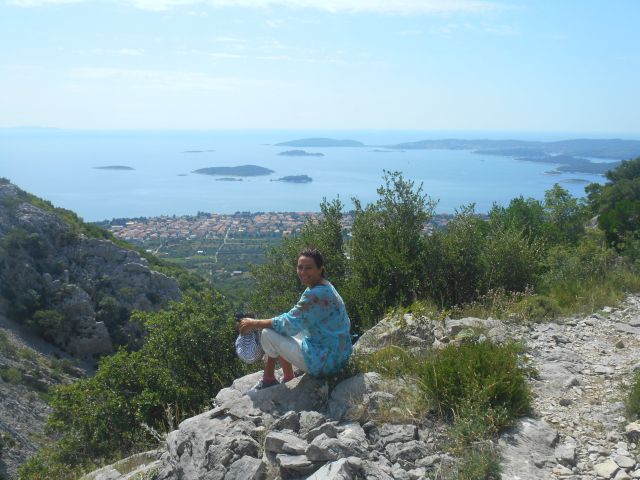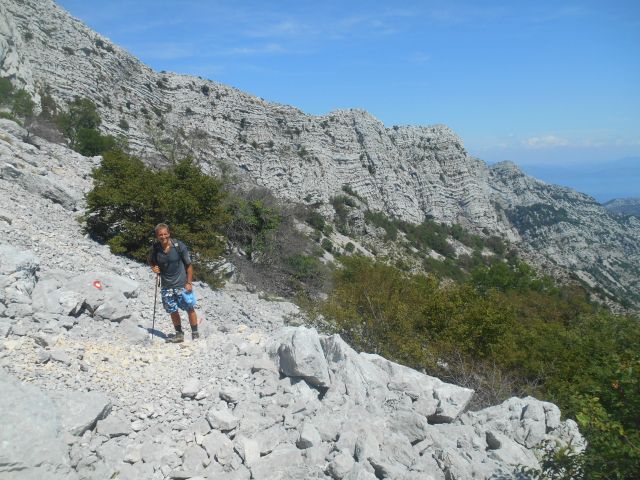 Current Location:
Komiza, Vis, Croatia
Current Position: 43 2.12 N 016 5.49 E
Click to view map.
Distance sailed since last post:
22 nautical miles
.
View the map of our voyage track here
We tried twice when Mitzi and David (my sister and her husband) were here. In fact, we tried to go to Hvar and Vis, but each time we tried, the wind was either in the wrong direction, or non-existant. And, in any case, I think Mitzi, David and Emma had other ideas on how to spend their 10 day holiday, rather than motoring around: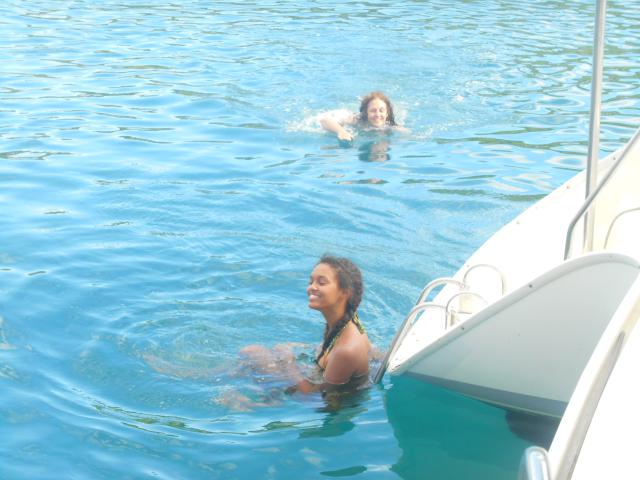 So, apart from a visit to Split,  we ended up spending most of the time in different spots on Solta,with one brief visit to Milna on Brac which is right next to Solta.
Then we tried again yesterday.
Last night we were in a beautiful little cove which, despite it being the very height of the season here in Croatia, we had all to ourselves!
Why?
Because it required a bit of ingenuity. The cove is small, and 15 m deep. So we took one long line to each shore, and tied us up in the middle of the bay. With calm conditions we had a peaceful and quiet night. And a beautiful bright full moon.
This morning we got up to find a breeze in the right direction! Se set off before 9am and were on our way, making 3kts. Then the wind vanished for an hour, but came back again. Soon we were making 2kts again. And who is in a hurry? As long as we get there before dark, we really don't care.
Then as the sea breeze picked up, it gradually strengthened, finally getting up to 23kts just as we were approaching the Western end of Vis. What a cracking sail! We bore off for the western point, and were touching 8kts of speed. And smoooth water. Can't beat it!
By 15:00 we were anchored in 7m of water, just to the south of Komiza town. A nice patch of sand, but somehow Ceu managed to plant the anchor right in the middle of a 1m diameter patch of poseidonia weed!  Which, of course, she blames on my steering. Oh well, it is holding and the night will be calm.
Tomorrow, first thing we will head the final 4 miles to visit the Blue Cave just west of here.
Current Location:
Senjska, Solta, Croatia
Current Position: 43 21.51 N 016 18.4 E
Click to view map.
Distance sailed since last post:
10 nautical miles
.
View the map of our voyage track here
After Mitzi, David and Emma left us, we filled up with some water, and then motored to the West end of Solta with Bagheera.
There we drank some more wine and played some more 'Brandy Dog' and 'Mexican Train'.
And today, despite the ongoing forecast of zero wind, we thought we would try for Vis.
Bagheera left first thing, motoring. We waited. At about 13:00 some wind appeared, so we upped sails and set off closehauled in the vague direction of Vis. Wind was light, and were were barely making 3kts, which wasn't too helpful, given that we had 20 miles to travel.
And then the wind veered. So now we were looking at a full beat in no wind. Or motoring.
We decided to tack and head instead for Brac, closehauled on Starboard, doing now about 4kts with 11kts of wind. Not so bad at all.
And then, at 14:30 the wind dropped to 5kts and backed all the way to the East. So know were were going slowly, in the wrong direction. We could tack and sail a nice course to Vis – and arrive there about 3am. Or we could motor to Brac.
Or we could cut our loses and find a bay on Solta.
So we spent the afternoon doing a big loop out from Solta and then back in again!
One day there will be some wind and we will get out of here…
Current Location:
St. Mark's Square, Venice, Italy
Current Position: 45 26.05 N 012 20.34 E
Click to view map.
Wow…I am really behind on my Venice blog, but here it is.
Find a comfortable seat!  Not much text, but there are about 75 photos, including islands of Burano and Murano.
After this blog post you will want to visit Venice, OR…. maybe you won't need to go there anymore because you have seen it all here, ( or you wont look at my blog posts anymore!!)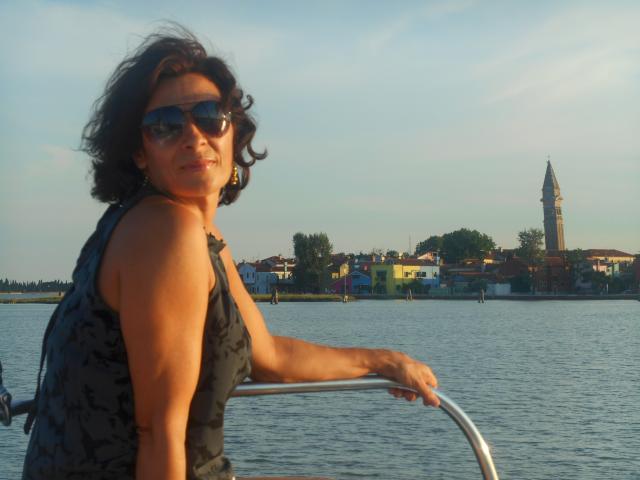 Saying goodbye to Burano island. We were anchored right here for 6 days. This was our parking space, or may I say parking lot we had all for ourselves in Burano. From here we took the Vaporetti (ferry) to Venice and  everywhere.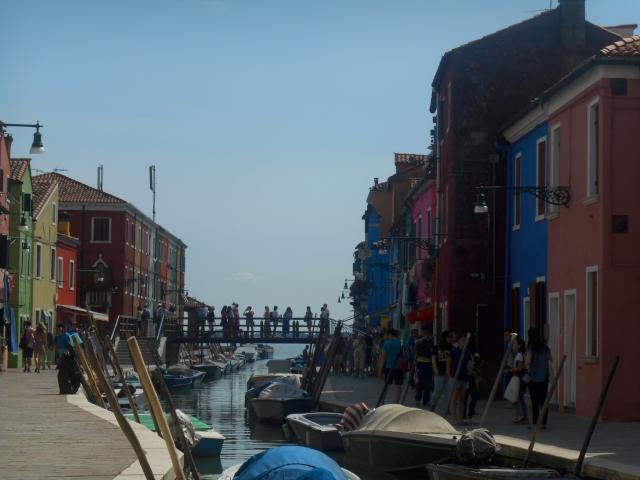 We took the dinghy ashore and tied up at he end of this canal on a little fishing harbour. I was so excited to see this cute little colorful and very picturesque island, that I thought Venice couldn't beat that!
We loved Venice but it sure isn't as picturesque as this.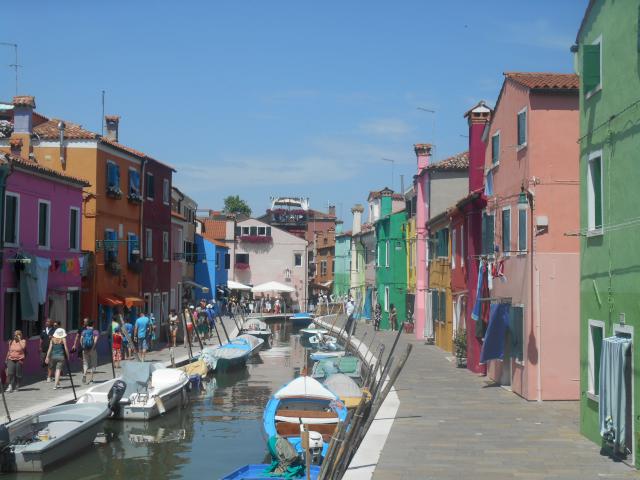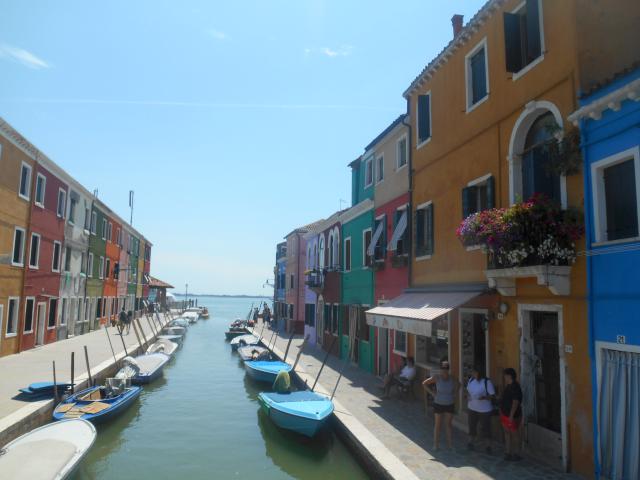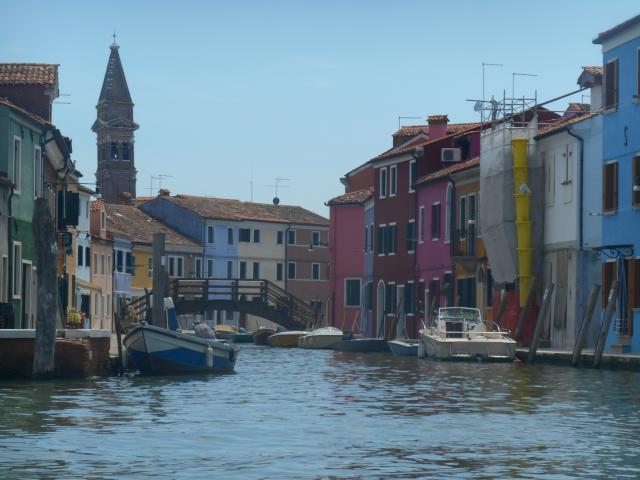 In the morning it was really quiet, and peaceful, one could just hear the sound of the waves, and the birds, there is a  lot of countryside around the area. The afternoons were busy with tourists and their cameras.
Love the photo below: colorful house and nice garden, but the cute old lady  hanging up her laundry in her pink gloves, is the best!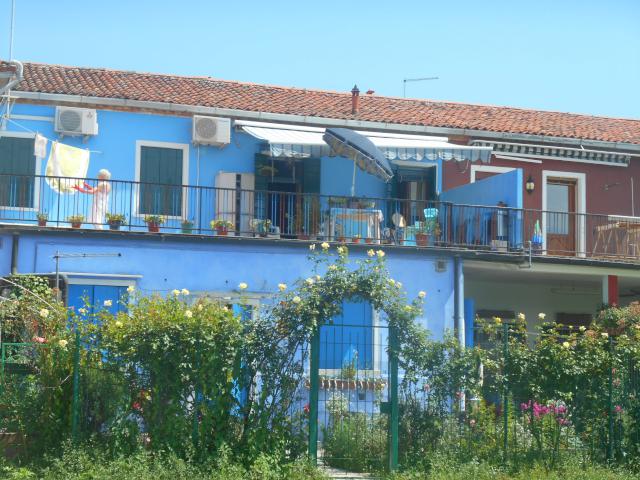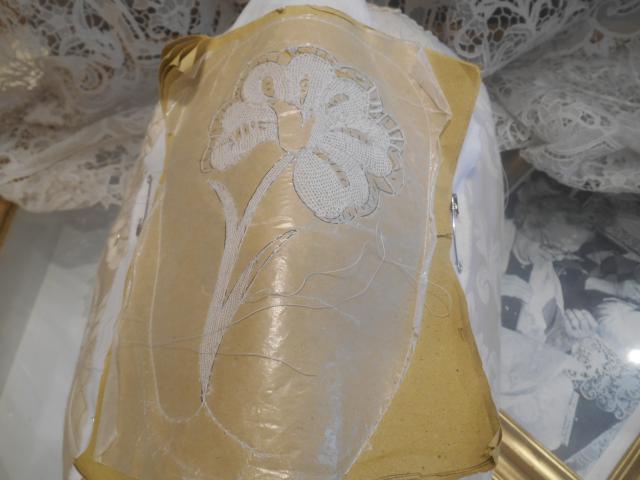 Burano island…..known for their lace. Above is how they make the lace by hand. It is a very slow process, stitch by stitch with needle and thread.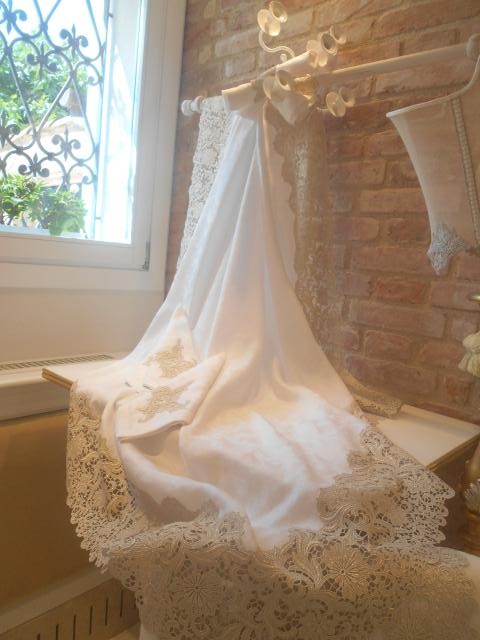 Now..if you want to pay hundreds of dollars for a lace doily or thousands for a table cloth, above, you will get the quality, BUT if you don't want to pay that much, the main street and the Church Square is lined with stuff of such low quality that some of us  Canadians can get it at the dollar store!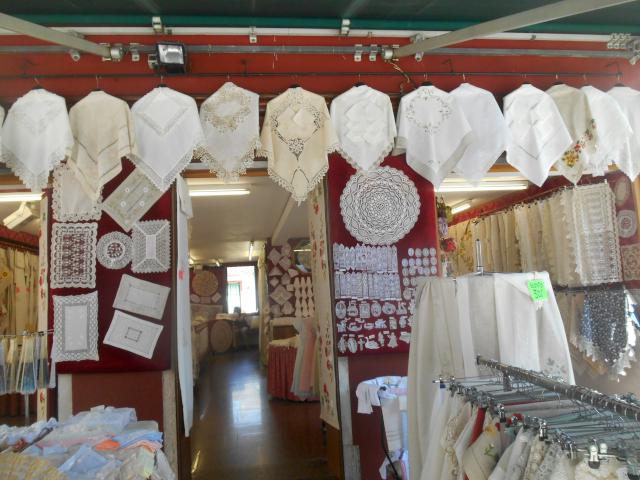 Welcome to Murano
The island  of Murano, famous for their glass.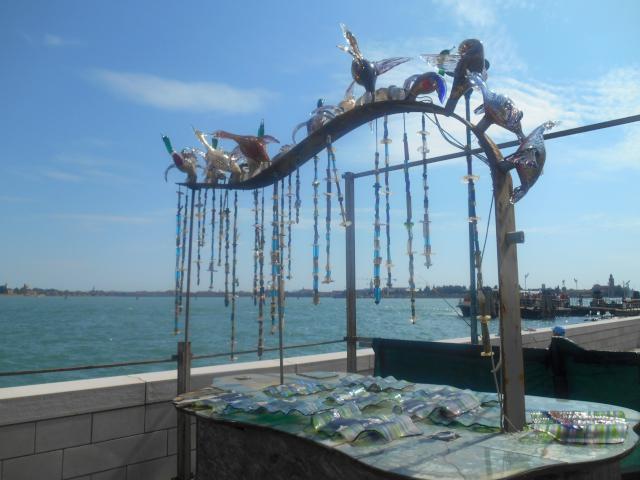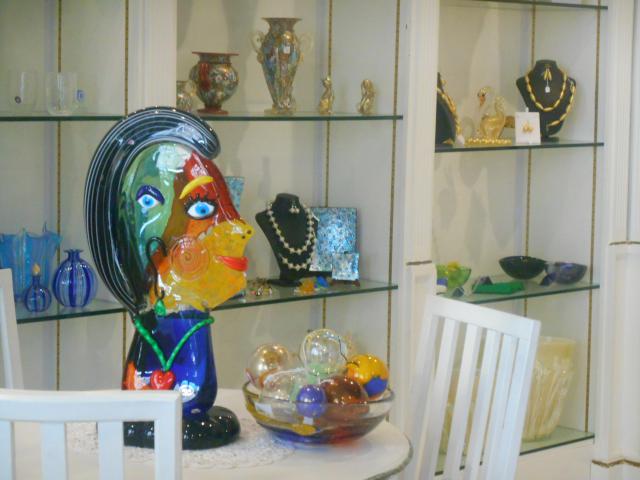 Lots of fun just window shopping…..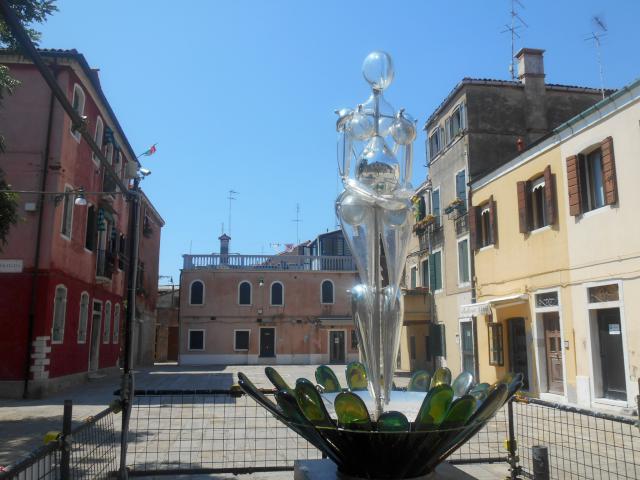 Glass everything, from the fancy and too tacky for my taste, Chandeliers ( many shops did not allow photos taken) to very beautiful jewelery and housewares.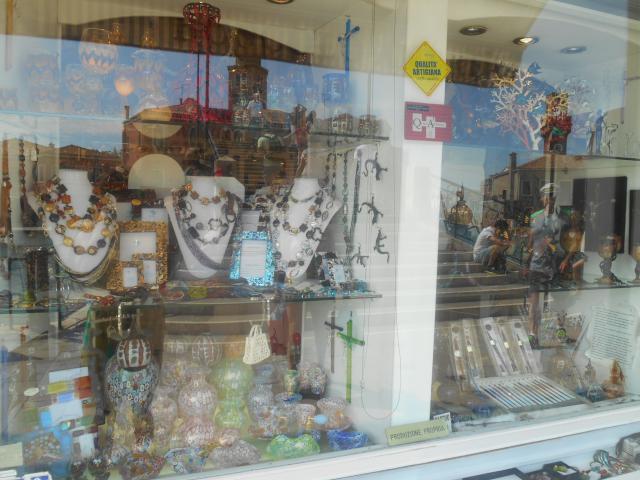 And of course you could watch them make their specialties for a tip, or some of them actually charge about 5 dollars. We watched a few different ones, although the horse seems to be the most popular one they do.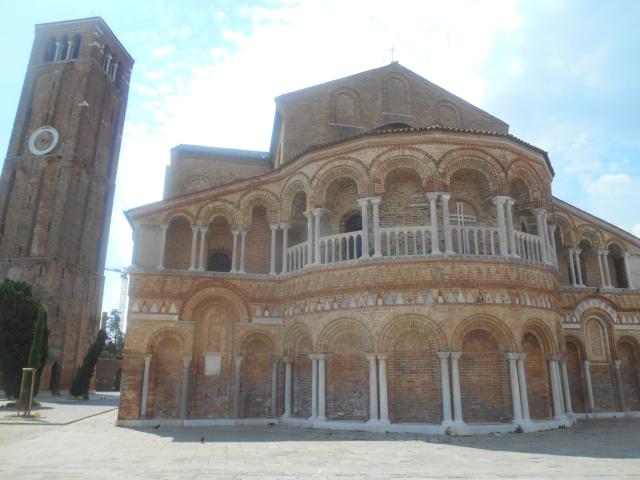 We came across this beautiful Church. Free entrance. So many times you must pay to get in and they are not even that nice.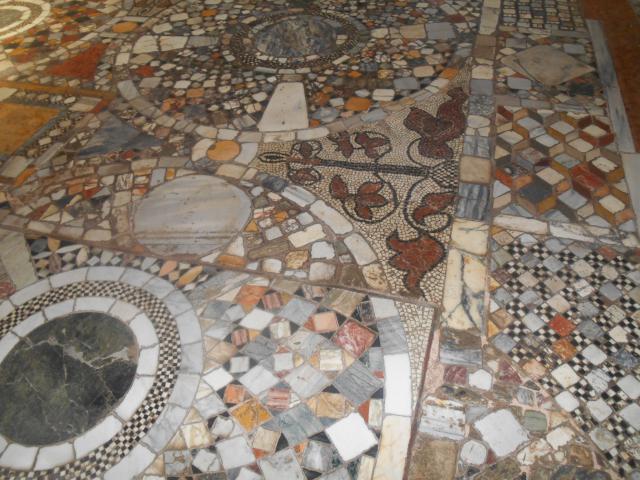 The mosaic was amazing…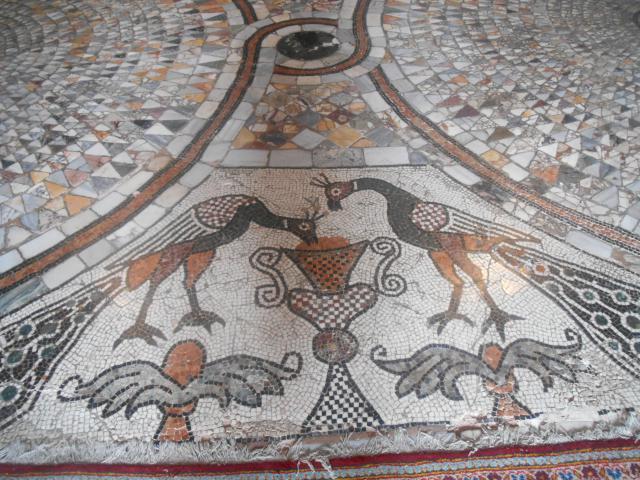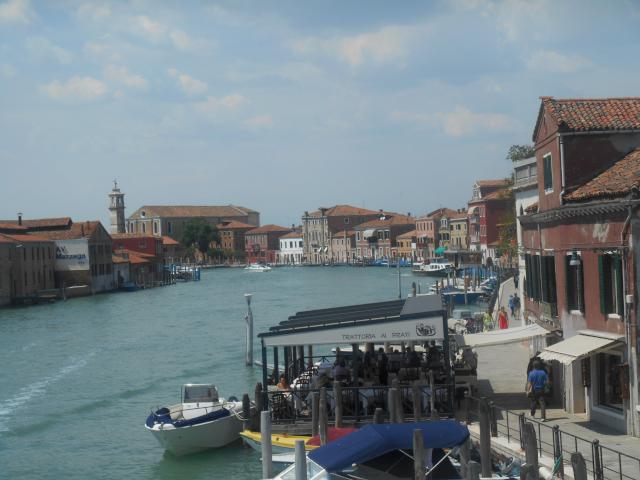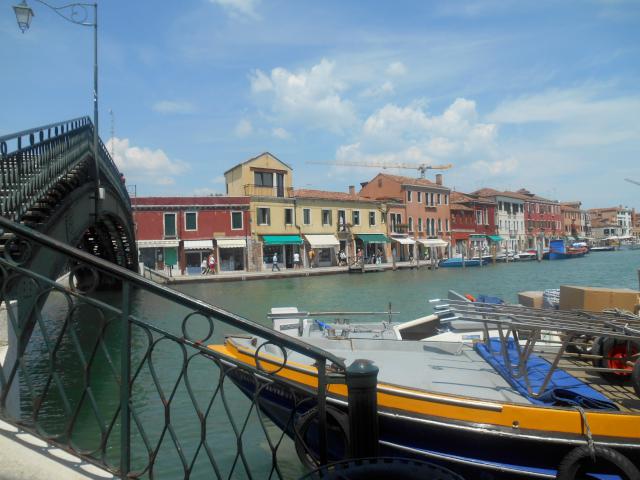 Murano though not as picturesque as Burano  is still really nice.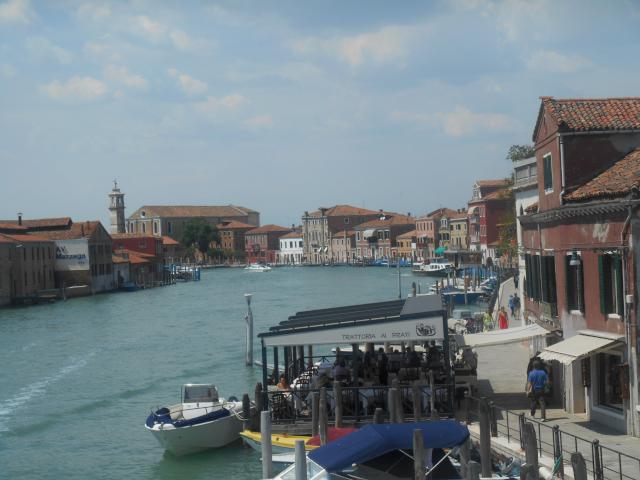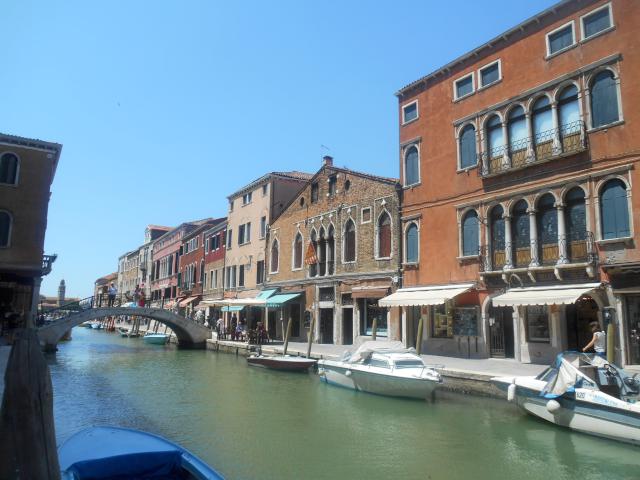 A walk through Venice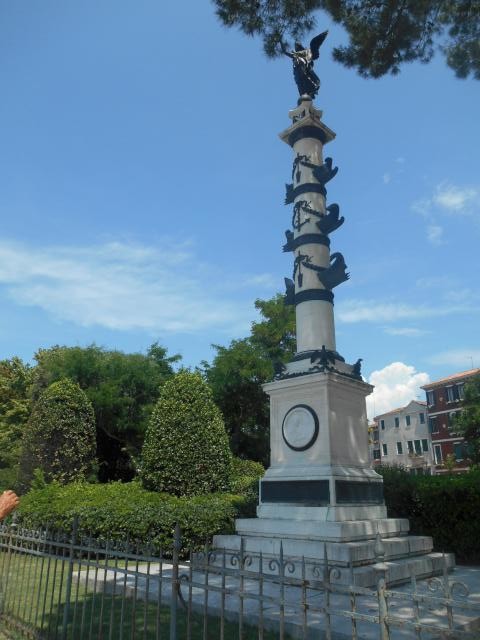 First day we went to Venice we decided to get off the Vaporetti a little ways before St Marc square. We wanted to enjoy walking through the park and then along the canal.  This beautiful quiet park and 5 minutes along the canal took us to this view below. We thought for sure it must be the wrong day to visit, maybe a cruiseship was in.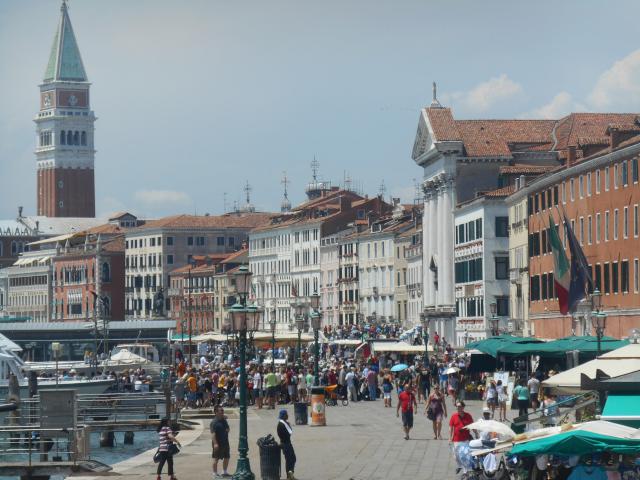 Turns out that this was the spot for all the connections for the vaporetti and ferries as it is very close to St Mark's square.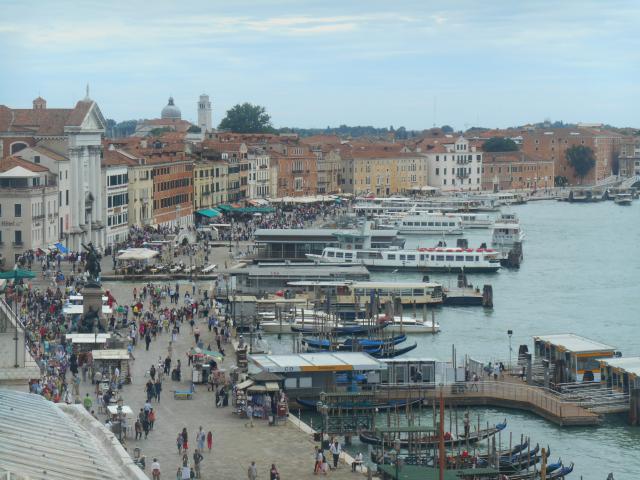 The good thing is: most of those people stop at the main square for all the main attractions. Once you pass that, and St Mark's square,  it is actually very nice and quiet.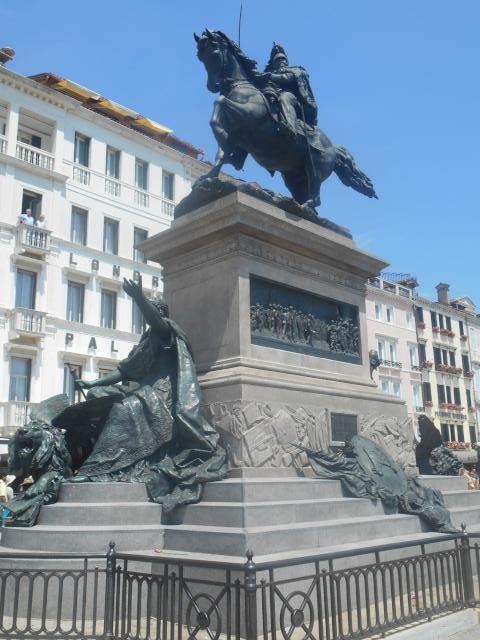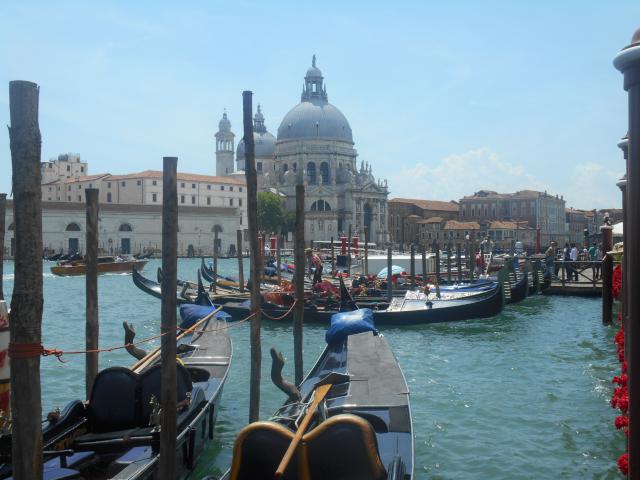 The Grand canal and the beautiful gondolas!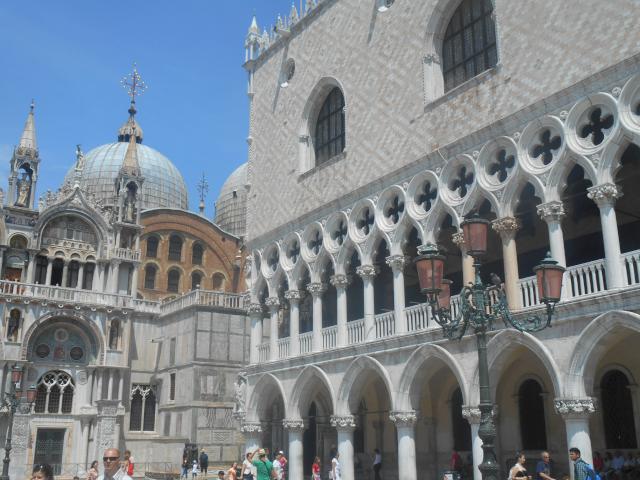 We are now arriving at St Mark's  square. On the left is the Basilica, on the right is the Doge's Palace. After seeing the 1/2 mile long line ups outside the doors to visit these famous monuments, Noel and I decided we would be back the next day to start the line before they opened at 10AM. We sure did.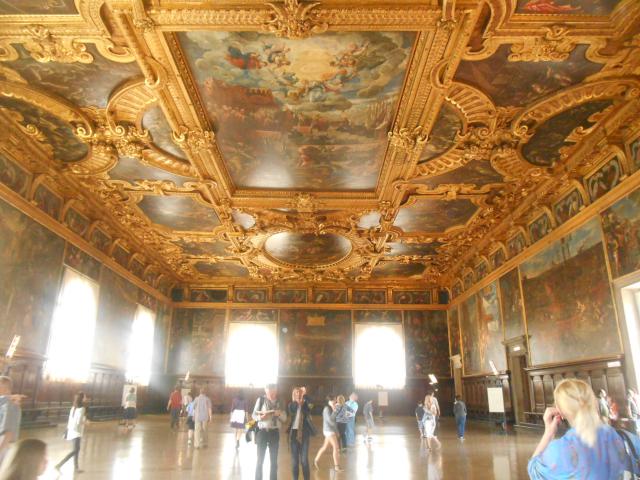 Yes..the palace was beautiful. Every room was adorned with beautiful art. The frescoes were just amazing!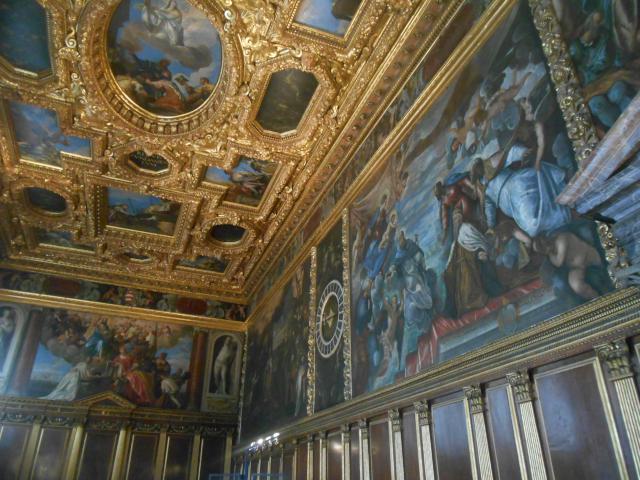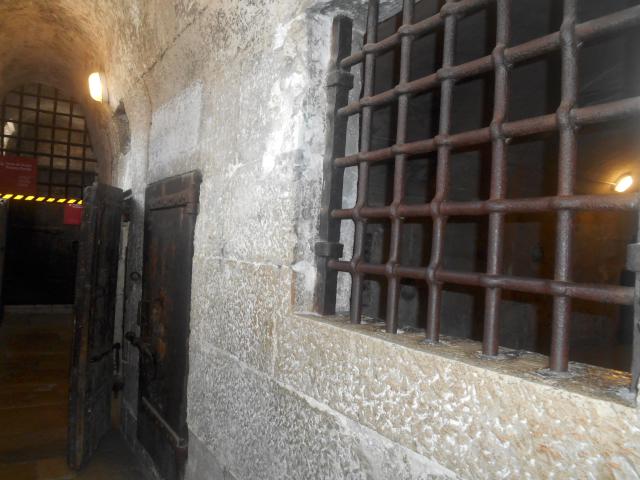 The jail cells in th Doge's Palace. Casanova imprisoned here for a long time. It was from here that he escaped  with a help of a mate.
Giacomo Casanova was an Italian adventuror, and author of "Republic of Venice" and also "Histoire de ma vie" He was also spy for Venice and a man of all trades. Born in 1725, at  the age of 17 he had finished his law degree. He soon started gambling, cheating, complicated and elaborate affairs with with young women, took him to jail a few times. His name is now synonymous with "womanizer".  He died very poor at the age of 73.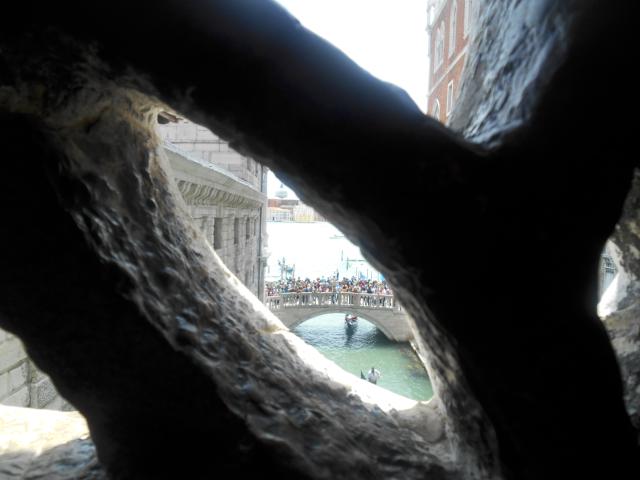 I took this photo from the hallway inside the Palace overlooking the 'bridge of sighs', bellow
The famous name of the bridge was supposed to refer to the sighs of prisoners who, passing from the courtroom to the cell in which they would serve their sentence, took a last look at freedom as they glimpsed the lagoon and St Giorgio through the small windows.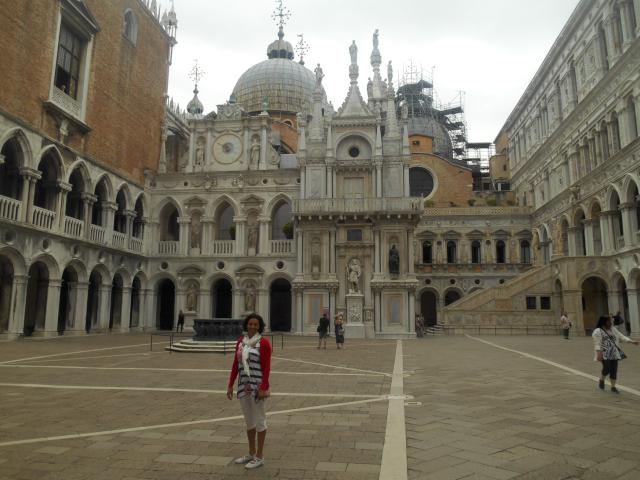 Courtyard of Doge's Palace, with Basilica next.
Now we will soon enter the Basilica with its famous gold tiles. Amazingly entrance was actually free! Of course there was an 'optional extra' for which a fee is charged.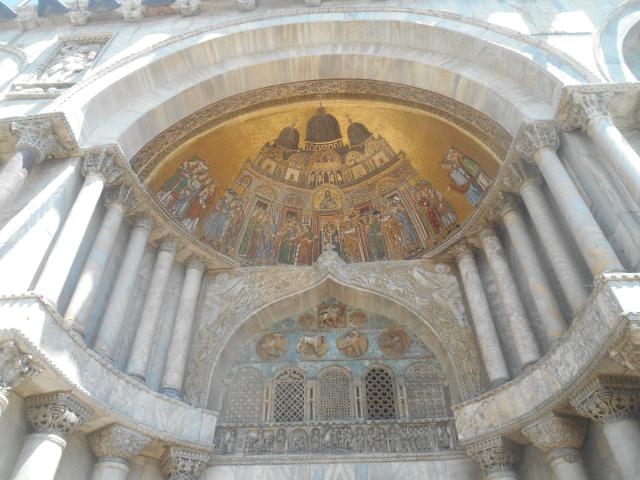 The mosaic of the Last Judgement was added in 1836 :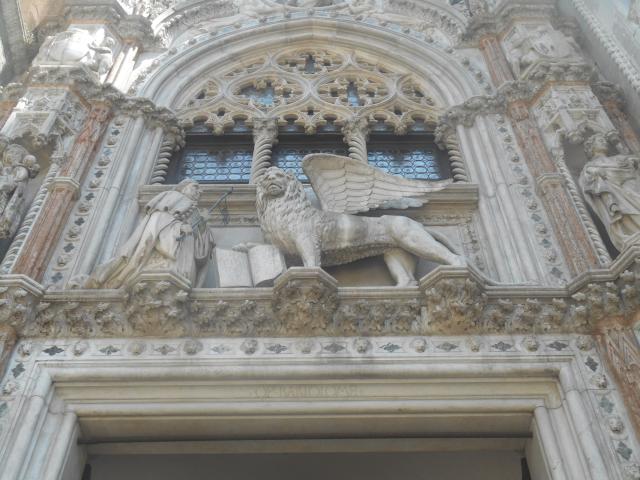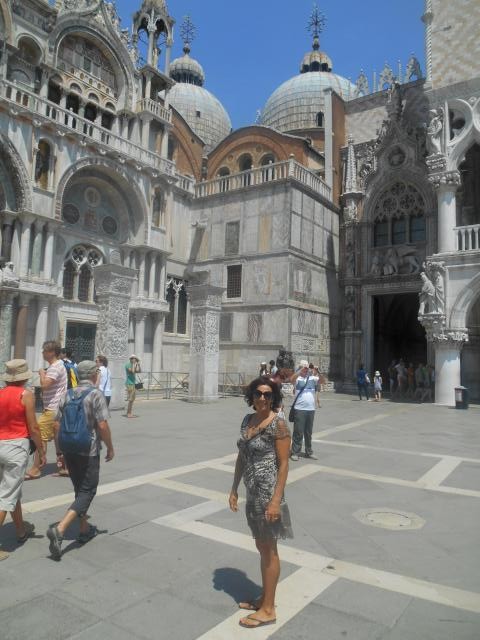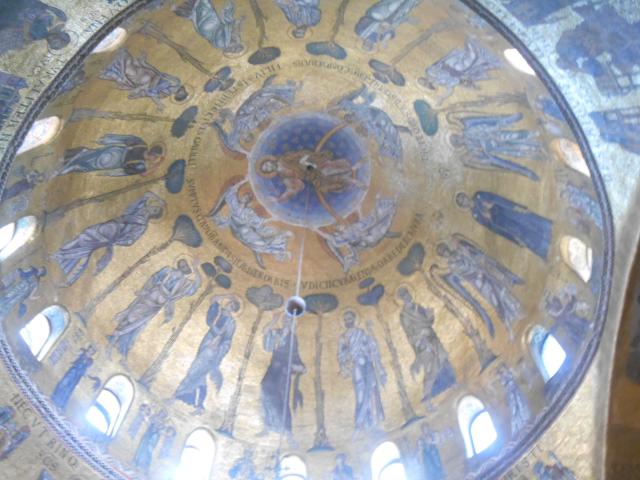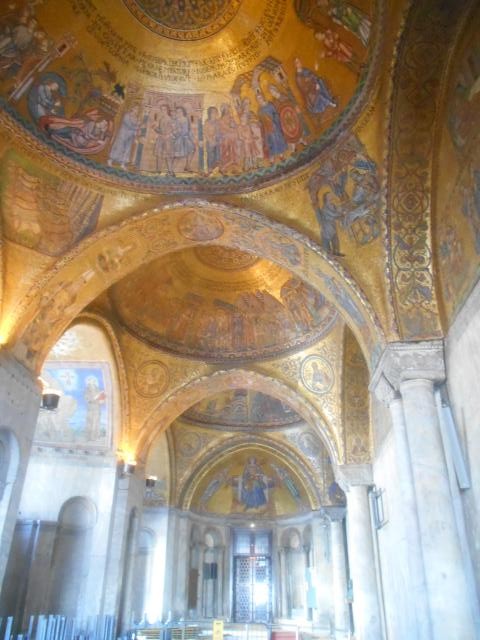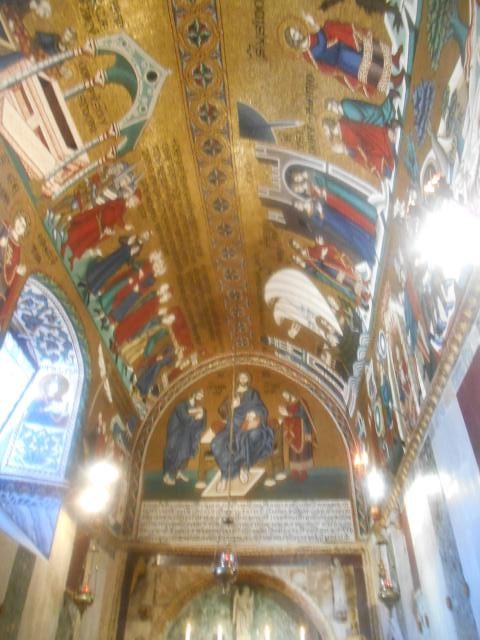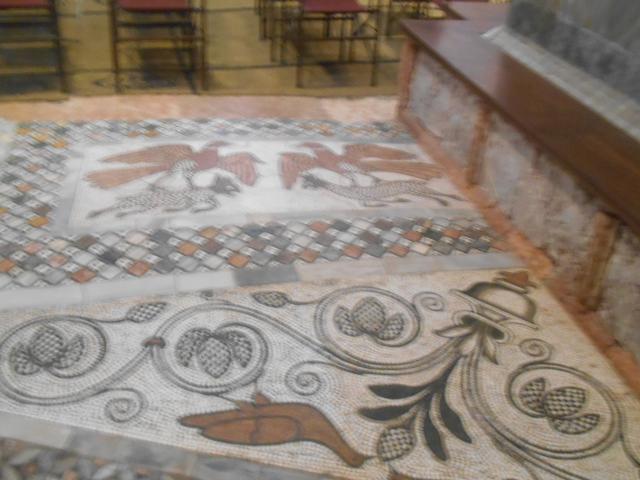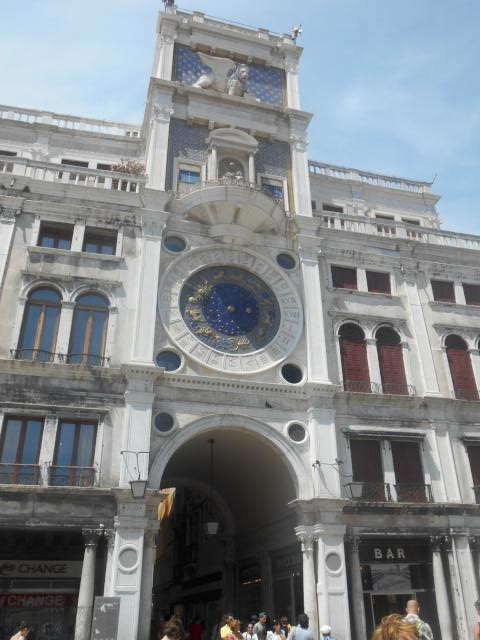 Clock tower in St Marco square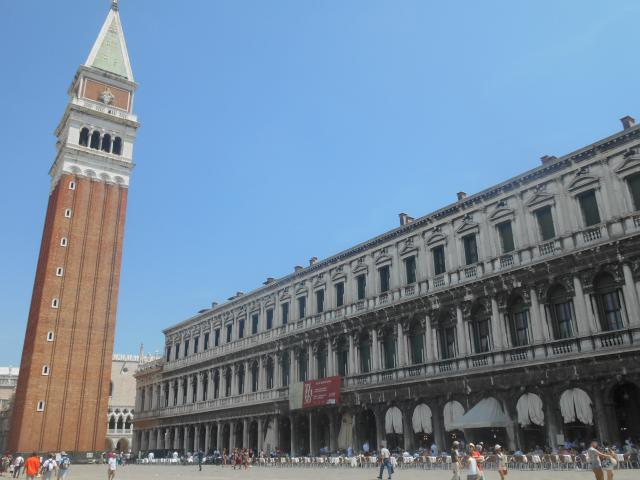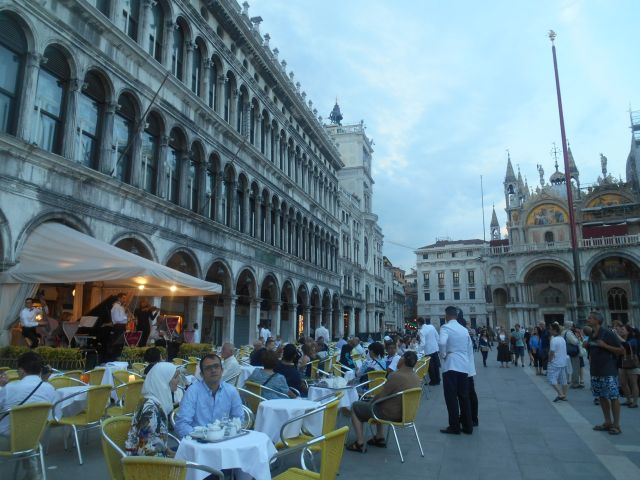 In the evening the square is very lively with bands playing in the cafes. Surprisingly the fancy and famous square is not as fancy as we expected, it is not lined with fancy Restaurants, but cafes with just plastic chairs and tables, which they dress up in the evening with a table cloth.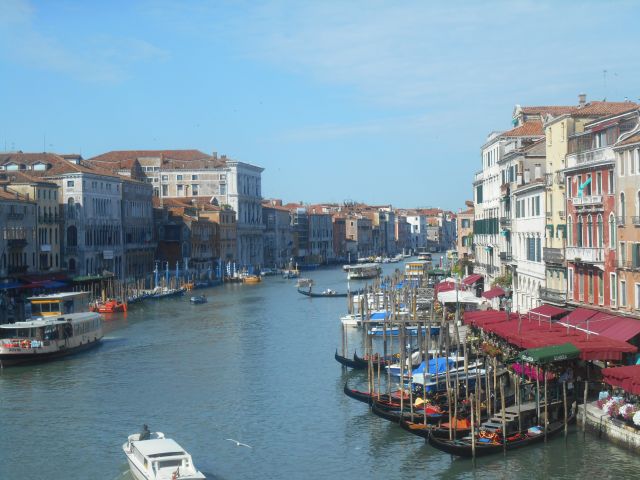 The gondolas await in the Grand canal. Overrated! They make the trips sound romantic. The people on gondolas are constantly being photographed and there are so many of them sometime pushing their way in. It did not look romantic at all. Of course we did not go, not worth the $100.00.  We rather enjoyed getting lost many times, getting to the end of the street and no bridge….just gondolas. Click, click, more photos!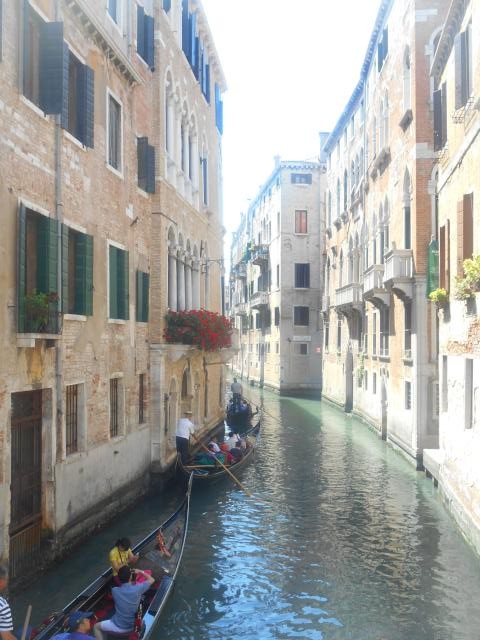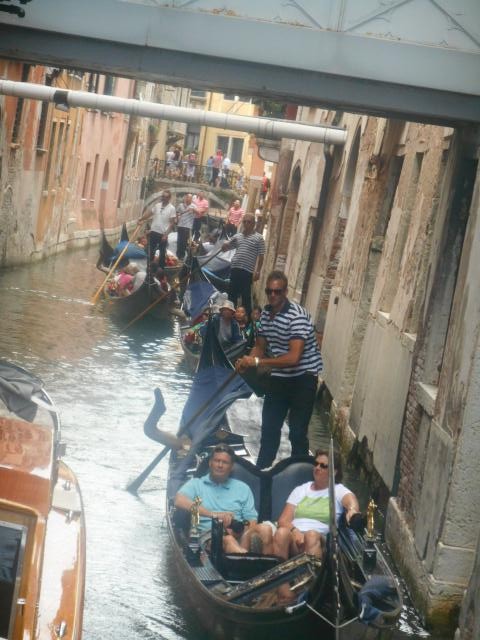 On the photo above it was fun watching the gondola traffic build up waiting for the boat on the left to deliver guests to this Hotel.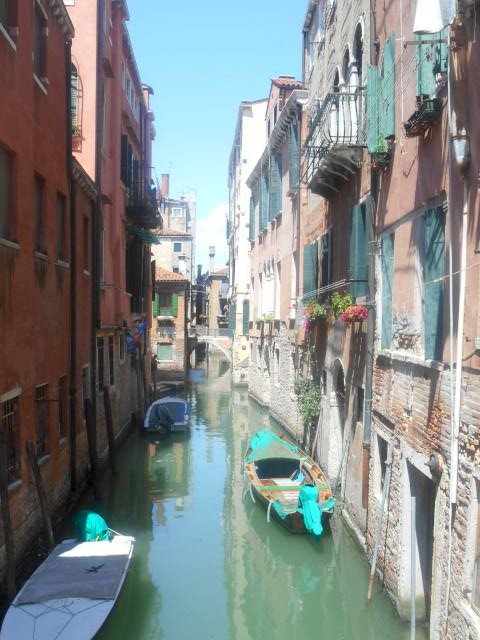 Here we are again…more gondolas, more photos. The streets and canals were very peaceful throughout. Occasionally the gondolas would have a musician playing accordion! Noel and I would lean over the bridge and enjoy the music till they were long gone away and we could no longer hear it. Till the next one.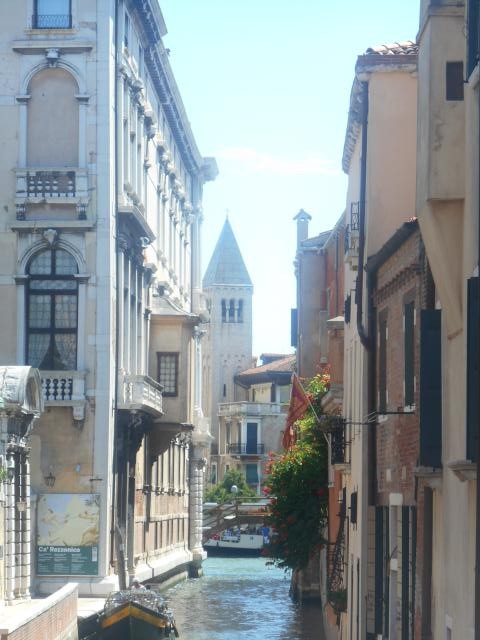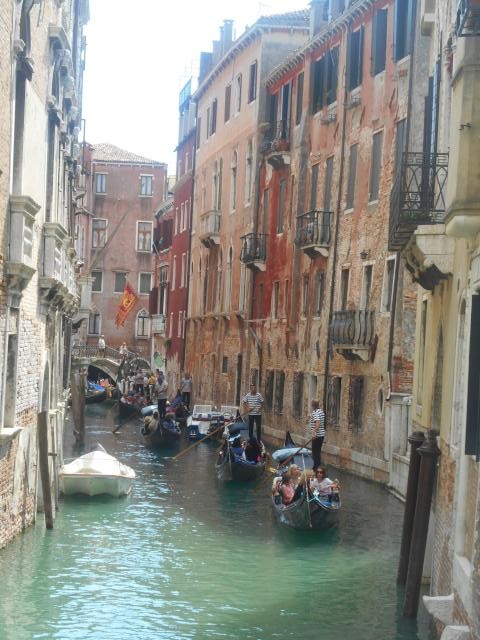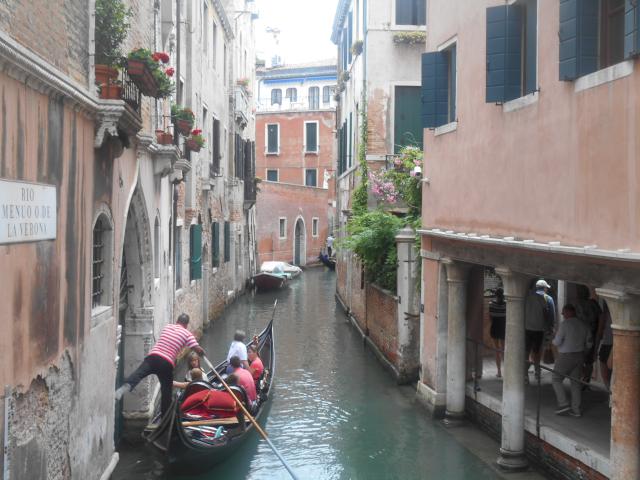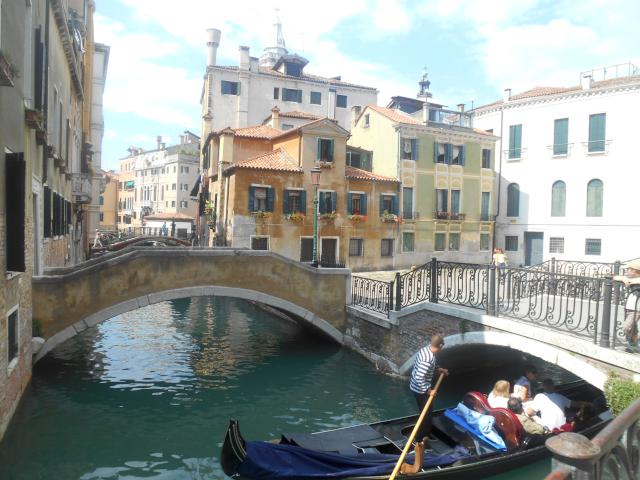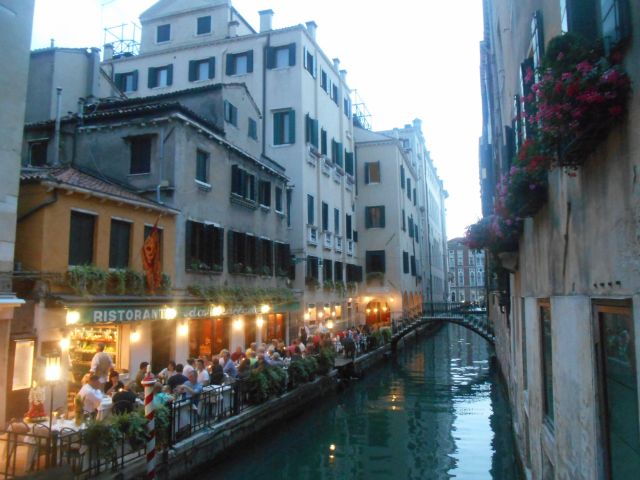 We had spent 3 days in Venice. Noel thought he had seen it. But I had to persuade him to go again, one more time, at sunset and no map, no place to visit and no stress.
The first day day there was just to check it out, get to know the place.
Second day, we thought we knew the place. We were always lost. We were running around with the map  and these tickets to visit some museums and Palaces and many times you get to the end of a street and it was just water! Like on the photo bellow, you can see the tip of the gondola.
The third day, we were in St Marc square early to beat the crowds and do the visiting to the main attraction: Cathedral and Palace.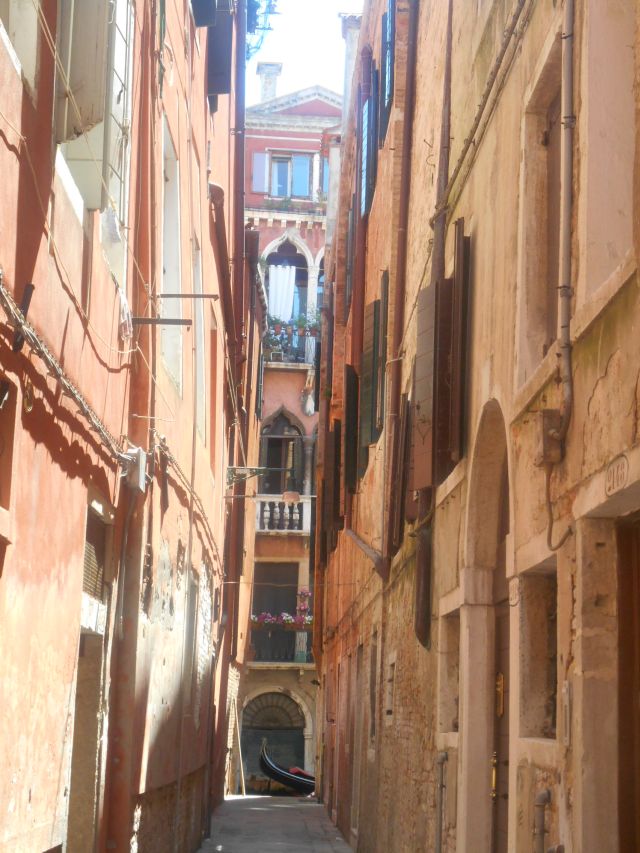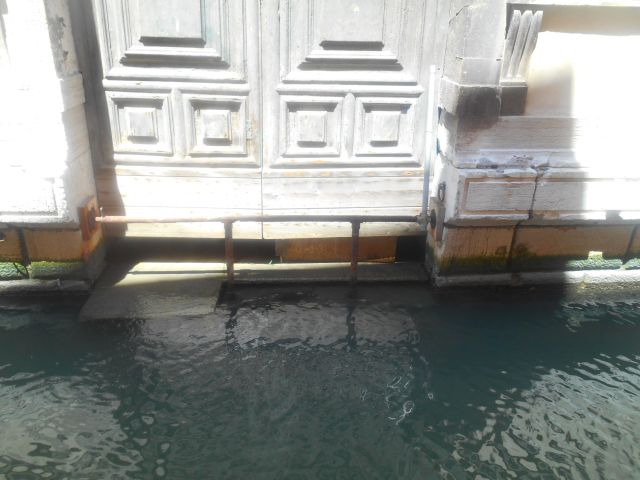 Yes, Venice is sinking. On many buildings you could see that their entrance steps, previously above water, are now below. Some had extra boards across. Many had the bottoms of the doors rotting away. When there is a particularly high tide, 'aqua alta', St. Mark's and many other places are flooded, so they have to put out wooden boardwalks for people to get about.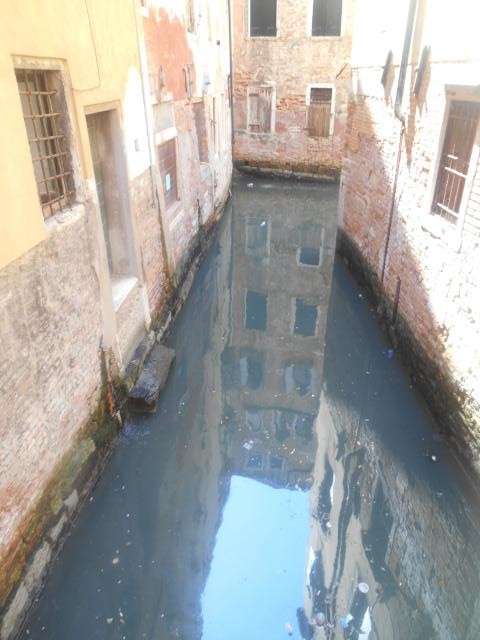 The many many beautiful Churches in Venice!
We sure enjoyed spent the time to visit as much as we could and explore so much of the little streets. Even survived the very tiring late night, after watching a classical music concert,  running to catch the vaporetti through streets and alleys, sometime ending up at some private residence…oops! and missed the vaporetti by a minute and the next was an hour later! They run only every hour at night to Burano or Murano.
The Grand Canal is busy busy. We did travel it at night by vaporreti, but were disappointed that many of the buildings were not lit up!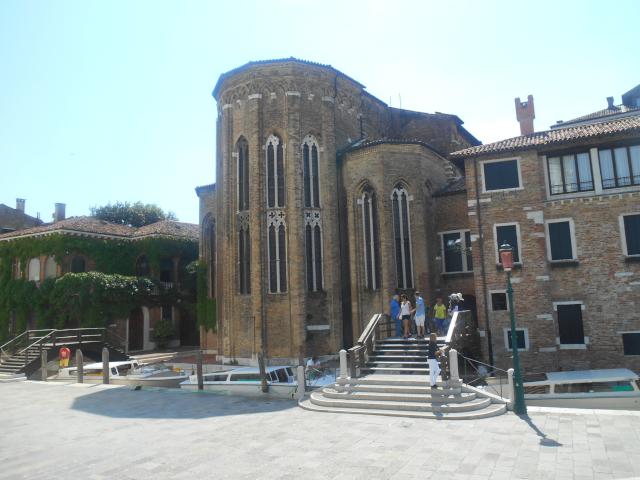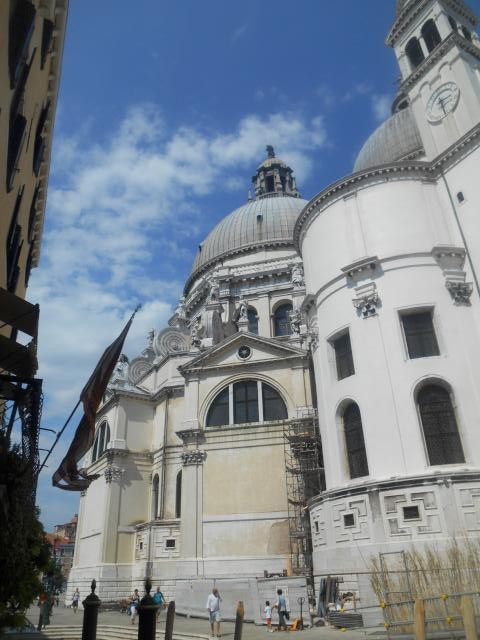 There are countless churches in this tiny city. Some of them are now museums, including a museum of violins and other instruments that was very interesting.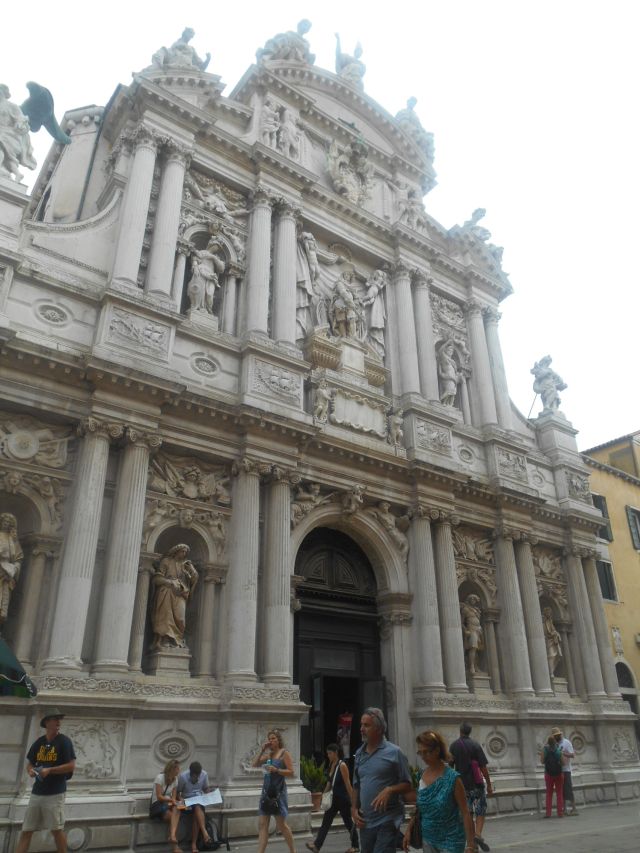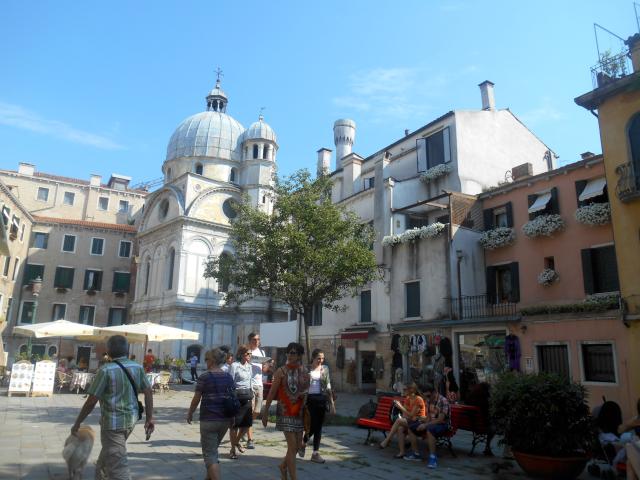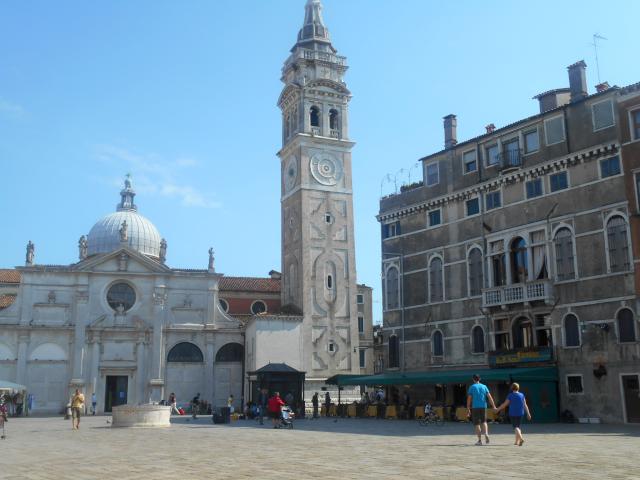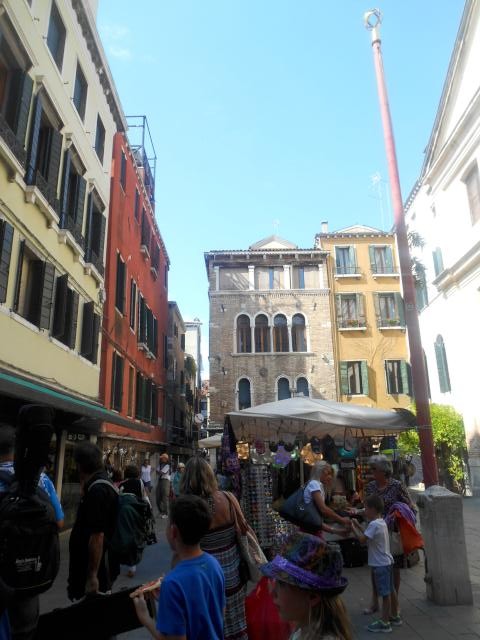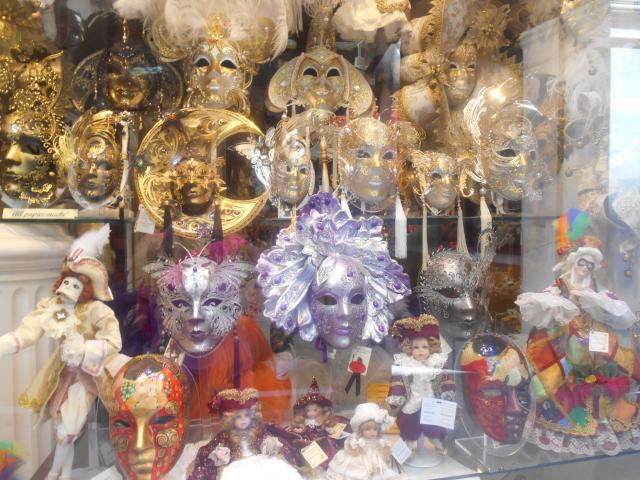 The many cute and narrow streets of Venice are lined with shops. Lots of very fancy masks, leather purses and shoes. Also lots of  jewelry and Murano glass seems to be the shopping in Venice. Ohhh and the amazingly beautiful art galeries…..
Shopping in Venice  is very chic compare to most touristic areas wher you get hassled by street vendors with low market stuff  like T-shirts  and more T-shirts and beach wear, souvenirs and more of the same souvenirs (probably all made in China anyway).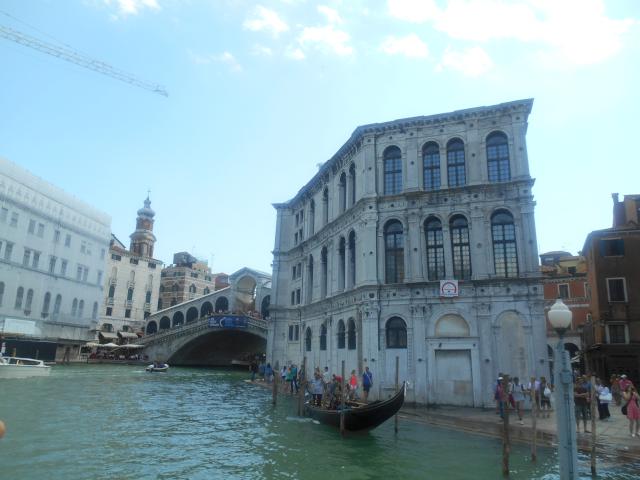 Rialto bridge, above.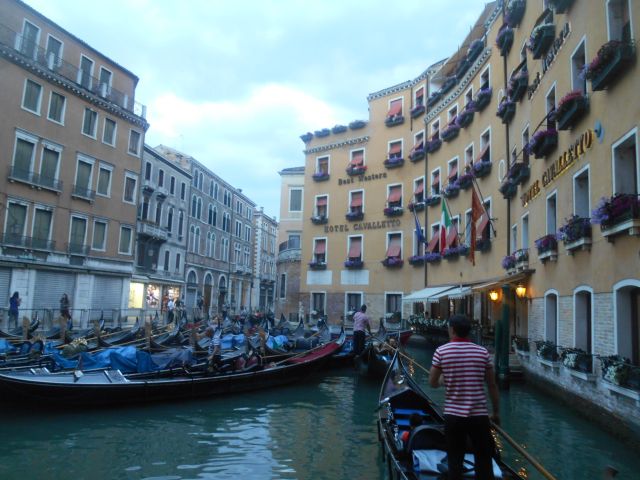 Parking lot. Gondolas tie up for the night.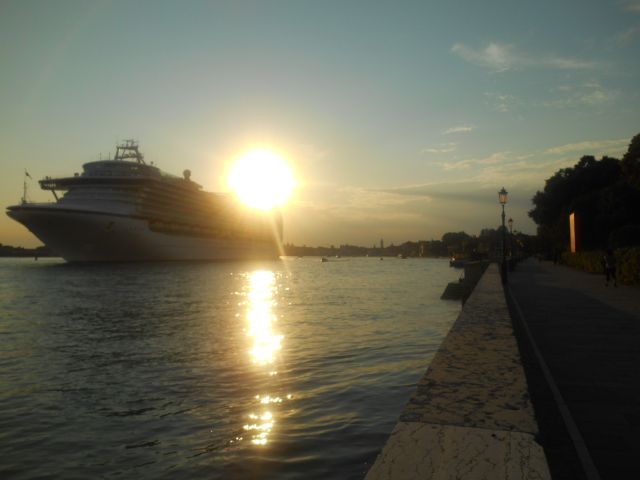 A big cruise ship departing at sunset.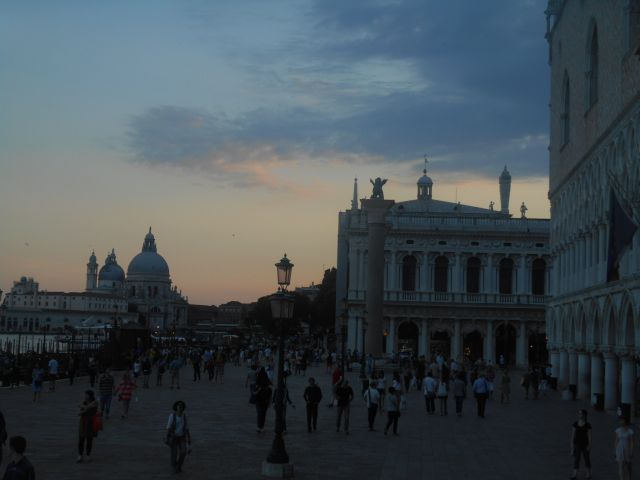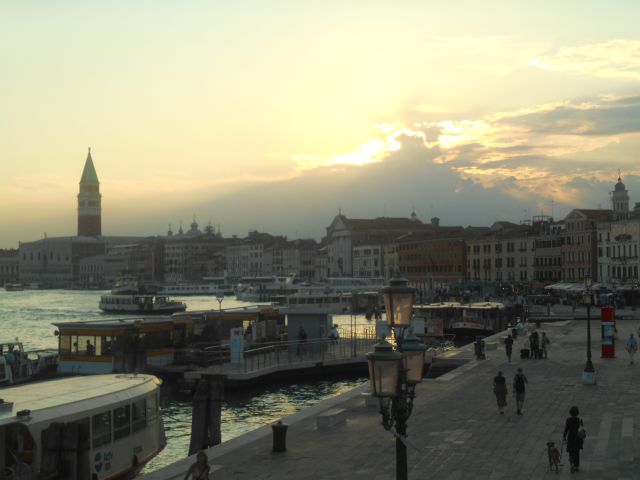 Rialto bridge in the evening.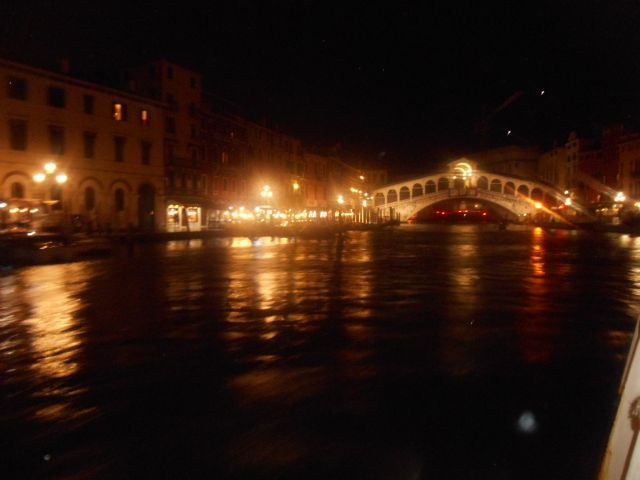 We had spent 3 days in Venice. Noel though he had seen it. I had to persuade him to go again, one more time, at sunset and no map, no place to visit, just get lost one more time!!!!
So, Venice? Fascinating. As one guide book says, a 'not so practical but oh so precious' city that is still very much anchored in the renaissance era. Definitely worth a visit.
Current Location:
Seget Donji, Trogir, Croatia
Current Position: 43 31 N 016 13.57 E
Click to view map.
Distance sailed since last post:
62 nautical miles
.
View the map of our voyage track here
Hello! I'm Heidi, Noel's mum and, together with my husband, Elmer, we are spending a week as guests of Noel & Ceu on board their luxurious catamaran. Elmer's marquetry picture features on their salon table.
We are having a wonderful time. The boats is moored in the bay opposite the village of Seget Donji, close to Trogir, on the coast of Croatia. This is the fourth year that we have visited Noel and Ceu on their nautical home, every year a different place on the Mediterranean coast.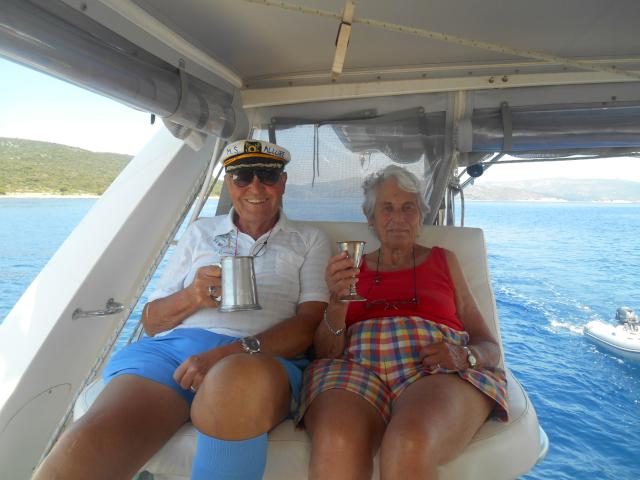 But this time we are not in a marina, and we are not sleeping on board because of problems climbing up on beds etc due to diminished mobility and agility.
So our hosts have booked a well-furnished spacious apartment in the village, a few hundred meters from the beach. This is a large balcony overlooked by a colourful bougainvillea bush. The owners of the apartment regale us with tomatoes, plum, melons and other produce from their garden.
After breakfast on the terrace, Noel and Ceu pick us up, take us for a swim on the beach, and then in the dinghy to Life Part 2 at anchor.
We are getting quite nimble in getting in and out of the dinghy and on and off the yacht. With some help from Ceu and Noel – pulling and pushing us on board (me, especially).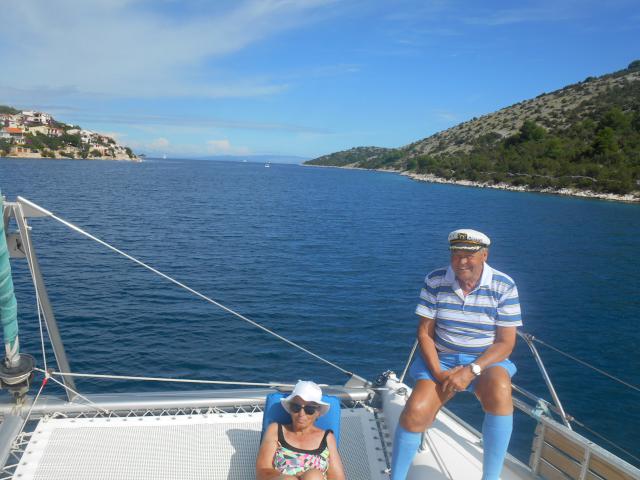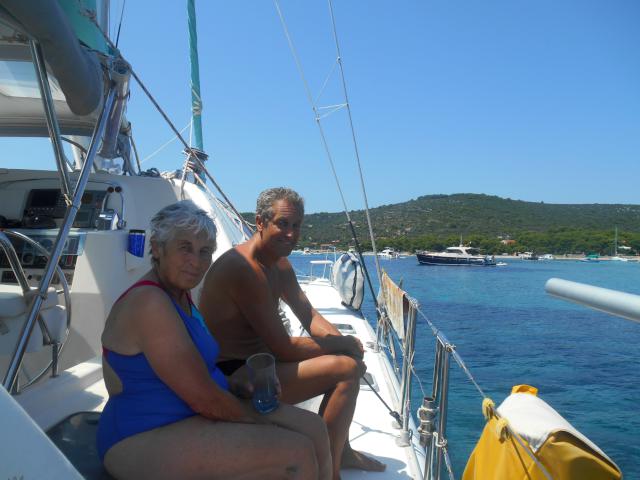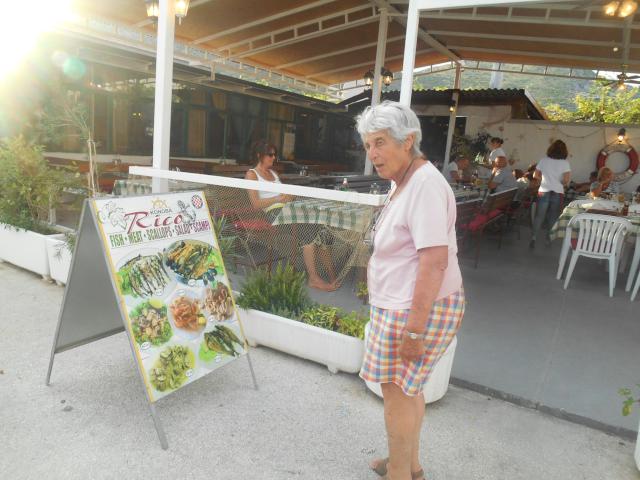 The day is spent cruising between the numerous islands – mostly uninhabited scrubland or forest, with remnants of ancient terraced cultivations. We stop for a swim from the boat, in transparent aquamarine water at +/-27 deg. C. The Med is very salty and there are few fish or other marine life to be seen when snorkeling. But there is plenty of seafood, fish, calamari etc, at the restaurants!
Back on board we wash off the salt with a lovely fresh water shower.
Of course, we must not forget to mention, the 'heavenly' meals prepared for us by Ceu. This lady is a whirlwind of activity. She is the embodiment of 'multitasking' – in addition to cooking and cleaning, she is the ideal ship mate. One day, Noel wanted to replace a wind vane at the top of the mast and Ceu had to winch him up and down. This is a task which takes considerable skill and physical strength. It also takes courage and skill for Noel to work in a sling at the top of a 60ft high mast.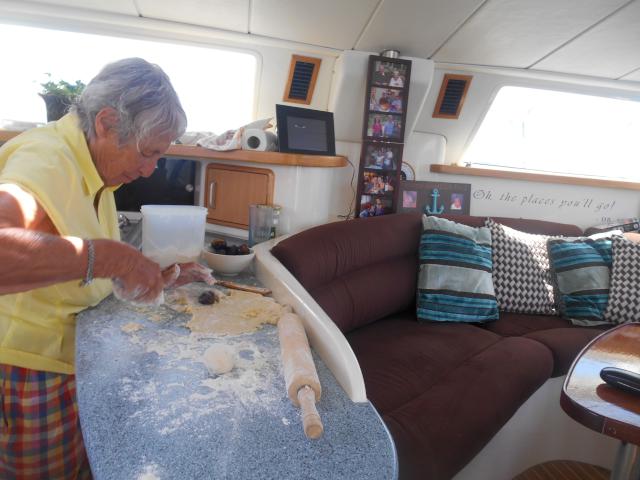 (One day Heidi did make some German dessert: delicious schwentken knodel with the plums from the apartment's garden. She doesn't even know I took the picture!)
One day we rented a car and drove to see the UNESCO famous Krka Falls water garden. Even after our life-time of travels we have never seen anything as impressive as this series of step-wise waterfalls for which this park is renowned:
One day we rented a car and drove to see the UNESCO famous Krka Falls water garden. Even after our life-time of travels we have never seen anything as impressive as this series of step-wise waterfalls for which this park is renowned.
The weather has been very changeable – apparently quite different from what a Croatian summer should offer. Some days it was hot and sunny. Other days cloudy and windy. We have had some spectacular thunderstorms at night – where we were dry and cozy in our apartment.
We really appreciate everything Noel and Ceu have done for us. Sometimes we are difficult guests, for which we apologize. Although we are respectively 85 and 82 years old, we look forward to more wonderful maritime holidays. We have always been boat people, since we owned a cruiser for the Dutch canals for five summers.
We sign off with many thanks and good wishes for future sailing adventures,
- Mum and Dad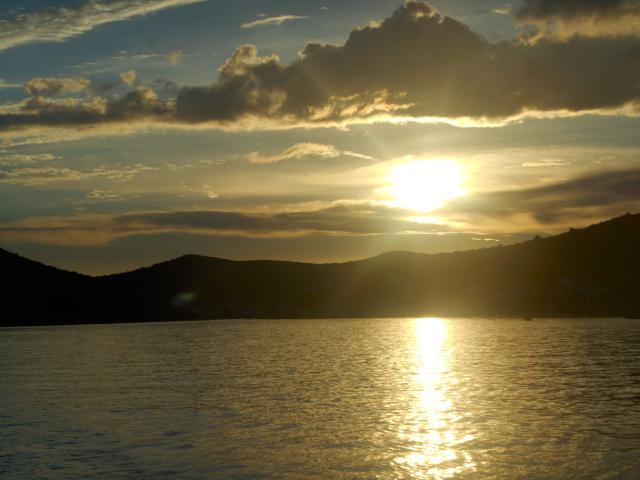 Current Location:
Pavlesina, Ugljan Island, Croatia
Current Position: 44 7.83 N 015 4.26 E
Click to view map.
Distance sailed since last post:
139 nautical miles
.
View the map of our voyage track here
We woke up in the middle of the night with thunder storms.  We were about to leave our anchorage this morning and got another downpour. I collected so much rain water from our dinghy that is enough to do all my laundry now. (that is overdue)
We left after lunch with a few clouds in the sky and a nice breeze. It was a slow sail and very smooth. We motored the last hour to finish our short sail of 10 miles or so. Our wind vane gave up on us. Noel worked on that during the trip but no success, even after talking to Raymarine engineer. It will take a trip up the mast to see if the problem is at that end.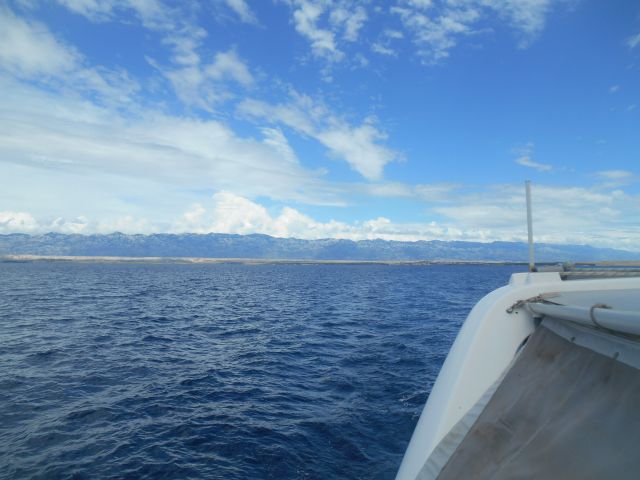 Just after leaving our anchorage Povljana, in the island of Pag this morning. You can see the Vallebit mountains behind us. A friendly couple who swam to our boat from the beach told us the reason for the area being so bare is because Venice stole their trees along with all the slaves from the area.
Tonight we are anchored in Pavlesina, in the west side of Ugljan island: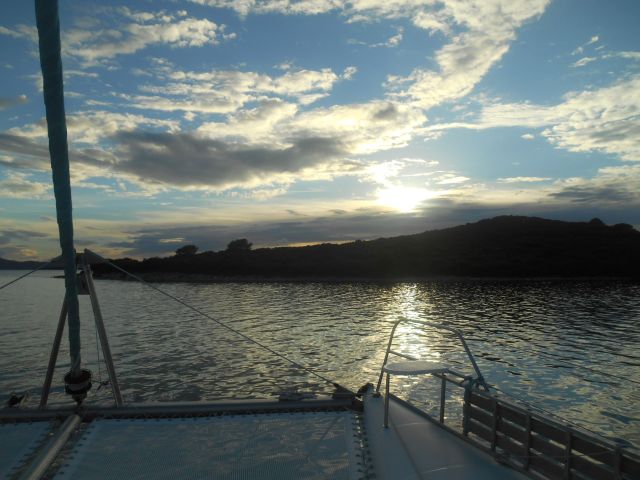 We arrived at 18:15 in this peaceful bay with a few local swimmers in the small beach and a another catamaran. We knew he would probably be leaving shortly for the night in the marina nearby. Which is the norm for the credit card captain or Triple W"s, as i call them.
But for the time being I thought we were going to have an audience, and we were providing the entertainment of Noel going up the mast, like it always does. But it turns out they were too busy having their own entertainment: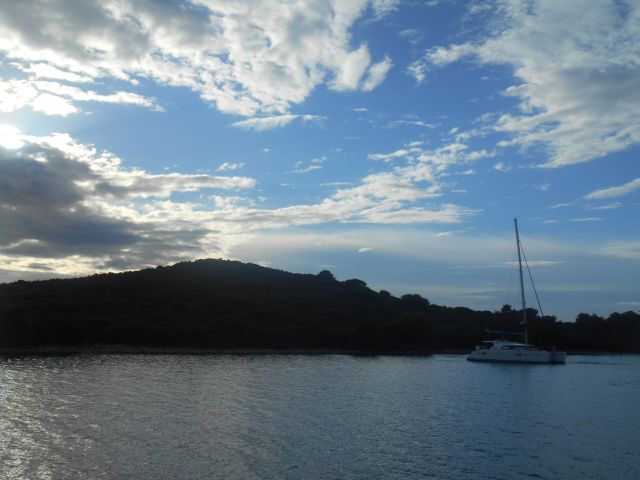 Well..the catamaran had quite a few people on it. They attempted to leave, I heard their engines on. As Noel goes up higher and higher up the mast their engines just rev higher and higher up to the max, the crew also gets louder and louder and their arms swing up in the air signing to the captain, as Noel yells Stop..he was at the top of the mast.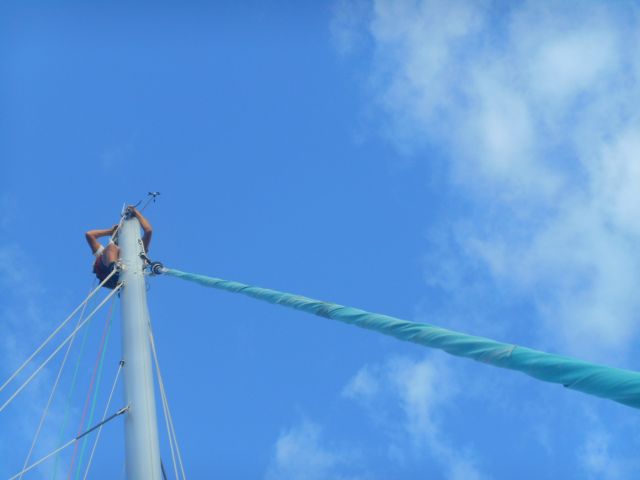 They drove those engines hard for at least an hour, without trying a trip line, even  a swim or a snorkel to check out their anchor. Eventually they gave up. I hope they have some provisions on board. No dinner out tonight, a bit far for the dinghy and way to many people to take ashore. Well …at least they know they are not moving during the night. Secured anchorage!
As for us, no success fixing the wind vane . Noel says: " Not Yet!"
We just finished dinner with pretty views, nice music and a glass of wine.
I sit writing this while the sky is still making pretty pictures.
Who says it's the busy Season????
We were warned about busy Season and the hassle of anchoring in busy bays, being harassed to pay for anchoring all over the place, and very unfriendly people. So far nothing like it. It sure has been great ! ( ok, ok, they changed some rules and all got educated on how to be nice to the tourists now that they joined the EU. Sure.)
We were expecting it to be very busy by now, on the way back from Venice.
We have been lucky to find many beautiful and deserted spots along the coast. All Free and no one has ever asked for money in any anchorages.
Ok maybe busy season only starts after the 15th??
Bellow are just a few of the anchorages we have been in the last 1o days or so.
Weighing anchor: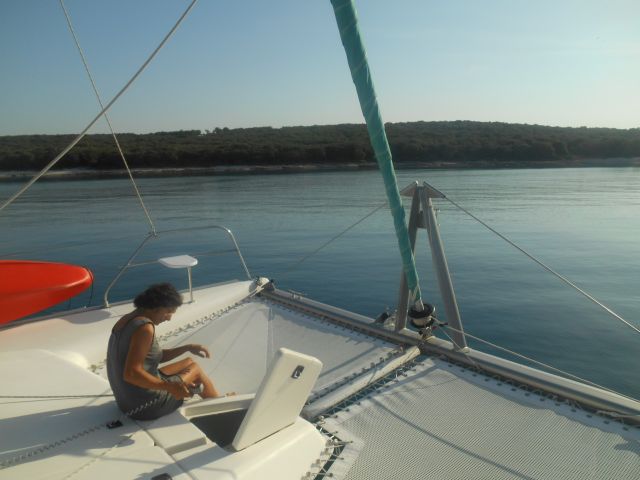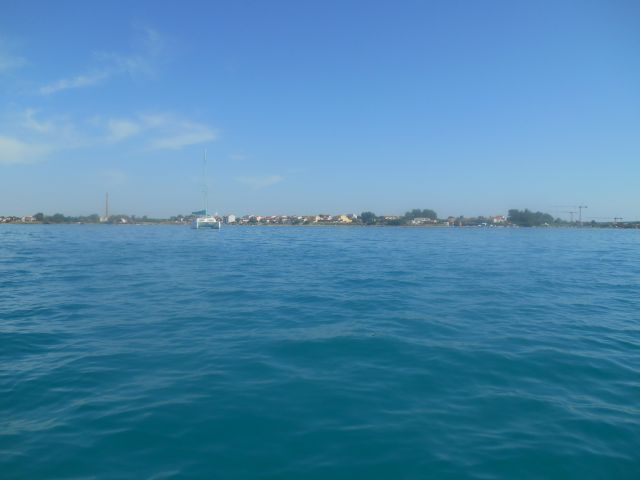 This huge anchorage, we are the only ones here for the 3 days we were there. Where is everyone??  They are all close to the Charter points and all follow the same itinerary and this is a bit out of their way. In the cute town of Nin. photo bellow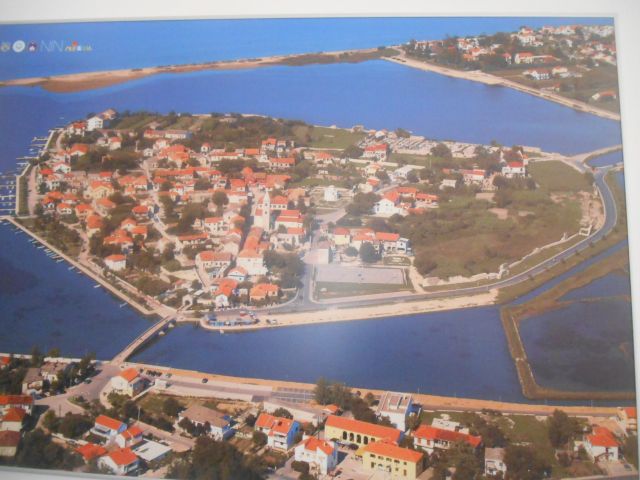 We were anchored outside these lagoons in a huge bay, on the right corner of this picture. Short dinghy ride to town. No, we weren't paragliding again – I stole this picture.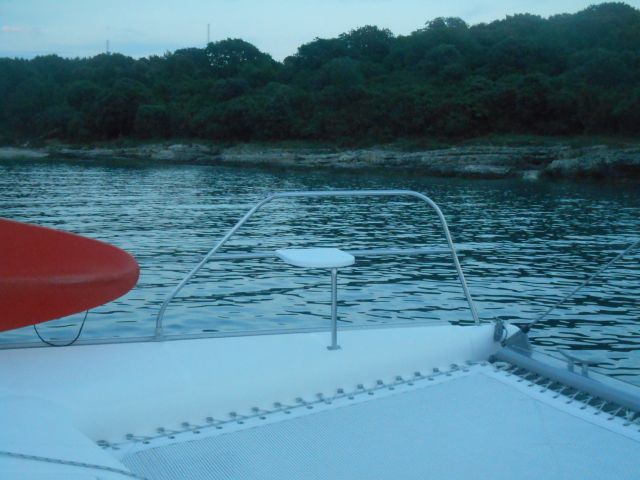 Love it…..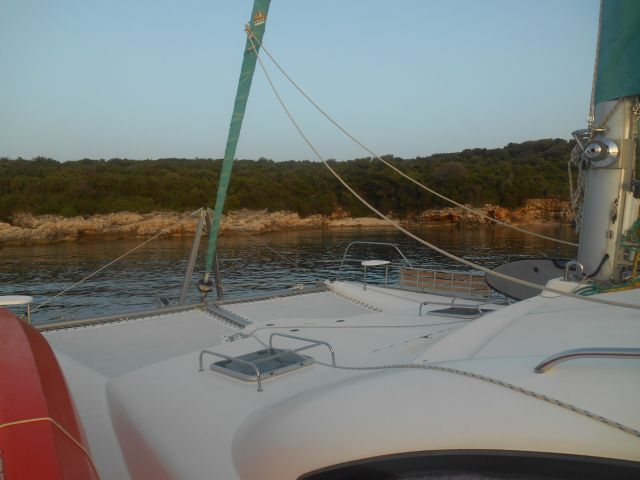 Above , one of our favorite spots, deserted, only room for one boat in there, us of course! Best snorkeling and clear water we have had in the Med. Just at the top end of island Ilovik.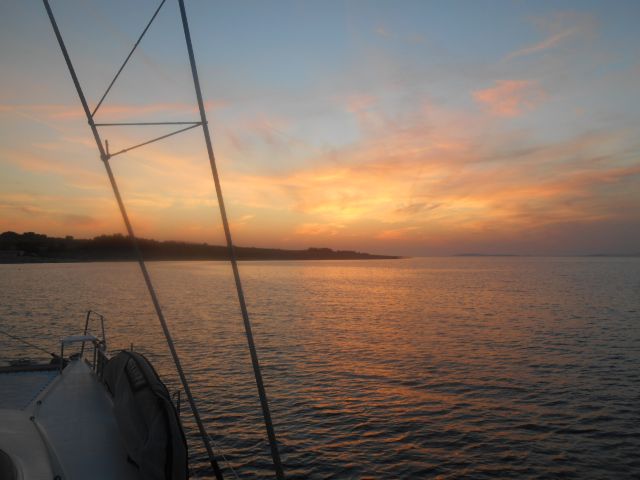 This one was in the island of Vir, just before Nin.
Hope to keep avoiding the crowds!
In the mean time we are working our way down South as we have Noel's parents come for a visit, arriving in Split on the 16th.
I am also a bit behind on putting up a Venice blog post!  Soon!
The thing about having visitors on board is that you have to make some preparations for their arrival. This time, however, those preparations were a little unusual!
My son, Ben, and his cousin, Mac were due to fly in to Pula on RyanAir on Tuesday afternoon.
So we stationed ourselves in Pula, not far from airport and where we could easily get transportation to and from, and also provisions.
We took a trip to the local market to buy some vegetables and also the fish market.  Ceu wondered to next stall in a hunt for red peppers, but instead she stopped for the best looking cherries she had seen there.  As we were getting the cherries, we got talking with this friendly man who not only could speak good English but another 4 or 5 languages as well. He was asking how long we were visiting for and told him we would be around the area for a week because we had our son arriving. He took interest in knowing how we were getting around. Salvo his name, he was so friendly, in fact, that the next thing we knew we had organized:
A ride to the airport: Salvo would drive us there to pick up the boys for just 100 kuna fuel money (the bus trip would have cost us 138 kuna for all of us – and a lot of waiting around).
A chef for the evening meal: Salvo insisted that he wanted to cook scampi and spaghetti for us on board! And he did: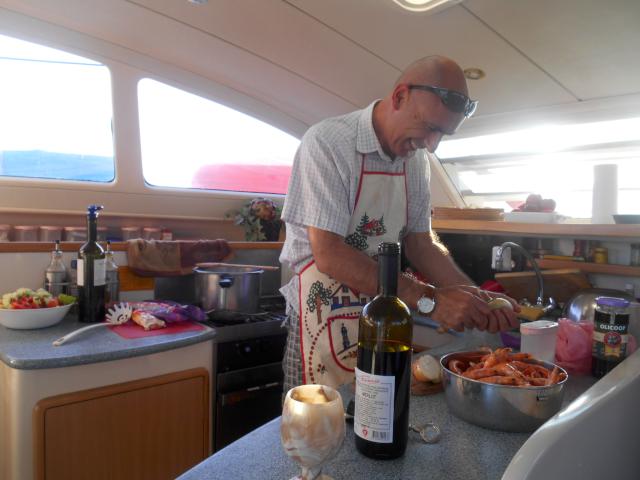 We also had managed to pick ourselves some delicious mussels and oysters from a nearby concrete wall. So we added them to the party.
So that got our week off the a good start!
We decided that we would sail/motor around the Istrian peninsula, up to Opatija and then back to Pula where Salvo again drove us to the airport. These are some of the highlights:
Salvo's favourite food is pasta. Anything Italian he says. He worked with Italians for many years.
His wife could not come along for the dinner but he did bring her in the next day for a drink. She was so excited to be in a Catamaran and even more excited when she finds out we live in it for 8 0r 9 months of the year! And then she really could not believe we crossed the Atlantic ocean, which she kept calling  Atlantic city. " wait till I go to work tomorrow and tell my friends about these people and their lifestyle!" she was so funny and bubbly. Nice couple.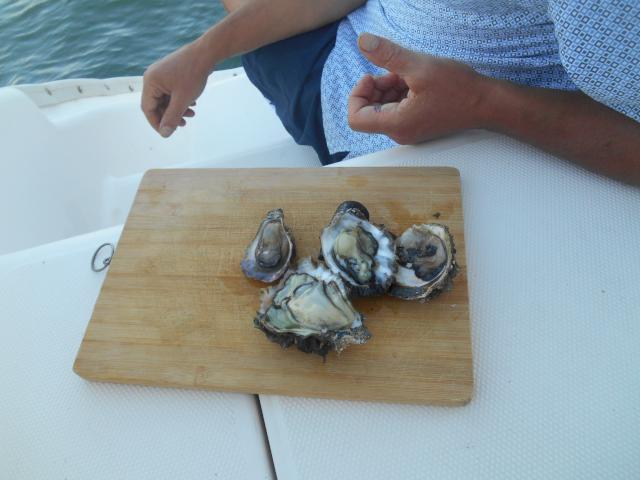 Yummy oysters for starters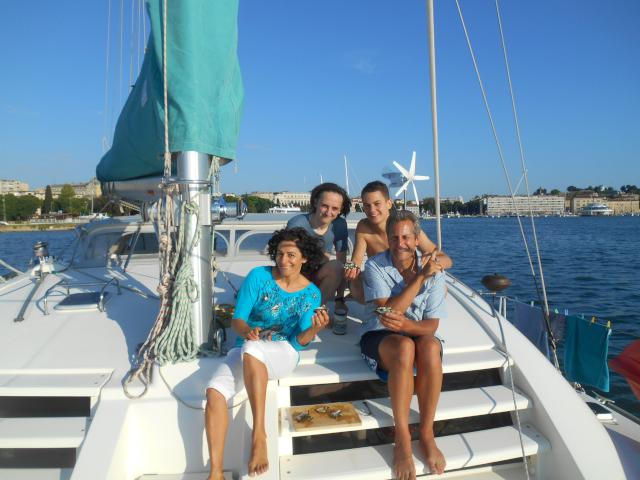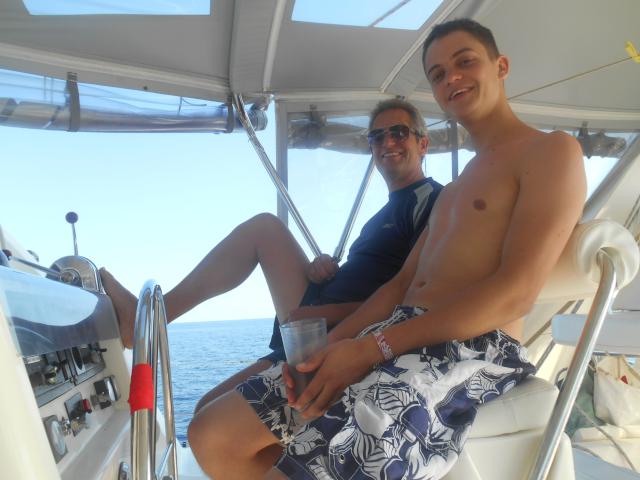 The week the boys visited we sailed up the Istrian coast all the way to Opatija in the Istrian Peninsula. A popular Summer and Winter resort town, surrounded by beautiful woods and very picturesque.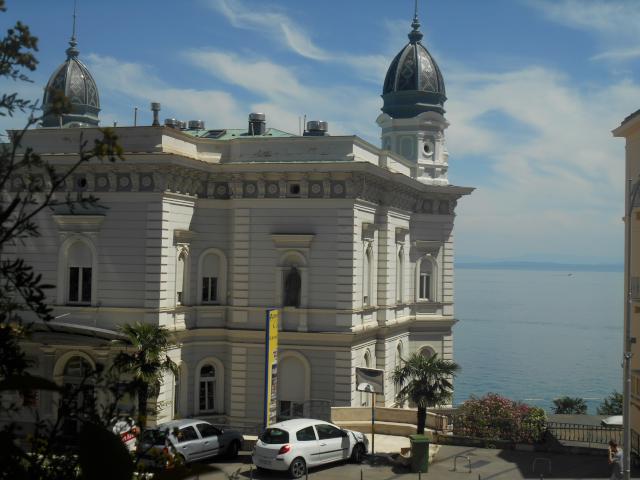 The town of Opatija has much history. In 1844,  a rich merchant from Rijeka, founded Villa Angiolina. In 1872 Railways came to the area, it opened the path for the development of tourism in Opatija and Lovran.
In 1882 many villas and were built.
It became a fashionable destination for the Austrian imperial family and Austrian nobility and soon more luxury hotels and villas were built.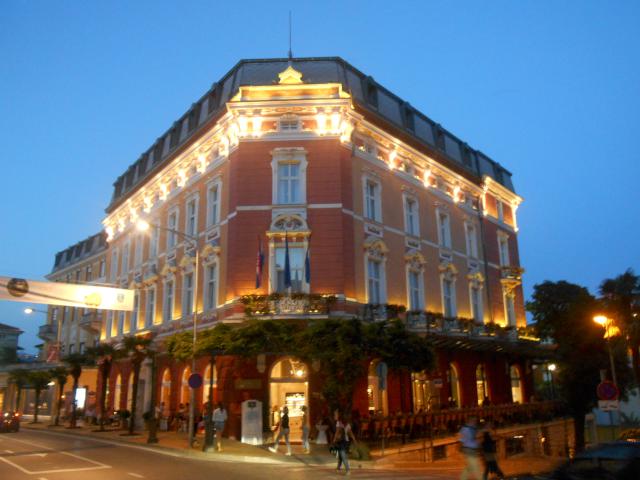 Opatija is a beautiful town and very touristic. Many parks and beautiful buildings everywhere you turn.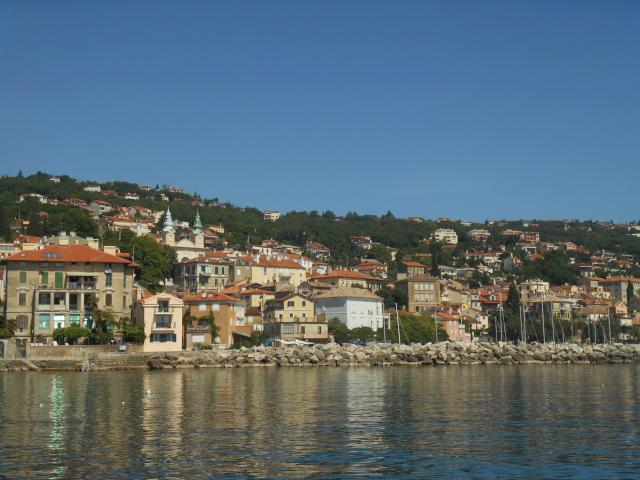 A walk along the sea wall takes you to this cute fishing village. We actually first moored here along the town quay and could not find the harbour master to ask for prices and so on…..till he showed up at 4pm telling us he would bring the bill the next morning. "What bill"???? he started to add up and make up some bill in his head. Something like this: hhhmmmm….12 metres times$$$, +$ per person, +$$ for garbage disposal. At that point , I did not believe any of his bull, I told him we would leave and go some where else for the night. He said "fine, but it will cost you more!" haha…that's when we moved to a beautiful spot in front of the park and the statue of a Maiden with Seagull. Beautiful anchorage, in calm weather of course. And Free of charge.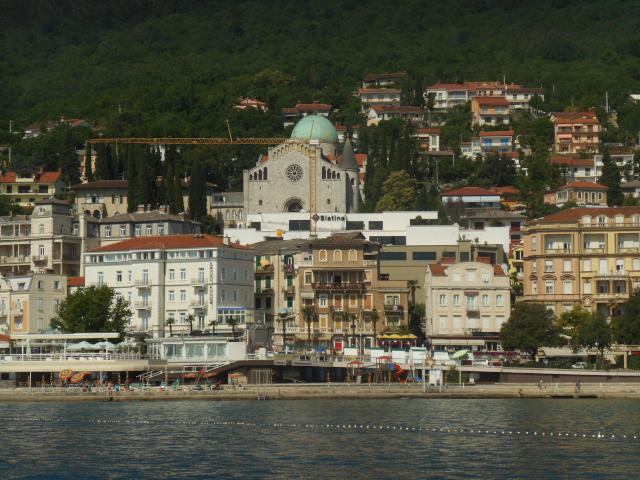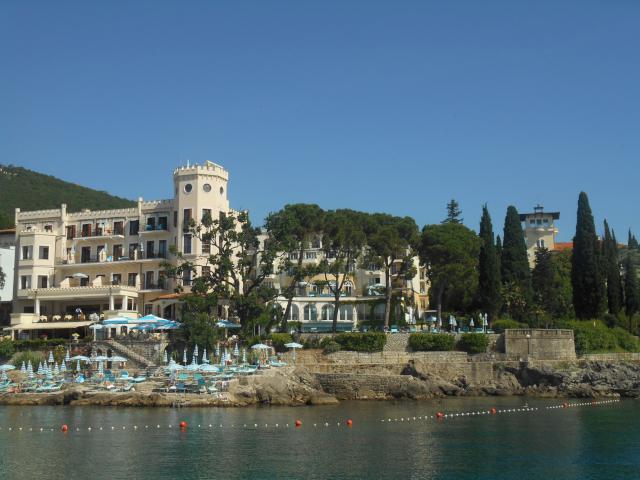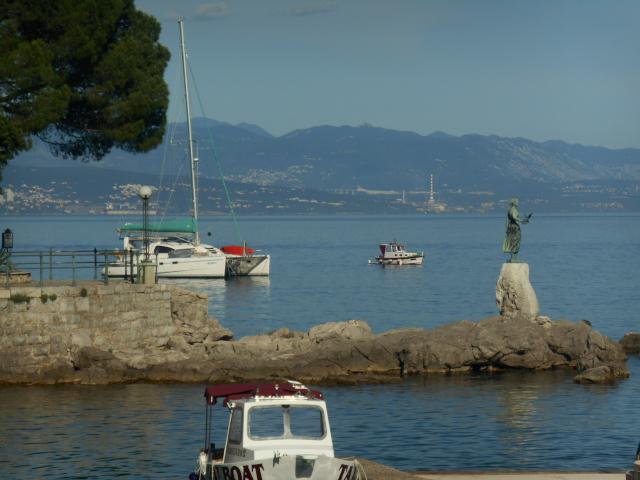 We anchored right in the middle of town. This statue, Maiden with Seagull is a symbol of Opatija. The statue Madonna, that once stood here was demolished by communists after the end of World War II. The place is popular with tourists taking hundreds of  pictures of course, and we also saw a wedding party going around there for photos. It was a great spot for us.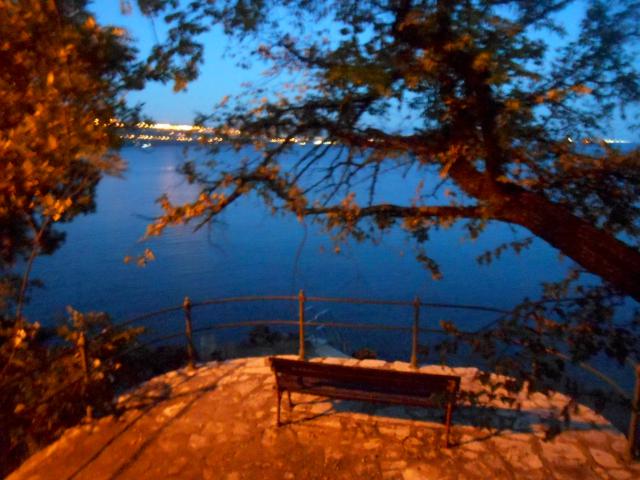 We walked  along at night too. I love to check out the atmosphere in the evening as well. Lots of live music playing  in the hotels restaurants and bars, and some of the benches had someone playing the guitar or the older men with their accordion….love it!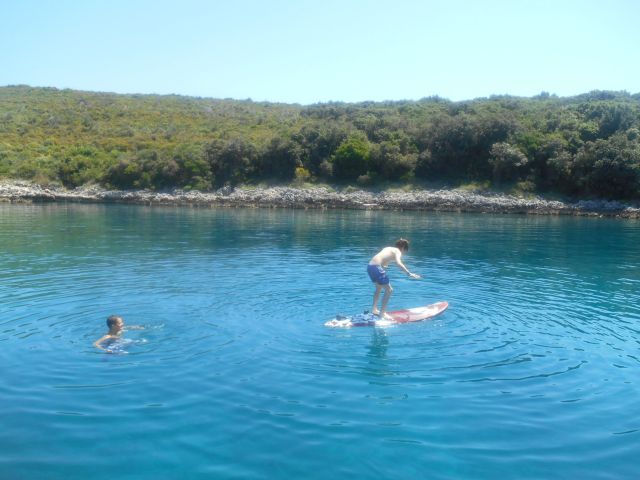 Fun in the sun with the windsurfing board , out for some knee-boarding.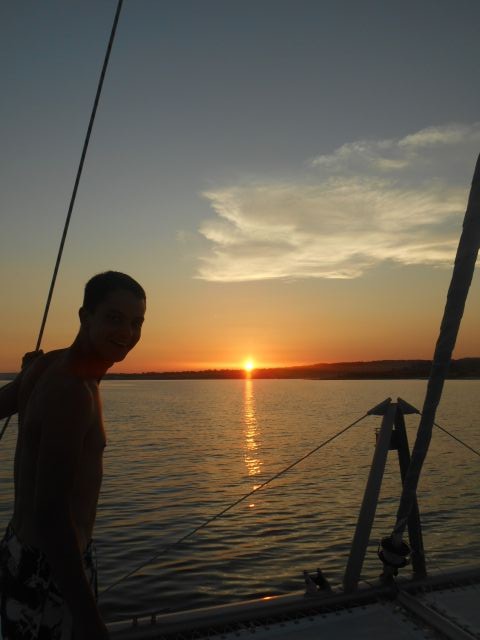 And more sunsets…..every night!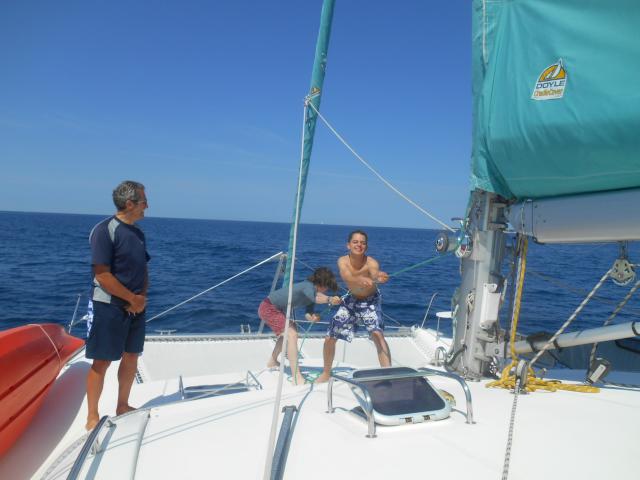 Haha…time to put the boys to work now. The fun is yet to begin! It was time to change scenery and we are moving to another destination. It took the 2 of them to hoist it and Noel to supervise and lots of cheering, to get the main up and ready! After  a few days on board they both had a blister on their hands. This is how we keep in shape. How else did you think we did it?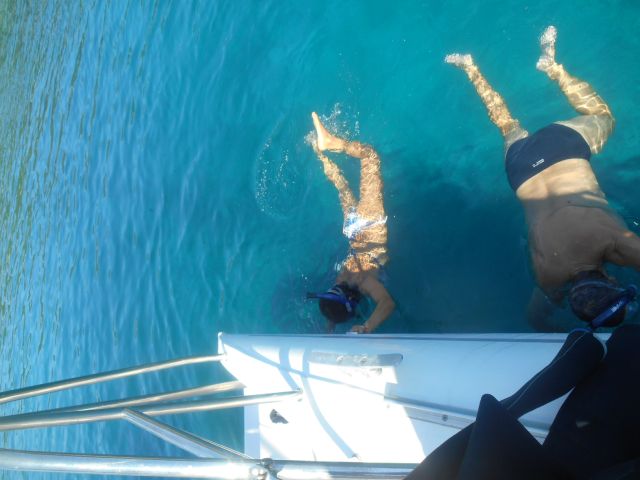 Noel and I were busy too. The boat's bottom needed a cleaning. So we scraped away the growing weed
Never a dull moment around Life Part 2. From laundry to hair cuts to cleaning and more cleaning….and trying to sail with very little winds or lots of it but in a wrong direction, study weather and charts, where  to go and when????? Sails need a lot of babysitting in the Adriatic. Where is the time to do my knitting or crochet???
I have now been accused of not paying any attention to the sails because of my crochet.
When I was in Turkey the ladies in the Marina were knitting really nice sweaters and I got inspired and bough lots of nice cotton and wool and I have been teaching myself how to knit from the internet. I just finished my first project. Finally. I knitted a tank top. I think I prefer crochet because it goes a lot faster, but it turned out ok.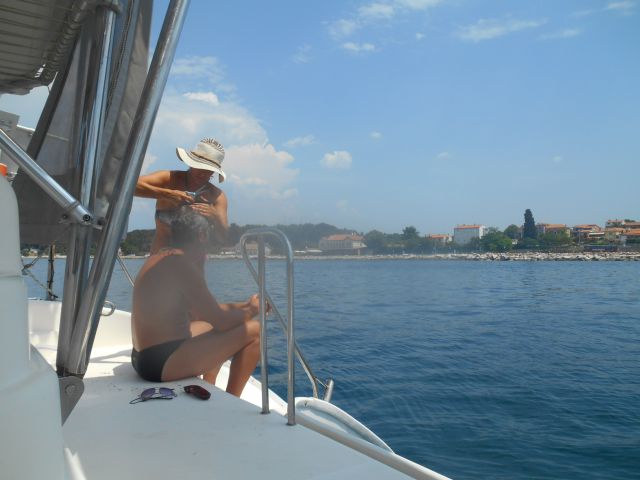 Noel getting a hair cut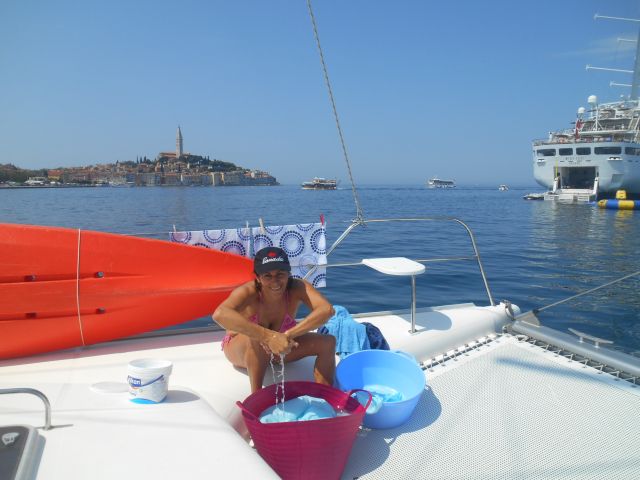 Cruising is not only fixing boats in exotic places but laundry gets done there too!! The nice town of Rovinj in the background and beside us a is a small cruise ship with their garage open and the toys out for the guests to enjoy. Met some guests from the US, who were enjoying their kayaking around the bay and stopped to chat when they saw the flag.
Of course they all want to know if we crossed the Atlantic…????!!!!
As you can tell by the grammar, Noel started this blog post. And I had to take over , otherwise it would not be published for a long time.
The UPDATE is:
this post was started long time ago so we are now 2 0r 3 weeks behind.
We have since, gone all the way up the coast to Venice and are back down again in Croatia.
At the moment we are in the area of Pula. We have Noel's son Josh visiting us for a week. It's beautiful around here and the airport is a 7 minute drive from our anchorage. So it makes it easy to pick up company.
Stay tuned for a post on Venice.
Noel does not want to blog much anymore and so I think I will mostly post pictures and update where we are and then we leave it to you to Google it and find all the great history on it! And great photos too! Isn't internet fun????
Ohhhh…the places we've been!
We are picking up from  May 23th. After we left the National Park of Miljet we headed to Korcula. Very cute Medieval town with many narrow little streets and the waterfront lined with Restaurants and shops. We anchored in a nice bay just south of the town.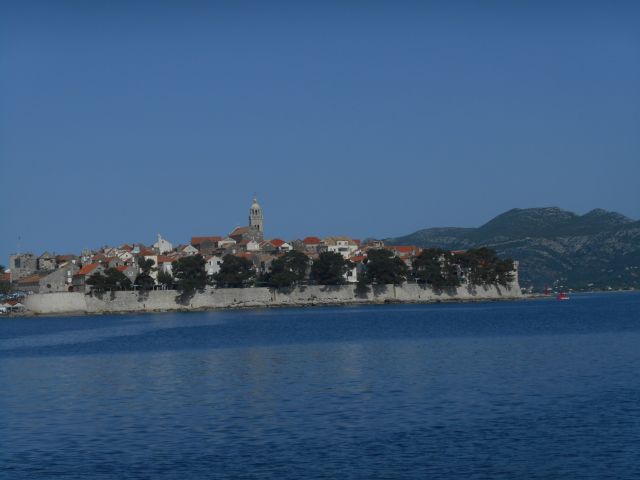 Korcula is also the birth place of Marco Polo. They have a museum and many shops named after him. It's a small island, 20 km from inland, but very cute with small beaches and coves all around.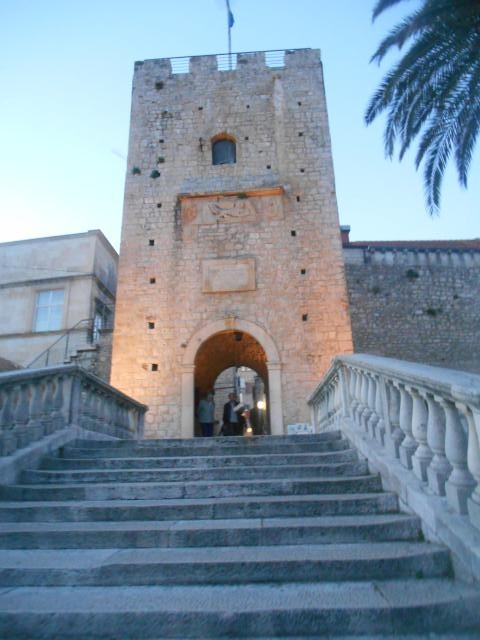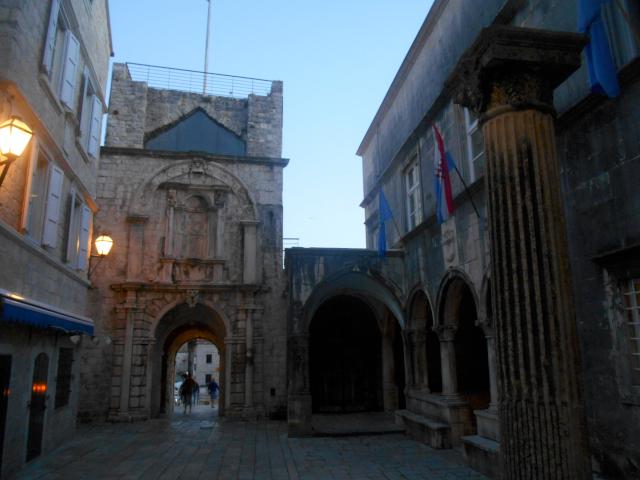 The next day we left to the island of Kvar, but lack of wind and didn't feel like motoring, we slowly glided through smooth waters into this beautiful empty anchorage for the night.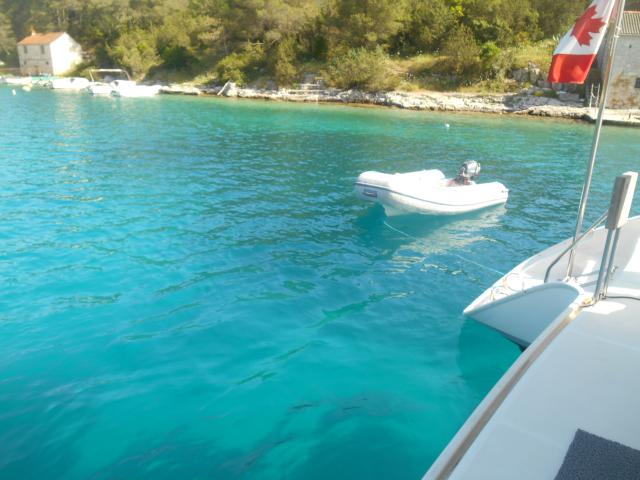 Uvala Zukova….just Paradise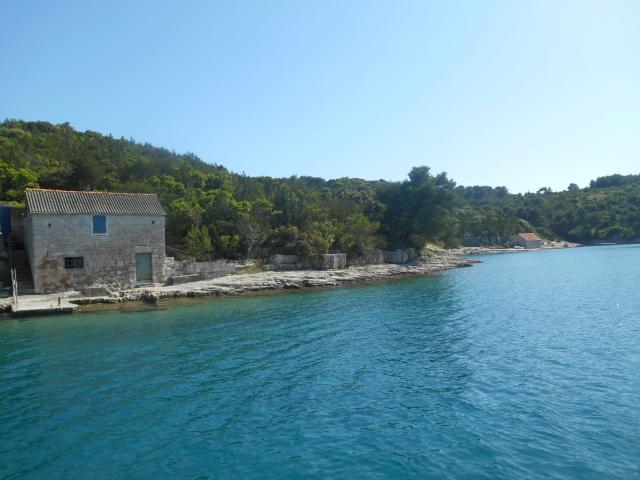 Kvar main square
 Cathedral of St. Stephen, which dominates the main town square. Most of their historical monuments were built during the Venetian times.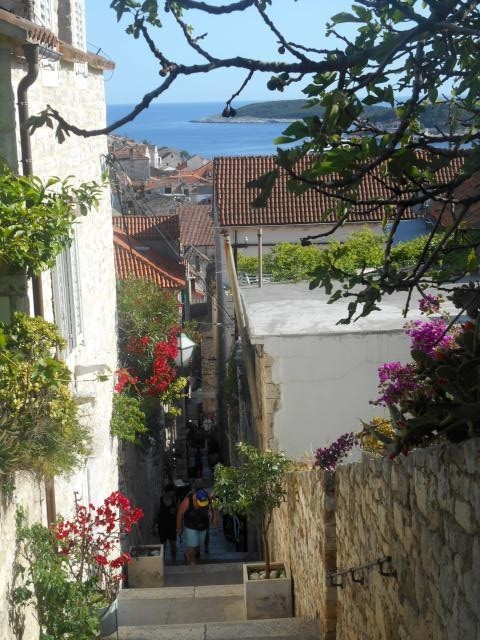 They call it the suuniest Croatian island. Thanks to this climate Hvar island produces high quality wine.  Along the coast the vineyards stretch up into steep slopes, reminds me of the Douro in Portugal.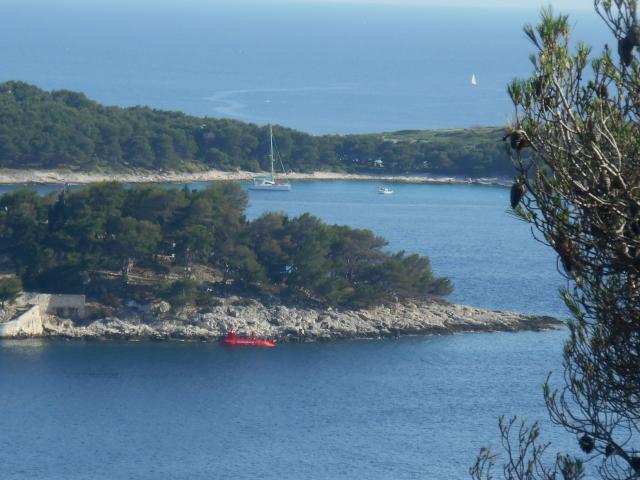 We looked around the town harbour area to anchor but it was too deep in the middle and very busy with tourist boats and ferries going by.We just went across to little island of Jerolim, which is a naturist island, but no one was around. It was late in the day and early in the season, plus it was not very hot back then yet! We took the dinghy across to visit Kvar town. We walked up to some Spanish fortress, where one can get a really nice view of the Kornati Islands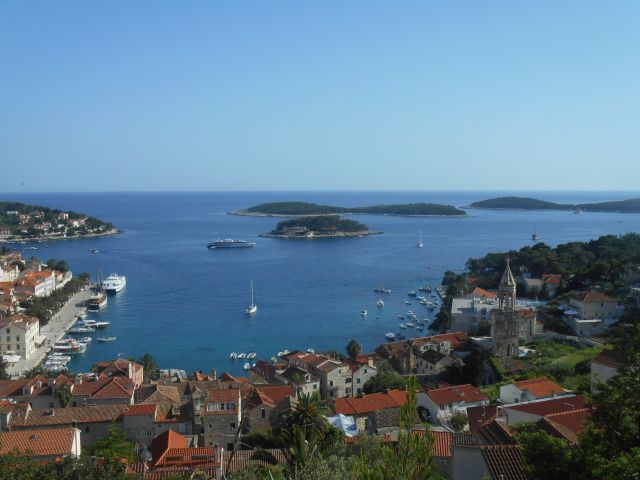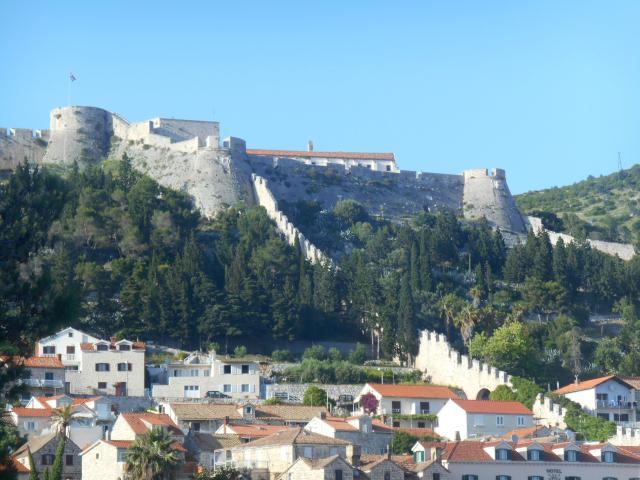 The harbour was lined up with beautiful boats all arriving and tying up together in the town quay.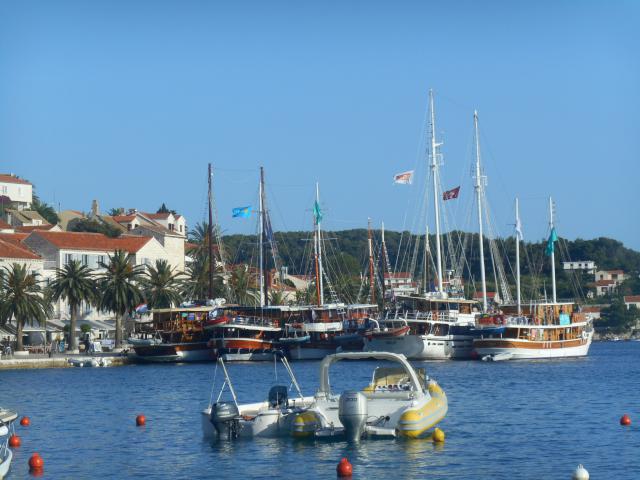 Coast line near Kvar island
We are now en route to Split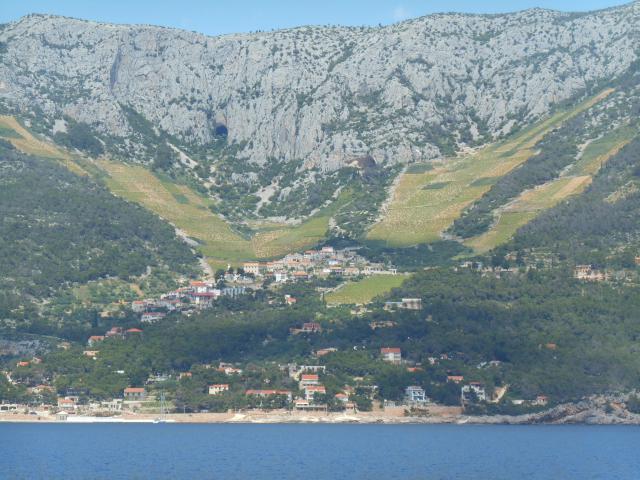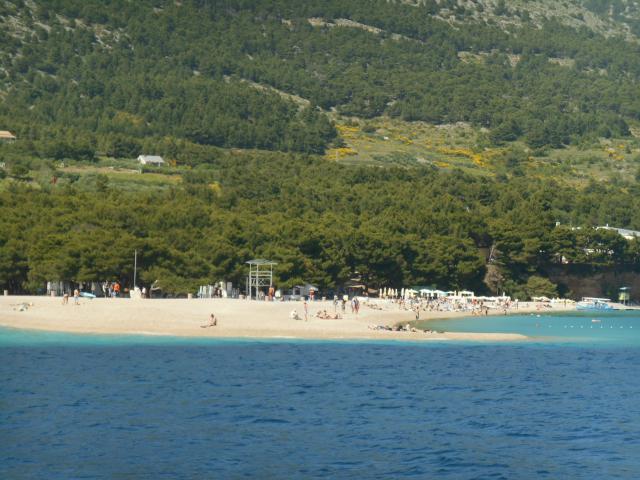 We also took a little detour from our route to Split. I wanted to check out this beach that I read was the most beautiful beach in the Adriatic. It is in the island of Brac, in Bol. It is a spit of white sandy beach and amazing turquoise waters. Croatia does not have many white sandy beaches. They are mostly pebble beaches and a lot of rocks. Very rocky shores with many sunbathers on them. Some are dressed, some are not…here everything and nothing goes! We arrived here and there many boats all just drifting around doing the same thing we were doing, checking out what the fuss was about and….fotos!
Welcome to Split
We are now anchored in the suburb of Spinut. Right outside busy Spinut yacht club, in 5 meters and holding well. A nice 15-20 minutes walk into downtown Split.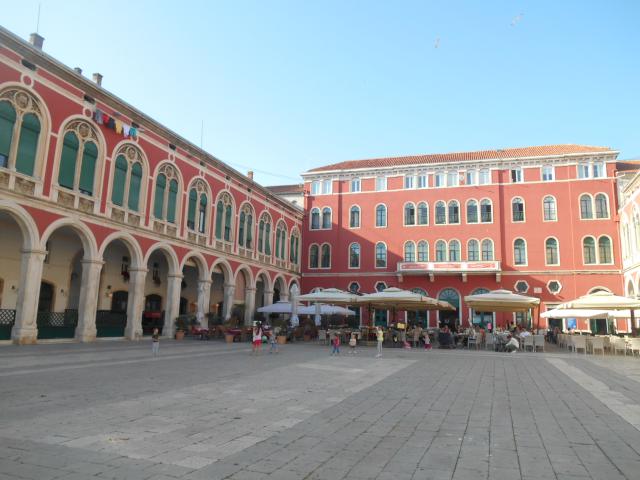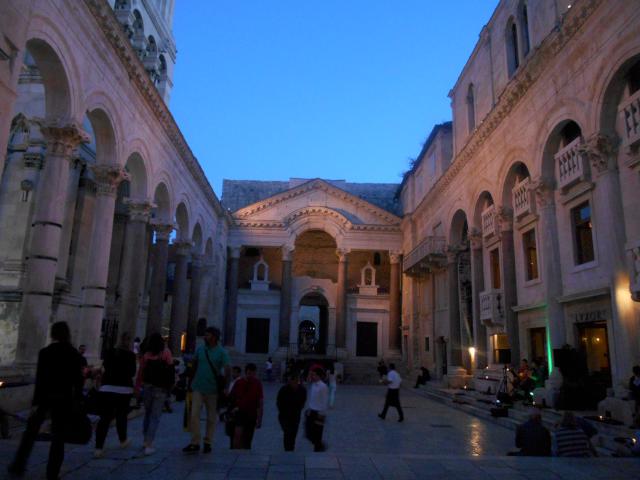 Emperor Diocletian built his retirement palace here in the third century.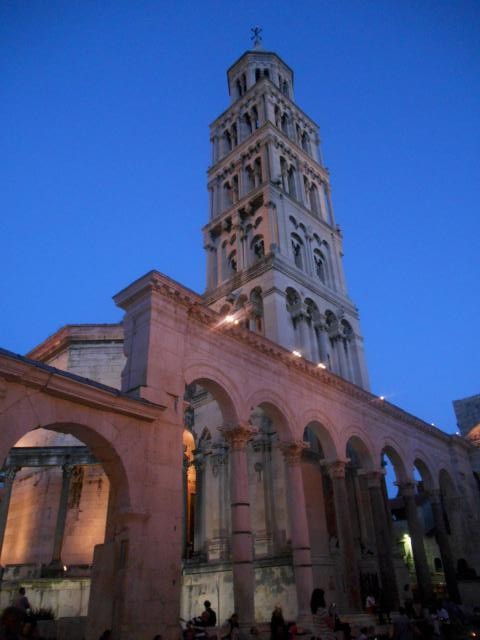 The Cathedral was just amazing….and in the Piazza, one can sit around listen to the many young musicians, have a coffe, something to eat, the Restaurants bring out collourful mats and chair pads and line the stairs around it. Just an amazing ambiance!
Emperor Diocletian built his retirement palace here in the third century.The Palace is more like a walled town where you find many museums, Roman ruins and art galleries to explore. It has endured the Byzantines, Croatian kings, Venetians, Austrians and Italians planted their flag on the great city. Split is Croatia's second largest city and very turistic.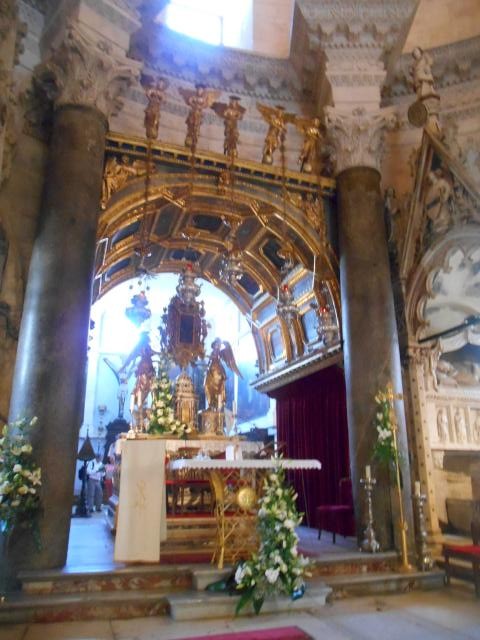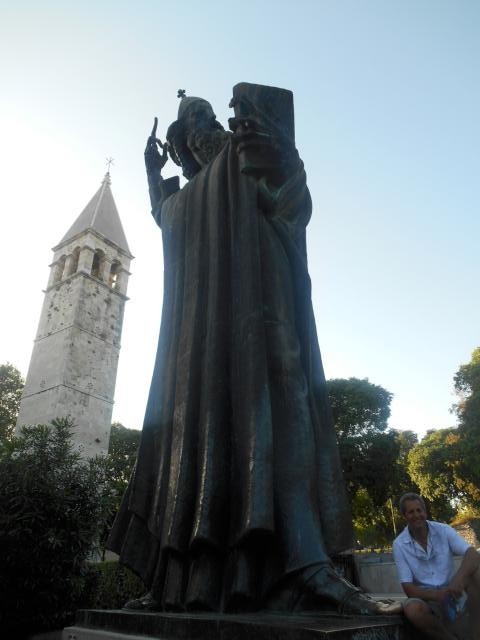 They say if you rub his toe and make a wish…it will come true. He now has a golden toe, from being rubbed so much.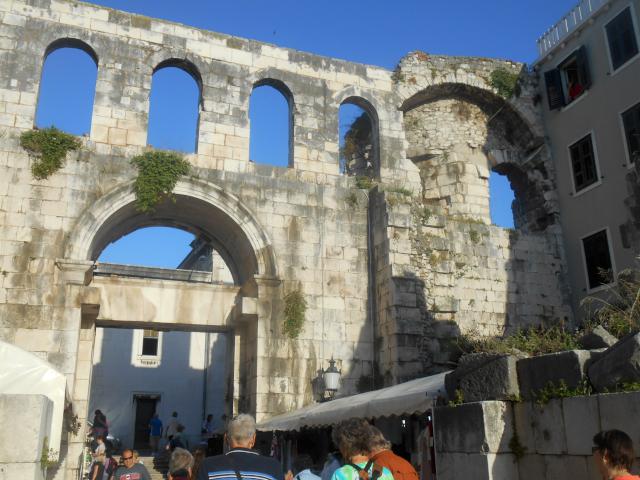 It is a beautiful city full of life, water sports everywhere, music, lots of young people, and everyone always so friendly
The narrow cobbled streets were already full with the many tourists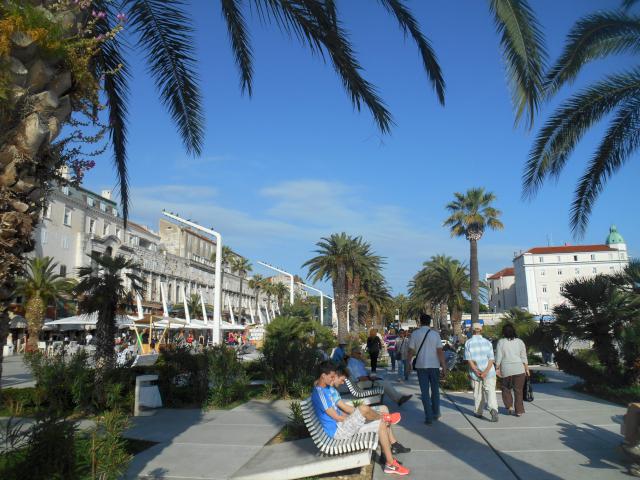 Beautiful palm tree lined promenade with benches everywhere. In the evening, after all the walking around town we sat down to listen to  a great concert that night with the proceeds going to all the flood victims from somewhere near Montenegro….
From the wooded Park Marjin hill we had great views of Split by night…and by day!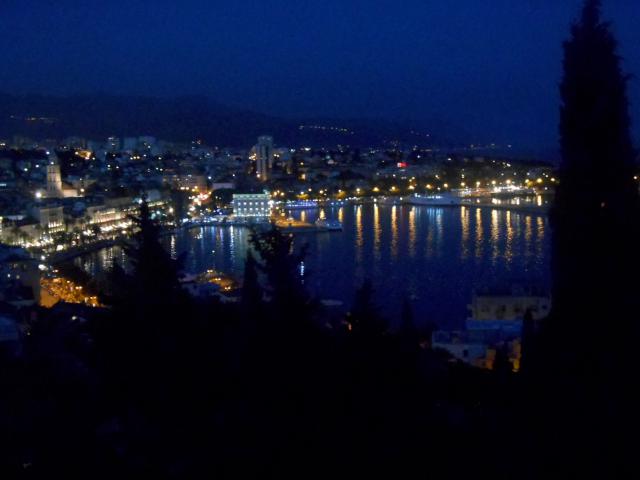 We enjoyed Split very much. We stocked up at the market for fish and veggies and some good steak before departing  to Krka National park, with a night stop in cute island of Drvenik. We are sure having fun pronouncing their names. Where are the vowels??? How about we also anchored in Prtljug in the island of Ugljan. We also anchored in the town quay with a big audience in the cute town of Morscnicka, plus all the accents that I dont find on this keyboard. Soo much fun….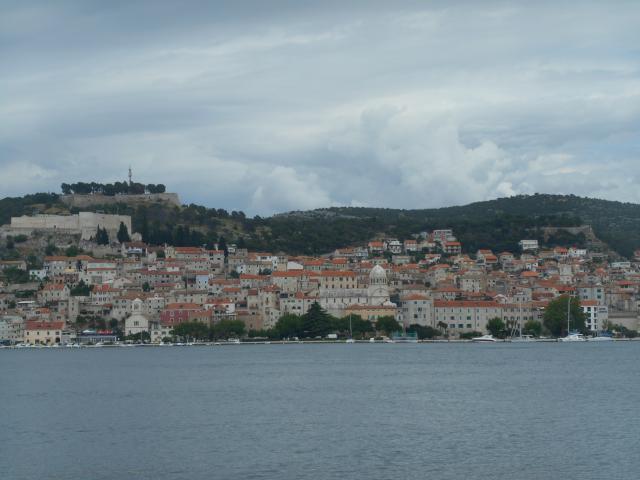 This is the town of Sibenik right at the entrance of the Krka river.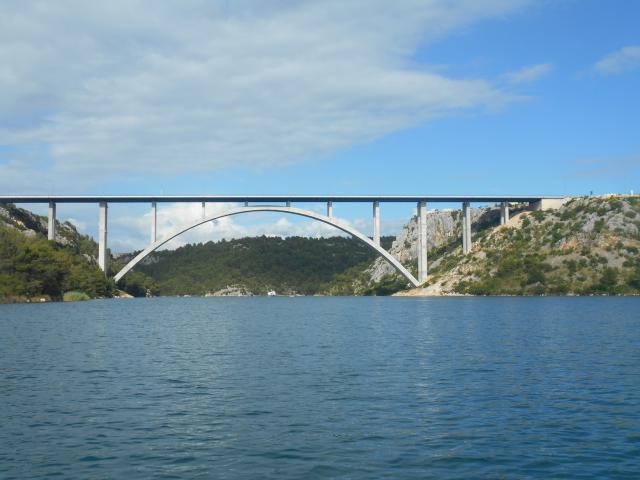 After this bridge you arrive in Skradin. We motored up the channel but not quit that far up. We were told that it can get pretty busy there. So we dropped anchor in the south east corner, a 10 minute dinghy ride away from Skradin. Only one other boat there. Very peaceful.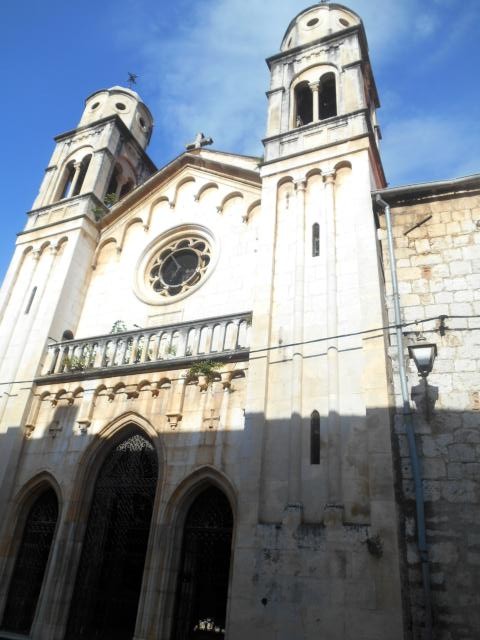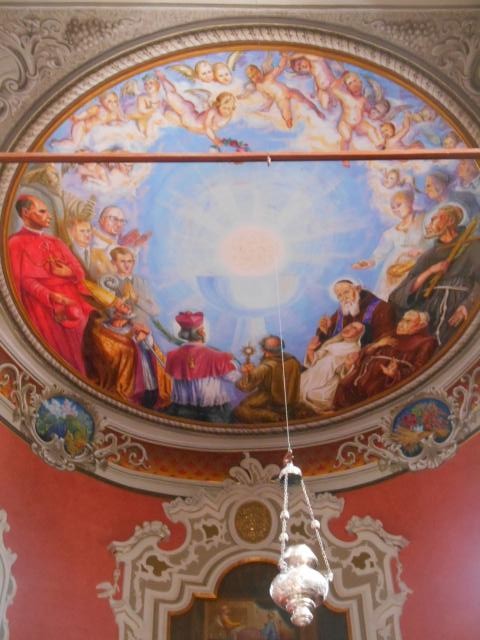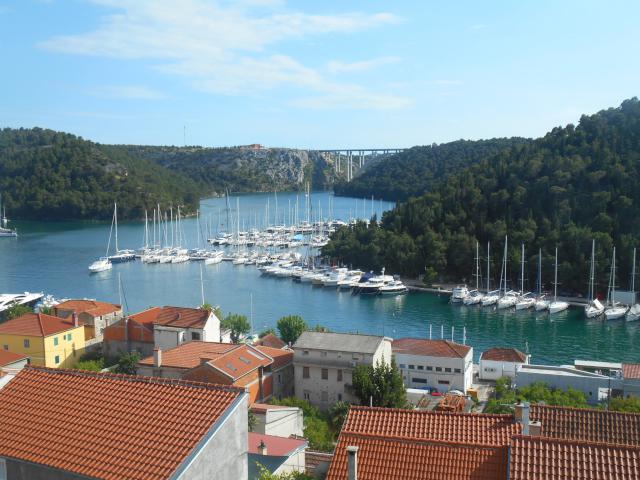 View of the Skradin harbour takenfrom small ruins we walked to, above the town. Here is the last stop one can take own boat to. No one is allowed after this point.
River boats start at 8am and run every hour. At 9am we were ashore and ready to go and explore. The boat ride is included in the price of the entrance fee to the park.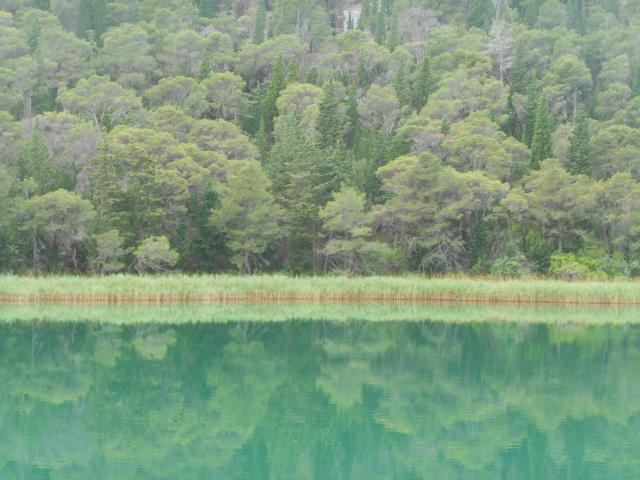 Krka River is one of Croatia's best known natural wonders. The water falls were created by travertine barriers, islands and lakes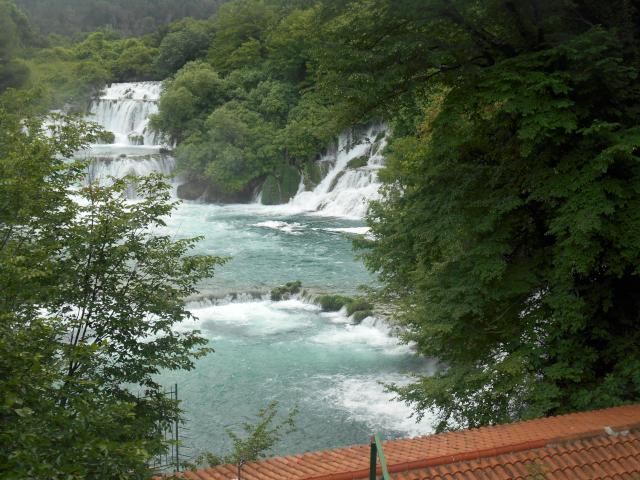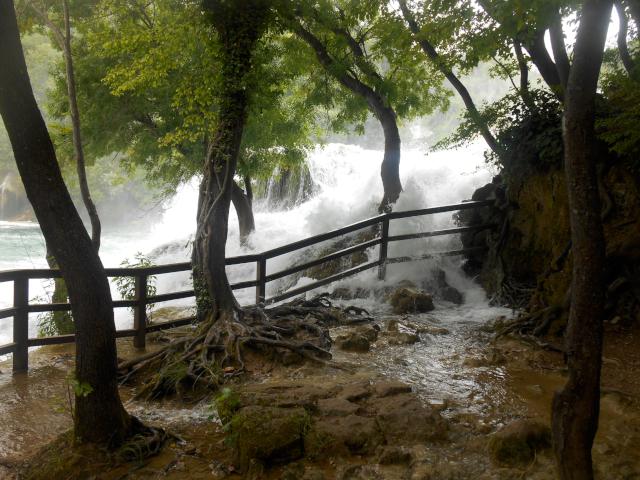 We were defenately visiting at a good time of the year, because it was water flowing and overflowing from everywhere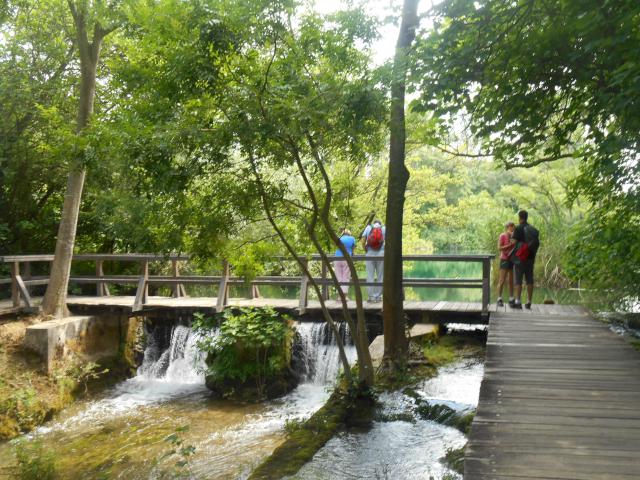 It makes it very easy to visit anytime of the year really, because of the trails and bridges everywhere.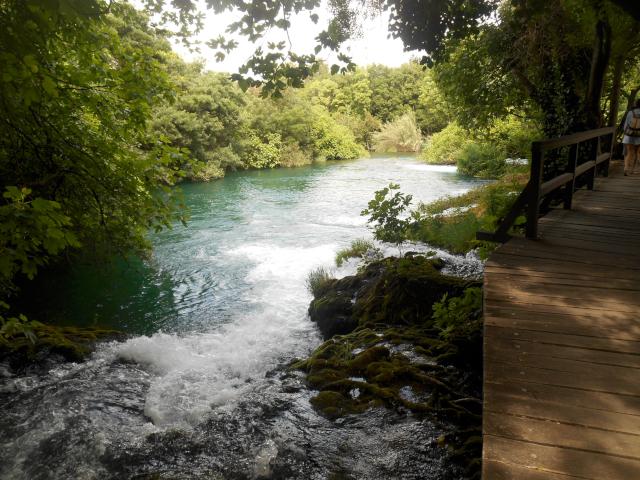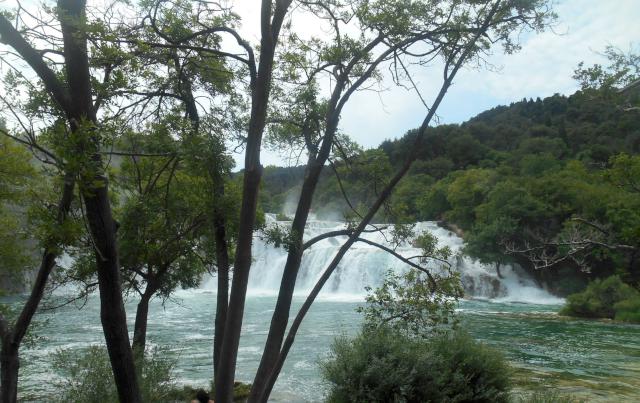 The park is amazingly beautiful and lots of wildlife. It's also like a museum. They have some preserved 19th century, mills from how wheat was milled, old kitchens and food preparations, bags and carpets being woven, cloth washed, and horseshoes smithed.
They also have remnants of the power plant plant that began operations in 1895, just 2 days after Tesla's Hydroelectric plant in Niagra Falls. Thanks to the builders Supuk and engineer Meischner, Sibenik received power before many European cities. Wow….It sure was a great day out in the nature.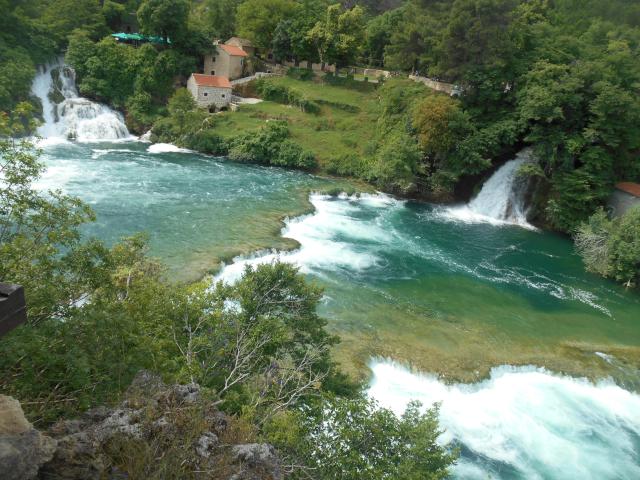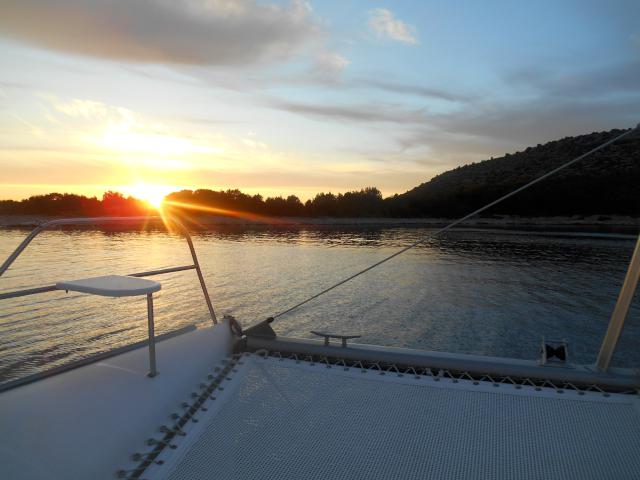 Welcome to Pula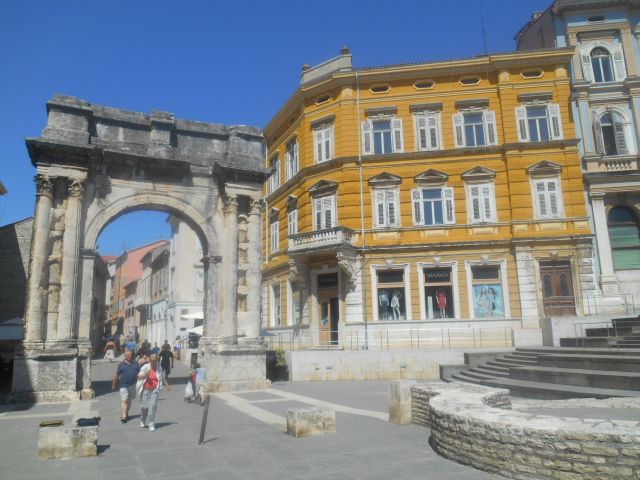 We were pressing on to get to Pula. We had Ben and his cousin Mac visiting for a week arriving at Pula airport on the 3rd.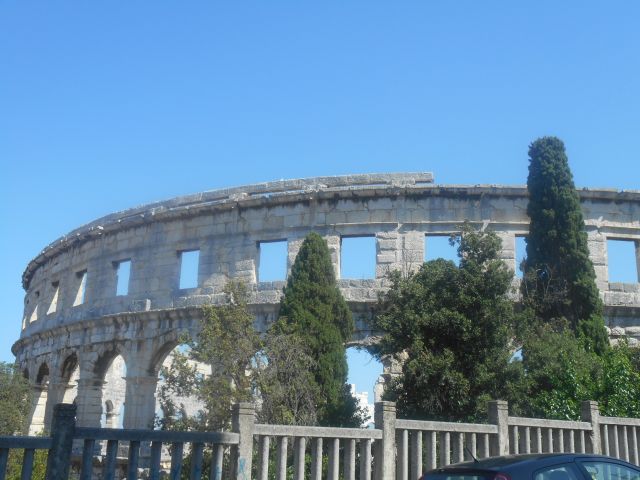 The Pula Arena is what they call the Roman amphitheatre. It could sit up to 23,000 people. It is the only remaining Roman amphitheatre to have four side towers . A series of underground passageways were built underneath the arena along the main axis from which animals and fighters could be released. It is in really good shape.
Rounding off the peninsula south of Pula and going up the Istrian east coast.
We are anchored in Rabac. We took taxi ride to a cute town of Labin above, where we strolled the old town and found a nice hike back down to Life Part 2 in Rabac.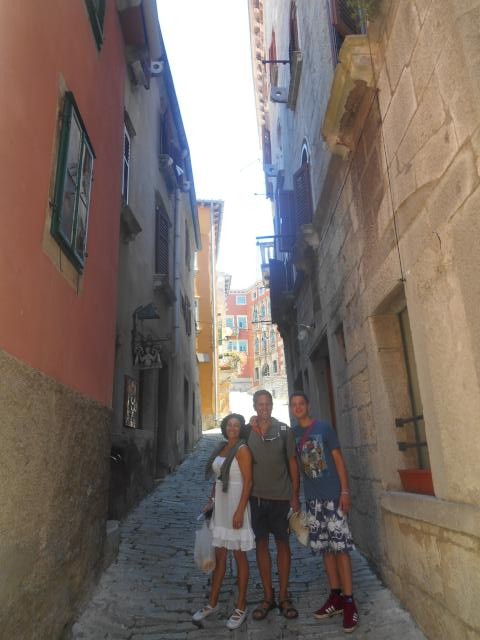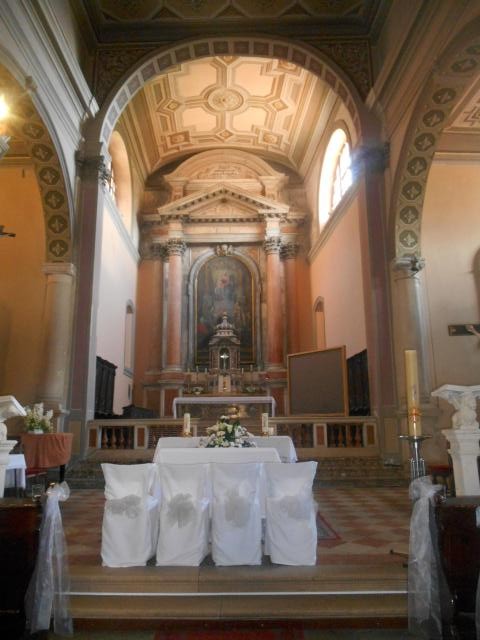 Many of the Churches we visited lately are decorated for a wedding.
From our anchorage we also watched 2 different wedding parties walking along the waterfront taking fotos.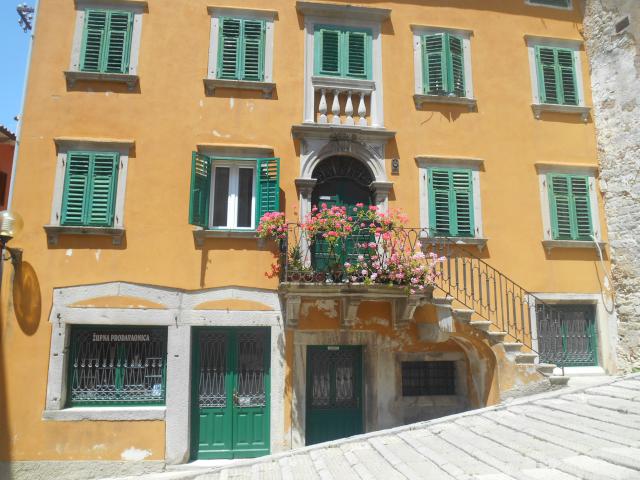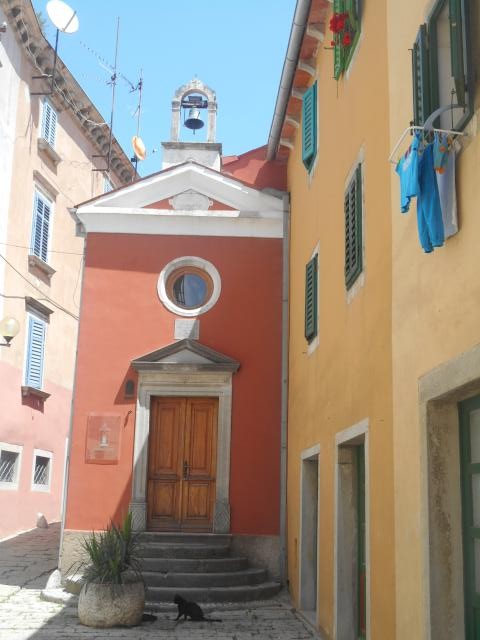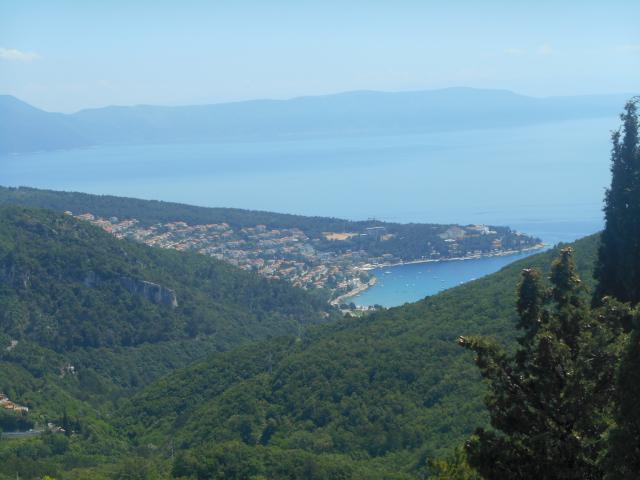 A view of Rabac town taken from Lanin. Life Part  2 awaits just on the left side of the beach and hotels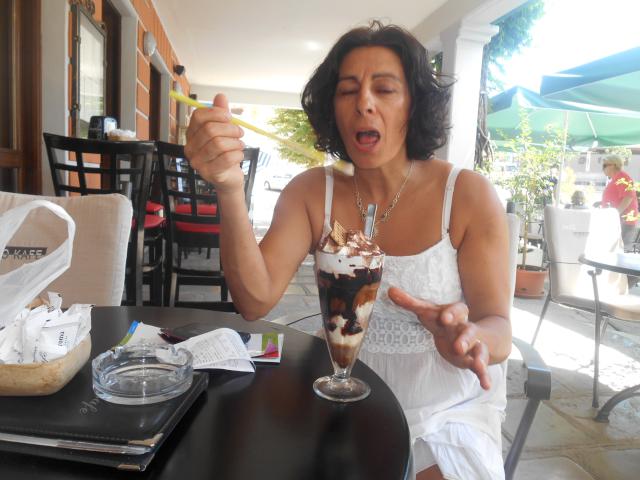 Yummy…after hearing about their iced coffee with ice cream in it, I couldn't wait to try one! As you can see in the photo, I don't look disappointed. It was more like a sundae and after all that walking around town, it was even more delicious!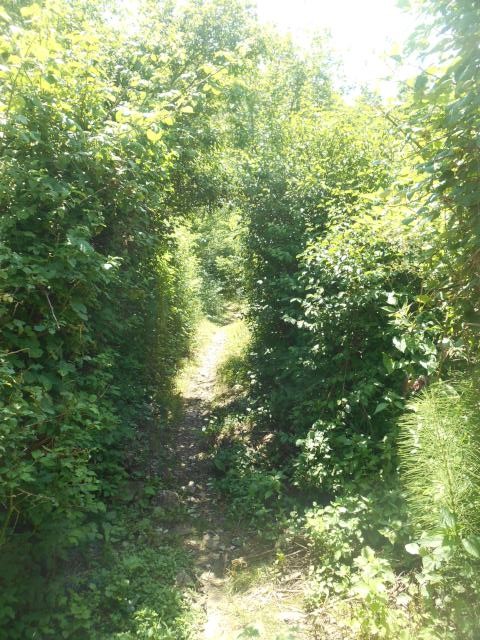 A beautiful wooded walk into town with caves and small water falls and a nice picnic along the way.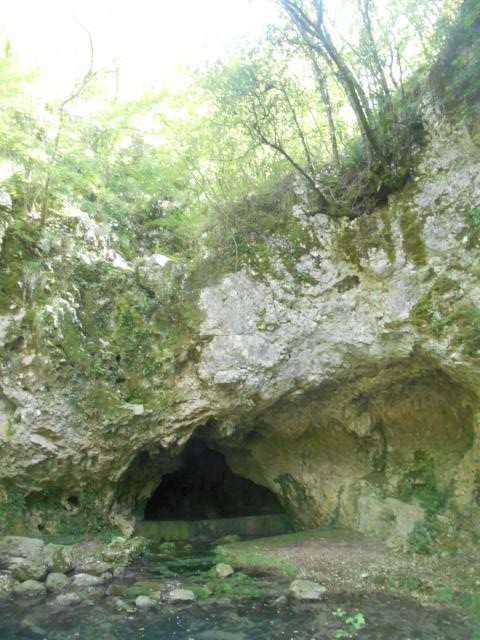 We did sail all the way up to Opatija in the east side of the beautiful Istrian coast.
We will do a post on our week with the boys soon.
We came back to Pula again where the boys had to get to their flight. Time flies when you're having fun!
Off we go the next day heading our way to Venice, up the west coast of Istria with a stop in the beautiful town of Rovinj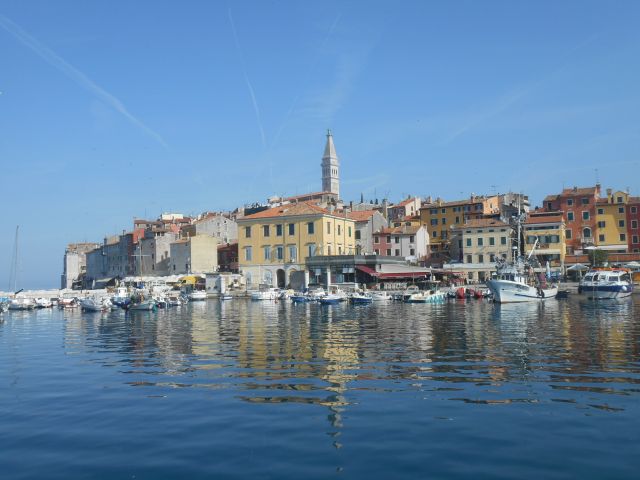 Rovinj is very charming and picturesque. It also looks a lot like Italy. Italian is their official second language. It was Italian that was mostly spoken on the VHF.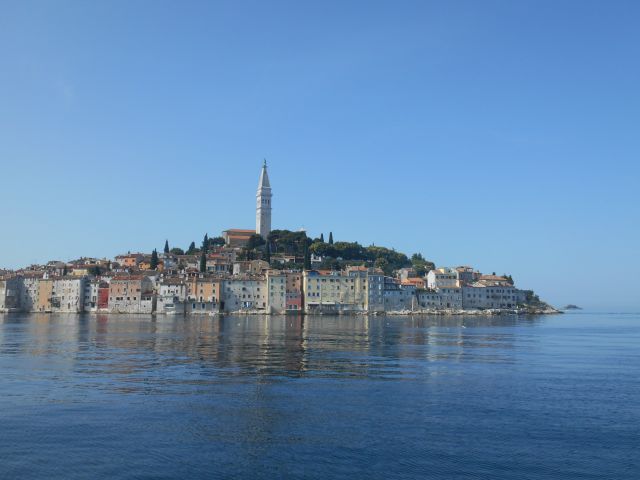 The old town is lined with houses from the 16th century. In every street at every step there is a surprise, from old beautifully carved doors to monuments and churches and arches awaiting…..We loved it. It will probably be another stop there on the way down from Venice.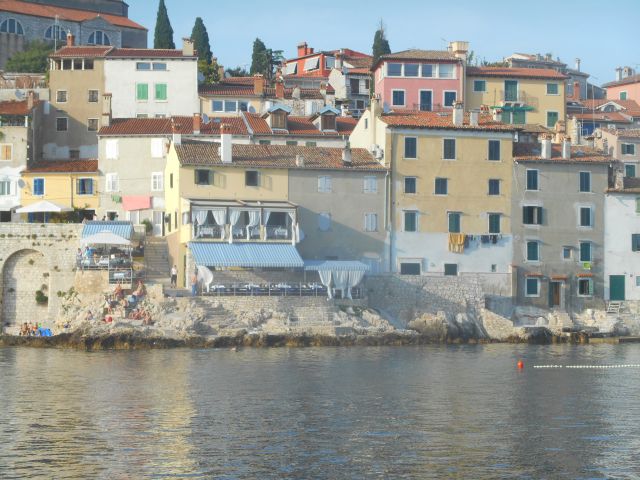 We didn't just go around the peninsula to take these fotos…we were looking where to fill up with water. Just before we tied up at the dock near here, a fisherman told us to get it on the other side of the town, at the fuel dock.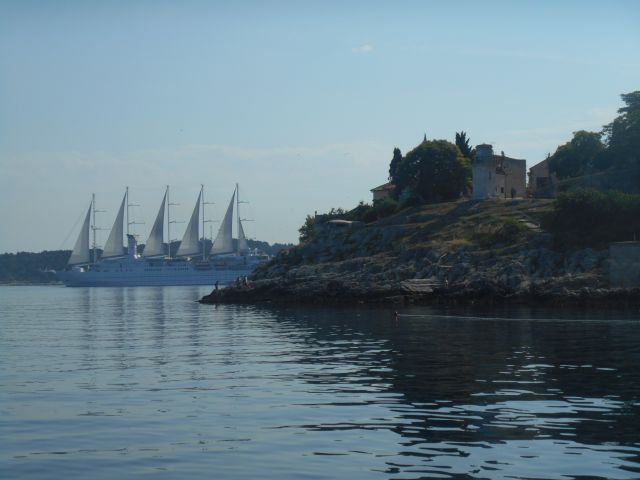 As we came around the corner, we filled with water, went to pay at the office and they said "no charge". Great! They also said we anchor for free there, for the day only. Fine with us, we were moving to an anchorage for the night anyways. We anchored near this beautiful cruise ship.
At 6pm an Italian Oficial came and said we were there all day, so we must pay" not very much, only 100 kuna". We told him it has to be a mis-understanding because we were tol at the office to anchor there Free for the day. He called the office in Italian and confirm. He was still smiling and said "ok, dobra.
Moved around to our anchorage less than 2 miles north good holding. Big bay surrounded by beaches and campsite.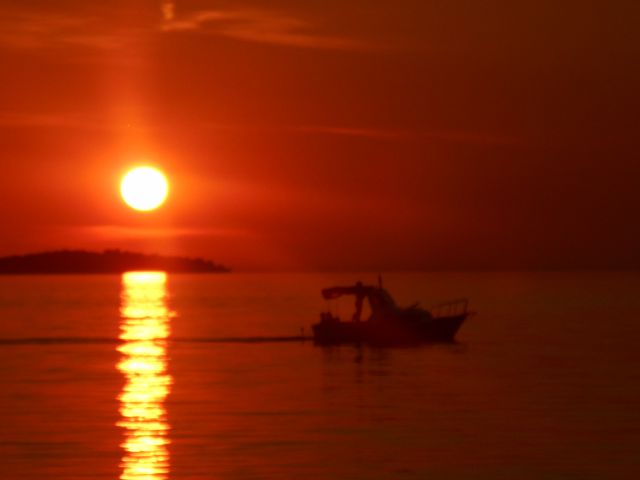 We have been delighted with the most beautiful sunsets every night…..
And on the other side we had full moon last night
With a night like that and the "light" winds they predicted, we set off to Venice.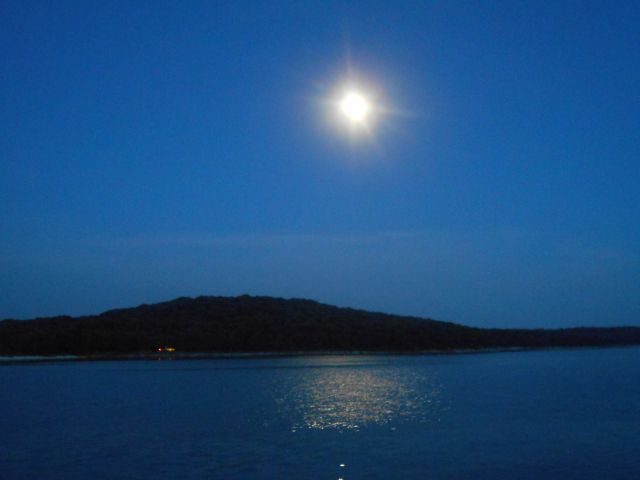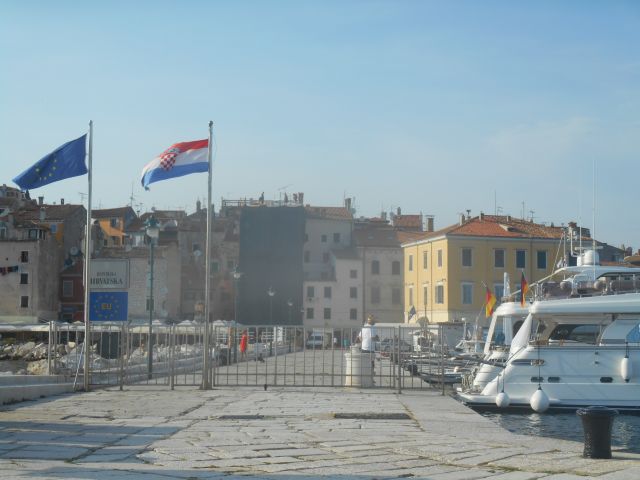 Checking out of Croatia right here. Venice, here we come
Ahhhh…. You have already the update from the captain, that we had a good sail  to Burano
I did not read his post. This post was supposed to be published before we got to Venice. So I had all my photos uploaded and started to write, thinking i would have lots of time during this very calm night.
Too many interruptions, and not just the 5 minute hold up with the anchor chain. As soon as we got underway, a beautiful display of fire works got our attention. They had big screens in outdoor parks and other venues because Brasil and Croatia were playing. Noel could not understand why after the fire works and loud noise I was anxious to check the scores in the internet.
Can you imagine if Brasil lost at home?? hhmmmm. That is worrisome.
I guess Croatia was celebrating their only goal.
Went back to my post only to find some photos were not there…had to search and by then…….I must have crossed some border, my Croatian internet was not working anymore!
So here it goes today!
Current Location:
Burano anchorage, Venice lagoon, Italy
Current Position: 45 29.35 N 012 25.4 E
Click to view map.
Distance sailed since last post:
70 nautical miles
.
View the map of our voyage track here
The forecast was for calm winds. And when we set off from Rovinj at 10pm last night it was, indeed a flat calm. At least we tried to set off. Ceu was working on the various blog posts all evening. But then, as we tried to leave, our anchor chain got jammed and needed some crowbar action. Finally we got that sorted out, and we started to drift vaguely in the right direction.
Then, as we left, we saw fireworks ashore, so we figured Croatia must have scored against Brazil.
And, an hour later, it suddenly blew up to a force 7, and stayed that way for most of the night! Don't know where that came from, but both the strength and direction were contrary to multiple forecasts that I had checked.
Nevertheless, we managed to sail pretty much on course.  We were doing a steady 7kts for several hours, close hauled on starboard and making some great power with our water generator until daylight, at which point the wind then dropped, backed 90 degrees, and now we were close hauled on port, going slower, but still pretty much on course.
With all the excitement, Ceu was unable to finish up her blog post, and by the time things had settled down, we were out of range of the internet connection, so we are rather behind with our photos since Mljet, and also of the boy's visit last week, which was a hoot. We will get those up soon, promise!
At 11:30 we entered Porto Di Lido, the entrance to the Venice lagoon, in flat calm, having motored the last couple of hours. Ceu put up here flag to support her team at the World Cup.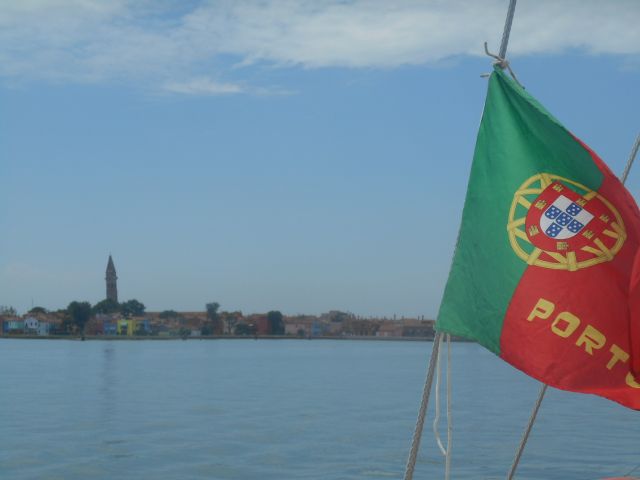 As per Bob's instructions, we turned right, motored another hour with a favourable tide of a couple of knots, and anchored just north of Burano, where we snagged some free wifi!
And so here we are in Venice!
We will dinghy ashore to Burano, and start the explorations.
Current Location:
Pula, Croatia
Current Position: 44 52.7 N 013 50.62 E
Click to view map.
Distance sailed since last post:
40 nautical miles
.
View the map of our voyage track here
We set off this morning at 8:45am (wow – a lie in!) with the wind blowing 20-25kts from the north east. Since we wanted to go north west, that looked good to go.
And good to go it was! With two reefs and a roll we were making 8kts eastward to round the tip of the island. Then we hardened up to close hauled, still making 6-7kts. This was a perfect course for Pula, so we just kept going.
Gradually the wind dropped, and we then let out the jib rolls, and then the two main reefs.
Finally the wind was down to 11kts, and we were bearing away to round the bottom tip of the Istria peninsula.
As we did so, there were hoards of 'credit card captains' sailing south from Pula. They had, no doubt, just picked up their boats and were starting off on their holidays. A glorious day for it – sun shining, 12kts of wind on a beam reach, full sail, holidays for a week or two – what could be better?
And then what happened? Wind disappeared. Vanished. Then came back briefly from the wrong direction and vanished again. We decided to cut our losses and anchor in a small bay, 8 miles short of Pula.
This morning the sun was out, and a light wind was blowing from the northwest. We motored the final stretch to Pula,
got ourselves some fuel and water, and are anchored, eagerly awaiting the arrival of Ben tomorrow! Let's hope the weather stays fine like it is today.