This post relates to Natural Sauna, Pantelleria. Click to see map.
It is unfortunate that the town of Pantelleria presents such an uninviting face. Totally destroyed in the last war, it was rebuilt in a hurry with concrete blocks. It is clean, certainly, but it wins no points for charm.
As a result, I suspect that many people who stop here on the way between Tunisia and Sicily never take the time to actually explore the island, which is a great shame.
Fortunately, when we pulled in to Pantelleria, not only were we greeted by Paul and Gaby of Bella Nova, but they also told us that they had found a car to rent for just 25 euros a day! As you step off your boat in the Porto Vecchio, turn right and follow the harbour all the way around, crossing the Stop sign and heading down the road to the Porto Nuevo.  After a little while you will see a smal car rental place on the left. They serve up beaten up Fiat Pandas with minimal paperwork and no concern about the scratches and dents on the body work.
Perfect.
We took one of these little cars and did a total tour of the island. I think we drove every inch of the main roads.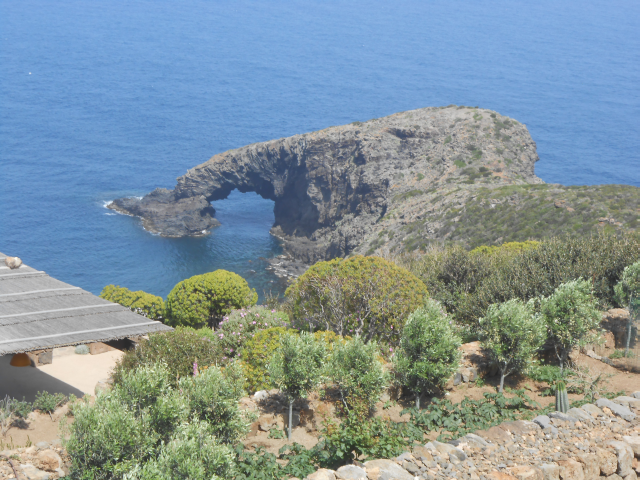 Now, I wonder what that rock is called? Pachyderms come to mind at all?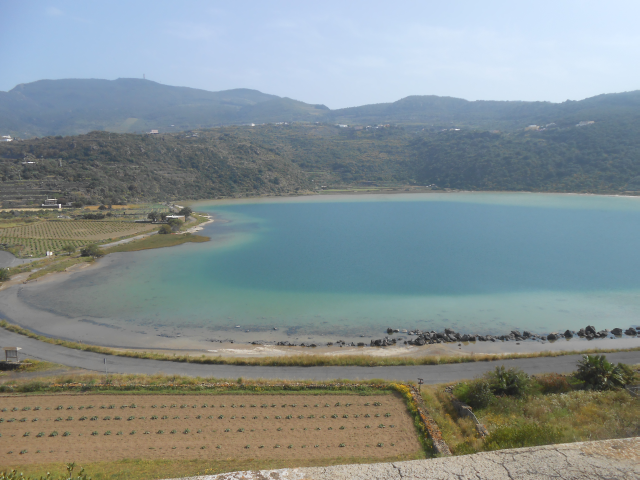 Once you get into the interior of the island it is beautiful. We drove up to the top of the Grande Montagne, the volcanic peak. We took a walk to a totally natural sauna – a cave half way up the mountain that gets hotter the further in you go.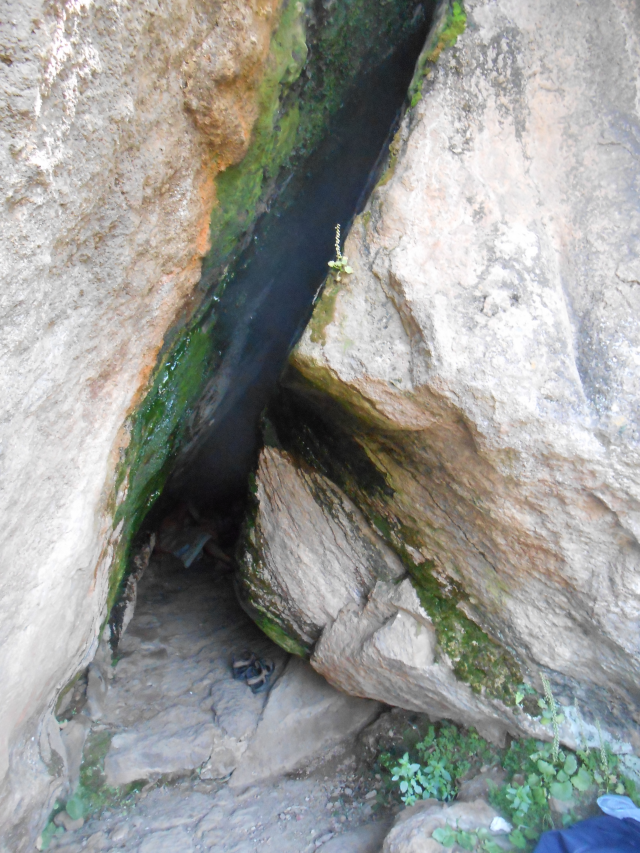 Actually it is really a cross between a steam room and a sauna, being a bit too dry for a full steam room, but wetter than most saunas – unless you really ladle on the water. And what is really nice is you can self-adjust its temperature just by moving in or out of the cave, so you can have it as hot as you like!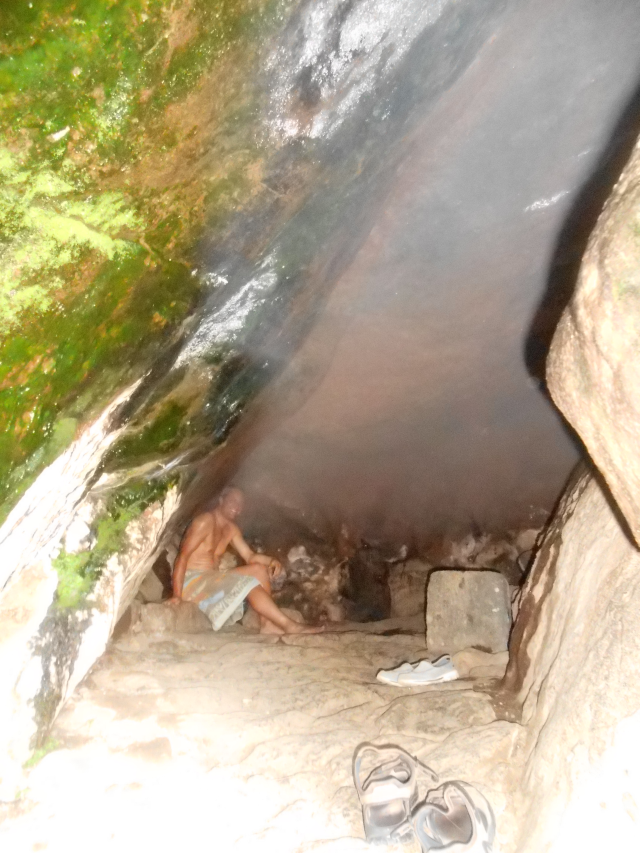 We also took a dip in one of the three hot springs down by the sea, though at 40 deg C it is slightly cooler than my ideal temperature.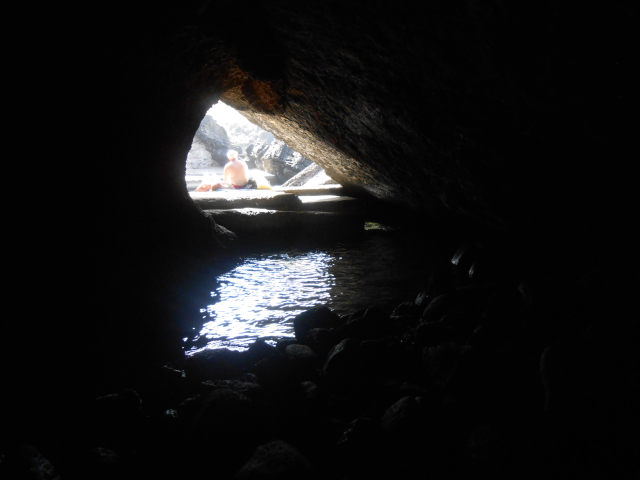 And we had several beautiful walks along nicely maintained paths, admiring the heaps of different wildflowers scattered in profusion everywhere we looked.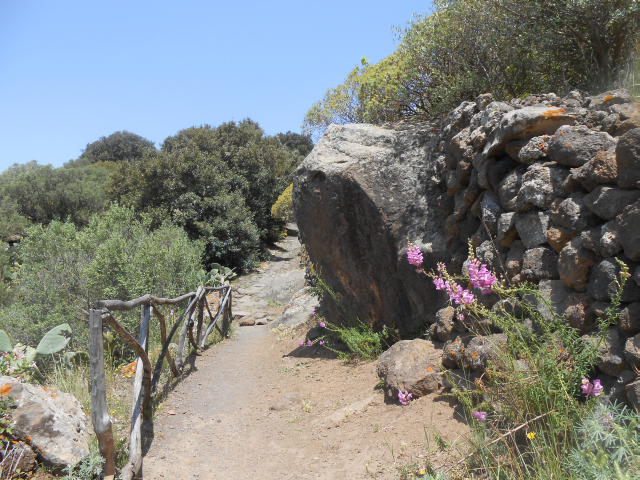 The scenery is actually quite varied. Some parts look like Mt. Etna – jumbled heaps of craggy black lava. Others are open flat plains cultivated be tiny grape vines and olive bushes – not trees! These bushes are just a few feet tall, presumably stunted by the regular winds that batter the island.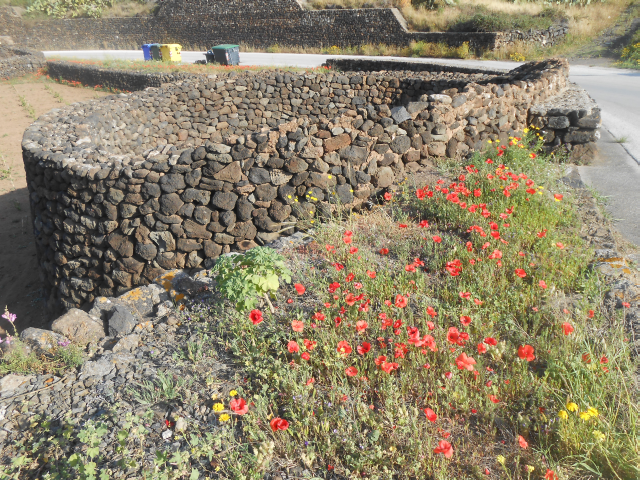 The conclusion is reinforced by the walls, such as the one shown above, that are built around single citrus trees to keep them protected!
Much of the landscape is terraced with beautifully made dry-stone walls, using the local black lava and basalt.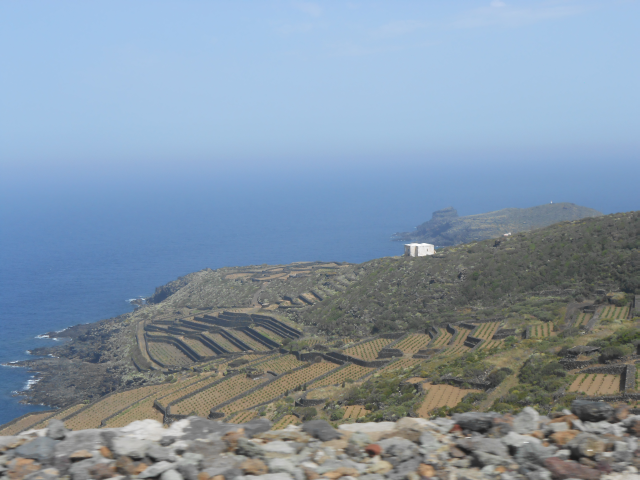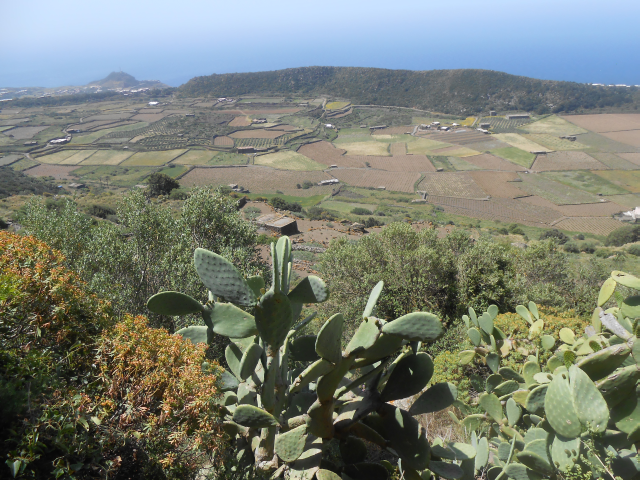 The houses, likewise, are of black stone, with dramatically contrasting white roofs that, like in Bermuda, and shaped and whitewashed in order to collect the rainwater. Most of the houses are pretty small, though we are told that several celebrities have properties out here. Quite a few were for sale, so if you want to really get away from it all, this could be your place!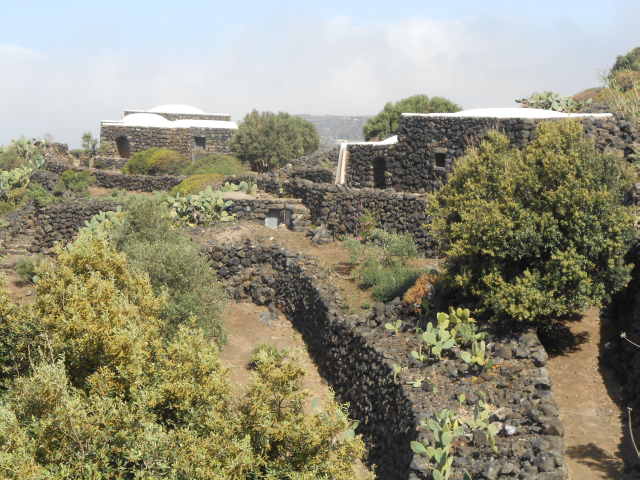 There are only two gasoline stations on the whole island, both in Pantelleria town, so make sure you fill up before you leave town – but in the whole day trip we used only 10 euros of fuel. Oh, and make sure you take enough food and water, as you won't find any during your tour of the island!
There are also only two harbours that provide any kind of shelter. The one we are in is, of course, the biggest, and can accommodate about 4 yachts alongside the main wall. That is us on the left, followed by Bella Nova, and then a small German yacht that had come from Tunisia.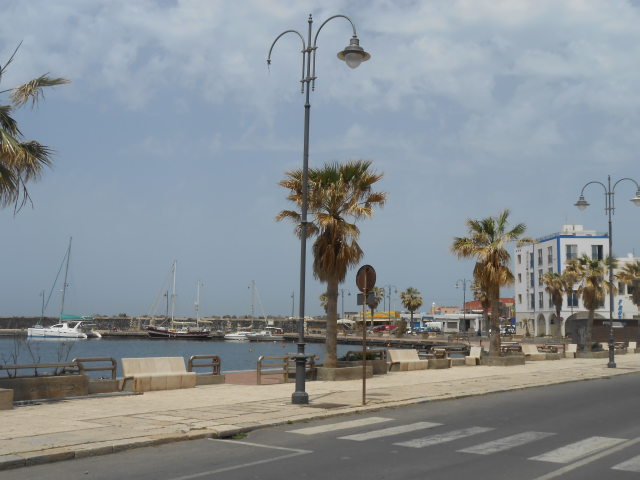 Around at the other end is Scauri, built so that the island can still receive some supplies when the main harbour is inaccessible – again a testament to the kind of weather this place gets, especially in the winter. You could get a couple of yachts into Scauri, but you have to be totally ready before you come in!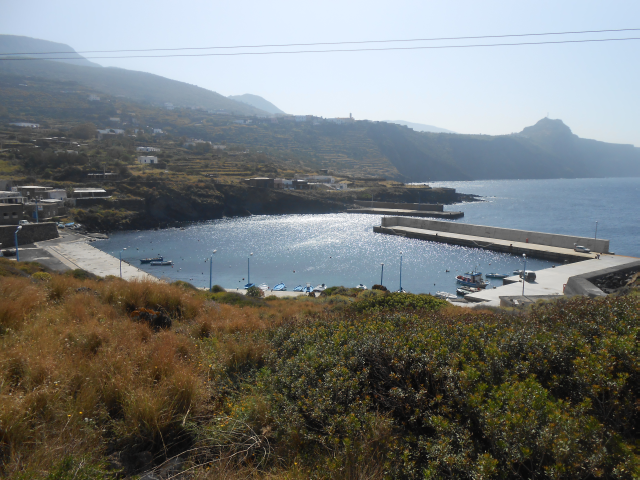 Well, after a beautiful tour of the island, we figured we had pretty much seen what there is to see, so this morning we set off in moderate winds for a beam reach across to Kelibia, Tunisia, some 40nm away. As I write this we are about a third of the way there, and doing a pleasant 6kts in pretty calm seas. And the sun is shining. What can one say?
Update: The wind picked up and we arrived in Tunisia in great time. Here we are, and now we have internet!
This post relates to Porto Vecchio, Pantelleria, Italy. Click to see map.
We left Porto Empedocle at 19:30 and had a great sail across in winds varying from 10kts to 25kts, mostly a broad reach, before finally having to motor the last two hours.
We arrived in Porto Vecchio on the North Coast of Pantelleria at 11am only to find Paul and Gabby from Marina di Ragusa waiting on the dock to take our lines!
Tomorrow they leave for Tunisia, and we take over their 25 euro a day car to do a quick tour of the island- including the hot springs and natural sauna. It will be good to explore here, though the town itself will never win any architectural awards!
We will update with photos as soon as we can!
This post relates to Porto Empedocle. Click to see map.
After the relatives and the gales departed, we ourselves departed from Marina di Ragusa.
It was a beautiful sunny Sunday, and we left the harbour in light winds in company with Big Sky, Castor en Pollux, and Deja Vu III. Fabuloso, skppered by our friend Roger of Burnout, was a couple of hours ahead of us travelling under motor only.
The destination for all of us was Licata – some to take advantage of their offer of free berthing for the month of May, others just to pass through.
For about an hour we were making 4 kts with the spinnaker up, and managed to take some photos of each other.
Then the wind dissapeared and we had to motor.
And then for the final two hours we had a nice breeze again, allowing us the hoist the kite once more.
Licata is a huge harbour with only two pontoons so far built. Many of the store fronts are still empty, but there is a nice mall right behind the marina.
Potentially a pleasant place to stay, especially since they are making some very attractive price offers for winter berthing, but it has three big downsides:
The lazy mooring lines were thick with sea growth, weed and snails – unpleasant to handle, and suggestive of what your boat might look like after a few months stay.
There is no security – other than an few unlocked waist-high gates that separate the quays from the public promenade. Which means that, come evening, when the locals come out to 'promenade', you have the feeling of being in a zoo – and on the wrong side of the viewing bars. The all come to walk up and down and look at the yachts, and the residents within having their meals. And what is to stop them coming aboard if they see no one at home?
The showers were tepid – and that was mid afternoon with the marina practically empty. hmm.
The next day we took our leave and sailed in a brisk force 5 – 6 downwind to Porto Empedocle, where we had previously anchored. It's entrance does face East, so it was a little bit rolly inside, but a nice place to wait out the forecast gale. And so good to be at anchor away from Marinas again.
We took the bus up to visit Agrigento town, but not the temples this time, and bought a pile of stuff in the chinese store.
The winds now subsiding out to sea, the plan is to depart this evening (Tues May 1st) for an overnight broad reach to the island of Pantelleria, half way to Tunisia. The forecast is for moderate to winds, though a bit variable in direction. We will probably spend a few days there before proceeding to Africa.
My parents have left, after a great 2 week visit.
The maintenance work and upgrades have been done.
The sun is shining, and a nice 15knot breeze blowing in the right direction.
So we are off!
First just going down the coast to Licata and then Empodocle, and then headed for Tunisia via a brief visit to Pantelleria.
We will keep you informed!
From Canada we went to the UK, where I spent a week freezing off my butt in ridiculous temperatures, while Ceu wen to Portugal to visit her family.
We then took an EasyJet flight ,with a 15hp outboard engine in our checked luggage, and arrived in Catania, Sicily at 9pm. A large van took us to Marina di Ragusa, and we arrived on board Life Part 2 at 11pm!
That was two nights ago, and now we are settling in. My parents are also visiting.
But of course life is not without drama on board! Last night, in the middle of cooking our chicken, the gas ran out. Fortunately the chicken was cooked, but not the onions, so we just had some salad to go with it instead.
Today we are trying to hire a car so that we can do some touring, and fill up our gas bottles in Ragusa.
It seems we brought to good weather with us. Prior to our arrival they had been having gale force winds and rain. Now it is blue skies and sun.
Let the summer begin!…
This post relates to Marina di Ragusa, Sicily. Click to see map.
On Saturday we had our last sail of the year.

From Syracuse we motored in a calm down to Porto Pallo, where we anchored on the west side in about 2m of water, nicely protected from the SW swell and expected winds.
Then on Saturday we set off with 15kts from the South. There was a 2m swell, but the wind didn't match, and dropped down to 10kts, despite the gale warnings for just about every sea around Italy. It did pick up again to 16kt and so we made good time to Ragusa. We fueled up, and backed into our med moor slot (no dramas this time!), and are now nicely tucked up. If you click and zoom on the map, you can see exactly where in the marina we are!
Marina di Ragusa is huge. Biggest of all is the walk from the yacht pontoon (everyone is on a branch off one main pontoon) to the showers. Literally a 5 – 10 minute walk. They couldn't have put it any farther away.
People here are friendly. Lots of Americans (almost the first ones we have seen through the whole Med, so don't know where they have been hiding out). Also met someone else who had an even closer encounter with a water spout – as in actually getting hit by one. His boat was knocked down and he lost is masthead instruments and most of his electronics. Wow.
Anyway, we will get some jobs done on the boat, and then on the 15th November we fly to the UK.
Will be seeing you all soon!
This post relates to Off the coast of Augusta, Sicily. Click to see map.
Man, was that scary!
We set off from Catania for Syracuse at 9am today. The forecasts was for  5kts of wind from the East. But as we set off, it was actually 19kts from the east, with dark brooding clouds and some rain.
Because it was raining, we didn't feel like putting up the main, so we were cruising south at 6+kts with just the jib.
The rain cleared, the wind dropped a little, and so  up went the main with a single reef in it. Now we were creaming along at 8+kts and life was good.
The radio issued a gale warning: "thunderstorms with localized gusts" over the South Tyrrhenian Sea and Ionian Sea. In other words just the area we were in. That made sense as we could hear thunder and see a big dark cloud to starboard, close to land. No lightning, though. We were about three miles off the coast of Augusta by now, pretty close to where that big ship was wrecked just north of Syracuse.
Just then I saw what looked like a patch of steam rising off the sea, about 45 deg to starboard, 2-3 miles away.
"Ceu," I said, "Look at that. What do you make of it?" as I handed her the binoculars. And at that point the cloud drooped down to meet the sea, and a twister was formed.
"Holy Mackerel! Where is the bearing compass?" We took a bearing: 210 deg. Turned on both engines, turned 20 deg to port (away from the shore), and gunned it as fast as we could. The boat did almost 10kts, and the bearing of the twister gradually increased, indicating that it was going behind us.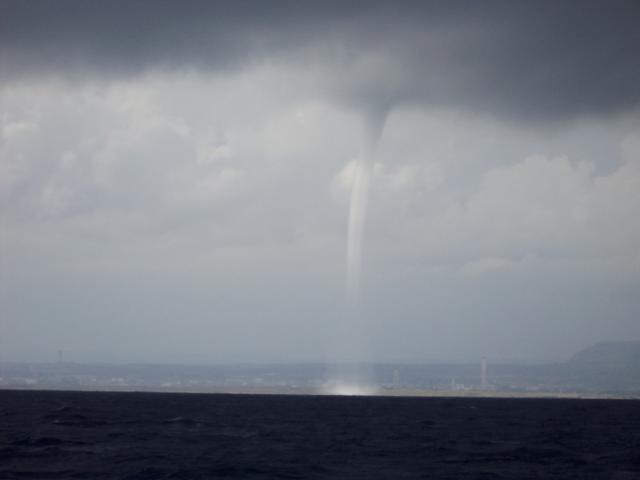 We could see the top end of the twister bending to the North which, I hoped, meant that the whole system was moving north and not towards us. To the north of it the cloud was black, and rain was pouring down.
Another big red ship, that had been traveling south along the coast parallel to us also turned and headed out to sea.
After a while the twister was off our stern quarter and died. But just then another one formed, again on the starboard bow. More anxious gunning of engines. The wind was now 24kts. We had full jib, main with one reef, and two engines, all working hard, so we were moving. We both clipped on our harnesses. And soon that twister was falling back.
As we heaved a sigh of relief, we then saw another one start to form. This time it was about 200-300m off our starboard bow. That was too close for comfort. Sorry, but we were too stressed to be taking pictures at this stage!
At this point I decided it was time to get all the sails down. If one of those things hit us, it would just rip the sails to shreds from all directions. We might go slower with just the engine, but I didn't want to be hit by hurricane force winds from all directions with sails up.
Fortunately this one didn't fully form, though it did look like it was heading more our way but, again, we left that one behind too.
And then another one formed. Even closer. Fortunately, it too was weaker and didn't complete. We could see the sea whipped to a frenzy in just that area, though where we were it was still about 24kts, blowing towards to shore and the twister.
Once we passed that one, things settled down. There was still one black cloud around, but not as menacing. The sun started to peek through and the wind dropped. We put the jib up again, and left both engines going.
Then, suddenly, the wind switched to offshore, dropped to 5kts, the sun came out, and we saw just the top of a rainbow behind us.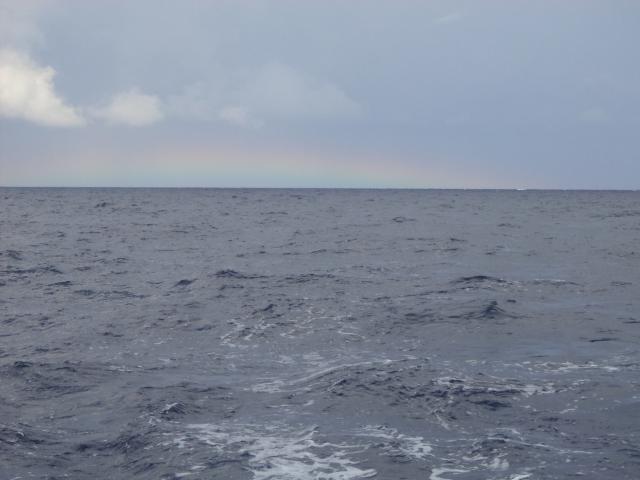 Soon we were entering Syracuse bay, and tied up at the town quay. The wind was now from the north at about 15kts. The sky was partially blue, and we were nice and safe and snug.
Phew.
Time for a beer!
This post relates to Stromboli, Aeolian Islands. Click to see map.
Hello all
Now that you have read Noel's post about our experience with the water spouts let me tell you what we have been up to in the beautiful Aeolean Islands the past 2 weeks.
Vulcano
After the strait of Messsina, our first stop was at Volcano Island where we climbed to the crater and enjoyed some amazing views.
Noel and I soaking in the sulfur mud pools and jumped after into a hot spring bubbling sea.
After a beautiful evening at anchor, we woke up with the whistling sounds of the strong winds, which we were expecting, but not quite that strong!. We got up to see if everything was all right. As we were unlocking the door and step outside….big bang! The blades of our wind generator, all blew away! Crazy.
In the morning after the storm we realized one of our paddles from the kayak had blown away from the boat. Noel set off to the beach to look ashore, since it was onshore wind, while I kept looking from the boat with the binoculars.
Success! Not only he got the paddle, from far away it looked like he was also carrying a suitcase, turned out it was a seat cushion, also a throw line, BUT…..he's coming back with a Dinghy!
Now I am just laughing my head off and chatting with the neighbor, about us losing a dinghy, but finding a replacement. Well, we knew very well someone would be very happy to have it returned. One of the boats that was missing it, had just moved to the next protected bay, where everyone else was moving to. We arrived just as they were setting off with the Coast guard to look for it…and there I am yelling the boats' name out and pointing to their dinghy. They were jumping, soo happy. Later they brought us a bottle of champagne. I only wish someone as nice had found our dinghy…
Lipari
Lipari, is the biggest and most populated of the 7 Aeleon Islands. The Castle and pre historical settlements
We stopped here to visit and have a swim in the beautiful turquoise waters. The town of Lipari was at one time very prosperous, not just with the mines, but way back in 5000BC it was exporting obsidian, the black glass erupted by the volcano here.
Salina
This charming village sure looks more like a Greek island than Italy, with all the classic white houses and brightly colours bougainvilleas. Panarea is expensive in terms of accommodation and other facilities. It said that is popular with the wealthy. Some hotels will not even take you in if you have children.
In the background is an ancient Bronze age village in Bay of Calajunca .It was discovered in 1948. Has all these huts, about 20 of them dating back centuries. Many more ruins not excavated yet. It was a beautiful walk there just above our anchorage.
The evening before that we were sailing along, about to anchor by the Pumice mines, and I looked at this colourful flag, when Noel pointed out it was South African and it maybe Roger. Binoculars out. There he is waving away!! Nice surprise, small world! For the next couple of days we sailed and got together for drinks and games. It was fun
Stromboli Fireworks!
After dashing through 3 times in attempt to do the evening hike up to the volcano, we finally made it!
The winds were pretty unpredictable, funneling around the island and we didn't really want to leave the boat unattended. There are only a couple of anchorages around and not very protected, can only be done in very calm weather.
First time we set off in the afternoon to arrive just in the dark to see the fireworks.
It was a beautiful show. The volcano is erupting every few minutes and sometimes we could see the stream of lava coming down the hill rolling into the water with a big bang! Unfortunately we could not anchor near by, so about 9;30 pm we left back to anchor in Volcano island. Arriving at our anchorage at 1:30 am was not a problem as we were familiar with the nice big bay. We didn't mind the night sail. We enjoyed Stromboli very much and the amazing sky covered with stars! We couldn't wait to go back for more. By now we were really convinced we wanted to do the hike and experience it to the fullest!
We are now back to Stromboli for the hike. Not allowed to do it on your own. Must be with guide. Large groups form in the Piazza every afternoon for the highlight of their trip.
It  took us about 3 hours to get up to the top of the crater. We went with an organized group of about 25 people. You are not allowed to do the hike on your own. There were people of all ages and not a very fast pace, although quite steep up the hill sometimes.
W e stayed up there for about 45 minutes watching the eruptions. It was  magical. We were actually right above the craters. There were about 4 of them of which 2 were always going but smaller  and then the other 2 were erupting every few minutes with a big bang and lava everywhere.
Headed to the Messina strait and along the coast to Marina Di Ragusa where Life Part2 will stay for the winter.
See you all soon!!
The forecast said that the westerly winds had ended, and a southerly should be in place for today. That was good enough for us. So at 05:50 this morning we upped anchor and set off with great trepidation to brave the savage whirlpools of Charybdis and Scilla.
High Water Girbraltar was at 0008 hrs. The north flowing current in Messina Strait begins at about 1:45hr before HW Gib, and ends at about 4:30hrs after HW Gib. Add two hours for our time zone and that meant the southward stream began at about 06:30. Which is why we wanted to get going before the contrary stream became too strong.
It was a flat calm. We put on both engines, for maximum speed, and we stayed close to the shore to keep out of the current. Soon a light wind on our starboard beam was assisting us so that we were doing over 6 kts, even with the current, which we could already feel.
As we went north, the strait narrowed, and the time progressed, both of which increased the current. Before too long our speed was down to 3kts and we were about to round the corner where Scilla lurks.
And there it was!
In fact, we motored right over one whirlpool, which you could just about make out, though there was no actual hole in it. At one point our boat was turned about 15 degrees. Wow. I was so scared.
And that was it.
I've played in more exciting eddies on the Thames in my kayak.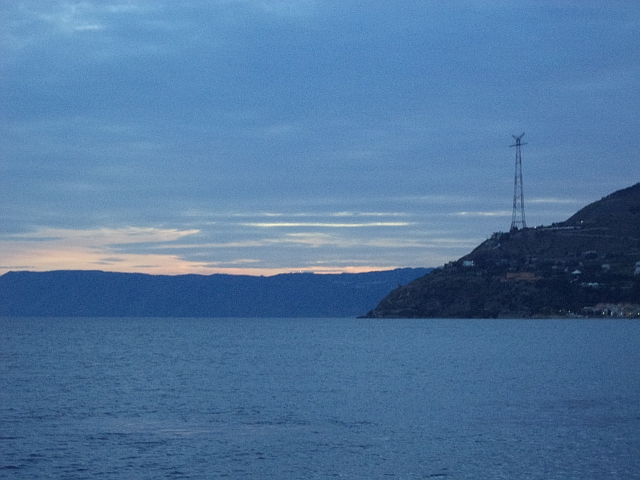 By now it was daylight. We had seen a few fishing boats but no other traffic at all. As we excited the strait, we turned west and headed for Vulcano. The wind had now picked up, so up went the main, off with the engines and away we go!
Pretty soon we had 20kts funneling through the strait on our port beam, giving us 8kts of speed for about half an hour.
And then that ended.
The rest of the journey was motoring in flat calm and glassy seas. Arriving at Porto Levante on Vulcano island at about 16:00hrs.
We tried to fill up with water here, but there was none. So we moved on to Lipari island, got our water, and anchored for the night.
Looking forward to climbing some of these volcanoes!