Current Location:
Cariati, Italy
Current Position: 39 30.28 N 016 56.44 E
Click to view map.
Distance sailed since last post:
97 nautical miles
.
View the map of our voyage track here
Sorry about the long delay in getting this post up! Yes, we are actually now in Edmonton, Canada, and have been for almost 3 weeks. But you know how it is.
Actually, how it is, is that each time we go back to Canada for the winter we seem to get sick. Usually a nasty cough with a fever that just seems to hang around. And this time was no different. But I think and hope that we are on the mend again and can start to enjoy the charms of Edmonton. You know: Minus 20 deg outside. Plus 20 deg inside with air so dry it turns your nose into sandpaper. A monotonous flat landscape with nary a feature of interest in sight. And lots of large malls in which to go shopping. Well, what else do you do here?
But I digress. I was going to tell you about our hauling out saga – and our new batteries!
From Gallipoli we sailed across the Gulf of Taranta (the town after which a certain spider was named) to arrive in Crotone just before a big storm that was forecast. The expectation was for 5 meter waves from the SE, so we figured we had better duck into the marina for a couple of days. Even then it was still pretty lumpy.
Once it had settled we nipped around to the other side to get hauled out by Elio in Porto Vecchio. We had a couple of day's wait, but that allowed us to charge up and install my brand spanking new Lithium batteries! It is amazing how much smaller and lighter these are. And by virtue of the fact that they can be discharged much lower than lead acid, we need only a 300Ahr battery to replace our 600Ahr AGM's. How nice to have some power available again!
Then came the haul out.
Now, Elio has a crane, not a travel lift. The crane has spreader bars, so the idea is simple, you put the hook and spreader bars behind the mast and run two straps under the boat, one forward of the keels and one aft. Then you lift.
Except that it turns out that a Leopard 42 has the center of gravity only about 1 m abaft the mast. To lift the boat nice and steadily the hook needs to be directly above the center of gravity. But the mast is in the way, preventing the spreaders from going far enough forward to bring the hook over the COG.
The net result? As we lift the boat out of the water, the bow drops down. Clearly this is not the case for other types of cats, as we could see our friends' Far Out sitting comfortably on the hard, waiting for us to join her!
After about 5 hours of trying different experiments it became clear that this was not going to work. There was no way we would be hauling out in Crotone.
Now what?
After a day thinking we might have to sail the 250 miles to Mesolonghi in Greece, we found a tiny harbour just 32 nm up the coast who had a travel lift and so could pull us out.
So that is where Life Part 2 ended up: Cariati is a delightful little town. Very quiet. The harbour is small, and there are just two cats (including us) and a few fishing boats on the hard. If you zoom in on the map/satellite image above you can see the tiny hard where we are parked. On that image there are two yachts. Now there are still only two yachts, but one of them is now Life Part 2.
There is also quite a nice beach, so we were swimming daily until the day we departed.
Touring South Italy
We had booked to fly out of Rome, and decided to rent a one-way car so that we could do a bit of touring on the way. That was definitely the right thing to do.
We had some lovely walks in the mountains and stayed in delightful 'Agro-tourism' B&B's
And we got to visit Pompeii, which is worth a post of its own (though we probably won't get around to it, but I will try to talk Ceu into putting us some pictures!)
But the driving in Italy is crazy. Narrow streets which the drivers then subdivide into more lanes than the original engineer had intended. Still, we survived, had a brief visit in England with the parents, and then made it to Edmonton.
So now you are up to date!
Current Location:
Gallipoli, Italy
Current Position: 40 3.19 N 017 59.02 E
Click to view map.
Distance sailed since last post:
86 nautical miles
.
View the map of our voyage track here
The first night at anchor in Brindisi was fine. But then the coast guard came and told us we couldn't anchor AND we couldn't windsurf AND we couldn't come into a free berth at the town quay – despite the fact that there was an Austrian boat tied up there that had asked and been told he could stay there for free. And he had done so on 5 previous occasions.
So we had to spend 39 euro for a night in the marina. The next day we took the 20 minute bus ride into town and went to see the coastguard. The told us that there was no problem, of course we  could bring the boat in to the empty town quay and tie up for free. So we did. So what was all that about?
In fact, we stayed two nights, as the next day was rather rough too. But, of course, the following day was light winds. Either too much or too little!
From Brindisi we sailed and then motored 40nm south to Otranto. There we anchored with a forecast of calm overnight. So where, then, did that NE swell come from, causing such a roly night???
The next day we had a fantastic spinnaker run down to Santa Maria di Leuca, at the very tip of the heel of the Italian boot. There we had a very peaceful night.
Today we had another fantastic sail. Moderate winds with a beat for 20 nm to Gallipoli (not to be confused with the Turkish Gallipoli of WWII infamy)
On the way we passed some lovely caves.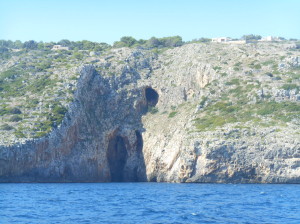 And then we caught a fish!  Yay!
So that meant sushi!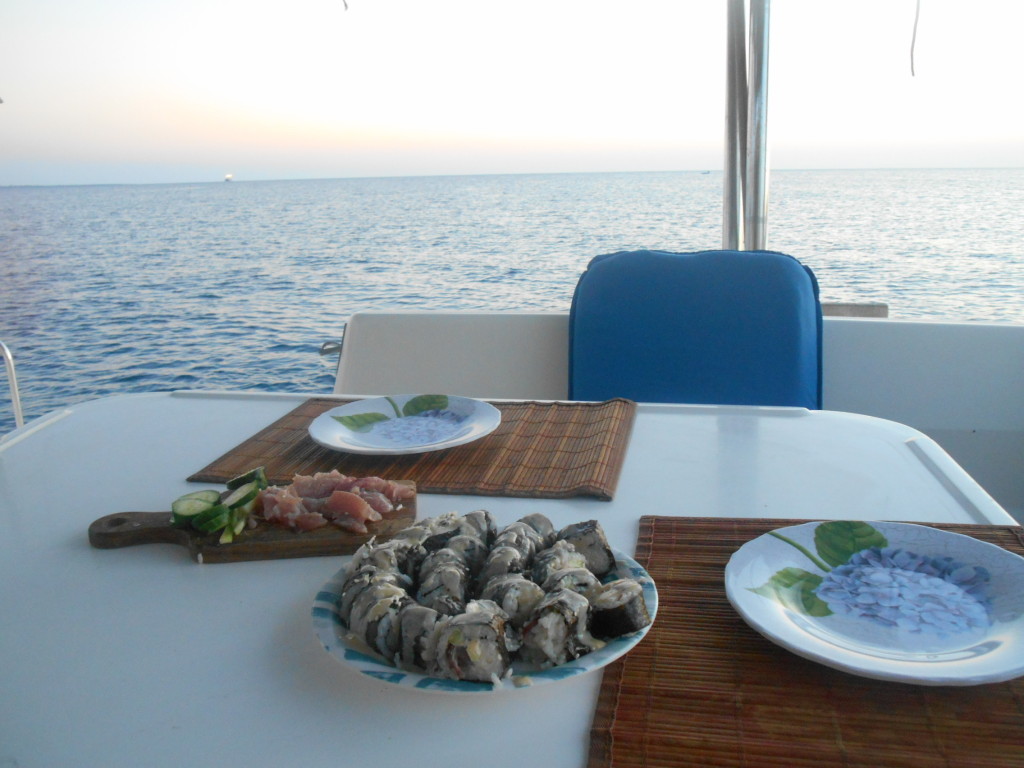 Ok, so maybe not the word's greatest sushi as we weren't exactly prepared with the right ingredients, but it was fresh and tasted great! Now we just need to catch some more tomorrow.
Current Location:
Anchorage in Brindisi, Italy
Current Position: 40 39.52 N 017 58.02 E
Click to view map.
Distance sailed since last post:
109 nautical miles
.
View the map of our voyage track here
Well, we made it to Brindisi!
As it turns out, we did have the motor -sail the whole way, for two reasons:
The winds were very light, so it would have taken us forever to cross if we just sailed, and
A couple of times we did turn off the engine, and straight away we were getting 'low battery' messages.
So I guess this battery is almost as dead as the other two. But it's not all bad. It did mean that the fridge was working all night, so now we have a nice fully frozen freezer again – though there is nothing in it, as we have been operating on a 'minimal fridge' policy for the past few weeks. Anyway, it was an uneventful passage, taking a full 24 hours to cover 114 kts, so not the most impressive average speed.
Brindisi harbour is huge. There is a large outer harbour. Then, over a mile from the entrance to that, there is a large middle harbour, and a mile from the entrance to that, there is a good-sized inner harbour.
On prior information, we anchored just outside Brindisi Marina, next to an old castle, in the middle harbour, and we went to check in, which was pretty straightforward. Then we went into town and got our internet sorted out, which was also straight forward. 55 Euro for 15 GB for two months with TIM. Though we only need it for a month.
On coming out, we spoke with an Austrian boat tied up to the town quay, opposite the customs house. He told us that there was no charge for tying up there! What a change from Croatia, Greece, and other places! So we may well move across there, as it makes it much easier to visit the town.
But today it is blowing again. 25kts. And it is a nice large enclosed harbour. So that means it is time to get the windsurfer out. Finally!
We will probably stay here a couple of days and then work our way around to Crotone. We really need to get these batteries sorted out!
Current Location:
Leaving Montenegro
Current Position: 42 25.13 N 018 32.2 E
Click to view map.
Distance sailed since last post:
7 nautical miles
.
View the map of our voyage track here
Today is calm and sunny.
Finally we have filled up with fuel, and are on our way. Forecast looks reasonable for the night, though we will have to negotiate some wind bends to get south to Brindisi. The wind is starting at SE but then as we approach Brindisi in the morning it will veer to SW. So I think we will start off on Port tack, try to keep as south as we can, and sail towards the header.
But we feel a bit like that old song,
"One wheel on my wagon,
But I'm still rolling along,
Them Cherokees
Are after me,But I'm singing the same old song"
Why?
Because yesterday our second house battery died. Another dead or shorted cell.
So we are down to one battery, our of our original three – and that one is far from happy. We are find during the day when the sun is shining, but at night we can't run the fridge, and can barely run anything else. So sailing tonight will be interesting. Hopefully we will have enough wind to keep the autohelm happy. Otherwise we are going to be hand steering the whole time. No fun that. Or else we will have to run the engine and burn up the cheap fuel we just bought.
Just hope we can make it to Crotone were we haul out, and then we can order the new Lithium batteries.
We will be off the grid for today and tomorrow until we get internet sorted out in Italy.
Current Location:
Fuel Dock, Porto Montenegro
Current Position: 42 26.18 N 018 41.5 E
Click to view map.
Distance sailed since last post:
3 nautical miles
.
View the map of our voyage track here
Montenegro offers duty free diesel when you check out. That saves 50 cents per litre, which is a lot on 2-300 litres. But there are two catches:
You have to book a time slot in advance, as the dock is also used to refuel big boats that can take up to 200,000 litres – and 11 hours of fueling time.
As soon as you are fueled up you have to ckeck out and leave the country. No hanging about.
What that means is that you have to try to guess in advance what the weather will be so as to have a good passage. Well, the weather had looked good for a Tuesday departure, so we booked for 8am planning to leave straight away.
But, as we got closer the forecast got worse. Now it was calling for gales through the morning, with gusts to 70kts, easing off in the afternoon. This morning we went on to the fuel dock and asked if we were able to delay our departure until the afternoon. No dice. Either fuel up now and go, or buy the duty-paid fuel and do what you want, or book another time.
By this time the wind was already blowing us onto the dock at 35 kts. Even the big cruise ships were pulling into Kotorska Boka to take refuge from the storm in the open sea. Not a good time for planning to go.
Fortunately the other boats that were booked to refuel at 9am did not show up, so we were able to wait for a temporary lull in the wind to make a hasty exit from the fuel dock.
Just as well, as now the wind is once again back up to 30+ knots. But we are well anchored just near the dock, and we will try again tomorrow. We are booked in for 2pm. We shall see if we can leave for Italy then!
Current Location:
Kotor, Montenegro
Current Position: 42 25.44 N 018 45.93 E
Click to view map.
Distance sailed since last post:
77 nautical miles
.
View the map of our voyage track here
When I say bombed, I mean literally bombed. We have been in Montenegro for over 10 days so far. So what are our impressions?
We love the countryside. The Kotor Bay is a huge fjord-like natural harbour with three butterfly wings joined together. It is quite dramatic and we have had some great hikes to the top of the ridges. Unfortunately the weather has been far from ideal, with clouds, rain, and thunderstorms for over half of the time.
As with Croatia, the people are friendly. They also seem less money-grabbing than Croatia. The overall prices are cheaper too. And we can fill up with duty-free diesel when we check out next Tuesday! However, the cruising permit is quite expensive, especially if your boat is over 12m long. Fortunately, our Canadian papers show us as just 11.68m, so we paid the cheaper rate: only 90 euro for a month, instead of 125 euro for a week! So that was a bonus

But the water is COLD. That's not just Cold with a capital C, but COLD in all uppercase! At Kotor there is a huge river thundering down the mountain pouring cold water into the bay. The result is 16 deg C water. Way too cold for us! Today we are back near the entrance to the bay, and the water is back up to 24 deg, which is at least swimmable.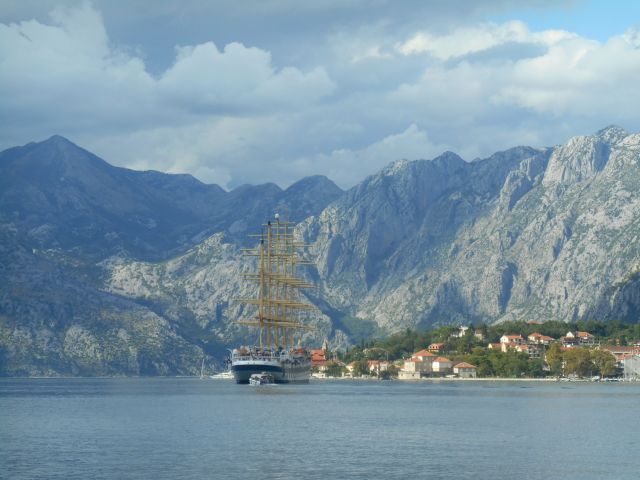 Kotor town is beautiful. Very much like Dubrovnik – a crowded (with buildings) medieval town with a big wall around it and halfway up the mountain (rather like Ston), but much less crowded with people. We stocked up on some medications, at very cheap prices (Croatia is expensive), and I also got my computer glasses copied so that I have a spare set.
We also rented a car for a day to go visit two of Montenegro's five national parks. Great day out, and even did a boat ride down the river to the Skadar lake: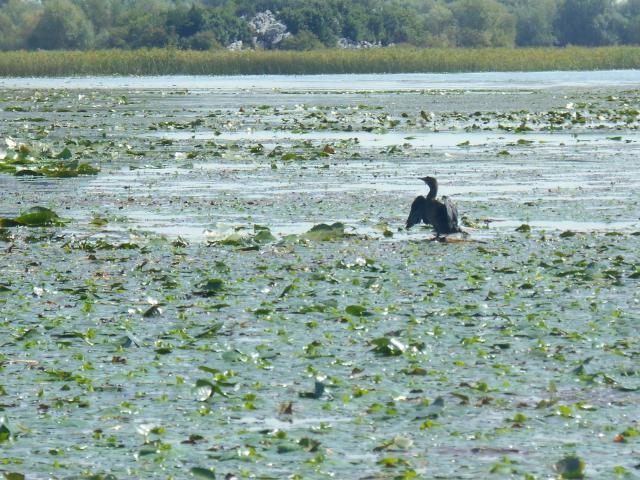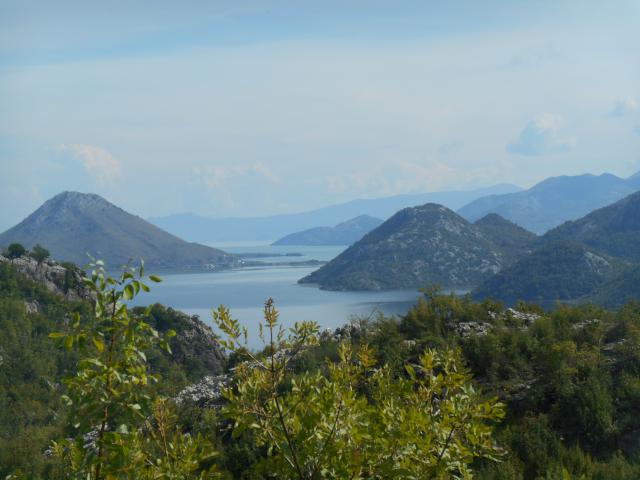 We also drove up the mountain at Lovcen, which gave fantastic views right across Kotor, Tivat, and the Adriatic.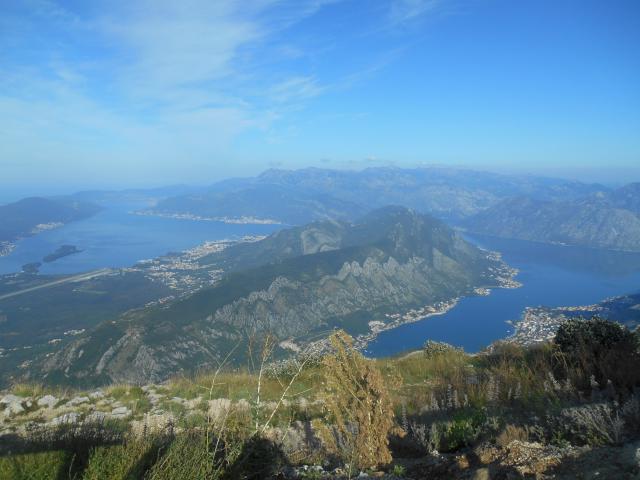 The return trip was via the shore, driving past Sv. Stefan, a pretty peninsula somewhat similar to Primosten and Rovinj.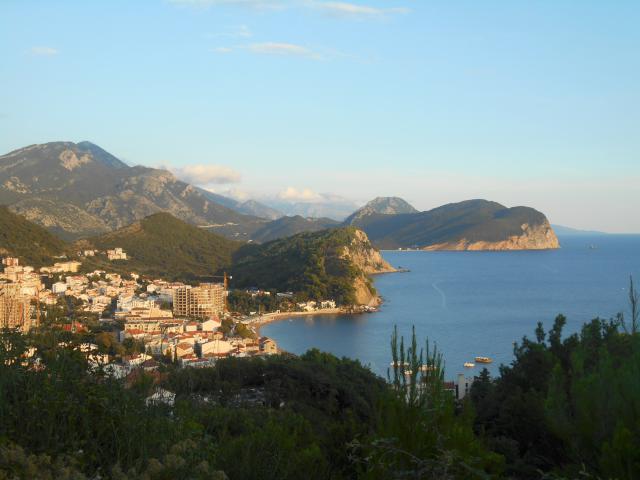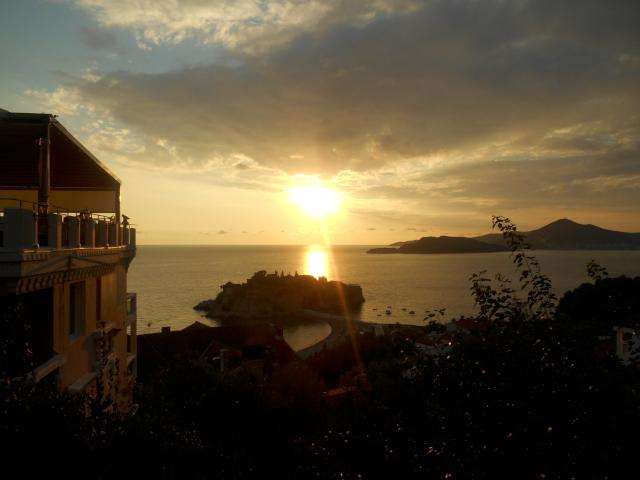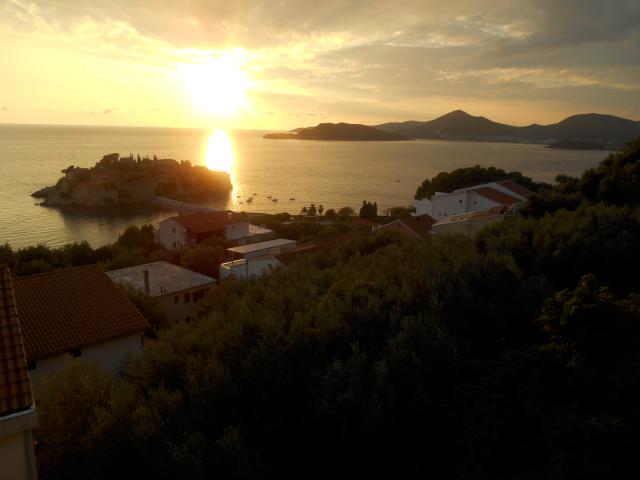 But what about these bombed hotels? Much more so than Croatia, the land is littered with houses, hotels and other buildings that were destroyed during the war 20 years ago and have never been rebuilt. So sad that people love to fight and destroy so much.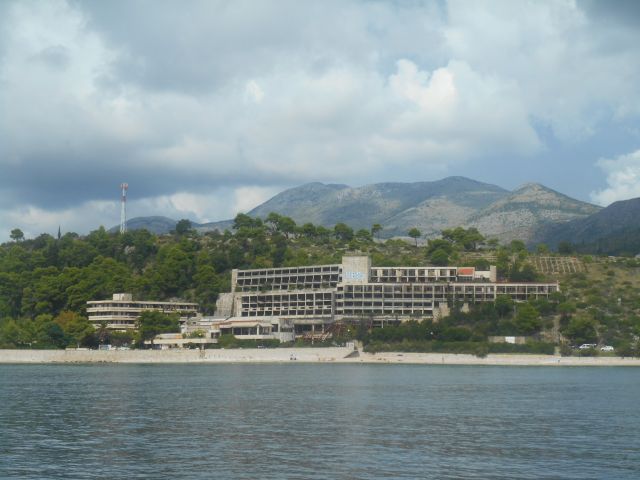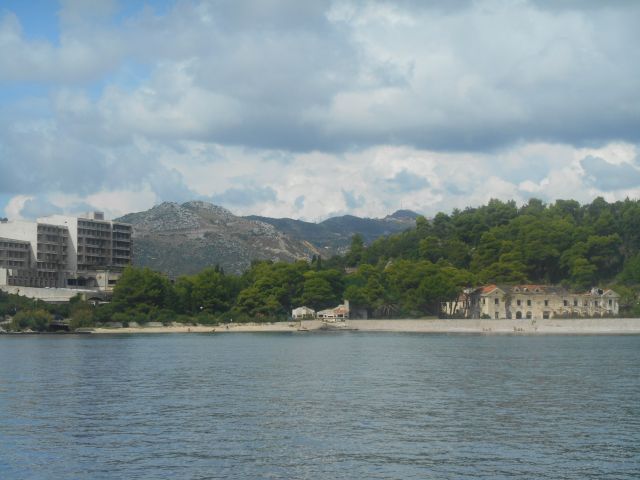 I was hoping that I would be able to import the new Lithium batteries here, but it still proves to be too complicated and not much of a tax saving, so we will limp along until we are at the Crotone winter haulout. What is the problem? Well, our house batteries died a couple of months ago, so now we can basically only run things like fridges and computers during the daytime when we have solar. At night we can just about manage our anchor lights and interior lights – though the battery voltage does go down to 10.5v.
On Tuesday we will be checking out of here and crossing over to Italy. First we get some duty free fuel. Then it looks like it is going to be quite a fast and windy crossing to Brindisi.We were hoping to go farther north, eg to Vieste, but it seems the wind is going to be from the north, so heading to Brindisi is easier.
We will then amble  around the bottom and into Crotone. We are booked in to haul out there, and we will leave Life Part 2 on the hard for the winter, so that she can get a good dry out. We are also thinking of putting Coppercoat on the bottom, having seen a good result on two boats so far. The key seems to be getting the application done right – ie lots of thin smooth coats. We shall see.
Anyway, that is a quick update. Will try to say more when we are in Italy!
Current Location:
Anchorage outside Korcula, Croatia
Current Position: 42 56.95 N 017 9.78 E
Click to view map.
Distance sailed since last post:
47 nautical miles
.
View the map of our voyage track here
Across from Korcula we could see a big mountain rising up above the small town of Orebic. If you click on the map link above, you can see where we are anchored and also the town and mountain just north of us. So we decided to do a hike.
It turned out that the mountain rose 900m up from sea level. So it ended up being quite a climb. But we weren't the only ones doing it, and met several other hikers on the way, including a family with two young girls from Oxford.
While we were puffing our way up, our friends Tony and Sally on the Junk-rigged schooner Ron Glas were checking out of Croatia to head for Italy and then Greece. Halfway up, we could see them! So, farewell Tony and Sally, and bon voyage for your crossing! We hope to bump into in some anchorage somewhere again.
We also had a nice view of Korcula town. We really like Korcula, and had another lovely evening there after our hike – live music at so many cafes and bars, and a lovely ambiance through the town. Definitely one of our favourites. We will tell more in our next post, with highlights of Croatia.
Below are a couple other photos from our hike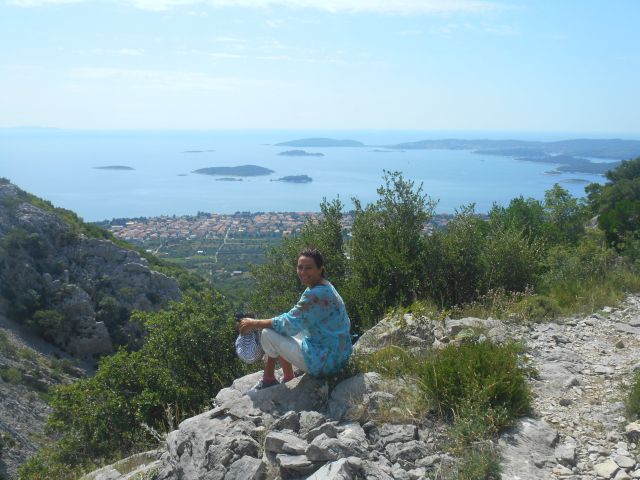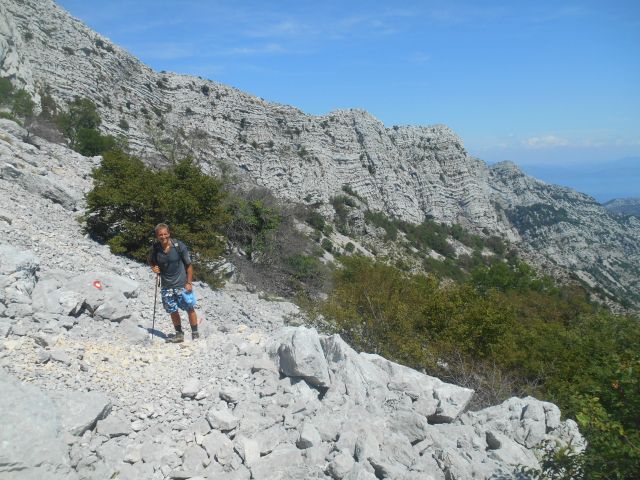 Current Location:
Komiza, Vis, Croatia
Current Position: 43 2.12 N 016 5.49 E
Click to view map.
Distance sailed since last post:
22 nautical miles
.
View the map of our voyage track here
We tried twice when Mitzi and David (my sister and her husband) were here. In fact, we tried to go to Hvar and Vis, but each time we tried, the wind was either in the wrong direction, or non-existant. And, in any case, I think Mitzi, David and Emma had other ideas on how to spend their 10 day holiday, rather than motoring around: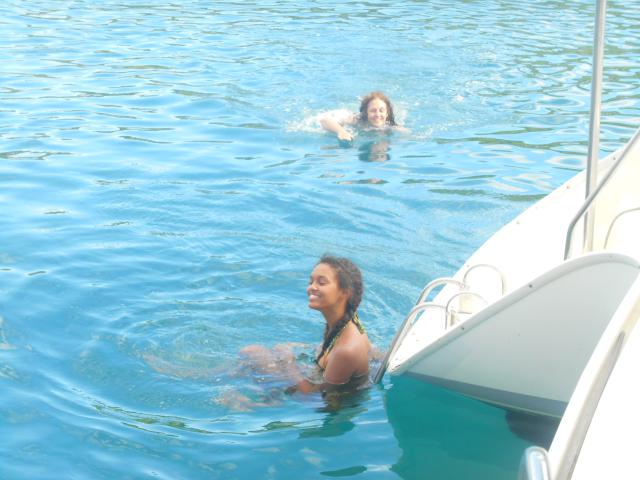 So, apart from a visit to Split,  we ended up spending most of the time in different spots on Solta,with one brief visit to Milna on Brac which is right next to Solta.
Then we tried again yesterday.
Last night we were in a beautiful little cove which, despite it being the very height of the season here in Croatia, we had all to ourselves!
Why?
Because it required a bit of ingenuity. The cove is small, and 15 m deep. So we took one long line to each shore, and tied us up in the middle of the bay. With calm conditions we had a peaceful and quiet night. And a beautiful bright full moon.
This morning we got up to find a breeze in the right direction! Se set off before 9am and were on our way, making 3kts. Then the wind vanished for an hour, but came back again. Soon we were making 2kts again. And who is in a hurry? As long as we get there before dark, we really don't care.
Then as the sea breeze picked up, it gradually strengthened, finally getting up to 23kts just as we were approaching the Western end of Vis. What a cracking sail! We bore off for the western point, and were touching 8kts of speed. And smoooth water. Can't beat it!
By 15:00 we were anchored in 7m of water, just to the south of Komiza town. A nice patch of sand, but somehow Ceu managed to plant the anchor right in the middle of a 1m diameter patch of poseidonia weed!  Which, of course, she blames on my steering. Oh well, it is holding and the night will be calm.
Tomorrow, first thing we will head the final 4 miles to visit the Blue Cave just west of here.
Current Location:
Senjska, Solta, Croatia
Current Position: 43 21.51 N 016 18.4 E
Click to view map.
Distance sailed since last post:
10 nautical miles
.
View the map of our voyage track here
After Mitzi, David and Emma left us, we filled up with some water, and then motored to the West end of Solta with Bagheera.
There we drank some more wine and played some more 'Brandy Dog' and 'Mexican Train'.
And today, despite the ongoing forecast of zero wind, we thought we would try for Vis.
Bagheera left first thing, motoring. We waited. At about 13:00 some wind appeared, so we upped sails and set off closehauled in the vague direction of Vis. Wind was light, and were were barely making 3kts, which wasn't too helpful, given that we had 20 miles to travel.
And then the wind veered. So now we were looking at a full beat in no wind. Or motoring.
We decided to tack and head instead for Brac, closehauled on Starboard, doing now about 4kts with 11kts of wind. Not so bad at all.
And then, at 14:30 the wind dropped to 5kts and backed all the way to the East. So know were were going slowly, in the wrong direction. We could tack and sail a nice course to Vis – and arrive there about 3am. Or we could motor to Brac.
Or we could cut our loses and find a bay on Solta.
So we spent the afternoon doing a big loop out from Solta and then back in again!
One day there will be some wind and we will get out of here…
Current Location:
St. Mark's Square, Venice, Italy
Current Position: 45 26.05 N 012 20.34 E
Click to view map.
Wow…I am really behind on my Venice blog, but here it is.
Find a comfortable seat!  Not much text, but there are about 75 photos, including islands of Burano and Murano.
After this blog post you will want to visit Venice, OR…. maybe you won't need to go there anymore because you have seen it all here, ( or you wont look at my blog posts anymore!!)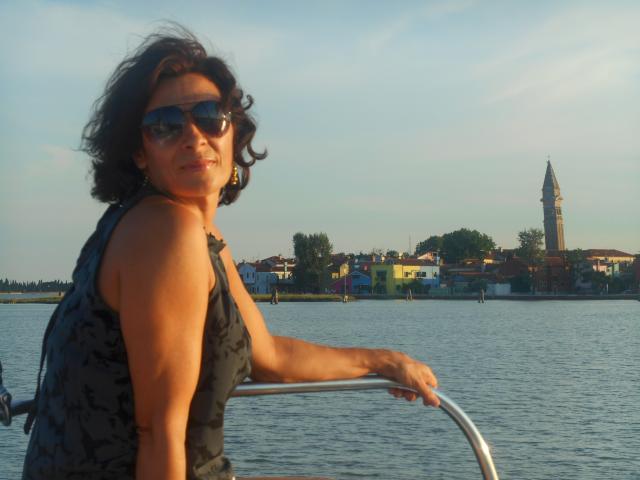 Saying goodbye to Burano island. We were anchored right here for 6 days. This was our parking space, or may I say parking lot we had all for ourselves in Burano. From here we took the Vaporetti (ferry) to Venice and  everywhere.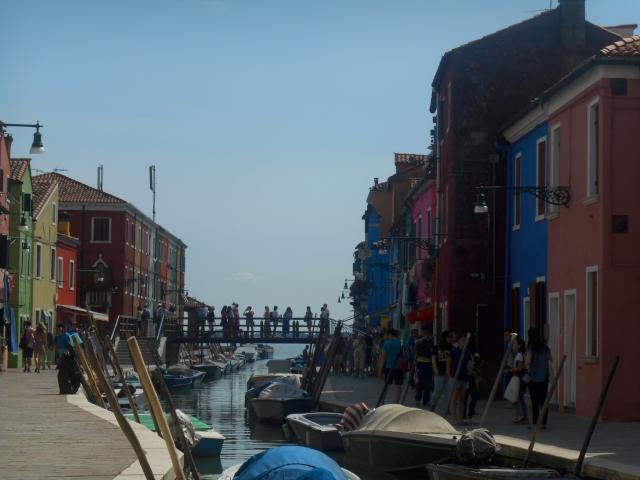 We took the dinghy ashore and tied up at he end of this canal on a little fishing harbour. I was so excited to see this cute little colorful and very picturesque island, that I thought Venice couldn't beat that!
We loved Venice but it sure isn't as picturesque as this.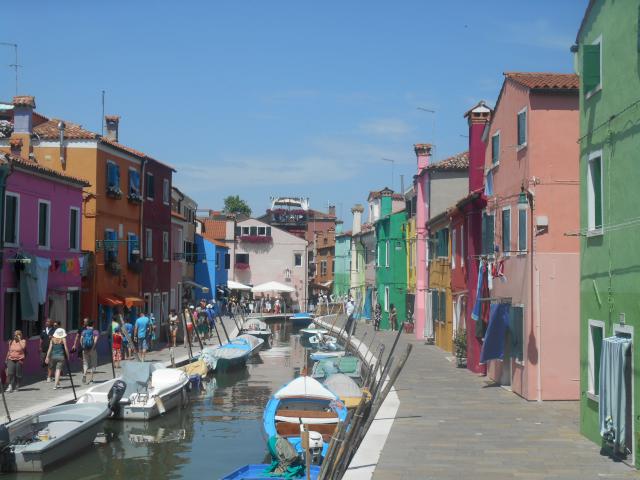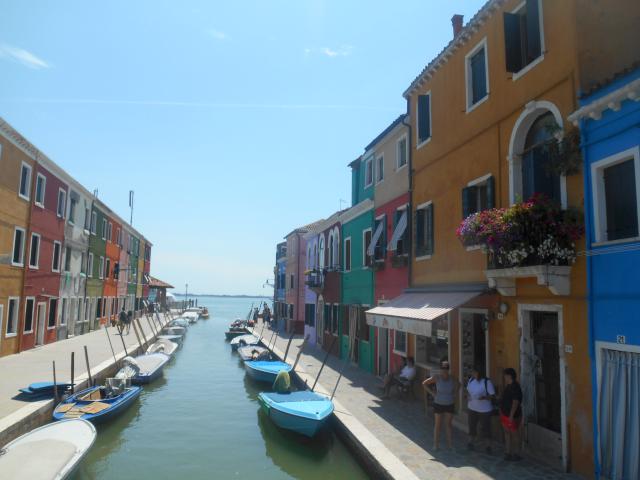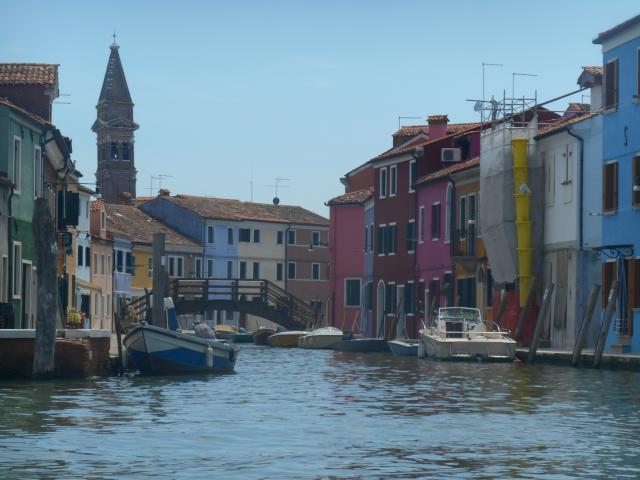 In the morning it was really quiet, and peaceful, one could just hear the sound of the waves, and the birds, there is a  lot of countryside around the area. The afternoons were busy with tourists and their cameras.
Love the photo below: colorful house and nice garden, but the cute old lady  hanging up her laundry in her pink gloves, is the best!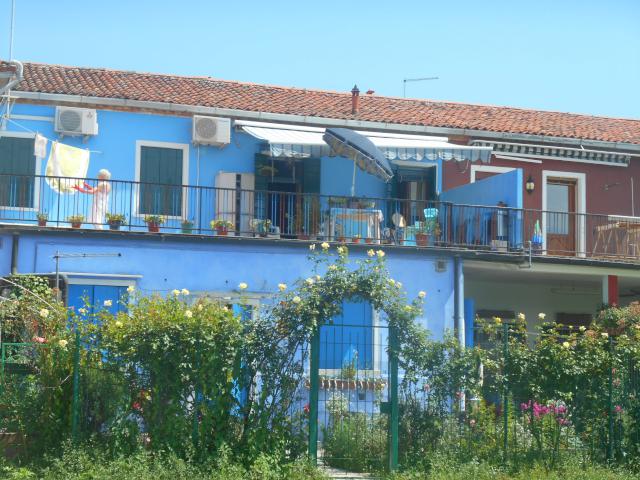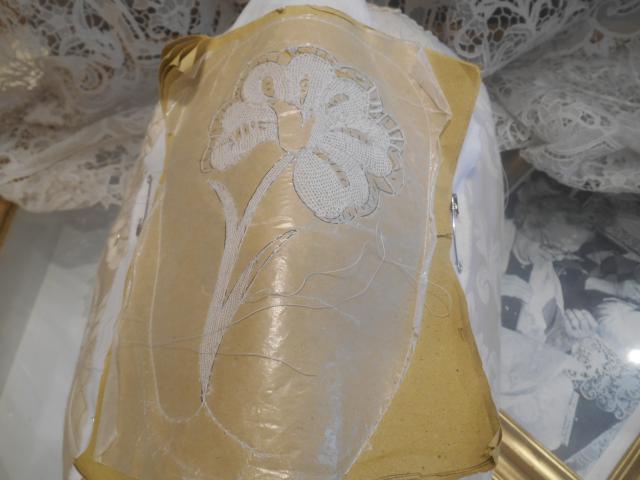 Burano island…..known for their lace. Above is how they make the lace by hand. It is a very slow process, stitch by stitch with needle and thread.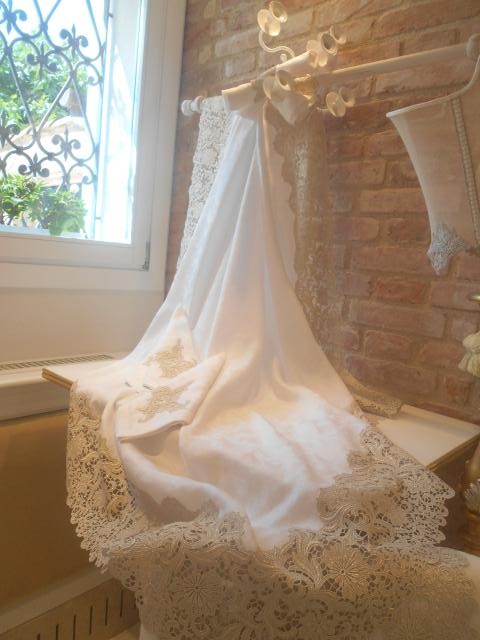 Now..if you want to pay hundreds of dollars for a lace doily or thousands for a table cloth, above, you will get the quality, BUT if you don't want to pay that much, the main street and the Church Square is lined with stuff of such low quality that some of us  Canadians can get it at the dollar store!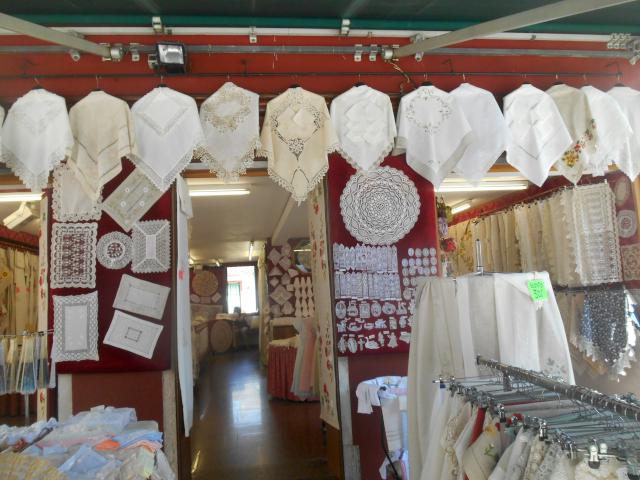 Welcome to Murano
The island  of Murano, famous for their glass.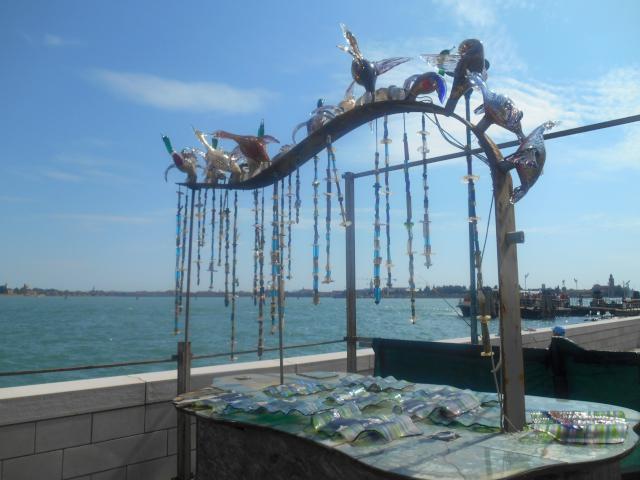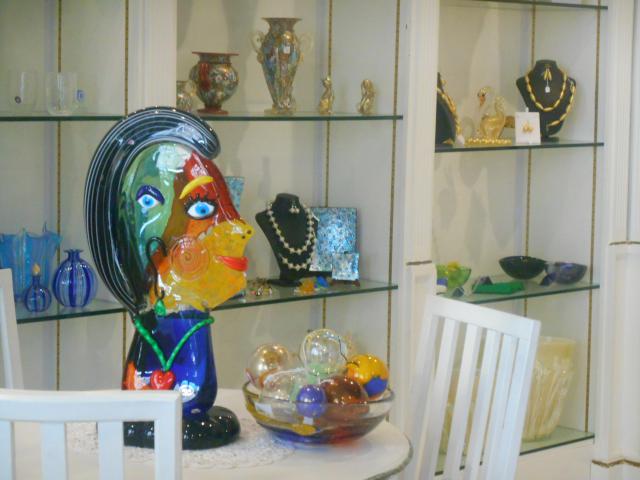 Lots of fun just window shopping…..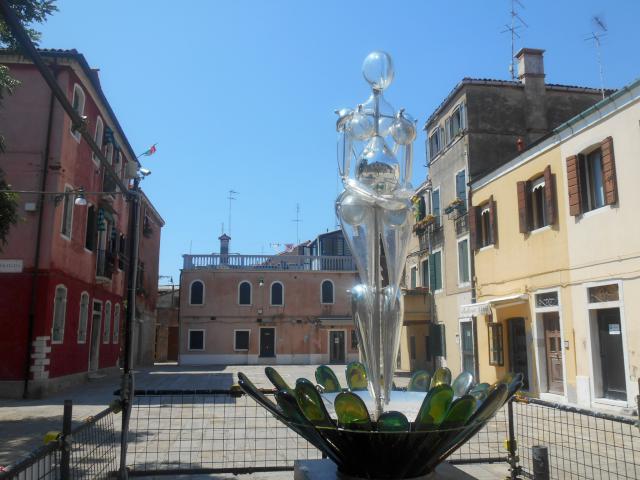 Glass everything, from the fancy and too tacky for my taste, Chandeliers ( many shops did not allow photos taken) to very beautiful jewelery and housewares.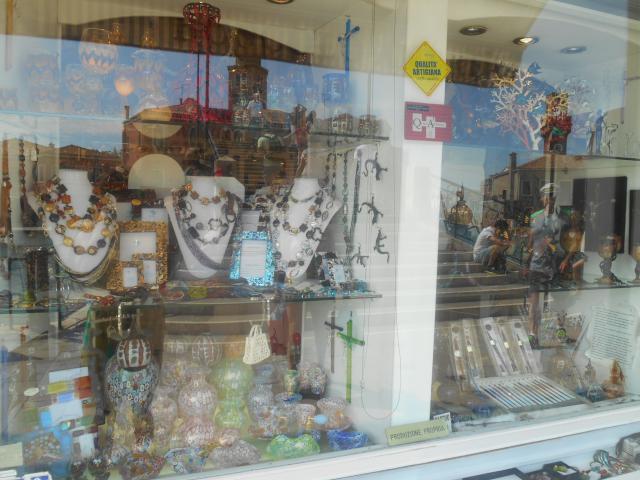 And of course you could watch them make their specialties for a tip, or some of them actually charge about 5 dollars. We watched a few different ones, although the horse seems to be the most popular one they do.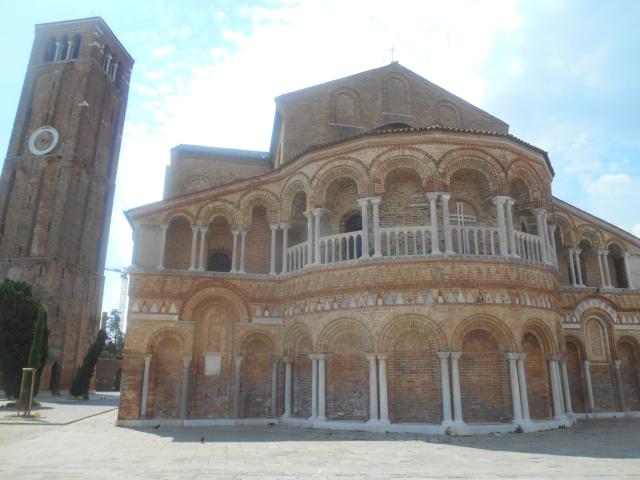 We came across this beautiful Church. Free entrance. So many times you must pay to get in and they are not even that nice.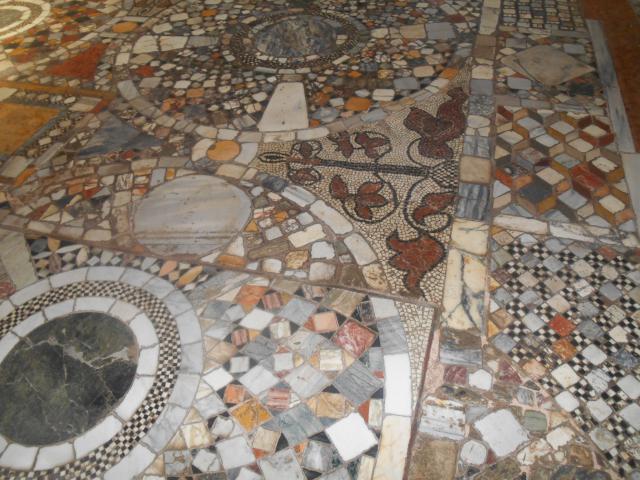 The mosaic was amazing…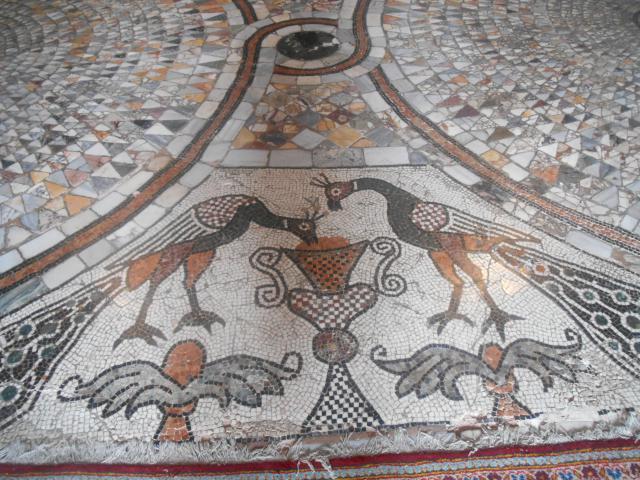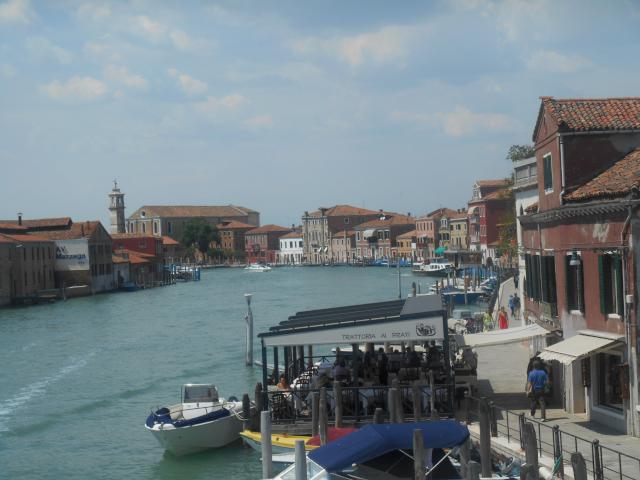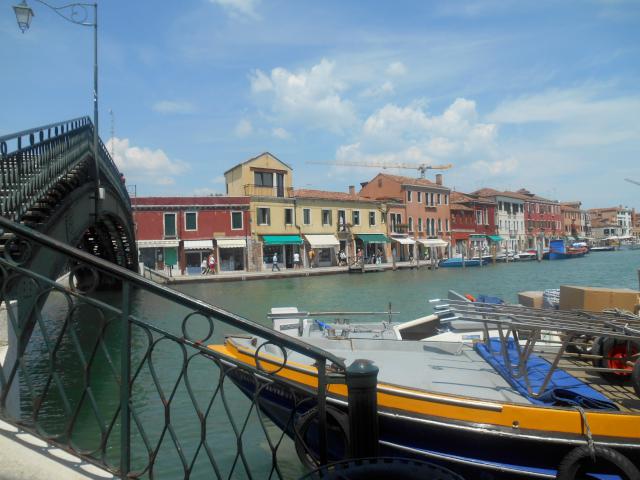 Murano though not as picturesque as Burano  is still really nice.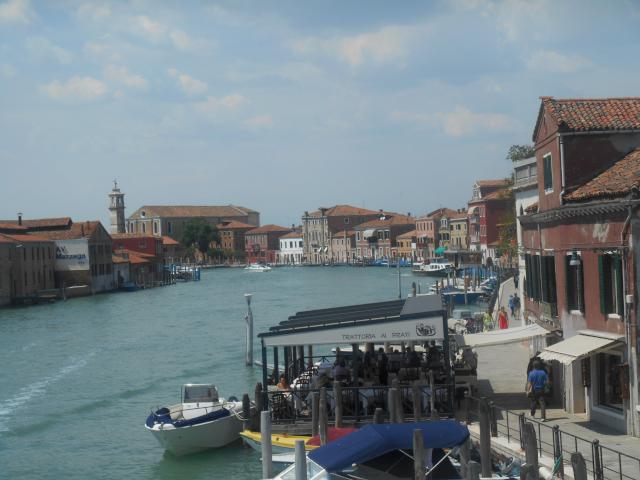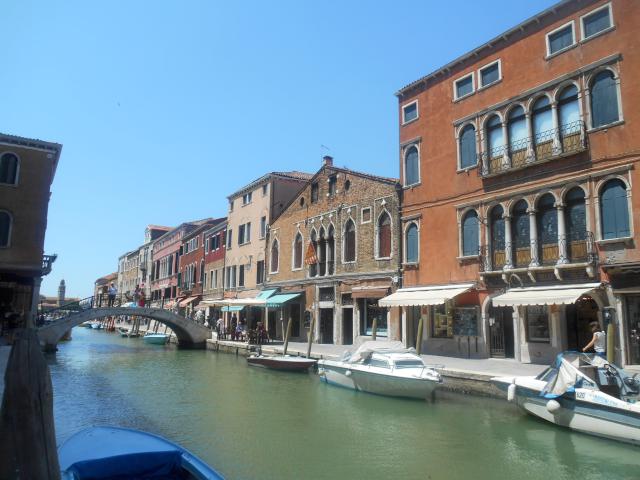 A walk through Venice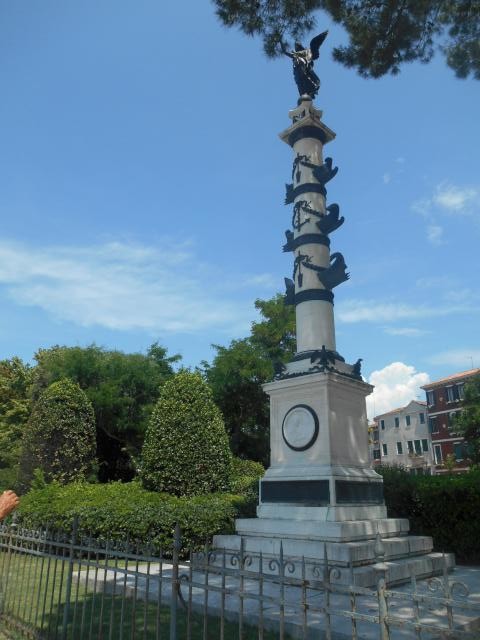 First day we went to Venice we decided to get off the Vaporetti a little ways before St Marc square. We wanted to enjoy walking through the park and then along the canal.  This beautiful quiet park and 5 minutes along the canal took us to this view below. We thought for sure it must be the wrong day to visit, maybe a cruiseship was in.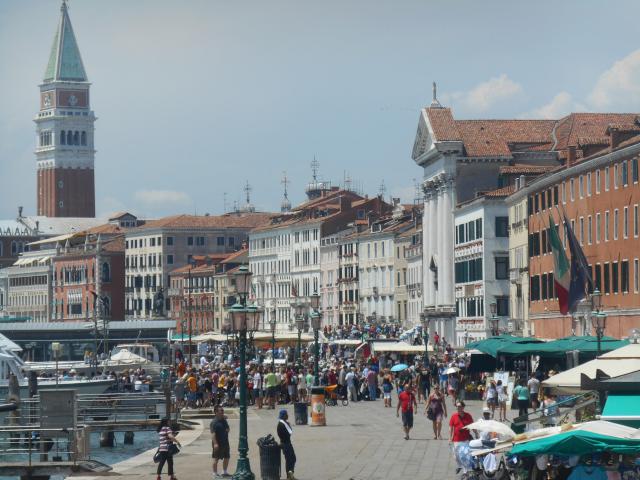 Turns out that this was the spot for all the connections for the vaporetti and ferries as it is very close to St Mark's square.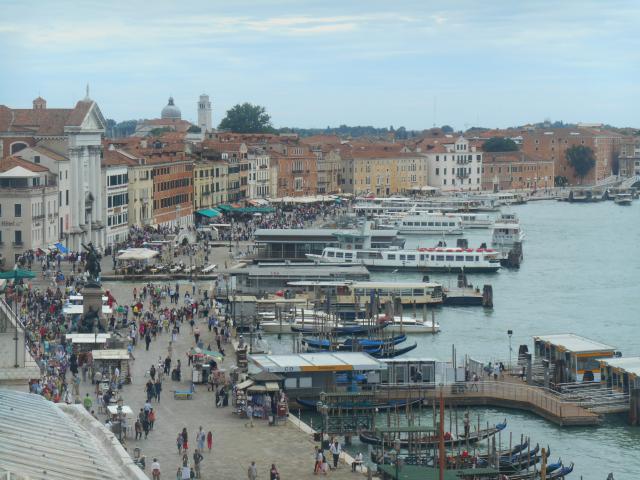 The good thing is: most of those people stop at the main square for all the main attractions. Once you pass that, and St Mark's square,  it is actually very nice and quiet.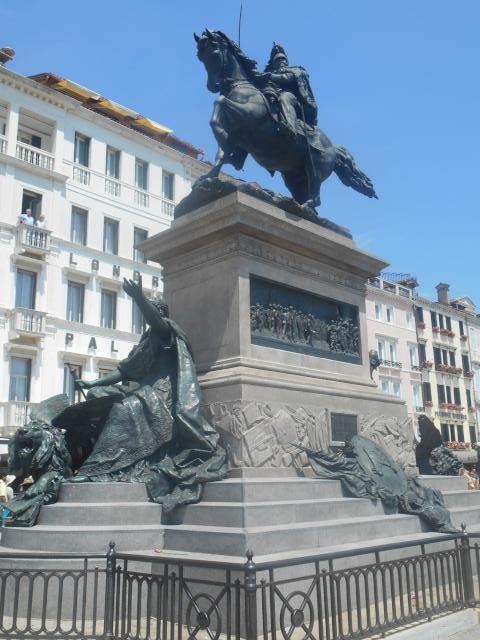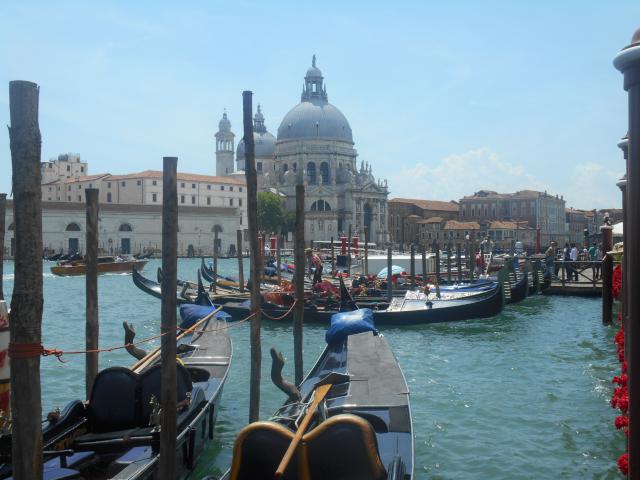 The Grand canal and the beautiful gondolas!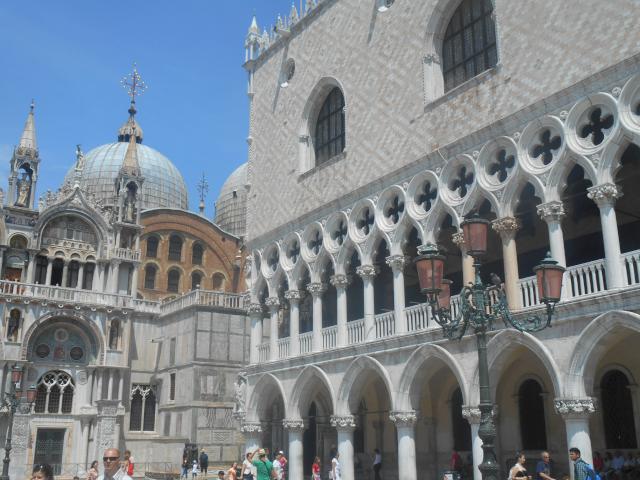 We are now arriving at St Mark's  square. On the left is the Basilica, on the right is the Doge's Palace. After seeing the 1/2 mile long line ups outside the doors to visit these famous monuments, Noel and I decided we would be back the next day to start the line before they opened at 10AM. We sure did.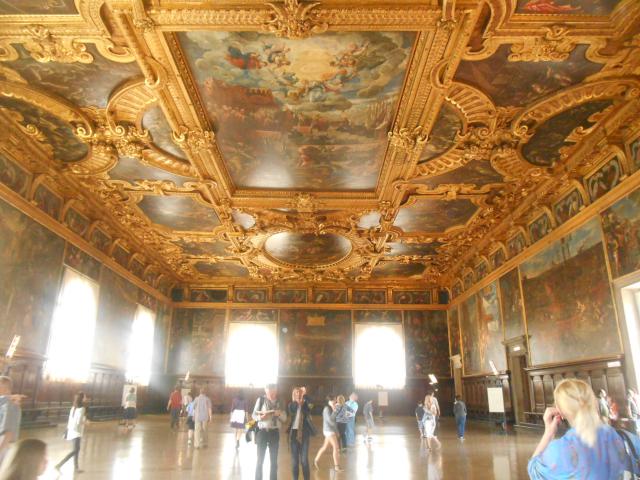 Yes..the palace was beautiful. Every room was adorned with beautiful art. The frescoes were just amazing!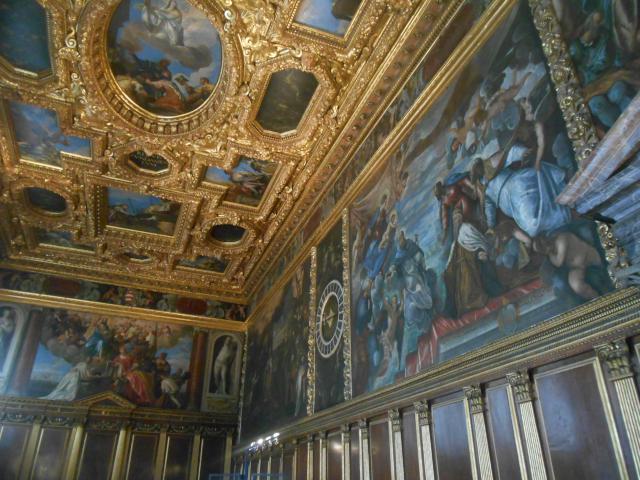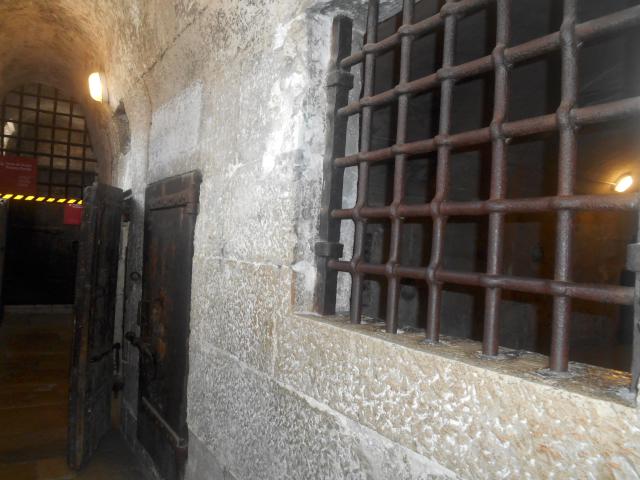 The jail cells in th Doge's Palace. Casanova imprisoned here for a long time. It was from here that he escaped  with a help of a mate.
Giacomo Casanova was an Italian adventuror, and author of "Republic of Venice" and also "Histoire de ma vie" He was also spy for Venice and a man of all trades. Born in 1725, at  the age of 17 he had finished his law degree. He soon started gambling, cheating, complicated and elaborate affairs with with young women, took him to jail a few times. His name is now synonymous with "womanizer".  He died very poor at the age of 73.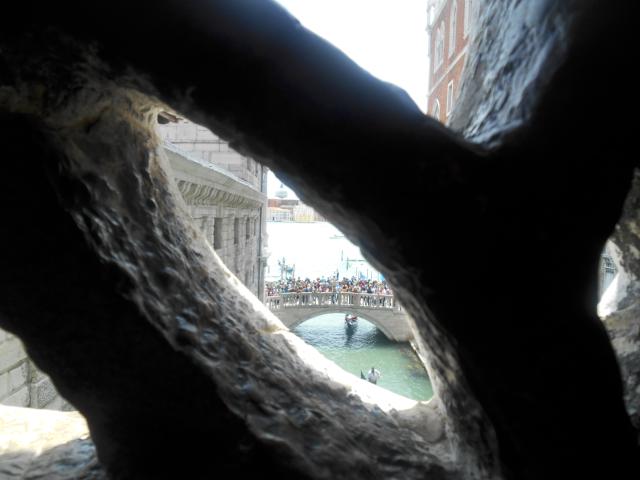 I took this photo from the hallway inside the Palace overlooking the 'bridge of sighs', bellow
The famous name of the bridge was supposed to refer to the sighs of prisoners who, passing from the courtroom to the cell in which they would serve their sentence, took a last look at freedom as they glimpsed the lagoon and St Giorgio through the small windows.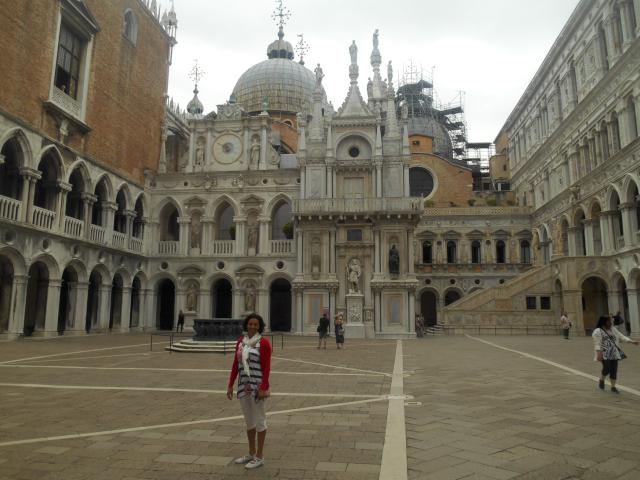 Courtyard of Doge's Palace, with Basilica next.
Now we will soon enter the Basilica with its famous gold tiles. Amazingly entrance was actually free! Of course there was an 'optional extra' for which a fee is charged.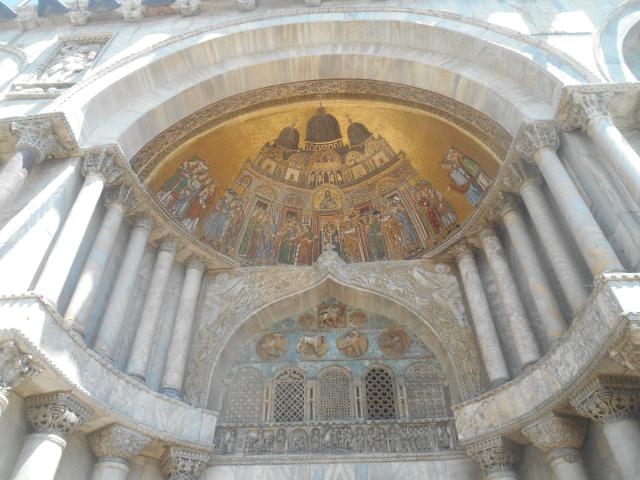 The mosaic of the Last Judgement was added in 1836 :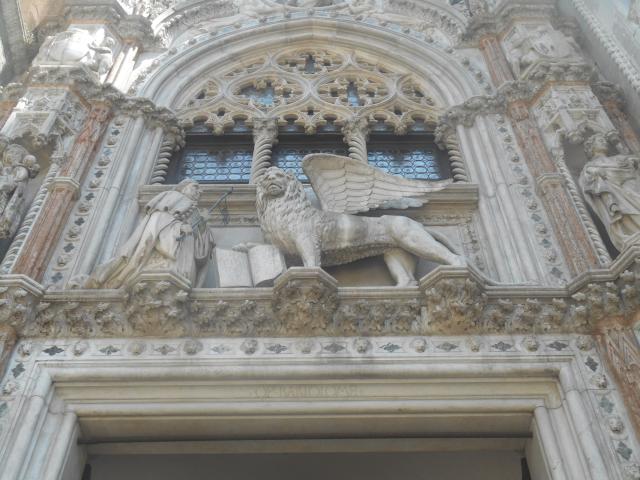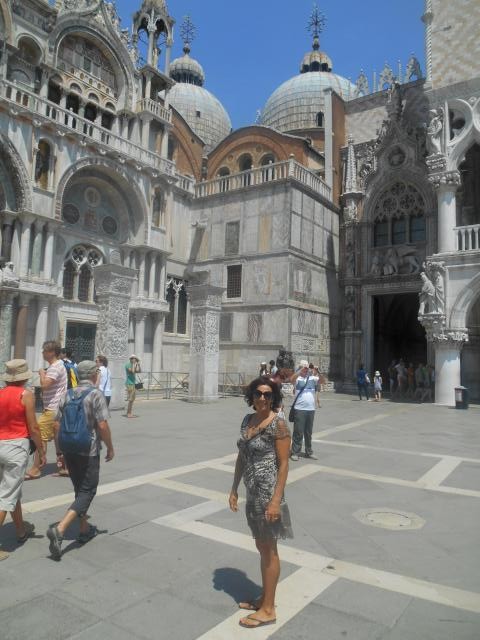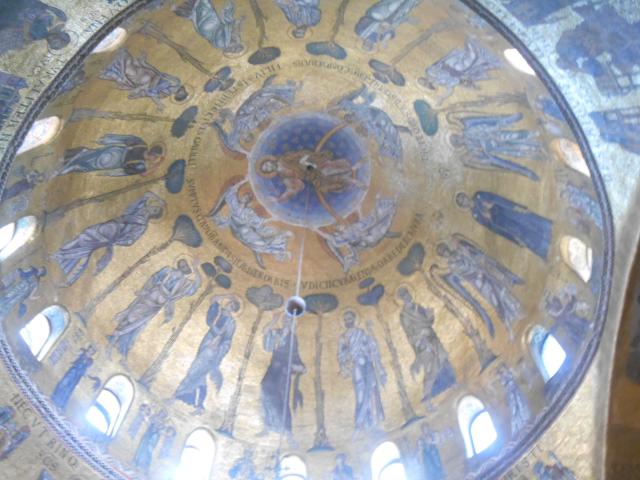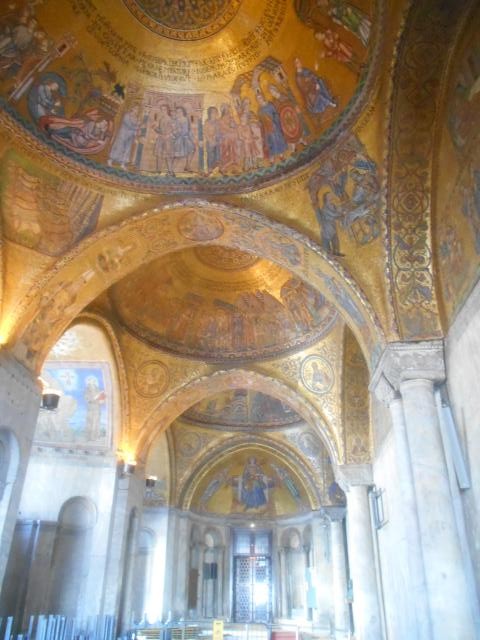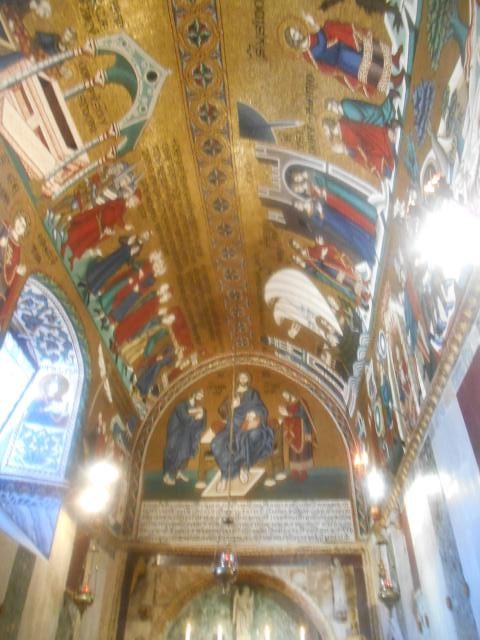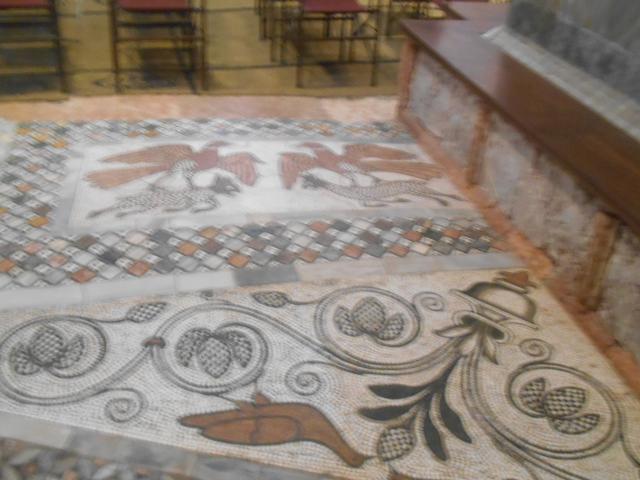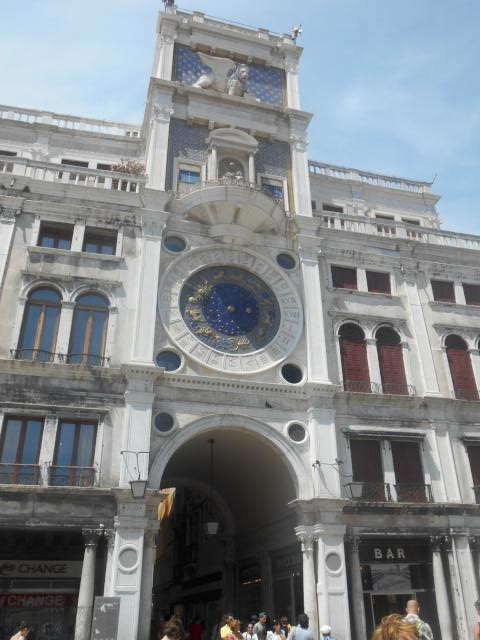 Clock tower in St Marco square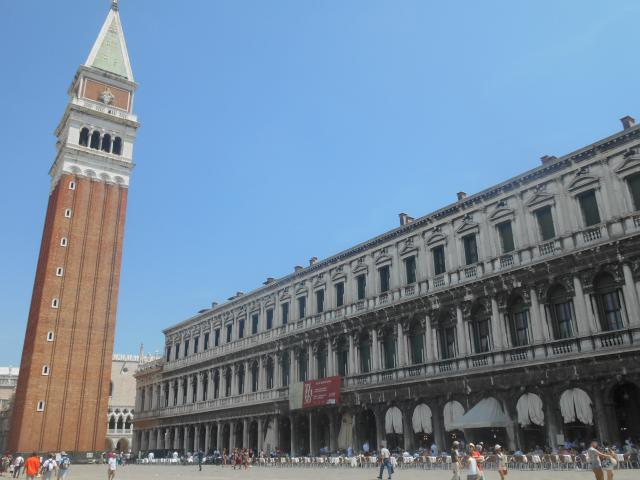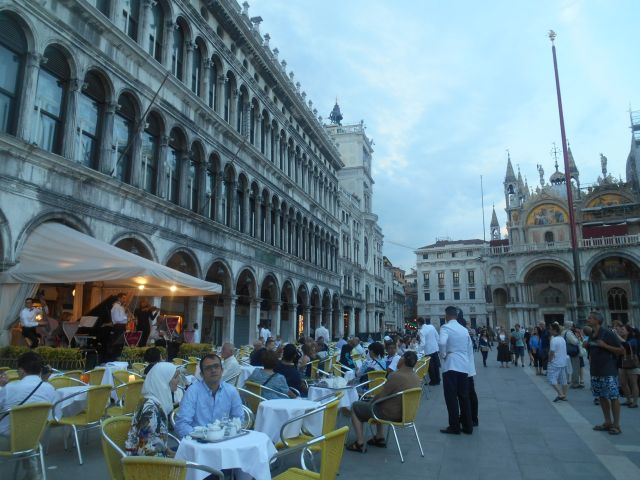 In the evening the square is very lively with bands playing in the cafes. Surprisingly the fancy and famous square is not as fancy as we expected, it is not lined with fancy Restaurants, but cafes with just plastic chairs and tables, which they dress up in the evening with a table cloth.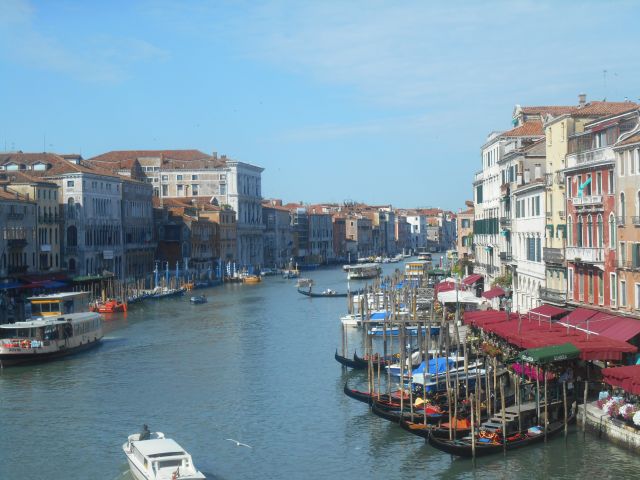 The gondolas await in the Grand canal. Overrated! They make the trips sound romantic. The people on gondolas are constantly being photographed and there are so many of them sometime pushing their way in. It did not look romantic at all. Of course we did not go, not worth the $100.00.  We rather enjoyed getting lost many times, getting to the end of the street and no bridge….just gondolas. Click, click, more photos!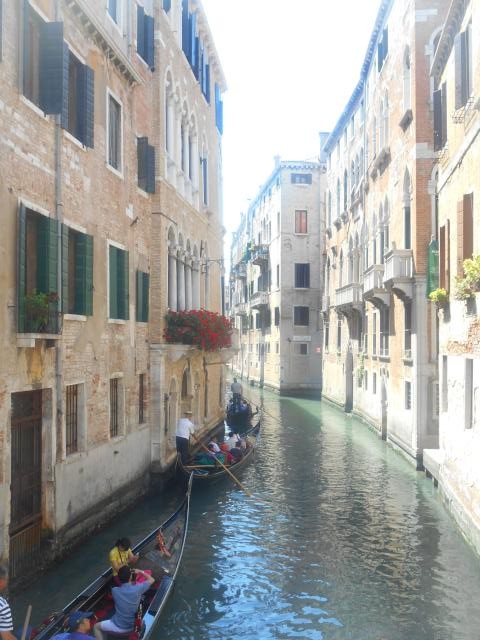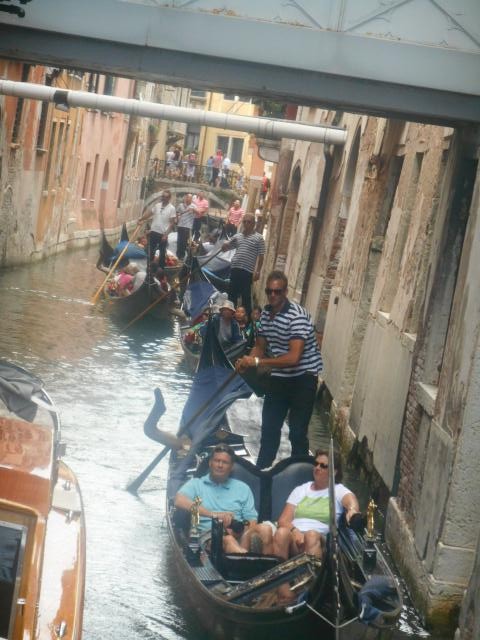 On the photo above it was fun watching the gondola traffic build up waiting for the boat on the left to deliver guests to this Hotel.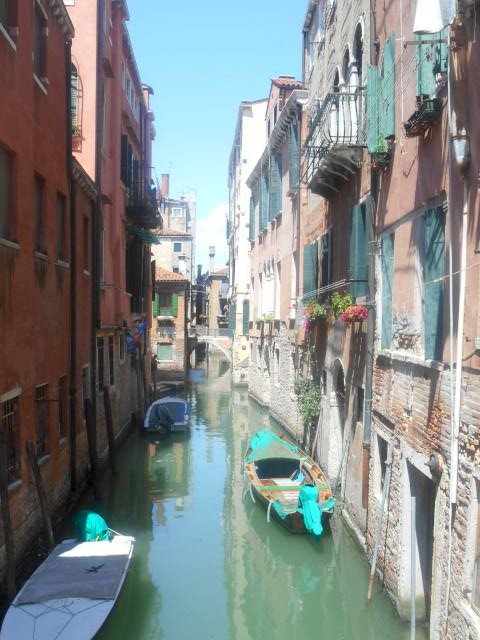 Here we are again…more gondolas, more photos. The streets and canals were very peaceful throughout. Occasionally the gondolas would have a musician playing accordion! Noel and I would lean over the bridge and enjoy the music till they were long gone away and we could no longer hear it. Till the next one.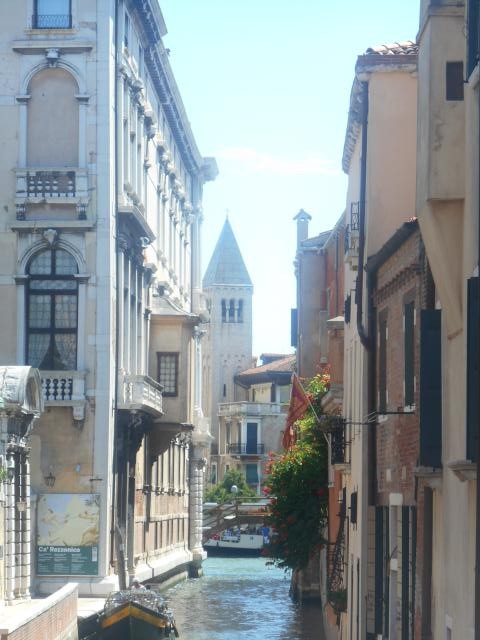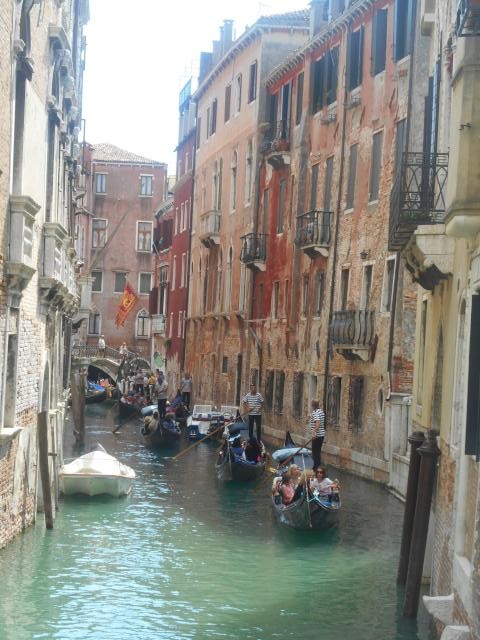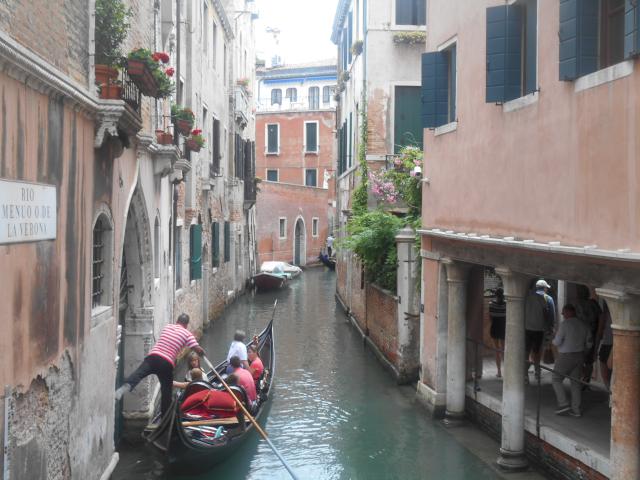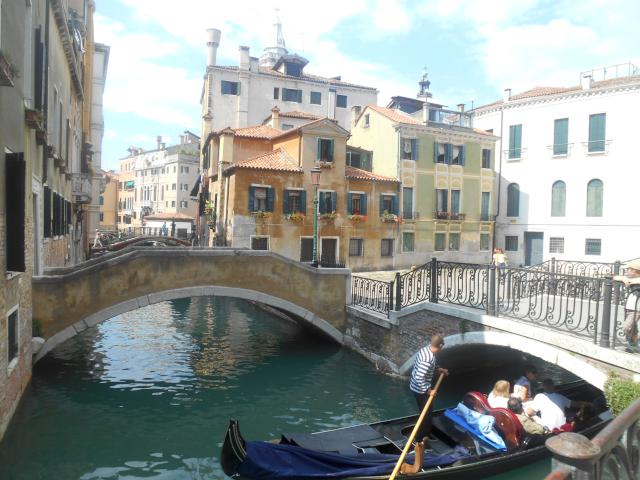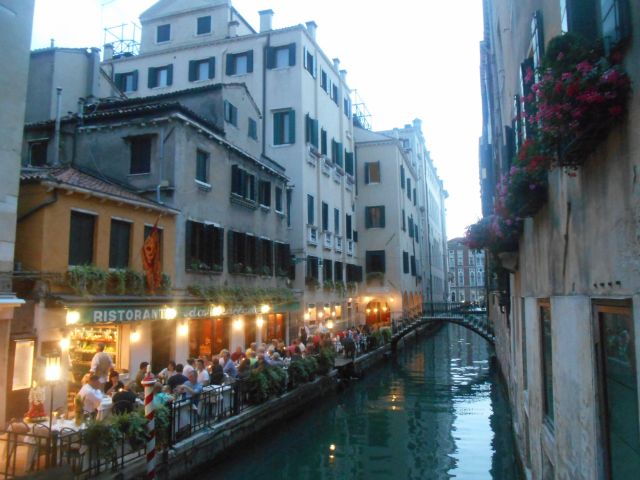 We had spent 3 days in Venice. Noel thought he had seen it. But I had to persuade him to go again, one more time, at sunset and no map, no place to visit and no stress.
The first day day there was just to check it out, get to know the place.
Second day, we thought we knew the place. We were always lost. We were running around with the map  and these tickets to visit some museums and Palaces and many times you get to the end of a street and it was just water! Like on the photo bellow, you can see the tip of the gondola.
The third day, we were in St Marc square early to beat the crowds and do the visiting to the main attraction: Cathedral and Palace.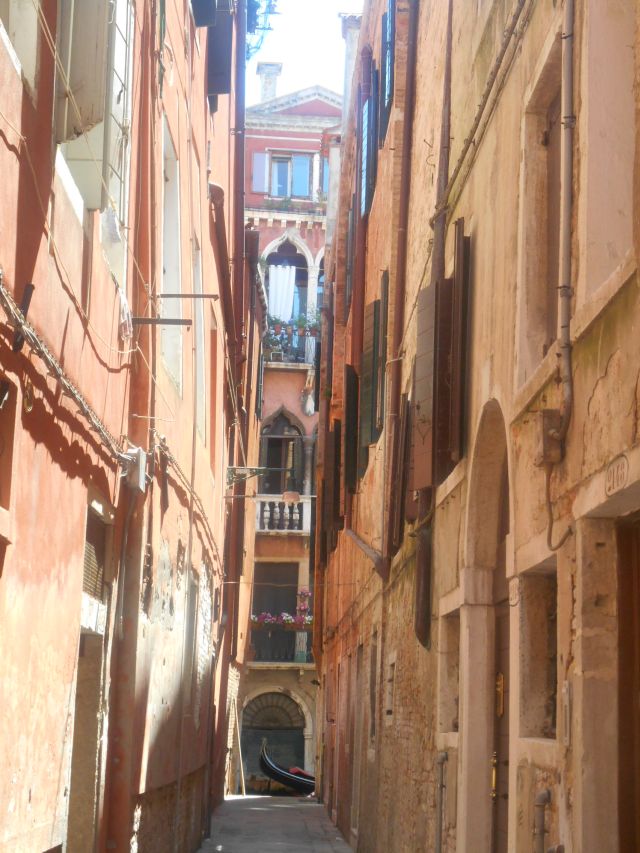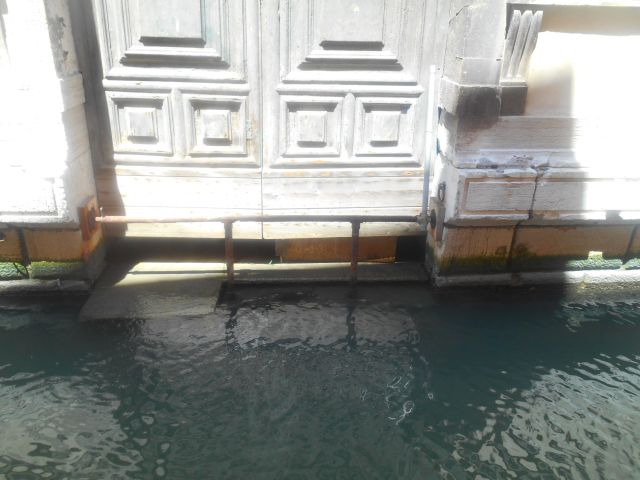 Yes, Venice is sinking. On many buildings you could see that their entrance steps, previously above water, are now below. Some had extra boards across. Many had the bottoms of the doors rotting away. When there is a particularly high tide, 'aqua alta', St. Mark's and many other places are flooded, so they have to put out wooden boardwalks for people to get about.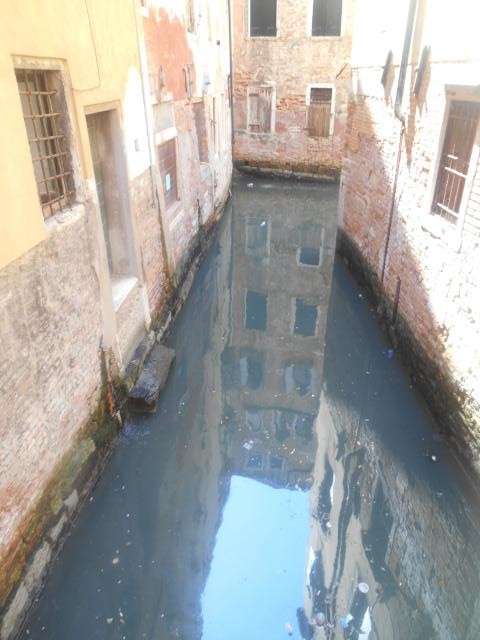 The many many beautiful Churches in Venice!
We sure enjoyed spent the time to visit as much as we could and explore so much of the little streets. Even survived the very tiring late night, after watching a classical music concert,  running to catch the vaporetti through streets and alleys, sometime ending up at some private residence…oops! and missed the vaporetti by a minute and the next was an hour later! They run only every hour at night to Burano or Murano.
The Grand Canal is busy busy. We did travel it at night by vaporreti, but were disappointed that many of the buildings were not lit up!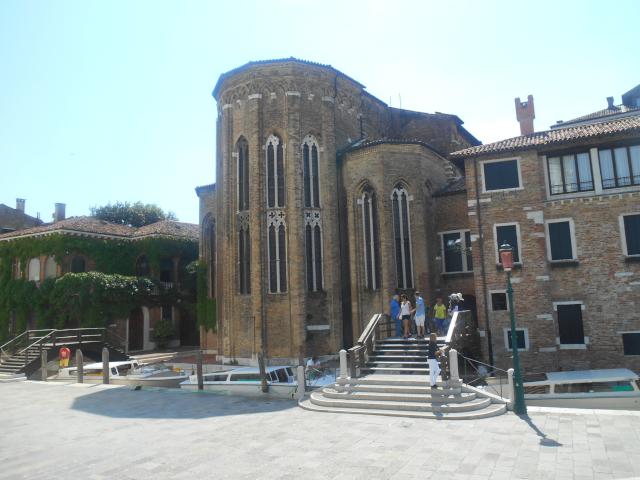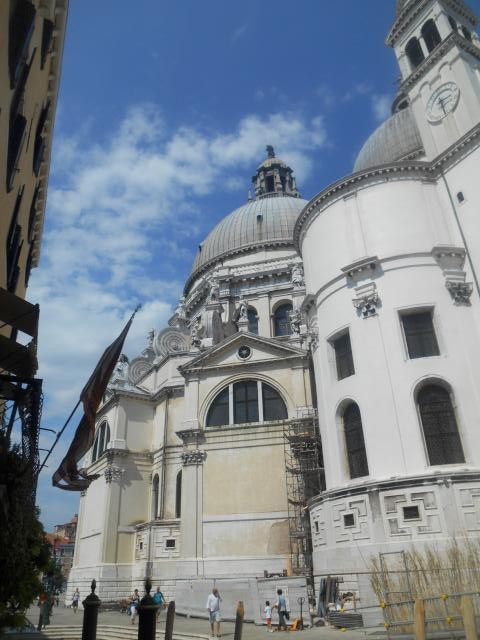 There are countless churches in this tiny city. Some of them are now museums, including a museum of violins and other instruments that was very interesting.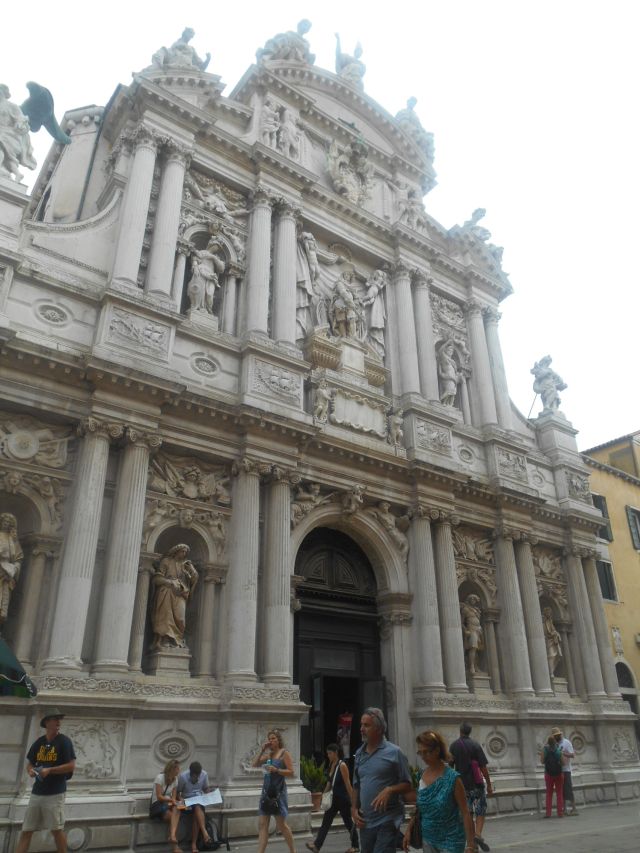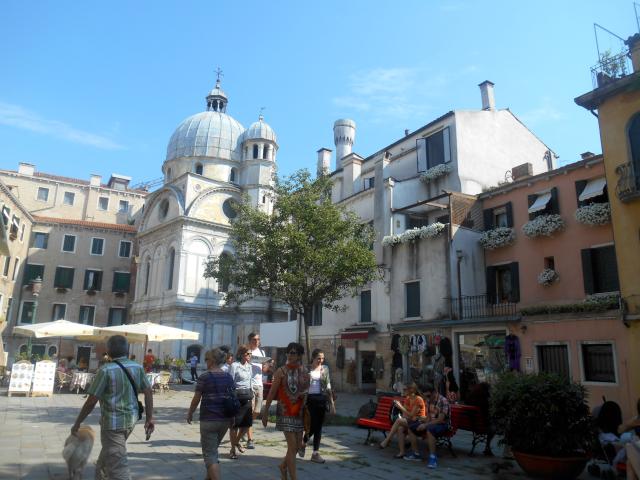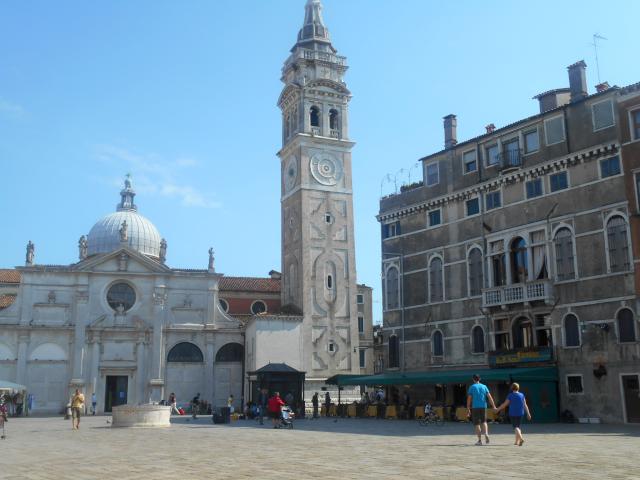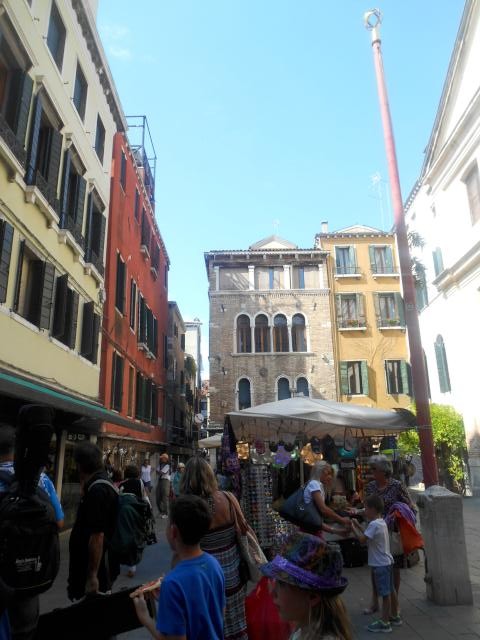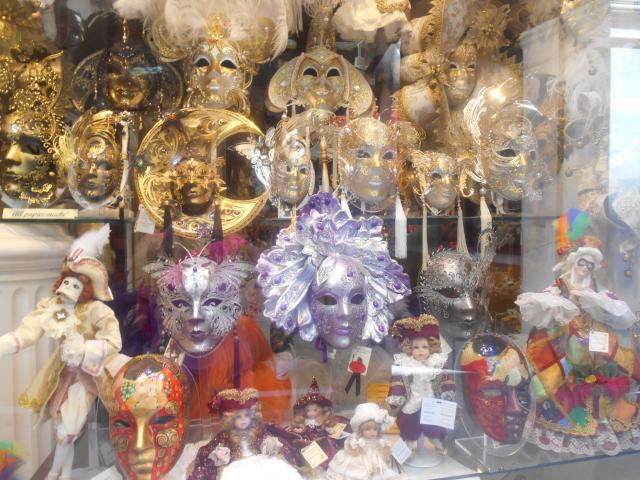 The many cute and narrow streets of Venice are lined with shops. Lots of very fancy masks, leather purses and shoes. Also lots of  jewelry and Murano glass seems to be the shopping in Venice. Ohhh and the amazingly beautiful art galeries…..
Shopping in Venice  is very chic compare to most touristic areas wher you get hassled by street vendors with low market stuff  like T-shirts  and more T-shirts and beach wear, souvenirs and more of the same souvenirs (probably all made in China anyway).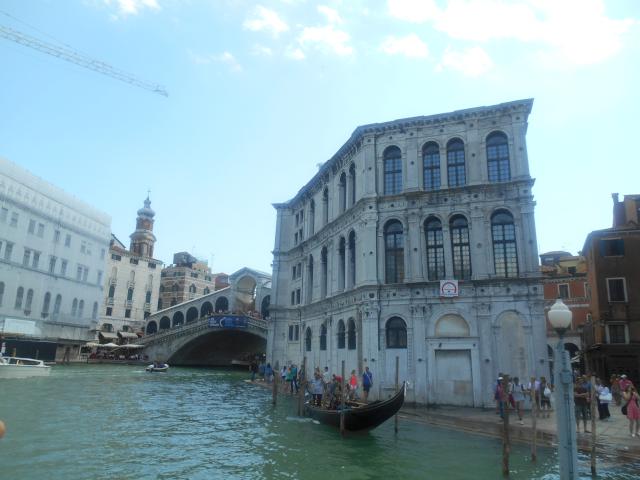 Rialto bridge, above.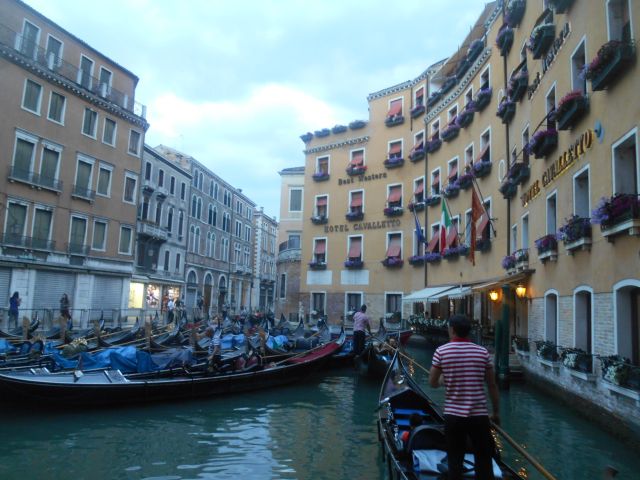 Parking lot. Gondolas tie up for the night.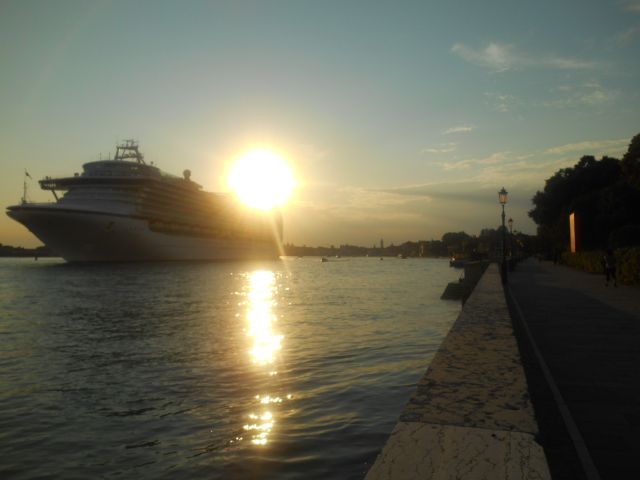 A big cruise ship departing at sunset.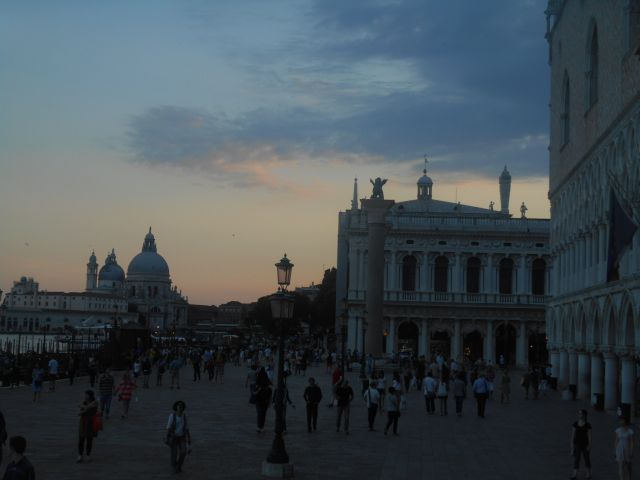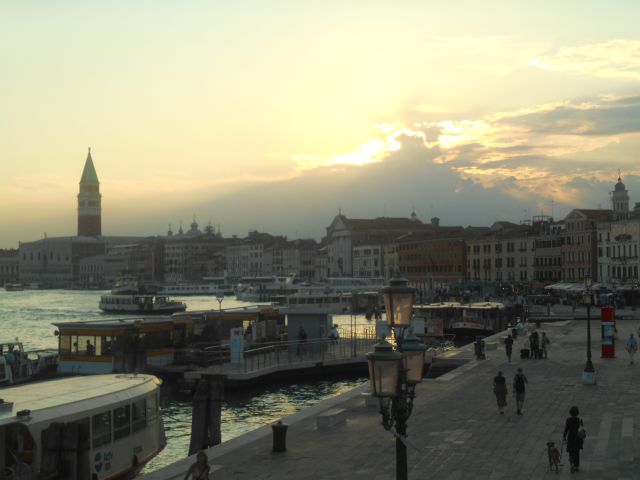 Rialto bridge in the evening.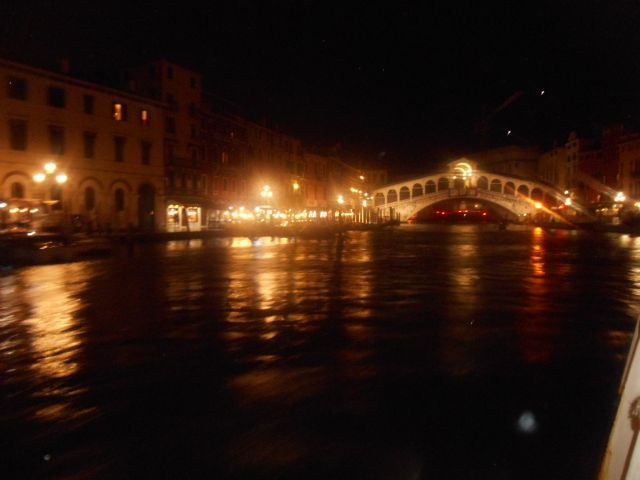 We had spent 3 days in Venice. Noel though he had seen it. I had to persuade him to go again, one more time, at sunset and no map, no place to visit, just get lost one more time!!!!
So, Venice? Fascinating. As one guide book says, a 'not so practical but oh so precious' city that is still very much anchored in the renaissance era. Definitely worth a visit.