Current Location:
Mid-Ocean
Current Position: 33 15.59 N 076 40.92 W
Click to view map.
Distance sailed since last post:
159 nautical miles
.
View the map of our voyage track here
All is well on board Life Part 2. No fish yet. A bit cloudy today. Doing 11+ kts in the gulf stream
(Sent by InReach satellite connection)
Current Location:
Mid-Ocean
Current Position: 30 42.24 N 077 29.81 W
Click to view map.
Distance sailed since last post:
148 nautical miles
.
View the map of our voyage track here
Stomping along. Blue skies, fast sailing, and the crew even get along! Trying to catch some fish…
(Sent by InReach satellite connection)
Current Location:
Mid-Ocean
Current Position: 28 17.2 N 076 56.77 W
Click to view map.
Distance sailed since last post:
293 nautical miles
.
View the map of our voyage track here
Been a lot windier with some big waves. Not as comfortable as its has been, but all is well and we are sailing fast. dont reply to these mesgs
(Sent by InReach satellite connection)
Current Location:
Stocking Island, Exumas, Bahamas
Current Position: 23 31.52 N 075 46.08 W
Click to view map.
Distance sailed since last post:
346 nautical miles
.
View the map of our voyage track here
We arrived in Inagua, the most Southern island of the Bahamas, and a Port of Entry, from Luperon. It was a good trip here, with little wind and then no wind. Had to motor the last 5 hours of our 16 hour trip. Dodged a few ships and caught a mahi mahi….oh what beauty, such bright colors till it desappeared again off the hook and gone. Too bad!
Inagua, the outer islands
Anchored near the Harbour, check in was quick and easy. Some 20 dollar fee and 300.00 US for cruising permit for 3months.
As we are aproaching we notice the flat lands. We have left the beautiful green mountains of the Caribbean, PR, DR, in exchange for the most beautiful seas with the most brilliant shades of blues and greens.
But first, before beaches and after the checking in, we walked through Mathew town, population of about 400 very friendly people.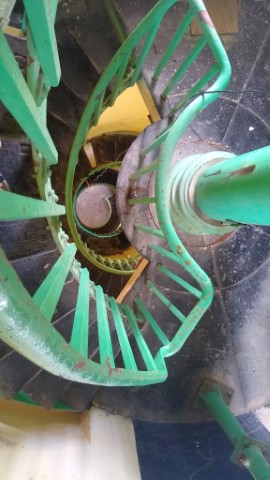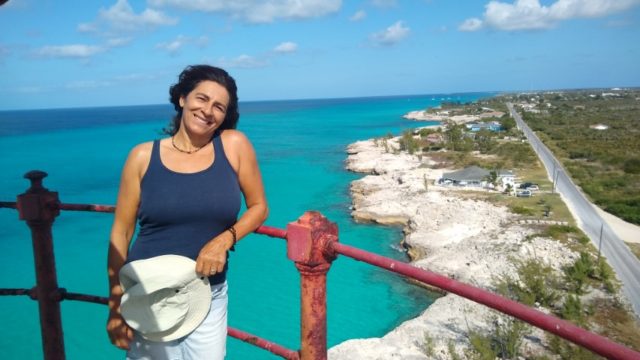 Great Inagua reportedly has the reputation of experiencing the first act of piracy in The Islands of The Bahamas in 1713
Many ships were wrecked in the reefs along the island's shoreline, and in 1870 The English Crown selected the island as a location for a lighthouse to be built in order to prevent such incidents.
The classic all-white structure towers 113 feet and offers visibility 27.35 kilometers. A climb up the spiral stair case lighthouse offers amazing panoramic views of nearby Matthew Town and all around.
The third largest and the most southerly island in the Bahamas, Inagua is also the hottest and the driest and very flat. Because of its low rainfall and tradewinds, Inagua has natural salt ponds. The Morton Salt Company is located here and produces nearly a million pounds of salt annually. Salt is still the main industry on Inagua.
Inagua is also a birdwatcher's paradise with the world's largest breeding colony of West Indian flamingos (over 60,000) that makes the ratio of flamingos to people on Great Inagua approximately 60:1. The flamingoes live in a protected 287 square mile reserve called the Inagua National Park.
Unfortunatelly, there were no guides available to take us to the Park for the flamingos. It was weekend and the only 2 people that do the tours were away from the island. Population of about 400 people.
The moved up just a few miles and anchored in Man of war bay to visit the Mortons Salt company.
From afar, looked like snow at top of the mountains. But its all salt salt. Its a huge production site. It all get loaded and shipped from here to be processed in the States
It was very quiet here, I guess because it was the weekend, but as we were getting near the salt mountain, a truck came by. It was a security telling us it was private property and we couldnt go any further, but we could take some pictures and leave. We told them we were disappointed we couldnt get a tourist guide, and he made some calls for us, but still no one available. Nice and friendly, we thanked him for trying.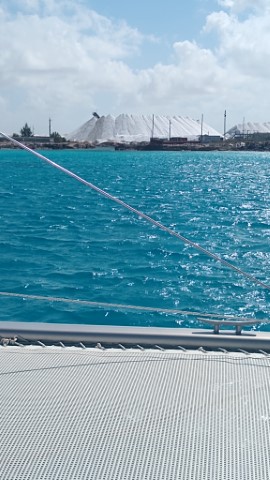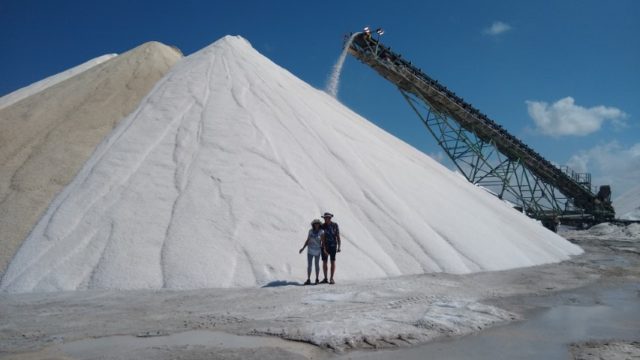 Acklins Bight

The charm of Acklins
Breathtaking deserted beaches. Quiet and peaceful

Famous for its bonefish flats, with more than 1,000 miles of shallow water. We anchored in Camel point and took a walk ashore.
We moved up trhe islands the next day into this little anchorage in Acklins bight. I was really nervous being in such shallow waters throughout. We anchored in Camel point and took a walk ashore.
Ruins of diesel tanks ashore on our walk to town. A small settlement called Spring Point.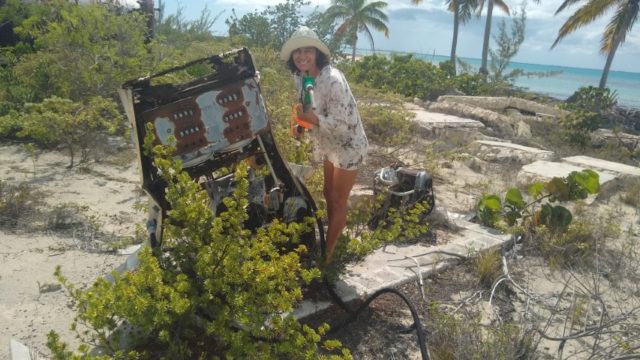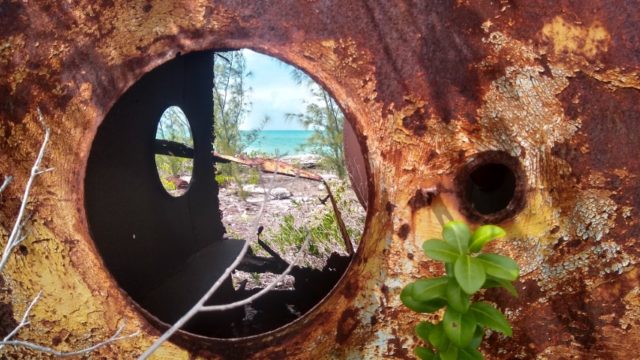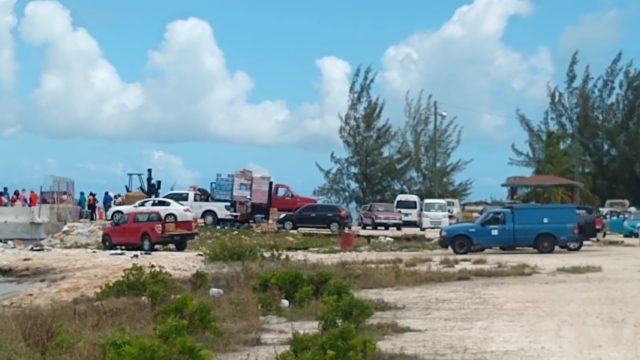 We were surprised to see so much movement ahead, on our walk. Turned out it was the mail boat on the docks with everyone coming to load up their vehicles. We thought it was our lucky day and expected to find some nice fresh produce to buy in town. We were still about a Km or 2 away from the settlement. We kept walking, and at every 100 metres or so someone would be offering to give us a ride. Such friendly people. In town there was only a little grocery store inside the gas station. No fresh produce. We asked how many people lived here, and the local named a few family names.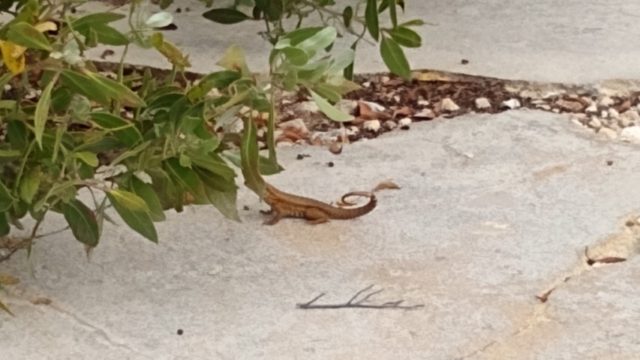 French Wells
We departed our anchorage with light winds, from the South. Feeling a bit lazy but we did put our spinnaker up and we were gliding along nicelly in a fresh breeze.
Our next anchorage was in French Wells Cut, where the wind fighting against the current sure gave us some entertainment. Very strange to see our anchor behind us or beside us instead of in front. We were holding well though and it was a very calm night, but you could hear the chain changing direction as the tide turned.
There was only one other boat here. The next morning as we headed out to explore by dinghy we passed by to say hello to the new neighbour and they told us there were Flamingos a good dinghy ride away. We pretty excited about that, since we had missed them in Inagua.
A long ride, yes it was, and some very shallow water where we had to get out of the dinghy and walk it along untill it got deep enough to start the engine again. All worth it.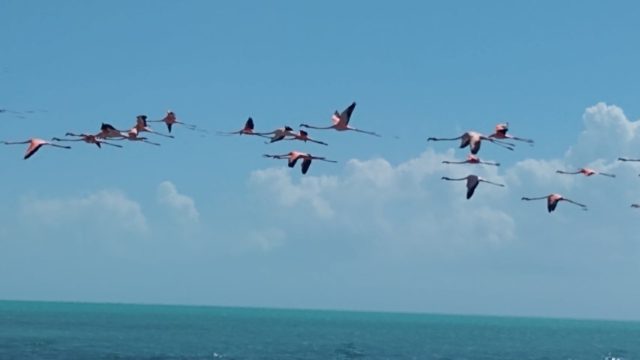 The following morning we had a beautiful paddle through the mangroves. It was so peaceful with only the sound of the water splashing from our paddles and birds, many birds. Cristal clear waters, saw a couple of little turtles and a lemon shark.
It was also at this anchorage that we experienced our very first Bahamian, pristine, gorgeous, deserted beach experience. Paradise! Now…its only the beginning!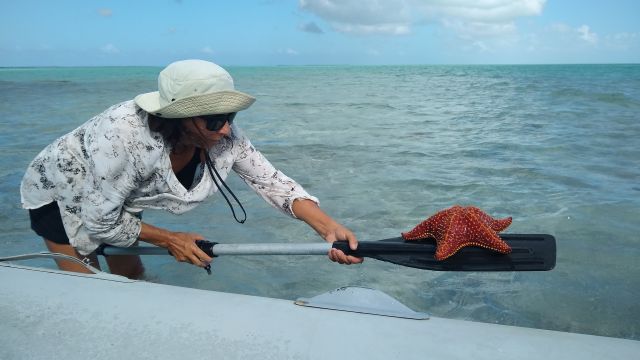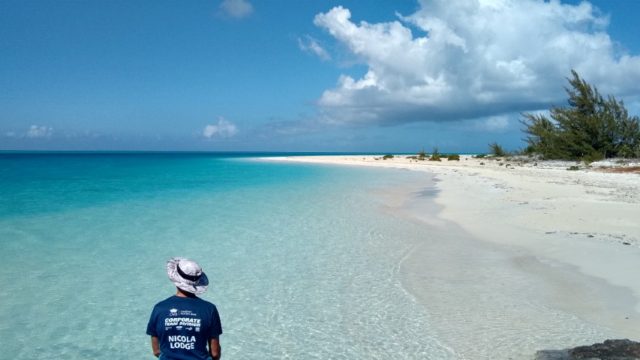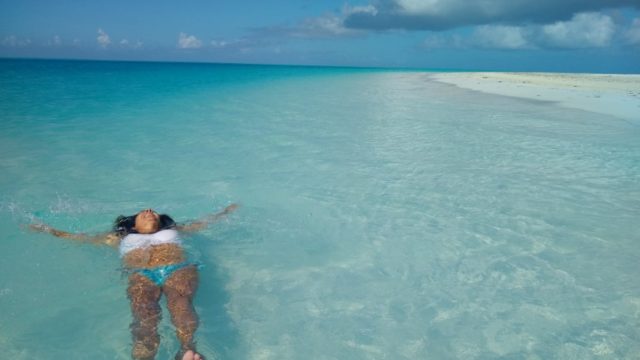 Land rail point Our next stop
We anchored here, in this beautiful anchorage with nice beach and turquoise water.
We met a couple from Edmonton, Allisen and Chris on SV Purrfect and imediately were invited aboard for Lobster tacos. They love to dive and spearfish and we were delighted to join them along with some other friends Marta and Eric from SV Deja Vu. Good times.
Good snorkeling here, but we didn't last long as the current was very strong at the time. We also could not land the dinghy safely, so we did not visit the Lighthouse. Pictures only. Next time!
Long island
We left Landrail in Acklins , to Long Island, about a 40 mile sail headed to Clarance town. We anchored in front of a beautiful beach, close to the island's capital, Clarence Town but it was very bouncy. The next morning we weighed anchor and left for the great big and protected harbour Thompson Bay, about 48nm around the island to the other side.
It was a very lively sail, 20 kts of wind and quite choppy waves. As we rounded the Cape Santa Maria, we gybed and are now going more downwind and smoother seas. Such beautiful scenery along the coast, beautiful beaches and Resort in gorgeous Calabash bay.
We anchored just a few miles south of here in Thompson Bay with just .3 metres of water beneath us. Yes it is so shallow everywhere. Good holding, lots of other cruisers here and we heard there is a good supermarket.
YES…fresh produce! Last time we stocked up was 2 weeks prior in DR. Nothing available in the other islands we visited. So by now, we're really running low on fruit and vegetables. We were warned ahead of time of how the Bahamas are very expensive to provision, but its sure nice having available, even being expensive , one has to eat! Plus, we only really need the fresh stuff, we stocked up in DR with everything else.
The store here in Thomson Bay was well stocked, I was so happy. That's a very good day in Paradise.
We met some cruisers at the beach for sundowners, where we arranged with another couple to rent a car the next day visit the island.
With brilliant coral reefs, pristine beaches and world-class bonefishing, Long island is also known as the most scenic island in the Bahamas.This tranquil island also offers a few inland surprises, including Dean's Blue Hole, the second deepest blue hole in the world.
Dean's Blue Hole dips some 663 feet (203 meters) into the ocean floor right offshore. It is said to be the second deepest blue hole in the world and the second-largest underwater chamber. Experts who have dived the site report that it is enclosed on three sides by a natural rock amphitheater and on the fourth side by a turquoise lagoon and powder-white beach. There is never any swell or waves inside the hole, and visibility is usually between 50-100 feet (15 – 30m). At the surface, the Blue Hole is 80 x 120 feet (25 x 35m) but opens out after 60 feet (20m) into a cavern with a diameter of at least 330 feet (100m). It is also the site of the International Free Diving Competition every year.
We enjoyed the car drive, the scenery, the highlights and the company of JoDana and DJ from Brunswick USA. Another great day in Paradise.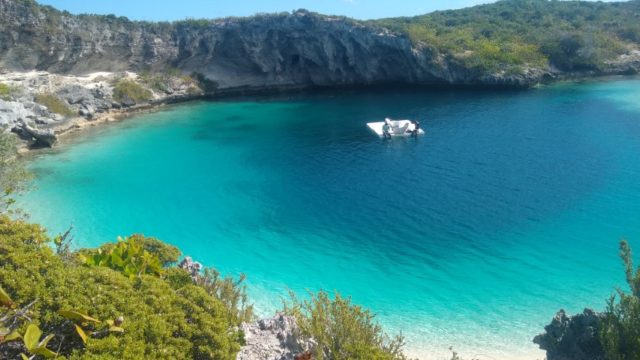 We snorkled around there, great swim and walk on the beach. Its such beautiful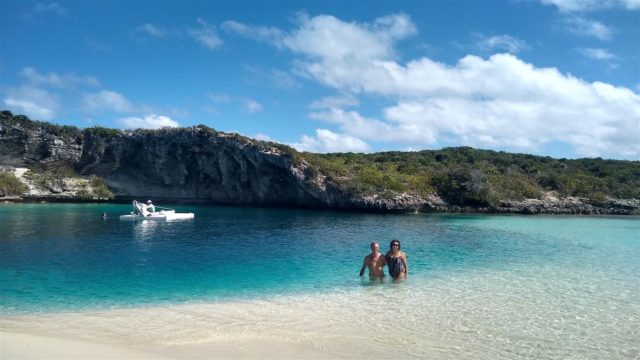 Columbus originally named the island's northern tip Cape Santa Maria after the largest of his three ships. The beach here is gorgeous, full of private homes and resort villas, and a restaurant, bar, and gift shop that are open to the public. North of the Cape Santa Maria Resort are the Columbus Monument, comemorating Columbus's landing on Long Island, and Columbus Cove, where he made landfall.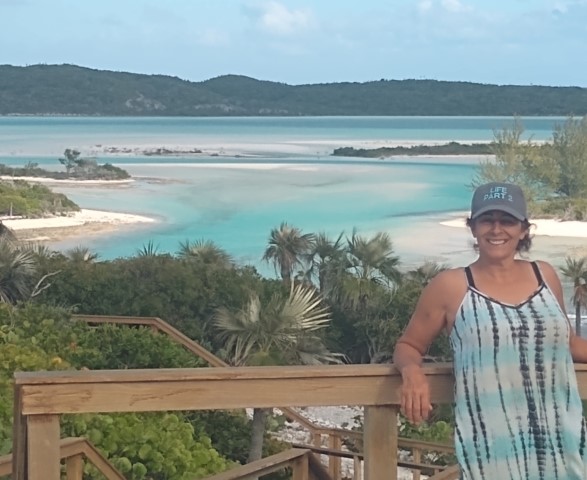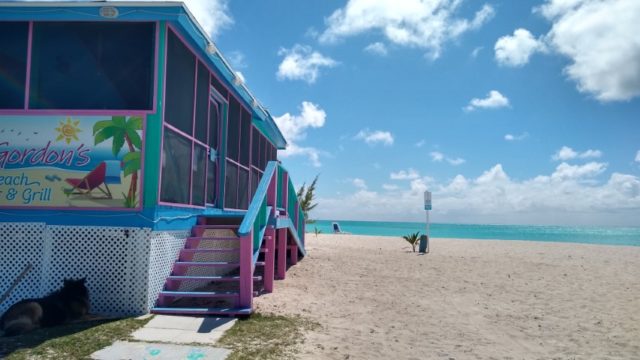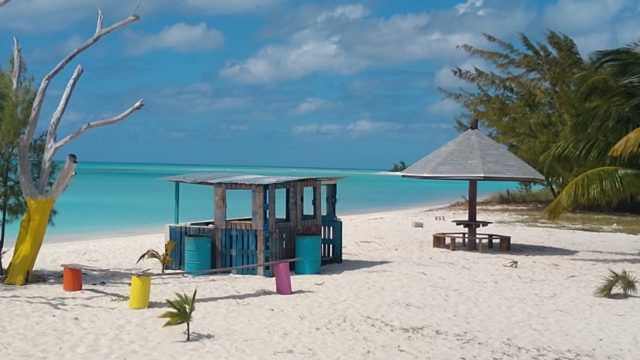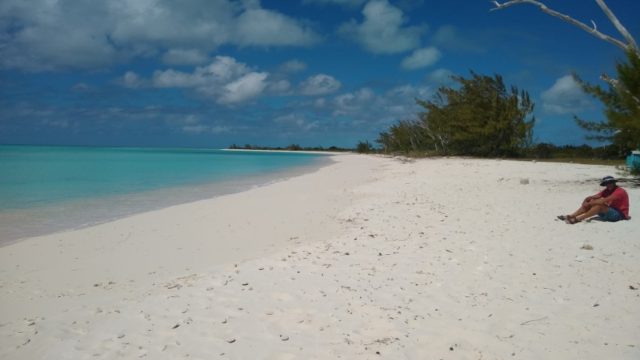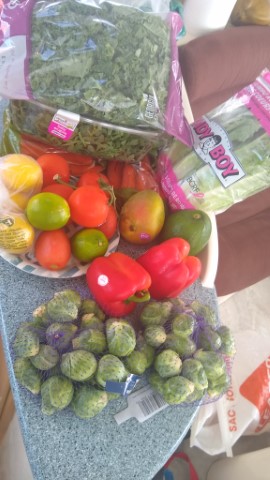 LITTLE EXUMA
A small bridge connects Great and Little Exuma. Smaller and quieter than its counterpart, Little Exuma is home to the Tropic of Cancer beach. Just gorgeous as we sailed by but we didn't stop this time. We were headed to Georgetown to meet with our friend, Rod.
GREAT EXUMA
The largest island in the chain, Great Exuma is where you'll find most large hotels & resorts, as well as the Exuma International Airport and the capital city of George Town.
Crab Cay and Walker Ruins
Crab Cay, is part of the great Exumas. It faces the southern part of Stocking Island and Elizabeth Island,with the harbour in between. At the southern end of Crab Cay there are Red Shanks Cays. We were expecting some strong winds and this is a very protected and beautiful area with good swiming and walks ashore. We were happily hiding out here and also hanging out with our friend Rod and his friends onboard SV Oh!
So in one easy trip ashore, beaching the dinghy near by, we toured the ruins- old and recent.
Big bucks ECO development on Crab Cay. Several corporations involved and to be built to the highest standards:
A marina for yachts to 300 ft and a Harbor Village with Resort and Spa was in process, and that's as far as it went. The marina basin dredged and pilings stacked on shore ready to use. All came to stop.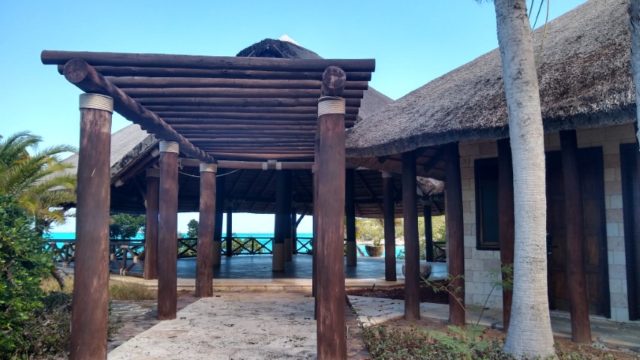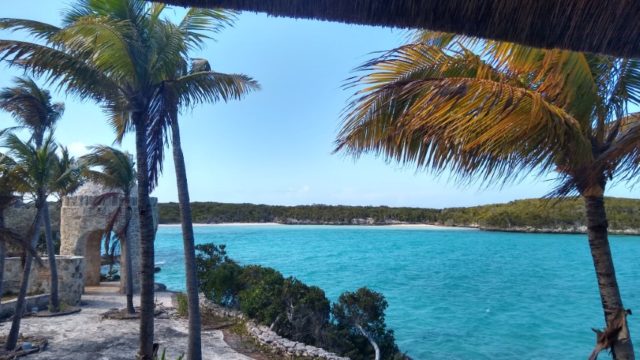 It was very sad to see such beautiful property all going into ruins too. It is such a good spot with amazing turquoise waters.
Sir William Walker Ruins
The developers of Crab Cay planned to destroy the Walker Ruins but the Bahamian government demanded that the ruins be preserved, and access allowed to anyone.
Walker was a Loyalist who came here in the late 1700s and built a stone house and botanical garden atop Crab Cay. The house was impressive, considering the effort involved in building a stone structure on an island off an island in the 1700s! The site contained high stone walls, peaked entrance pillars surrounding a botanical garden.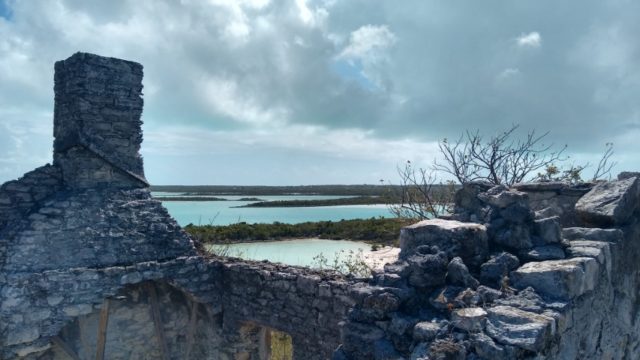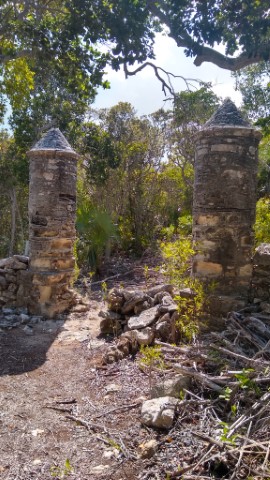 We enjoyed the walk through the ruins the old and the new.
George Town
Georgetown Bahamas (the capital as well as the largest city in the Exuma islands) is right on the Tropic of Cancer. This means that the sun smiles down on Georgetown almost all year round. One of the largest natural harbours in the world, Elizabeth Harbour is picture perfect with its translucent waters that have many shades of blue and green. A favourite haven for yachtsmen from November to May. However, you don't need to be a yachtsman or a sailing fanatic to enjoy this city. Aside from fishing and bonefishing, the waters of Georgetown are also perfect for snorkeling and scuba diving escapades.
The Exumas are renowned for their sapphire-blue waters. Stunning, brilliant colours of blues , one can never get tired of this. This chain of 365 islands is home to secluded footprint-free beaches, deserted cays, and ultra-exclusive resorts. Its no wonder many islands are privatelly owned by some of the world's rich and famous.
STOCKING ISLAND
Located across the harbour from George Town, Stocking Island offers a handful of secluded resorts, many more secluded beaches and the famous Chat 'n' Chill. Turists come across or rented boat, or water taxi from George Town.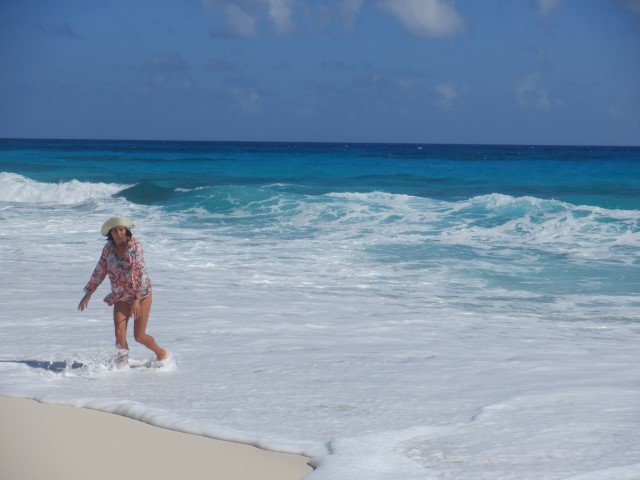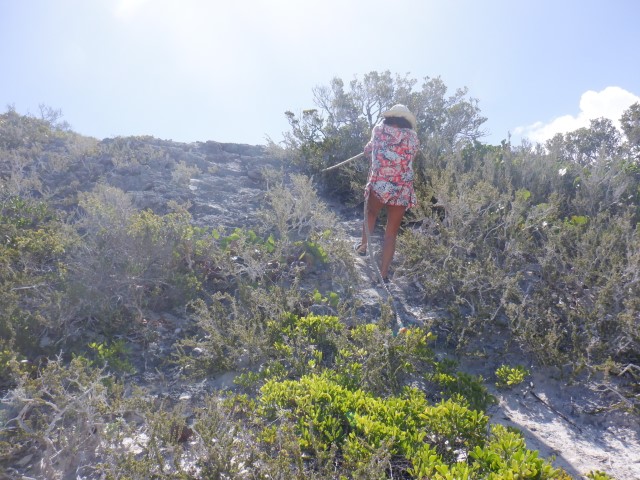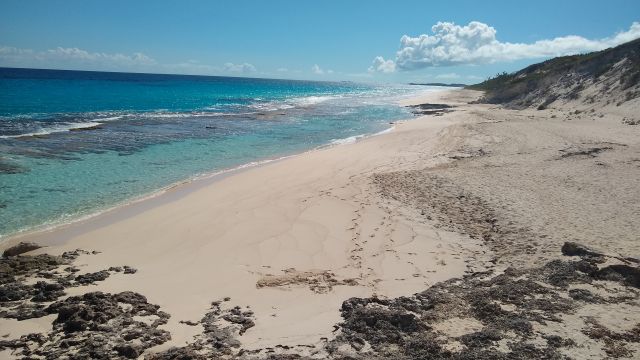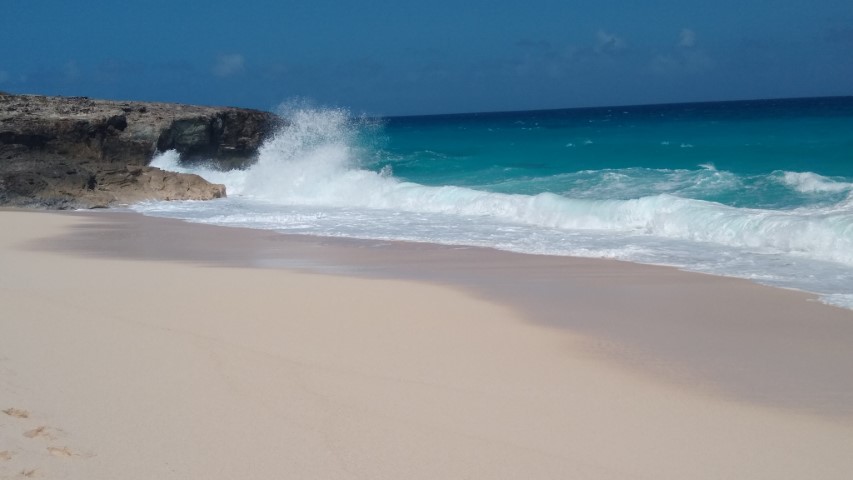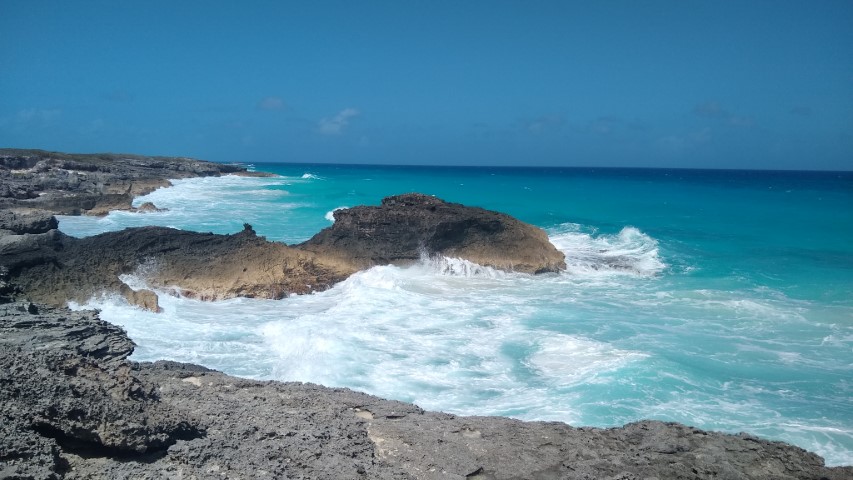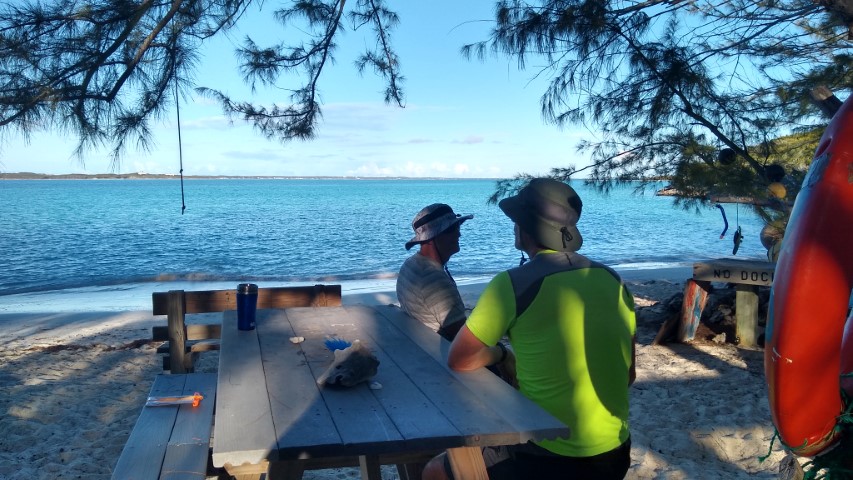 Enjoyng a nice break after our walk with friend Rod. Flip flop beach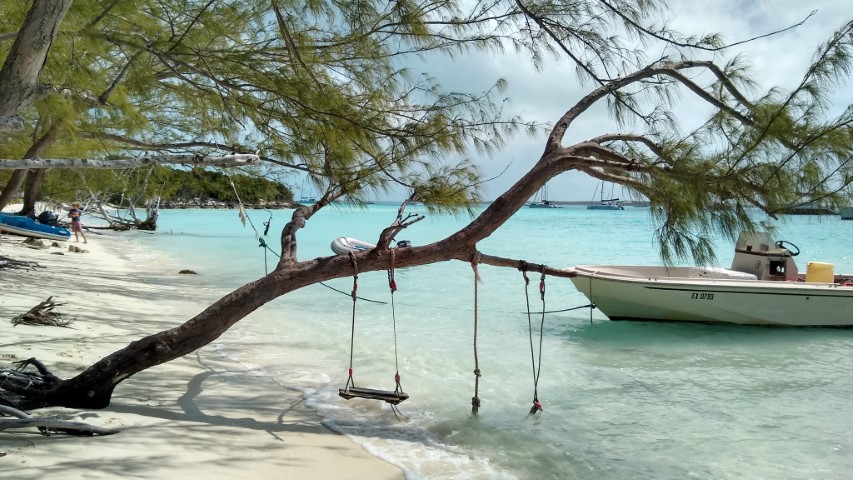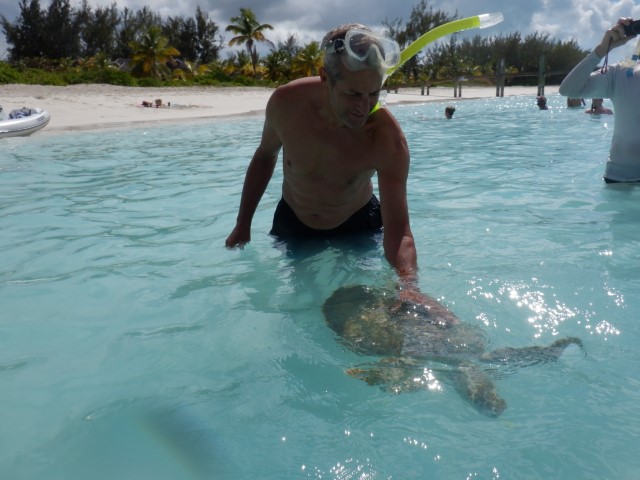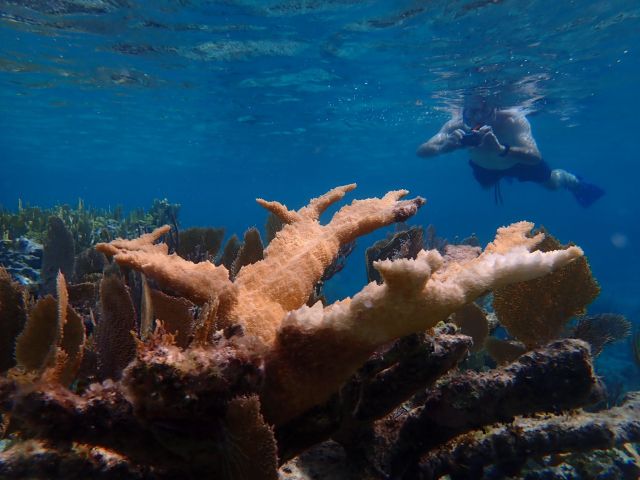 COMPASS CAY
To the north of Great Exuma, lie the cays. A popular stop on an island hopping itinerary, visitors snorkel the pristine beaches and nearby reefs, and swim with nurse sharks (more tame fish) at Compass Cay Marina.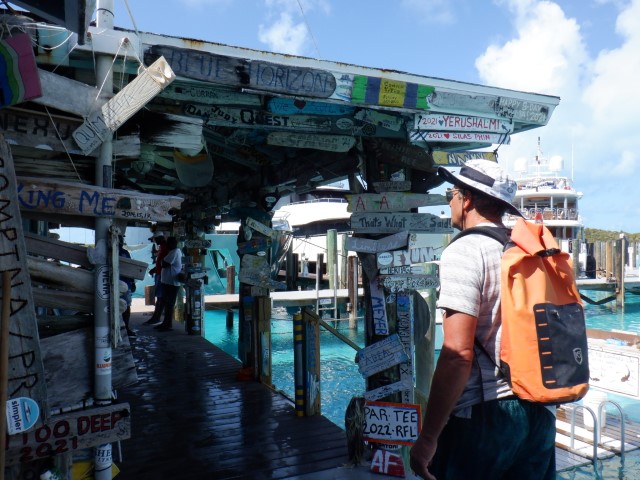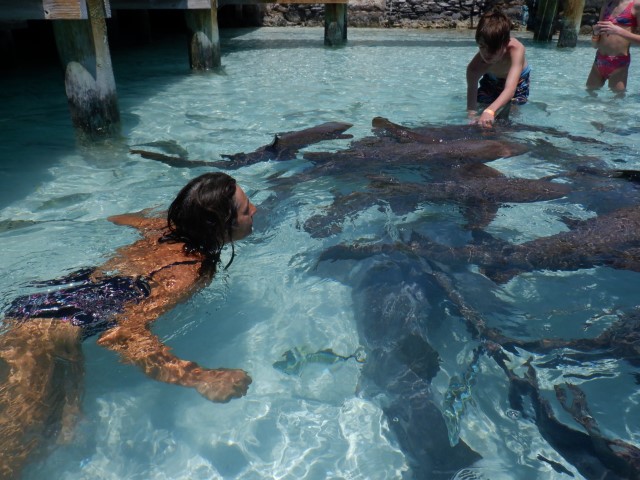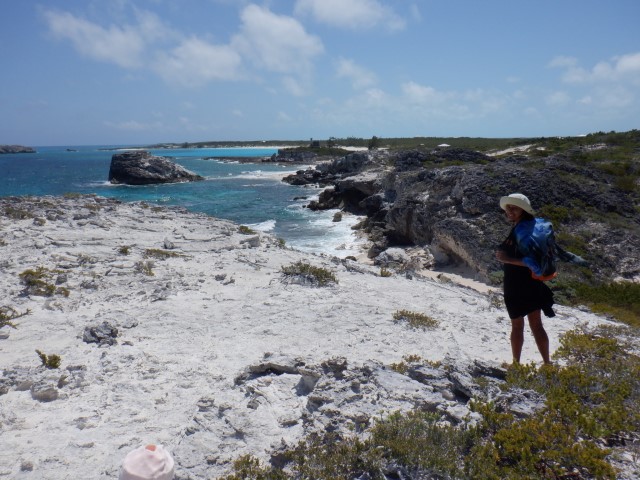 Hiked from Compass Cay Marina where we swam with the sharks, to Rachels Bubbles. The views were stunning, and my eye caught this vine forming a bridge over the limestone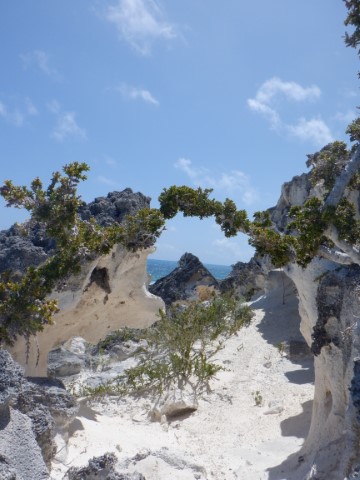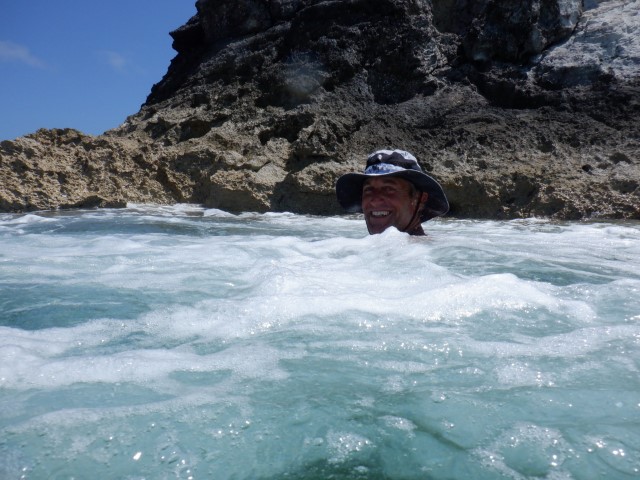 Beautiful sunset over Dundas rocks

IGUANAS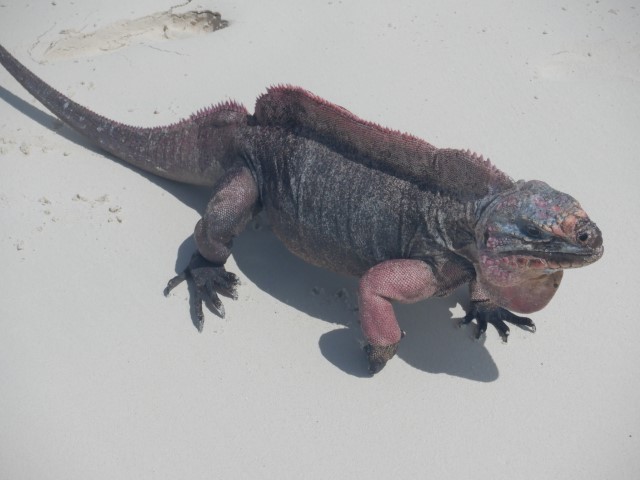 There are very few places through the Exumas where you can see fearsome looking, yet gentle creatures, which are protected by law. They are friendly and welcoming becuase they are used to being fed by the tourists.
Noel and I stopped at Leaf Cay for a couple of hours just for lunch and a walk on yet another beautiful beach and a walk through the sand dunes into the cliffs overlooking the Atlantic. On our way we saw a few Iguanas, but it wasn't until we got back to our dinghy that we realized how many there were all around. There was a tourist boat with people feeding them bread and grapes. there were almost a hundred of them on the beach. I snapped a quick picture of these wothout having anyone on my picture.Yes!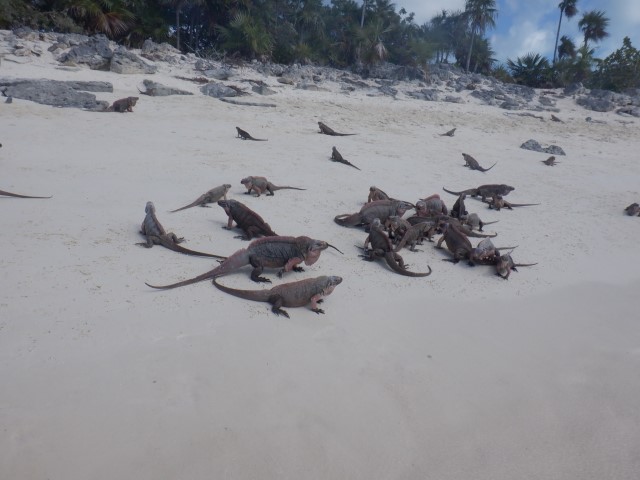 Rudder Cut Cay
Dropping the anchor at Rudder Cut Cay, we found to our delight that we had it all to ourselves. A few boats there but anchored just south of us.
Rudder Cut Cay is a private island owned by David Copperfield. While we weren't allowed to walk on the beach, near the villas, we were still able to enjoy the prettiest anchorages, caves , snorkeling and the beaches in the snow banks at low tide. In nthe evening we had such beautiful sunsets too! It was just stunning here.
One of the villas in David Copperfield's Island. Musha cay. There are many scattered throughout and also an air strip.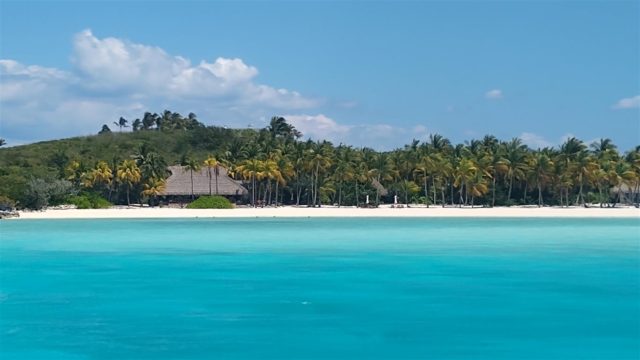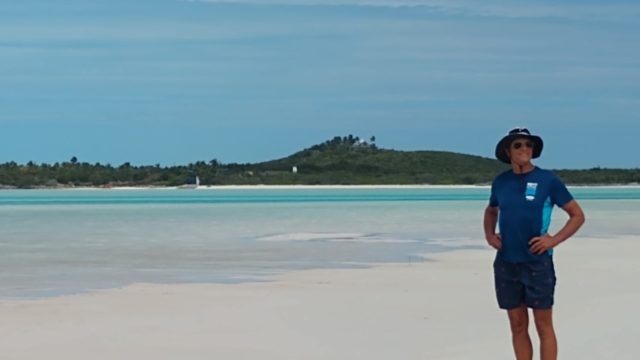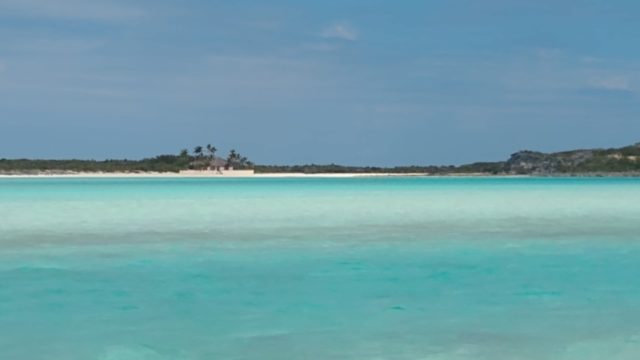 Our anchorage by the cave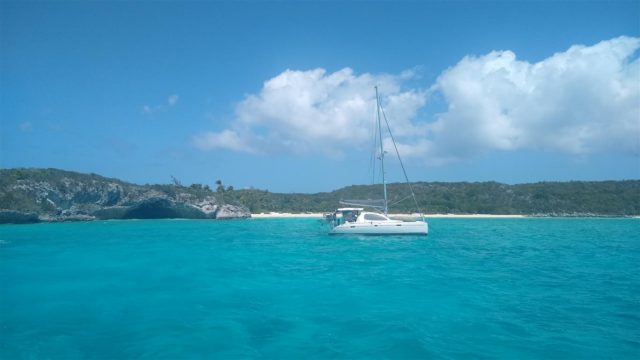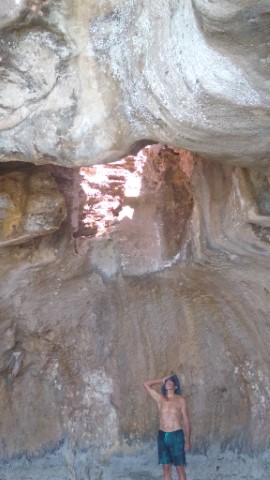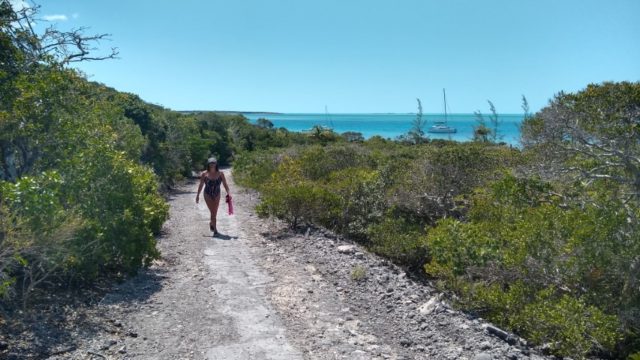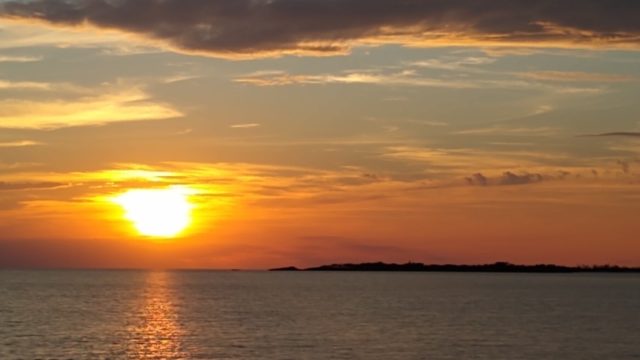 David copperfield commissioned an artist to sculpt a statue of a mermaid looking at a grand piano. He then sank the sculpture in about 13-15 feet of water off of Rudder Cay, which is just south of Musha Cay. We tried to snorkel it first time but the current was very strong, so we went for a second try at low tide and it was great. We got to spend lots of time with the pretty mermaid playing the piano. The snorkeling is very good nearby as well.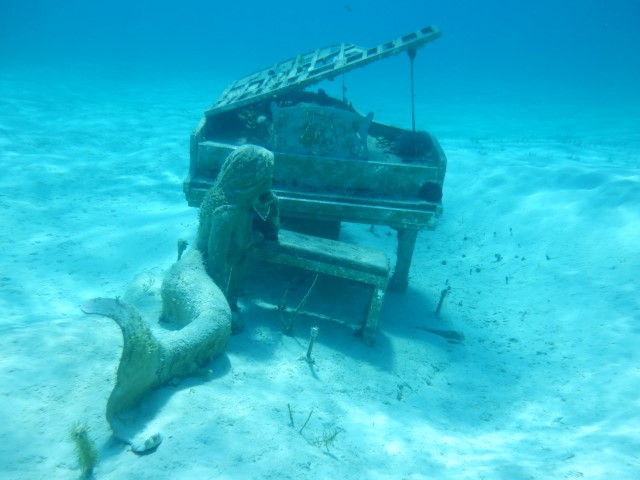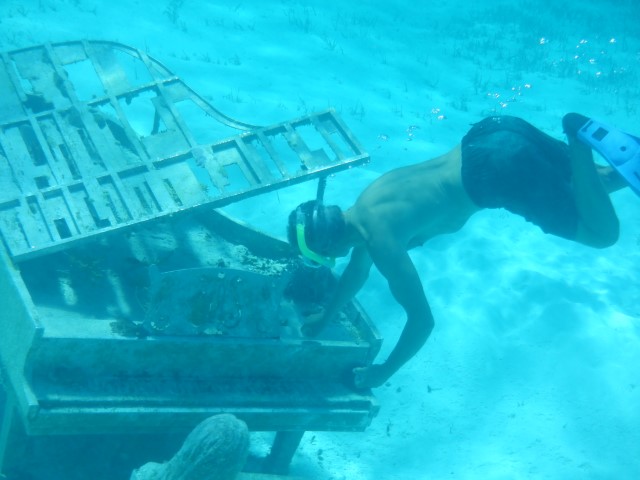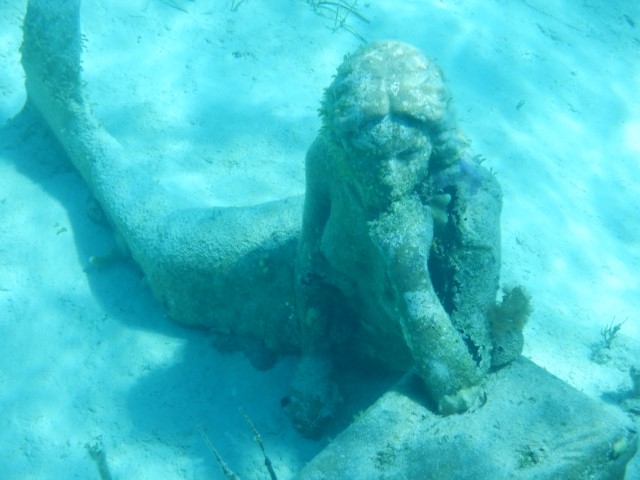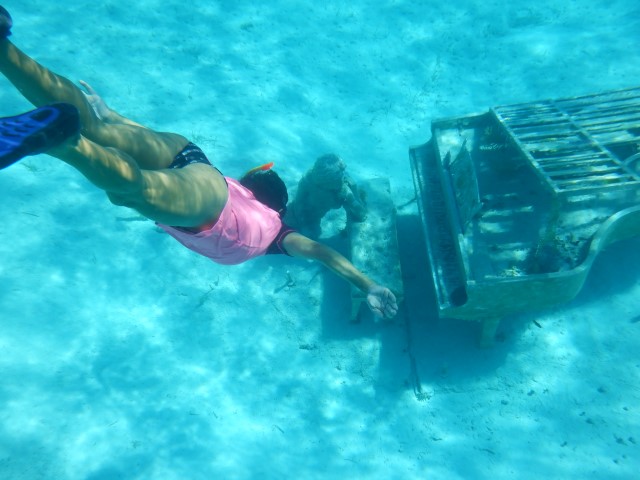 Staniel Cay
Just a few short miles from Rudder Cut is Staniel Cay.
Most visitors will fly or cruise into Staniel Cay from Nassau, because of its accessibility with an airport and large marina. There are also day tours from Miami which are becoming popular. We see many fast motor boats come in on day trips from Nassau.
Staniel Cay is also home to the famous Thunderball Grotto. Thunderball is a 1965 British spy film and the fourth in the James Bond franchise starring Sean Connery. One of the scenes from the Movie was filmed in this cave.
There is no shortage of magical and wondrous things to see in Thunderball Grotto. Upon entering this hollowed-out rock, you look upward to admire the natural skylight that has been produced by erosion, breath-taking in both the sun and moonlight. The beams of light snake in from the holes above and the azure waters light up like precious jewels. In certain places, the cave ceiling is only a few feet above the diver's head, and in others, the ceiling stretches up to an astounding twenty feet or so. What an excitting place to visit.
You can swim through during low tide and discover a world teeming with colourful tropical fish, coral and sea life. Animated groupers, lobsters, snappers, and angelfish. We saw the biggest Nassau grouper here. Maybe because some of the tours bring bread crumbs and feed them for more of an upclose and personal visit with them. Such beauty. We went snorkeling there a few times. One time we spent so much time there, the tide started turning and the current was so strong, we couldn't swim back to our boat, so we asked another dinghy to give us a ride there. So much for anchoring so close to the the east entrance. Haha!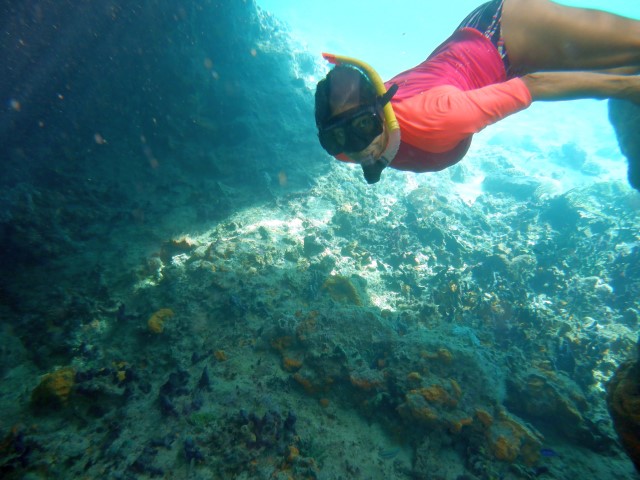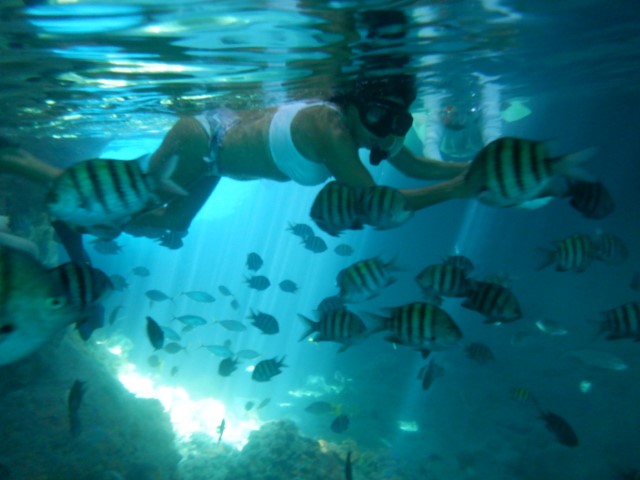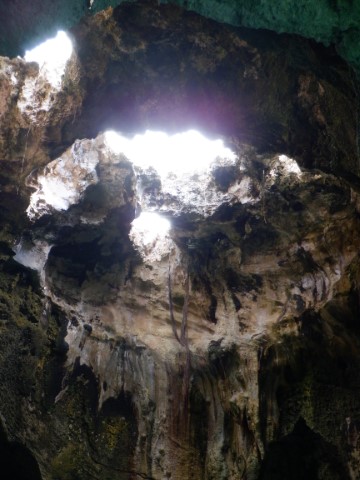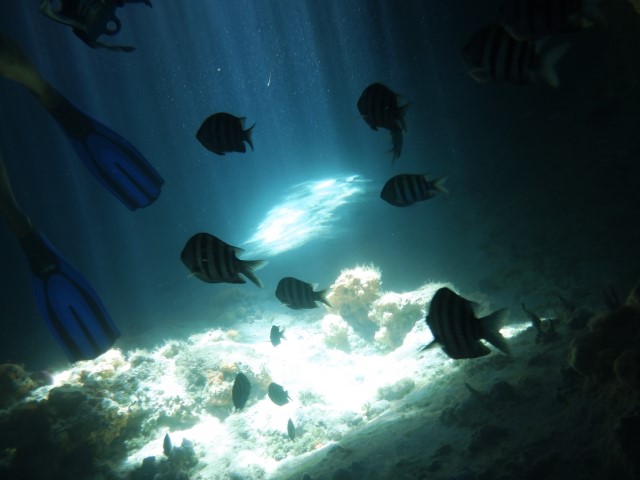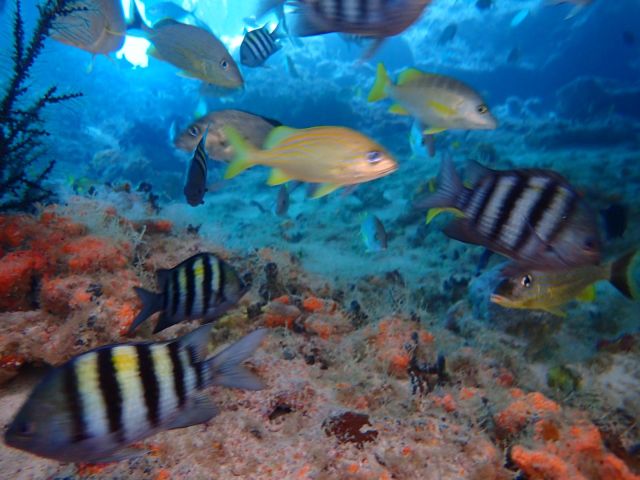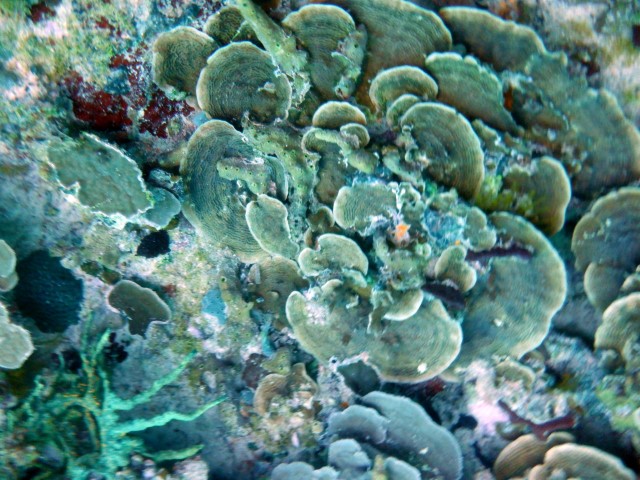 BIG MAJOR CAY
Sailing on the Eastside of Staniel cay behind Pigs Beach to go visit Thunderball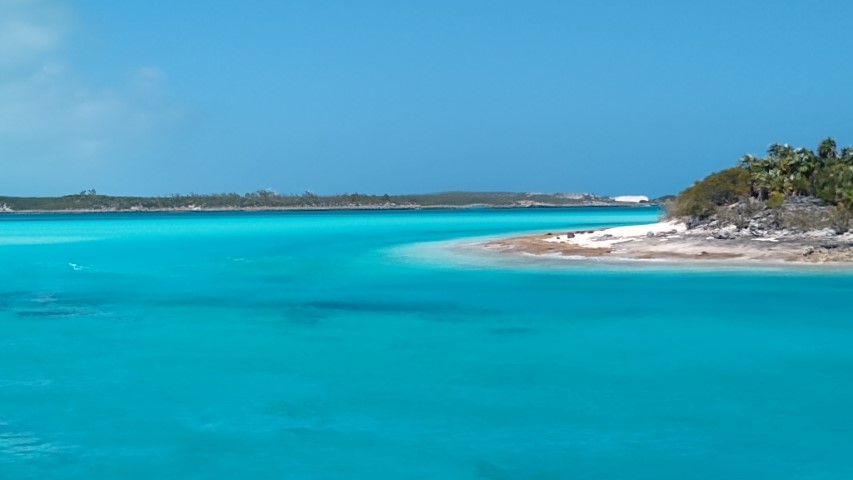 The Exumas pigs on Big Major Cay (Pig Island) are just a short ten-minute ride from Staniel Cay Bahamas. There are around twenty-five pigs and piglets all around the beach who are said to have arrived on the island in the 1990s. Now, they are one of the top attractions in the Exumas.
The official home of the world-famous swimming pigs, this cay is sometimes called Pig Beach, thanks to its playful inhabitants. Accessible only by boat, it is easily reached from nearby Staniel Cay.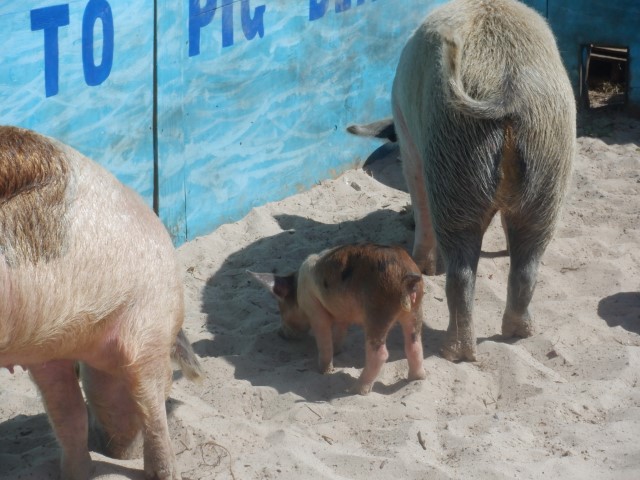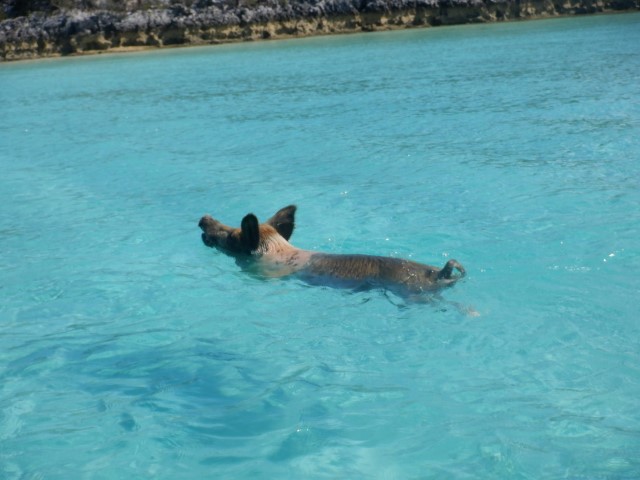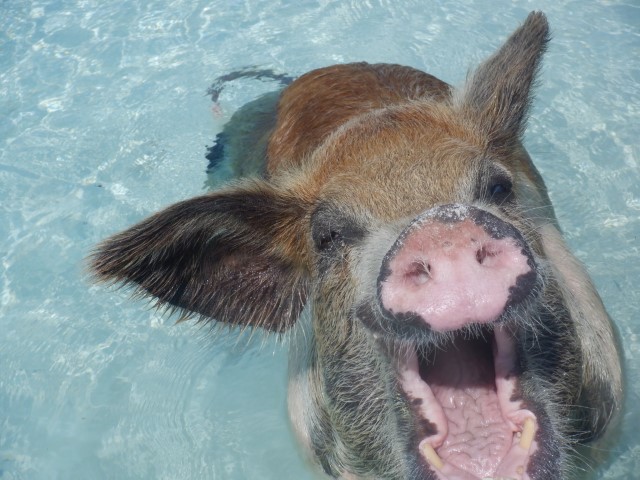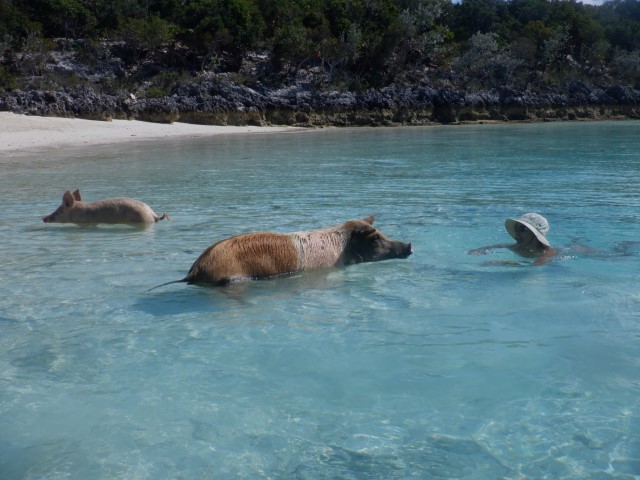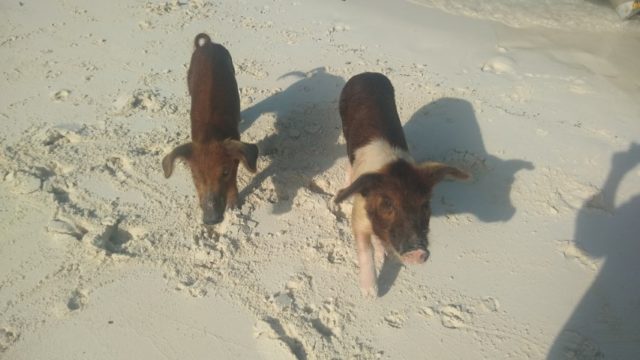 I just love love the piglets. When all the tourists leave usually by 4pm or mornings before 10am, I go to the beach and pet them.
So much more…
We just half way through the Exumas. So beautiful, so much to see, so many words to write. Honestly the pictures don't do it justice. The clearity of the waters is just brilliant. The snorkeling is so much better than down south Caribbean where we have spent a lot of time. What we do miss is the luscious greens of the Caribbean islands – the rain forests, the coconut palms. Here it is all flat, sharp rock, and scrub bushes. But the Blues make up for it big time. Ah, the Bahama Blues!
So we will stop the narative here, and at some point we will continue with the rest of our travels, working our way north towards Deltaville, VA where we will haul out for the summer. Stay tuned…
Current Location:
Luperon, Dominican Republic
Current Position: 19 53.94 N 070 57.16 W
Click to view map.
Distance sailed since last post:
101 nautical miles
.
View the map of our voyage track here
On Tuesday we rented a car to drive to Puerto Plata to buy groceries for our trip to the Bahamas. It turned out to be an adventure.
The day started by jumping into the dinghy and firing up the outboard. No problem there. We took off towards the tock and a good speed. But then discovered we could not slow down. Turning the throttle down had no effect.
At this point we passed another dinghy that was paddling. They requested a tow. Sure, no problem. We are still going at full speed, but they toss us their painter, which Ceu grabs – and promptly gets pulled back and almost right out of the boat. But she doggedly holds on and we manage to bring the towed boat to the dock, still at full speed.
Once there I pull the engine out of gear, with a big clunk, kill the engine, and we paddle the last few feet to the dock.
Our rental car is waiting for us, unlocked, keys in the ignition. The owner message that he had to go to Santo Domingo, 4 hours away, for the day.The car would be at the parking lote just turn the key and go. The car has multiple cracks on the windshiel, multiple dings around the body, no working tail lights and a big propane tank in the trunk. It also has no USB port to charge our phone while using it for navigation.
The fuel gauge says 1/3 full, so we figure we will fill up at the end of the day, as we normally do with rentals.
So we set off. After about less than 20km km the car grinds to a halt. Sounds like it is out of fuel, but the gauge still says 1/3 full. Not so the gauge on the big tank in the back, which says EMPTY. So we need some more propane.
We are outside a nice house, so Ceu knocks on the door and a very friendly and helpful man comes out. Ceu seems to manage with her portinol language and the man says "no problem, I will call the 'Ministerio de Obras Públicas y Comunicaciones' who will come out 24/7 to provide assistance.
And they do. An official car with two uniformed officers show up, take stock of the situation, and immediately start flagging down passing vehicles. After a little while they find an old pickup truck, full of wood, that has a towing hitch.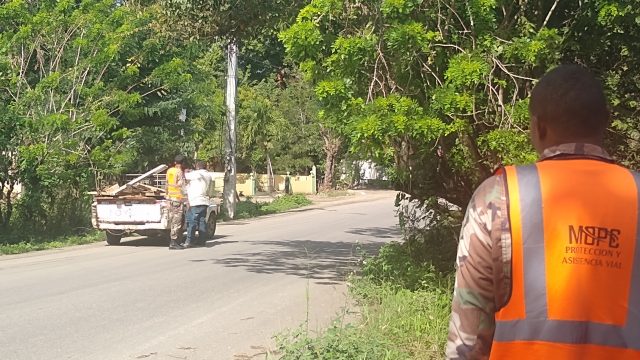 The driver, who was going in the opposite direction, is instructed to turn around and tow us, using a rope, to the nearest propane refill station which, fortunately, was just about 2km away.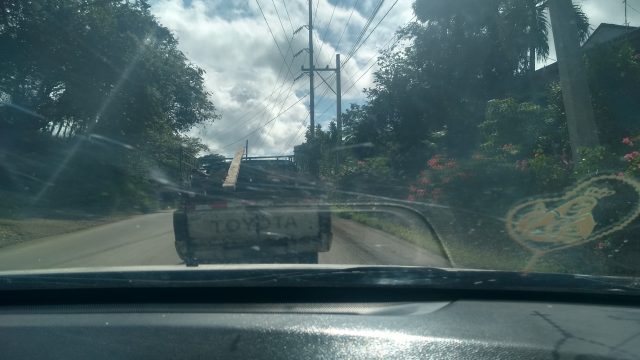 So we make it there, give him $10, and fill up with propane. We put in about $10 of gas whihc is what we normally spend on a one day car rental and doing way more driving, so it should do us fine. It was about 3 gallons. We were also told that propane was way cheaper than gasoline. We were not going very far for our provisions.
And so we are on our way again, albeit an hour or two later than planned.
We get to Puerto Plata, load up on groceries, and then spend a futile hour looking for a pharmacy that is able to refil some of our prescriptions. No joy on that. Same with the hardware stores. We also found the groceries quite a bit more expensive than we had been led to believe.
So we are on our way back to Luperon with trashing rain, Ceu, the driver, had to move her head around the winshield cracks to have a better view of where she was going. About 10km past our previous stop, we ran out of gas. Again. We were also completely out of pesos, though we did still have US dollars. Many places do not take credit cards.
This time we were right outside a police station with a young officer who spoke unintelligble Spanish. By now our phone had died so we could not call anyone. So now we were in the middle of nowhere with no gas, no phone, no money and no language. But at least we were able to charge up the phone in the police station. After a lot of dithering by the police officer, who provided no help at all, we were able to call the rental owner. He was now back from Santo Domingo and offered to come to us, just 12km from Luperon.
He showed up with a friend and a rope and, once again, we were towed to the propane station (not just any station)which, again, was only about 1km away. How lucky.
His friend drives off somewhere, and the owner gets in the back of the car and Ceu drives the rest of the way to Luperon. I guess he was too tired of driving after his trip to Santo Domingo and back.
We arrive in the rain. We have a trunk FULL of groceries, which we now load into our dinghy. We are soaking wet and eager to get home to have a fondue with our new suppply of good cheeses.
We take off and the dinghy is still doing its 'won't slow down' thing. But we manage to kill the engine in time and arrive back at Life Part 2. (without crashing into it)
Soon the fondue is bubbling away on the stove. We get out the fondue pot stand and fill up with alcohol. Ooops, it seems we have run out of alcohol. No worries, we have two bottles of BBQ lighter fluid which should do the job.
Um. No. It seems that lighter fluid does not burn when it is just sitting in an open pot. Could not get either brand to light.
So now we have to run back to the stove every few minutes to heat up the fondue again while we are eating it.
What a gong show today was. All part of the cruising adventure. Only the moment we realized we ran out of gas again, we felt a bit stuck, because we also had no phone, all due to using the GPS and the car had no charger. After that we were ok. At the station we immediatelly plugged in our phone. So now we have phone, Google translate, we have American dollars and friendly people. All was better. The owner of the car apoligized and promissed next time will get us a better car from his fleet of 5.
Current Location:
Samana, Dominican Replublic
Current Position: 19 11.8 N 069 19.72 W
Click to view map.
Distance sailed since last post:
141 nautical miles
.
View the map of our voyage track here
Puerto Rico to Dominican Republic
Thursday Jan 20, 2022. Time to head to the DR. But first we need to get outbound clearance from Puerto Rico which, of course, you cannot do as they say you don't need it. Except that the DR wants to see it. Eventually on the phone I persuaded the officer that I really did need some kind of documentation that we had checked out officially. So he sent me a form, which I filled out and then emailed back to him. He stamped it as official and emailed it back to me. Now we were official!
11am we weigh anchor. Yep, still weighs the same 33kg. The forecast is for 20kts easterly trade winds, but for the first two hours we have no wind, as we are still in the island lee. Motors on. Then the wind fills in – from the West – Since we were still expecting the trade winds to give us a downwind reach we had only the genoa out. We were actually at 60 deg on port tack but, hey, we were still moving nicely, despite the bouncy waves coming at us beam on.
Finally at 14:30 the tradewinds kicked in. Now we're off with up to 29kts of wind on a starboard broad reach doing well over 7.5kt consistently but still quite bouncy.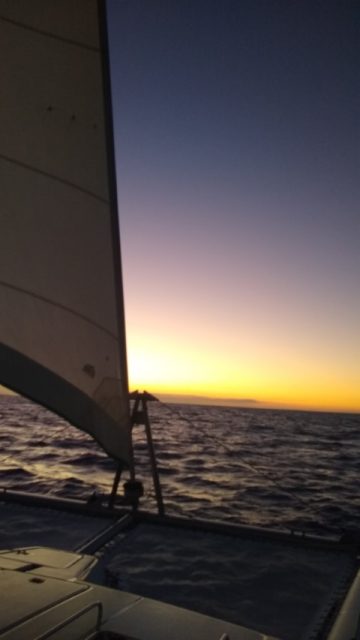 At sunset we turned the corner of Hourglass Reef, heading more downwind with more smooth sailing, though the wind eased a lot through the night.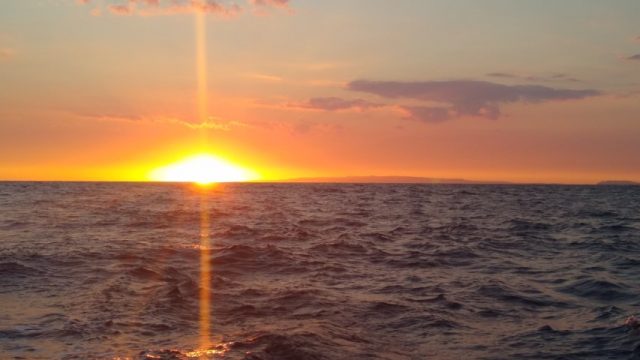 Then, just as we were entering Samana Bay, and dodging whale watching boats, we caught ourselves a nice sized yellow fin tuna!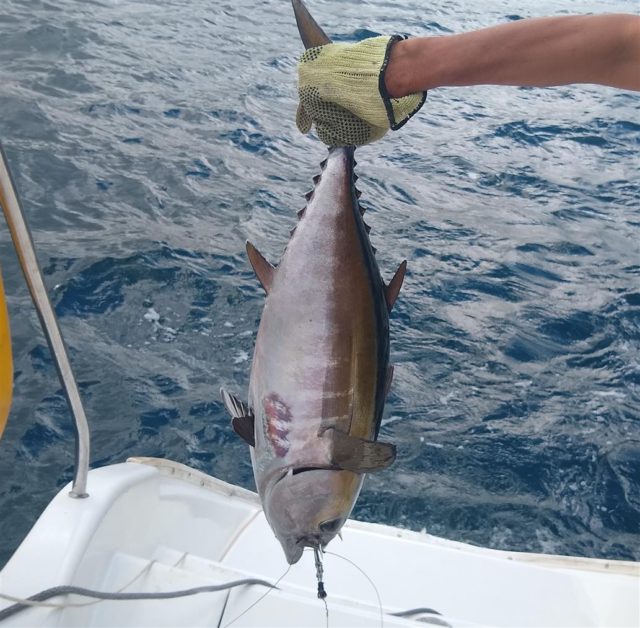 As we arrived at Samana anchorage we kept calling for the Armada, harbour master or whatever to give us instructions for checking in.
No answer.
At about 6pm Luis shows up and tells us it is holiday and too late, so he will come in the morning to get us checked in.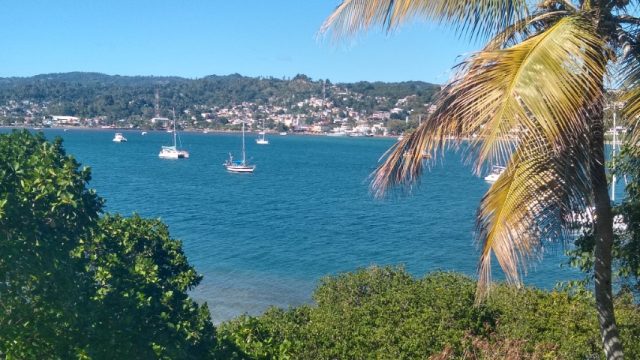 Sure enough, the next morning Luis shows up again and takes us ashore to process our check in and get our passports stamped. We are now legal BUT it is still holiday, so we need to meet him on Monday morning to get the rest of the check-in process done.
On Monday we go ashore and hunt all over the place for Luis, whom no one seems to know. We can't remember exactly which offices we went to as they are all closed and look different. Eventually we get him on the phone and he tells us it is still holiday but we should go to the Armada office to get a Dispacho to allow us to sail across the bay to Los Haitises National Park. Anytime you want to move your boat here you have to get a Dispacho giving you permission to do so. It is free, but the process takes a lot of time.
We find the Armada office and meet Stephan, a nice German, who is also looking for a Dispacho, (Permit) But it is Monday and still Holiday, so Secretaria, the person they need is not in the office. No problem, one of the Navy people gets on a motor bike and goes to pick her up. The second Armada officer, makes us coffee and served in beautiful china tea set. Coffee was good, cup was too small, so we all had a second cup! Half an hour later the first Armada arrives with the secretary on the back of the motor bike, wearing her civies, and carrying a 6 month old baby.
The baby gets handed over to the other officer, and the secretary gets to work on the dispachos for all of us. But the baby is still crying and the bottle provided by the officer does not do the job. The baby gets passed back to the secretary, breast gets pulled out, baby attaches to nipple, and now she can get on with the dispachos again while breastfeeding. Baby falls asleep, happy.
We were happy too, what a great morning, with lots of smiles, good coffee and great people. Did we say yet, that no one there speaks a word of English? Only Luis the agent, and translator, turist guide and organizer, etc etc. But he was not available. A mix of Portuguese and some some Spanish was exhanged between Ceu and Armadas. Good times.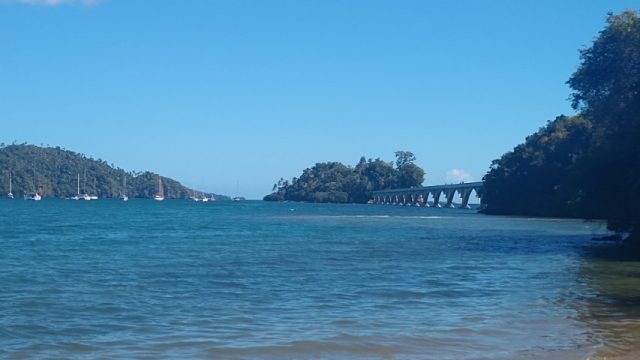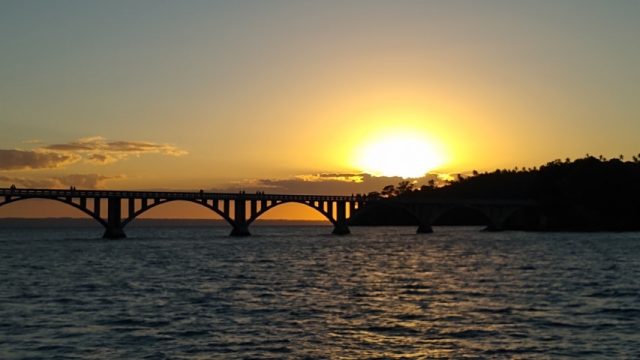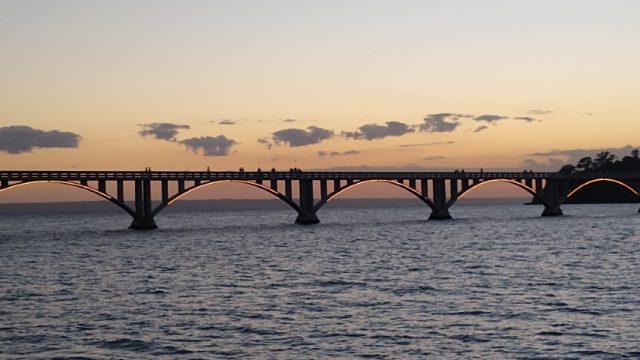 But the process is not finished. Now we have the dispacho in hand, we go back to the boat where Luis will meet us later to have a photo taken, on the boat, of him plus Noel holding up the Dispacho. Finally we are official.
The town of Samana is a scenic, colorful and peaceful port, with friendly and easy-going Dominicans, living their life with tourism, agriculture and fishing activities, all set to the beat and rhythms of Merengue, Bachata and Salsa music.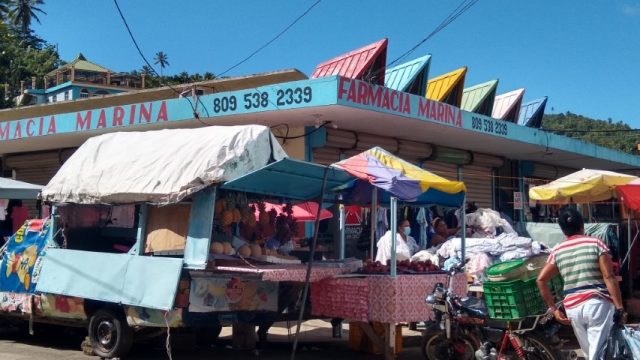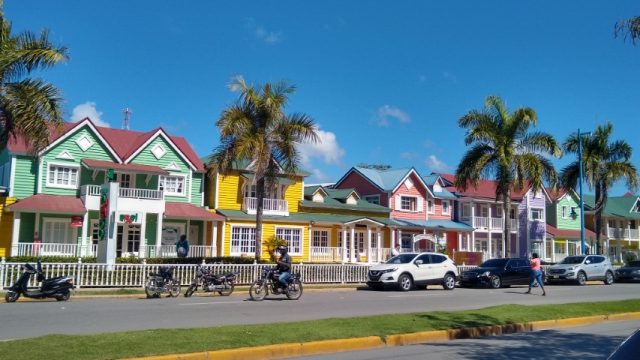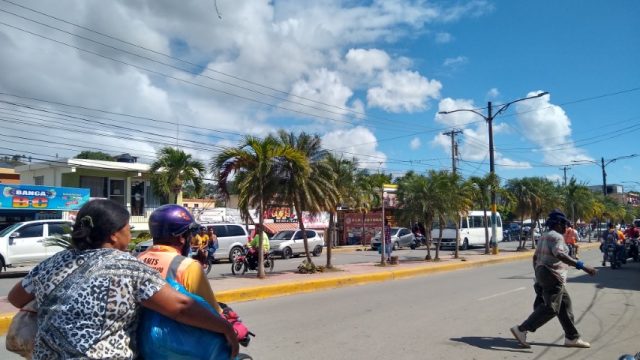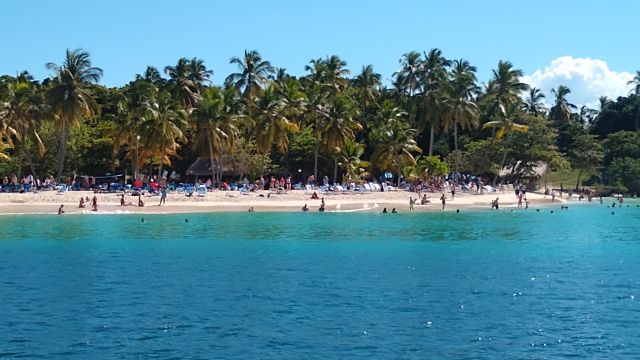 Cayo Levantado. (Bacardi island)The small, picturesque island sits just five kilometers (three miles) from Samaná Bay, and boasts brilliant white sand and palm-fringed beaches. Popular with day tripers there for the beautiful beach and water sports. Also a private resort in there.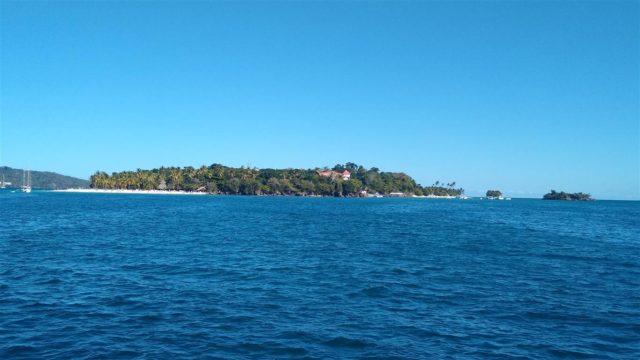 The next morning, Along with Stephan and Astrid on Intrepid Bear, we head off for Los Haitises National Park, with a little detour to visit Cayo levantado.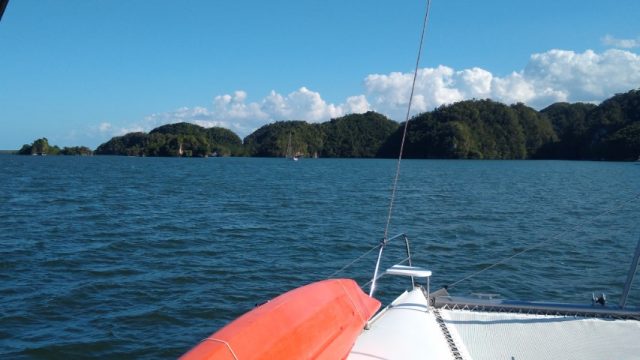 Haitises National Park was stunning and what a treat coming from the busy town of Samana. This was our anchorage in the National Park.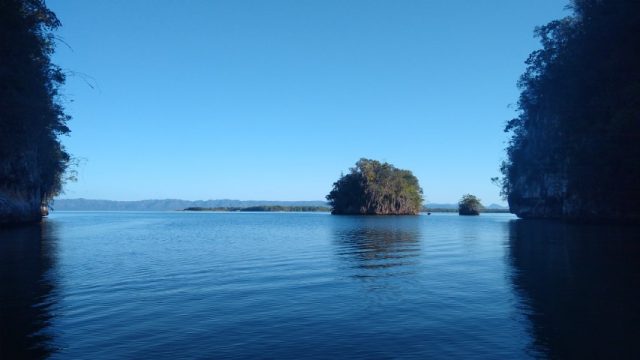 This beautiful Nature Reserve is home to rain forest, rocky vegetated hills , mangrove swamps, lush growth and conical hills. Los Haitises means "highlands" in Taíno.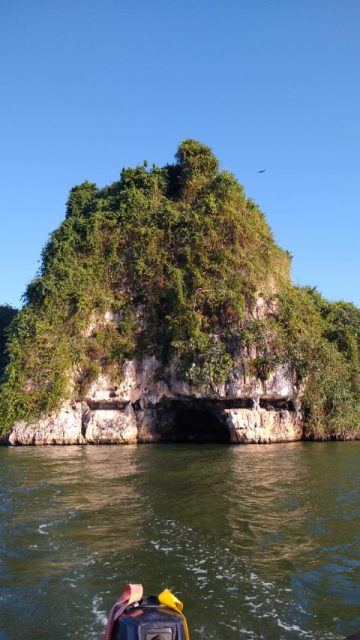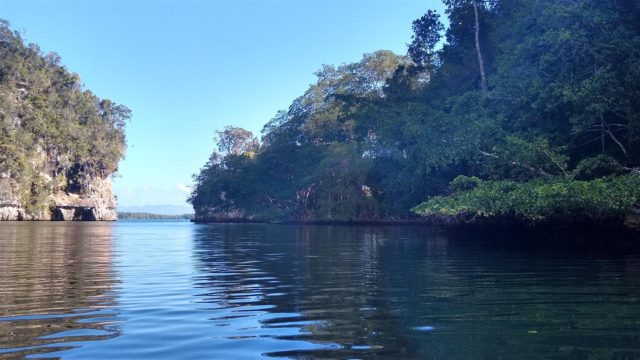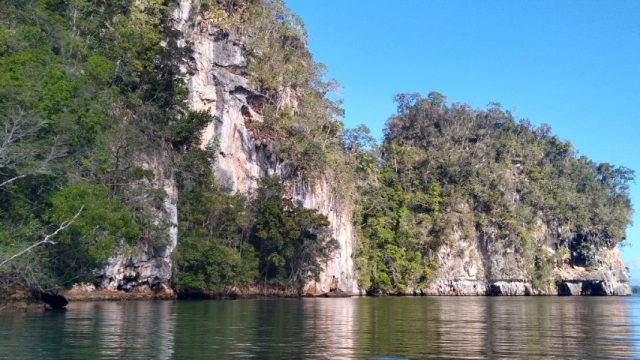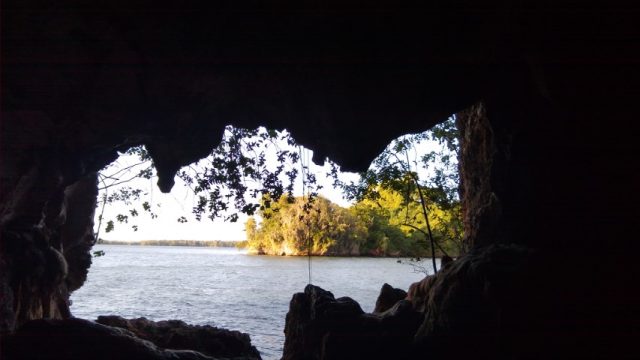 We visited at least 3 wonderfull natural caves some with petroglyphs and pectrographs. Lots of stalactites and stalagmites. One even had a white sandy beach right inside. We just loved this area somuch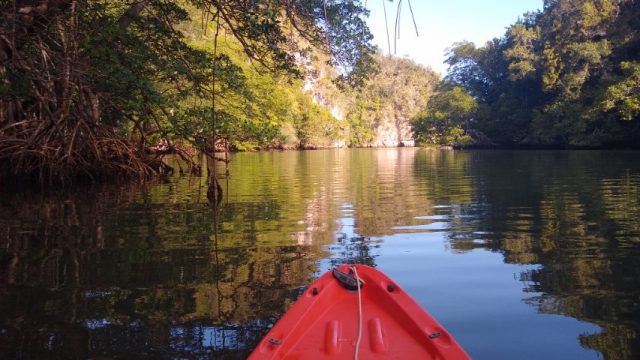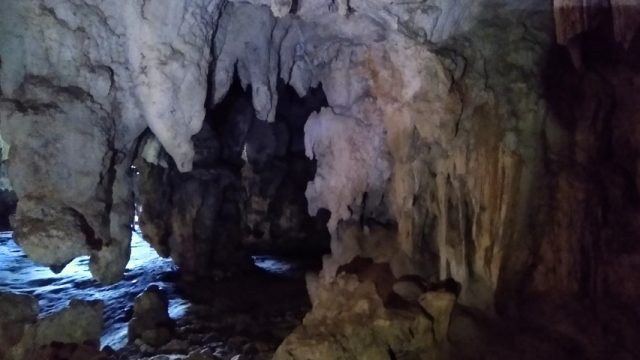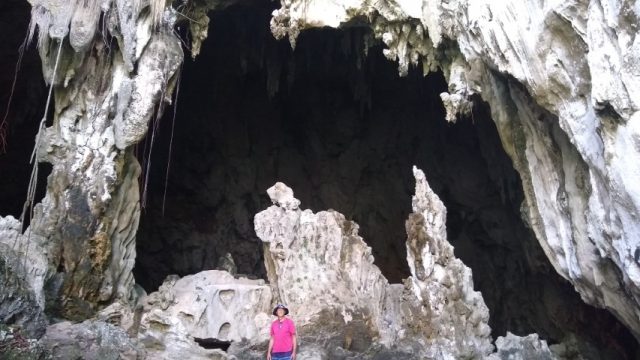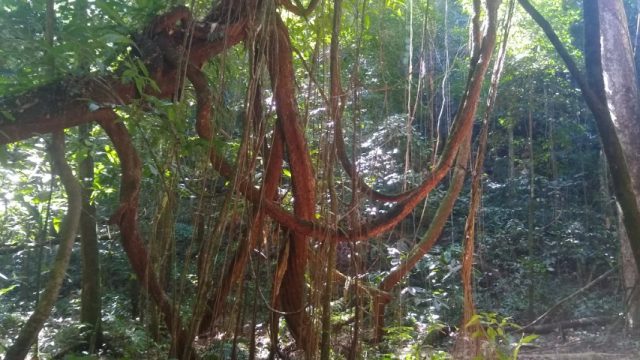 A walk through through the forest and natural swings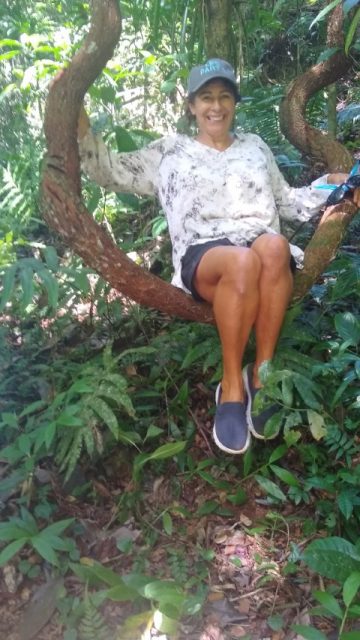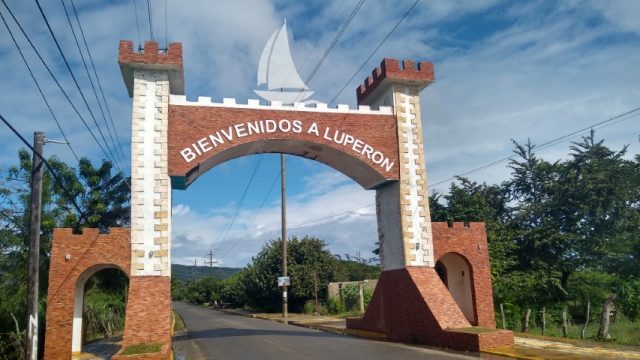 Luperon lies in the north of the country. Small town but one can find a little bit of everything, including Farmacies, a small Hospital and even a private Lab. Here we had our rapid test done, with results in half hour before departure to the Bahamas. The people are very friendly. No English speaking.
Due to its shape and location, Luperon bay is ideal for sheltering from hurricanes, and many boats anchor there during the hurricane season. Its a pretty bay surrounded by mangroves. The downside is , not nice for swimming. There is a nice beach and bar you can walk to though. The Bay was our anchorage for about 10 days while we explored the North of the coutry with a rental car and waiting for the right weather to do our passage to the Bahamas. The car was also essencial for provisioning before heading to the Bahamas. Not only the Bahamas is way more expensive, but also we were going to make stops on the deserted islands where provisioning was almost impossible. We drove to Puerto Plata about 50 kms away where they have great big supermarkets. Driving in Puerto plata is a crazy experience. The motorbikes follow no rules, dont stop at red lights, pass you from the left and right and there's somany of them everywhere zooming along in all directions! The cars form 2 lanes where there's only supposed to be one. The road is wide enough right here why not make 2 lanes? A 100 metres latter…bottle neck.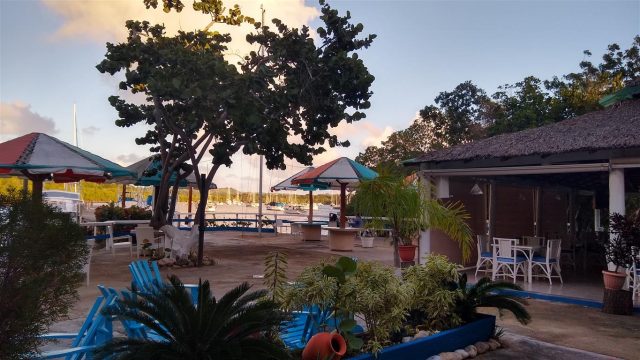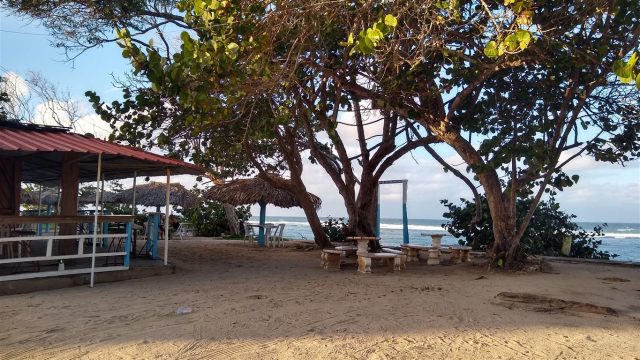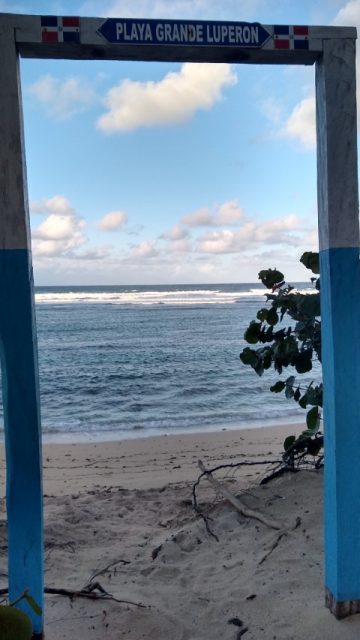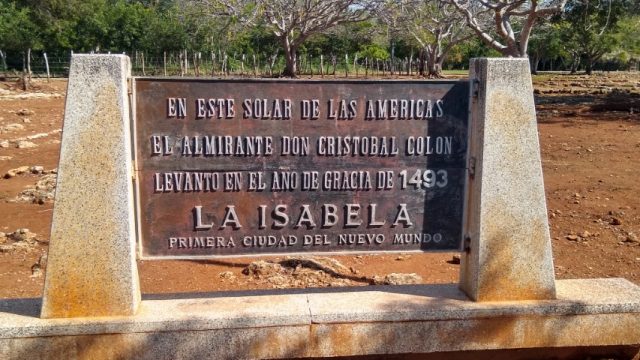 In 1494, explorer Christopher Columbus was on his second voyage to the American continents, landing in Hispaniola with a group of 1,500 settlers. The primary purpose of the expedition was to establish a colony in the Americas, but Columbus was also there to discover sources of precious metals. There on the north shore of Hispaniola, they established the first European town in the New World, called La Isabela after Queen Isabela of Spain, who supported his voyage financially and politically.
Three ships made the voyage over to the New World the Nina, Pinta, and Santa Maria. The largest ship, the Santa Maria, floundering and sinking to the bottom of the shallow waters in this bay. Columbus returned home in one of the smaller vessels, and ordered his men to build the town from the timbers, and salvage what they could.
For an early colony, La Isabela was a fairly substantial settlement. The settlers quickly built several buildings, including a palace/citadel for Columbus to live in, a fortified storehouse (alhondiga) to store their material goods, several stone buildings for various purposes, and a European-style plaza. Beautiful site.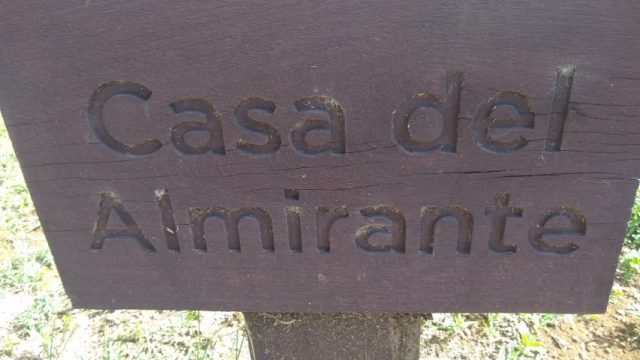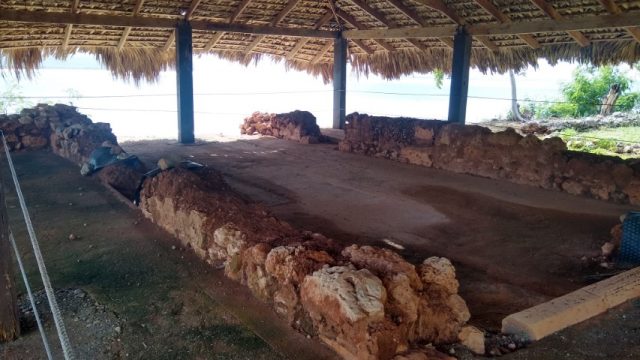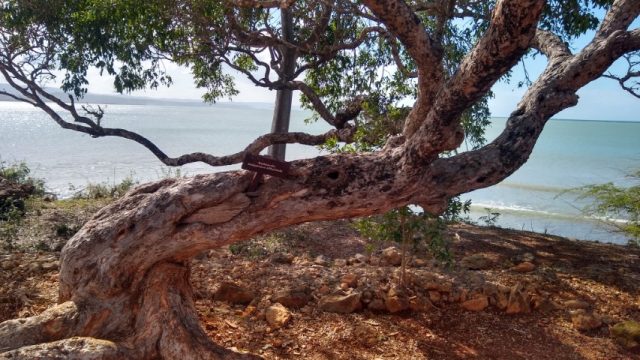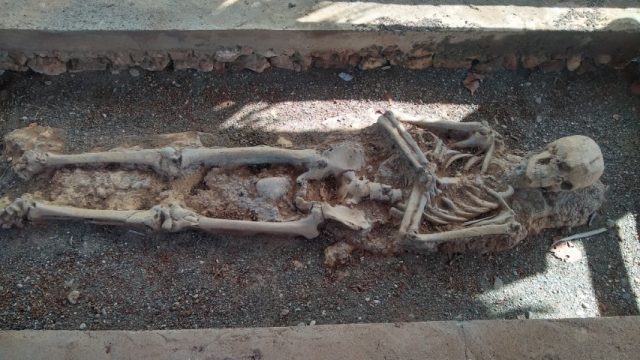 Replica of the first Church in the New World. Its located in the village just a block away from the ruins.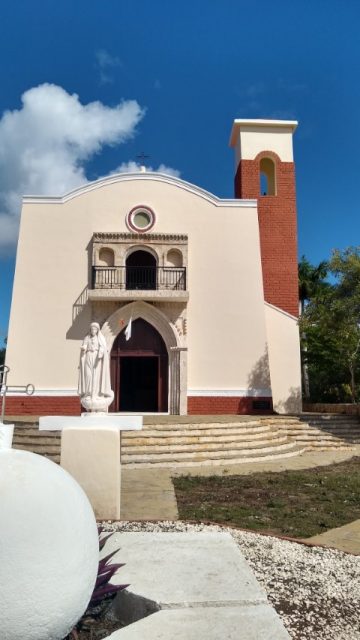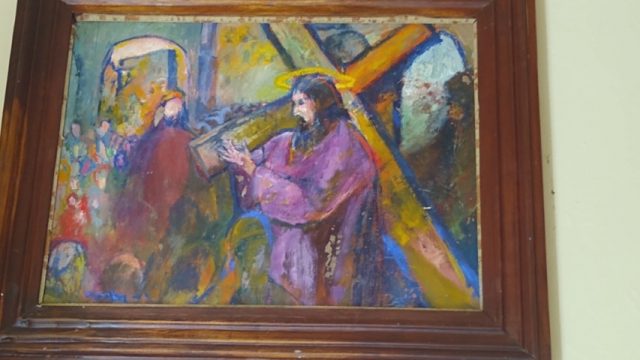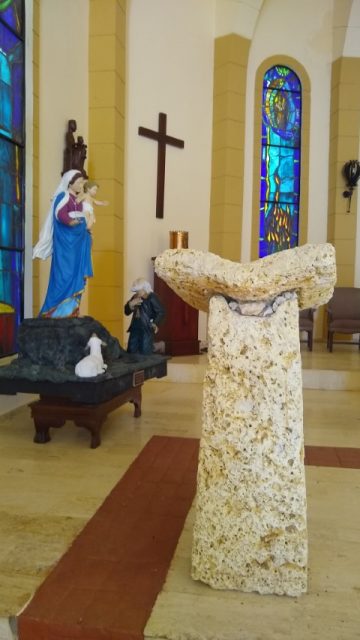 Puerto Plata old town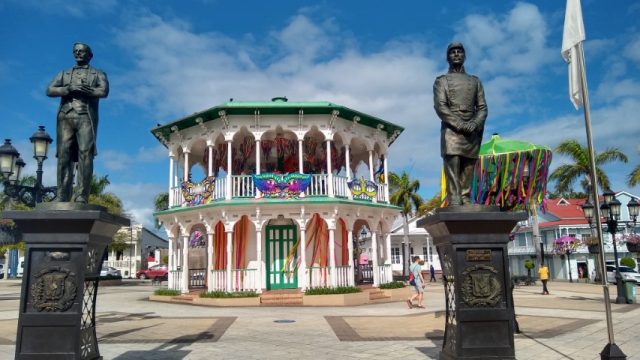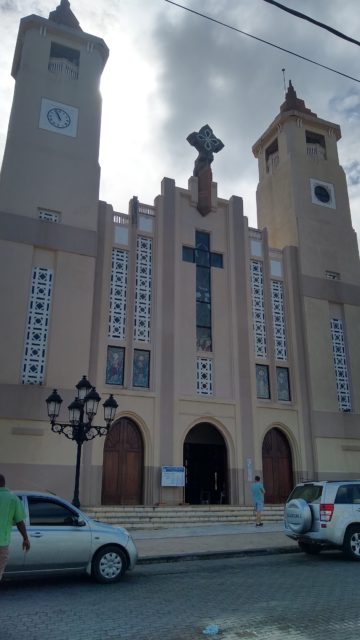 Puerto Plata Cathedral. Unfortunately, although its foundation dates to the year 1502, a fire caused by restorers completely destroyed it in 1863. The remodeling was not finished until 1956 and it now features a modern Victorian style.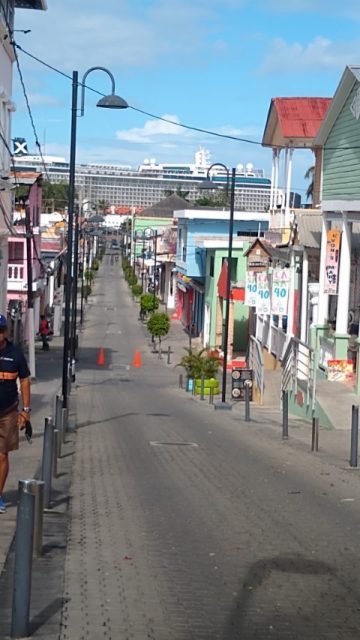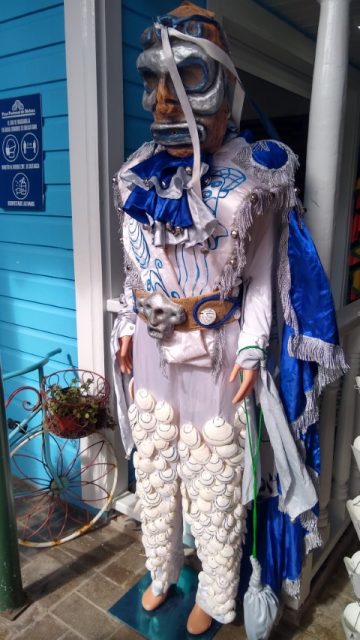 Shops in main street old town Puerto plata. Ready for Carnival? Look at the bottoms with all those shells. Beautiful to look at but definatelly looks heavy and hot to wear in the tropics!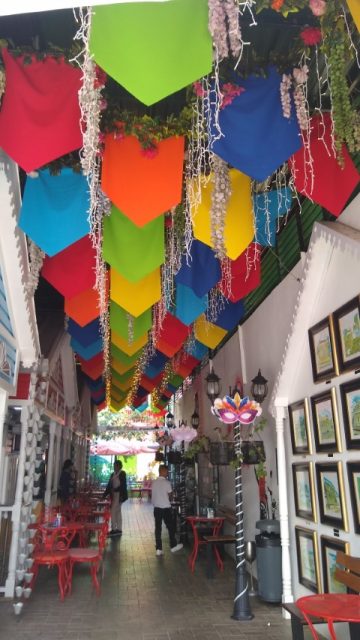 Famous Isabel de Torres National Park
At 800 metre high mountain, Pico Isabel de Torres is the highest point of Puerto Plata. Beautiful walks through the botanical garden and a replica of Christ the Redeemer though the statue is of a smaller size, but mountain itself is taller than that of Rio. The windy roads leading up the mountain are subject to large amounts of rain and are occasionally impassable. It was not raining driving up, but as soon as we arrived the fog came is and we got a bit of rain but not much. You can also hike up or take the cable car.
It was built as a look out and yes…..beautiful views, but what they didnt realize is that its in dense fog 80% of the time. We didnt get to see the panoramic views, but it was still a beautiful walk trough the gardens, some caves and a couple lagoons.
Buses full of turists get unloaded there from the Resorts in Puerto Plata, short drive up the hill. Great get away from the sunny hot beaches. Even busier on cruiseship days.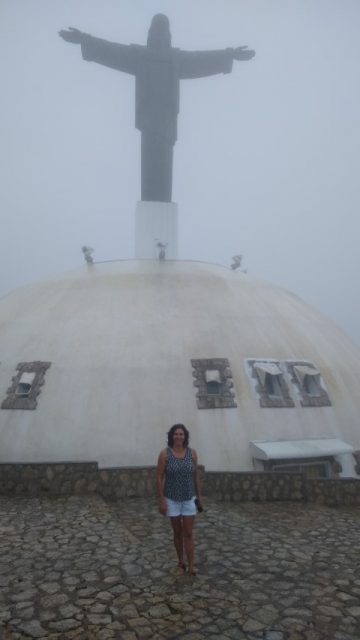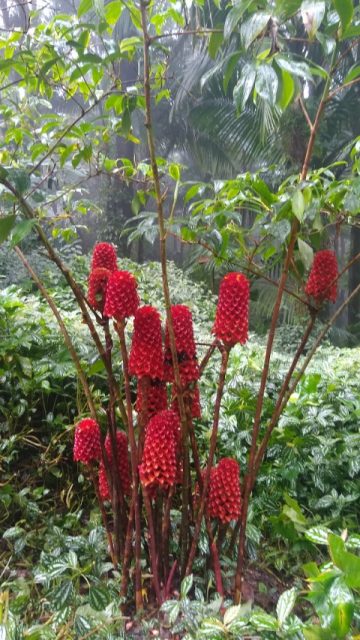 Isabel de Torres National Monument and the botanical gardens. The blooms above were so beautiful and unusual. I had never seen these red spiky ones before.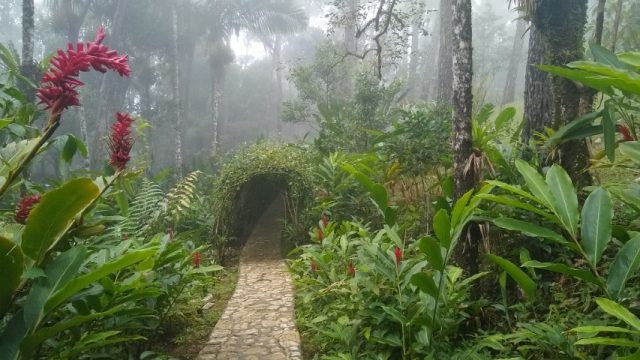 Dominican Republic really surprised us with somuch more to offer besides all their beaches and all inclusive Resorts!
27 Waterfalls of Damajagua.
What a surprise! a series of cascading waterfalls, canyons, and bright azure pools, to jump into, swim again some distance, and slide your on back down to another pool, walk through canyons and repeat!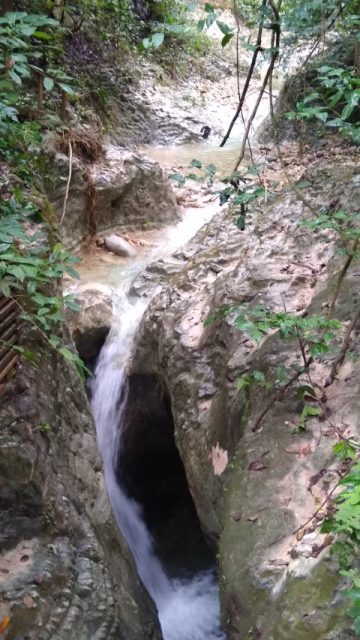 These falls have existed for a millennia but were only discoverd and opened to the public in 1994, and little by little, word got out about this amazing natural treasure and is now a big guiding industry for the local young men. Its very touristy with groups coming in buses from everywhere icluding the excursions from the Resorts.
We really did not know what to expect. We knew that you go in a group acompanied by a guide. Aparenly this group of 9 women on hollidays from the States knew even less than we did. A fabulous litle walk trough the rain forest takes you to the waterfalls. This picturesque walk should take only about 20 minutes. Well, took close to an hour. These ladies, were not expecting what they called a hike, and for some of them beeing out of shape, they were tired and had to take breaks, and often.
There were 2 ladies in the group we thought they were not goin to make it down the canyons. But the guides were amazing. The ladies had such great sense of humor and a will to finish. Or maybe the bailing out of it didnt look better, youre in the jungle. You would have to climb up a rope and hike up the hill to find the trail. It was a fun group. We had some good chats and laughs on the walk back to the parking lot, where they told us, they had no idea about this. They thought you just parked your car and look at the falls.
By now we had worked an apetite. The Park has a Restaurant where we enjoyed a buffet style lunch.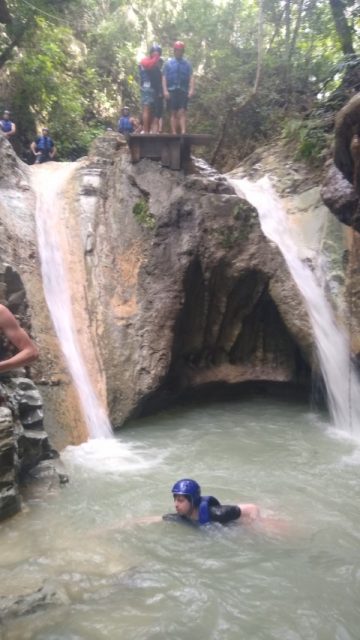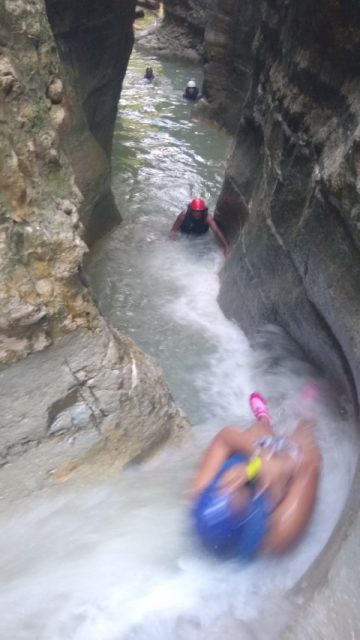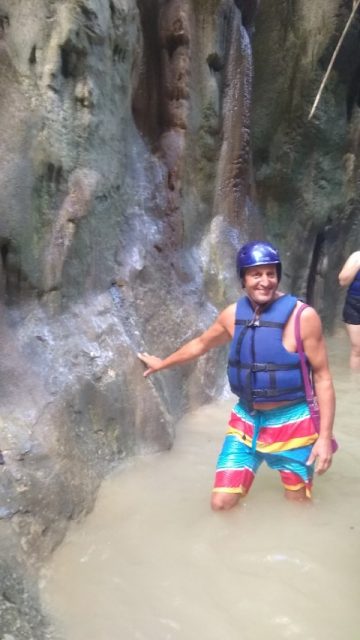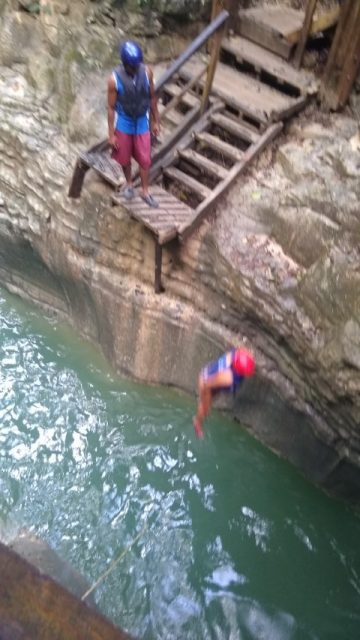 Ceu jumping in. Oh what a fun time!
Cabaret beach
Cabarete is a resort town on the Dominican Republic's northern coast. Cabarete Bay is protected by a coral reef. The calm waters, combined with breezy conditions on beaches like Cabarete and Kite, make it a center for water sports.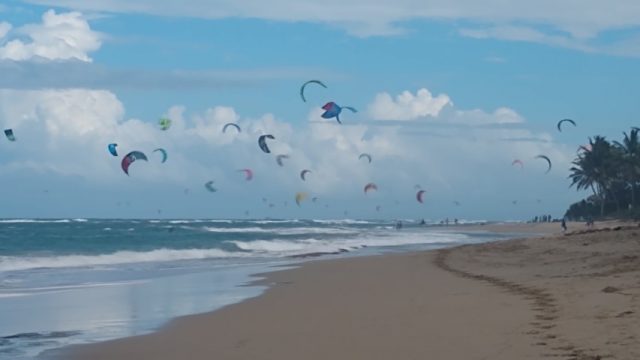 Sosua Beach
Another great stop on our road trip. Beautiful Sosua beach and seaside cute little village on the North side, about 15 km from Cabarete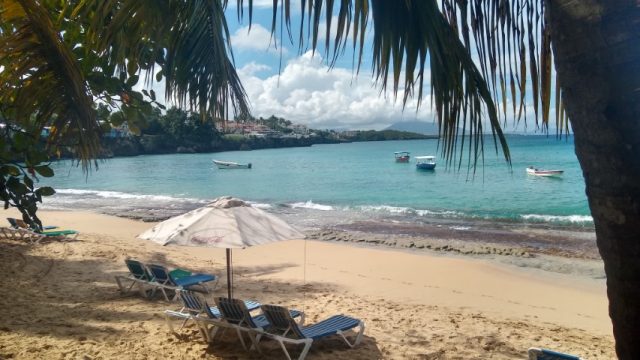 We enjoyed a nice lunch here in Playa Sosua and a very refreshing Mojito.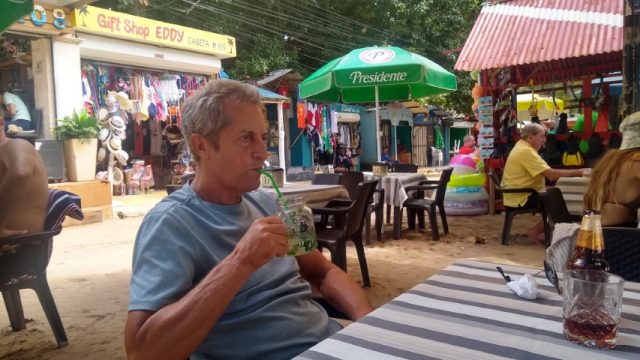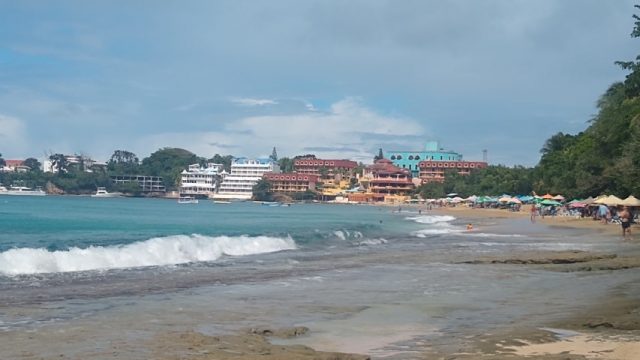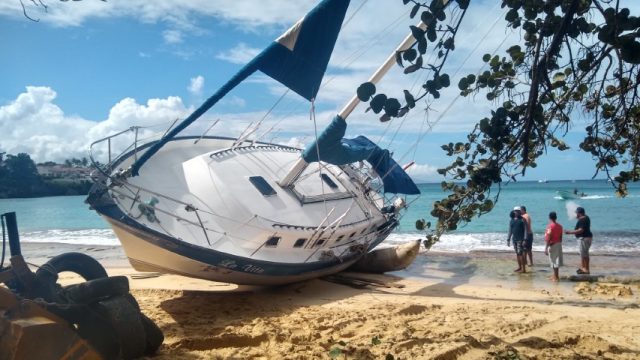 We were sad to see that this boat had just dragged on to the beach 2 days before. They had some workers there trying to bring it afloat with minimum damage to it. While were tucked in in the calm Bay of Luperon, we had some strong winds and rain, this boat on the North side was on a mooring ball that came loose during this weather.
Good times and experiences were had in DR. We felt good about having to speak some Spanish. It can easily be taken for granted that fact that everywhere you go they speak your language. But really, you just need to speak a lillte bit of Spanish, the rest is all smiles and hand language!!
We now have a very full pantry. We have a good weather window to leave to the Bahamas. We have been trying to get to the Bahamas for the last 2 years, but Covid and other circunstances has held us back. But Bahamas here we come!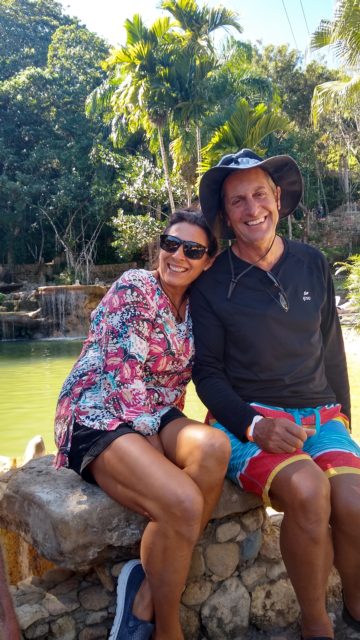 Current Location:
Boqueron, Puerto Rico
Current Position: 18 1.26 N 067 10.68 W
Click to view map.
Distance sailed since last post:
233 nautical miles
.
View the map of our voyage track here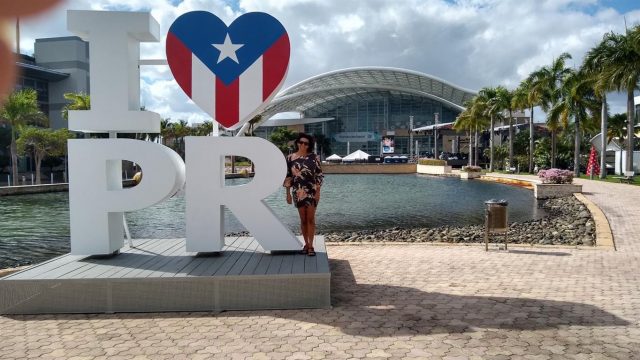 Puerto Rico here we come!
Sail from St Maarten
We left St Maarten on Dec 19, destination Culebra, PR, distance of about 130 nautical miles West.
We left at about 7 PM so we could arrive the next day through out the day.
The trip was great, we had full moon, yet we could still see the stars. Our favorite Orion as always, along with Sirius, Cassiopeia, 7 sisters ,Auriga ,Gemini, Taurus, Cygnus and more……(that we dont recognize…haha)
We had about 15 Knots of wind behind us, so it made for a much smoother passage than bashing into the wind. We were surfing the waves sometimes over 10 knots.
Early morning we had a squall, followed by no wind at all. Motored along for about an hour, along the coast of the USVI with the twinkling lights not very far. The wind fills in and we are sailing nicely again.
At 11am we could see our destination, island of Culebra, just off the East coast of Puerto Rico.
By 2 PM Dec 19th we were anchored, in the nice flat, peaceful Ensenada Honda, Ensenada is Spanish for a Bay. We went and Checked in at Customs and Immigration at the airport. The procedure was very slow but straight forward. As long as you are vaccinated, you Do not need a PCR test, so that made it even easier to visit coming from St Maartin.
Ensenada Honda is a large protected bay and a popular anchorage with cruisers. Culebra is part of the Spanish Virgin Islands and its beautiful. We did a circumnav for a few days exploring. Surrounded by many beautiful beaches and turquoise waters. Most of the beaches are empty, except for the one advertizing as one of the most beautiful beaches in the world, Flamenco beach. Yes. Nice beach but covered in chairs and bodies. We did take some pictures but moved on. Anchorages were quite empy as well, most of the time we were the only ones there and had the beach to ourselves. If its weekend, a few of the local families come out to swim and snorkle. A couple of other beaches are also a bit popular with tourists that come for a day trip, but after about 4pm everyone is gone.
Beautiful beach in Culebrita, a few people come visit in motor boats during the day but afet about 4pm it all ours to enjoy. First night we were the only boat here and the second night one boat joined us, a charter with a nice family from US. They were delighted to be on their own in such unspoiled beauty, especially after coming from the famous Flamenco beach, where not only was very busy but they charged them 2 US a person!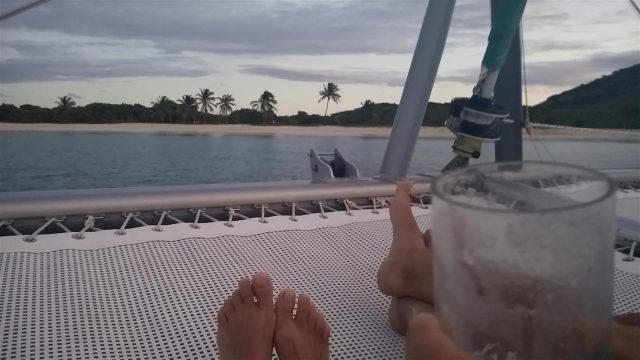 Beach in Culebrita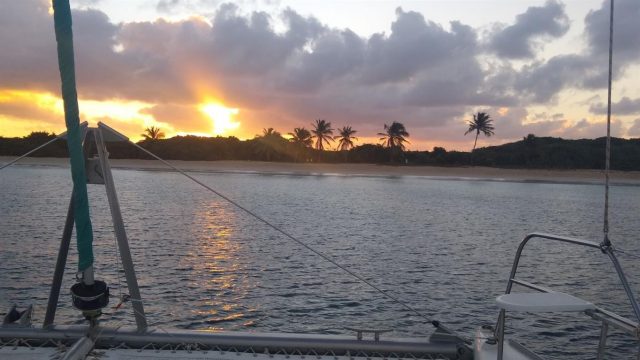 Christmas is here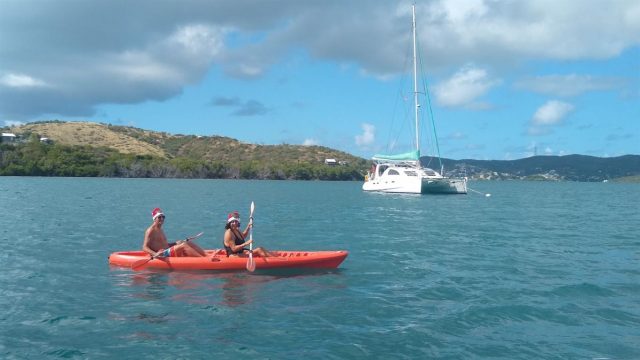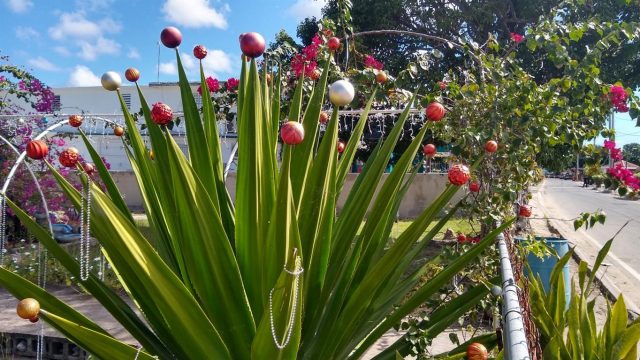 We met up with our friends from Grenada, along with another boat. All 3 Canadian boats, Jane and Jan, Bev and Bob, and us. On the 24th we met for some drinks and Mexican train and on Christmas day we had a floating party around Bob and Bev's boat folowed by a potluck and some more drinks!!! Ahhh a really good rum punch from Bev.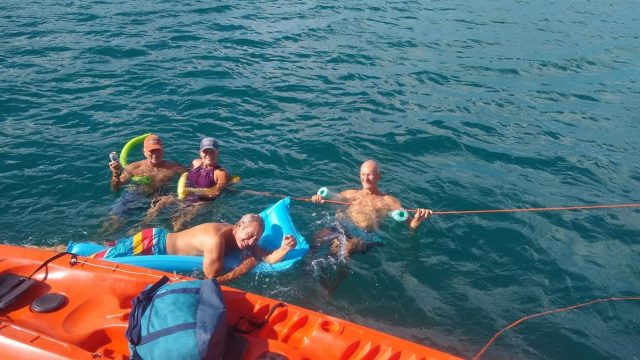 Vieques, the true meaning of tropical bliss.
Between Christmas and New year we sailed around Vieques, again off the East coast of PR also part of the Spanish Virgin Islands.
What a beautiful beautiful island, quiet, luscious and uncrowded. This island is known for their tours to Mosquito Bay. One of the best Bioluminescent bays in the world. We can sure tell you that it was just Magical. The microorganisms in the water, give the water a glow when agitated. When you touch it all glows. Of course, no pictures as it is too dark.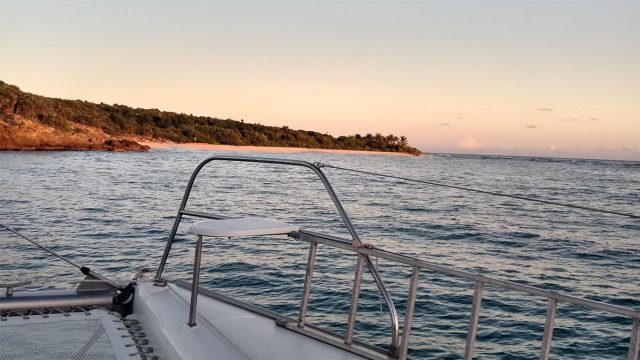 We did not take the tour, better yet, we anchored just outside the bay. Wacthed the sunset , had a nice dinner and waited to get dark. Got the Kayak down and paddle about 150m into the bay. Wow, the paddles started to glow, just a big ball of light, the bow wave from the kayak was all glowing as well. Then we dropped the painter from the kyak and twirled it around for a lit-up snake. We were like kids enjoying something totally new and excitting. We sat quietly watching and hearing the twinkling sparkling organisms on top of the water and then we see that the fish are all glowing as well swiming around us. It was also a beautiful sky with all the stars out. There were a couple guided tours going on and the guide had a laser beam pointing out the constellations to the groups. The bay is surrounded by beaches and mangroves. People ask why its called Mosquito Bay. Well we dont know, but I wish it had a diferent name too. We saw no mosquitos.
We loved it so much that we went back the second night and it was just as magical. It must be dark and no full moon.
Vieques has many beaches and is trully unspoiled. The town of Esperanza is popular for the tours to Mosquito Bay, so we noticed more people there, mostly young people spending the afternoon before going the iluminescent bay.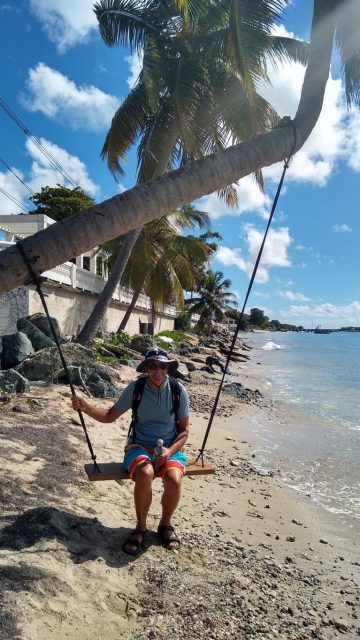 Old San Juan
With New Year around the corner we headed to San Juan , Capital and most populated in Puerto Rico. It was a 32 nautical mile sail from the island of Palominos were we spent the night.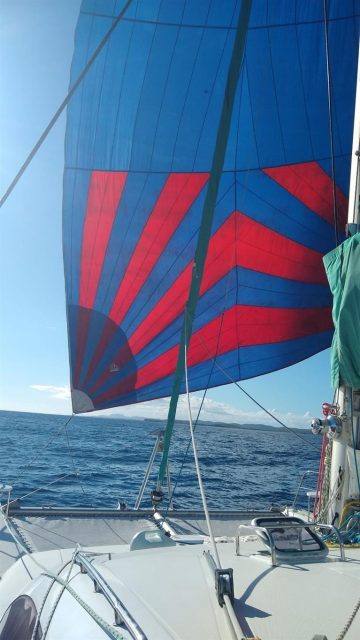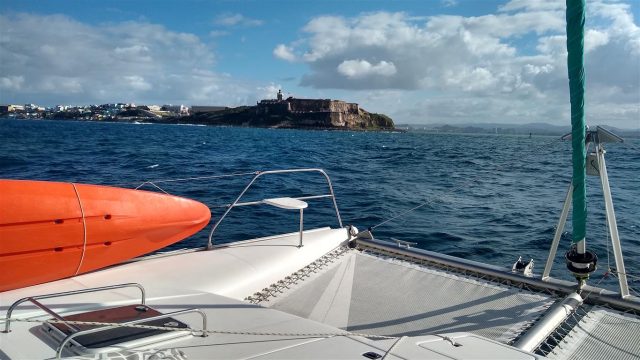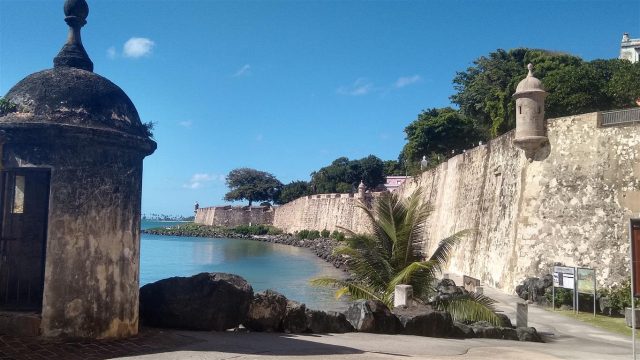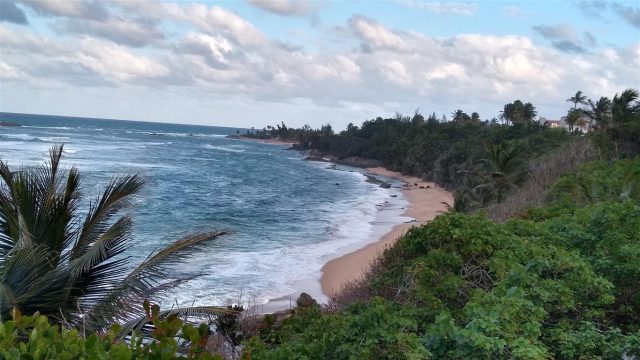 The old San Juan inside the Old San Juan is very charming with pastel colored homes, and cobbled stones streets and plazas surrounded by Restaurants, bars and shopping. Spanish colonial buildings and 16th-century landmarks including El Morro and La Fortaleza, massive fortresses with sweeping ocean views.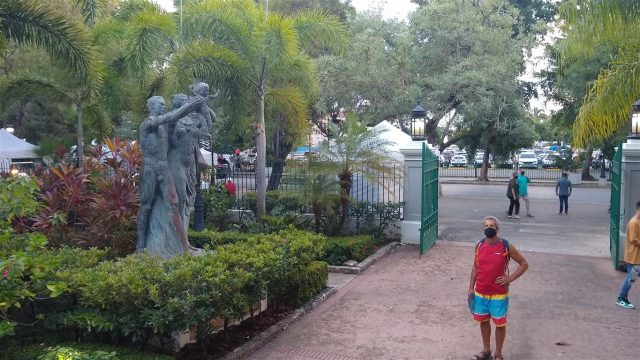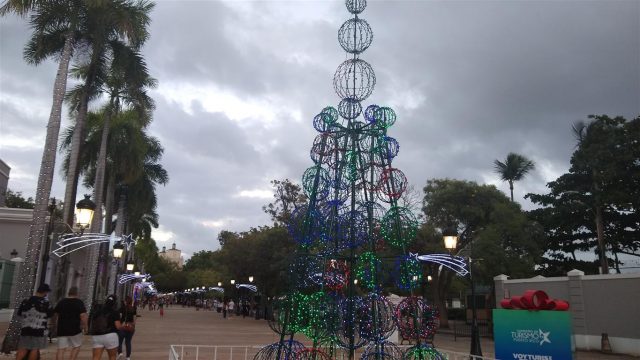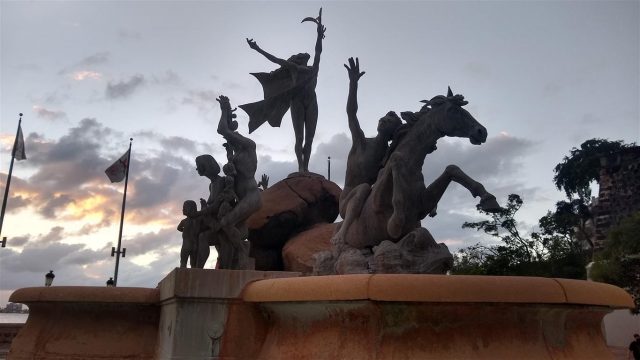 As we aproached the end of the Promenadewe came to this beatiful Statue right above the sea wall.
The old San Juan is situated inside the old fortress walls. It,s very charming with pastel colored homes, and cobbled stones streets and plazas surrounded by Restaurants, bars and shopping.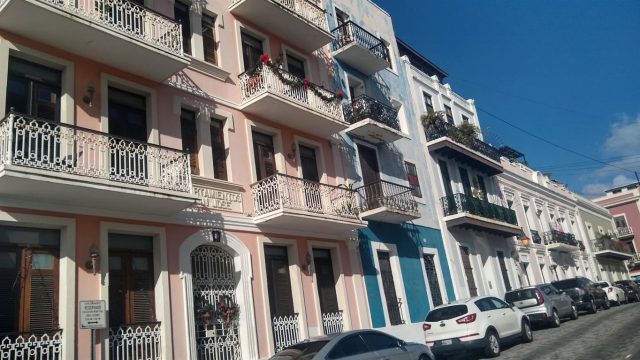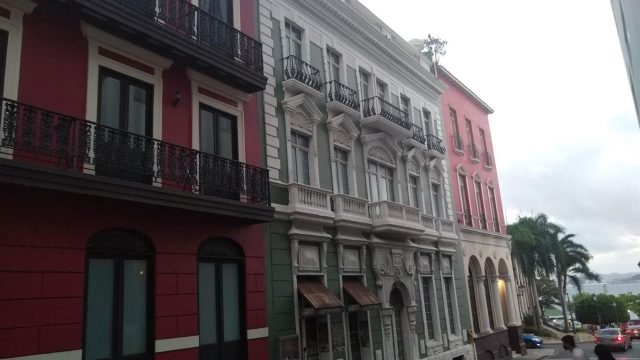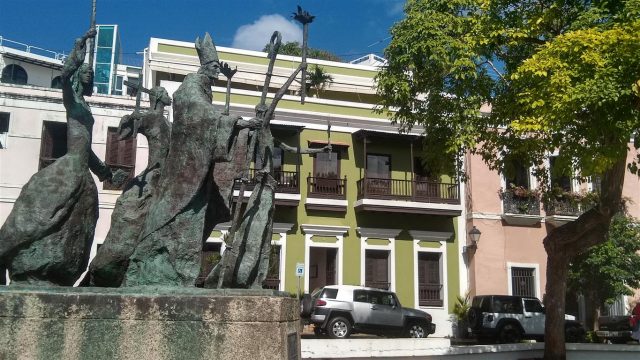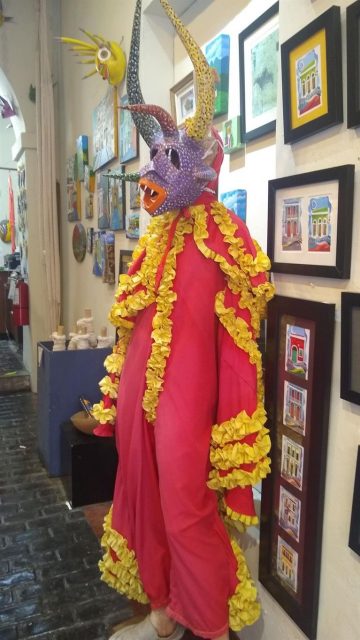 Purto Rican "The vejigante"
This Carnival tradition goes back to 12th century medieval Spain. The vejigante represented the evil Moors who were defeated by St. James. People dressed as demons (vejigantes) in a procession thrown to honor St james.
They start with a dry layer of paper, using the glue of flour and water only on the overlapping edges to secure them. This results in ease of removing it from the mold. Then layer after layer of paper. Adds the horns and teeth in stages. After each stage the mask must dry thoroughly in the sun. This method keeps the mask a bit lighter in weight. After the mask is complete and dry, it is painted.
Today, mask-makers will sometimes use plastic gallon milk jugs as their mold and papier-máche over them, but these are not form-fitting and can be uncomfortable, used more for display than wearing. For a better fit, artists will use foil to make a mold of the person's face, and then add the layers of paper to that.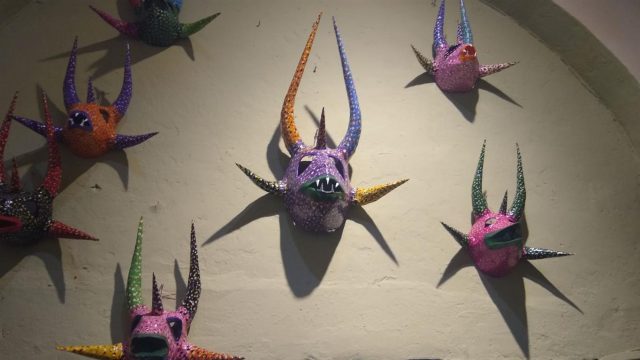 Monkey Island
Our anchorage in Cayo Santiago, also known as the monkey island. They are wild and may bite, so no walks here!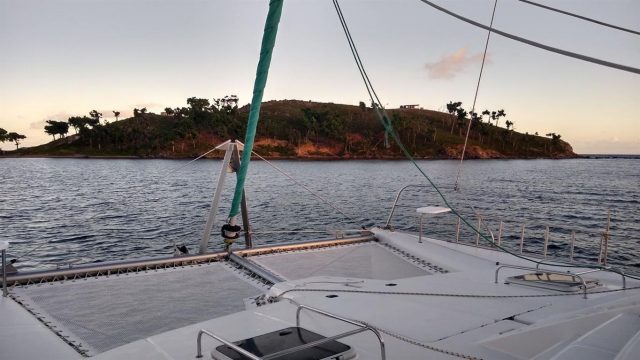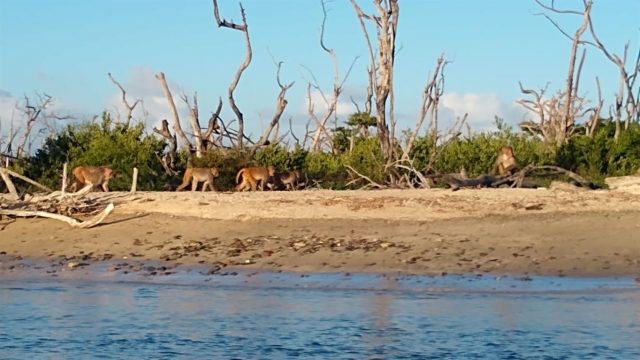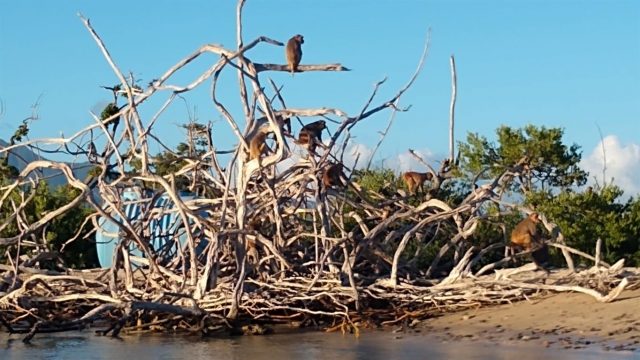 This remote small island is about a km away from land in the east coast of PR. It is home to a large troop of rhesus monkeys. It is the Caribbean Research Station and used by many scientists from all over the world. . The monkeys were brought in from India to New York in 1938 and then to Puerto Rico. Google says there are a 1000 monkeys but not clear if any died during Hurricane Maria in 2017. It didnt look like that many in this little island. Hurricane Maria in 2017 devastated most of the trees, the Lab, the feeding corrals and other structures around the island including the dock. We noticed they do have a new floating dock and the feeding corrals are up as well. Since the Hurricanes they are also studying their behaviour and how the hurricanes has affected their dynamics.
We kayaked around there and visited them for awhile far enough not to disturb them. Fascinating. Interesting behaviours, fighting and making up. The usual monkey business. The little ones were so cute and playfull.
In Puerto Patillas, we rented a car and drove throughn the mountains in narrow road and steep bends, to walks in the rainforest and water falls and a visit to the Lechoneras.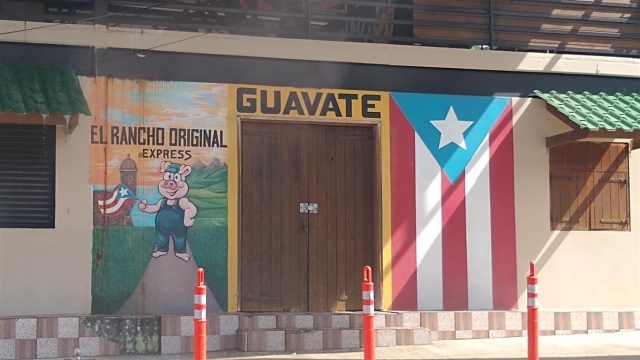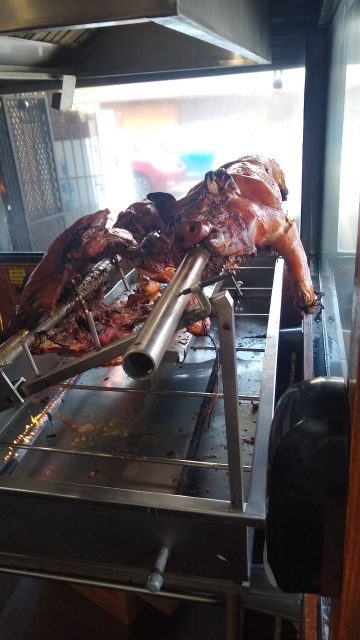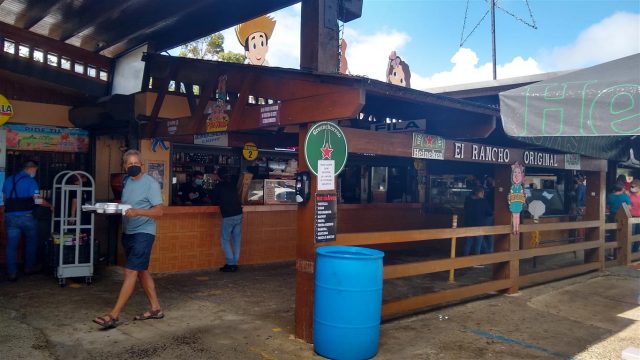 La Ruta del Lechón,the Porc Highway 184 is a roughly three-mile stretch located in a central area of Puerto Rico called Guavate. This winding road is lined with more than a dozen casual roadside restaurants, known as lechoneras, specializing in slow-roasted whole pig (lechón). Each restaurant uses a unique combination of spices to season the pig, which is then roasted over an open fire for 6-8 hours. If the roasted pig is not your thing, they also have chicken and ribs. The meal was very tasty. It is popular not just with the tourists, but also withthe locals. It's usually buzzing with music and dancing. We did not notice it so much, perhaps due to Covid. It was busy, but not too bad. The secret is to get there and order your food before 12pm. We did see the dance floors, but we did not stay for the evening, not sure about any dancing happening during Covid.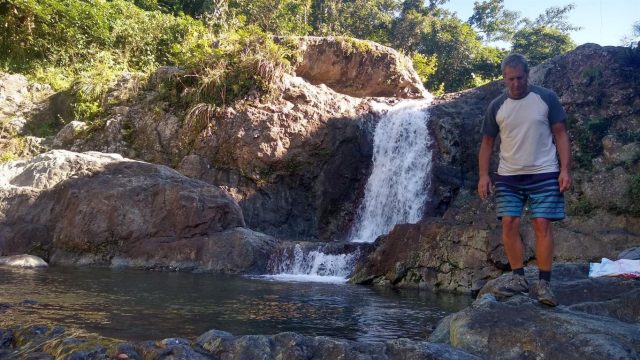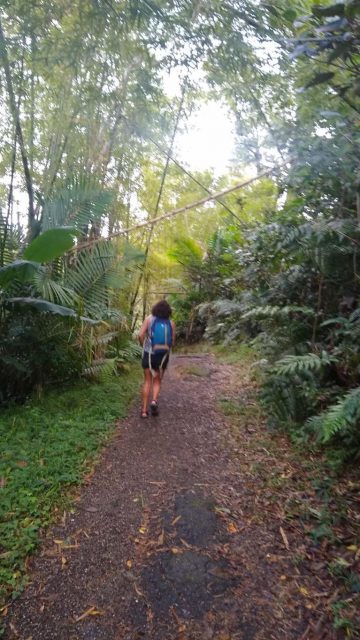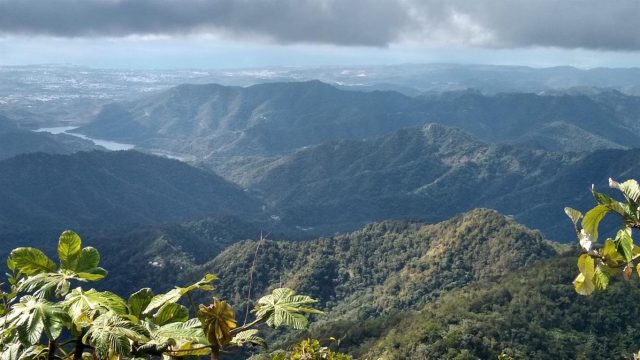 Found a few gems along the way. Cannot write or post photos of it all, but we really enjoyed PR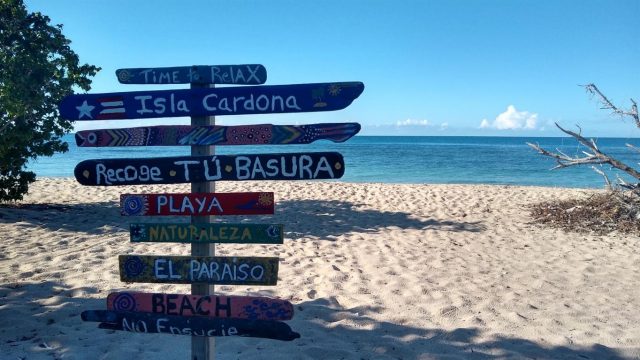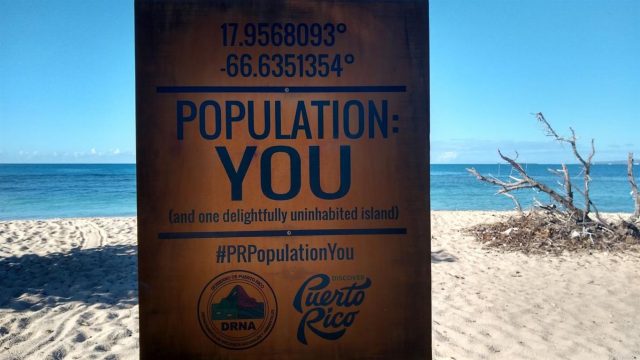 Puerto Rican love their bright colous, and their flag. Never been on a place where almost everyone is flying a flag in front of their house or its painted on the gate, fence, driveway, entyrance door and even the cement barriers on highways.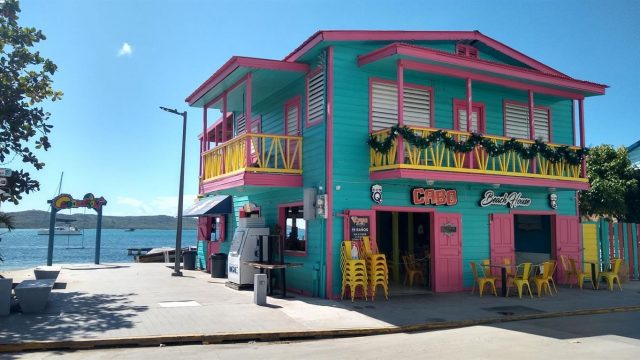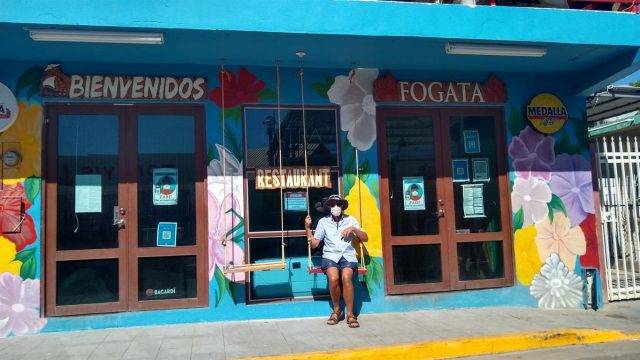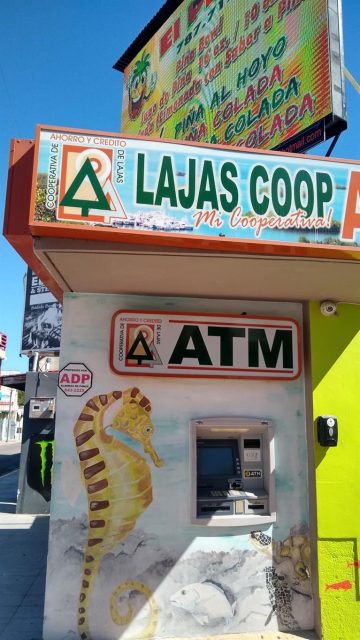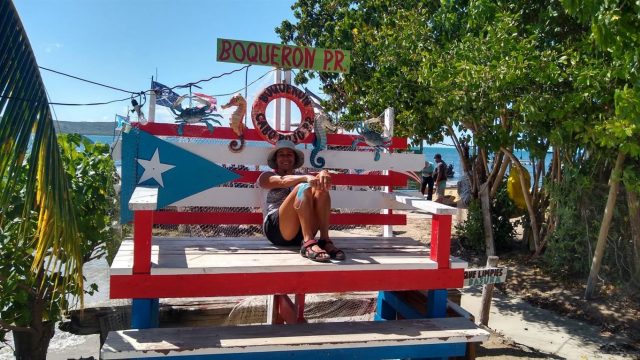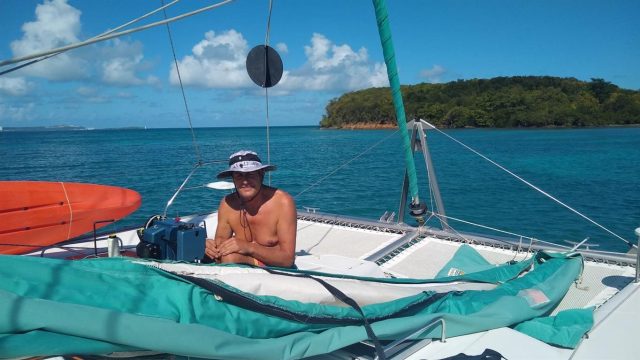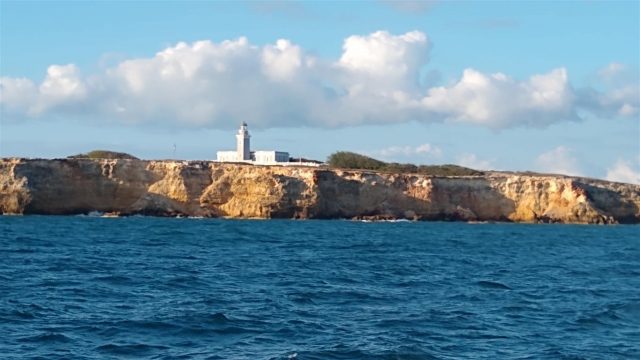 Cabo Rojo Lighhouse. This Historical lighthouse was built in 1882. It had 2 light keepers and an engineer living there with their families untill 1967. It was built by the Spanish Government to guide the Ships through the South entrance from the Caribbean sea through the treatcherous Mona Passage into the Atlantic. The cliffs surrounding the lighthouse drop down 200 feet. The other side overlooks beautiful beaches and salt water lagoons and marshes. We anchored just around the corner from here. The next morning we paddled ashore into a little beach where we left the kayak. Had to walk over some boulders to get into the trail. The views are magnificent. What a beautiful morning walk.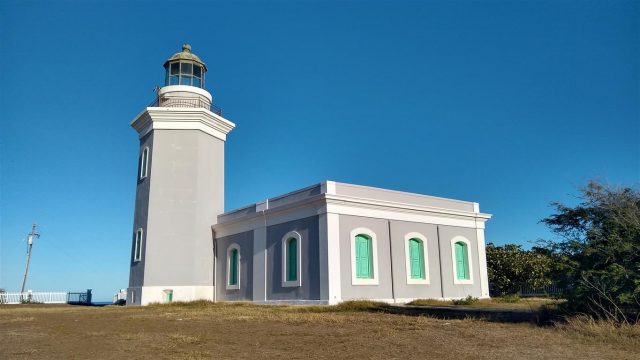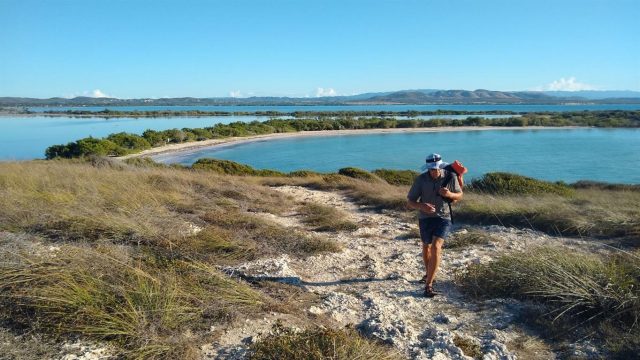 Feeling blessed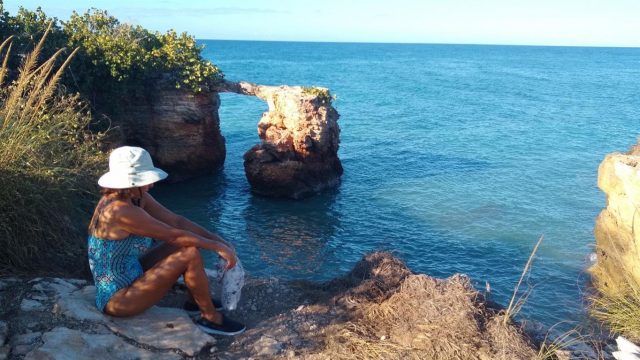 Caves, blow holes, cliffs and natural briges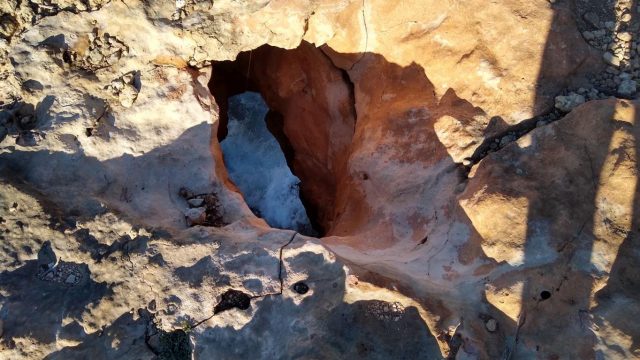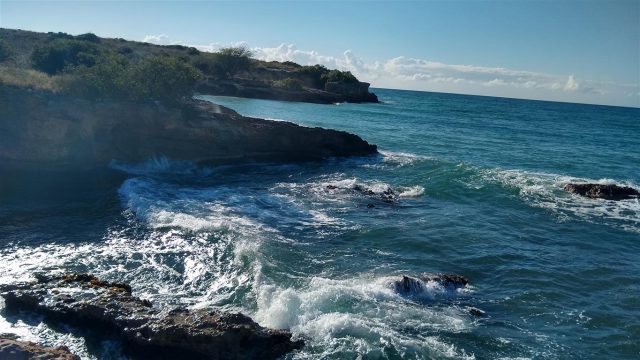 A few miles up the coast we spent a day visiting Buqueron. A nice charming colorfull small town, with a nice beach and restaurants along the waterfront.
Here in Bouqueron we called customs to do the check out. They said they need to do that we can just go. But the problem with it is, that when you get to the next country they want to see your checkout documents from the previous port, which Puerto Rico does not provide. After explaining to the PR immigration, they actaully just emailed us a stamped and signed document show us as having checked out. The authorities in Samana were quite happy with that.
And so were were off…
Current Location:
Marigot Bay, St Martin
Current Position: 18 3.88 N 063 5.7 W
Click to view map.
Distance sailed since last post:
349 nautical miles
.
View the map of our voyage track here
On our last post Nov 2020 we were looking forward to moving on to Puerto Rico or just straight to the Bahamas. It turns out after Christmas 2020 we were set up with PCR appointments prior for departure, when we got the call Mom (Ceu's Mom) passed away in Portugal. Course was changed rapidly and Ceu is now going to Portugal instead.
With Covid times making all plans unpredictable, one not knowing if there would be flights coming back to Grenada from Portugal, we decided it was best to come back home to Canada instead.
We spent the Winter snowshoeing and skiing and enjoying time with family and friends.
We love where we live and Spring has Sprung.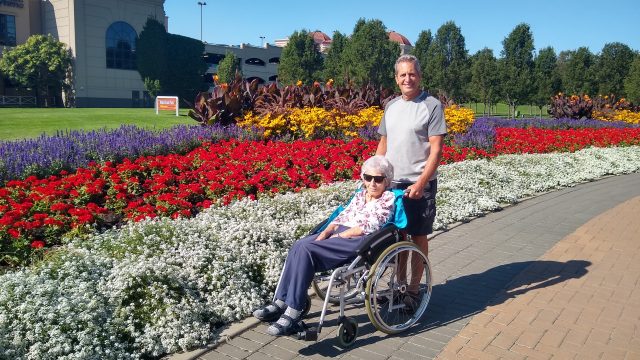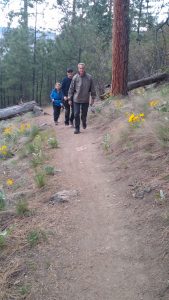 On Easter break we picked up the grandkids in Alberta did some camping along the way.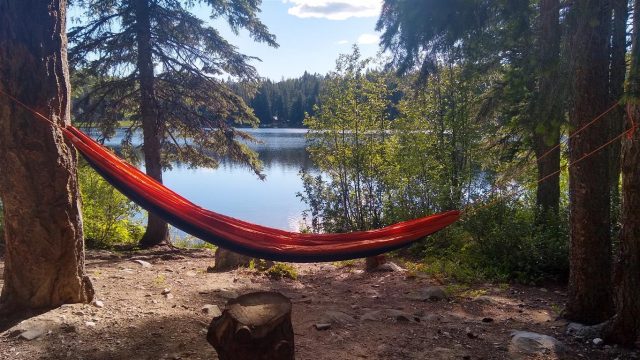 In May Noel joined the Sailing Club and brought in his little Trimaram he has been building the last couple of years.
Good times and good laughter as we show up with this black and white boat at the club, they called it Sea Cow…lol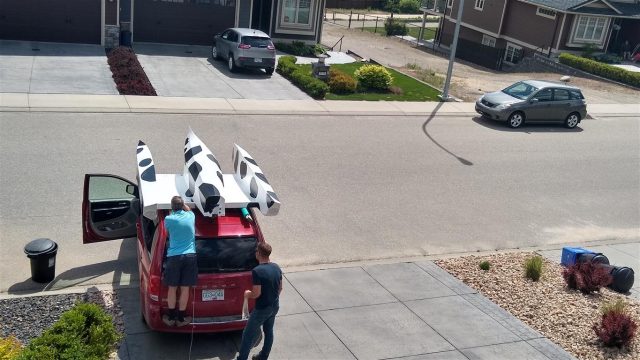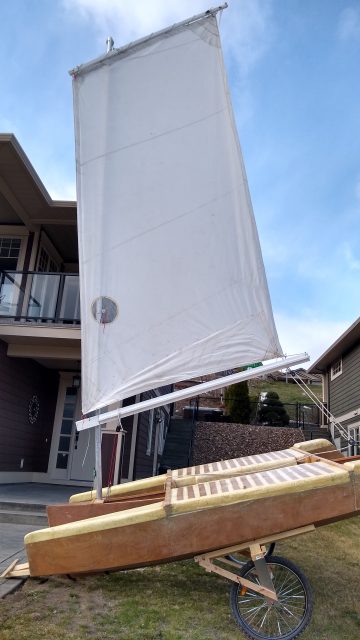 Ceu loves gardening, so she enjoyed growing nice vegetables all summer long. She also enjoyed landscaping the front yard. We removed all the grass and put decorative rock with some shrubs. Much less maintenance and water.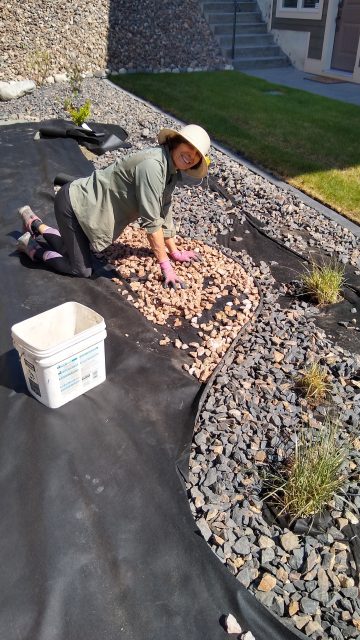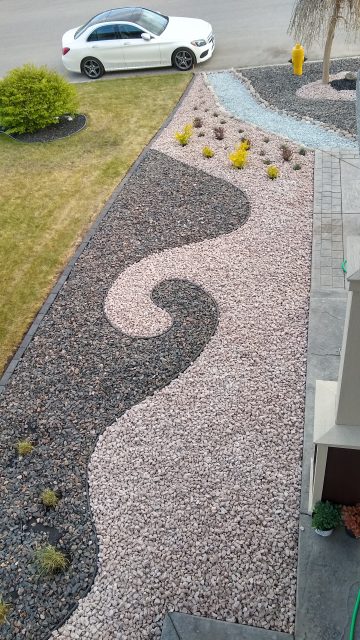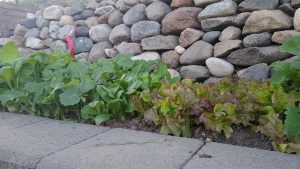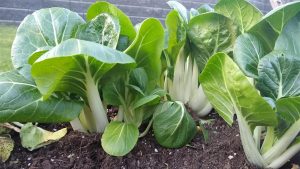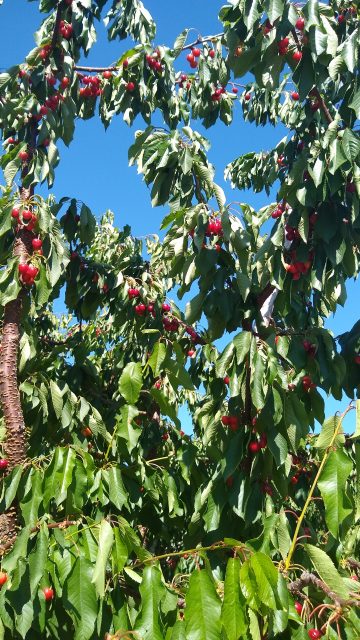 Again we enjoyed our Summer in the Okanagan and great times were had with the family and friends. Lots of walks and some hikes and lots of swimming in the Lakes. Life Part 2 was being looked after in Grenada for Hurricane Season.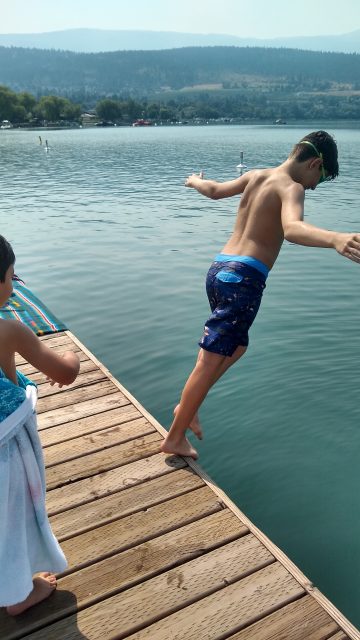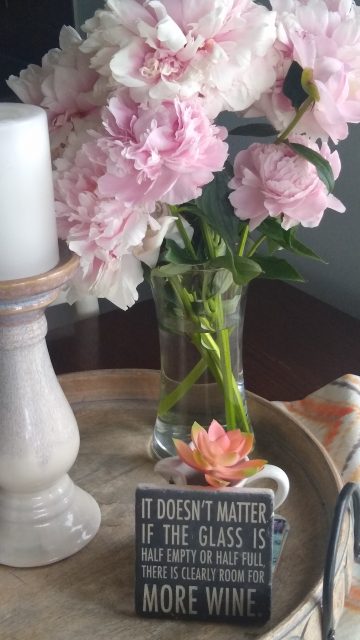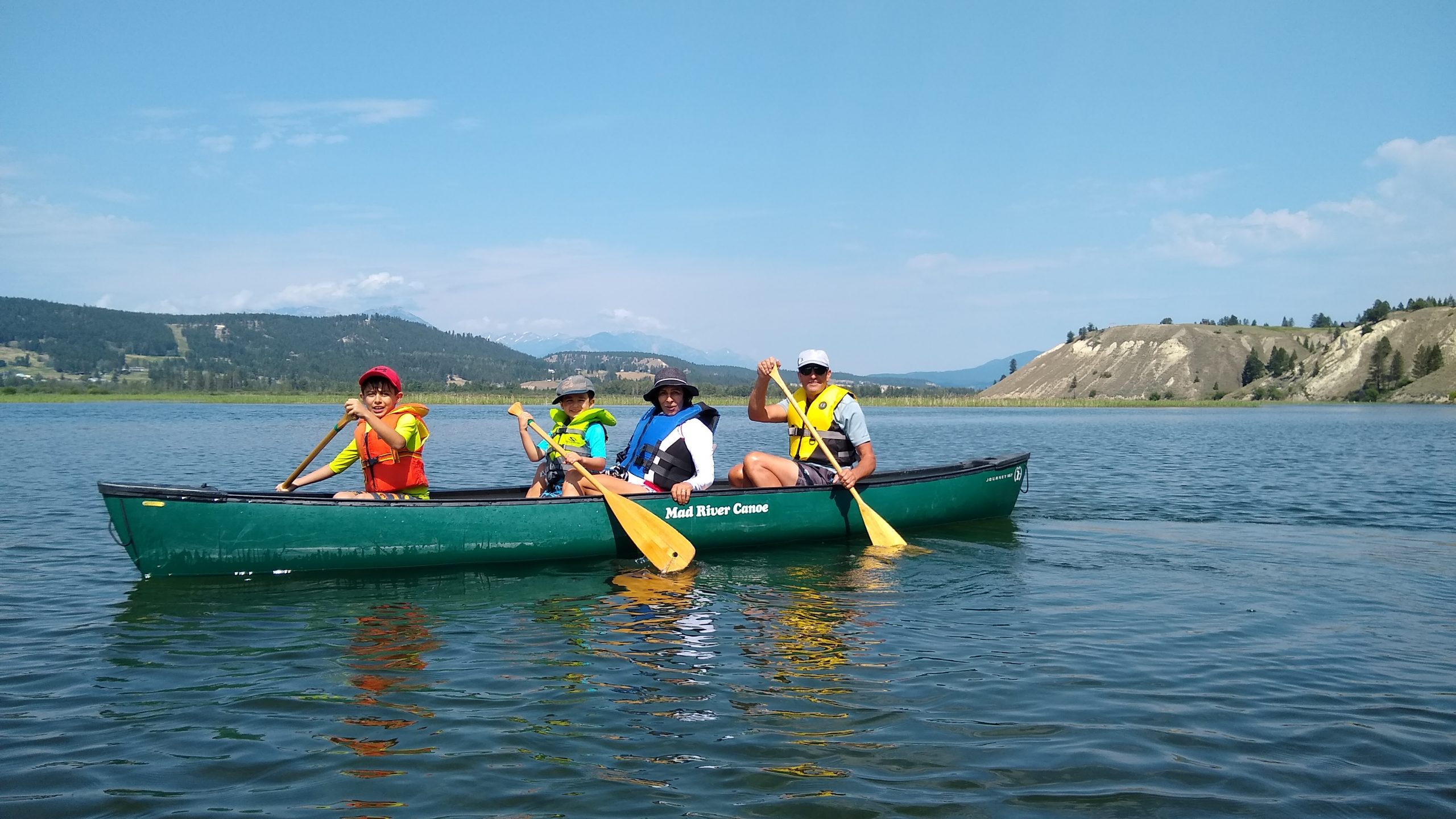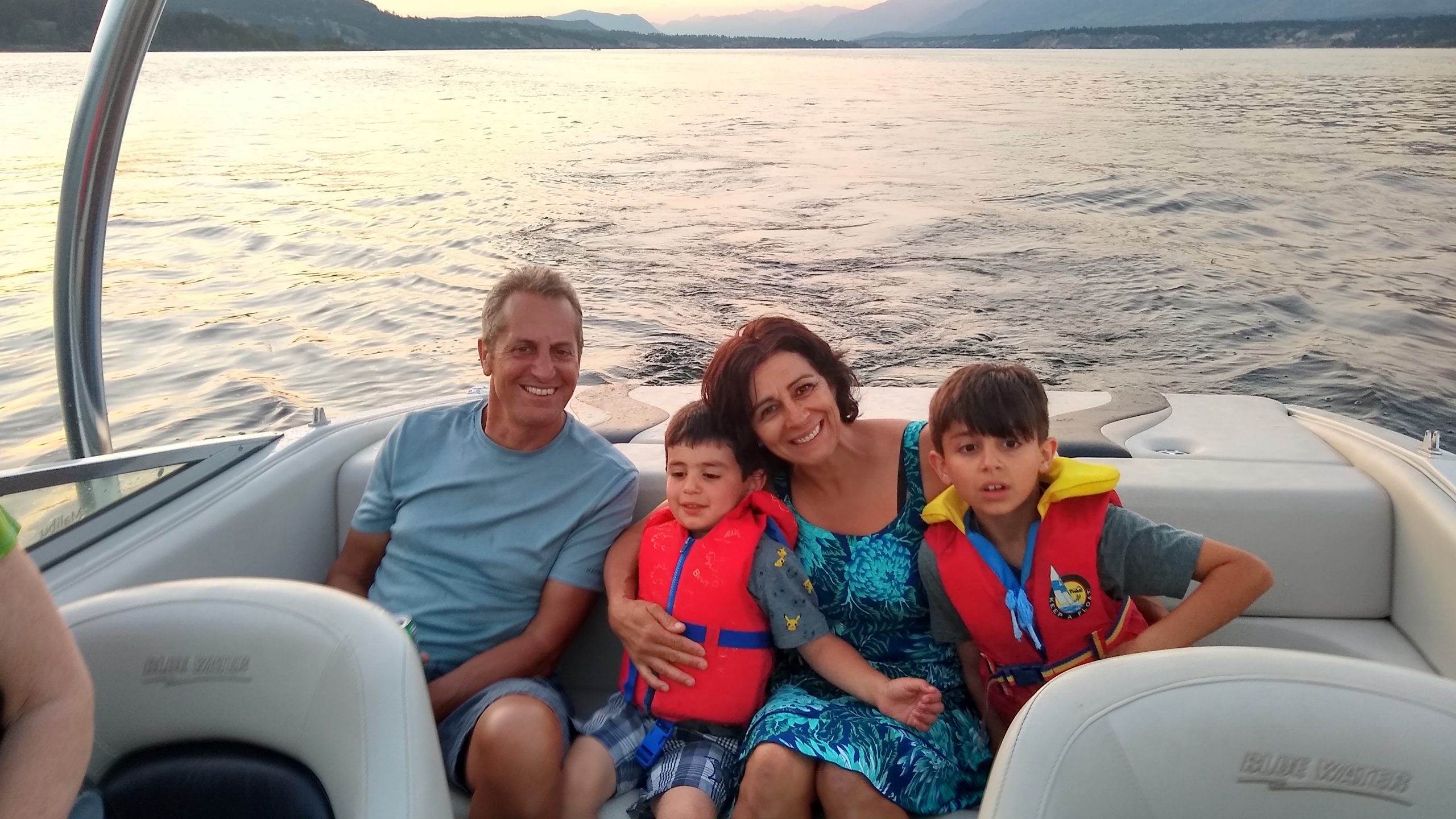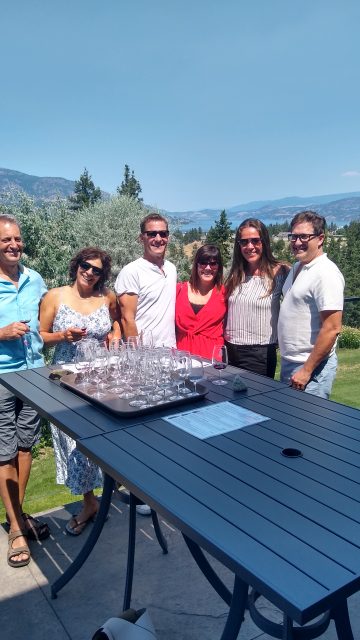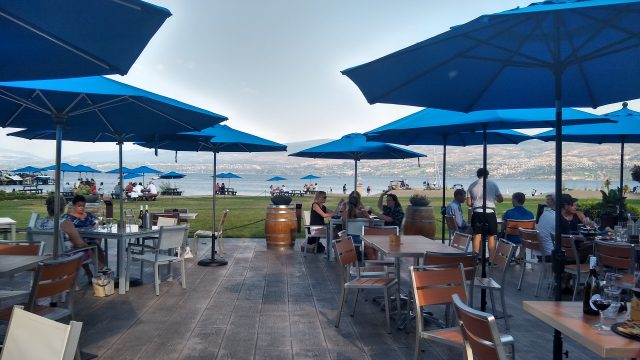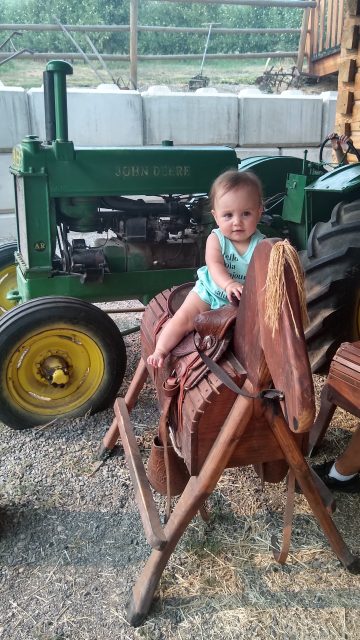 September we went to Portugal and spend time with family and celebrate Ceu's brother 60th Birthday.
Our plans changed again when we were to go to England and visit our other 2 kids. We could not go. England was not accepting the vaccines from Canada. Even though they are the same vaccines and we both have 2 vaccines the same. Go figure!
We stayed in Portugal a bit longer, rented a car and went up North of Portugal to beautiful city of Porto. From there we walked de Portugues Camino de Santiago de Compostela for 6 days. It was our first multi day walking trip and we found it very pleasant and not tiring, average 20 km a day.
Porto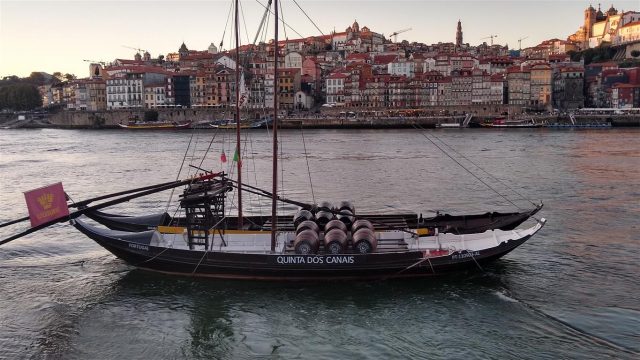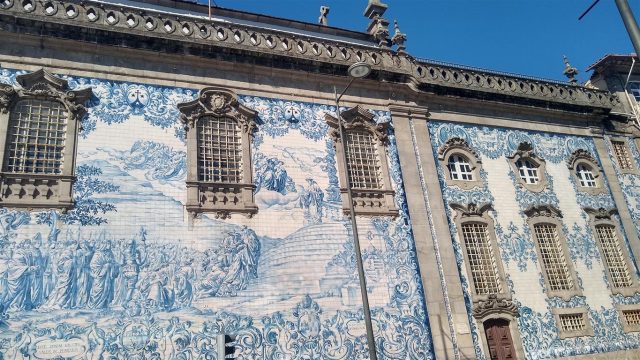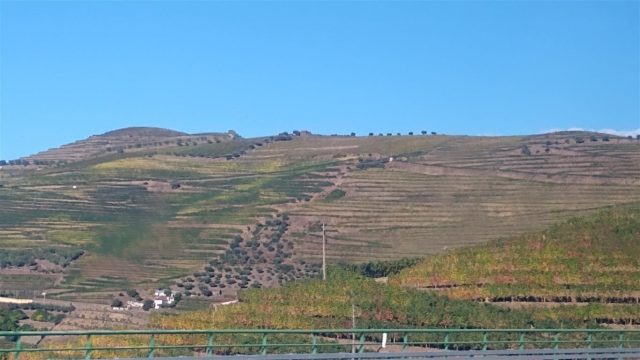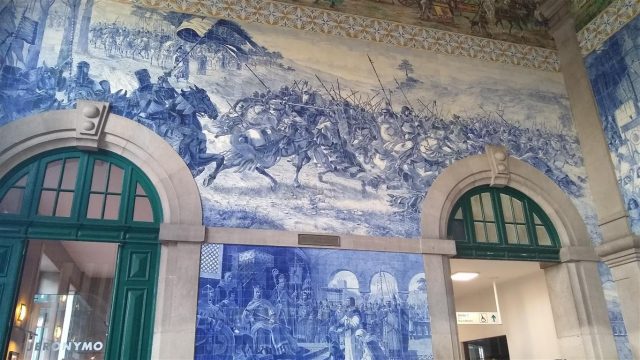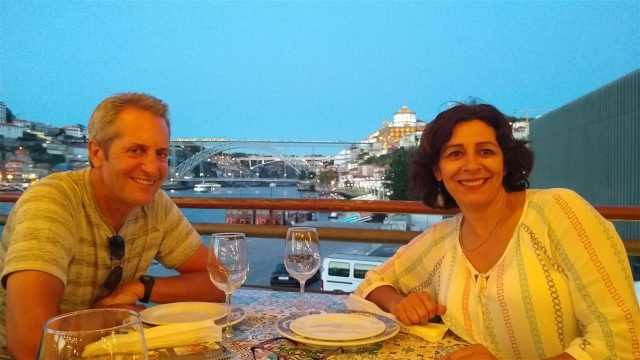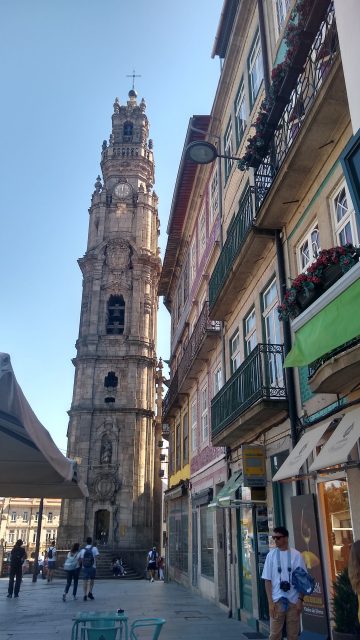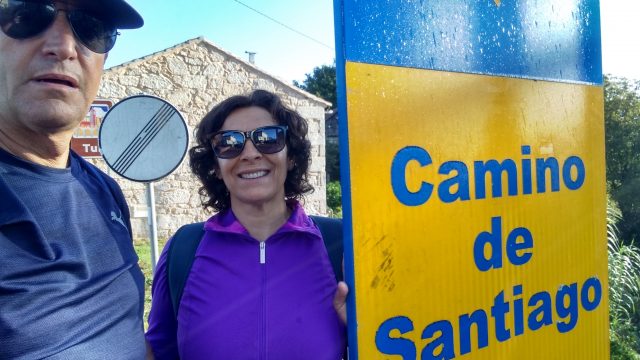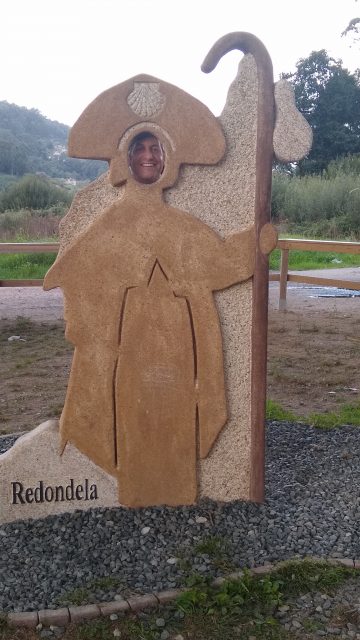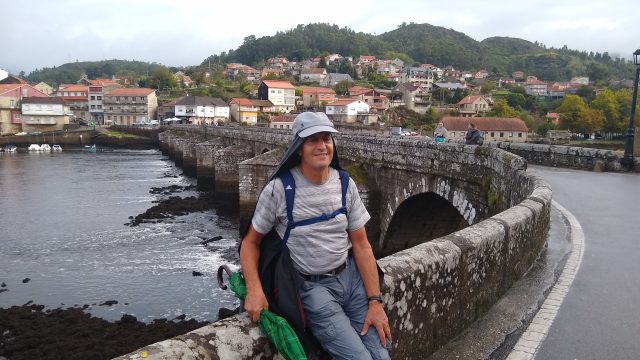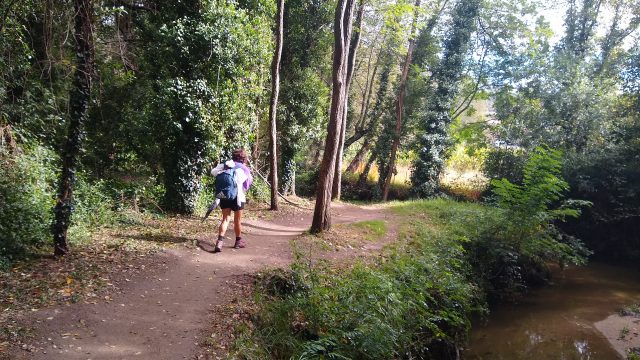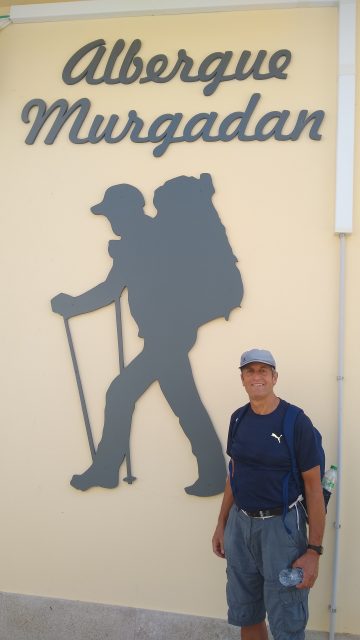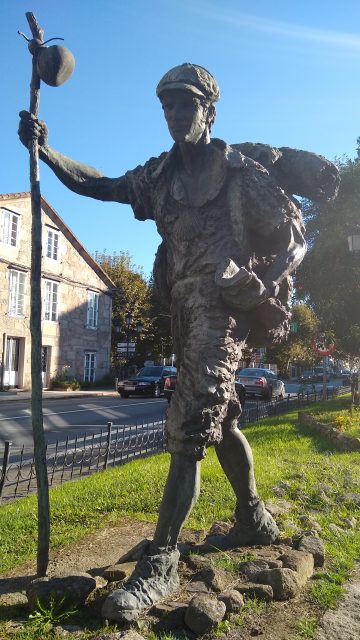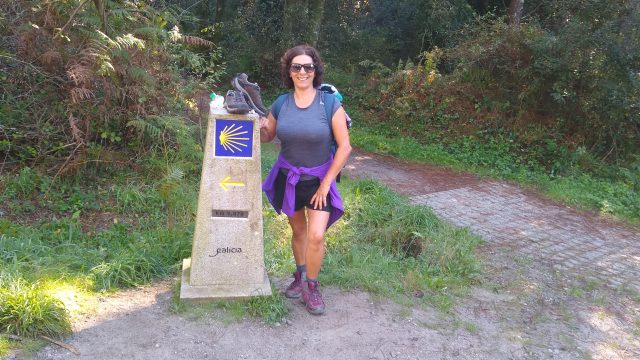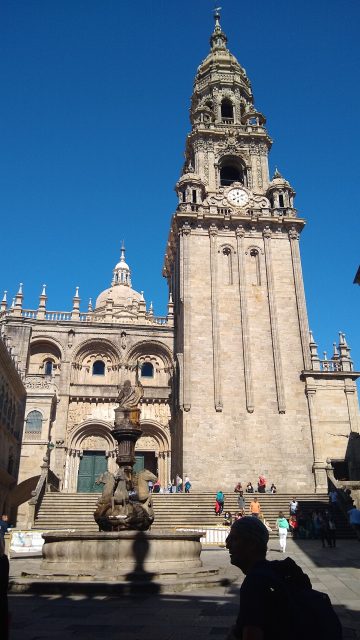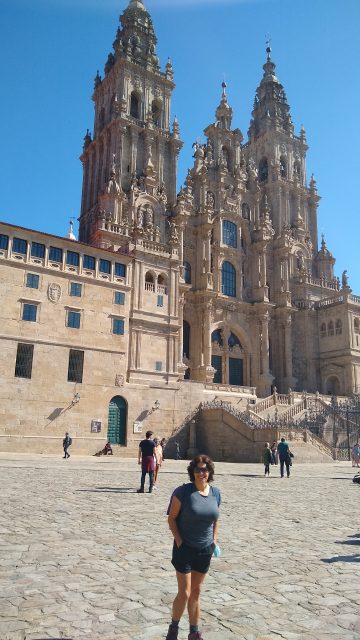 Cathedral of santiago. The end of of the famous Pilgimage routes of Santiago de Compostela. It is said to be the burial of the apostle St James, and his remains lie in this Cathedral.
The city is the Capital of Northwest Spain, Galicia, and its a UNESCO world heritage site. The Cathedral has spectacular facades and the interior, from the adorned gold leaf to sculptures and architecture… amazing work. I took many pictures but they dont do any justice.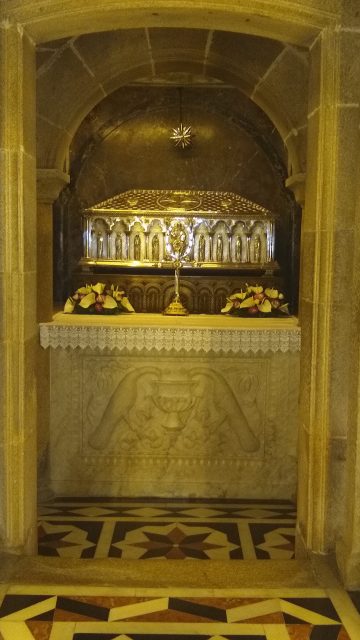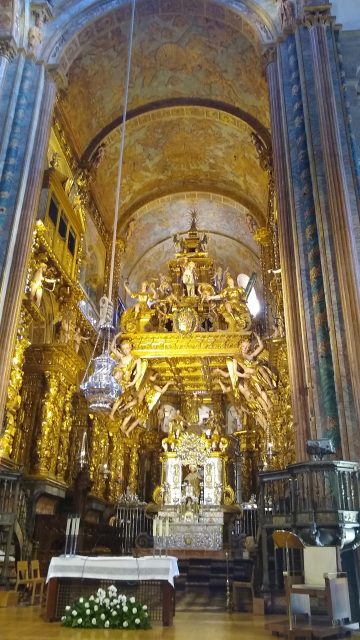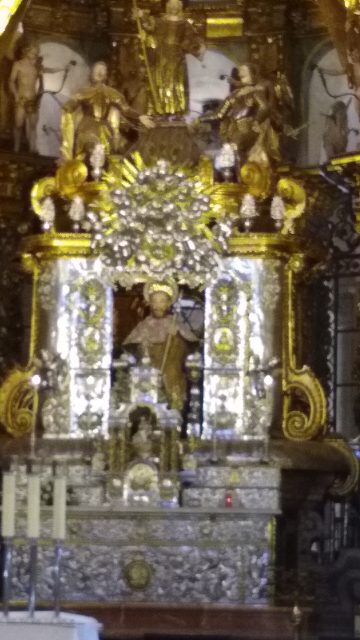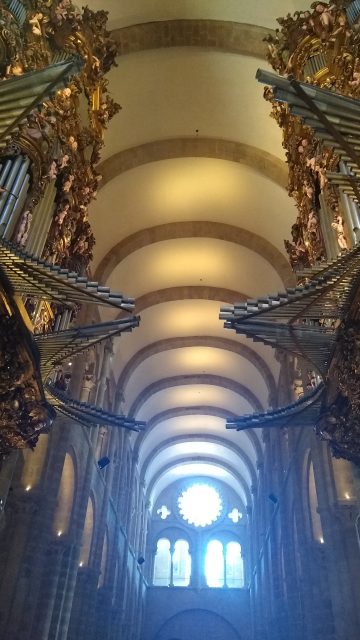 A side trip to our Maritime Aveiro. This city is little Venice of Portugal. Its perched on the shores of a coastal lagoon historicaly famous for the fishing, salt and seaweed. The town boast with buildings and streets decorated azulejo tiles. You can cruise the city's canal network on these brightly coloured traditional boats called Moliceiros. We had so much fun.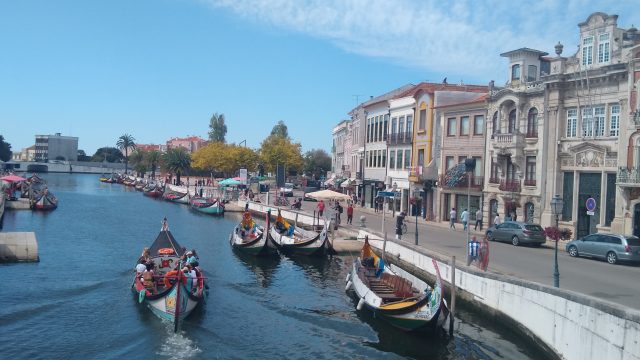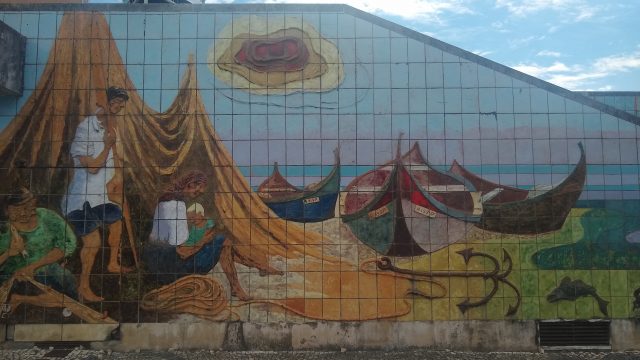 Near Aveiro we visited Praia da costa Nova, a very picturesque sea-side town with great atmosphere and good food. It was late in the season, beaches are almost empty and so pleasant to visit.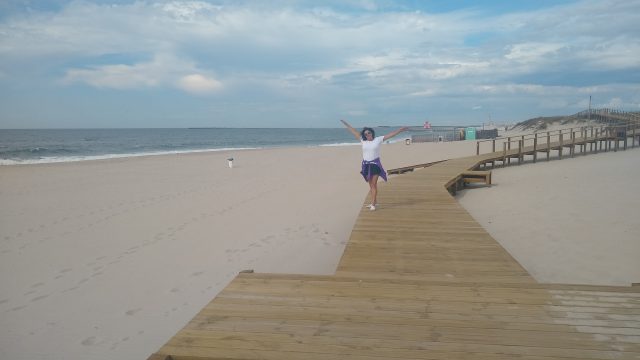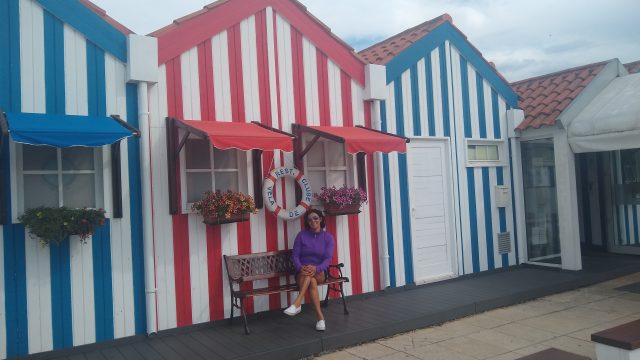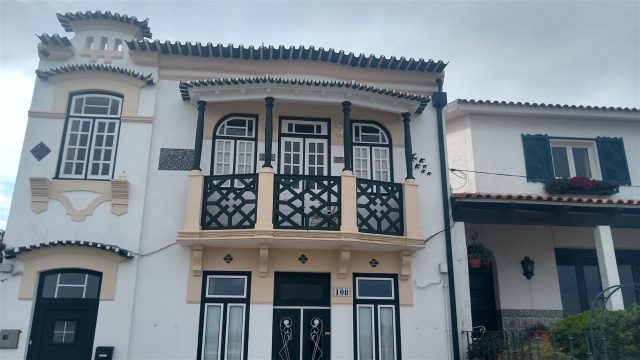 It is now time to start booking flights to come back to Grenada and join Life Part 2. Well, the only flights available were through the US and the US was not allowing travelers in coming from Europe. So we came back home to Canada for a couple of weeks in October. We could only book our flights for Nov 1st when Air Canada started to fly directly Toronto – Grenada
And that takes us to being away from the boat for 10 months.
The flight to Grenada was fine. Only 4 days of quarantine on a Hotel while waiting for test results.
And now its time to clean up the boat. Some mildew, not bad. But the bottom of the boat…wow, we had a whole ecosystem on it. Beautiful colored sponges, crabs, even banded coral shrimp. we have only seen these on our boat. It took us 2 mornings of scraping, it came off easily in big chunks floating away, and the creatures are now free to find new homes!
Like all boats, a bit of maintenance needed, but engines started at the first turn, batteries fully charged, water pump working, toilets are working . We have propane and stove works too. Yey, we can go places…after a big grocery shop!!
Oops the dinghy! Our taxi, its taking in water. We moved to Pricly Bay anchorage in Grenada near where Budget Marine is so Noel could get what he needed to repair the dinghy. Did another couple of sails around the island to make sure all was working and to try and catch some fish. first catch of the season was a barracuda but let it go again. It is not safe to eat due to poisoning ciguatera.
Although Grenada is a beautiful Island we have spent lots of time there and were excited making plans to go to Puerto Rico. But first we needed to make a stop in St Maarten and get the bottom of the boat painted.
Left Grenada on Nov 18 to sister island of Cariacou, where we staged ourselves to leave the next day to St Maarten. We were happy to hear that you just need to be vaccinated to check in to French St Maarten. No need for any testing prior. So we checked out in Cariacou and prepared some home cooked meals for the trip.
The next morning, Friday 19 we got up at 4:30 am to watch the amazing Eclipse of the Moon. It was very special to be able to watch it. An hour later, about 5:30 we set sail for St Maarten. We stared off with 17-22 kts of wind, died down a bit by lunch time. We had our fishing line out and something big came and broke it never saw anything. Just another lure gone!! During the night the wind was pretty consistent at 14-17 kts and our speed was about 7 kts. Morning we caught another barracuda, which we sent back again. But the following the day we were so excited to catch not one, but TWO Spanish mackerel. Later just before St Maarten near Philipsburg we caught a beautiful and tasty Mahi Mahi. Lots of fish to prepare upon arrival, and a dirty bloody stern to clean up. We had a great voyage with with brightest full moon and small waves. Beautiful sunsets and sunrises.
About 360 nautical miles and 2.5 days we checked in to St Marten.
St Maarten
He hauled out at Tobys Marina with everything running smoothly. Besides the bottom painting we did a couple of other jobs that took us working from 7 am and into the dark so we could do get out of the boat yeard as soon as we could. Its never a fun place to be, although this one is actually pretty good and a great breeze flowing through, no mosquitoes and not too hot.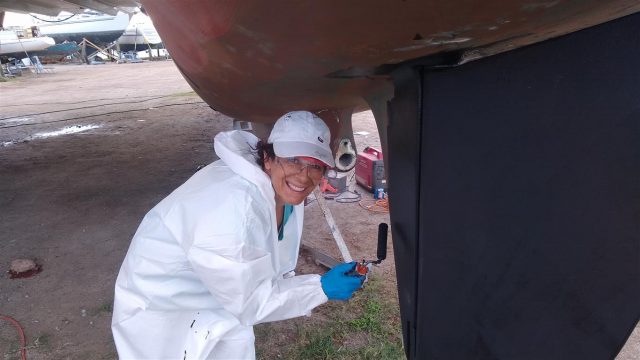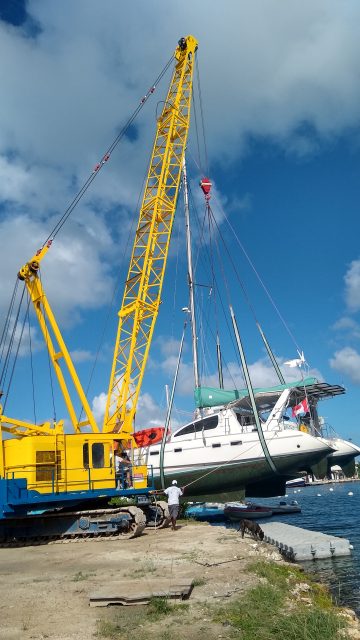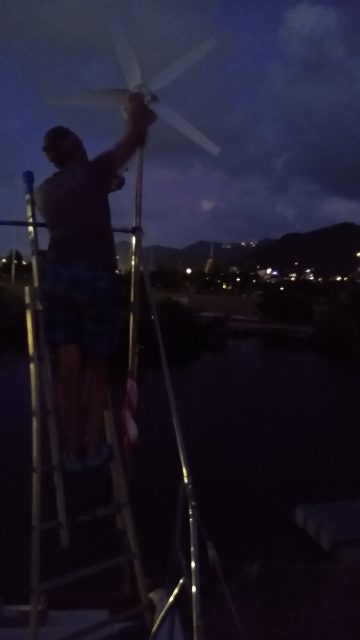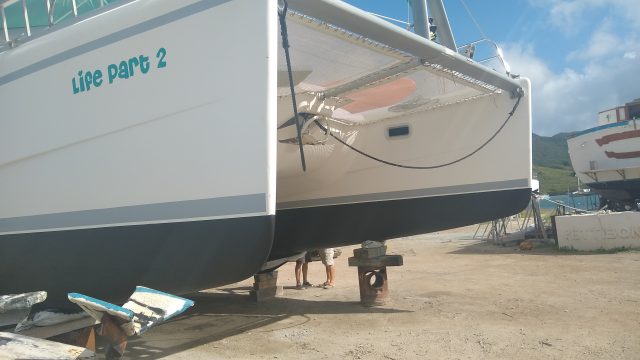 Once we got out with a clean bottom we got into tourist mode and visited some areas of the island that we hadn't visited before.
We visited the local Loterie farm where Noel and I adventured into Ziplining and obtacle courses.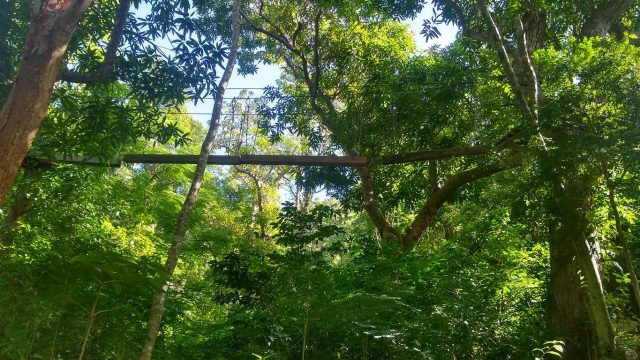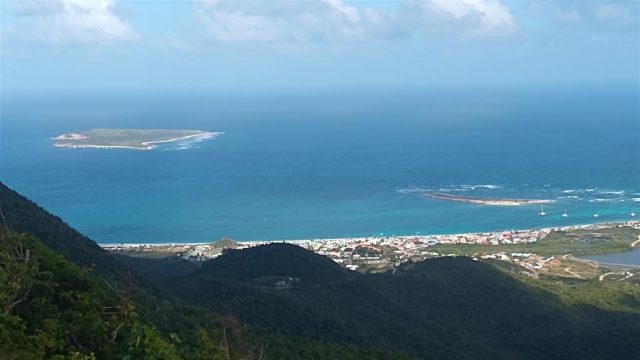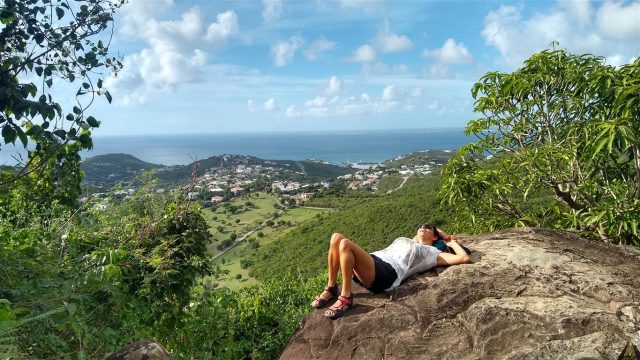 And if that wasnt enough, we did a steep hike to the top of the mountain. it took us awhile to burn off all that adrenaline. We treated ouselves to a nice drink and awsome meal at the Restaurant on the Farm. We headed to the main road and started walking to meet the local bus. We never saw one, so just kept walking home to our anchorage in Marigot Bay. It was only 3 Kms. Great day out.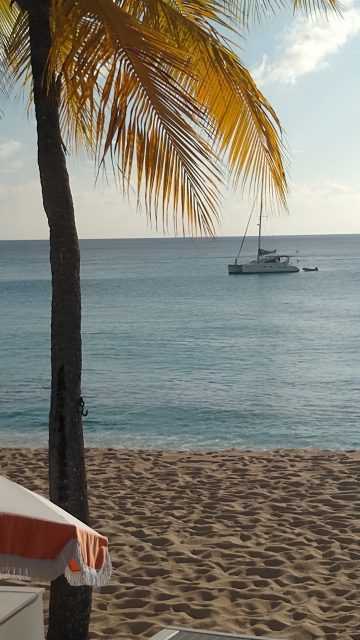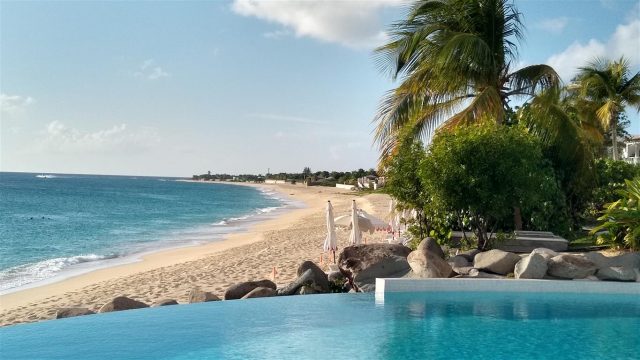 Anchored in Beautiful Cupecoy Beach. After a nice swim and a walk along the beach we decided to go into the nice fancy bar for a drink. We were welcomed by a friendly young man who was full of questions about Canada and plans to move there. When we looked at the drinks menu we realized you sure pay extra for being in a very nice location!
Cokctails were $17 USD! Oh well we still enjoyed a nice drink and a nice chat with the waiter.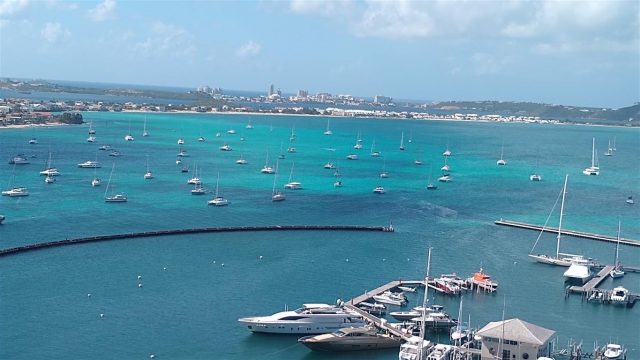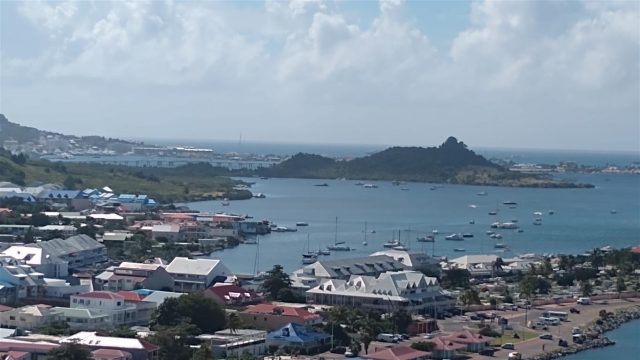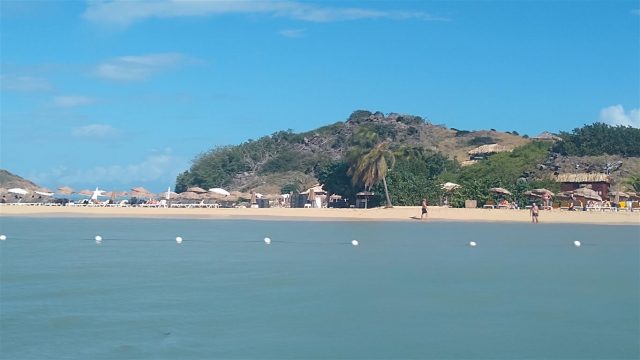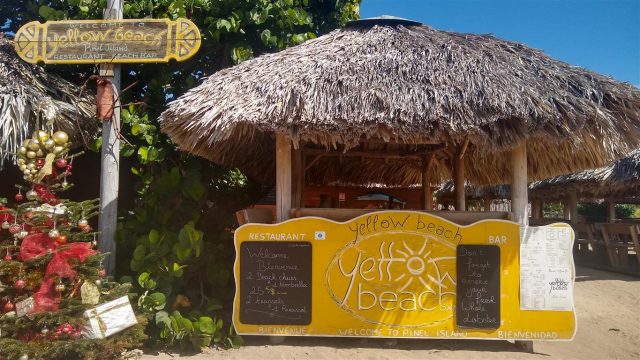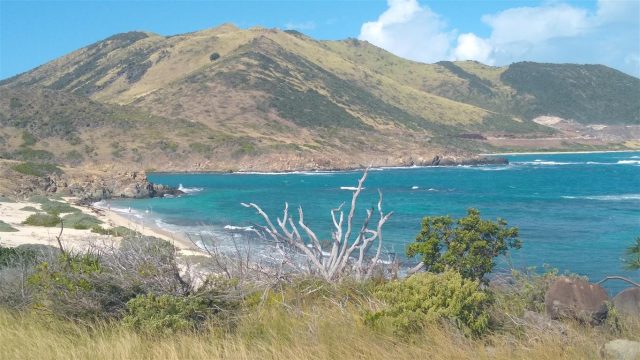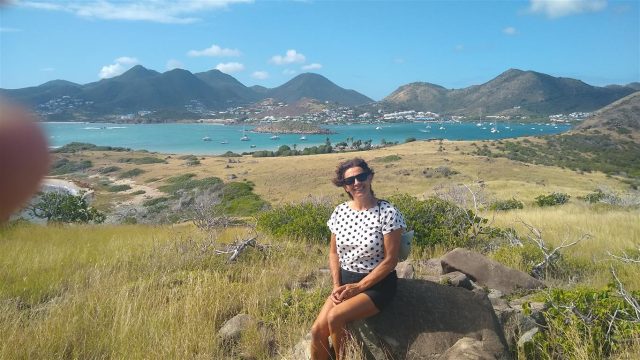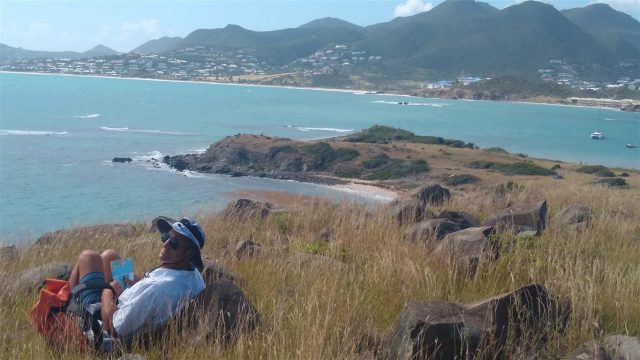 The beautiful island of Pinhel, French side of St Martin
We had fun fun fun in this beautiful Island. Lots of nice beaches and lots of nice places inland as well. But it is time to leave on the next adventure.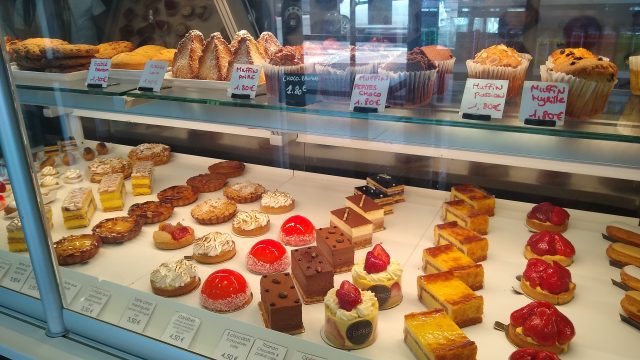 Oh, and did I mention the French pastries? We enjoyed downtown Marigot one more time for a nice Baguette and Pain au chocolat et almondes and we are off to Puerto Rico.
Stay tuned for Christmas and New Year 2022 in Puerto Rico
Current Location:
Carriacou
Current Position: 12 27.35 N 061 29.54 W
Click to view map.
Distance sailed since last post:
415 nautical miles
.
View the map of our voyage track here
This COVID thing makes planning very difficult. And since we need a new PCR test each time we move, we are thinking the best strategy for the coming winter is to do one long sail to the Bahamas, and then just stay there.
No fixed plans yet, but we are thinking along those lines and may well depart on the 900 n. mile voyage in the near future.
When we do, this blog will be updated by satellite, complete with our current position.
But first we will have to sail back south to Grenada to get our tests done, then we apply for the health visa to enter Bahamas, and THEN we depart. So it won't happen tomorrow.
Will keep you informed.