Current Location:
Carriacou
Current Position: 12 27.35 N 061 29.54 W
Click to view map.
Distance sailed since last post:
415 nautical miles
.
View the map of our voyage track here
This COVID thing makes planning very difficult. And since we need a new PCR test each time we move, we are thinking the best strategy for the coming winter is to do one long sail to the Bahamas, and then just stay there.
No fixed plans yet, but we are thinking along those lines and may well depart on the 900 n. mile voyage in the near future.
When we do, this blog will be updated by satellite, complete with our current position.
But first we will have to sail back south to Grenada to get our tests done, then we apply for the health visa to enter Bahamas, and THEN we depart. So it won't happen tomorrow.
Will keep you informed.
After being in Canada since March, we were anxious to come and check out Life Part.
Air Canada cancelled all of their few flights they had available to Grenada during September, and no other airlines were coming in either.
Mid-September we booked for Oct 4th / 2020. Many visits to the Grenada Government site online and phone calls. We needed to be up to date with their travel regulations.
We filled out some forms online and we had to be tested for Covid within 7 days of departure. We tested negative and departed with a copy of the results with us. Phew. That was stressful.
By now Canada, had changed from a low-risk country to medium risk. Canadian number of cases are going up, and especially Ontario was not doing well. So with this, came a new rule in Grenada for medium risk countries like us. On Oct 1, anyone arriving must quarantine a week, and be tested again. Even the residents coming home.
The planes were about 80% full. On both flights, we had an empty seat next to us. There was no chaos, and the airports are so much quieter. A more relaxed atmosphere than prior to Covid. Everyone is wearing masks, and practising distancing. We get into the plane and we are all one next to the other, go figure. Many things don't seem to make sense, but everyone is getting used to the "new normal". You get into the plane and they supply you with a goodie bag. A mask, hand sanitizer, wipes, a bottle of water and pretzels.
One good change is that they call in passengers in small numbers with zones from 1 to 8 or 9. It's nice that not everyone is lined up to get in, all in zone 3 and 4. Prior to this, everyone was lined up in a hurry as if you lose might your seat, or the plane might leave without you. lol
The trip went smoothly and the arrival in Grenada was fine too.
Filled a bit more paperwork, presented our test results and we were free to go into an approved taxi, and into an approved hotel or apartment for a one week quarantine. They had given us a list for us to book prior to departure. We chose a new little 1bdr apartment just outside the University Campus.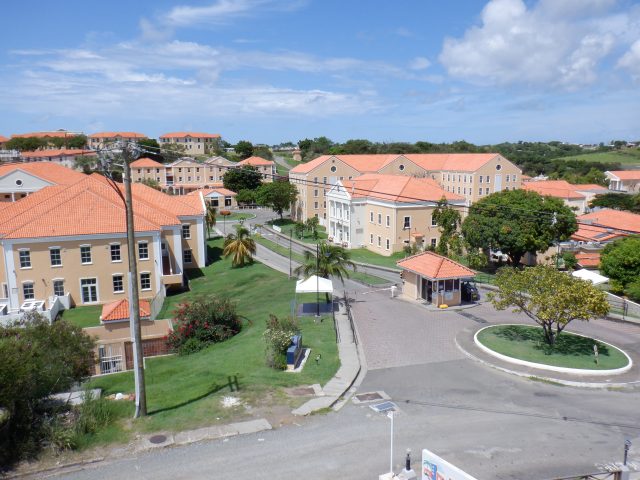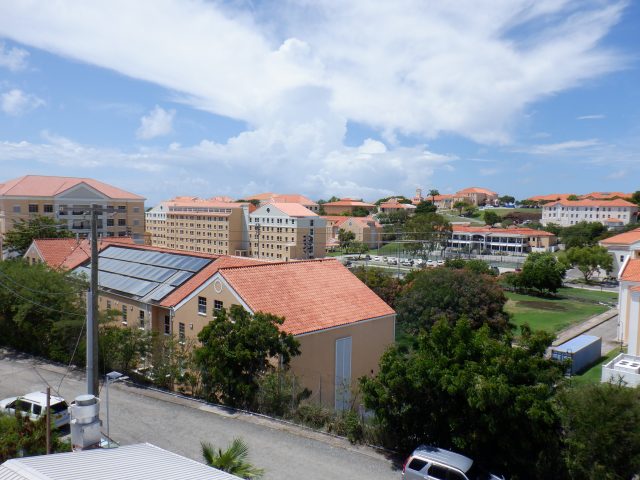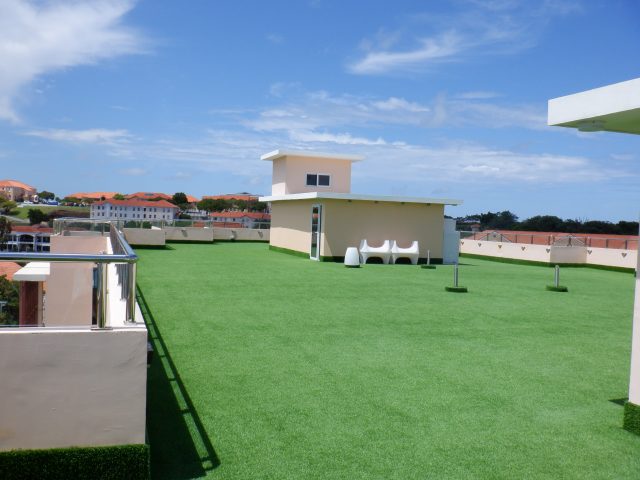 The rooftop patio has a nice lounge, cafe/bar. It is all empty and shut down, outdoor furniture packed away, but one can just imagine how beautiful it must be for students renting out here or guests to mingle. The University is open but not with many students attending. They are keeping all students inside the campus, we were told they are not allowed to leave. Although University is open, many students chose not to travel here or didn't like to stay in the campus at all times.
Beautiful views all around and out to sea.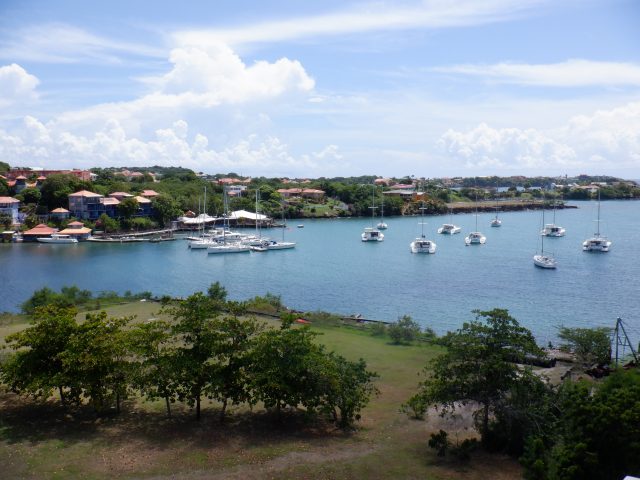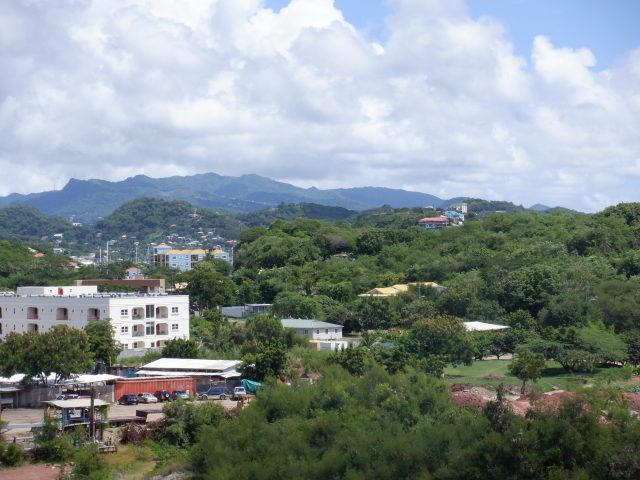 Update: Nurse came into the building do our Covid test
We now wait for the negative test results and look forward to getting to our boat.
Noel is busy catching up with some work online, and I have kept busy updating the blog, organizing photos, and preparing meals. We have had a couple of meals delivered from the Restaurant on the premises, but I ordered groceries and have been cooking.
We have the wonderful, huge rooftop we can go to any time. For us is good having it empty. There are only a few guests staying here and probably all from our flight. We can jog around if we want to, I like to go there in the mornings with my coffee and a bottle of water. Admire the views, do some yoga stretches and do lots of stairs instead of the elevator.
Patience…Life is good. Let's be thankful
We left the boat in good hands in St Maarten, on a mooring ball in Simpsons Lagoon, French side.
The trip to Canada Through Miami was fine. We arrived at empty airports with employees cleaning everything and every chair. The TV' was all about the Coronavirus. The world had come to STOP. Everything shut down and only a few passengers on each flight, returning home. Was a very strange feeling. In Customs we got a notice to stay home in quarantine upon arrival for 2 weeks.
We got home, and the first thing we noticed coming home from the airport: there were barely any cars on the road. Another strange thing.
During our quarantine, we caught up with family via Zoom Skype etc. We started a family reunion on Zoom now, once a month. We had food and drinks delivered, and there was no shortage. We were blessed that our corner of the world was doing better than some, and we were healthy.
During these times the hardware stores stayed open and busy and hiring . With most people getting laid off, they were busy at home doing Reno's. Lots of quarantine projects were being done. I did some painting in our apartment as well and even painted some furniture. We started to organize our move and packing too, as we had just bought a new home.
Quarantine time at home went pretty quickly. After that, we visited friends and family distancing, and just 4 or 6 of us.
Senior homes had also shut down by now and no visitors allowed.
Our first outing was to visit Noels's Mom. It was her Birthday, and luckily they allowed us a visit through the fence from the parking lot. After that, it was a complete shutdown with no visitors.
In May and June Management set up Skype so they were able to see and chat with the family. End of July they arranged a scheduled visit once a week in person. It had to be only one person and the same person always, with a mask on and distancing. There were no cases in this Seniors home, but recently had 2 flu outbreaks and visits were canceled again. We will take it as it comes. So far so good and we are thankful. It is very different in each home, each city, or province. Many countries are also way worse than others. Mom enjoyed the visit, and so did we.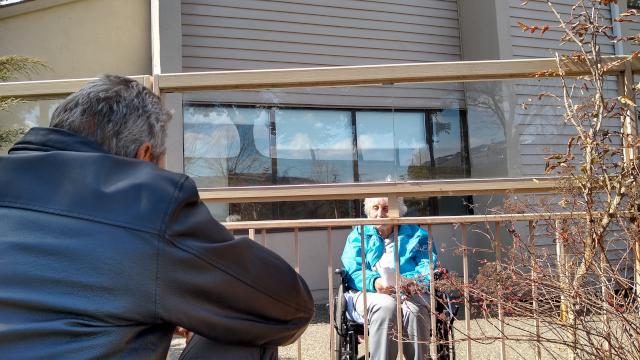 We avoided going out as much, but most parks were open and we could get into Nature.
We did some hiking close to home.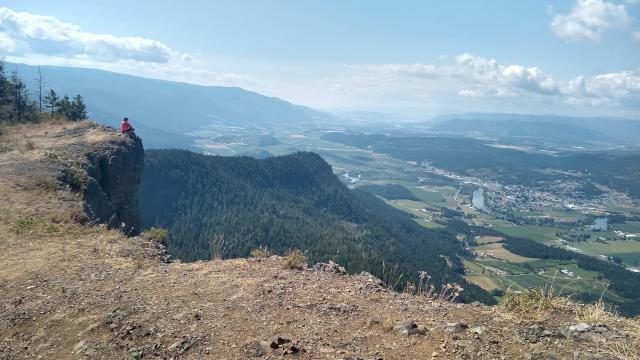 Yes, that's me at the top of the cliff. Great hike. Enderby Cliffs.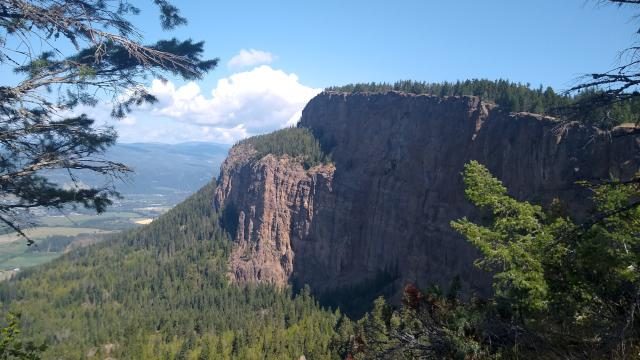 Enderby Cliffs is a moderate incline hike of 7 km one way. Beautiful views of the Shuswap Lake and North Okanagan Region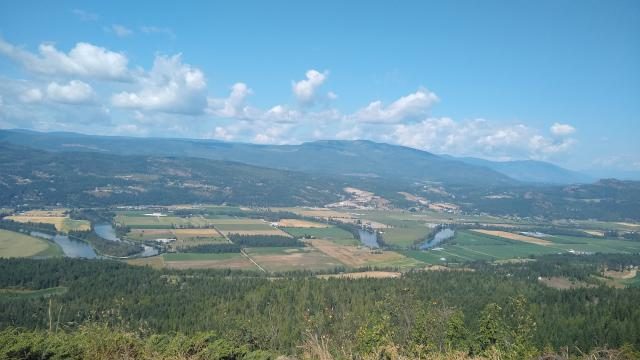 Fintry Falls, a nice short walk but over 300 stairs up. View platforms along the way. Beautiful views of Okanagan Lake and Fintry Park.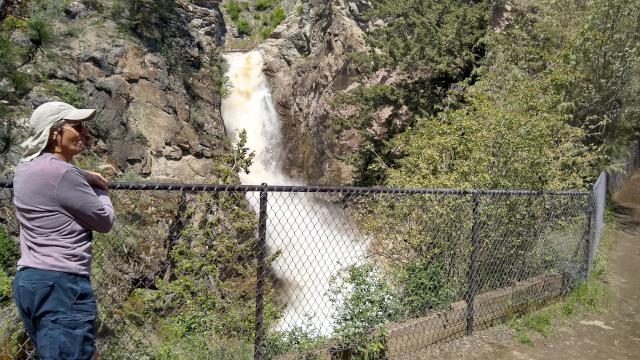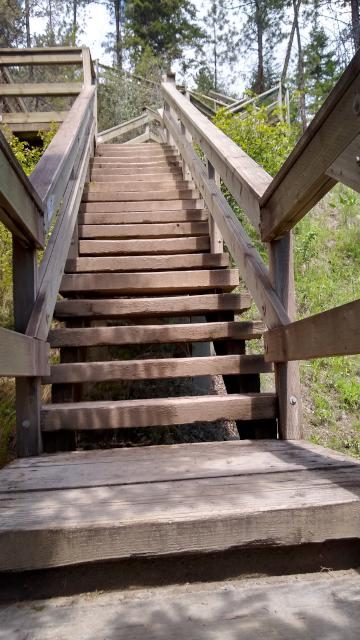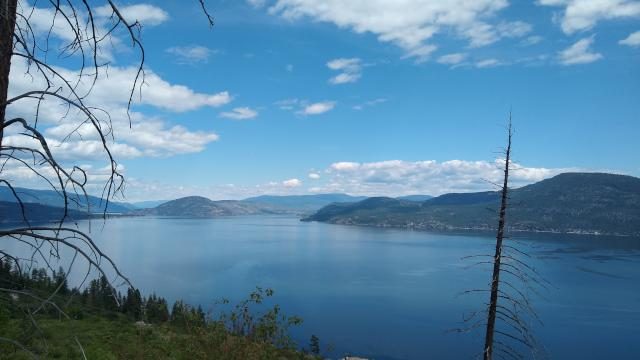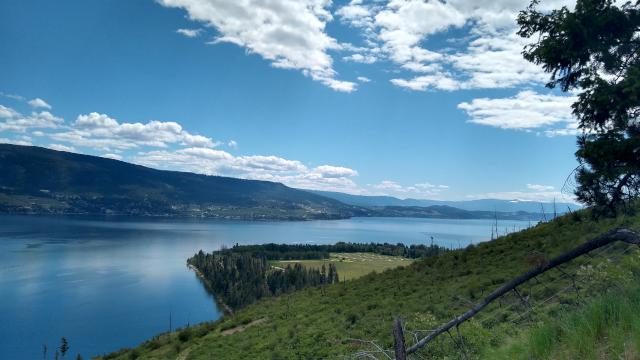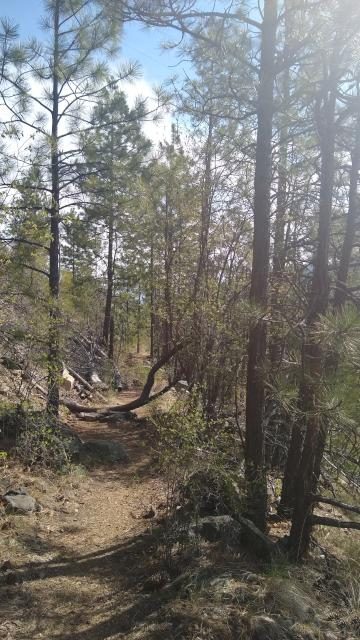 Amazing natural beauty in Wells Gray Provincial Park, BC. We camped and enjoyed the many hikes, waterfalls and nature walks.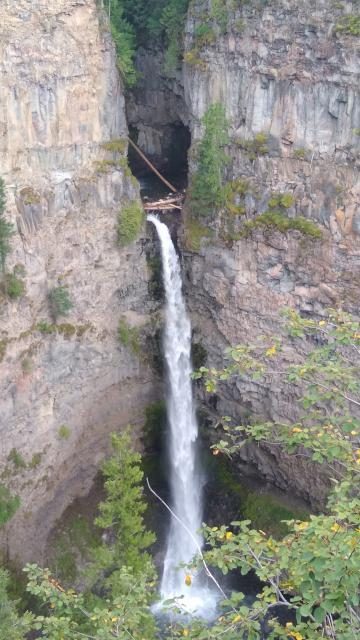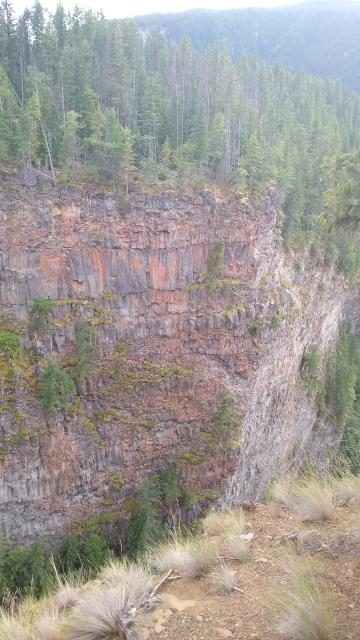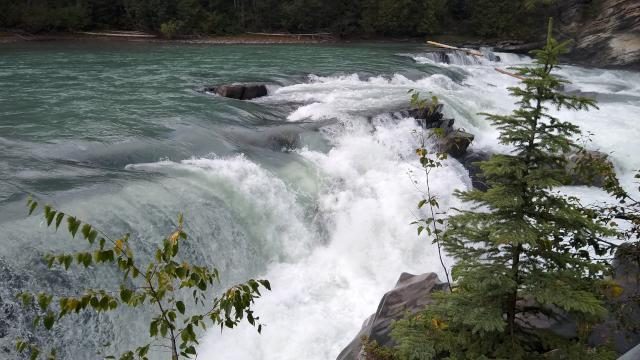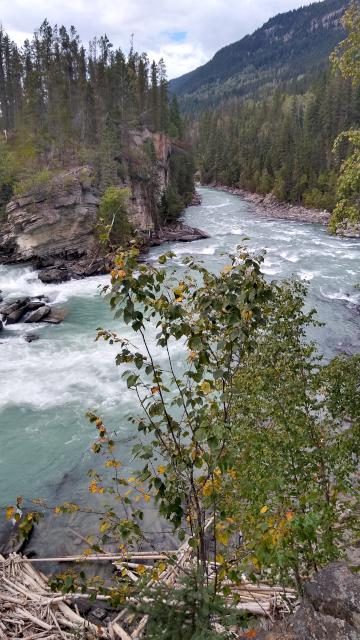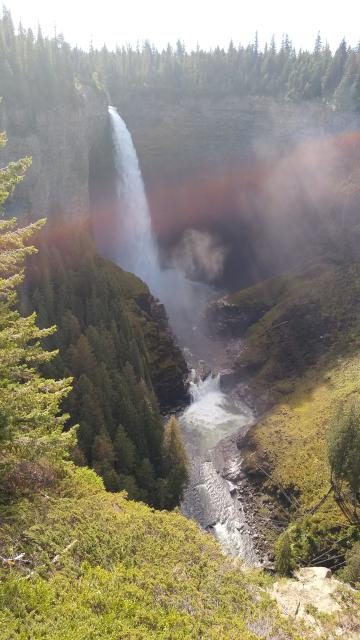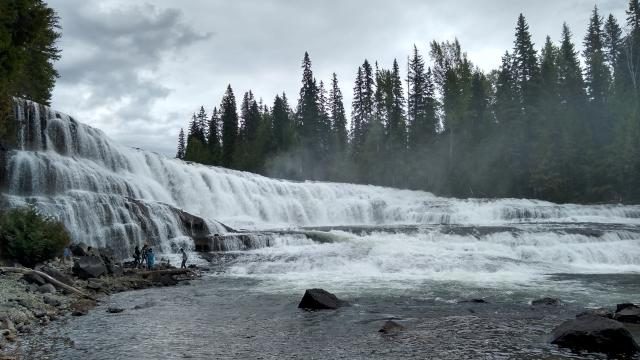 As Summer progressed, businesses and borders started opening, we traveled to Alberta with a few stops along the way.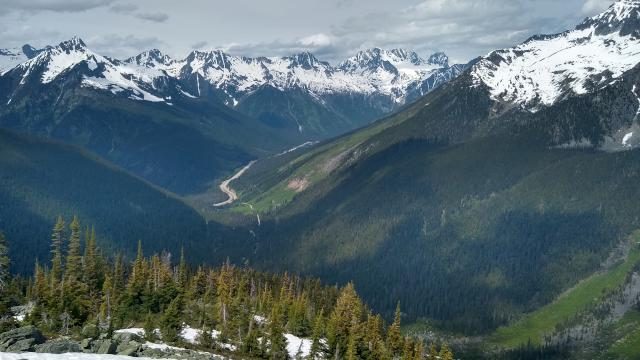 We loved hiking in the Rockies. We camped mostly in the wilderness camps. Some of the Provincial campgrounds were closed.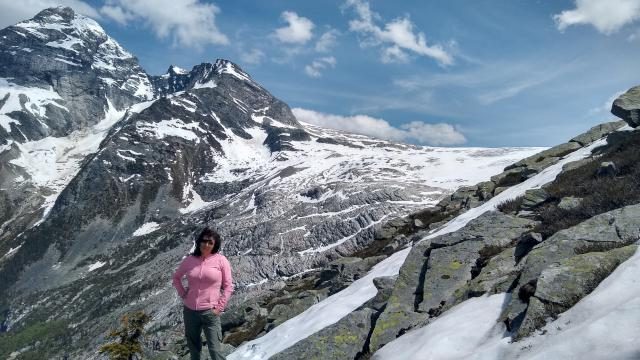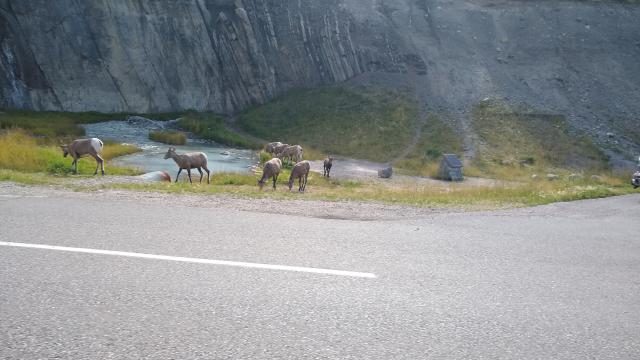 We finally get to hug the kids. So wonderful. We brought him with us to BC for a bit, while Mom was busy homeschooling his 2 older brothers. We had lots of fun. He loves nature and kept asking us to go for a walk in the forest.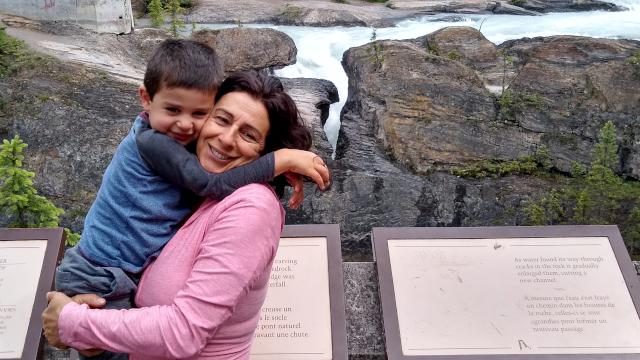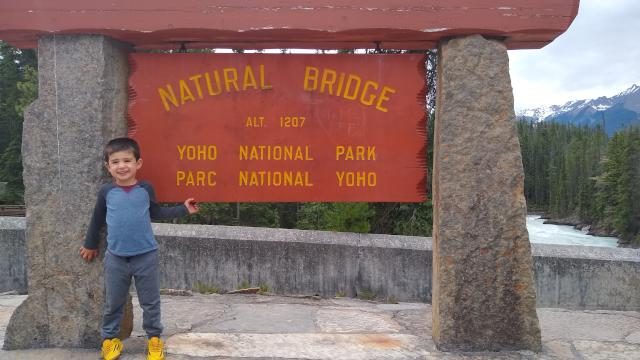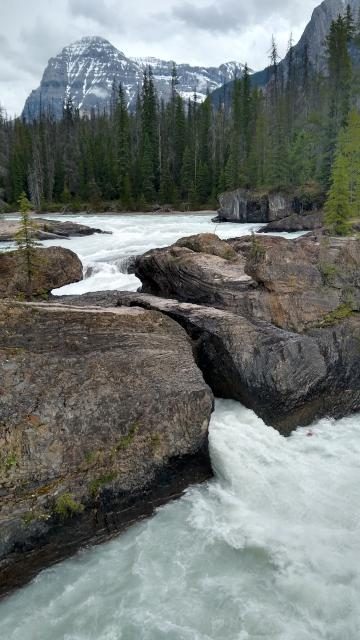 Later on, we picked up the other 2 grandsons. And good times were had.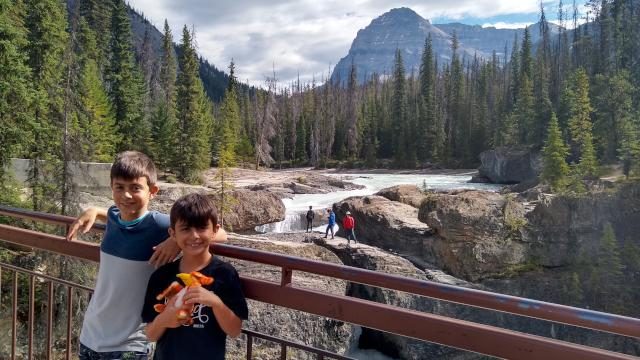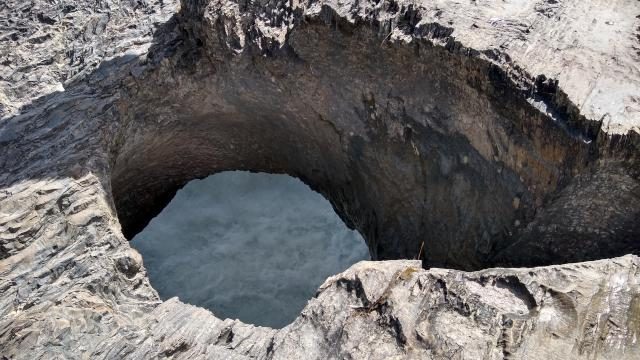 Welcome to the Okanagan. A nice ride in my neighborhood, along Kalamalka Lake on a beautiful evening.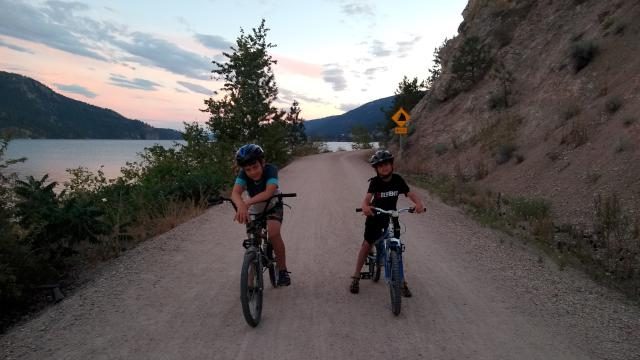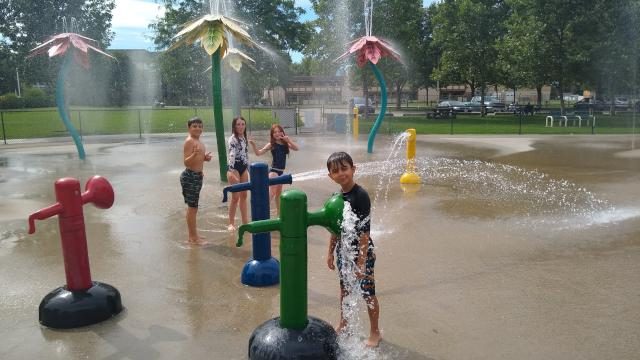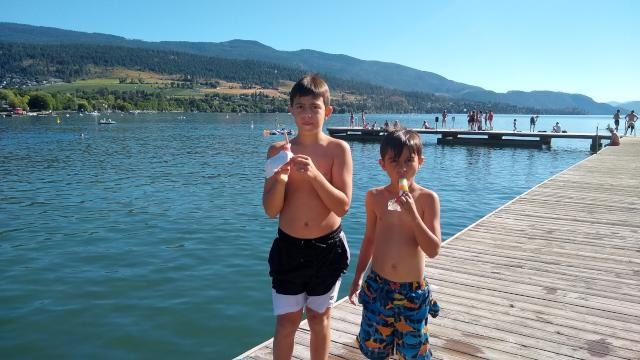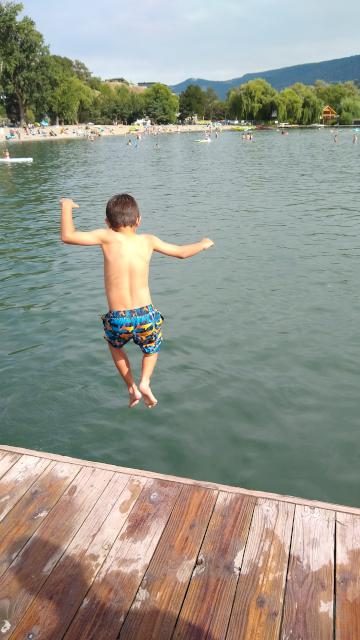 BX Creek Falls, Vernon, BC
Just a 10 minutes drive from our house, and a 5 minute walk from the parking lot, you get this.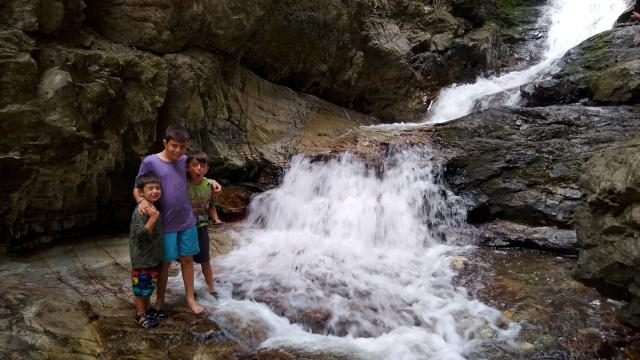 The kids are having a ball, their parents would never let them get this close…That's why the surprise O on his face. Not, it was the cold water splashing.
Ohh, what fun to be out in what he calls 'Forest"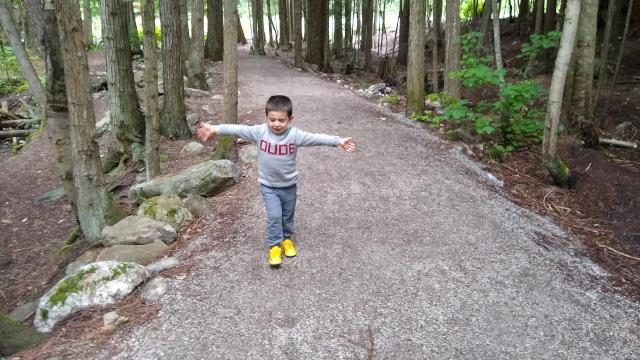 How funny. I captured them with the same expression. Yummy watermelon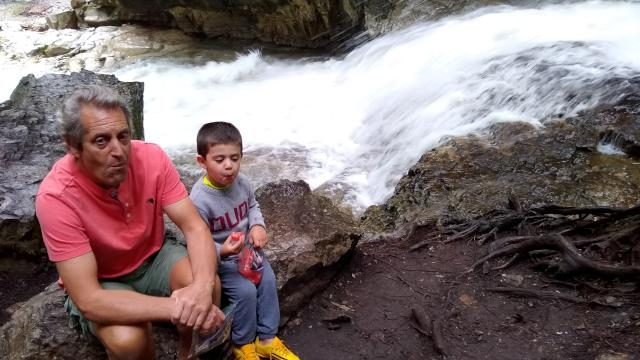 Ohhh… our camping trips, kayaking in the lake and roasting marshmallows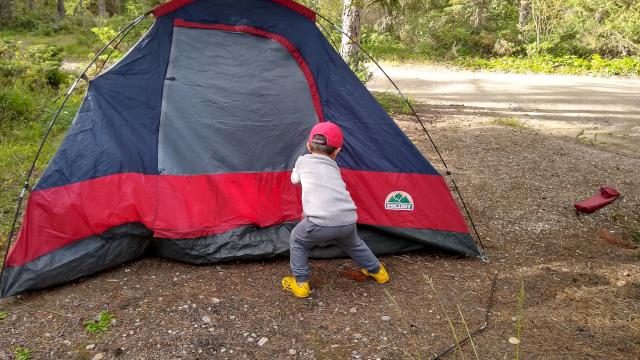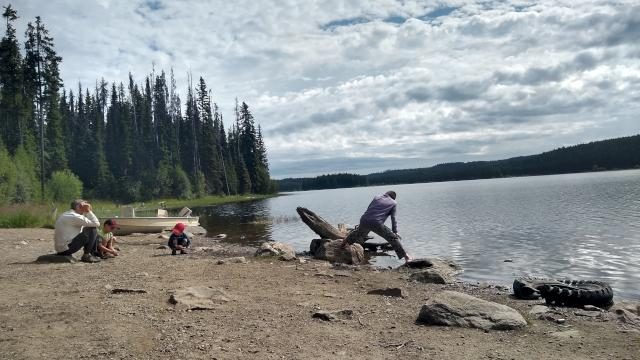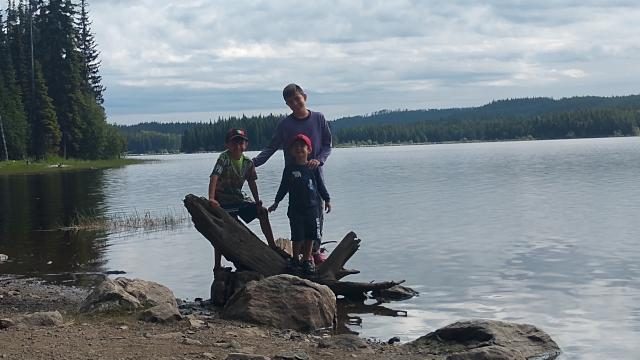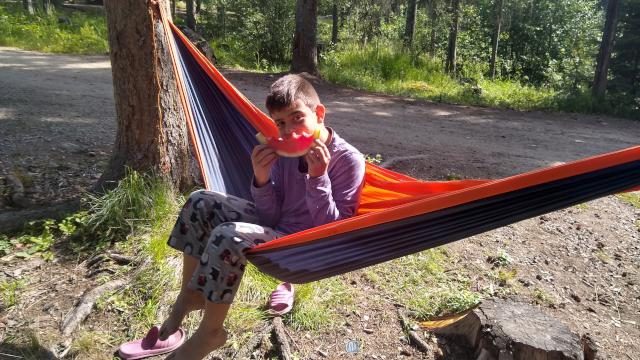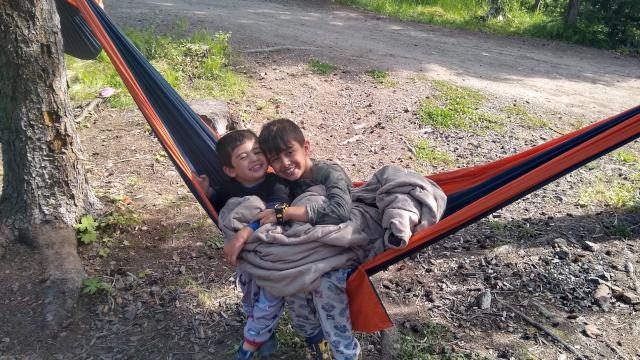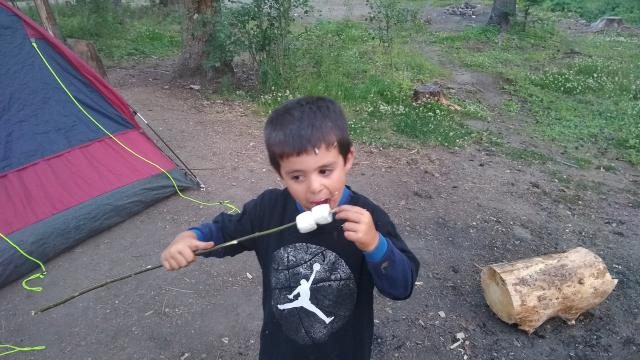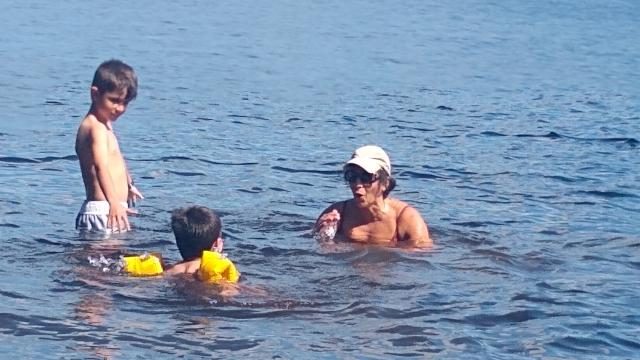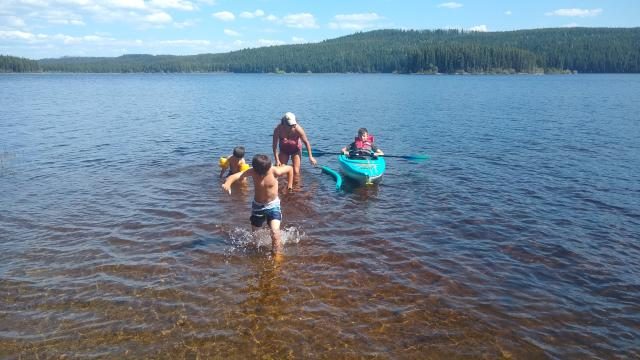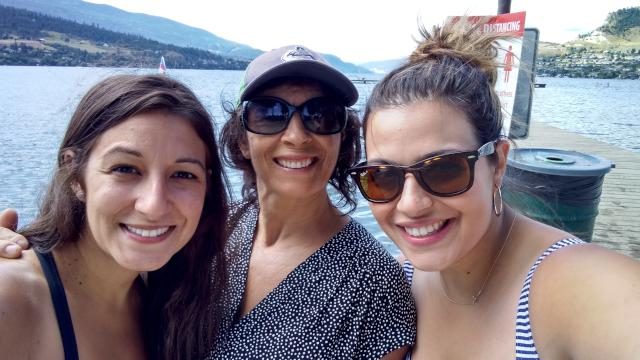 Me with my beauties
Cherry season in the Okanagan. And look who turned 4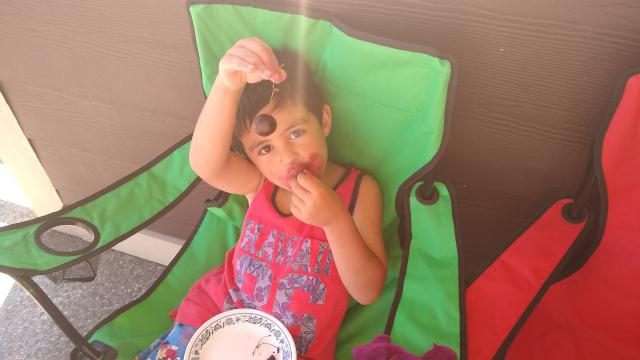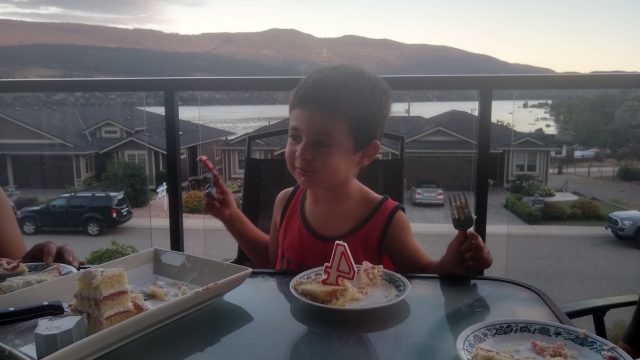 Taking the birthday boy on a nice ride around the block. He was so excited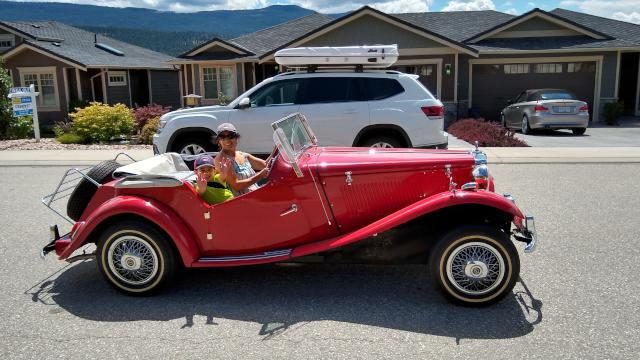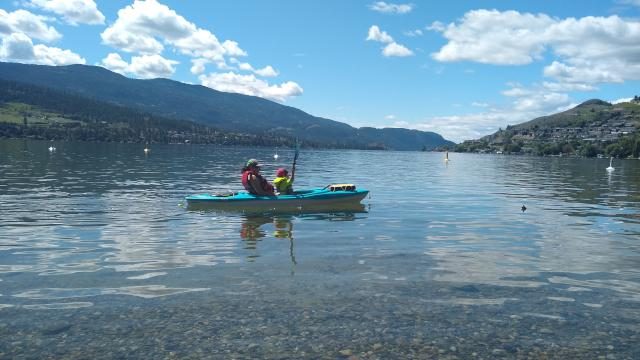 Keeping kids busy, when not swimming in the Lake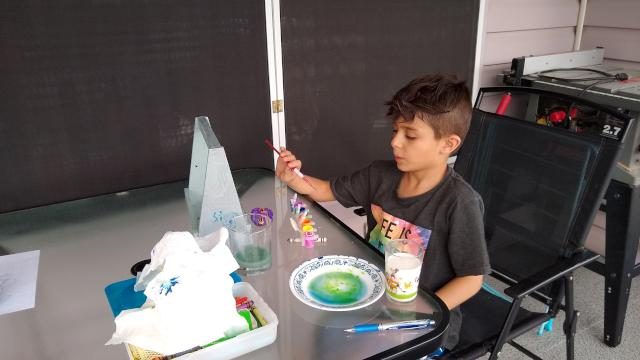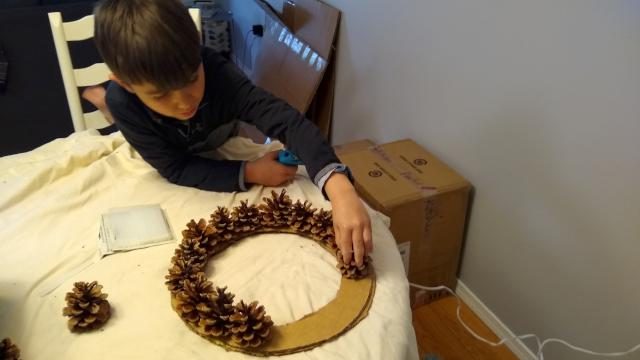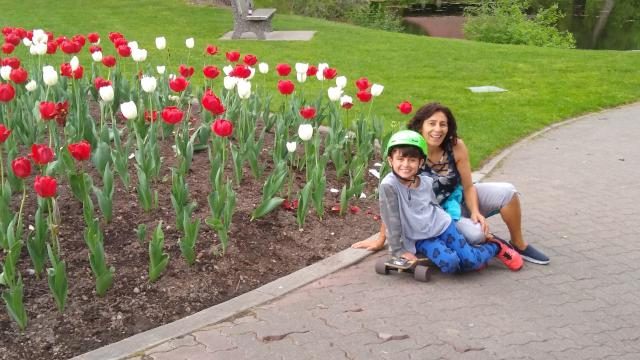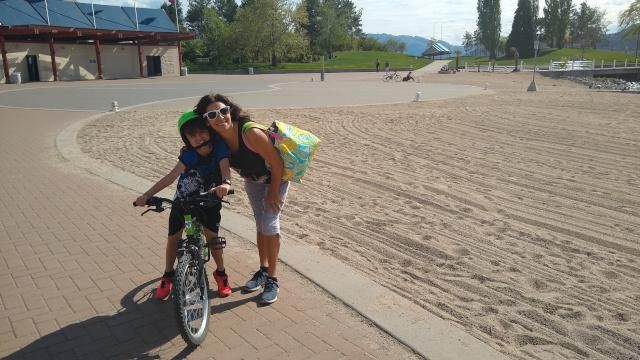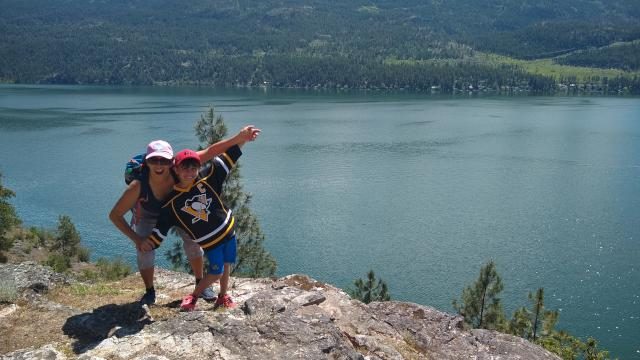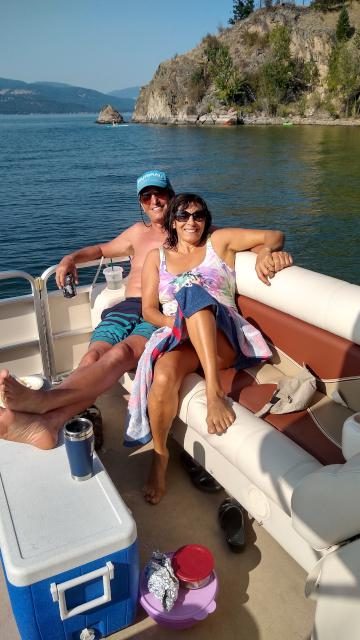 Testing out our friend's new boat in Okanagan Lake. Summer is coming to an end soon. Time to start looking for flights to head to Life Part 2
Current Location:
18.306854461218883, -65.29860730419921
Current Position: 18 18.41 N 065 17.92 W
Click to view map.
Distance sailed since last post:
126 nautical miles
.
View the map of our voyage track here
Flying into St. Maarten early Feb 2020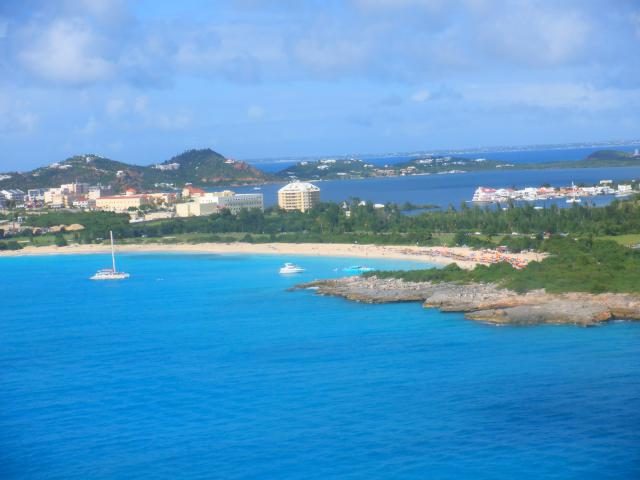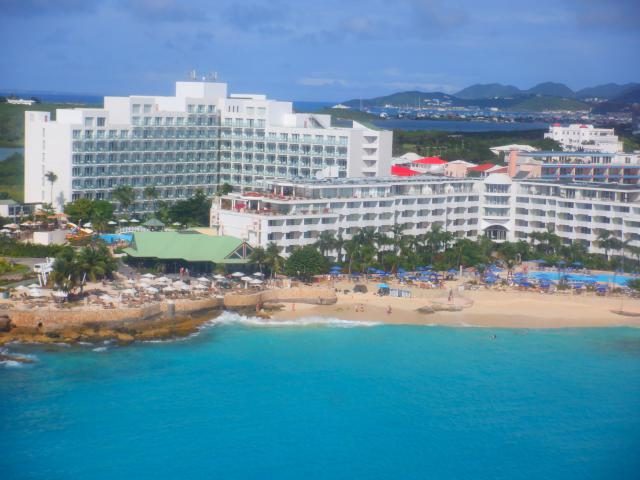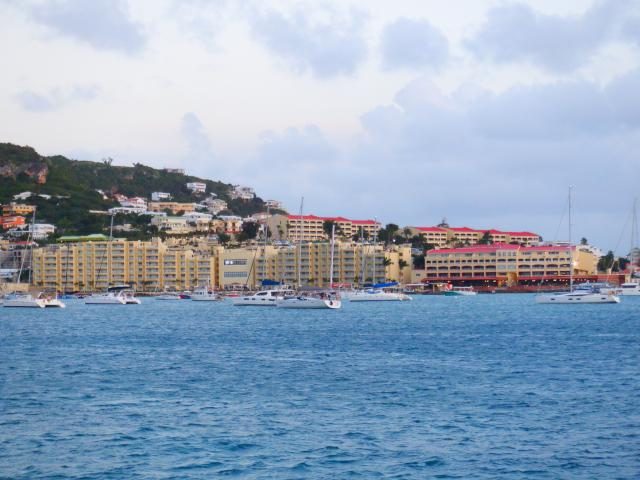 The first thing to do was clean the bottom of the boat. We motored out into the bay and anchored just after the bridge on the French side. We scrubbed away lots of little sea creatures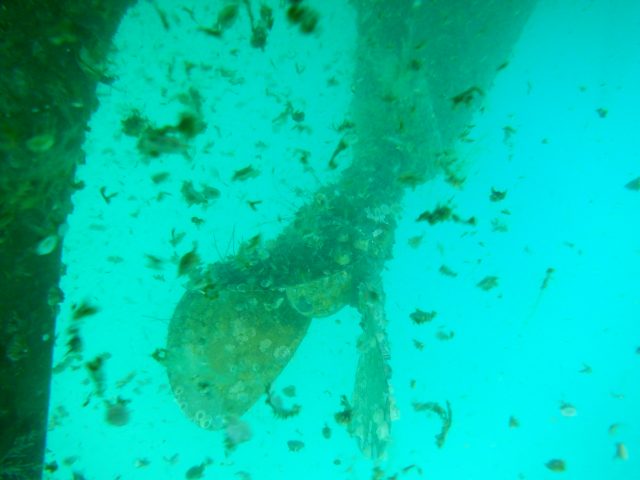 The props were pretty bad. But they cleaned up well. We sure could go a lot faster with a clean bottom.lol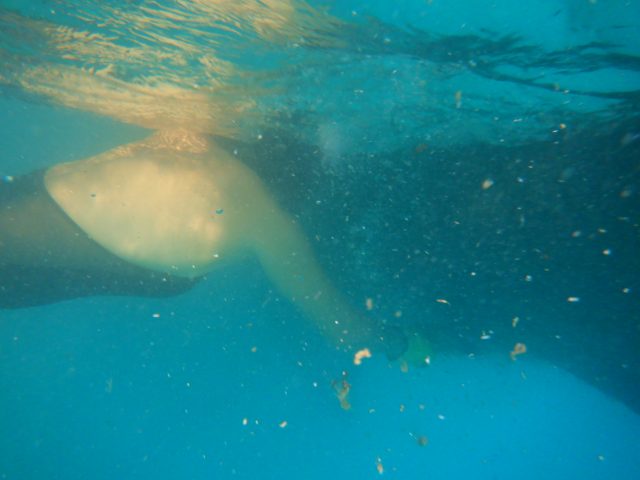 We have been in St. Maarteen now a few times. It's a good place to get work done and receive parcels from overseas. Besides maintenance and shopping and cooking and cleaning, we do get out. Being anchored so close to the bakeries on the French side it is so tempting to pig out on fresh croissants and bread, especially in the int the morning, when you smell the aroma.
We took the bus to the Capital, Phillipsburg, on the Dutch side. It's fun to visit. It has a beautiful beachfront and boardwalk lined with cafes and restaurants. The front street is lined with duty-free shops and casinos. It's also a cruise ship port, so lots of tourist stuff everywhere, ah and don't forget the jewelry shops…
This time we ran around town, through the maze of nice narrow streets looking for a notary public to sign a Canadian Document. We had done some running around on the French side, but no luck. They would sign because they are not familiar with Canadian Laws. We think they did not want to do it because it was the second language to them. But we had it done here in Philipsburg.
Anguilla
A British overseas Territory, only a short twelve miles from St Maarten. Anguilla is quite bare and flat, with amazing beautiful long beaches. It is quite posh with a relaxed atmosphere to it. We anchored here in Road Bay.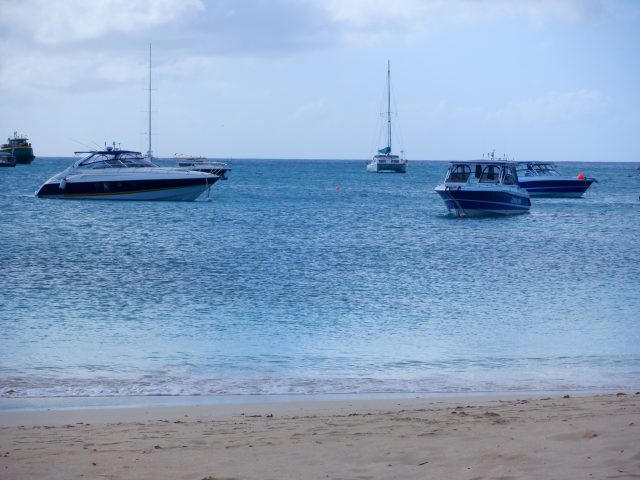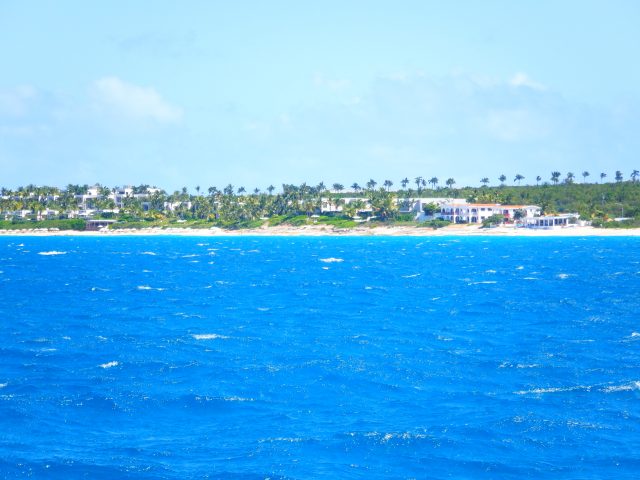 We did not go into Elvis this time, but we remember having a fun beach party there 10 years ago. It has such good vibes.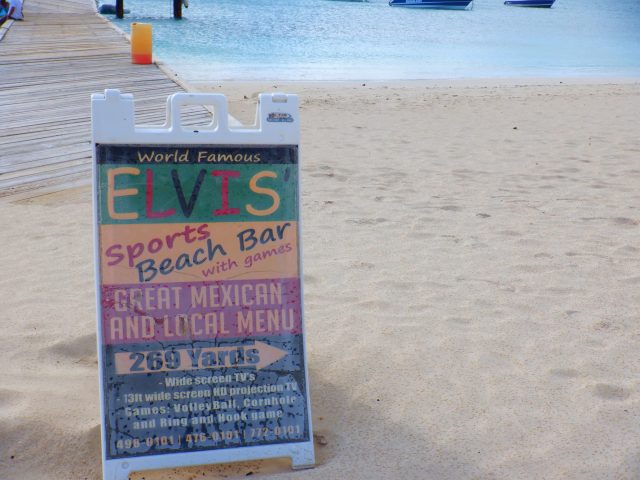 Approaching Nevis
The conical island of Nevis and is a potentially active volcano, it's the smaller of the 2 Islands comprising the nation of Saint Kitts and Nevis, lying across a narrow channel from St Kitts.
Nevis is another unspoiled beauty and charm.
The 3,300 foot Nevis Peak always has this blanket of puffy clouds, so Christopher Columbus mistook the cloud-covered peak as coated with snow and named it Nuestra Senora de las Nieves, aka Our Lady of the Snows.
Long deserted beaches and tropical gardens. Even on cruise ship days, when tourists flock in from St Kitts by ferry, after 3 pm is paradise again.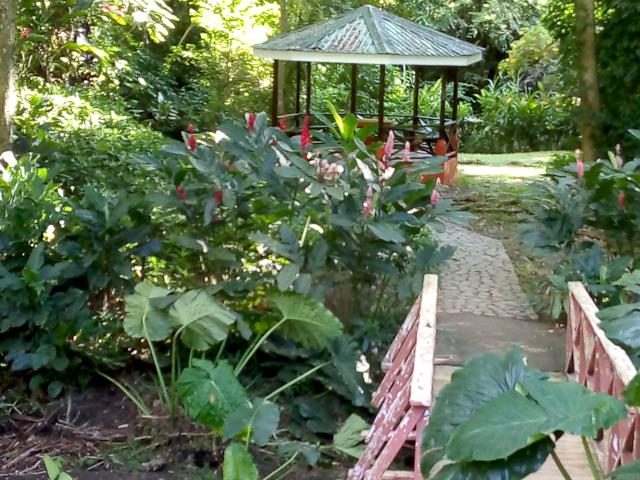 We took a local bus to do some exploring and visit some Plantations. The bus left us a short walk from Golden Rock Estate.
Formerly sugar Plantations, they at one time created a lot of wealth for the British. Now they are expensive resorts with secluded chalets in a beautiful setting. What beautiful gardens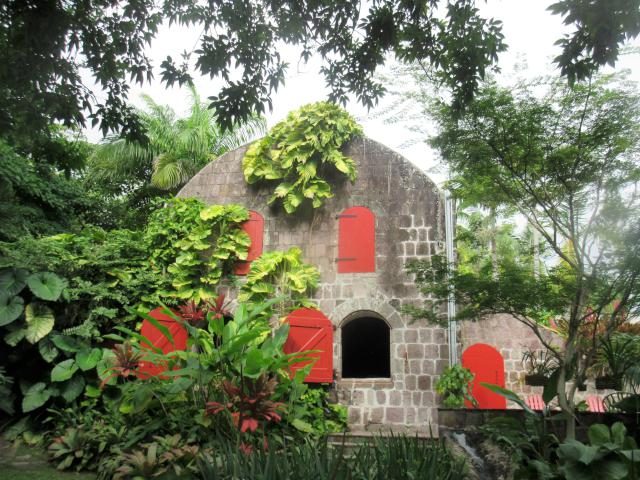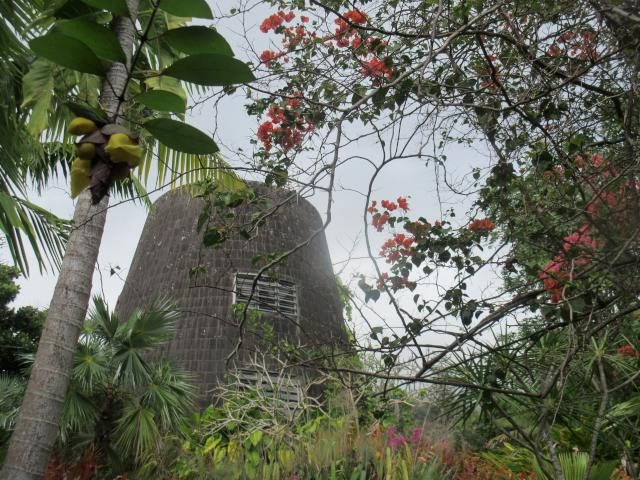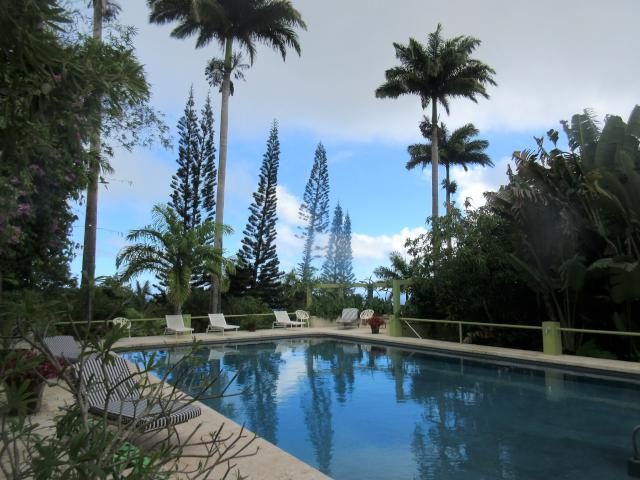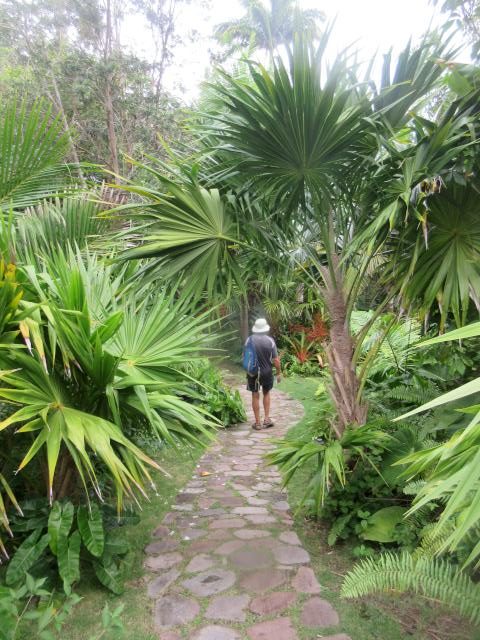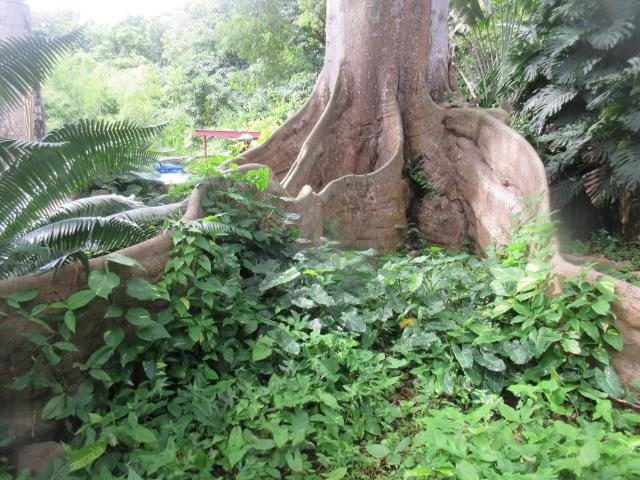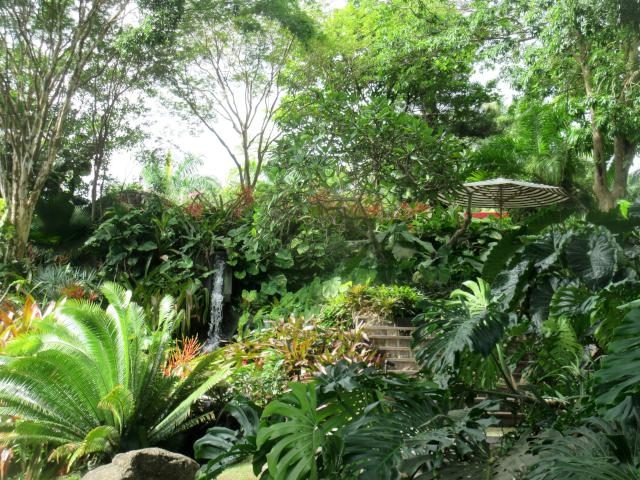 We left the Golden Rock to catch a bus where we were left off, but nothing showed up. We kept walking and walking when we realized we were getting close to the next Plantation: Hermitage Estate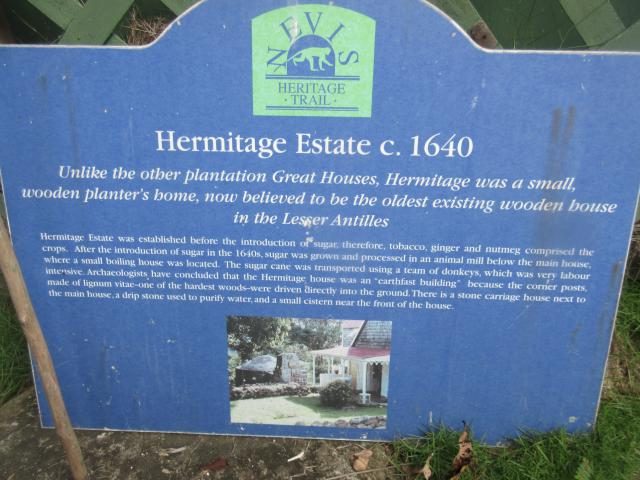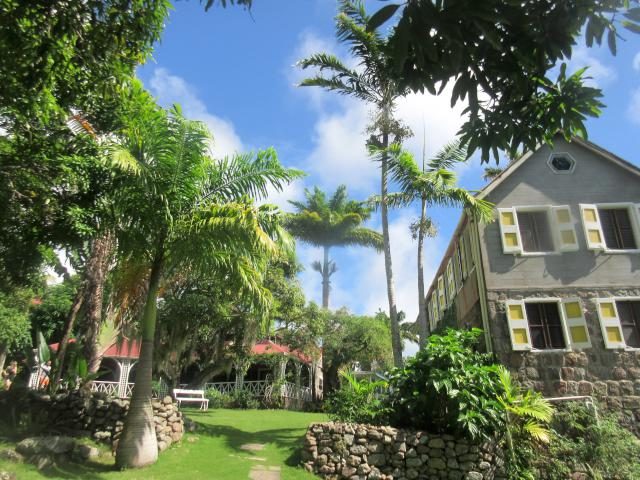 Here we enjoyed a nice walk around the Estates and a wonderful lunch in the Restaurant. We were also prepared with a swimsuit. After lunch, we asked if we could use the pool, which is usually just for the guests, but it was low season and no one around. We enjoyed the pool all to ourselves.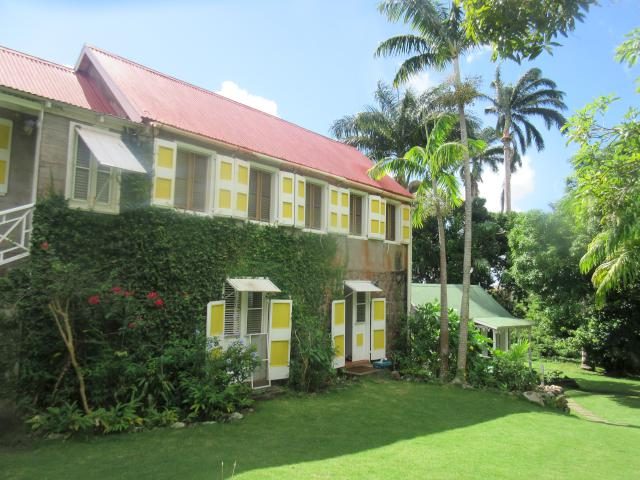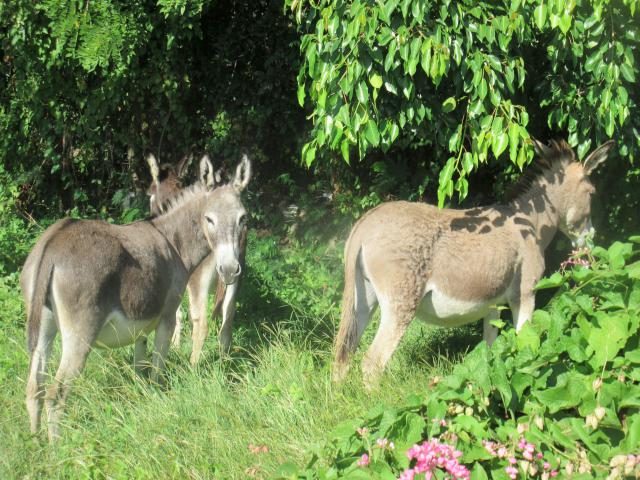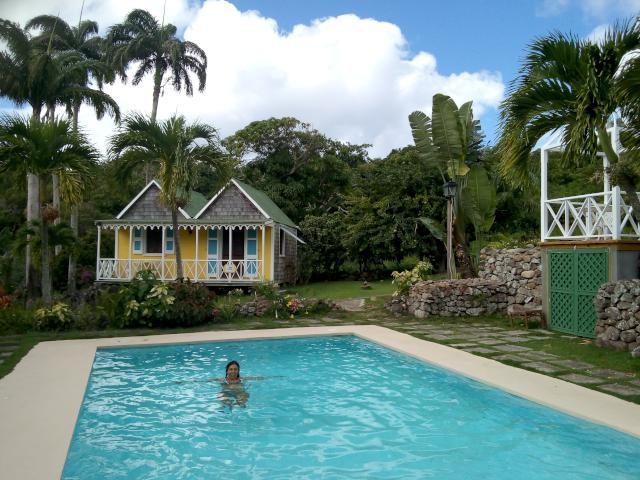 A well-deserved swim to cool off and relax before we set off walking home. We again did not see a bus pass us. Not too bad, since it was mostly downhill.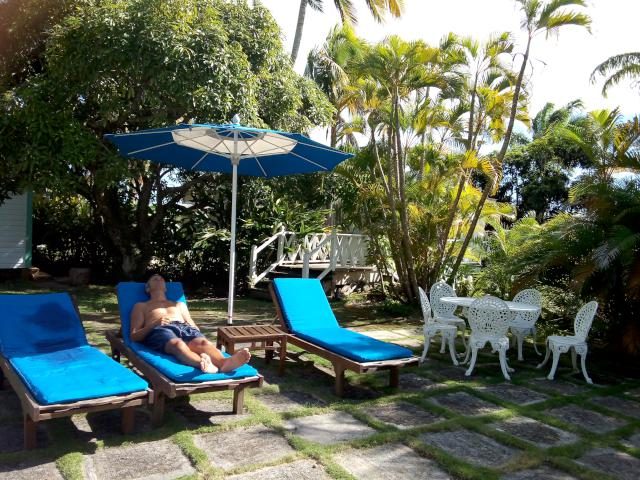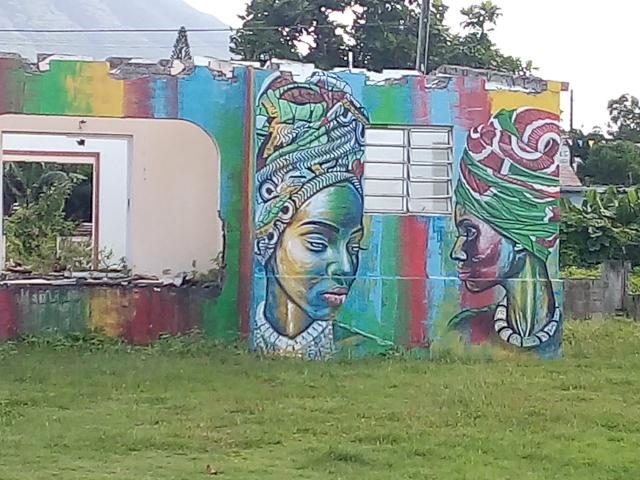 Here is walking around Charlestown, the Port and main town in Nevis. We were anchored just near here.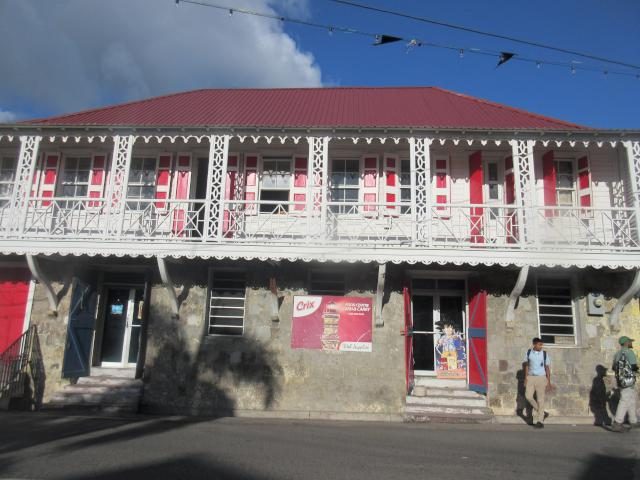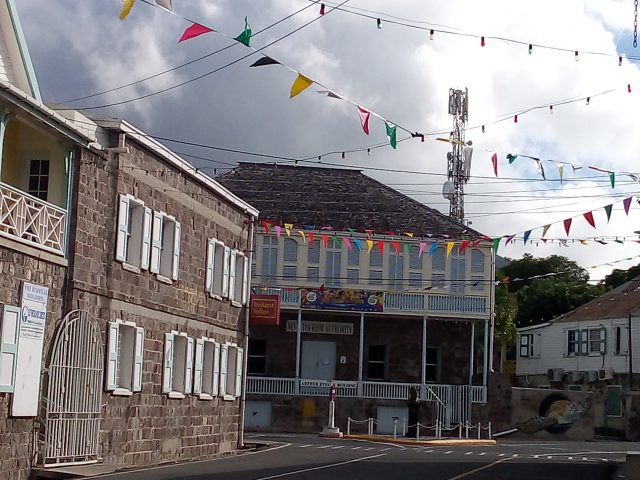 Beautiful deserted beaches. At the end is a beautiful Resort, but very quiet, off-season. In the background is St Kitts.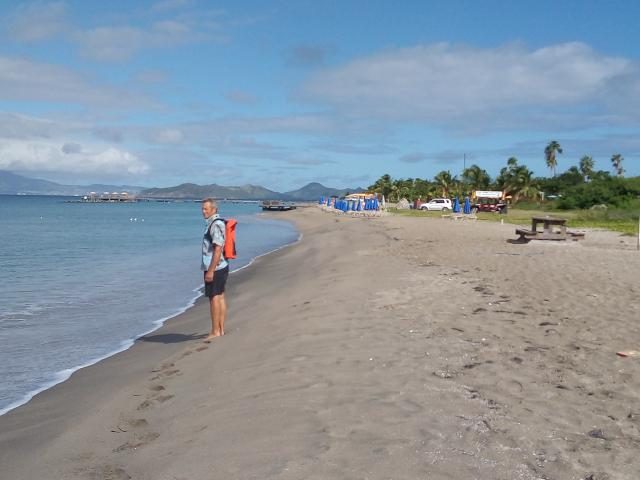 St. Croix
Coming into St Croix requires full attention, there are a lot of shallows and you must really follow the correct buoys on their correct side. Phewww
We were not disappointed with this nice island.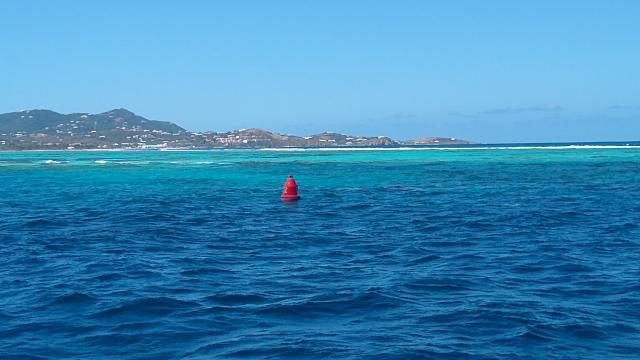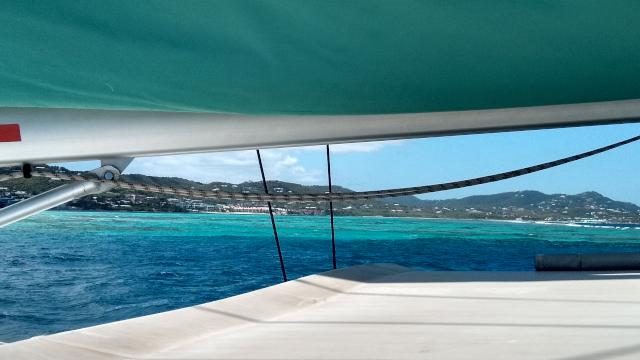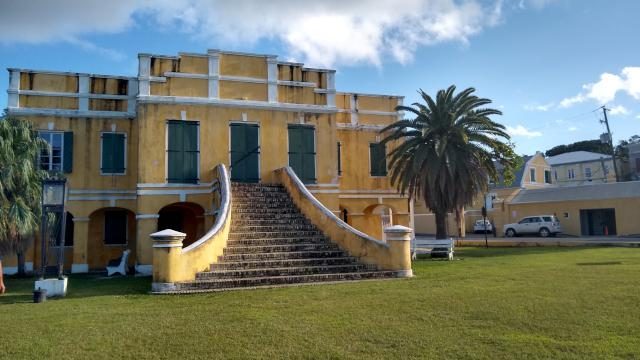 Christiansted Historical National site.
St Croix is a US Virgin island discovered by Columbus in 1493.
Christiansted is the largest town on the island located on the Northern shore of St Croix.
It still has many colonial buildings from the Danish era, quaint narrow streets, and cozy courtyard. We enjoyed the evenings strolling through the long beautiful waterfront, lined with little shops and restaurants. We even attended a nice local concert here at the park one evening. We anchored in the harbor here for a few days, close to shore, so we could explore and do some shopping. We rented a car and toured the island.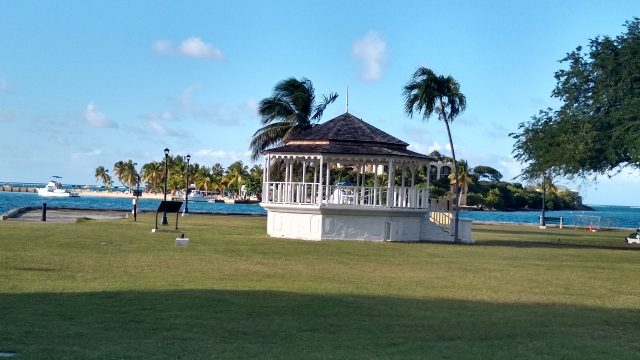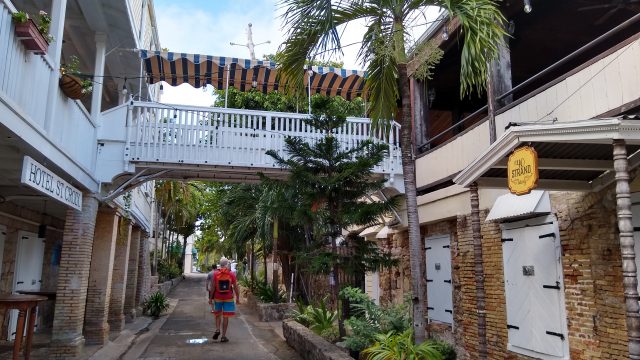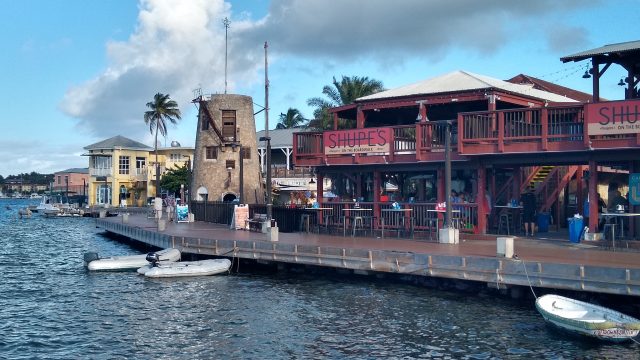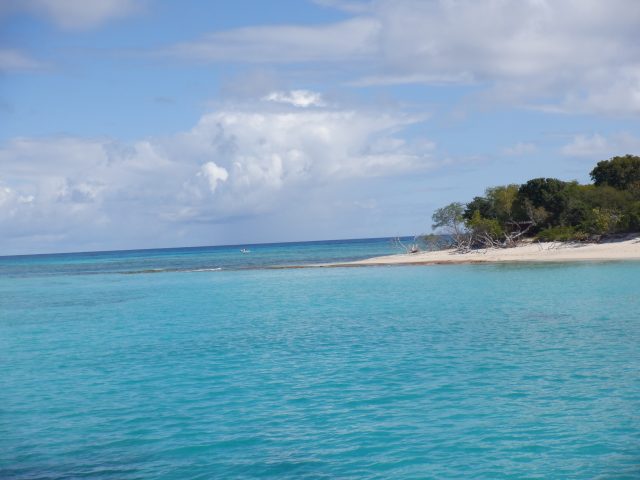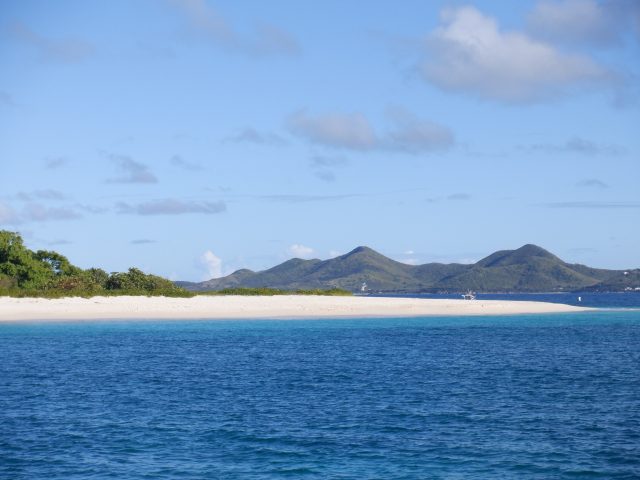 We enjoyed this anchorage not far from the harbor, closer to the reef, where we went for some great snorkeling. It was Paradise here. We loved St Croix. The island is nice, people-friendly and just a good vibe all around.
We rented a car to tour the Island, and followed the tourist attractions and also less touristic areas.
The beer-drinking pigs…YES they love it
You arrive at this little open bar/restaurant on a little farm on the side of the road. You buy a nice cold beer for yourself and they sell you another beer for $2 so you can feed it to the pig.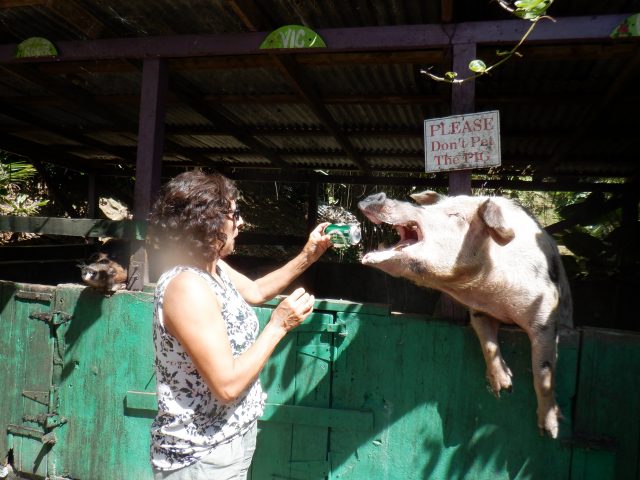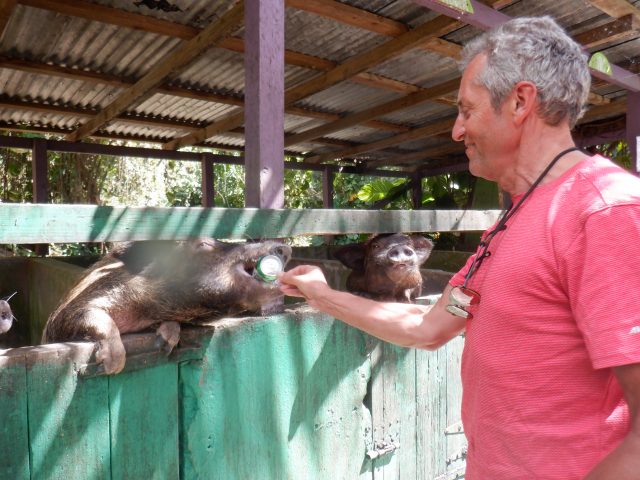 Ok, the pigs don't get drunk, it's a non-alcoholic beer.
It all started when one of the pigs stole a beer from one of the family's visitors. And he enjoyed the suds so much, the owners were having so much fun with it, they then turned it into a tourist attraction. The pigs just take the can from your hands crush it and drink, and chomp at it again with their big teeth, get that last drop, and spit out the can. Quite funny. We had a good laugh. When you arrive at their pens they come up right away with their front legs on the pen door. They have a few pigs there and they are treated like their family pet. They have names, well-fed, and cared for.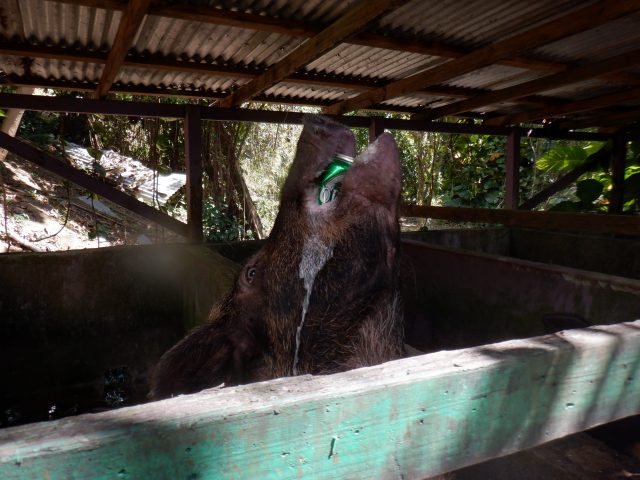 While you're here you must try a shot of MamaWanna. A rum infusion made by Norma, the owner. Strong potion…..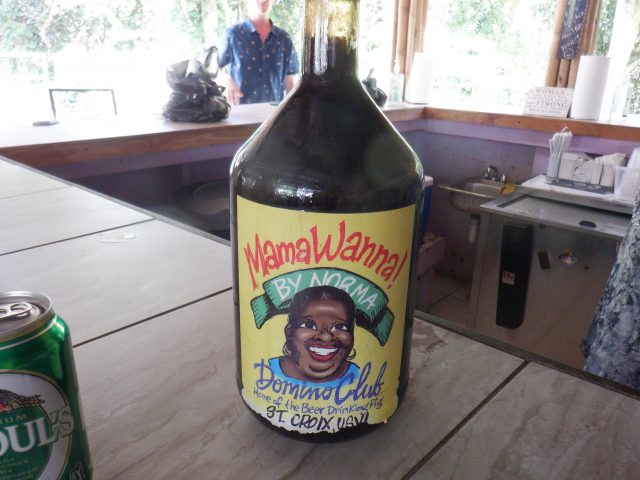 BVI
BVI is a sailor's playground. Actually, with so many anchorages close together, if you get too lazy to put sails up…no problem. Let's just motor over there.
There is such good snorkeling too.
We met up with some friends from back home who by coincidence were on a charter boat in the area for 2 weeks. Some good times were shared, cruising together around the island and also sailing to Anegada.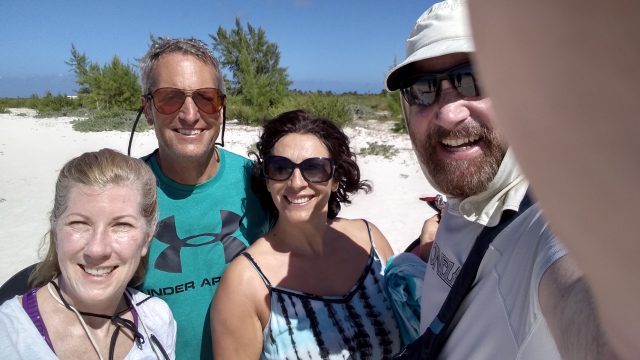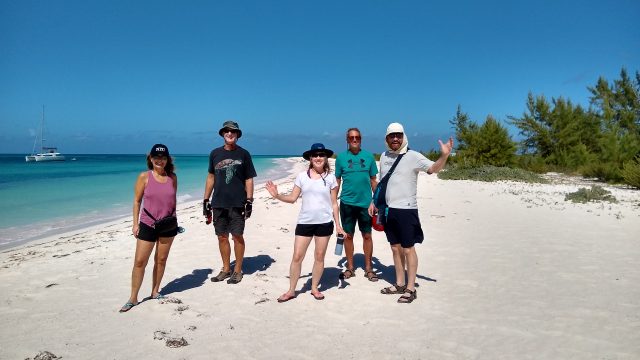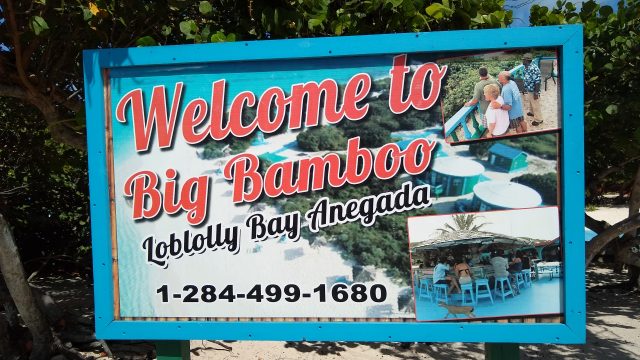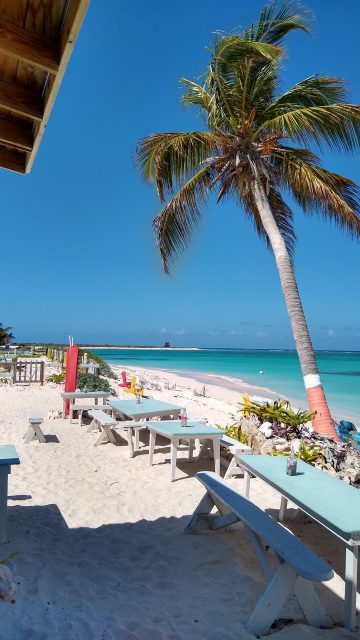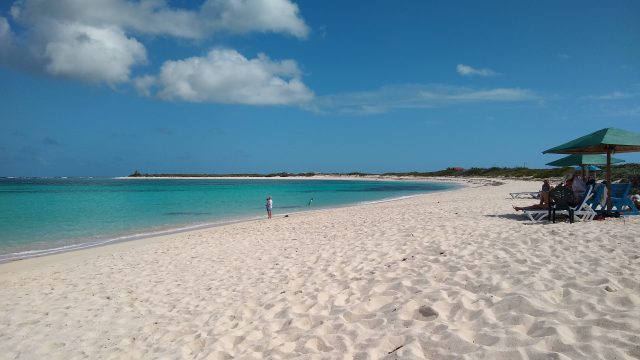 BVI's is a group of British islands in the Caribbean, part of a volcanic archipelago.
One of the most touristic destinations is Virgin Gorda, for the Baths. A labyrinth of beachside boulders, pools, and a beautiful white sand and crystal clear waters.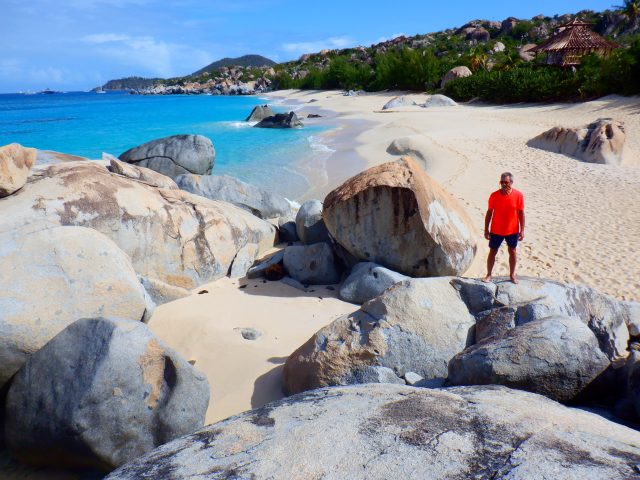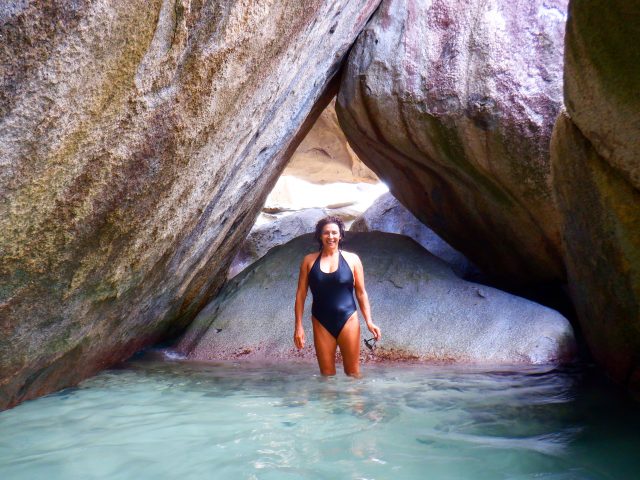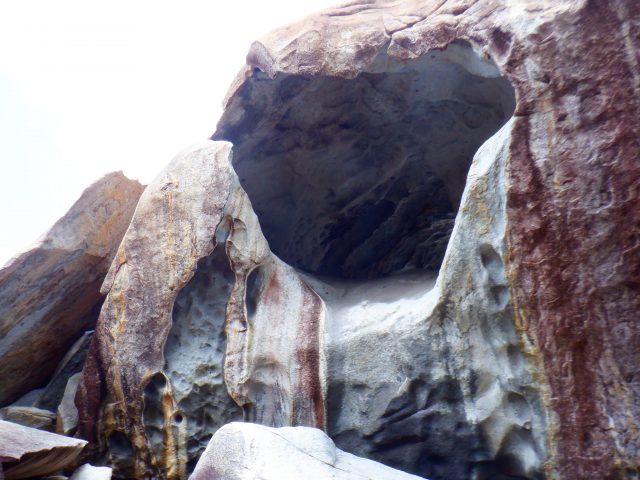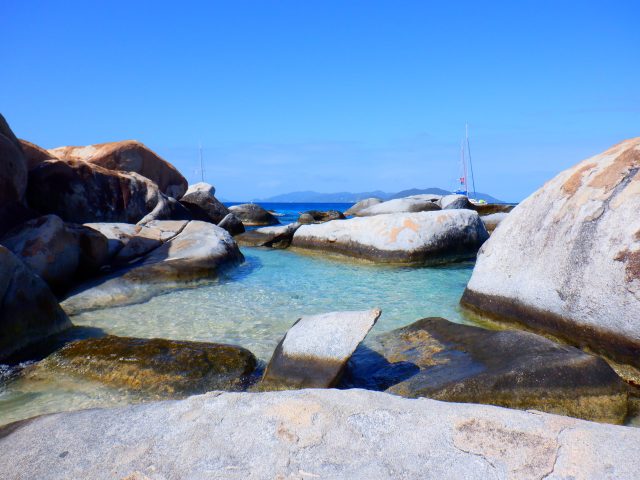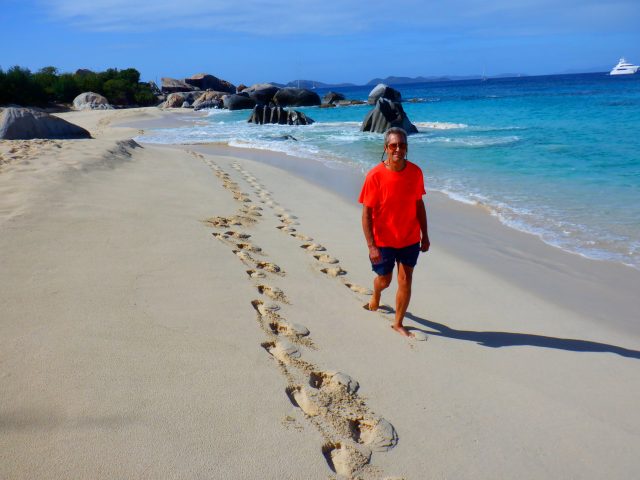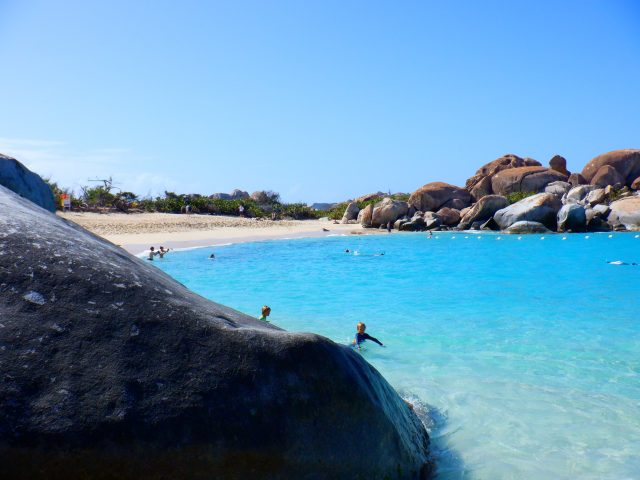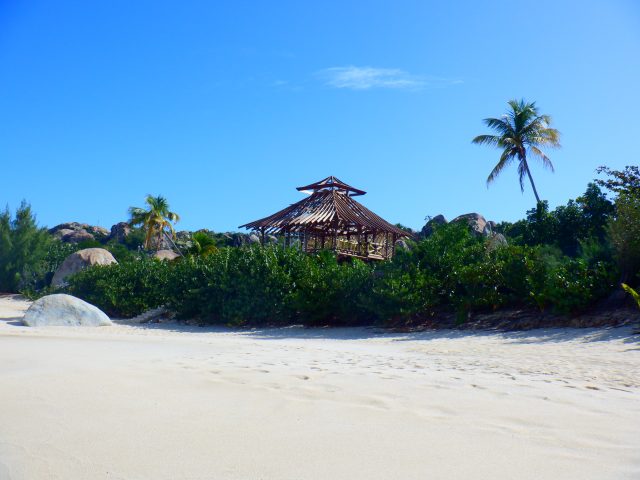 We departed BVI en route to neighboring St John, USVI. It was while we were here in late February that we heard about Corona virus spreading. At that point, it was not serious, and there no cases anywhere near us. We said goodbye to our friends who flew back home to Canada without any flight delays or any troubles due to, what they called later Covid 19.
USVI
A short sail away we were here.
Welcome to St.John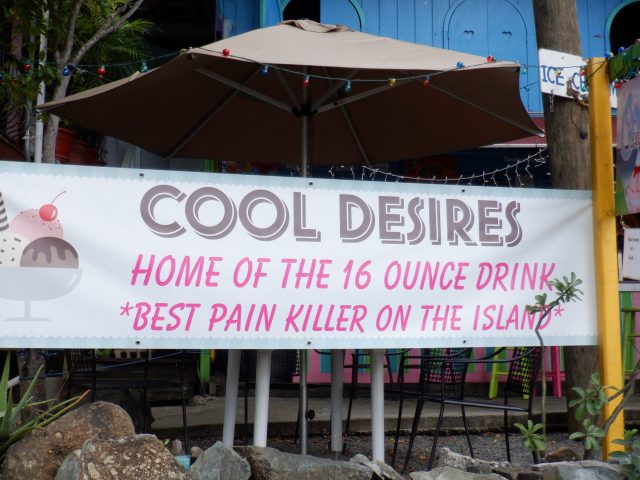 What an amazing place. Pristine unspoiled natural beauty.
Most of the Island is a VI National Park. We did lots of walks and hikes to get the most beautiful views. This was taken from Johnny Horn trail. As we are walking, we saw a sign pointing to a different direction saying something about a house and we took the side trek. Turned out to be the ruins of a mansion from a Plantation owner. Wow, we were glad we adventured, not for the ruins, but for the most incredible views. The ruins were of a very large house and amazing spot. Lots of wealth from slavery, I'm sure. That's the sad part. Hope it was appreciated and they were nice to their slaves…..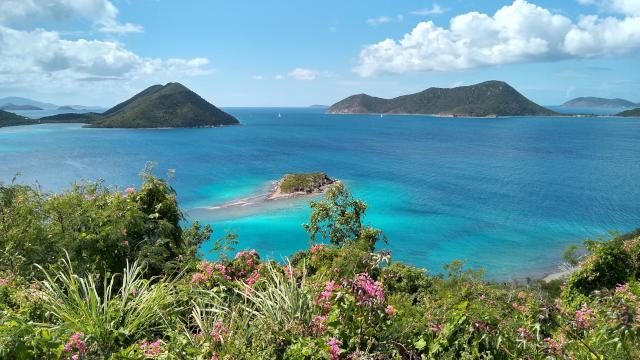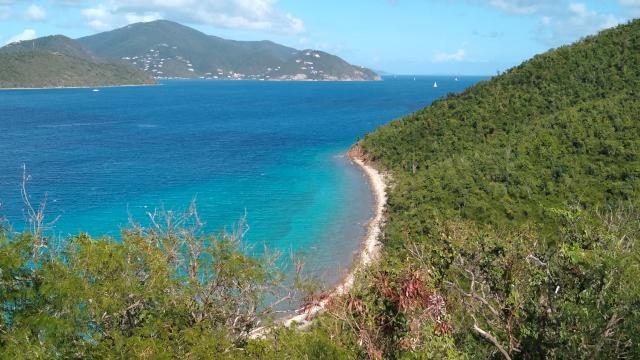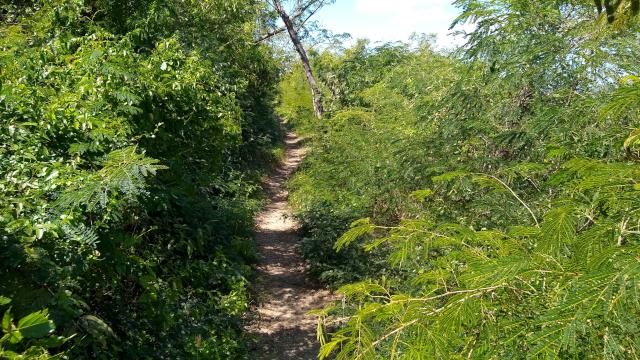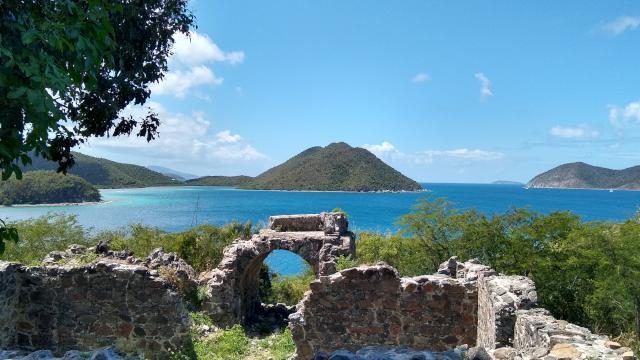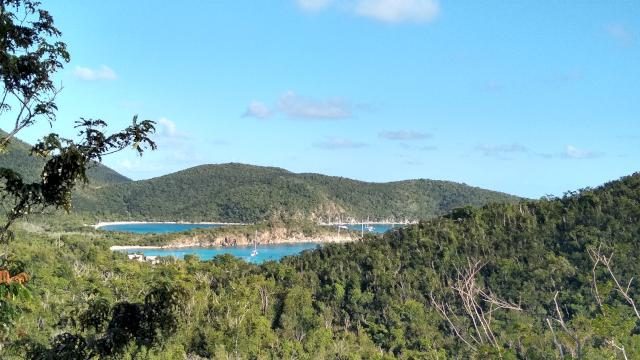 Above, views from Lameshur Bay Trail
We also hiked the Reef Bay Petroglyph Trail.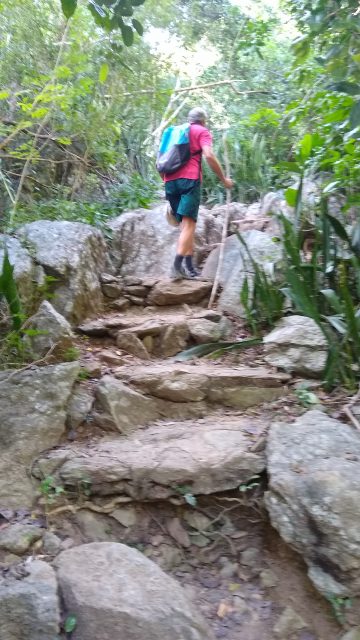 It's a nice hike to a waterfall where the Petroglyphs are. I wish I had wet them, but they still show okay. There are many all around the pools from the waterfall.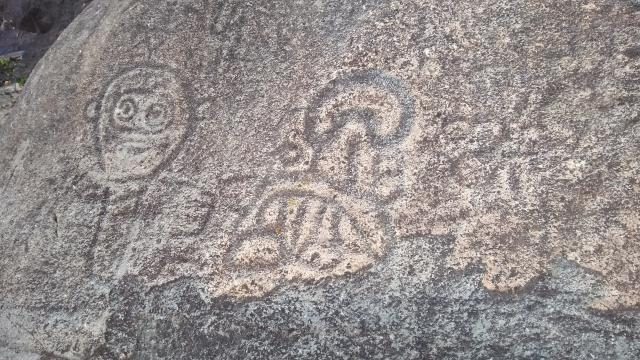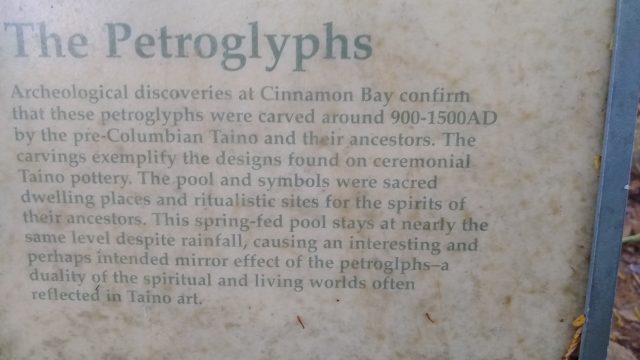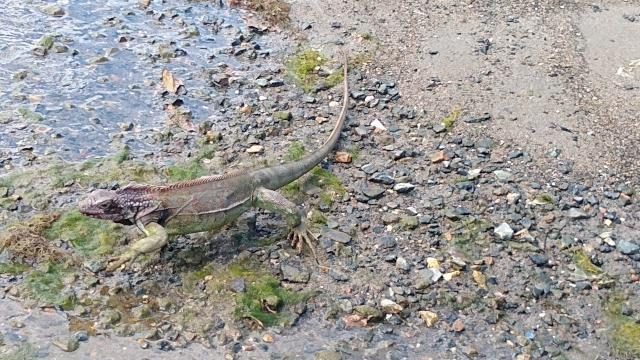 While we were at anchor we had a visit from a mama and baby dolphins swimming around us for a very long time. They did a beautiful show for us, with the mom going under the baby throwing it up in the air and splashing up and down. What a delight.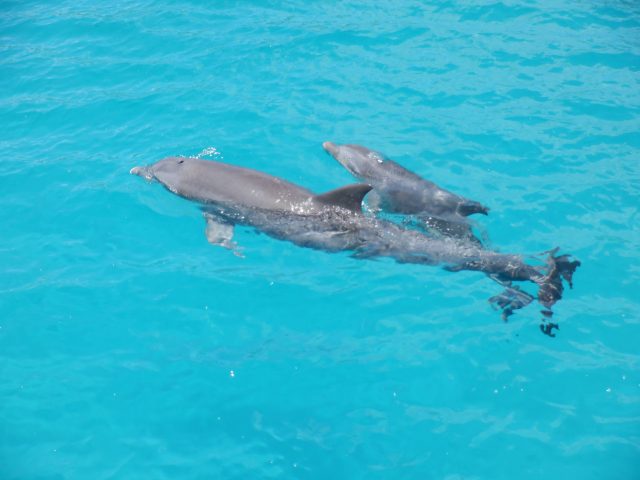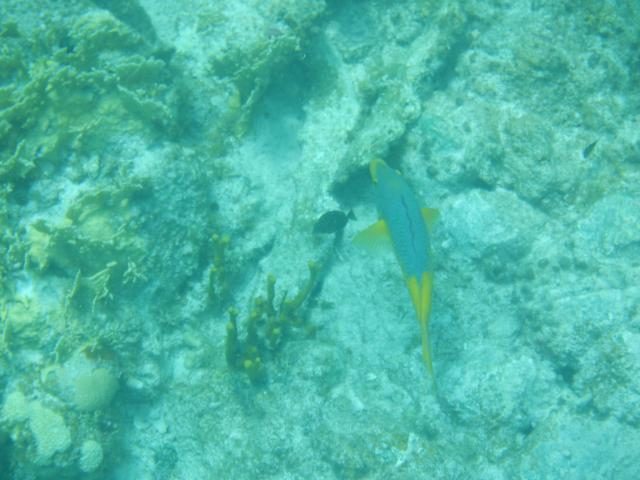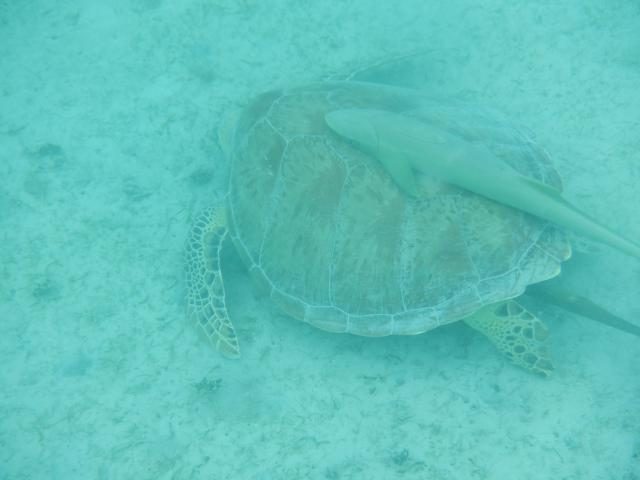 We loved swimming with the turtles here. Looks like these remora fish like them too. They go on their back and nibble away cleaning the algae.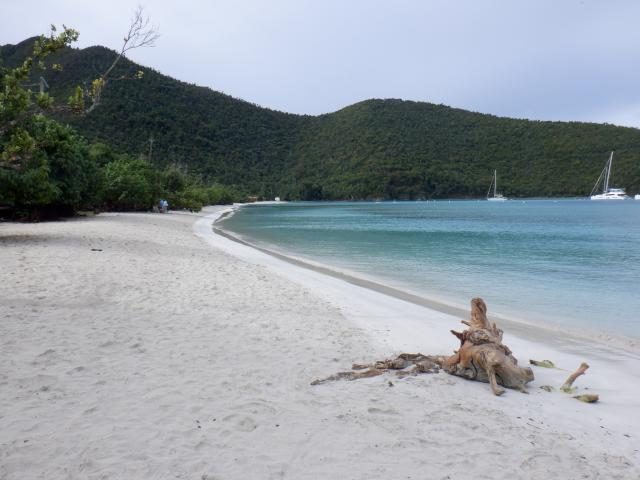 Annaberg Sugar Plantation Ruins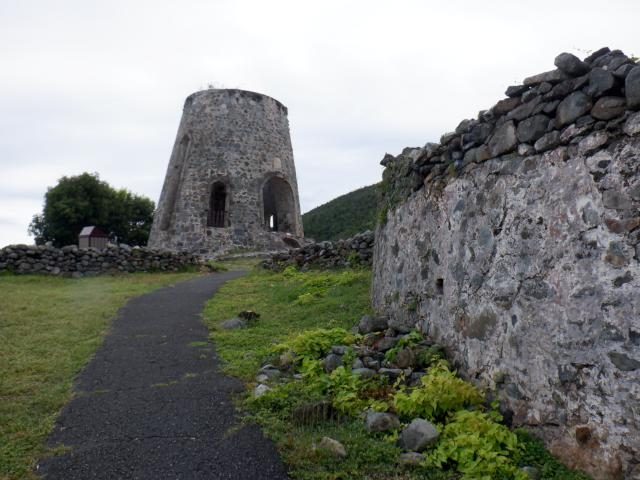 The windmill at Annaberg, one of the focal points of the site, was built around 1830, and was one of the largest in the islands.
When there was no wind to work the windmill, the horses or mules were used. A trail leads through factory ruins, slave quarters, windmill, and other remains. Another example of the wealth of the islands built by the slaves. Other products they produced were molasses and rum.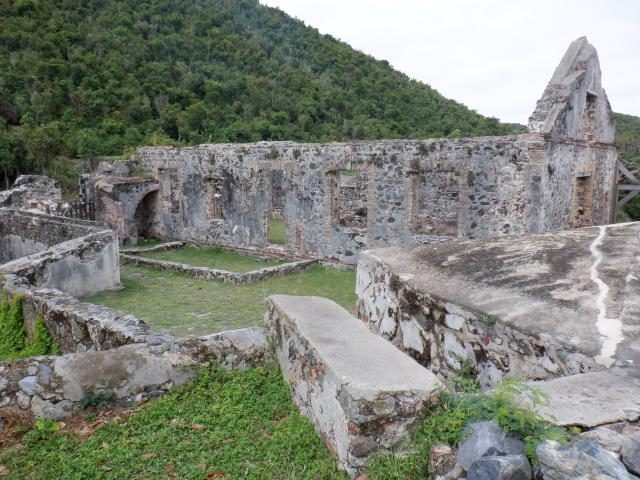 ST Thomas
Charlotte Amalie is the capital. St Thomas is also the largest island of 3 islands that form the USVI, together with St John and St Croix.
As we headed to St. Thomas the news was that Corona was spreading and things were shutting down.
We enjoyed sailing around the island, beautiful beaches, clear water, great snorkeling and sundowners. We also met some new friends from Canada and hang out together and shared some stories over some beer and wine and had some good times.
We didn't pay much attention to the media, as the cruise ships were still lining up like this every day at Port in Charlotte Amalie.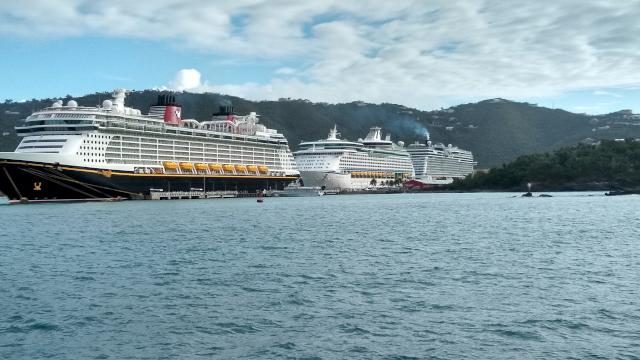 The famous Coki beach. Adjacent to World Ocean Marine Park tourist attraction. It a nice beach but overrated, it gets too busy. We had a nice visit here for a lunch stop, a swim and a snorkel.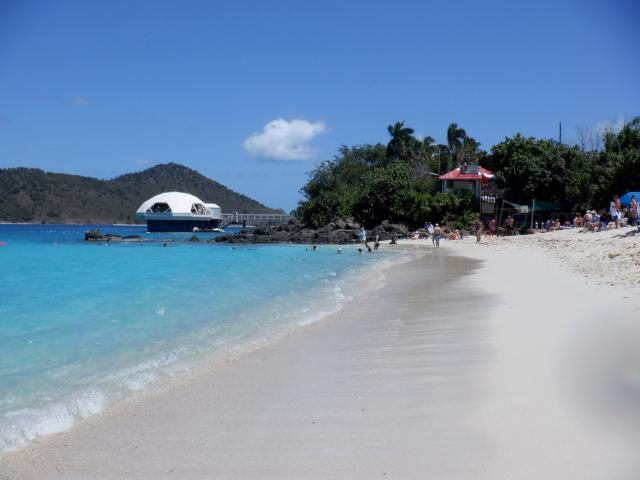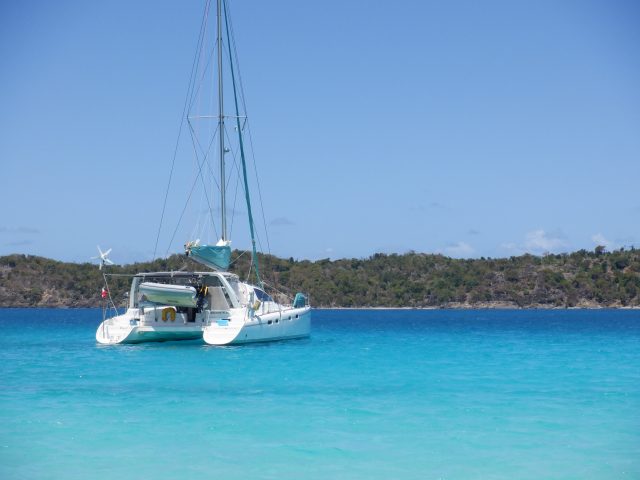 Such a beautiful spot though. We dropped anchor and had lunch, a nice swim and snorkel.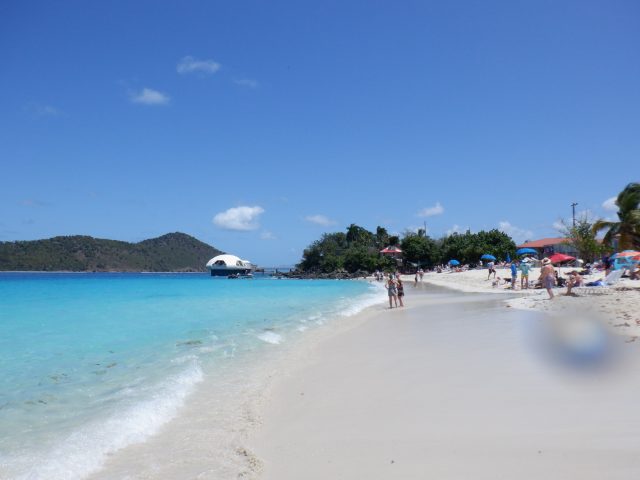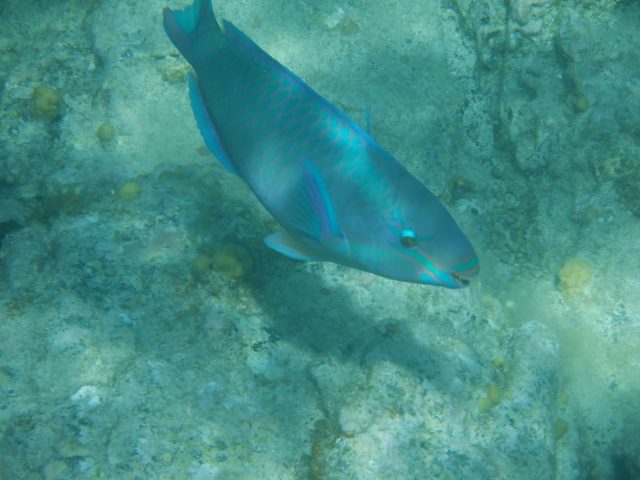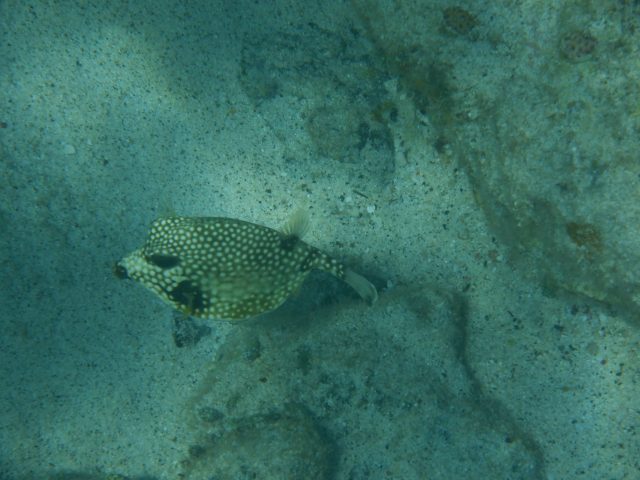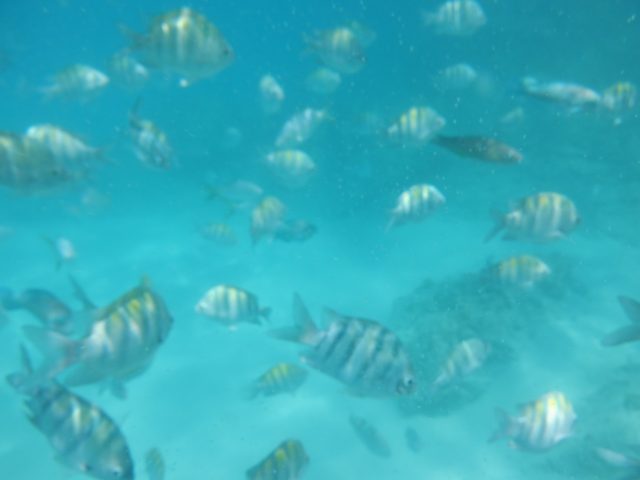 By this time, Corona was very real, and we had already booked a Marina in Puerto Rico. It was actually our destination, but Puerto Rico was also close to St Thomas, and as it is the US, we figured it was close to Canada if we have to go home.
We left St Thomas and headed to our first stop, Culebra. A small island just on the East Coast of Puerto Rico. We checked in, but the next morning we checked out again. Things were shutting down at home and all over the world. Marinas were closing on us. The Marina we were booked in, never answered the phone after our many attempts. They were closed too.
We found out Grenada was still open. So we booked our flights to Canada leaving from Grenada. We left Culebra and sailed down. Took us 3 days and 3 nights. During this time we were hoping things were still open we arrived.
We had a good sail, and the check-in actually went smoothly. At the Marina, they had 2 health officials just asking some health questions and taking your temperature.
We sailed around to Secret Harbor where we had arrangements for the boat to be left on a mooring ball with George looking after it. We also felt good about leaving the boat in Grenada, because is below the Hurricane belt.
We had 2 days to pack up before our flight home. It was March 21, and as they say: the rest is HISTORY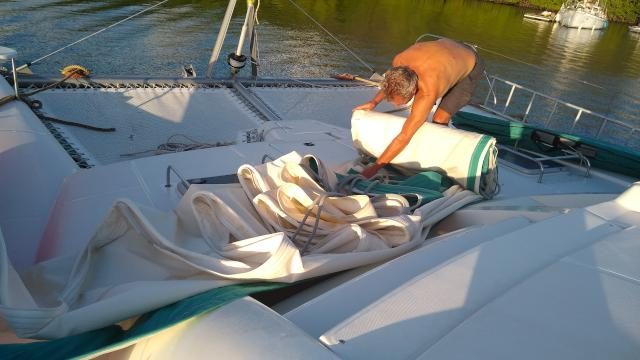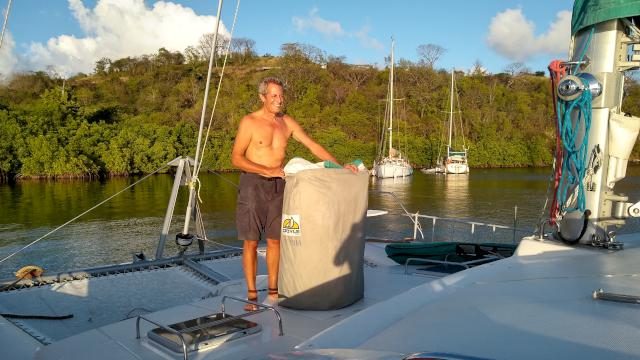 Stay tuned for our quarantine in Canada 2020, and how we still managed to have lots of fun and laughter, after quarantine. Canada is a beautiful and wonderful place to live.
We arrived in Canada in early December 2019, after leaving the boat in St Maarteen. The ski hills were already open and we got an early start.
We celebrated December Birthdays. Noel's and our grandson Tiago's.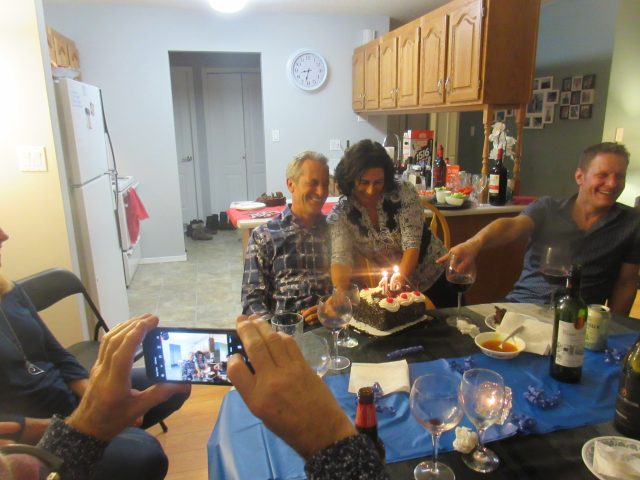 1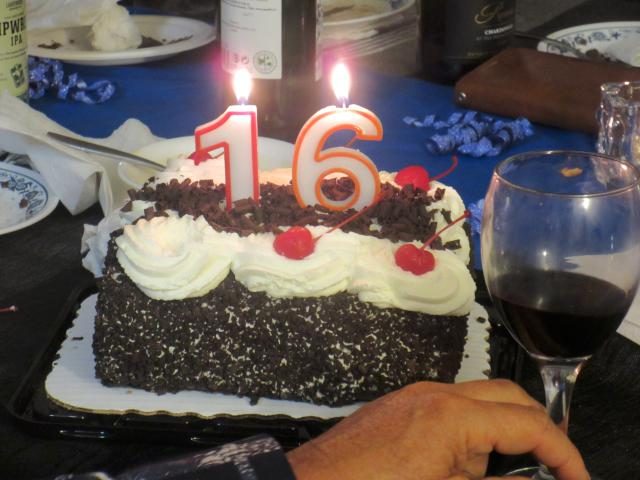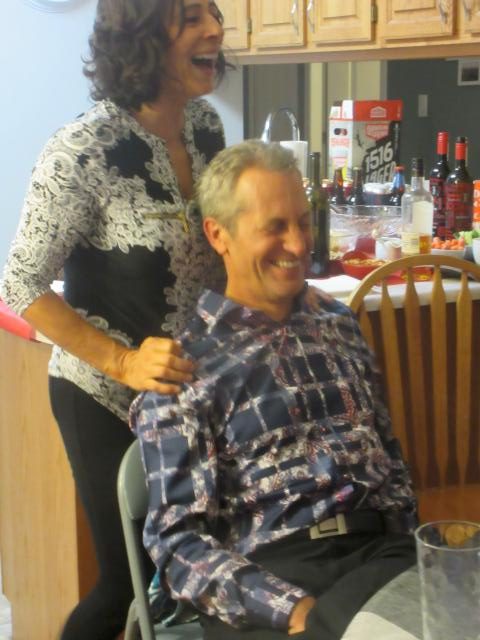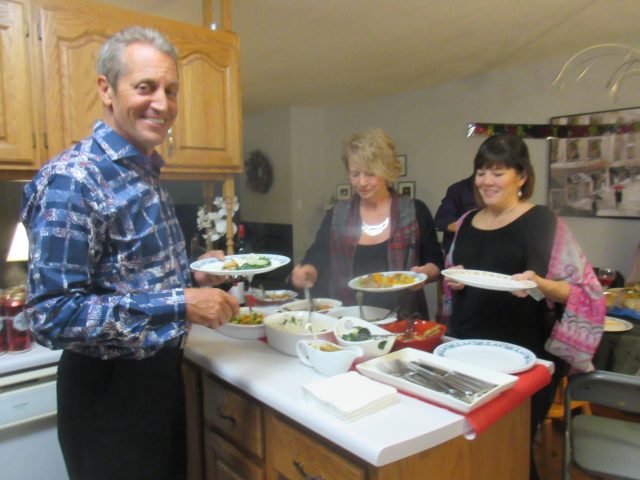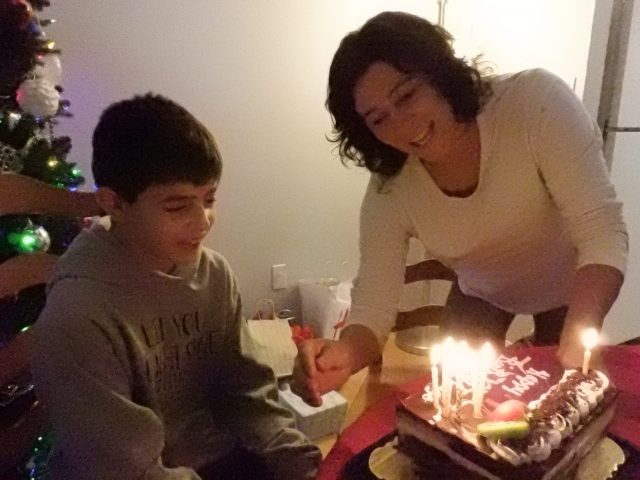 It was the night before Christmas… I think my grandson Behnam is keeping eye on the presents
But couldn't wait for the morning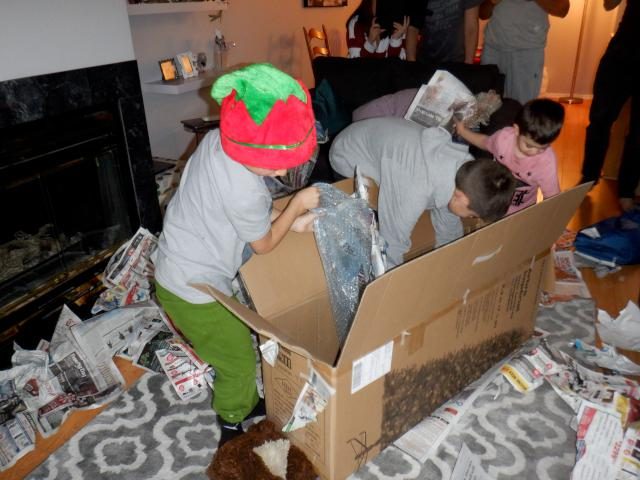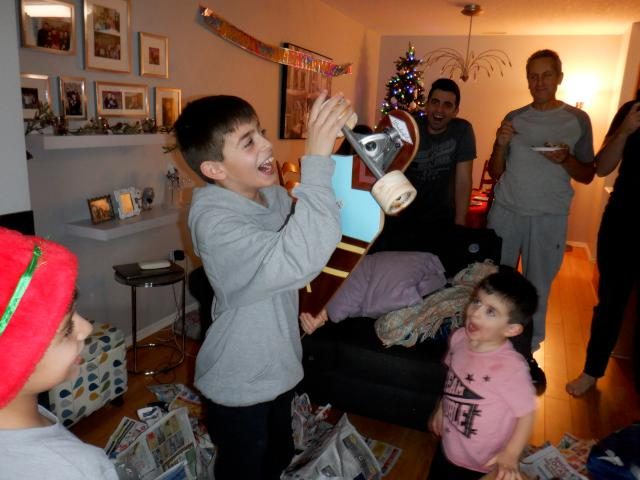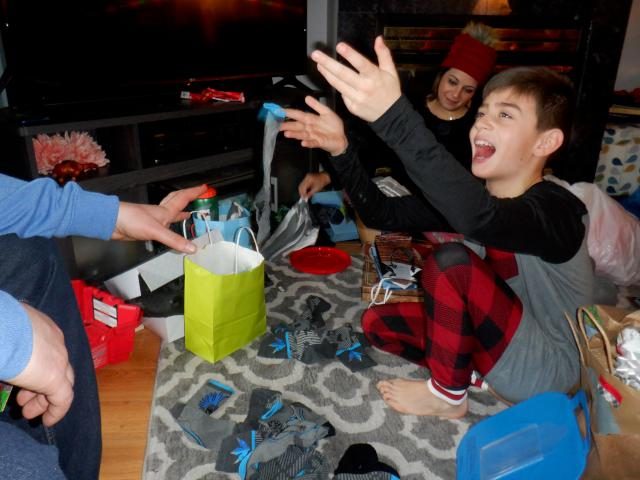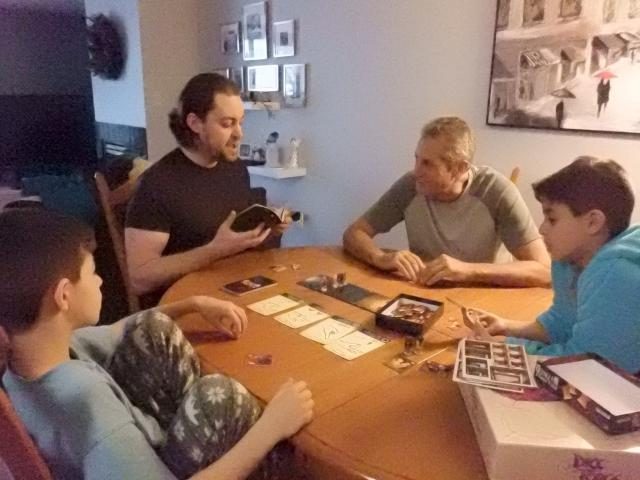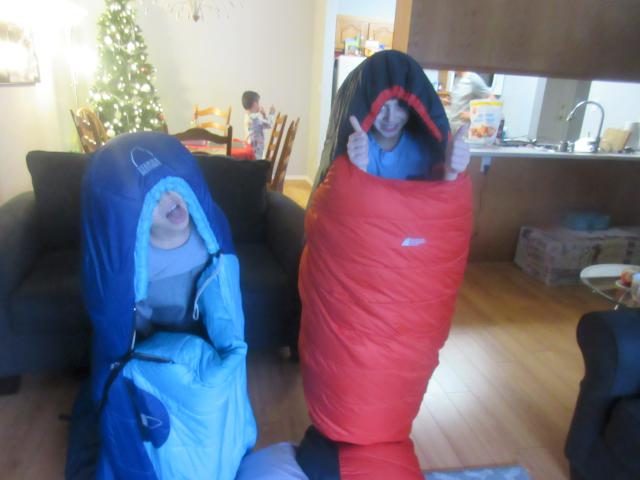 Try having a family photo taken with 3 kids and all the excitement.
We had a nice Christmas with our loved ones. Our family came from Vancouver, Edmonton, and all the way from UK. On Chrismas day we picked up Noel's Mom at the Senior's home to have her favorite meal with us, Goose with all the stuffing and sauces.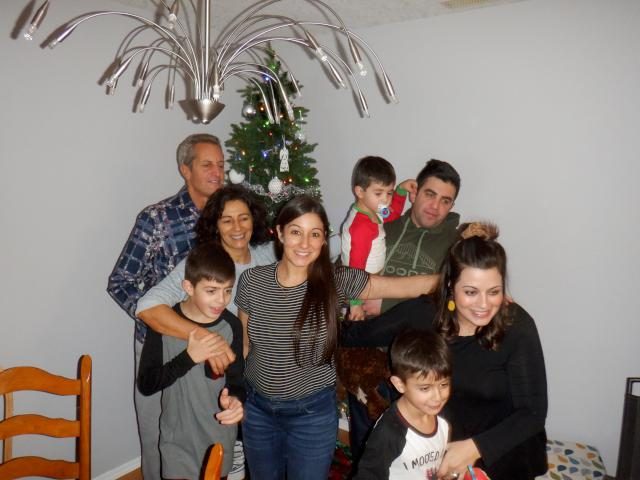 After Christmas was over and our company was gone, we took up skiing and snowshoeing.
Wow…we had an excellent ski season. Many powder days and no crowds after the holidays.
In January I went to Portugal to visit my Mom and siblings. I spent some quality time together. My sister from France joined us as well. So glad I went in January. Due to this Covid, we have not been able to fly there, so she misses the visits from the kids that live abroad.
We enjoy Winter in Canada. As usual, we do cut our ski season short. We book flights to the Caribbean and prepare for departure.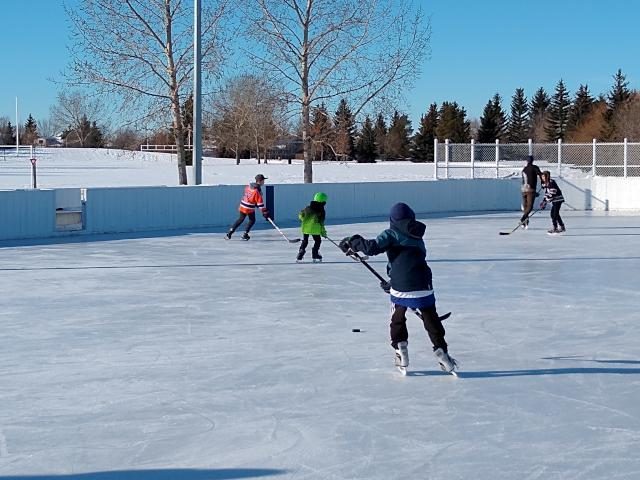 We took one more trip to Edmonton, Alberta, to say bye to the kids, and enjoyed watching them play their favorite winter sport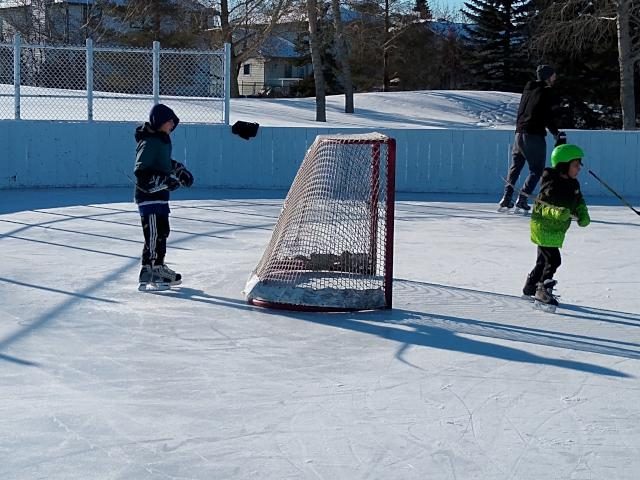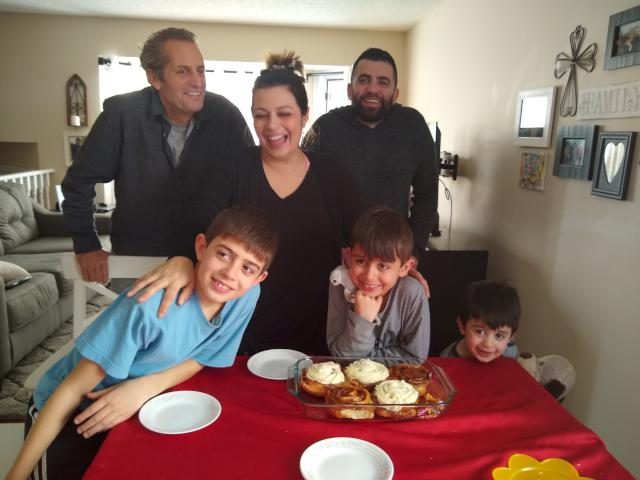 In early February we left for St. Maarten to join Life Part2.
Stay tuned for the next turn of events: February and March 2020
Current Location:
18.057599168193846, -63.11244216464844
Current Position: 18 3.46 N 063 6.75 W
Click to view map.
Distance sailed since last post:
129 nautical miles
.
View the map of our voyage track here
Wow…time to catch up where we left off last November 2019.
In October we joined Life Part 2 in Trinidad where we had left it for the hurricane season and to have some work done.
We joined a small group organized by the Marina for a food tour around the island. It was fun trying all the foods, and at the same time, you get a tour of the Island. The food was really good, but towards the end, all food started to taste the same. Mostly curry-based dishes.
We also did an evening tour to watch the leatherback turtles lay their eggs. As soon as we arrived at the beach we immediately quiet down and saw a turtle come ashore in the sand and started digging a hole with her long hind flipper.
The turtle dug a hole of about 3 or 4 feet deep. We were in awww, watching the eggs fall in on top of each other and without breaking. They have this thick mucus around them. When she was done she covered them up again, to keep the eggs soft and hopefully safe from the surface predators. Lost count of the eggs, but at least 50. It was very cool.
After that, we couldn't wait to get going. Trinidad is very hot and humid.
Grenada
Our first stop was Grenada. It was nice to meet up with old friends and make new friends. Joined in activities, had a roast pig on the beach, shared some drinks, some stories, and good laughs.
We enjoyed some hikes to the waterfalls around the island, and we even, once again, joined the Hash Harriers. It was a very muddy hike this time, through hills and plains and cow land. We hosed ourselves down when we got to the end, where the organizers had the cold beer and dinner ready.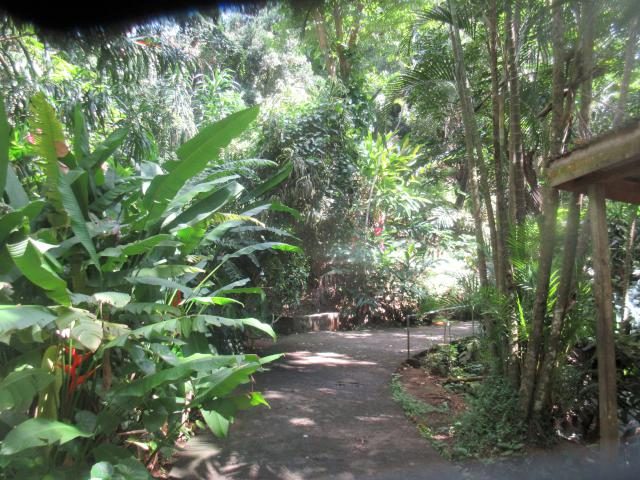 The beautiful Annandale Falls, surrounded by a grotto and luscious vegetation. What a refreshing swim. It's located on the southwest of the island and a short drive from the capital St Georges. This handsome guy always ends up in my pictures…..I'm keeping him.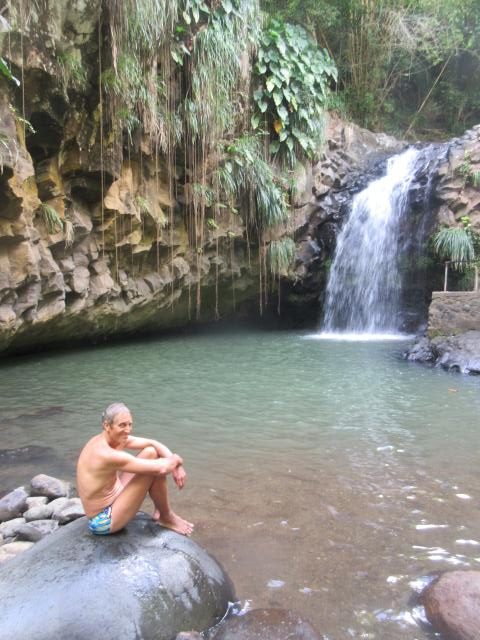 We also took a local bus trip to visit the Belmont Estate cocoa plantation.
It first started off as a sugar and coffee plantation nearly 400 years ago. After the decline of the sugar cane, they started with cocoa, nutmegs, and bananas. Their cocoa beans are certified organic and in 2003 opened their chocolate factory. They have been Fair Trade since 2014. The third or fourth generation looks after it now and has diversified into agritourism and sustainable farming. They even have a goat farm on the premisses.
We enjoyed a nice day out. Such beautiful grounds. The chocolate tasting was yummy. We bought a few chocolates to bring home. They offered to keep it for us inside, away from the heat, while we visit the Plantation. After a beautiful walk and a nice stop for lunch at their Restaurant, we got on the bus.
When we got home we realized we had left our yummy and expensive chocolate behind. After making a phone call, a nice lady answered and said it happens a lot. She sent it to us the next day on the first bus out. Another adventure in Paradise.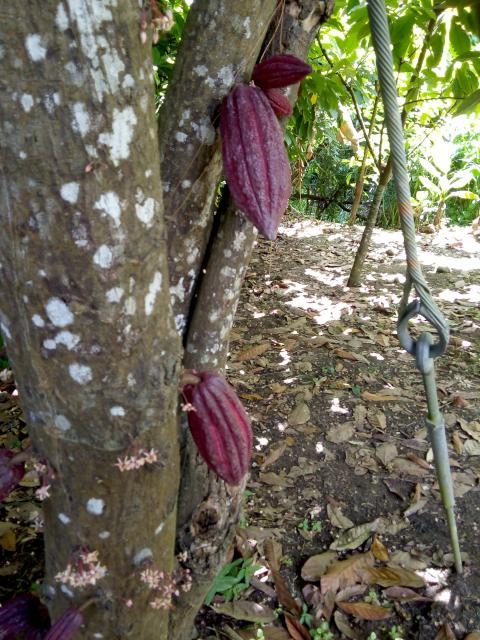 Cocoa tree and pods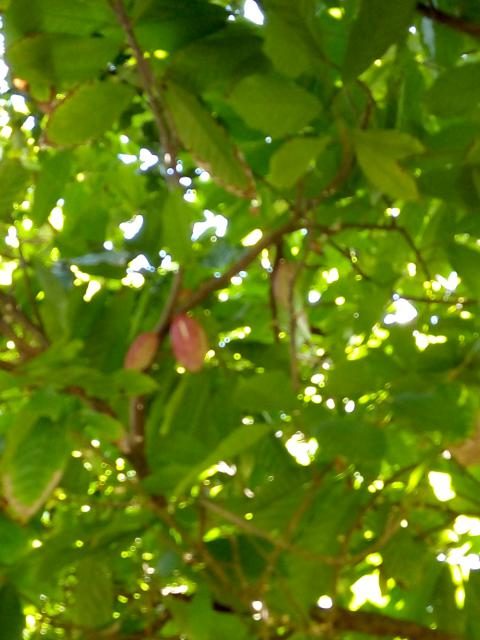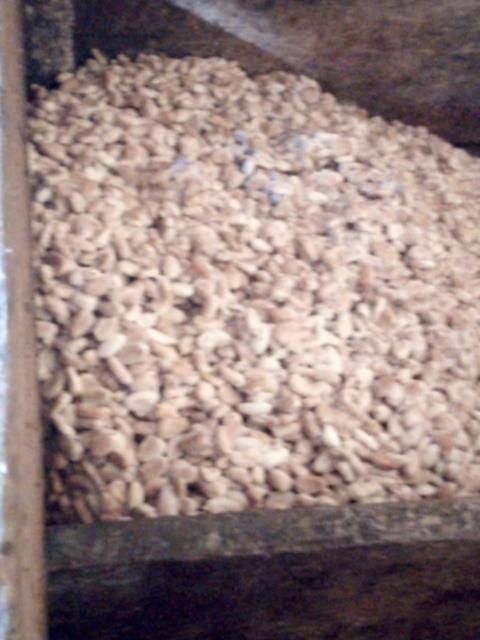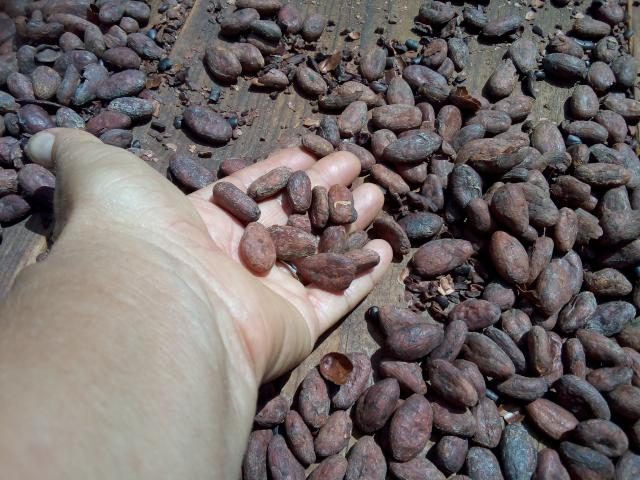 The cocoa beans drying out in the sun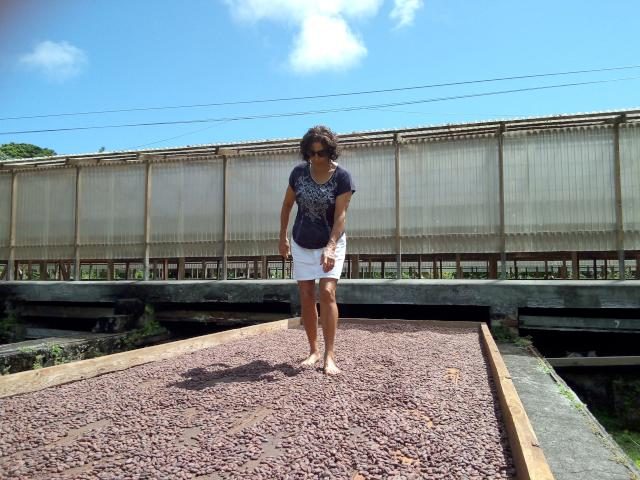 These trays are on wheels so when they get their tropical showers, they can just wheel them into the building.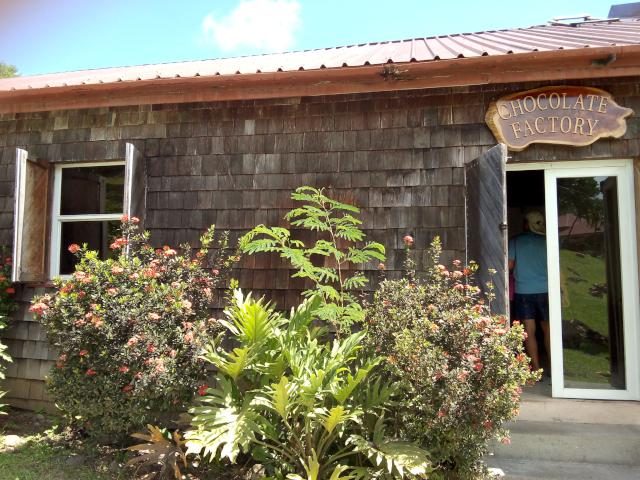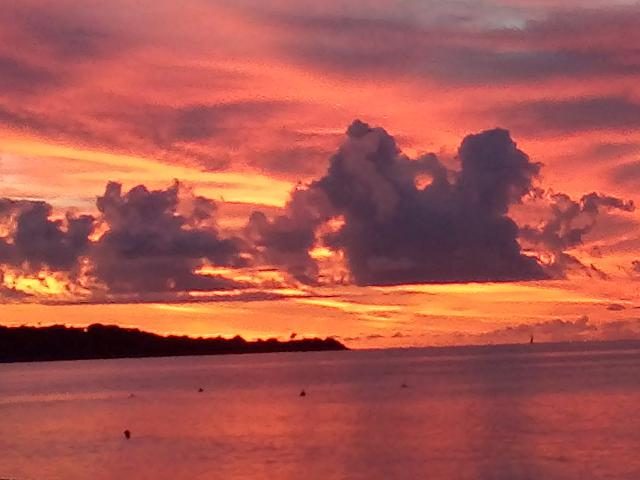 Out for a drink here, on a beautiful evening. Met up with some sailors and a few Americans who are professors here at the University of Grenada.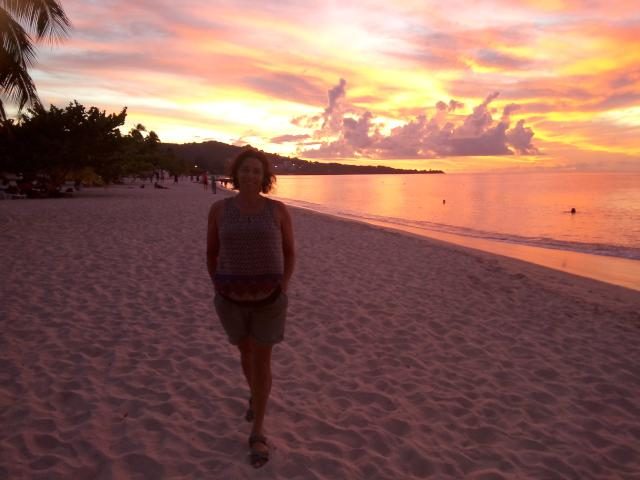 Grenada has the most beautiful sunsets.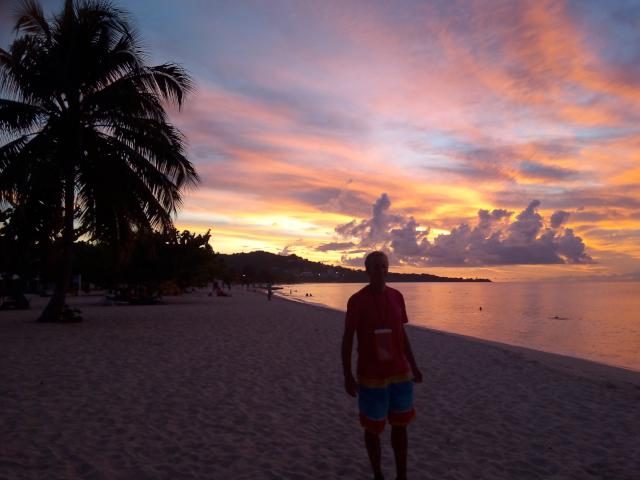 We headed up the Islands. Tobago cays, always a favorite. Swimming with the turtles is always fun and never gets old.
Union Island a good spot for windsurfing. Stayed here for a few days where Noel enjoyed some windsurfing. He also tried kite surfing with a friend.
Our next longer visit was St. Vincent, where we wanted to do some hiking.
St Vincent and the Grenadines, with St Vincent being the main island. This a cluster of 32 islands, only 9 of them are inhabited. They are so beautiful.
Kingstown is their capital. A very busy bustling town is the main port and commercial center for St Vincent and the Grenadines. . It's also the cruise ships and ferry Terminals. It's such a vibrant seafront with a big outdoor market selling local produce, fish market, lots of stalls, street vendors, shops and boutiques. All of this plus the nice music playing. And on cruise ship days you are butting heads with the tourists.
Many Historical buildings and Botanical Gardens. Lots of interesting architectural styles dating back to the 1800s.
We had visited St Vincent 10 years ago and loved it. In the past little while, we kept putting it off because of its bad reputation with robberies. Many of our friends have not had any trouble recently so we added it into our itinerary.
Such a gem. So Green, tropical lush, unspoiled, beautiful beaches, hiking snorkeling and more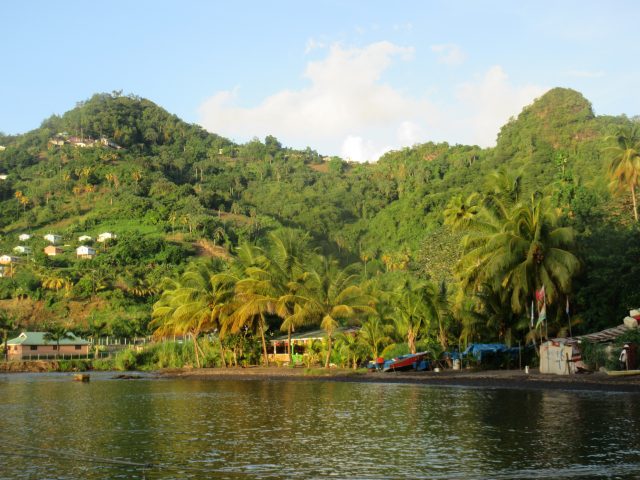 We anchored in these lovely spots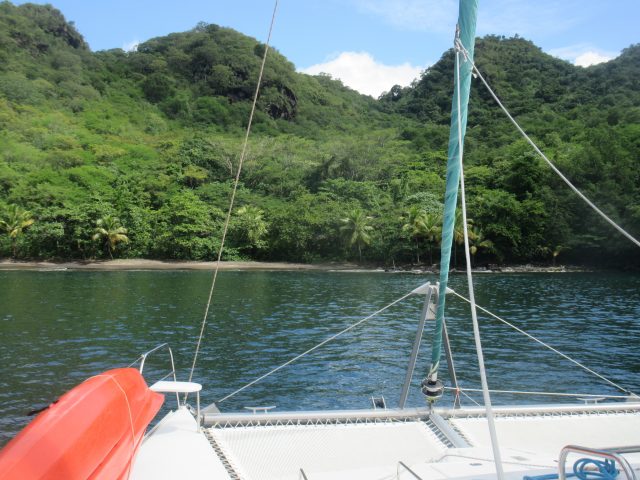 We didn't anchor in many different places. Every time you arrive somewhere locals just come and harass you to buy things. I wish they were selling nice vegetables that they should grow in their gardens, instead of jewelry and other tacky tourist stuff. Sometimes, they bring you fish.
Other than that, we found the locals friendly. We did a lot of walking and local bus rides.
We had to hire a guide to take us to Soufriere volcano. Not allowed venturing on your own.
La Soufriere, St Vincent
This is an active volcano last erupted in 1979. It is the highest peak on the island at 4055 feet high.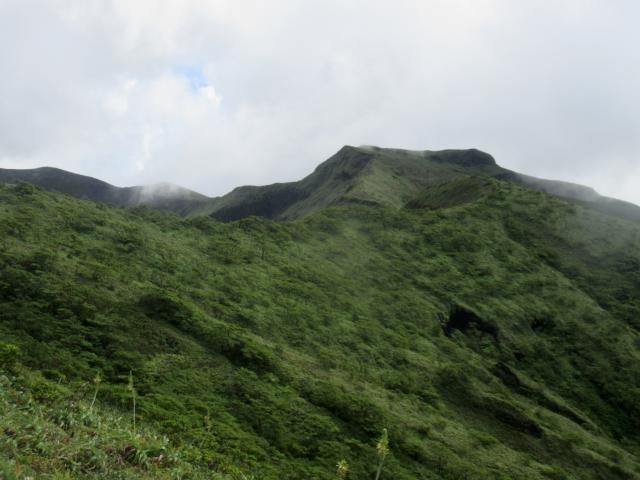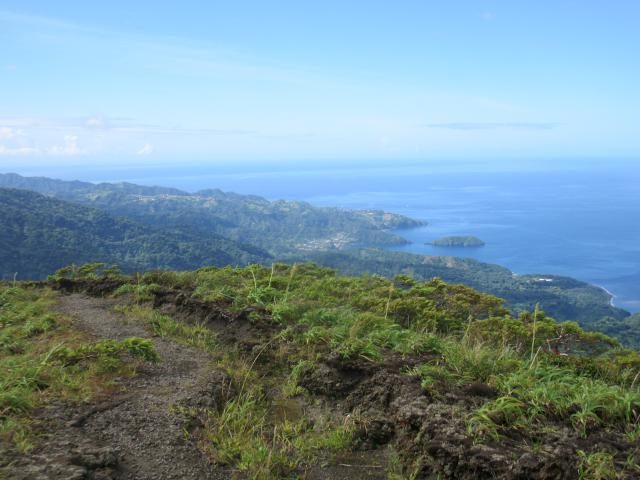 The hike was very steep, but it was amazing. It started off in its tropical lush near a river and then changed to a bit drier as you got into higher altitude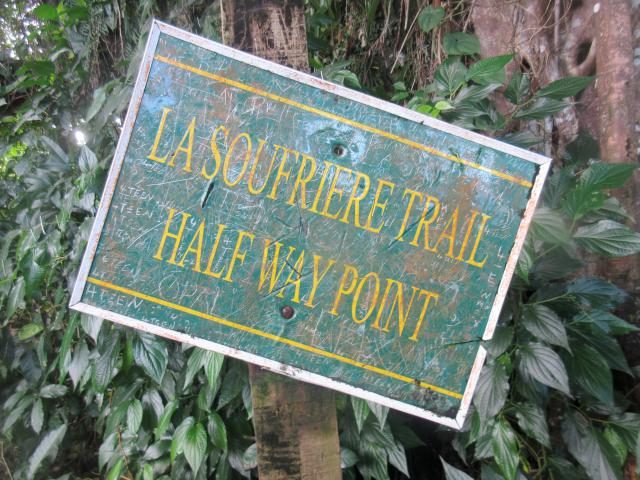 After this point, the hike got steeper and steeper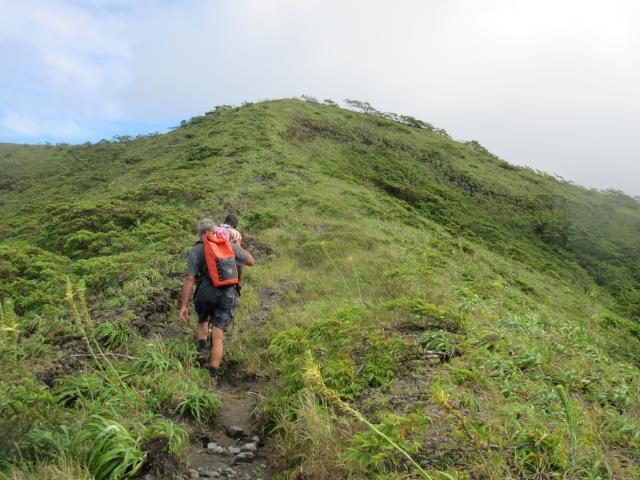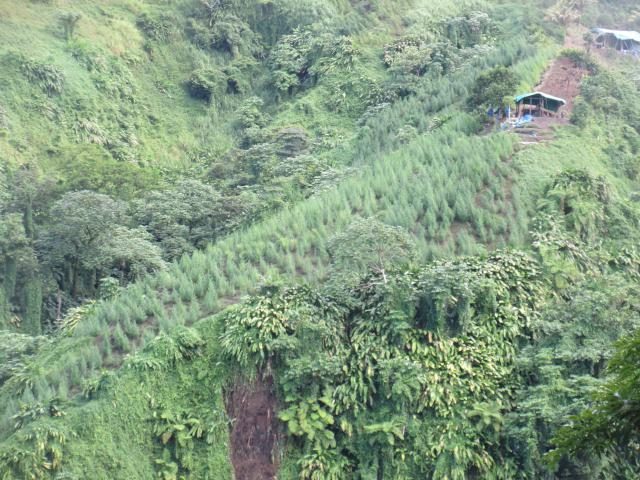 Big Marijuana field across, that's why you cannot do the hike on your own. You don't want to take a wrong turn and end up on their property unexpected. We actually visited one of the farms on the way back with our guide. They shared a quick joint and we moved on…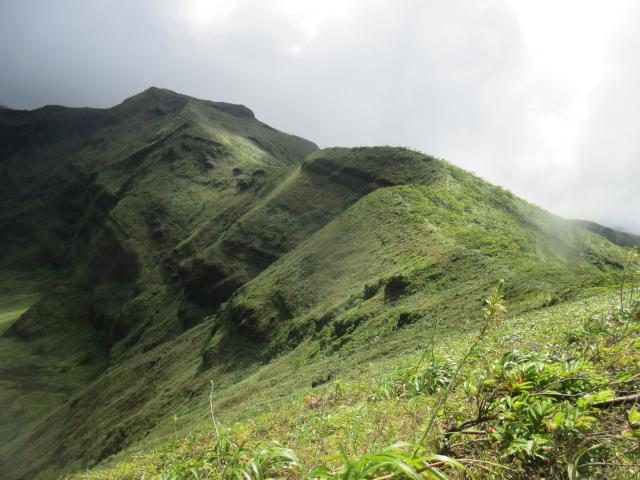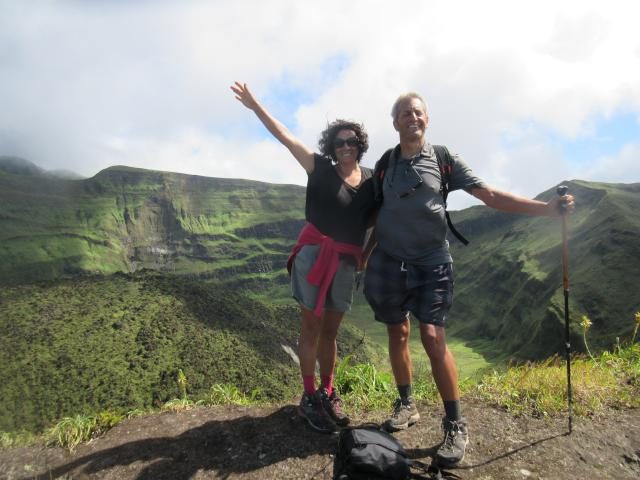 Mission accomplished. Time for a snack now.
And it was all downhill from here. Ended here at the beach below, near a river, where we soaked our feet and splashed around while waiting for a boat to take us back to our anchorage. Behind us, all the way up.. is where we came from. Feeling good.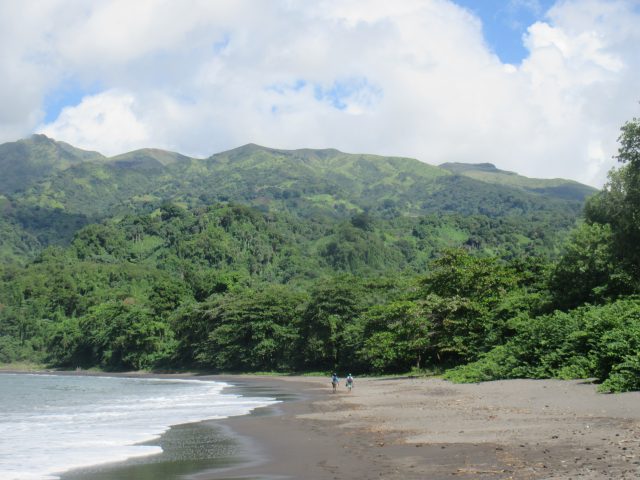 Wallilabou and a visit to the site where Pirates of the Caribbean was filmed in St. Vincent.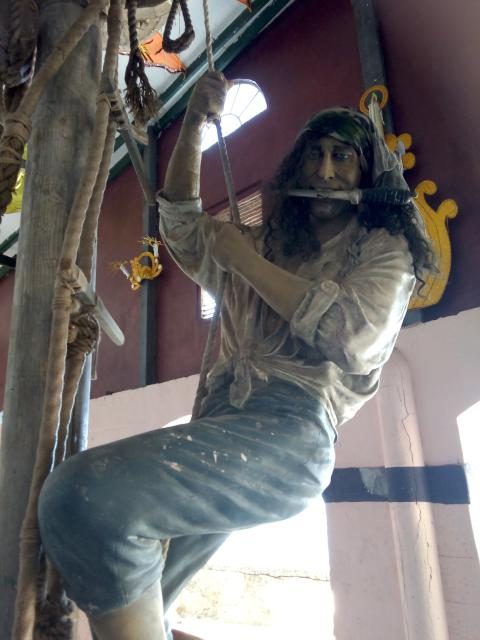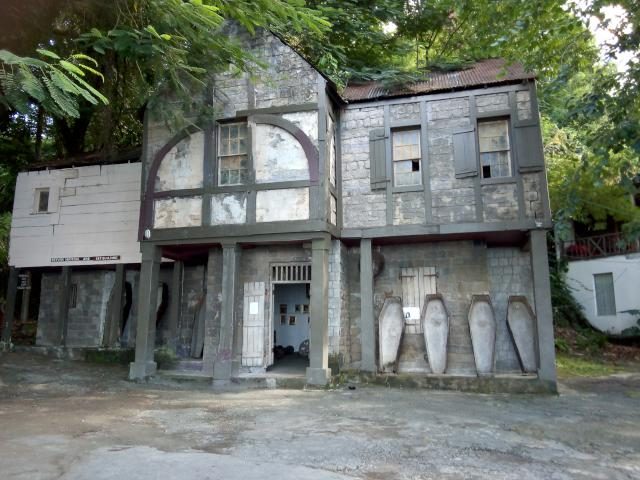 The museum still has photos of the cast with their schedules all over the wall. The Restaurant owner told us how much she enjoyed meeting actress Keira Kightley but Jonny Depp- everyone said he was very strange.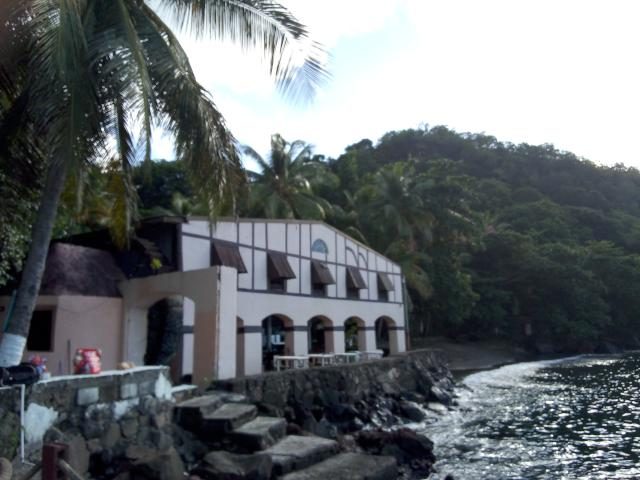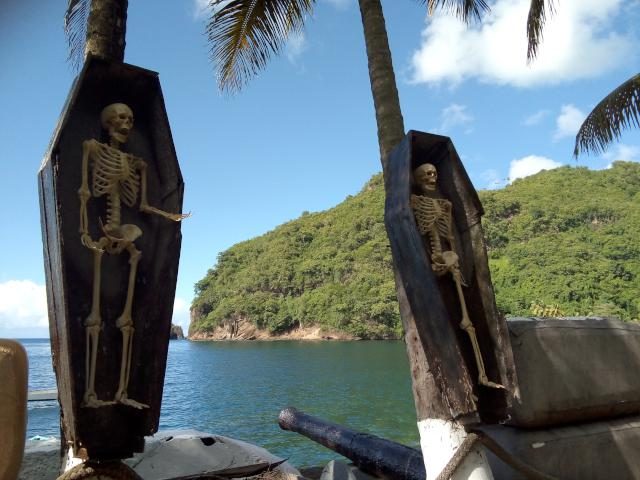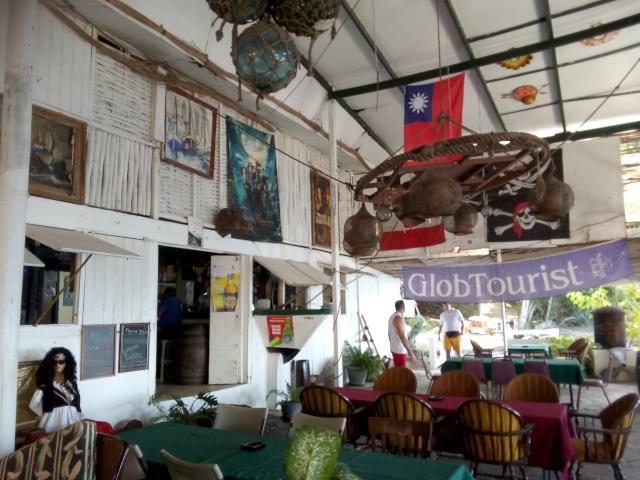 Our next stop was St Lucia.
By then I was really excited to stock up on fresh vegetables. These are sure not so readily available is smaller islands. Castries has a nice market and even the stores are more stocked up.
Local boys selling coconut water on the streets is another of our favorites in St. Lucia. Ahh, freshwater pouring out of the coconut and into a one-liter bottle right in front of your eyes. You would think coconut water would be cheap and available everywhere in the Caribbean, NOT. You don't see it much around the Islands.
Our next shopping spree was Martinique. Couldn't wait to stock up on French cheeses and wine. Gotta love the french islands…we especially like Guadaloupe for all their hiking, and scenery.
As usual, we enjoyed our times in the islands and especially enjoyed meeting old and new friends.
We spent the months of October and November just cruising up the chain. We were headed to St Martin where we had plans to leave the boat for December and January, while we went home to Canada.
St.Maarten
We arrived in St Maarten in late November just in time to celebrate my Birthday. Known for their gastronomy, Grand case lives up to its fame. A beautiful long sandy beach, and a one mile long street of restaurants making it hard to choose from. It all looks and sounds so good. We were not disappointed. I even decided to try frog legs for the first time. They were delicious. But the sauce…to die for.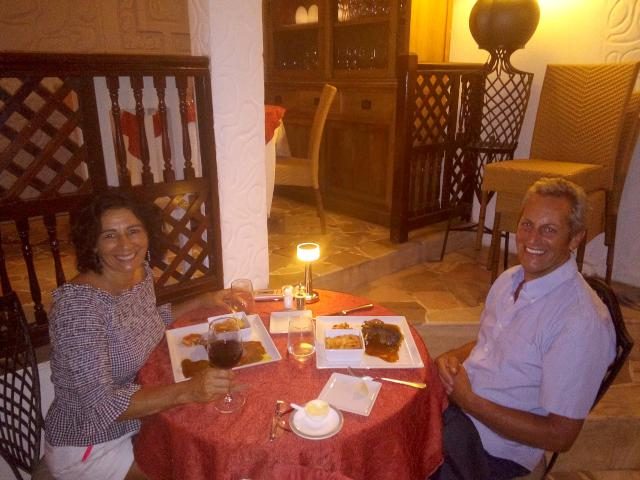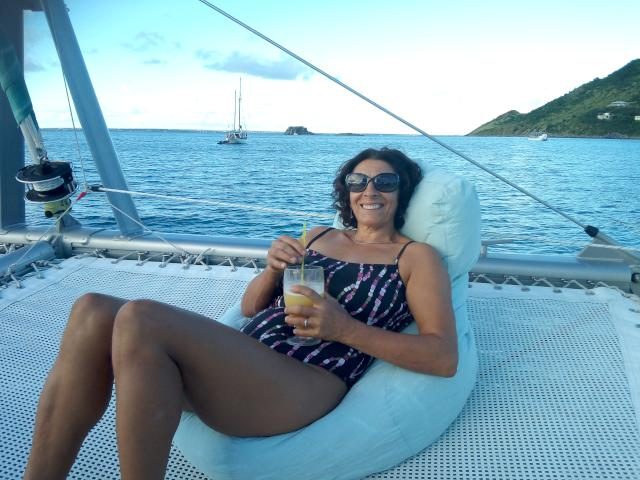 The Birthday girl. Drink, swim, and a nice dinner. Let's celebrate getting older
We will leave the boat in Simpsons Lagoon under the good care of Atlantech Divers on the French side of St Maarten for a couple of months.
Looking forward to seeing the kids, all the family and friends, and downhill skiing.
Au Revoir, St Maarten
See you in 2020
Boiling Lake, Dominica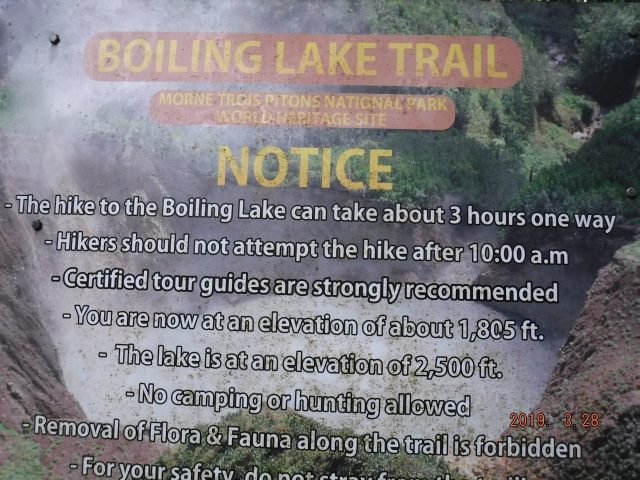 One of the toughest and most famous hikes in Dominica is to the Boiling Lake. We had done this hike ten years ago, but we knew we had to include it again on our pass through the island. We love it. Reported to be the second largest in the world, after one in New Zealand, this is well worth a visit while in Dominica. We chose not to go with a guide. We were anchored in Russeau. Walked into town and took a bus to the start of the hike in Titou Gorge.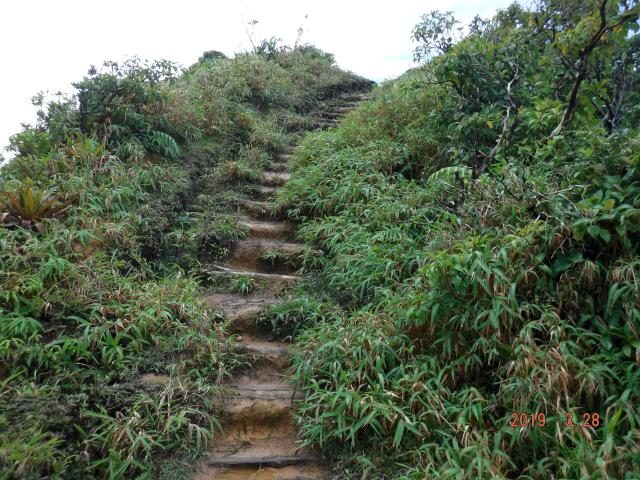 The hike does not start on the flat and only gets more challenging as you get up into the Morne Trois Pitons National Park. Steps have been made from tree trunks and you will find yourself heading mostly uphill. Starts off with a nice shaded dense rainforest.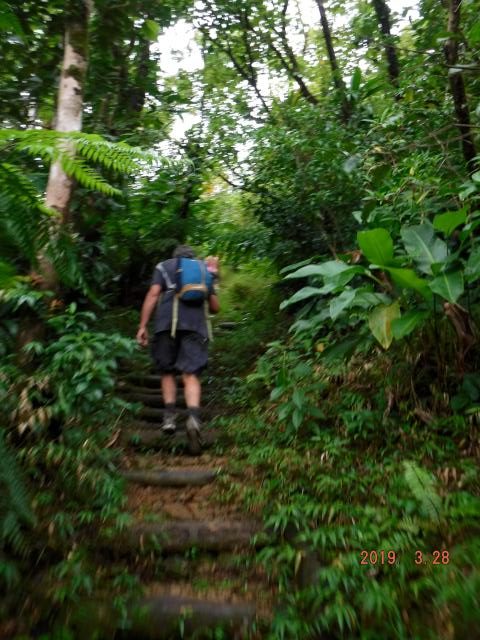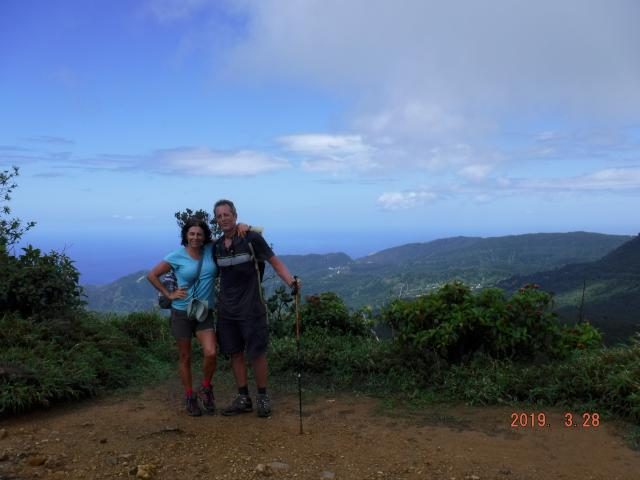 The total elevation gain is around 1,300 feet. Time to stop and admire the views. On one side you can see the town and all the way up where you came from. The other side, the beautiful valley, the gorge, the streams of varying colours and bubbling hot springs. From here, there is a tricky downhill section into the Valley of Desolation.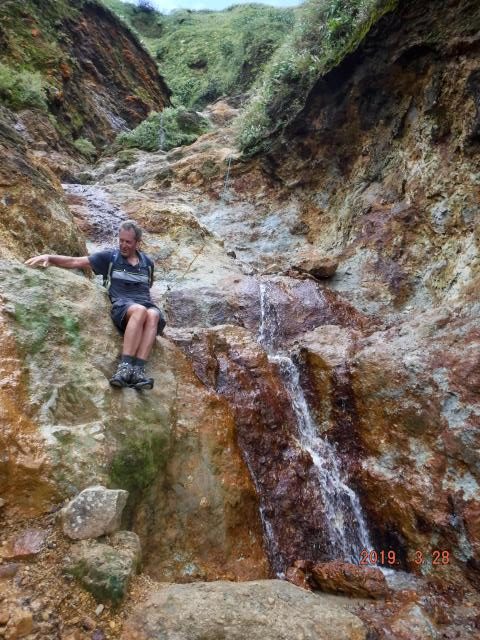 Yes…some challenging areas. The route is a little harder to follow as it has not been beaten enough yet and the trail beyond is now a river walk until it reappears as a steep, rope-assisted rock climb and descent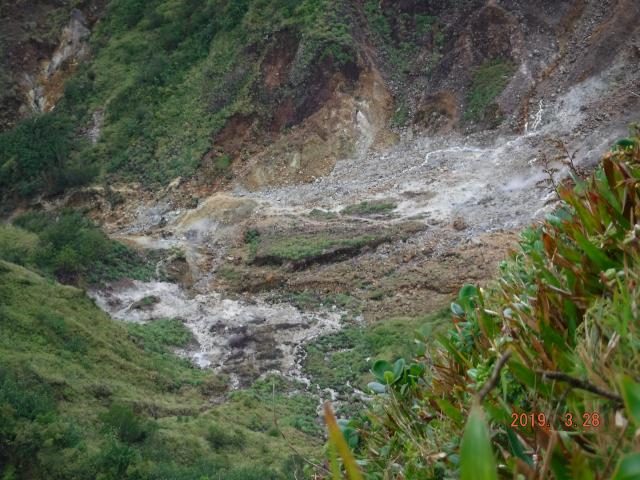 Below is the first glimpse of the Boiling Lake, looking so close but yet so far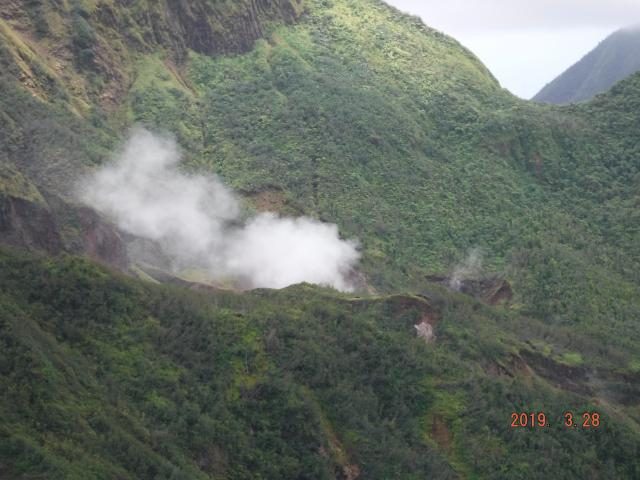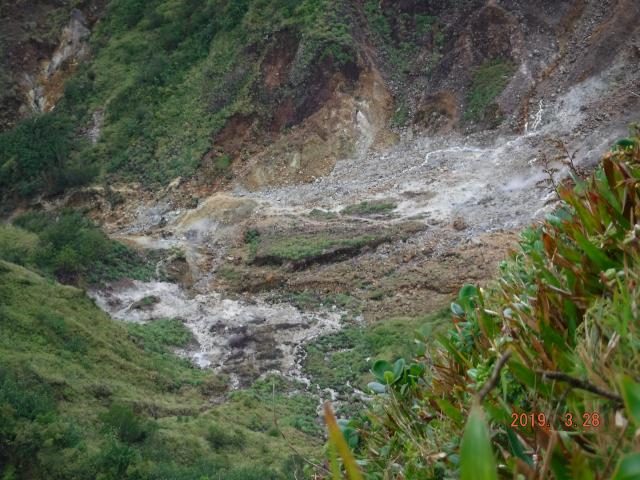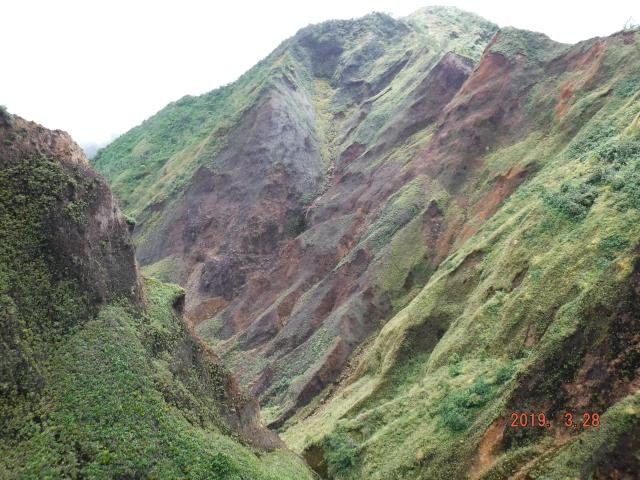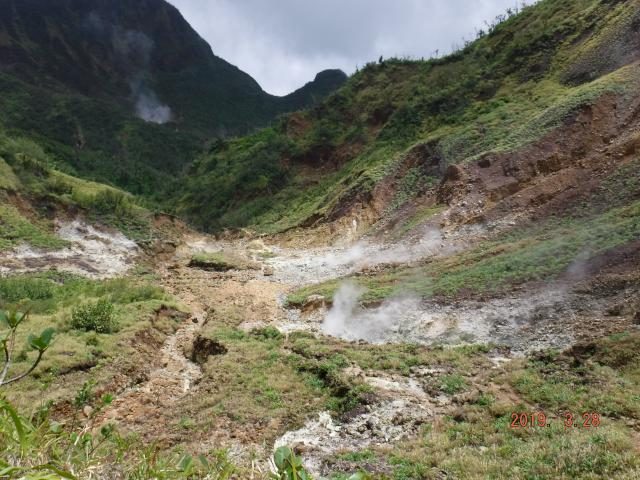 We did not try it, but people say that some guides bring eggs and boil them here for lunch. We did not have a guide, as we knew how to get there. Having said that, since Hurricane Maria, the route is a little harder to follow as it has not been beaten enough yet and the trail beyond is now a river walk until it reappears as a steep, rope-assisted rock climb.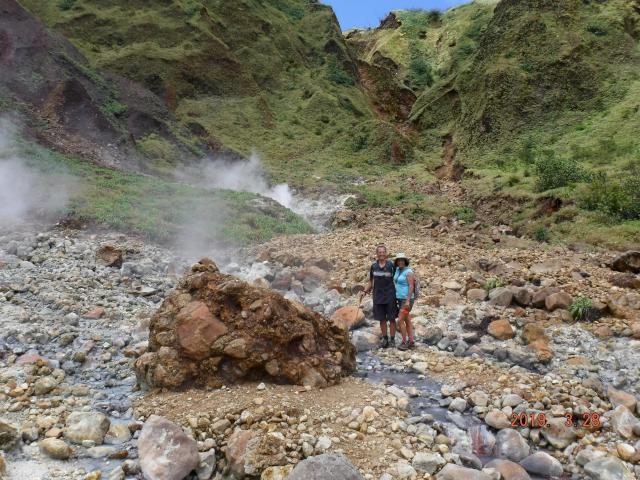 Walking through the valley and marvel at the streams of different colours and bubbling hot springs.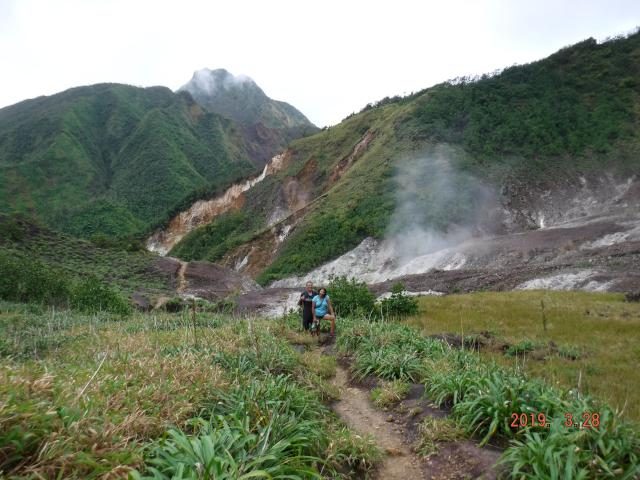 We have arrived at the destination…never disappointed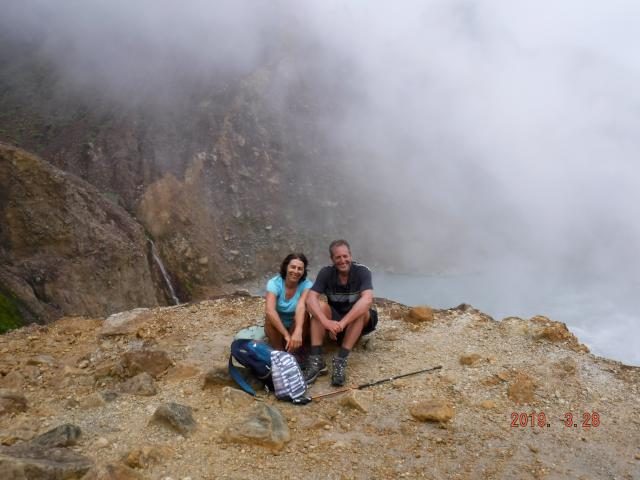 Yes… The water is boiling. Because of the high temperature of the water, it is often shrouded in steam but you wait for a minute or 2 for the wind to pick up and clear the air to get a good view of lake below.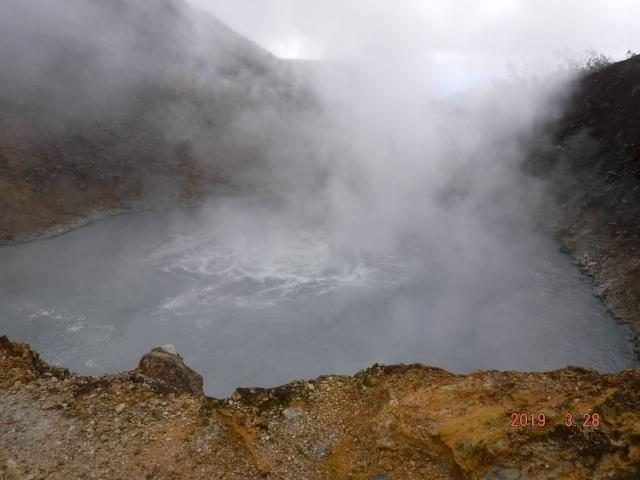 We sat down and enjoyed a nice picnic lunch here.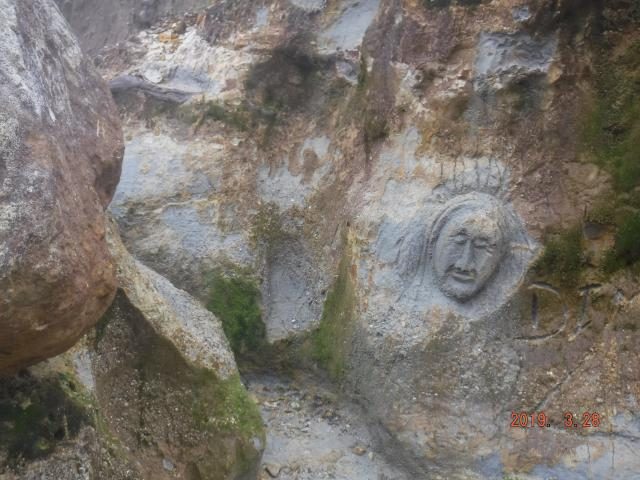 What goes up must come down….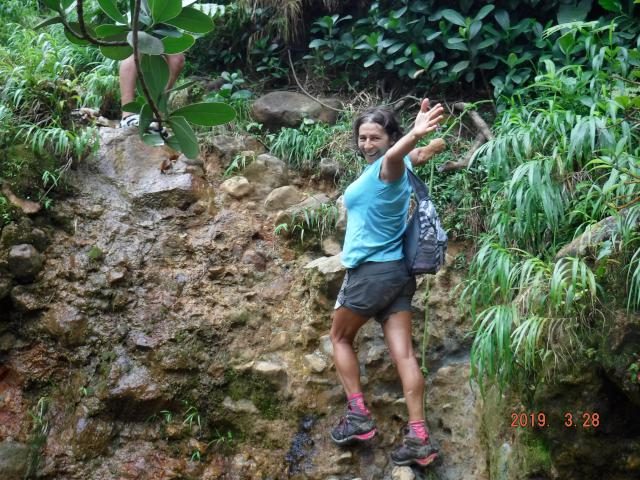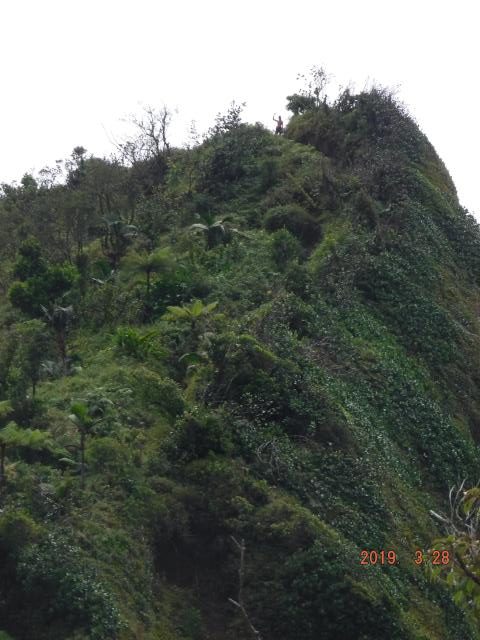 Landslides have transformed the high ridge section now a narrow track, barely a foot wide, has sheer drops on either side. If your knees wobble, forget the view and don't look down.
At the end of the hike we enjoyed a nice fresh water swim. Noel ahead of me swimming through Titou Gorge deep into a waterfall.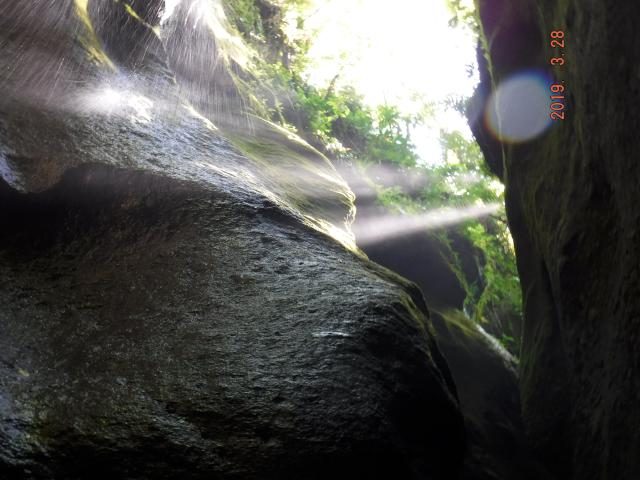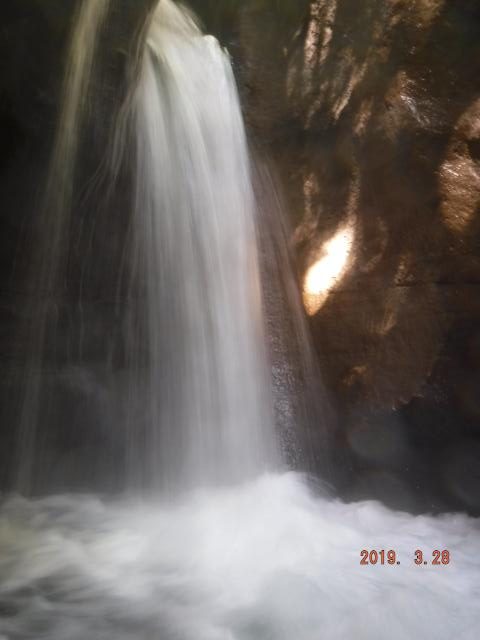 In Titou Gorge, while toweling off from our much appreciated cool swim, we got chatting with some locals young guys. They wanted to show us their local weekend hang out. Not a tourist spot. High jumping into this canyon. No, we did not jump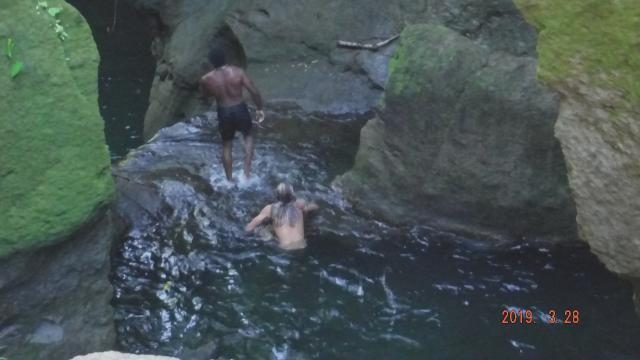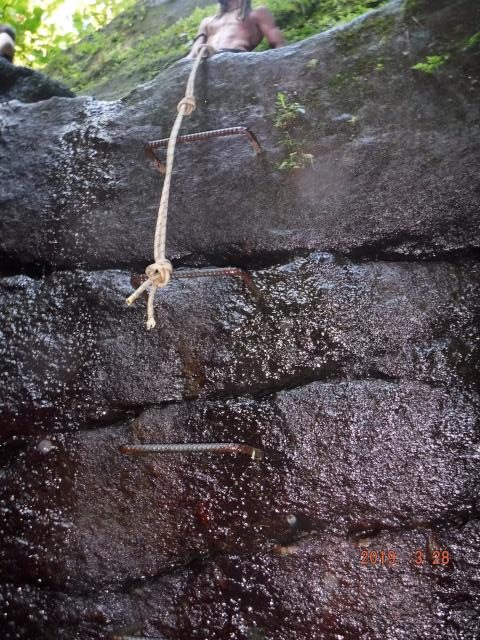 Walking down we were on all fours and assisted by robes, trough this steep and muddy creek to get down to the other canyon. Noel and I couldn't help but laugh. We had done such a huge hike already and here we are running after these young punks down on our hands holding on to tree roots and branches through steep running creek and muddy steps
We descended and walked a bit up the canyon to this great waterfall.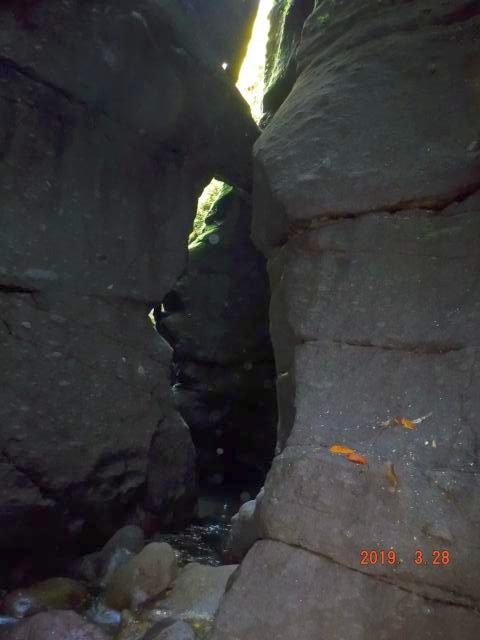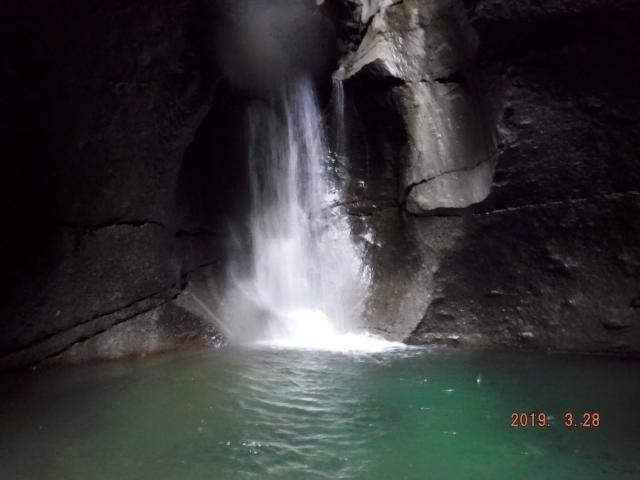 Another nice swim. We still had to make it back up to the parking lot and a bus ride into town. What a great day out. Full day too.
Guadaloupe
Love the Nature trails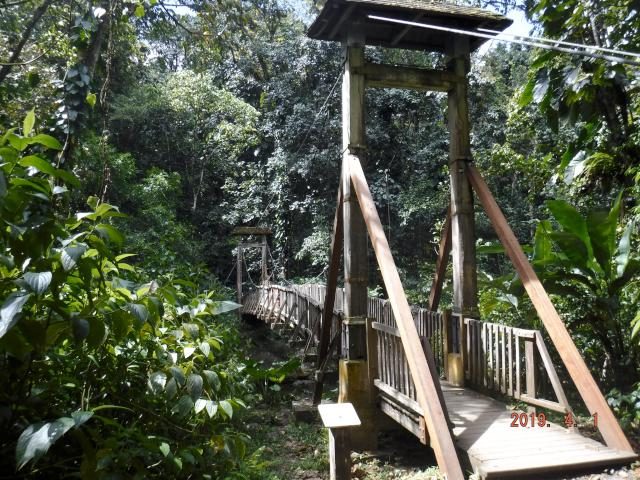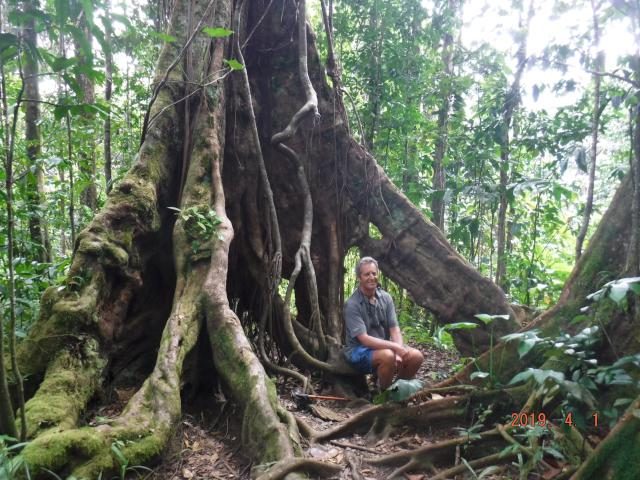 Hike to Falls, Saute de la Lezard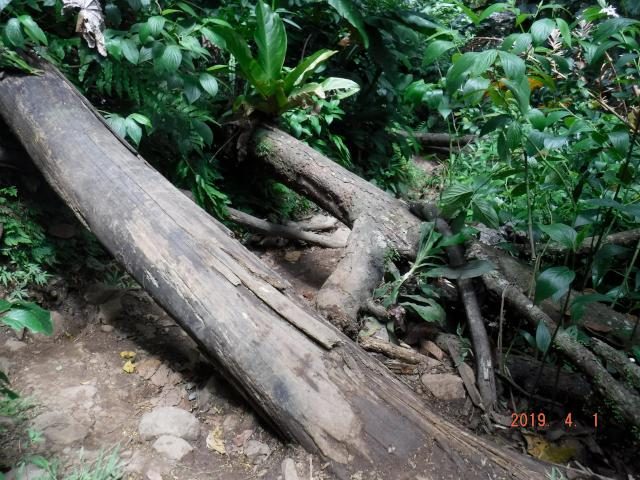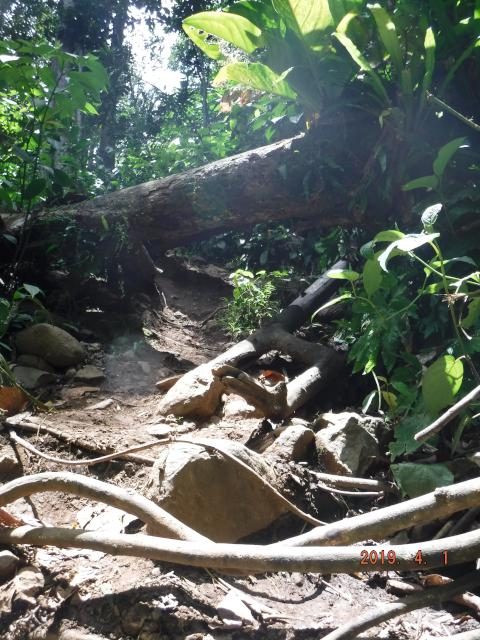 Another challenging trail, but this hike was not that long.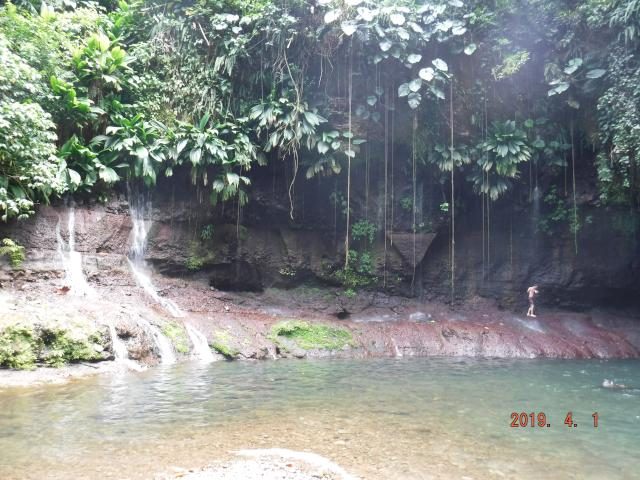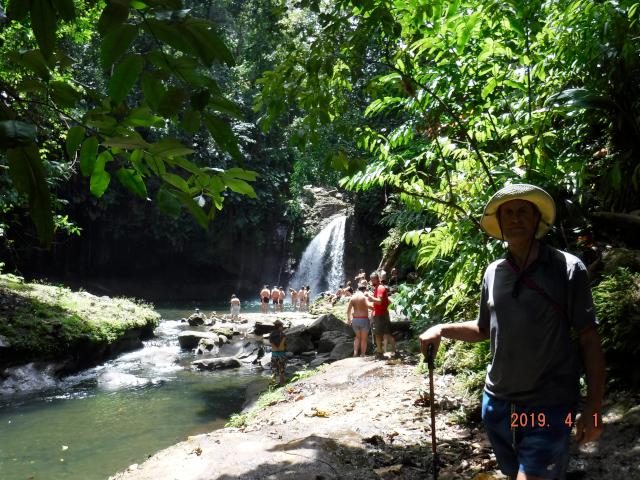 We were surprised with the crowd of almost 20 young people, who perhaps were University students. They were having fun taking turns jumping down.
Although we did not have to ourselves, it was still a nice surprise. These Falls were beautiful and a very large swimming pool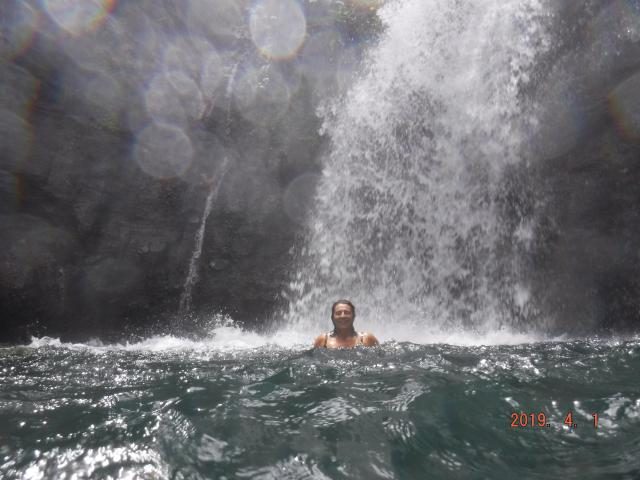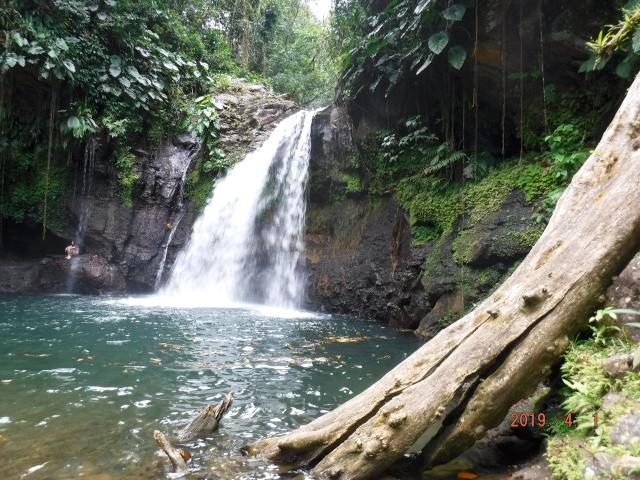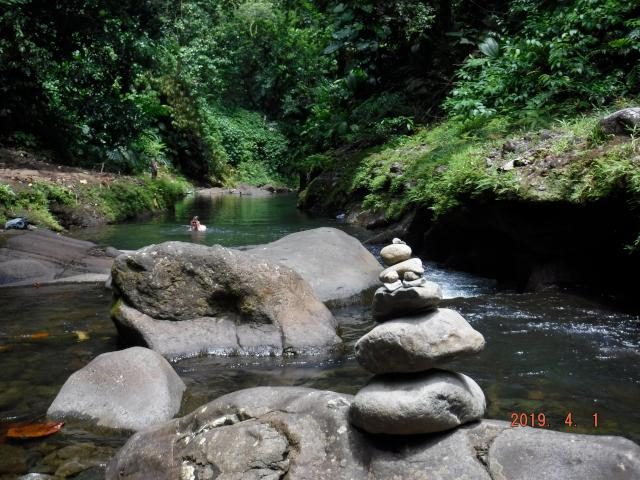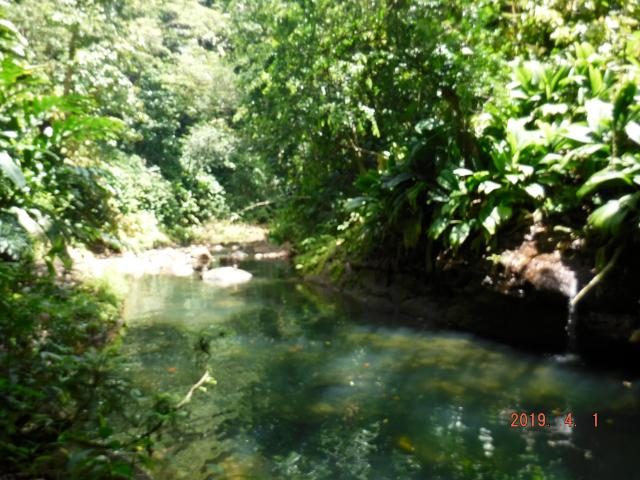 We were once again climbing up on roots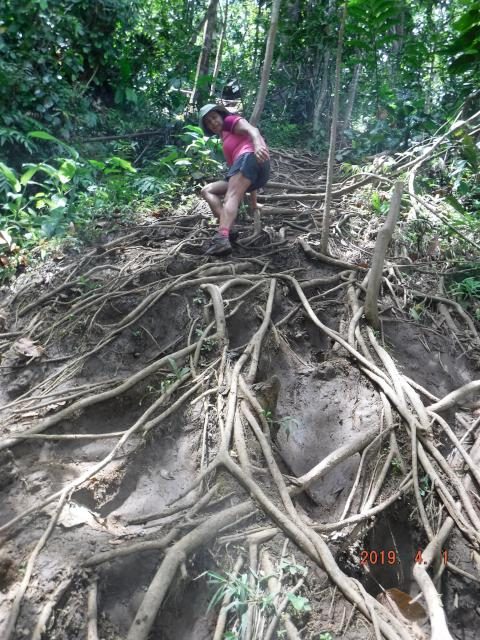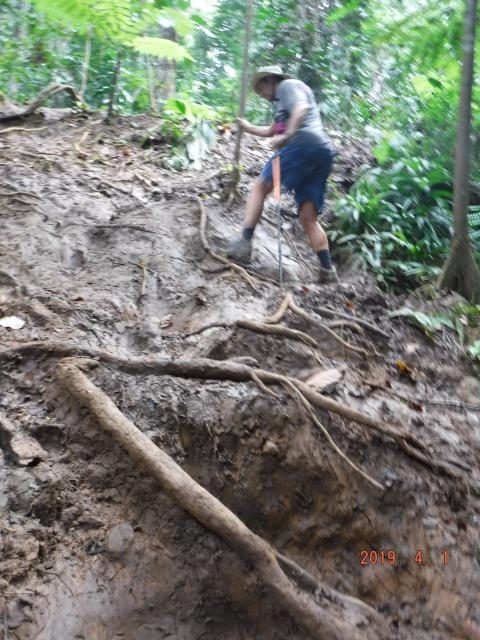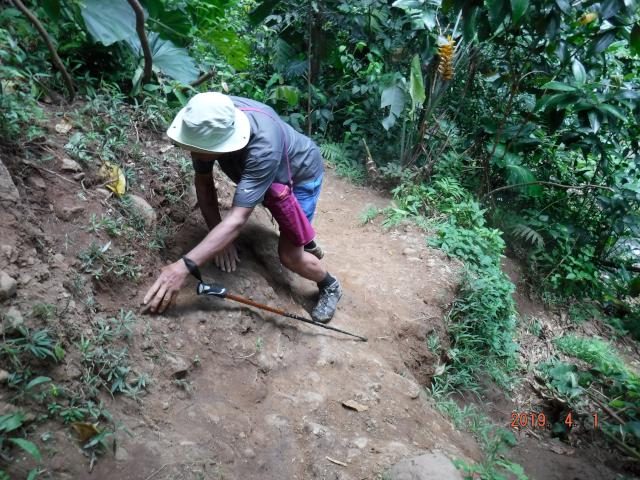 It looks like Noel got himself in a bit of a pickle. He is not sure if he has enough space to move his right foot forward, and he has no room on his left. Its all downhill. Well, while I wait I took a picture of this visitor and of this beautiful flower next to us.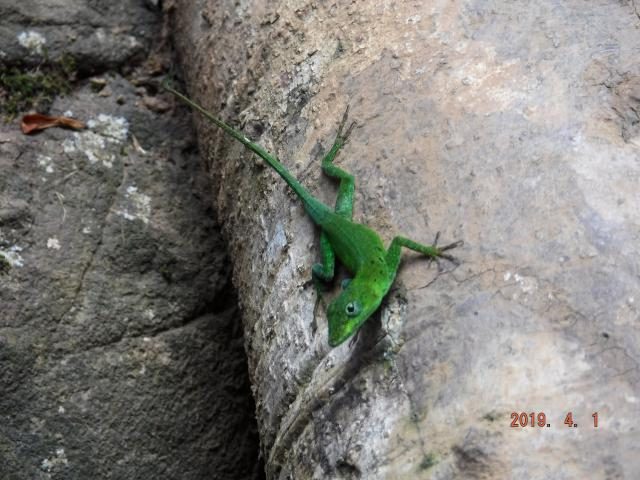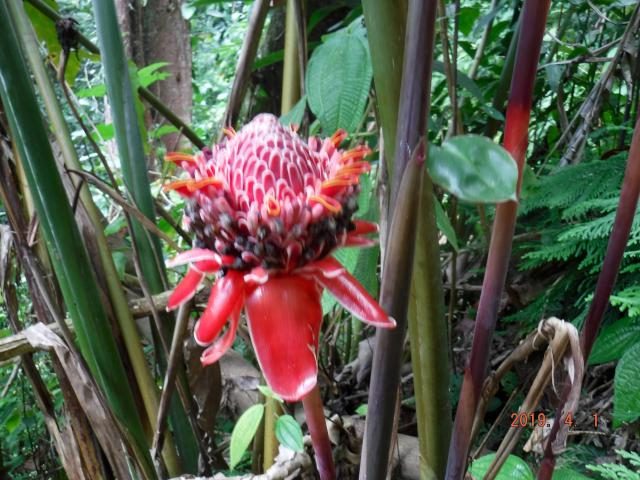 Saba Island
This Island was our first time visiting. We wrote something about it a few months ago, but I just want to add the pictures from the hike. This cute small island is Dutch. Known for diving and hiking.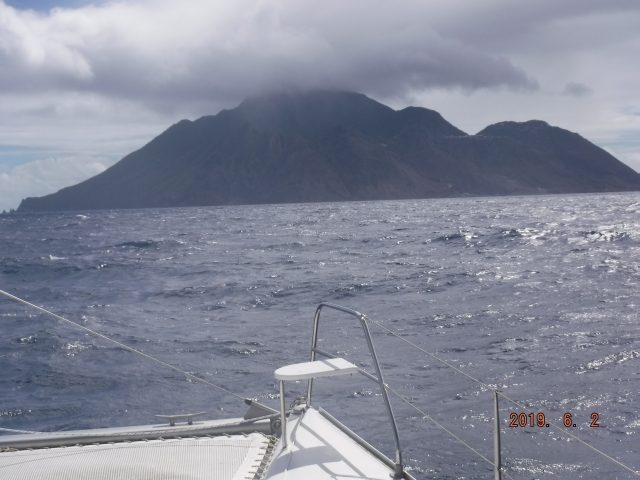 When you arrive it looks like just one big rocky island. But far from it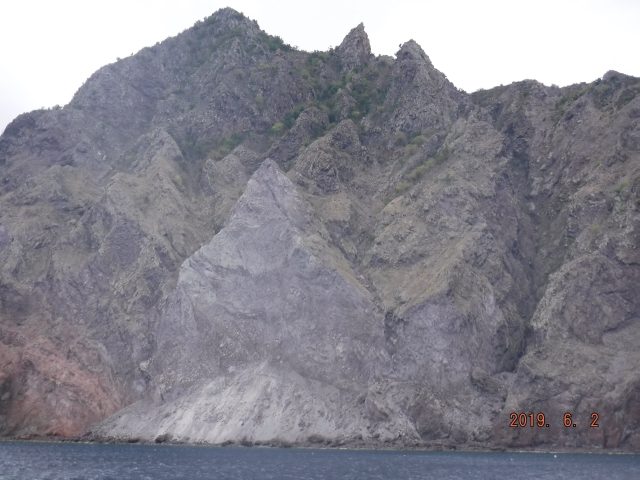 This was our anchorage. Every day a few diving boats came nearby to the dive sites. We did do snorkeling here and it was really beautiful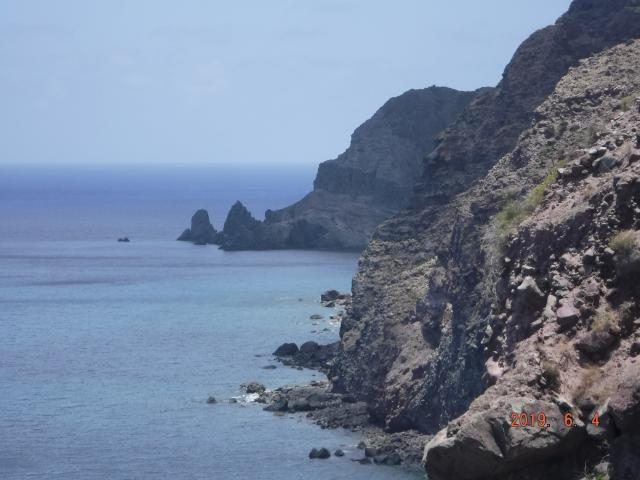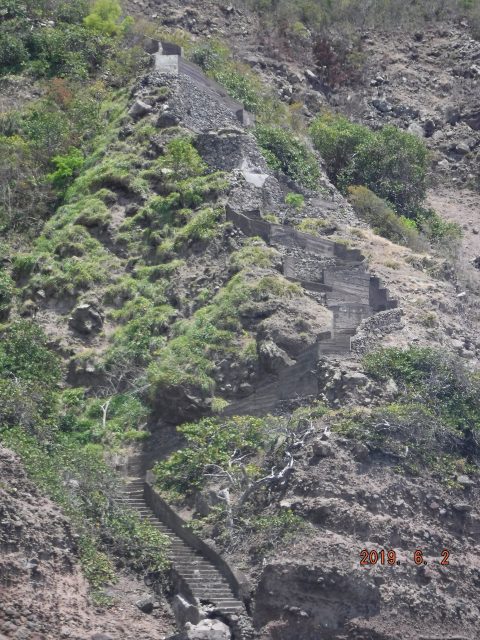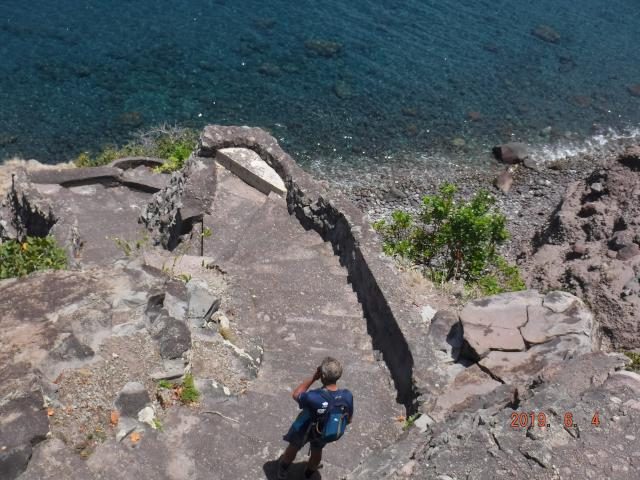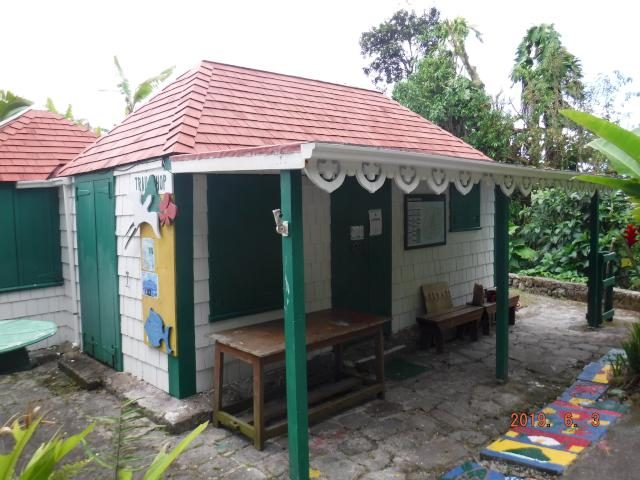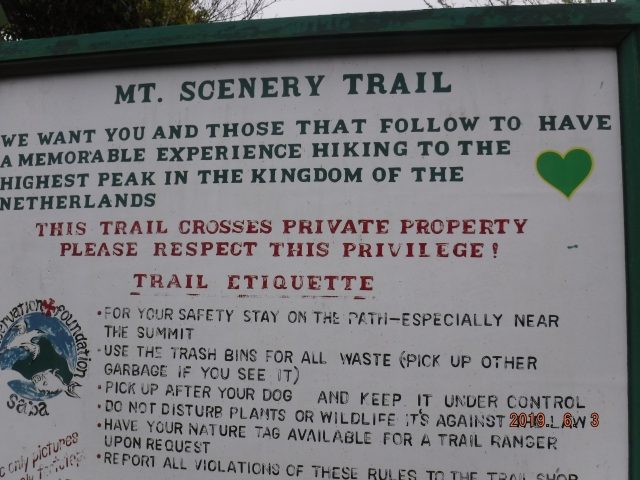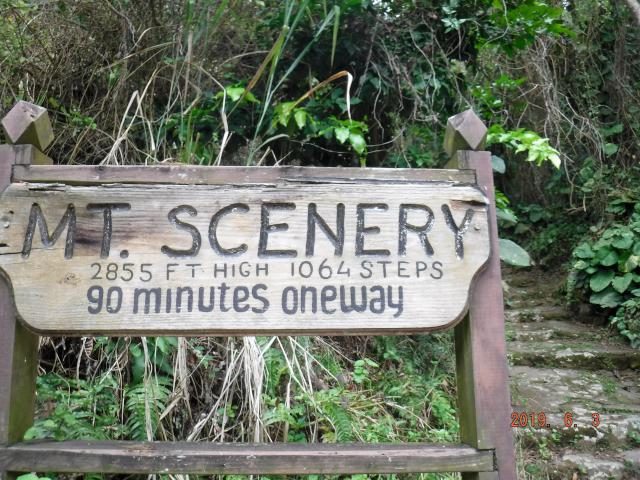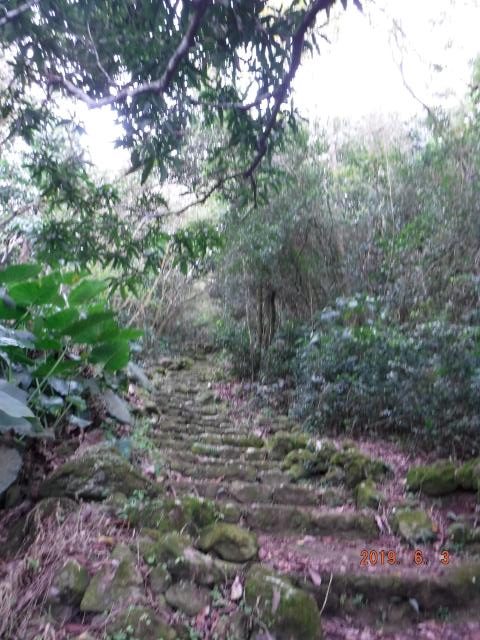 We started our hike here and took us through dense rainforest.Including beautiful fern trees.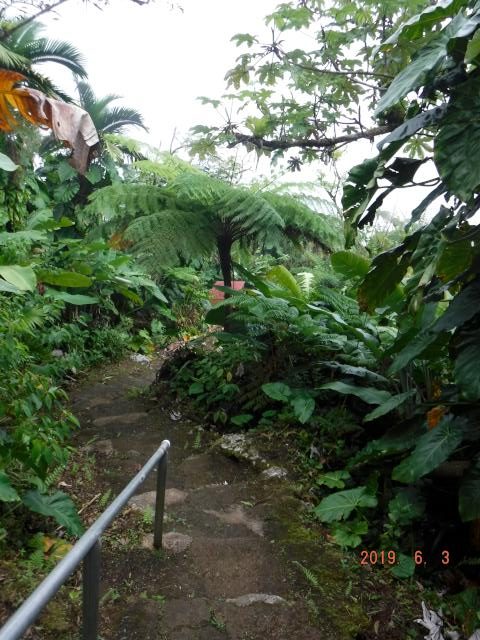 As the sign says, 1,064 steps. It didnt feel like it. It took a lot less time than it says too.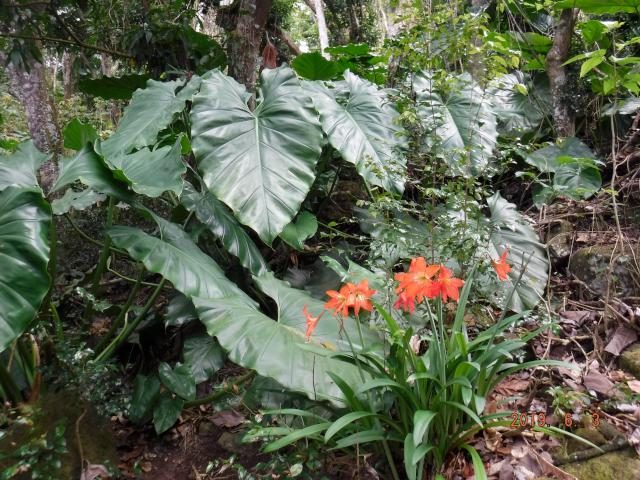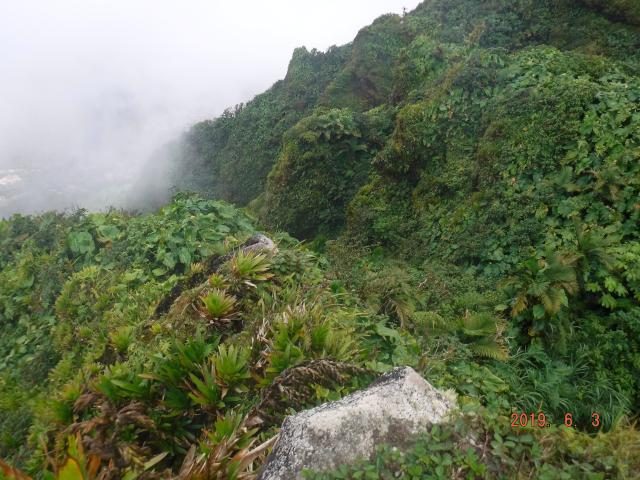 We must get to the very top, somehow…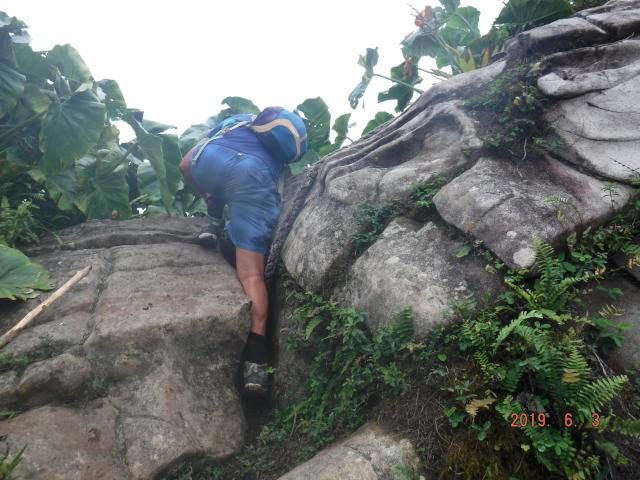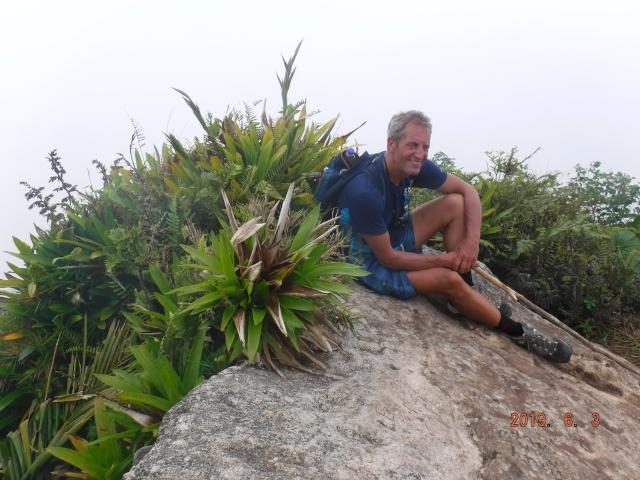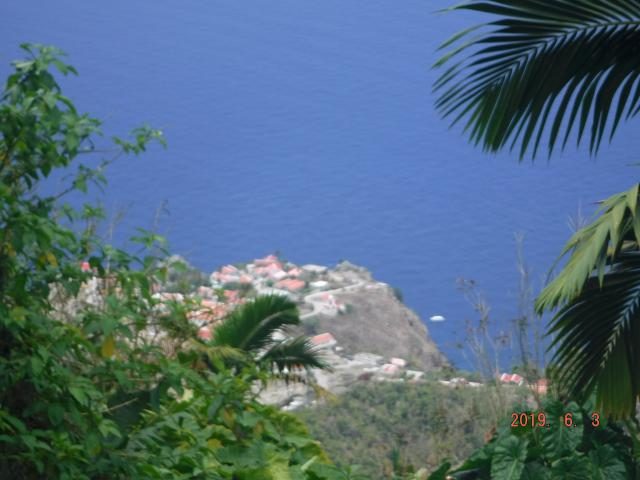 We were lucky to find a glimpse of some blue sky sometimes. The fog keeps coming in and out again after a few minutes. Somedays just fog. We met only one more person on this hike, a young man from Holland who was visiting of course diving and hiking. We loved our time here in this special island.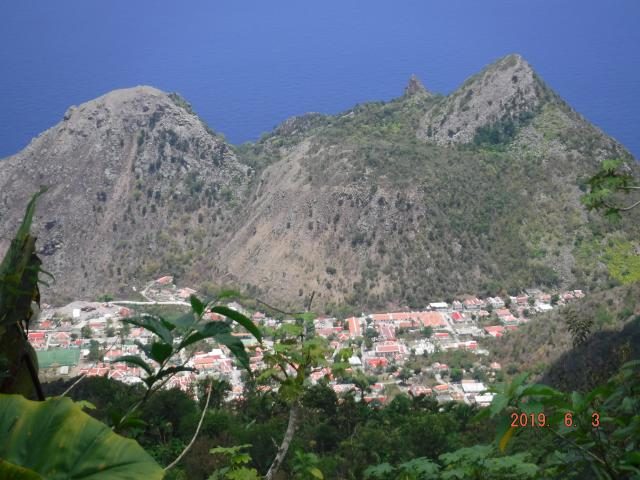 Current Location:
Deshaies, Guadeloupe
Current Position: 16 18.65 N 061 47.38 W
Click to view map.
Distance sailed since last post:
206 nautical miles
.
View the map of our voyage track here
June 1st.
It was nine years ago, today, that Ceu and I flew out from Vancouver to here, British Virgin Islands (BVI) to pick up Life Part 2 from out of charter and start our sailing adventures. Now, here we are again, tying the knot after nine years having sailed up and down the Caribbean Islands, through the Bahamas to Bermuda and the Azores, and into the Mediterranean Sea intending to spend a year there.
We stayed five.
Then, via Morrocco, the Canary Islands, The Gambia, the Cape Verde islands and Barbados we came back to the Caribbean. And so here we are.
But the BVI look quite different to 9 years ago, thanks to a brief visit by hurricane Irma. All the trees are gone. Many buildings are still wrecked, and the crowds have gone too – all the bays are so much quieter. The snorkelling, though, is just as good.
Today we depart for Saba. An overnight sail to a little rock 82 miles to windward. We were waiting for a weather window, but this is the best we can get – a long tack on Port, and then a shorter one on Starboard for an extra 20 miles of sailing over the direct rhumb line.
June 2nd.
We made it. Bashing to windward is not may favorite activity, but actually the waves were not too bad, and Life Part 2 rose and sailed over them instead of crashing into them.
But we did tear our mainsail. Middle of the night we had some gusts up to 30 kts apparent. The main was eased out to minimize pressure but, somehow, it ripped right across the middle, just below the second reef. So now, like it or not, we are down to 2 reefs.
Now we can catch up on some sleep.
June 3rd.
Saba is delightful. Quaint. Quiet. Friendly. Just 1200 inhabitants. Fantastic hiking, including 1064 steps up to the highest peak. From the sea it looks like a big rock, but get inside and it is all lush tropical rain forest.
The evening was spent drinking and eating cheese with some New Zealand / Hawaiian neighbours. Good times.
June 4th.
Zach the Hawaiian brought us a spiny lobster he had caught. That made a very nice meal after our long hike today, thank you very much.
June 5th.
Time to leave again. The new Antal rope stoppers have been chewing through our brand new jib sheets, which is totally unacceptable. I see in the Island Water World that they have the Lewmar D2 stoppers that can handle our fat (14mm) jib sheets. So we are going back to St. Martin to buy and fit a pair of those.
And guess what? The Hawaiians beat us to it. They left Saba about 10 minutes begore us, but arrived at least an hour ahead of us. Well, having a 54ft monohull and full sails does give them an advantage over our half sail. Especially in light winds.
June 7th.
New rope stoppers are fitted. Time to head south again. This time to St. Eustatius (Statia). We anchored outside the town with our yellow flag up, and walked ashore for a brief visit of the town. Looks like a cross between St. Pierre (Martinique) with all the 18th century ruins, and Saba with the cute town. The yellow flag means that we have not yet been granted 'pratique' – ie clearance to enter the country. So, technically we are not allowed to step onto land until we have done so. But we arrived after 16:00 hrs, when customs was closed, and left before 08:00 hrs when they open.
All these islands have a big volcano stuck in the middle of them, usually with a cloud permanently perched on top. All very dramatic.
June 8th.
Onwards and southwards. Another 36 mile day trip, this time to St. Kitts. With stronger winds our 2 reefs were just right, so we made good time AND caught a small Bonito. Just right for two meals. A bumpy beat, however, as the wind is still from the SE – just the direction we are heading.
Again a quick yellow flag overnight stop. Some nice snorkelling though – saw and octupus, who quickly hid himself in a tiny rock crack, and a fleet of reef squid. Did you know that squid can travel in both directions? Tentacles in front or behind, seems to make no difference to them. Sometimes you see some of them pointing one way and the others pointing the other way, while they all swim in the same direction.
June 9th.
The wind does not seem to have swung around to the East as it was supposed to, so it was another beat to Montserrat – we sailed 60 miles to cover 40 miles rhumb line. Got to Montserrat just as the sun was setting. Another long day – but we did catch TWO fish – both bonitos, though we are not quite so sure on the second one.
June 10th
We set off early, around the north end of Montserrat. After a couple of tacks we cleared the windward side, sailed past the huge ash fields from the last volcanic eruption in 2015. Then we had a straight long tack all the way to Des Haies in Guadeloup. 40 miles and we arrived at 4pm – only to find everything shut as it is Whit Monday.
No fish caught today.
June 11th.
Sailed down the leeward side of Guadeloupe and then onwards to Isle des Saintes. That last big was a very slow beat with a lot of current against us – but we did catch FOUR mahi mahi – though one got away. Makes up for the slow passage.
We will spend one night here, and then press onwards again – always onwards and southwards.
This year we did a mad dash all the way up from Trinidad to BVI, and now we are heading back down to Trinidad.
That's about 450 nautical miles each way. We covered a lot of islands, a lot of beaches, and saw a lot of fish. We even caught a few! And we have done some crazy hikes (that will be another blog post). Here are some of the highlights: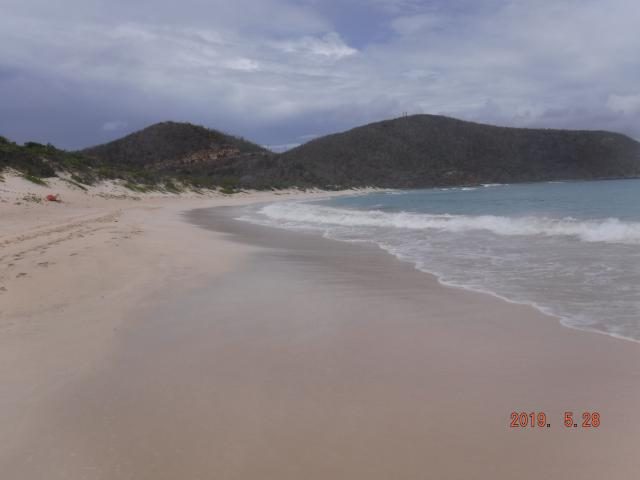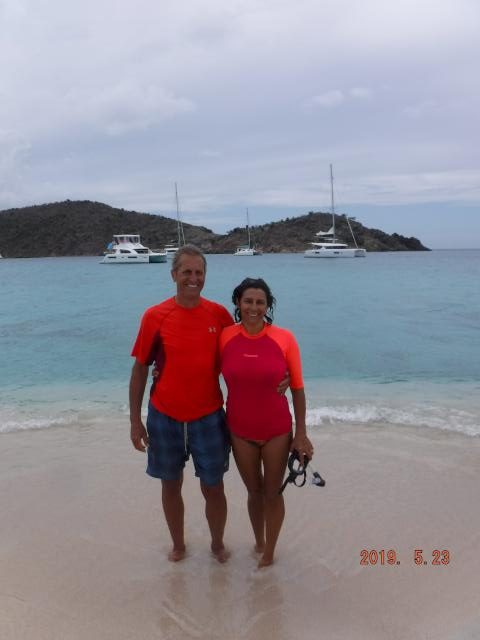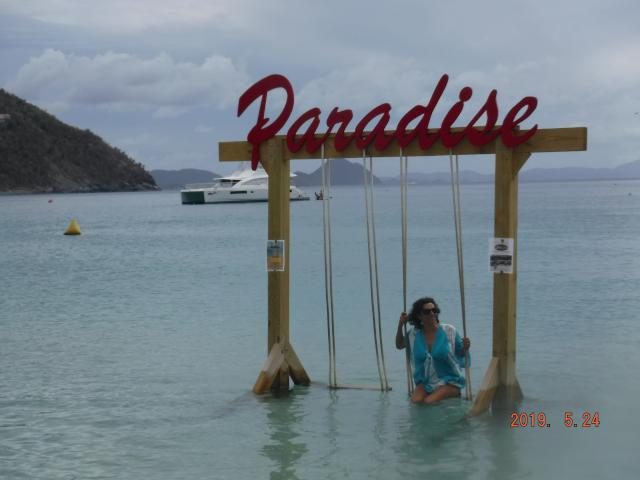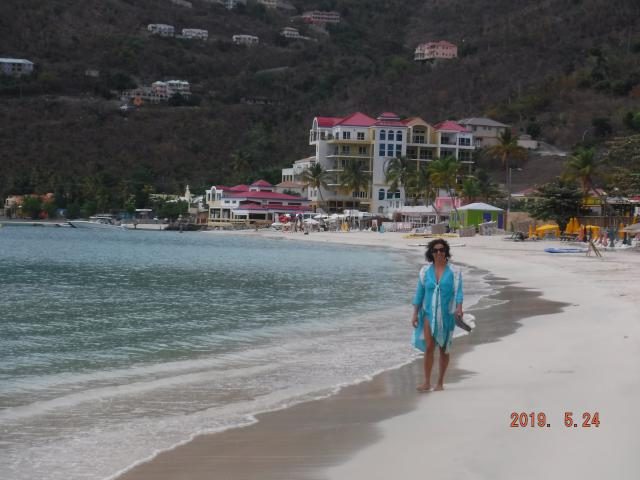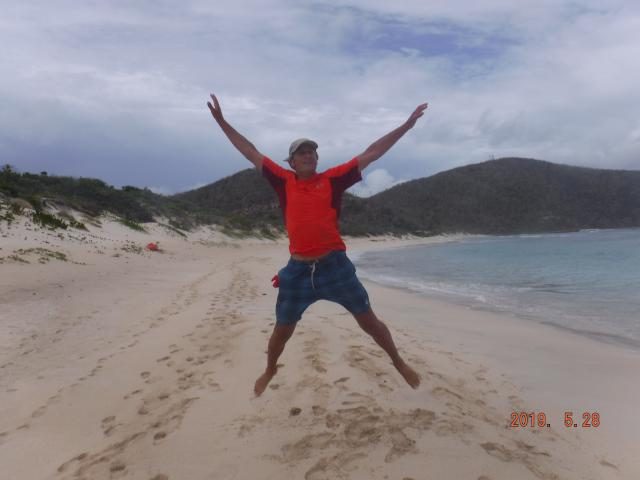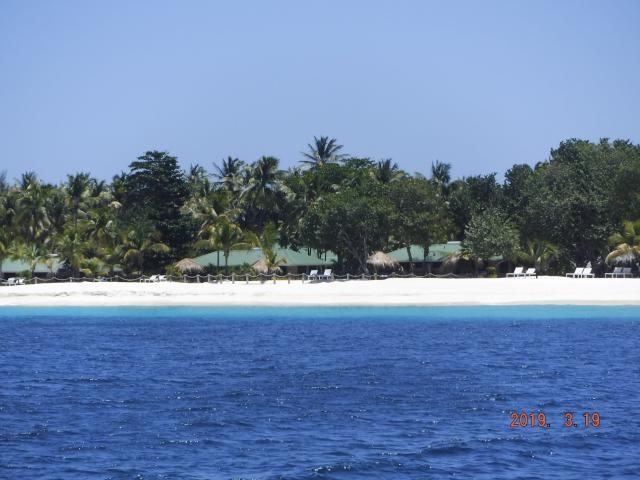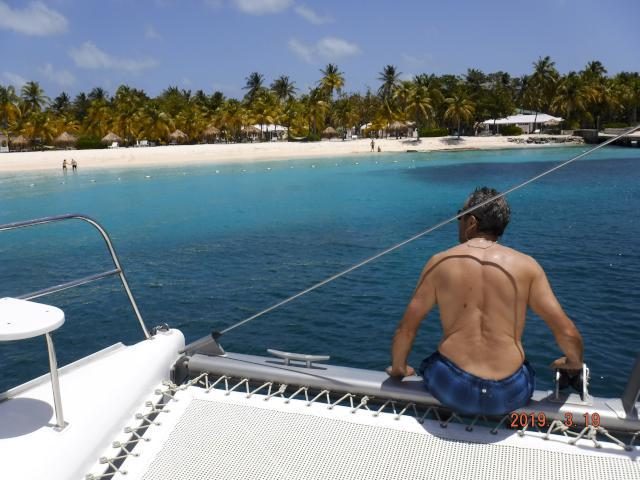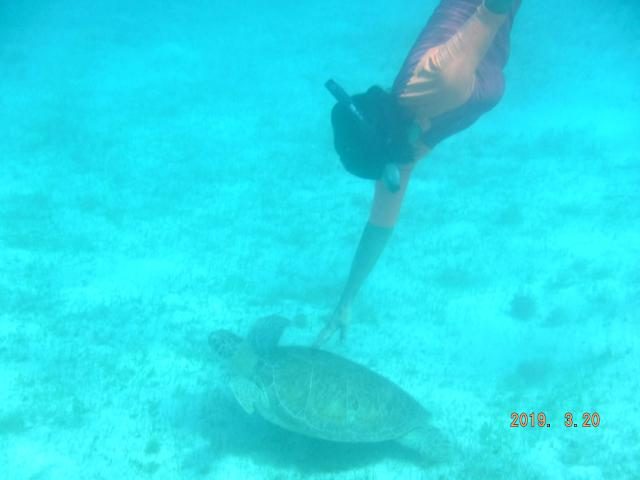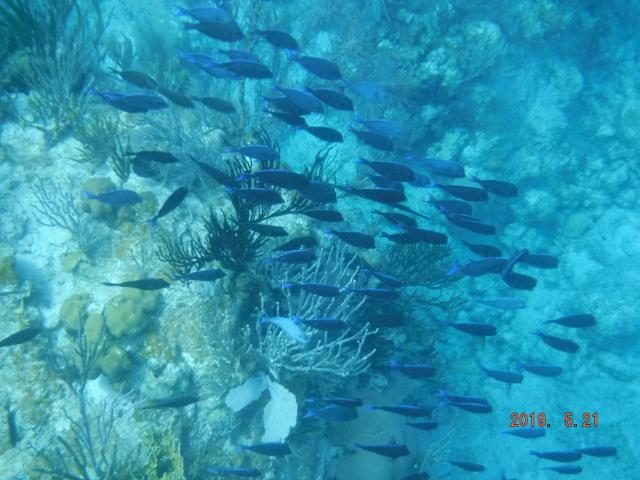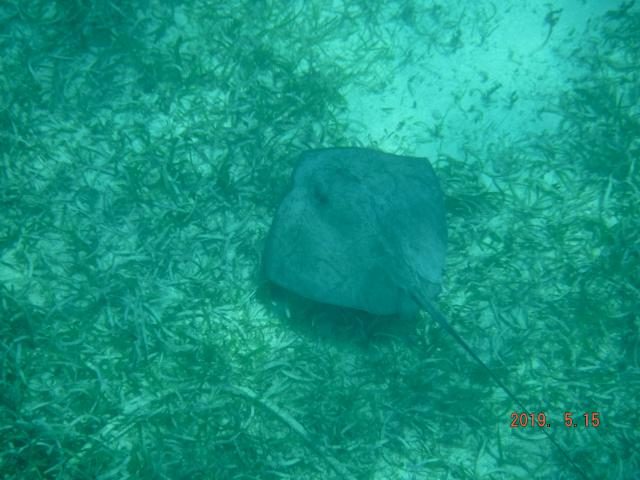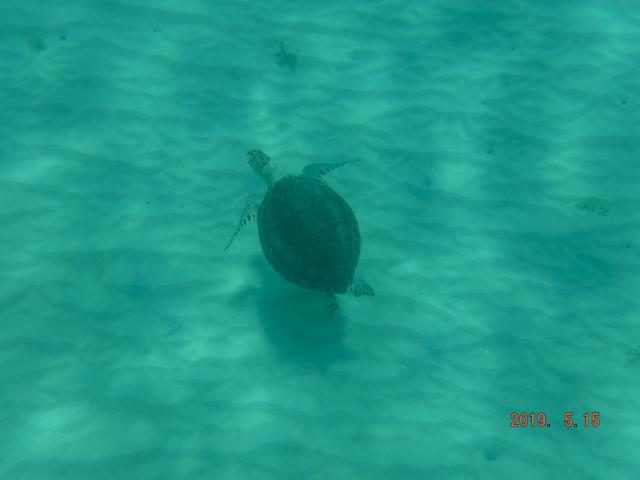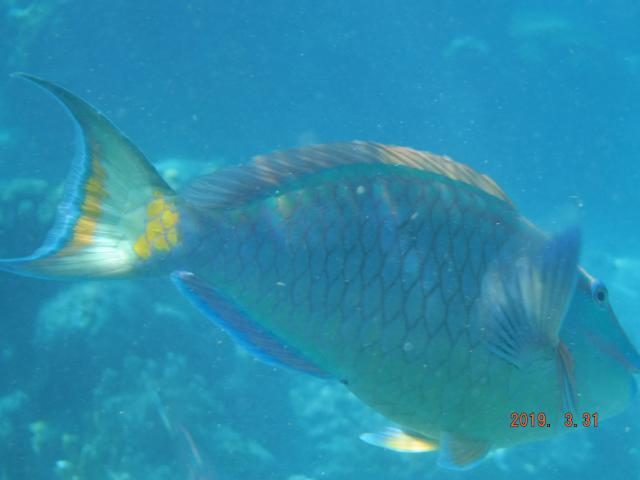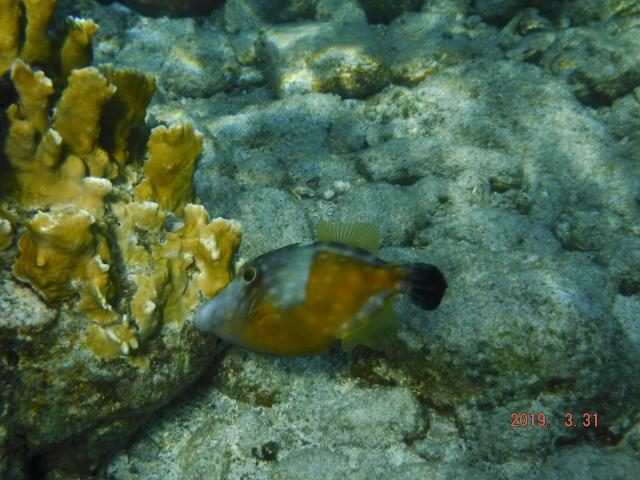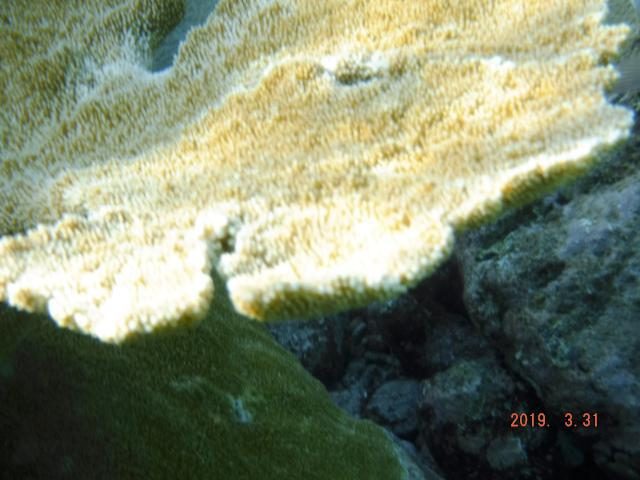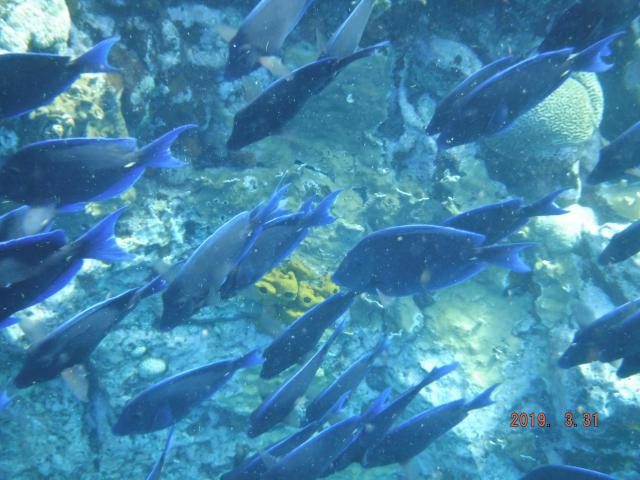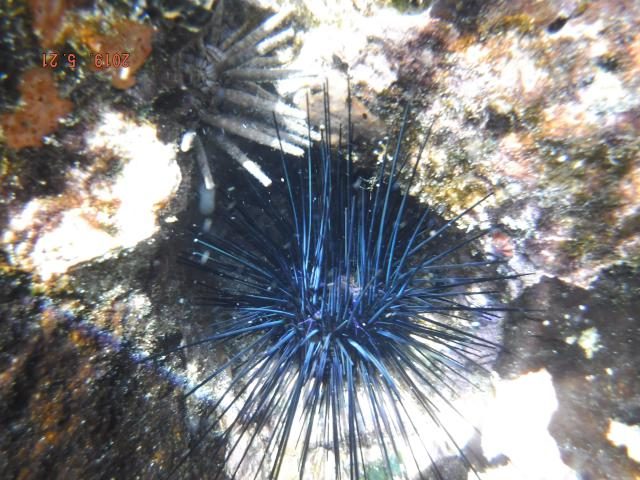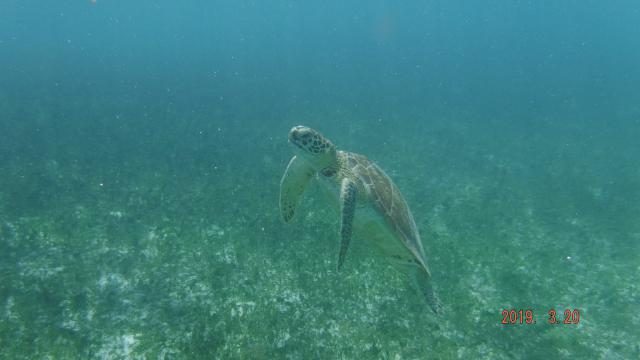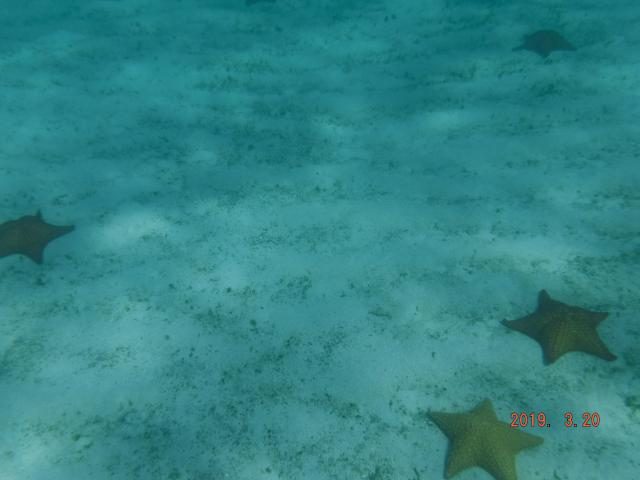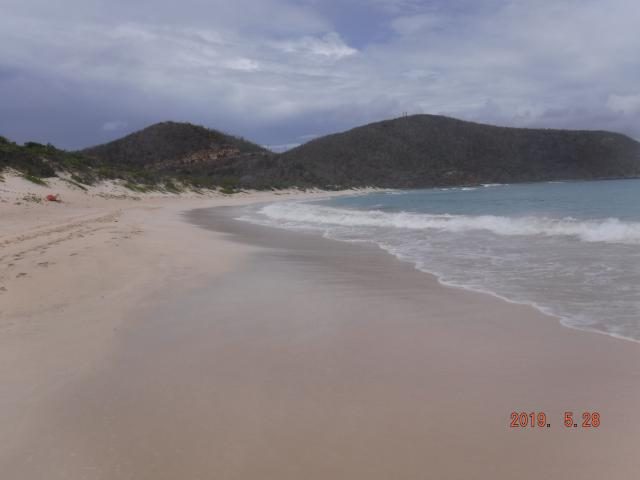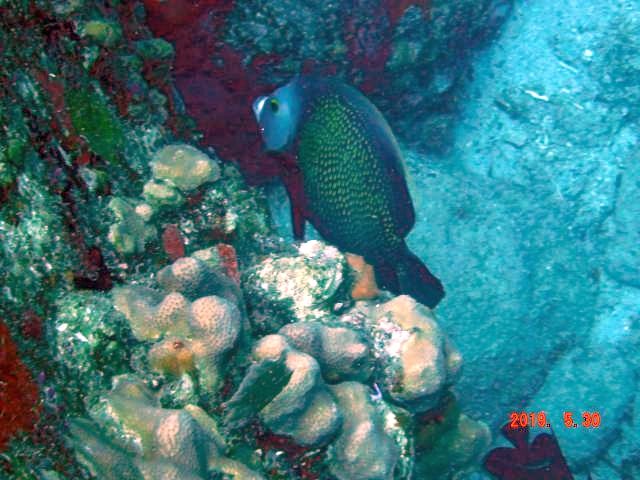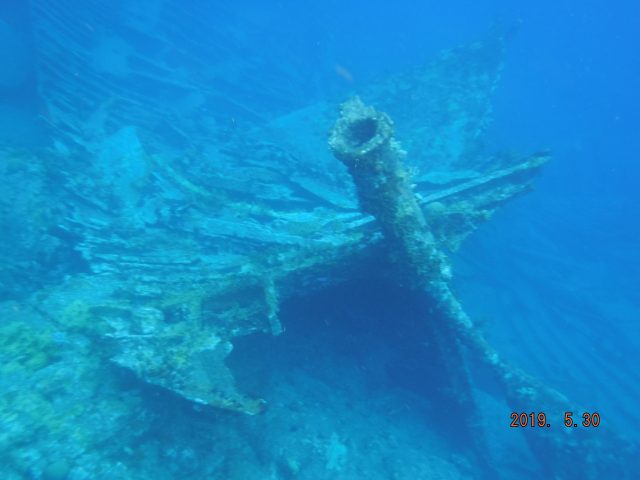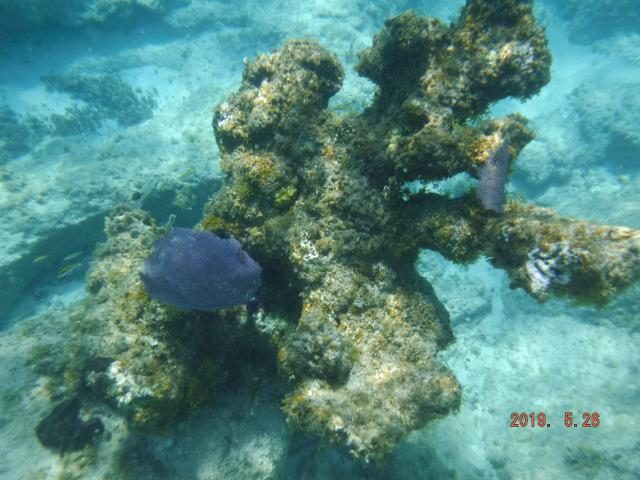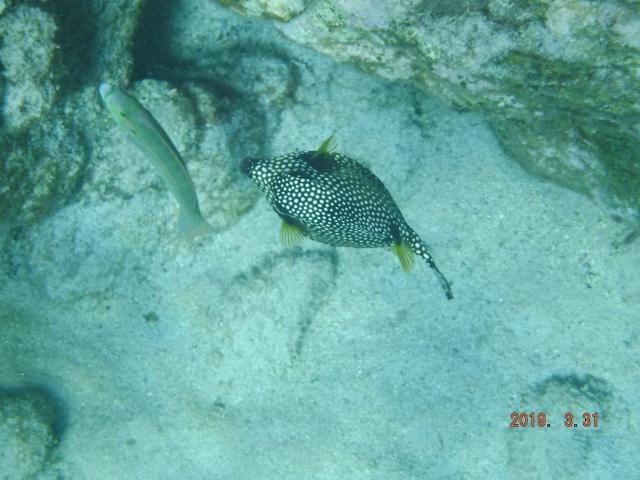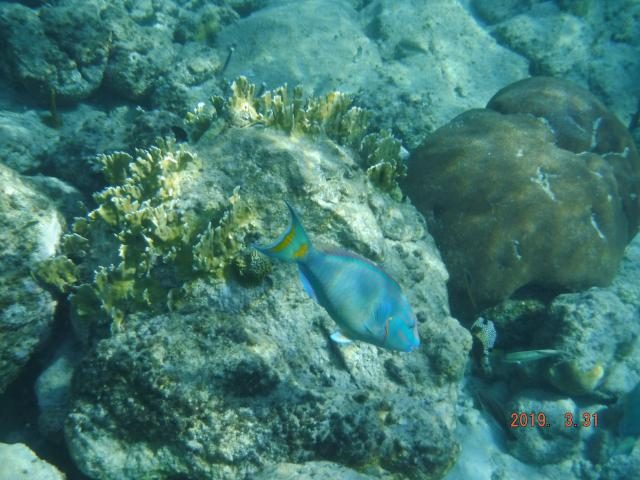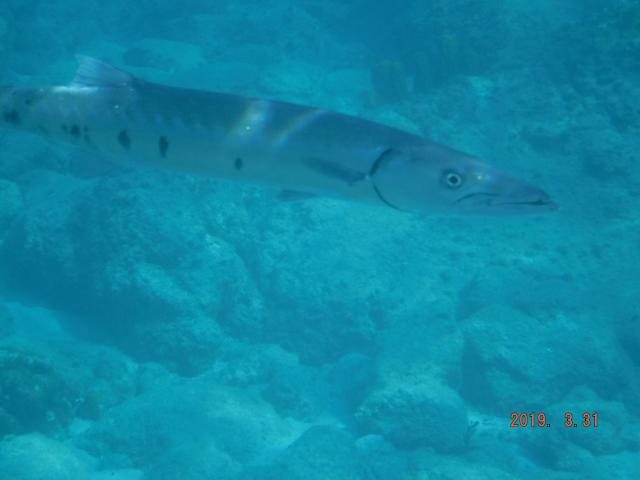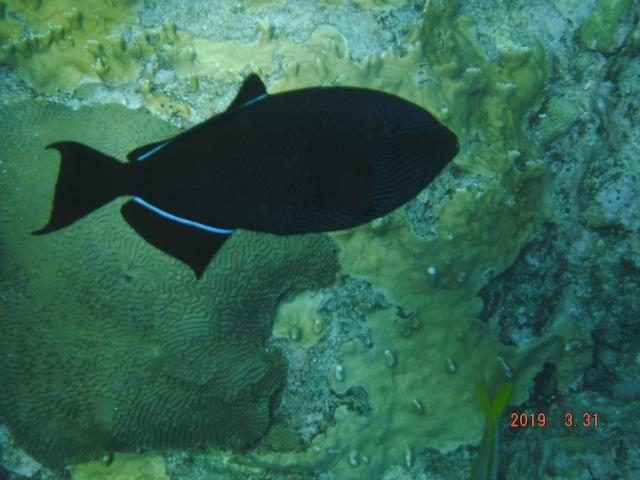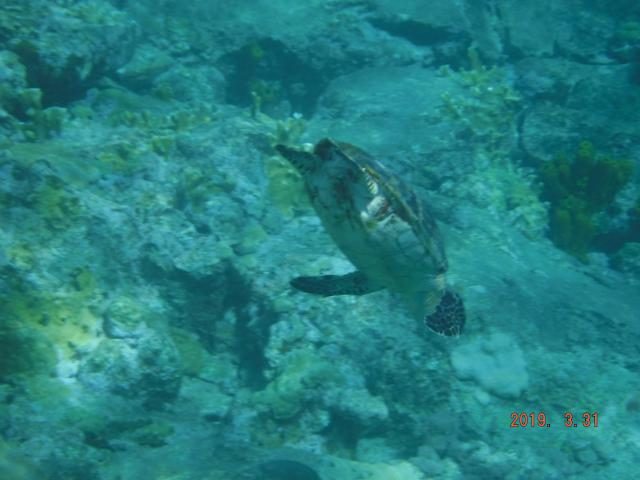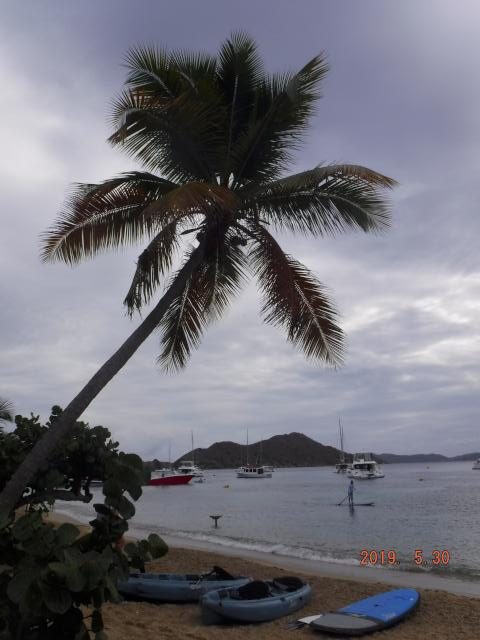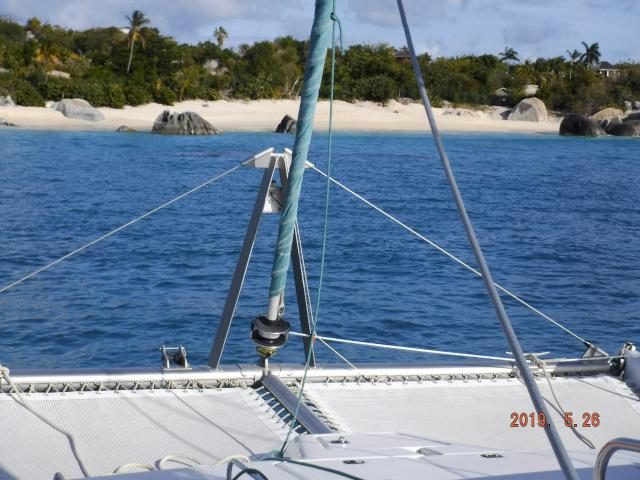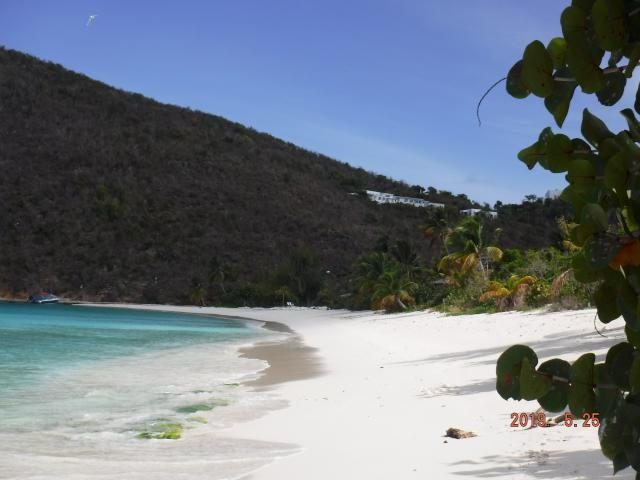 Current Location:
Guana Island, British Virgin Islands
Current Position: 18 28.41 N 064 34.61 W
Click to view map.
Distance sailed since last post:
421 nautical miles
.
View the map of our voyage track here
It is time for s/y Ventus to have new rigging. So our friend Nick asked me if, starting from stainless rigging, I would still recommend the switch to Dyneema Dux (Dux is a heat treated dyneema that increases its strength).
That is not a simple question, so it deserves a considered response. Here are my thoughts:
The Good
Back in 2011 our stainless rigging was 10 years old. So it was time to replace it, and we decided we would do just that when we made it across the Atlantic to Gibraltar where we could import stuff tax free. Before we did the crossing, we checked all the rigging and everything looked good.
When we got to the other side, we were shocked to find that two of the fittings holding up the shrouds had died. One was for a shroud, the other for the forestay. When I say 'died' I mean that they had a big crack in them that had actually separated such that the shroud/forestay was about to fall down.
That is pretty scary and, for us cruisers, is probably the main argument in favour of Dyneema. The problem with stainless steel is that it can develop crevice corrosion .This most often occurs in places where there is stagnant water and little oxygen. In other words in places where you cannot see it. Like your chain plate bolts. And one also gets stress corrosion cracking when the metal is subjected to stress and sea water. Such as the rigging fittings. In fact, it appears that our friend, 316 stainless steel, is actually one of the worst alloys for stress corrosion cracking. Both of these mean that generally you have no idea that it is happening until the item fails with a big bang and something falls down or off. Not good. It can happen on your end fittings, especially swages. And it can happen inside your steel rope, even while the outside continues to look bright and shiny.
Dyneema does not have that problem. It IS affected by UV light which makes it all go fluffy and, over the space of about 8 years will cause it to lose about 50% of its strength. But since when you put it up it is about three times as strong as the steel wire you are replacing, that is not a huge concern.
Dyneema is also very light. In fact it floats, much like polypropylene does. When we switched from steel to dyneema in 2011 we lost about 150lbs of weight from the boat. This year, eliminating the stainless fittings lost us even more.
It is soft and easy on the hands when grabbing a shroud as you walk by. It is easy to splice (and re-splice). It has high abrasion resistance and is actually very hard to cut with a knife. When I do the splices I use a wire cutter to cut the strands. It can also be cut with a heat knife fairly easily.
It is an electrical insulator – which may (or may not) affect your strategy for mitigating lightening strikes.
Really the only downside to the fibre is that over time if under constant tension it will very gradually 'creep' – ie extend in length. This is not the same as stretch, which, like with steel, is minimal. So to deal with this you need to size the rope to keep the creep at manageable limits, which is why you end up with rope 3 times as strong as the steel.
So, with all these advantages, what's not to love?
The Bad
Dyneema rope is great. But you still have to connect it to your boat and your mast, and that needs to be thought through.
The first step is to use the correct terminators (like thimbles, but more solid and made of aluminum) in the eye splices at each end. They come with a nice hole through which you can put a pin or bolt and the connect it to something.
But that is where the problem starts. To what do you connect it? When we changed to dyneema in 2011 we simply got some 316 stainless steel adaptors that would connect our dyneema shroud to the mast in the same way as it was done previously, ie using a 'stemball' which is rather like a ball in socket joint.
But you see the problem? We are back to stainless again. And, last year, three of those stainless fittings died, at the age of just 7 years. One of them failed as we were sailing past St. Vincent, dropping our lower shroud onto the deck. It wasn't the dyneema at fault. It was the stainless steel, again.
So we are really no further ahead.
At the other end we have another stainless fitting that connects the terminator to a normal bronze (chrome plated) turnbuckle. This allows us to tension the rig as normal, and also to take up the creep each year. Although these too are stainless, so far they have not given us any worries and show no signs of corrosion or cracking. Is it their location? Or better quality steel? Who knows. But they are at deck level so easily seen, and we keep an eye on them.
This year we decided to do away with those upper stainless fittings altogether. The technology was not available in 2011, but since then John Franta, of Colligo Marine, has designed a 'cheeky tang' fitting. This is a new-style terminator that is spliced into the upper end of the shroud. It is then attached to the mast by passing a titanium bolt through the cheeky tang, through the mast and then out through the other cheeky tang on the other side. An alternative to the titanium bolt would be the super-austentitic stainless steel alloy al-6xn.
Voila! A simple and effective solution that eliminates stainless steel crevice corrosion and stress corrosion cracking.
To convert to the cheeky tang from the stemball fitting requires cutting back the old fitting to make it flush with the side of the mast. I did that using about half a dozen 4 inch cutting discs on my battery operated drill. Not an easy job, and don't forget to wear the safety goggles. Actually it might not be totally necessary to cut off what protrudes, as long as the bolt is long enough, but it is a neater finish. To measure the width of your mast, take off a stay from both sides and pass a rod through the mast, marking it on each side where it comes out. We could have done with our bolts being just 1/4 inch longer.
If you decide to switch from stainless rigging to dyneema, give careful thought to the terminators and see if you can eliminate all stainless fittings from (at the least) the top of your mast. Also, whatever metals you used, if you have two different metals touching each other, use some Tef-Gel or even just some electrical tape to separate them so as to prevent galvanic corrosion. USP Anhydrous Lanolin (ask your pharmacy or order online) also prevents galvanic corrosion.
The Ugly
Now we come to the nitty gritty part of doing the switch. In theory it is very easy. In fact it differs little from putting in new stainless rigging. Just measure the old ones, order some new ones, and replace the former with the latter.
The devil, as they say, is in the details.
If you take your boat to a rigger to change the rigging, they will take down one shroud, bring it into the shop, lay it along their long bench, and cut and swage a new wire to the same length.
Unless you can find a rigger who does dyneema (pretty rare, still), you cannot do that. What you have to do is measure it, order the lengths and then, when you get them, hope they are correct and the switch them over. As you will see, even that is not as simple as it sounds.
First, how do you measure it? You are talking about a piece of string that is about 50ft long and has to be measured to within a half inch of accuracy. That is 0.1% tolerance.
Method one is to climb up the mast and try to measure it in situ. You can try to 'walk' a tape measure down the shroud (and over the end of the spreader) while you hang onto the angled shroud in your bosun's chair with your third hand. Not easy.
Or you could take a solid rod of known length and walk that down the shroud.
Or you could take up a long string or rope and attach it at the top (making note of the length allowance you need to make for your knot) and then stretch it down to the bottom. You then mark the string at the correct length at the bottom. Then climb back up the mast, take the string down, and measure its length.
But how long is a piece of string? It depends on how tight it is. Since you are trying measure a shroud that is at an angle to vertical, you will have to tension that string significantly in order to get the sag out of it. That will lengthen it. Quite a bit, given it is 50ft or so. Then when you bring it down, you need to tension it to the exact same tension so as to get an accurate measurement. The solution to that is to use some dyneema string (say 3mm – 1/8inch) that won't stretch much when you tension it. Whatever you do, don't use nylon!
All of these methods have significant challenges. It is hard to measure, accurately, your existing rigging.
The second method is to take the rigging down and, like the rigging shop, lay it down on a long flat surface (like a dock) and measure it in sections with a tape measure. Or, better yet, a long 100ft tape measure like the landscape gardeners use. Then you have to put it all back up again while you wait for your new rigging to arrive.
Be very aware when you make your measurements exactly what you are measuring. Since you will probably be changing how the rigging will be attached at each end, you will need to make adjustments to the length to take into account the new terminator systems. For instance, we made our measurements up to the bearing surface of the stemball fitting where it goes into the mast wall. Just be very clear exactly what your measurements are measuring. Your goal is to receive a shroud that will just fit into the turnbuckle, leaving you with ample space to tension your rig and, over the years, to take up the creep that will gradually develop.
Do each measurement multiple times, and for both sides of the boat, until you are confident that you are getting reproducible consistent results that make sense. You will never get two measurements that match. So then make an adjustment that gives you a worst case/best case range that is still usable with the range you have available in your turnbuckles.
As you can see, just getting the measurements done takes multiple trips up the mast.
But your woes are not over yet.
You have the measurements. And they are accurate and reproducible. You send them off to John, and he makes up some new shrouds for you, complete with your new terminator system, and sends it back to you. He is very accurate in his lengths.
But when you receive them, they won't match the lengths that you ordered. They will be too short, and you won't be able to fit them on your boat.
What the heck is going on?
The problem is 'construction stretch'. John will make up the shrouds to the correct length, and will pull them to 4,000 lbs of tension. That will get the splices to settle in, and everything will be hunky dory. He will even put heat shrink tubing over the splice to hold it all together nicely. Dyneema that has been well tensioned goes very stiff and hard, almost like a rod.
But then the rope gets rolled up and packed in a box and sent to you. Just doing that loosens up the braid and causes the rope to get fatter and shorter.
To get it to fit on your boat you need to pre-stretch it again. That means finding some way to pull it hard with your winches. Either put it up the mast and pull down. Or pass it round a block or two at your bow(s) and bring it back to your biggest winch. And tighten it. And then tighten it more. Then go and 'twang' the tight rope, pulling it sideways to tighten it even more. Then leave it for a while to 'relax'. Then tighten it some more. When you are sure you can't tighten it any more then try to fit it onto your mast. You won't be able to stretch it to 4,000 lbs, but maybe this time it will fit.
If it doesn't, then make some kind of temporary extension to the end fitting. Put it all in place and crank up your turnbuckles. Go for a sail. Tack a few times. Tighten up the turnbuckles some more – always on the leeward side, of course. Then bring it all back to your anchorage, and you can probably remove your temporary extension. Yes, that is exactly what we did in 2011.
As you can see, measuring, ordering, and fitting your new dyneema rigging is a lot of work – and many trips up the mast. You will probably screw up your measurements somewhere along the way. It all takes time.
The UV Problem
Unprotected dyneema will last you about 8 years. But what if we can put a covering over the rope so that it does not degrade with ultraviolet? Indeed, the heat shrink that John puts over the splices does just that, and the rope that is covered looks basically brand new (but dirty) compared with the uncovered rope.
That was our goal for this year. We decided that we would cover the entire lengths of the shrouds and stays with a combination of heat shrink and self-amalgamating 'Rescue Tape'.
Again this proved to be more challenging than expected. The biggest problem being that the roll of heat shrink tubing that we ordered said 'Store below 70 deg F'! Oh yeah? On a boat in the TROPICS? So it contracted back on itself and we were unable to easily thread the new ropes into the tubing. So we had to put the tubing on the size below – i.e. the tubing intended for our 13 mm main shrouds was put onto our 11 mm lower shrouds. Quite a bit of work threading it through (use a stout knitting needle with some 3mm string taped firmly to it), but we got there in the end. Our hair dryer from our big inverter then did a fair job of shrinking it onto the rope.
The self amalgamating tape also seems to work quite well, especially for putting over the eyes, but it is clearly not as tough as the heat shrink.
I think this is a solution that has potential. The proof will be in another 8-10 years when we see how it holds up to normal use. In this case we were able to do this because we actually made up our own shrouds, splicing then ourselves, as we did not fully trust the whole measuring business. The splicing is not hard, but you do have to pull the completed splice HARD to take out all the construction stretch. John may well be able to put on the heat shrink on the whole length for you when you order your rigging.
At this point we have done all the rigging except the main shrouds as we need to get some more heat shrink to cover those.
Conclusion
Would we do it again? Yes, because I really, really, don't like 316 stainless steel for critical applications. And the weight loss is also nice. But it is a LOT of work installing the rigging – hence my desire to find a way to make the dyneema last longer so that it is a LONG time before I have to do it again.
Of course, over time there will be more and more riggers who are able to do it for you, which will take the stress out of it (and the dollars out of your pocket). Or you can make them up yourselves. Not hard to do, but the challenge is pulling the ropes hard enough, and you will probably have to re-do the splices a couple of times as you figure out the correct length and allowances for the shortening caused by the splice. It seems to be about 7% of the length of the bury – which itself is 72 times the diameter of the rope. And next time we can re-use the terminators and cheeky tangs, so won't have to buy those again.
Some Q's & A's
What about spreaders?
Our diamonds go over the spreader ends. It is not ideal to bend any rope or cable over a sharp angle. However, your dyneema is 3 times as strong as your old steel, so losing a bit of strength is not a huge worry. However, chafe can be. So we wrapped the dyneema in some nylon webbing before putting it into the slots at the end of the spreaders. This prevents any chafe from the dyneema rubbing against the aluminum, and also protects it from UV degradation, thus preserving its full strength. We then sew a vinyl or leather 'boot' over the end of the spreader that keeps everything neat and tidy. If your genoa rubs against the spreader ends you would definitely want to do that.
What about chafe?
Dyneema is very resistant to chafe. Even so, persistent chafe will cut through anything, If you have a situation where something is repeatedly rubbing against the shrouds, such as a genoa sheet, you might want to put a solid plastic tube (commonly done with stainless steel rigging) over the lower section of the shroud so that it can roll when you move the sheets.
What about roller furling?
Unfortunately at the moment there is no solution for using dyneema inside the aluminum extrusion on a genoa roller furling system. This is mostly a size issue, since the dyneema is just that bit fatter for the same strength ( and sizing for creep). So we are still dependent on stainless steel for that. 🙁 One day, maybe…
Having said that, John DOES have a dyneema solution for soft furling applications, like gennakers.
Where to Buy your Rigging
John Franta of Colligo Marine is really the pioneer in dyneema dux rigging. He is super helpful, and is constantly adding new and ingenious solutions to his line of products – like the cheeky tangs which are excellent. Note that dyneema DUX is not the same as ordinary dyneema. Get the right stuff.